Crispy honey shrimp with candied walnuts, often called honey walnut shrimp, is one of our favorite restaurant copy cat recipes. This budget friendly, Asian inspired recipe features crisp, fried shrimp that are tossed in a creamy, sweet honey sauce that's topped with candied walnuts.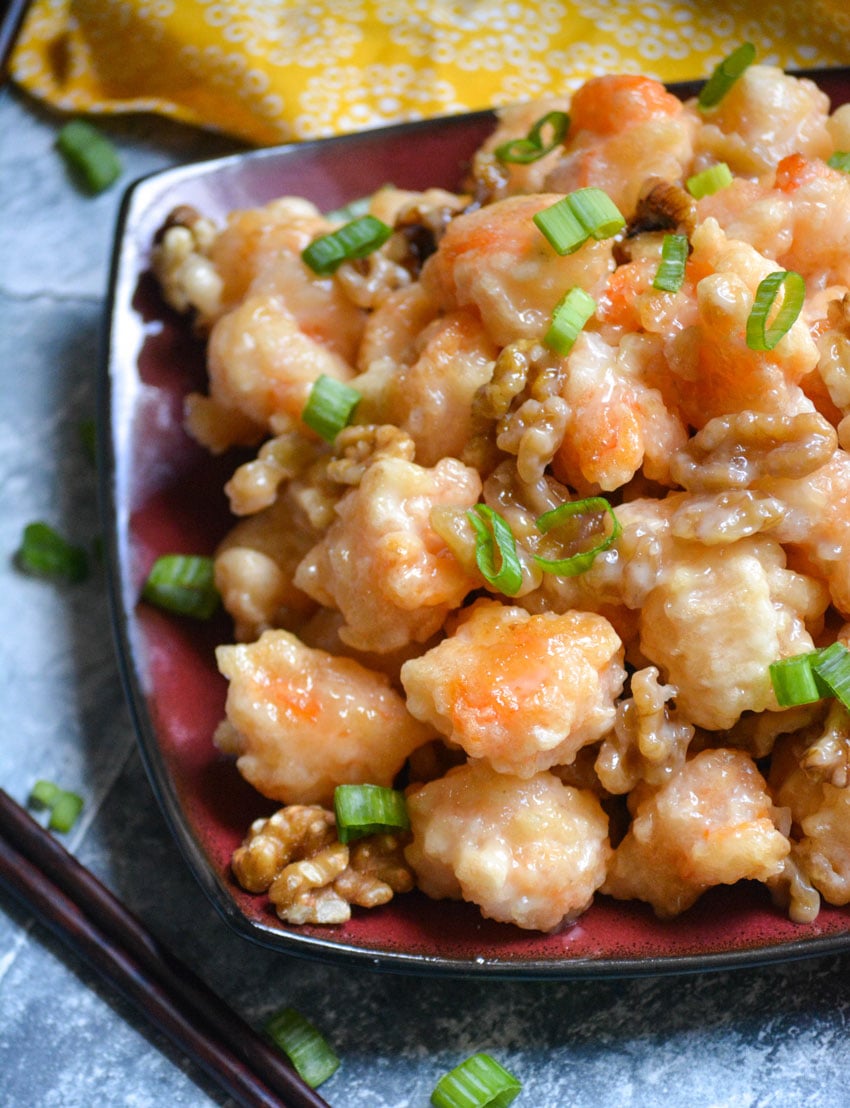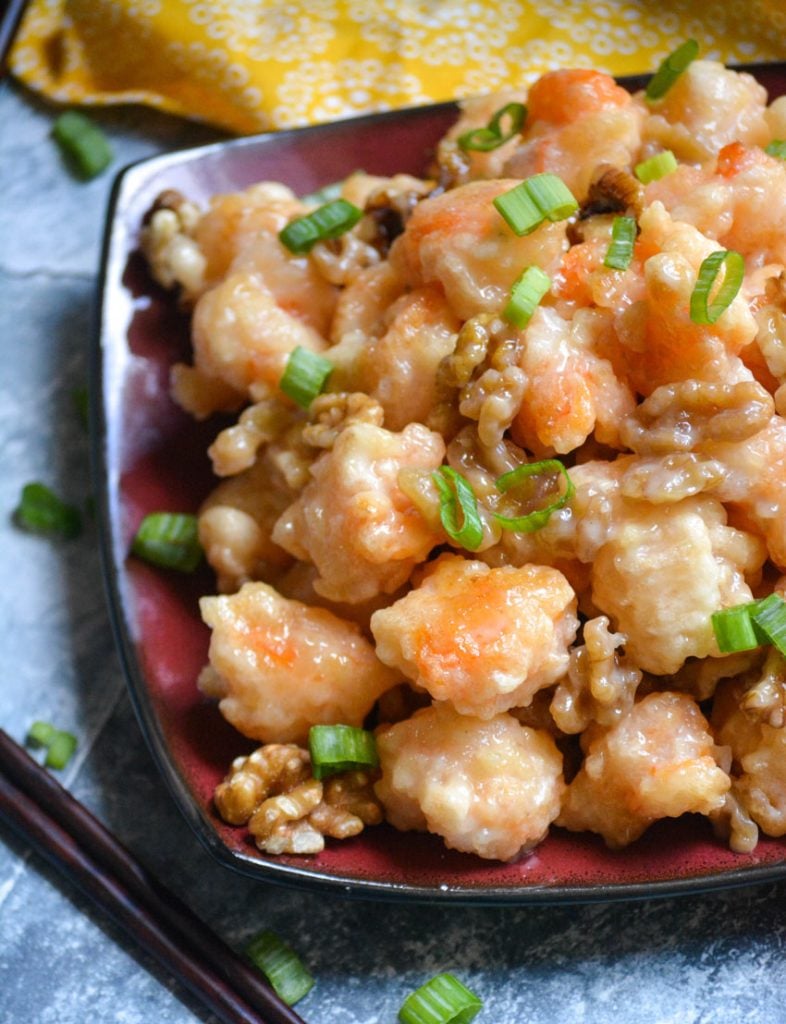 We tend to eat variations of the same meals often around here.
We're homebodies, as well as creatures of habit.
Every now and then though, we get the urge for something different.
Generally something we'd never cook ourselves at home.
That's typically when we got for something with Asian flavor, and we have some real favorites.
Like this dish, for example.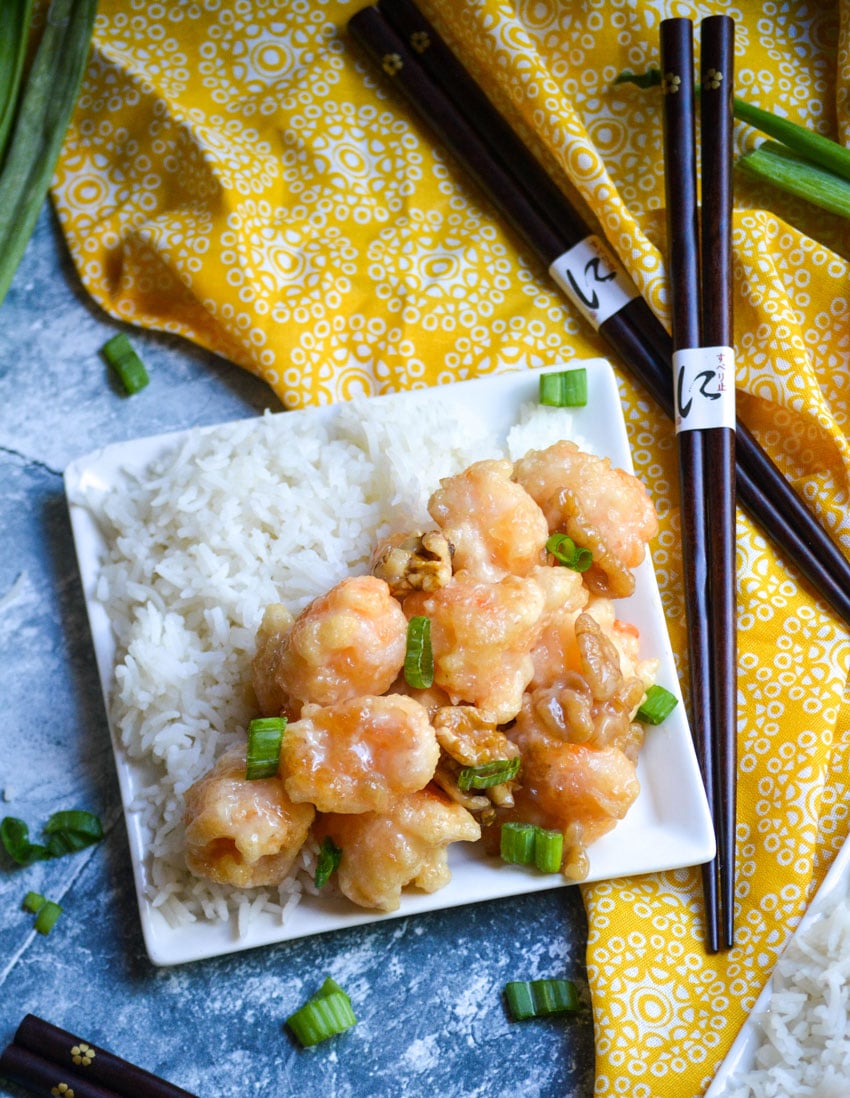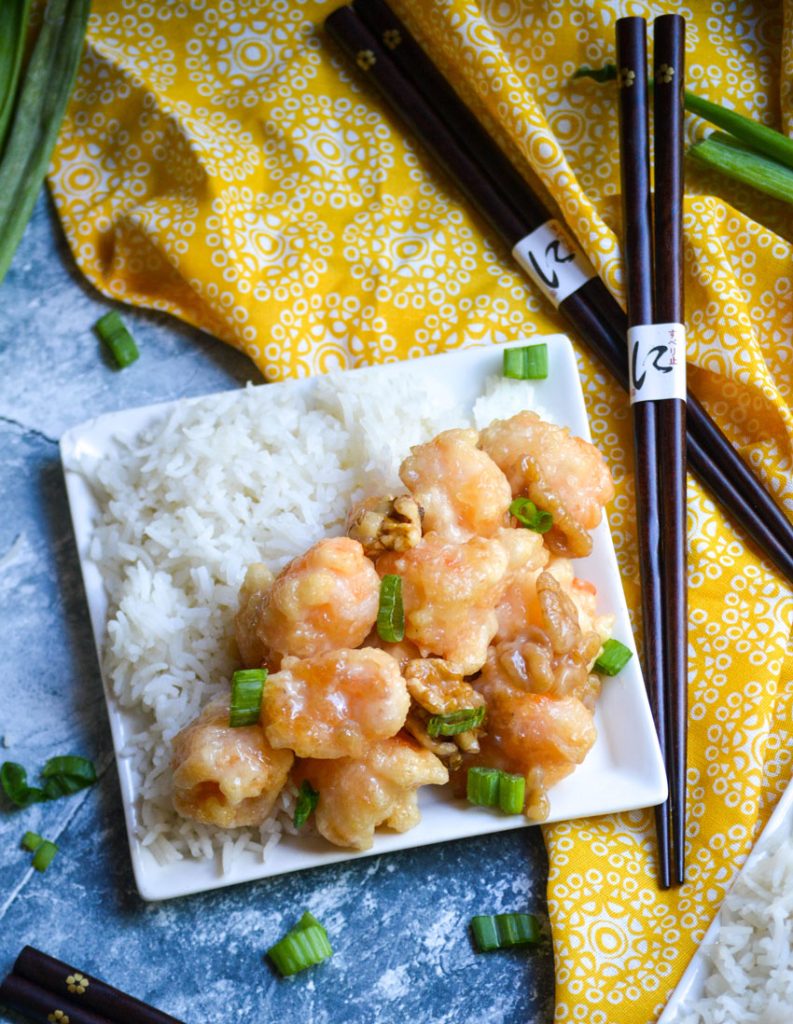 This dish.
The one that my husband calls 'the one that almost made you pick up your plate and lick it clean in the middle of that super nice Asian restaurant'.
Otherwise known as crispy honey shrimp with candied walnuts.
Sluurrrrrp.
No shame, none at all.
Well, maybe just enough for me to regain my composure with my plate hovering in the air, mid-way to my mouth.
One taste of this irresistible shrimp recipe and you will totally understand the urge.
If it illicit-ed that kind of reaction in public it was a no-brainer that I would try, try, and try again to not only recreate something similar at home, but keep right on trying until I got it just right.
There are some things that're too good not to enjoy often, and too good not to be able to whip up on demand.
This honey shrimp recipe chief among them!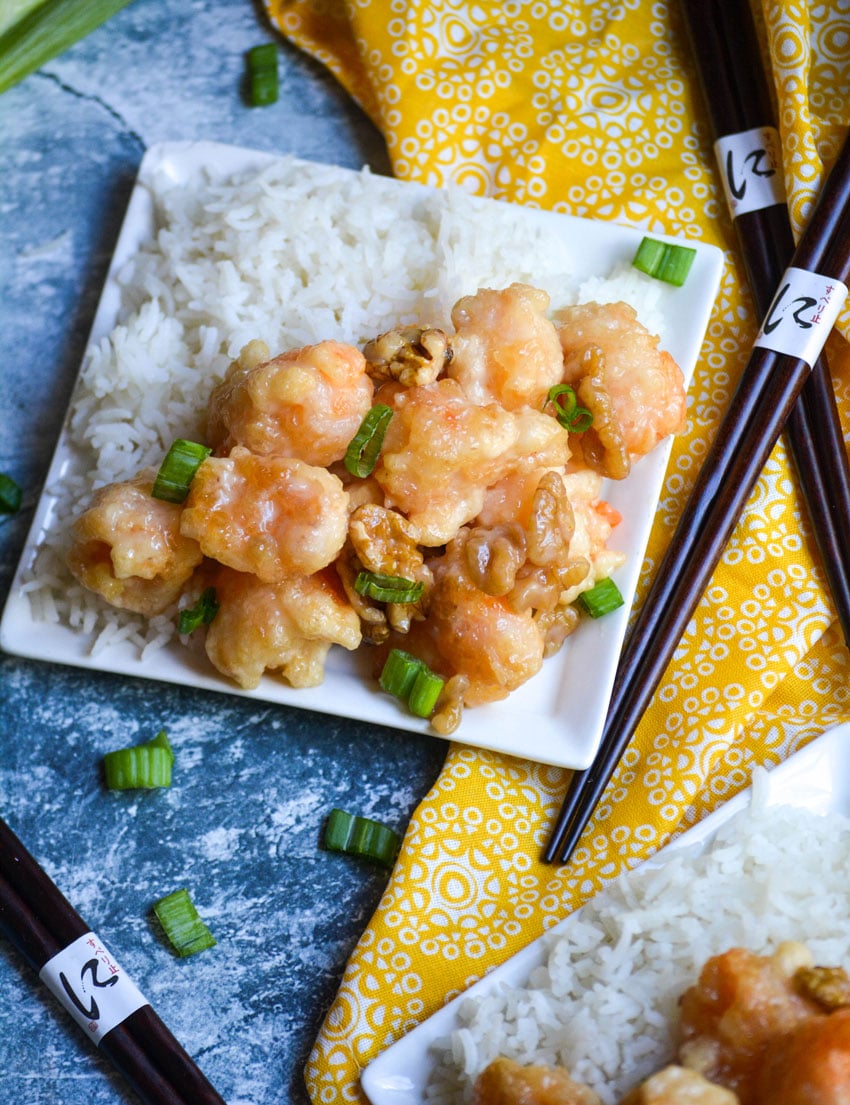 Ingredients
For all of the fanciness implied in the title, it's easy enough to recreate in any home kitchen.
It also has a fairly easy to read ingredient list.
canola oil – I have no experience with this recipe with subbing another oil
sugar – white granulated sugar
walnuts – I use halves, but pieces will also work
mayonnaise – has to be mayo, do not sub miracle whip or 'salad dressing'
honey
condensed milk – the sweetened variety
shrimp – 1lb of either medium or large shrimp, peeled, deveined & with the tail off
salt & pepper
egg – 1 large egg, beaten until frothy
cornstarch
See what I mean?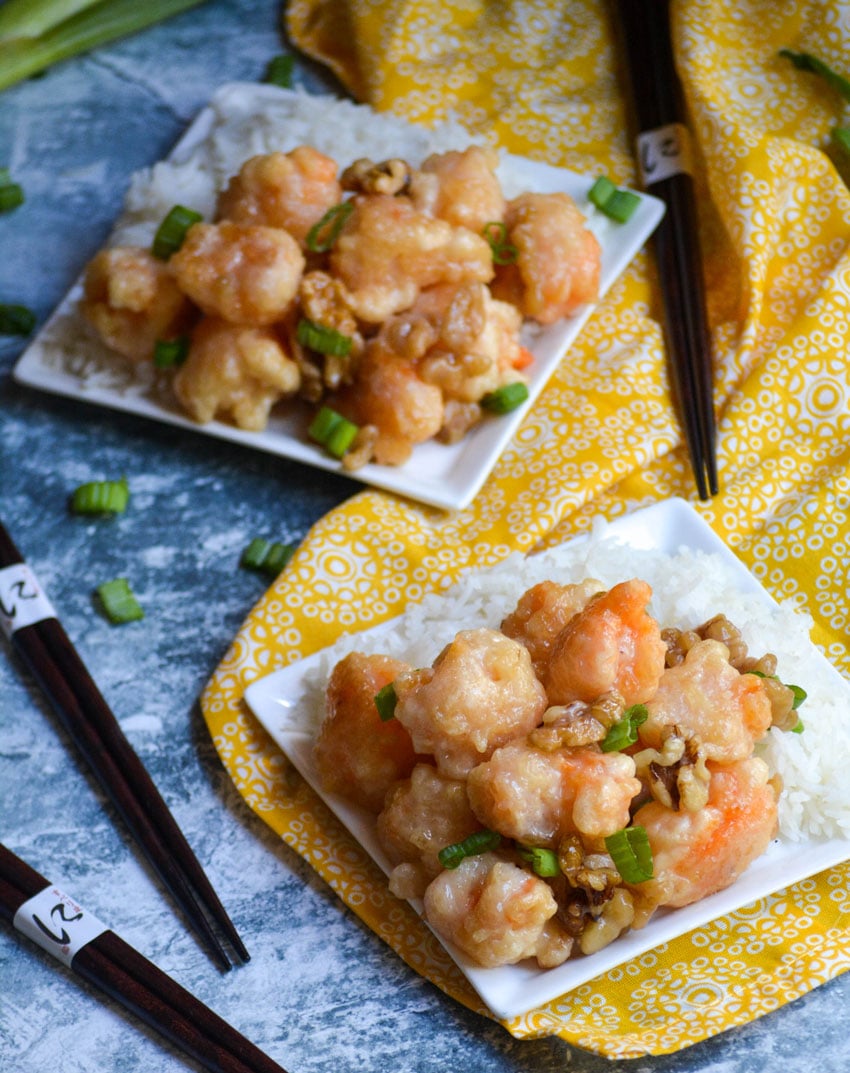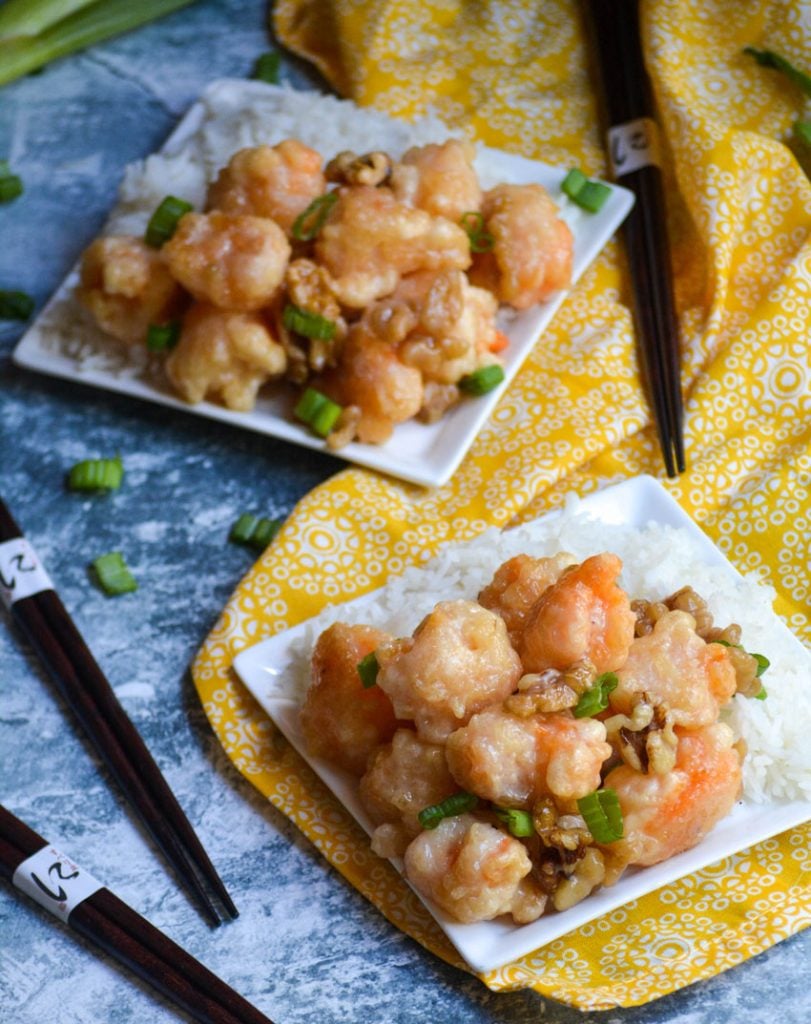 How To Make This Take Out Recipe At Home
This crispy shrimp and nut recipe is mixed together and served as one when ready to eat, but it's actually made in three different stages.
First, candying the nuts, then pan frying the shrimp, and finally tossing everything together.
To avoid confusion, we will break it down step by step and divide it into the two larger parts.
Candying The Nuts
Line a rimmed baking sheet with parchment paper, and set aside.
Add 1/2 cup of water to a medium sized skillet, and heat it over medium high heat until it comes to a boil.
Whisk in the sugar, stirring constantly, until the sugar's dissolved and the syrup has begun to thicken.
It may also appear slightly golden brown in color, this is OK.
Working quickly, add the walnuts to the skillet and gently toss them with the syrup to evenly coat.
Transfer the candied walnuts to the prepared baking sheet. Spread them out into a single layer.
Set the sheet pan aside, and allow the nuts to cool while the candy coating hardens.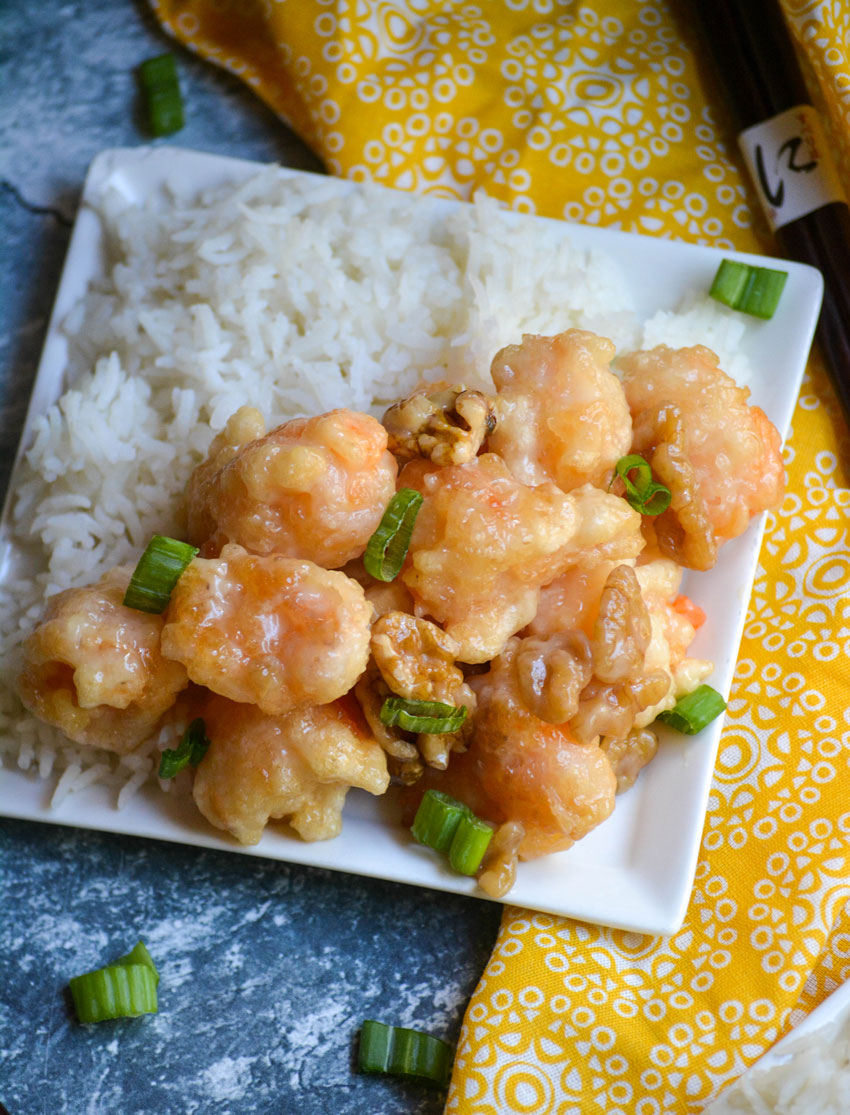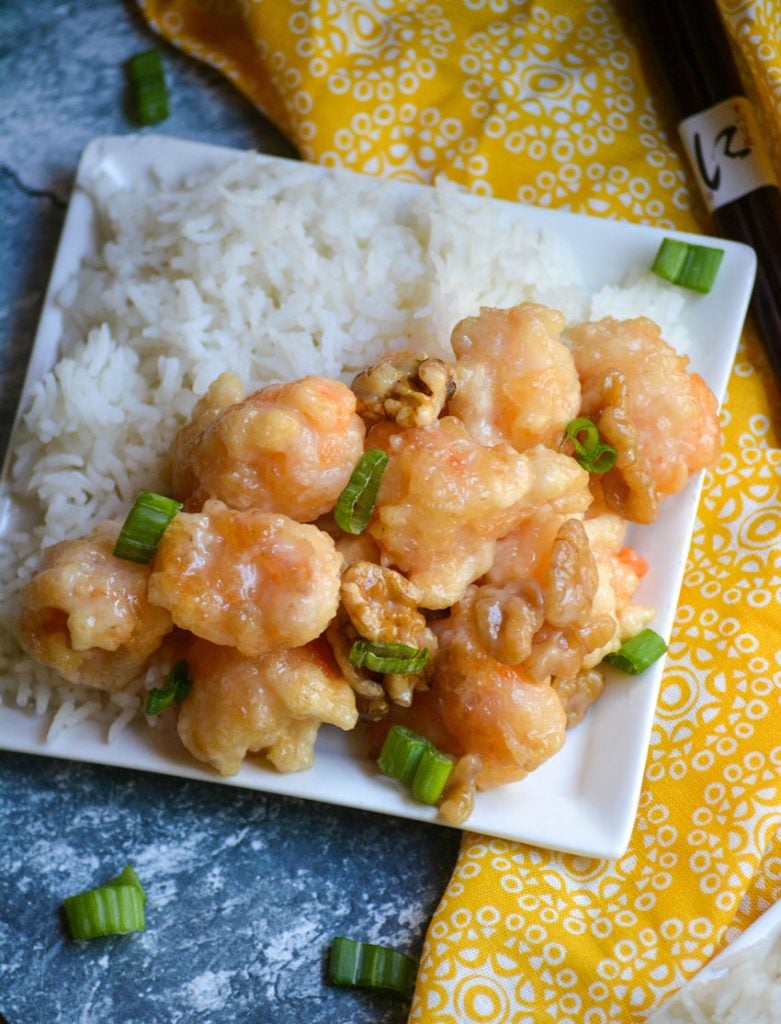 Pan Frying The Shrimp
Salt & pepper the raw shrimp.
To a large skillet set over medium high heat, add the oil.
While the oil's heating, batter the shrimp.
Dip the shrimp in the beaten egg, and then dredge them in the cornstarch, pressing if needed to ensure an even coating.
I like doing this in batches, working with 4-5 shrimp at a time.
This will help reduce overcrowding, and make sure every piece gets the appropriate treatment for maximum coverage.
Once hot, it will appear to have a shimmery sheen when ready.
Add the coated shrimp the the pan with hot oil, but do not add more than 8-10 shrimp at a time.
You don't want to overcrowd the pan, and the smaller number will help you keep a better eye on them.
Once that oil heats up, cooking can go really quickly, so the less crowded oil will help ensure nothing burns and instead only cooks to a beautiful golden brown.
Cook the shrimp for 1-2 minutes on each side. Again, these will cook quickly!
Using a slotted spoon, remove the fried shrimp to a layer of waiting paper towels. Allow them to drain of all excess grease.
Repeat until all the shrimp's done.
Assembling
Add the mayo, honey, and condensed milk to a large mixing bowl.
Whisk together until evenly combined.
Transfer all the fried shrimp to the mixing bowl, and toss until evenly coated in the sauce.
Serve the crispy honey shrimp topped with the candied walnuts.
If you'd prefer, you can stir the nuts right on in with the shrimp in the sauce.
You can't go wrong either way!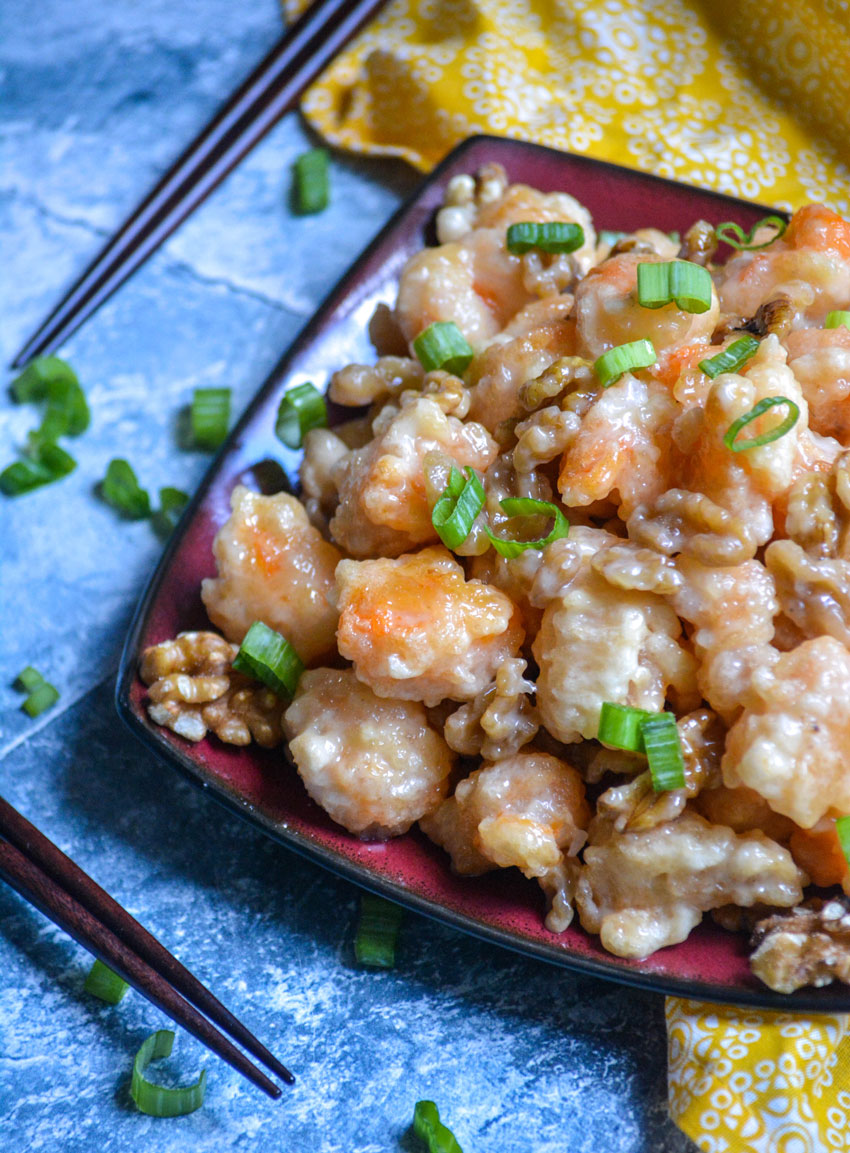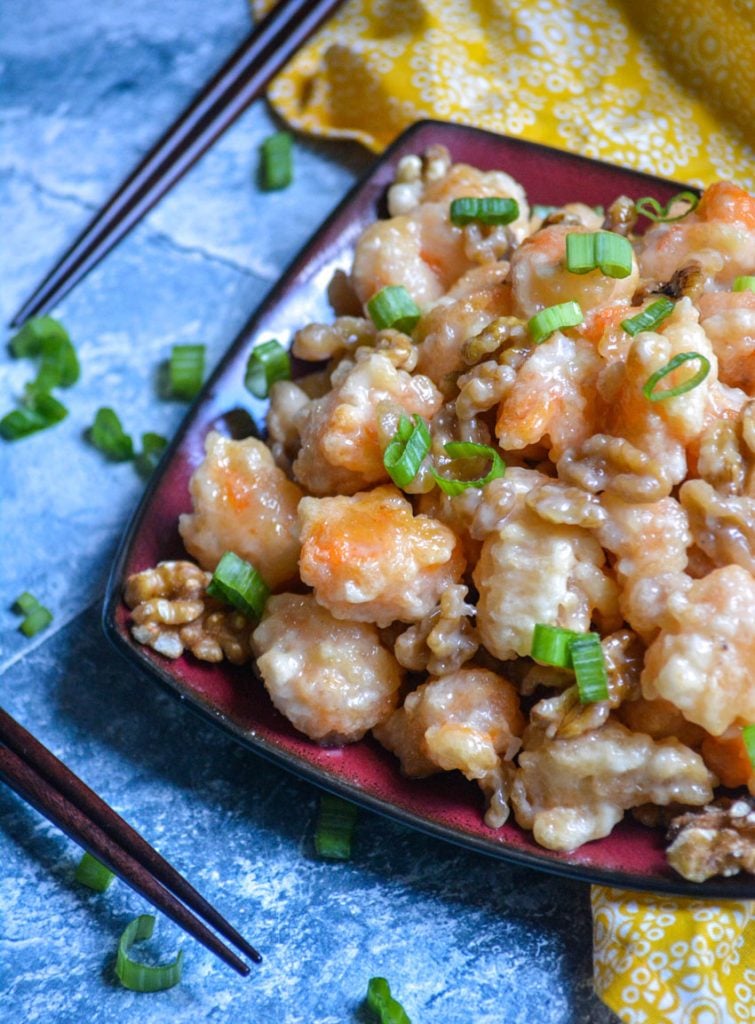 How To Serve
This honey walnut shrimp is so good, it's easy to eat right out of the bowl.
Not gonna lie, sometimes we've plopped the bowl right down on the table and all picked out of it with pairs of chopsticks.
Simple supper!
Other ways to serve it include:
over steamed white rice
with fried rice on the side
in crispy lettuce leaves for low carb lettuce wraps
using small tortilla shells with a raw slaw and sriracha for Asian style tacos
However you choose to serve them, you really can't go wrong. They're that yummy!
Have your own favorite way to enjoy them? Let us know in the comments below!
I love shrimp, and there's really no right or wrong way to prepare it in my book.
But if there's a top notch, if I have a choice I'd really love for you to make it this particular way, version … This is crispy honey walnut shrimp is definitely it.
Other Shrimp Recipes To Try
Crisp, fried shrimp are combined with sugared nuts and tossed in a creamy, sweet sauce.
Serve it as is or serve it over a bed of freshly steamed white rice for an authentic, restaurant quality meal.
Looking for other ways to enjoy shrimp at home?
Check out these recipe ideas:
If you've tried these CRISPY HONEY SHRIMP WITH CANDIED WALNUTS or any other recipe on my site, let me know in the comment section how it turned out, we love hearing from our readers! You can also follow along with me on PINTEREST, FACEBOOK, and INSTAGRAM to see more amazing recipes and whatever else we've got going on!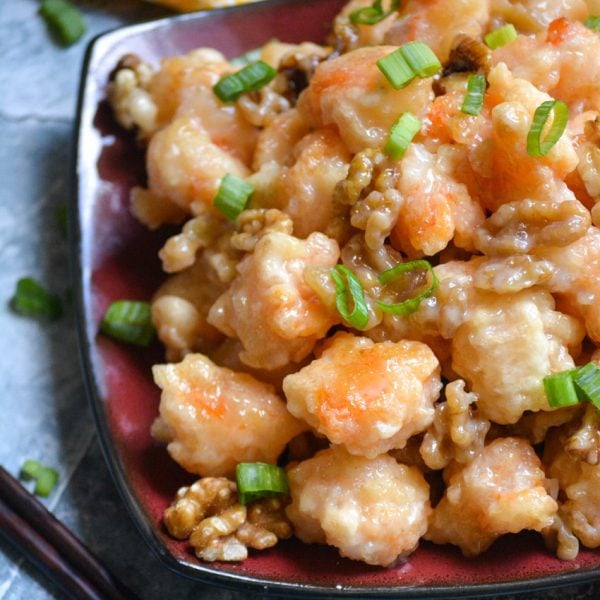 Crispy Honey Shrimp with Candied Walnuts
This budget friendly, Asian inspired recipe features crisp, fried shrimp that are tossed in a creamy, sweet honey sauce and topped with candied walnuts.
Print
Pin
Rate
Ingredients
canola oil

for frying

1/2

cup

sugar

1/2

cup

chopped walnuts

3

tbsp

mayonnaise

1 1/2

tsp

honey

1 1/2

tsp

condensed milk

1

lb

medium shrimp

peeled and deveined

salt & pepper

to taste

1

large egg

beaten

1/2

cup

cornstarch
Instructions
In a large skillet, heat the oil over medium-medium high heat.

Add 1/2 cup of water to a medium sized pan and bring it to boil over medium heat. Stir in the sugar and stir constantly, until the syrup has thickened and turned golden. Working quickly, toss the walnuts in the syrup, stirring a bit to evenly coat before transferring them to a non-stick baking mat, or pachment paper, lined baking sheet.

Add the mayo, honey and condensed milk to a small bowl and stir together until they're evenly combined.

Salt and pepper the shrimp, as desired, and then, working one at a time, dip the shrimp into the egg, and then dredge them in the cornstarch, pressing gently to ensure a good coating.

Working in batches of 10 or so, add the prepared shrimp to the hot oil, and fry until they're golden brown and crispy, about 1-2 minutes on each side. Remove the fried shrimp from the oil and allow them to drain on a layer of paper towels.

When all the shrimp are cooked, transfer them to a large bowl. Add in the sauce mixture and toss them together until evenly coated.

Serve the honey shrimp immediately, topped with the candied walnuts, or stir the walnuts into the sauce mixture along with the shrimp. Either method is delicious.
Nutrition
Calories:
468
kcal
|
Carbohydrates:
45
g
|
Protein:
27
g
|
Fat:
20
g
|
Saturated Fat:
3
g
|
Trans Fat:
1
g
|
Cholesterol:
332
mg
|
Sodium:
968
mg
|
Potassium:
182
mg
|
Fiber:
1
g
|
Sugar:
29
g
|
Vitamin A:
74
IU
|
Vitamin C:
5
mg
|
Calcium:
192
mg
|
Iron:
3
mg
recipe originally published February 6, 2016