Everyone loves a good biscuit, but in the South we have a special affinity for them. Don't wait to get your biscuit game on, because you don't want to miss out on these! With a golden, buttery crisp on the outside and flaky soft inside the layers that just melt in your mouth these Copy Cat KFC Biscuits are the only buttermilk biscuit recipe you'll ever want or need.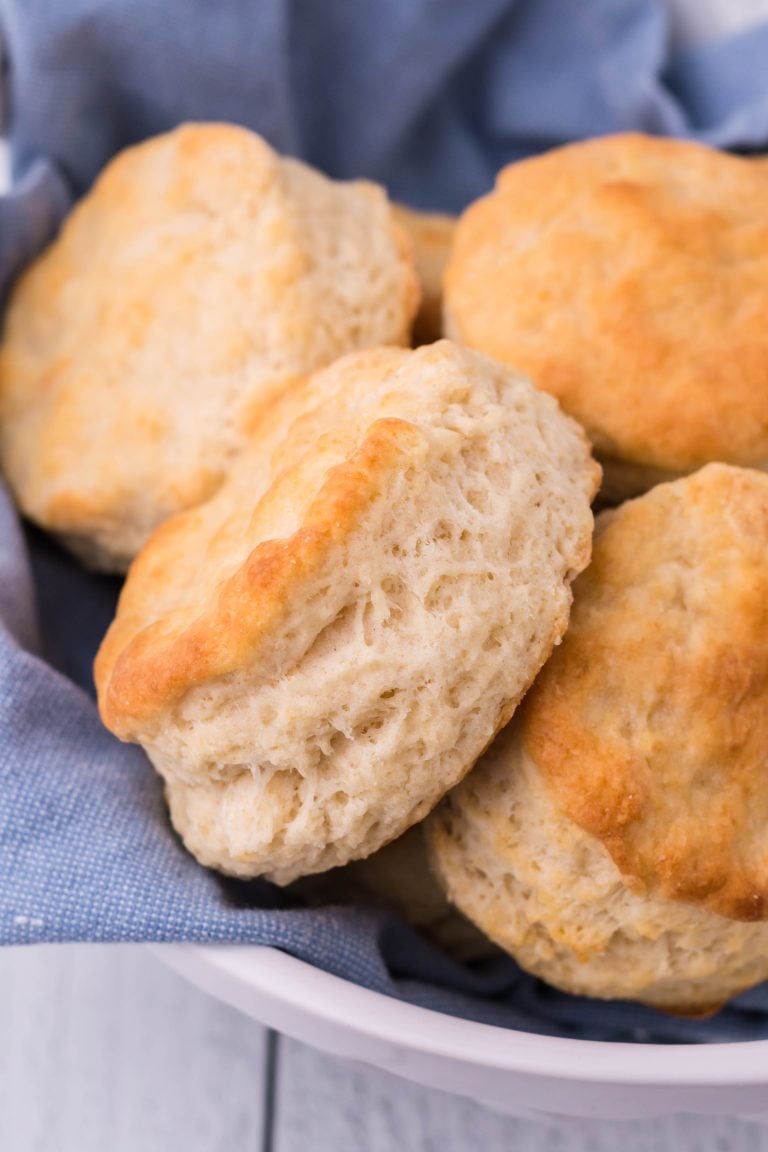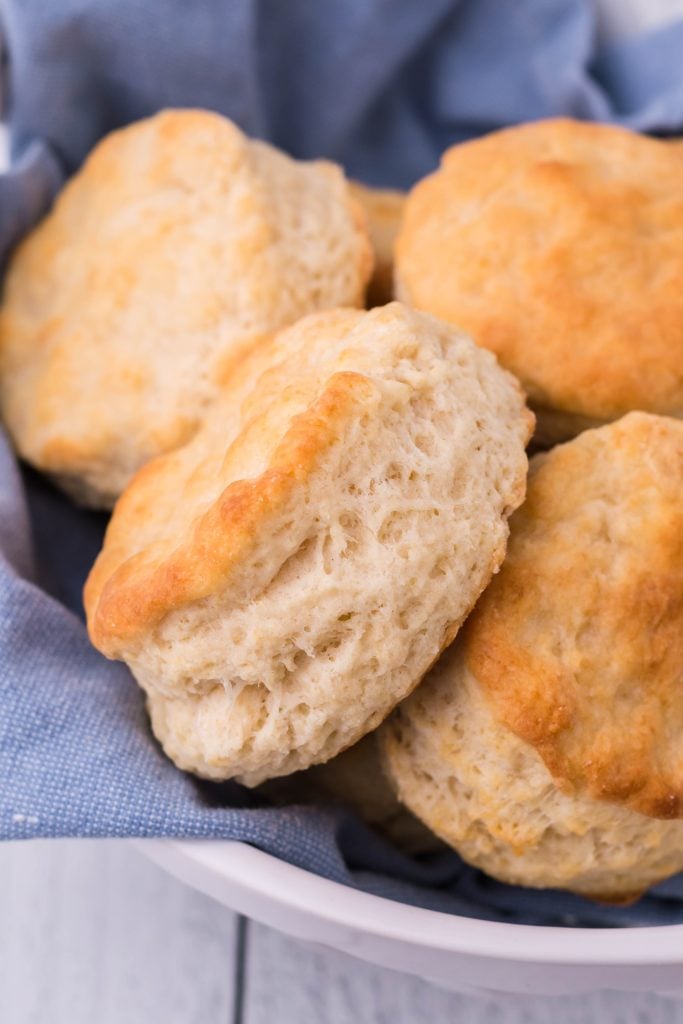 Around here we're pretty serious about our biscuits, and we're not shy about enjoying them morning, noon, and night.
Biscuit and gravy, fried chicken and biscuits— everything's better when paired with a soft, crumbly crisp on the outside Southern-style biscuit.
We even take 'em with us on our picnics.
Whether it's to see a play, enjoying the park on Easter Sunday, or an after school function– I love an easy picnic meal.
And it really doesn't get any easier than ordering a tub of fried chicken with a side of our favorite biscuits.
It's convenient, fast and finger lickin' good.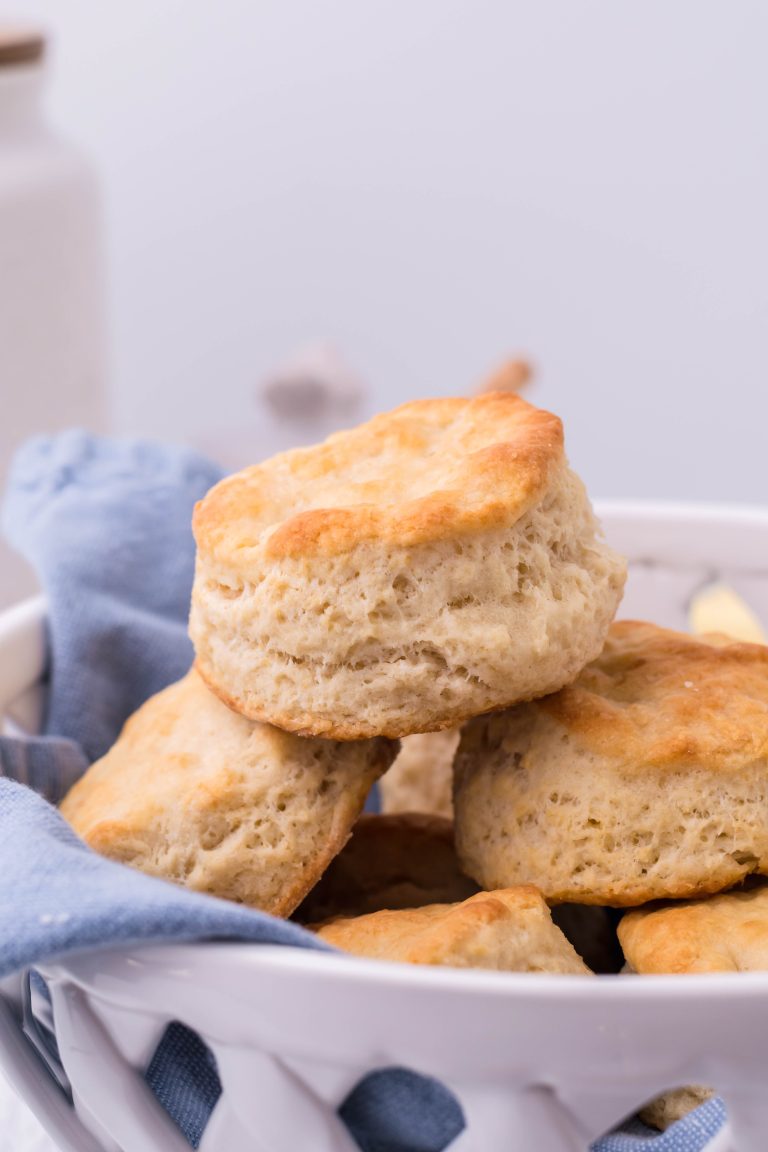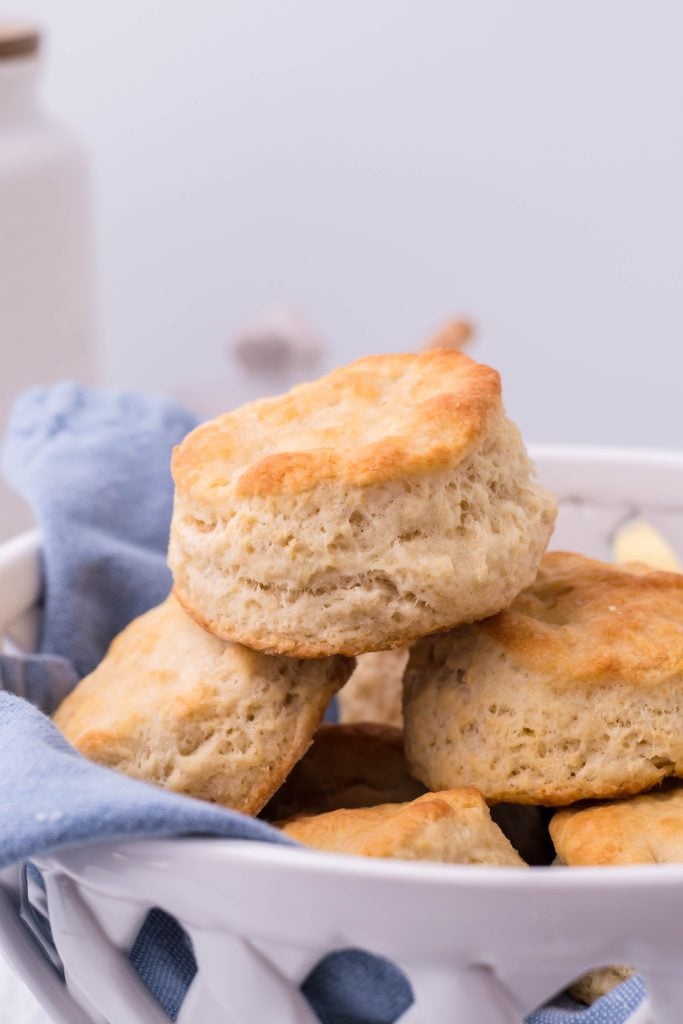 But what about those regular days, the everyday dinners where a bowl of buttery biscuits would be a perfect fit.
Nothing sops of juices or gravy quite like them.
On those days we make these copy cat KFC Biscuits.
What Exactly Is It That Makes Kentucky Fried Chicken's Biscuits So Good?
Other than the actual recipe, there are a few key notes that make these biscuits stand out.
Not just among other fast food biscuits, but Southern-style biscuits in general.
The first thing isn't really anything you'd think is special, but it is.
These biscuits don't bake up with a uniform appearance like other cut biscuits.
Their slightly irregular finish really gives them a homemade feel & look.
And there's absolute truth to the old adage that we eat with our eyes first.
KFC biscuits also bake up with a gorgeous golden brown perfection on the outside, and an incredibly moist, crumbly, tender center.
That's Southern biscuit goals, and just about as perfect as it can get.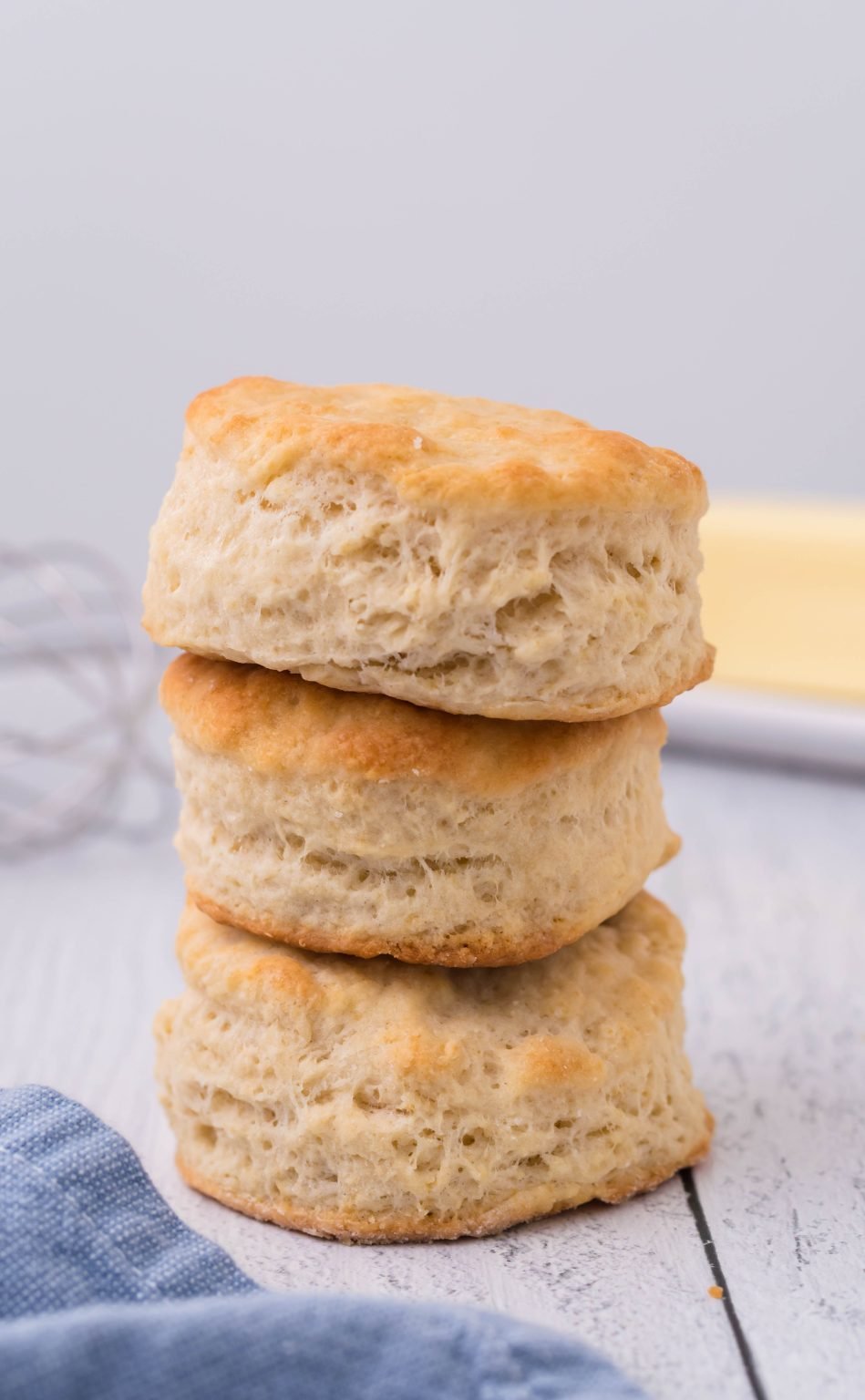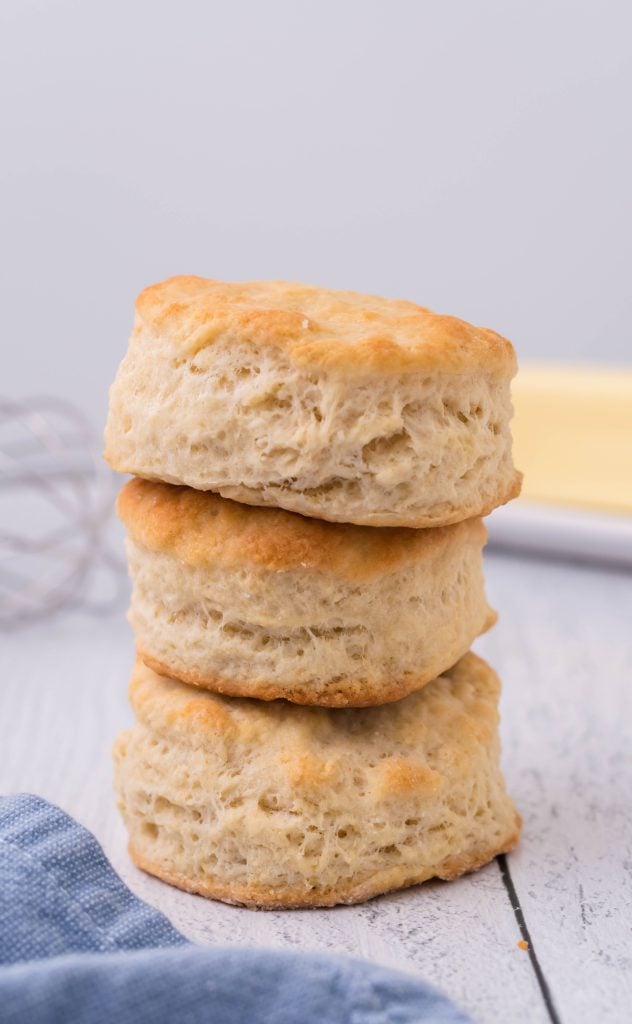 Ingredients Needed
Believe it or not, whipping up this copy cat recipe is easier than you'd think.
Easier even than a trip to your local franchise.
And like all the great Southern-style biscuits before them- these don't require any yeast, making them perfect for any level of home cook.
flour – the plain, old fashioned all purpose kind- the staple of Southern kitchens
salt
sugar
baking powder – this takes the place of yeast and is the star of the show, allowing these biscuits to rise
buttermilk – you can substitute whole milk, or make your own buttermilk
vegetable shortening – this is the same as Crisco, alternatively you can sub good old fashioned lard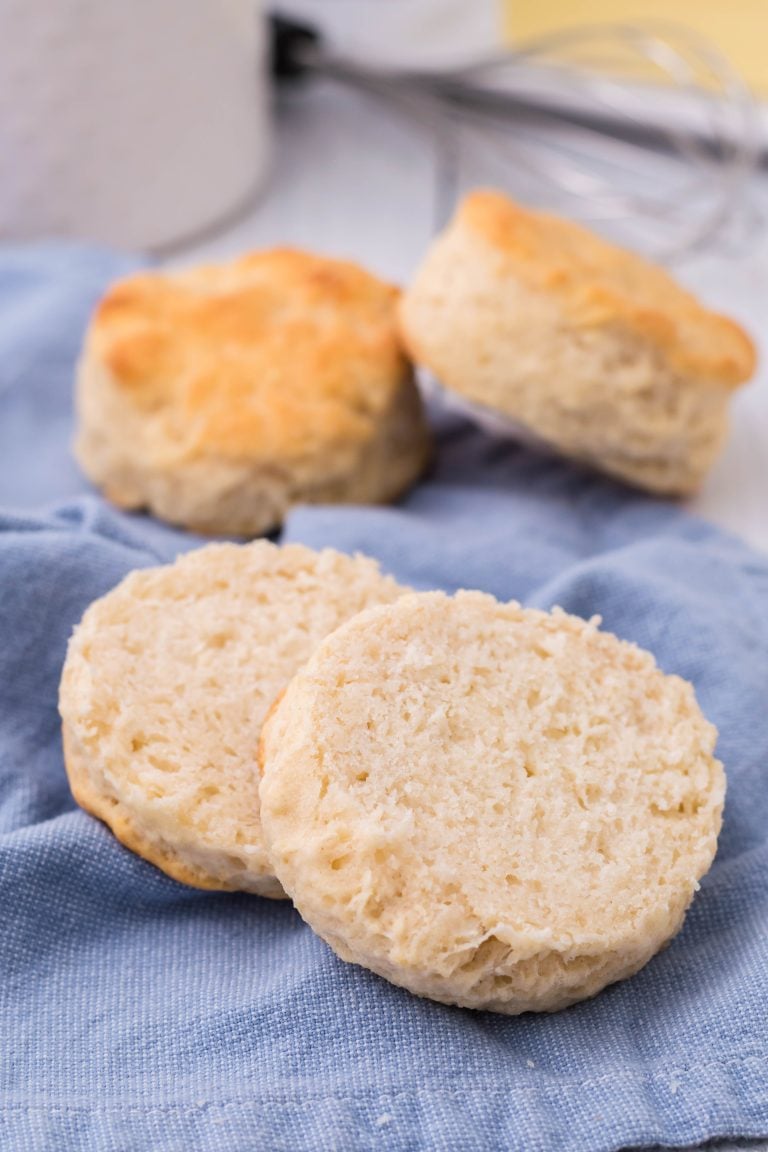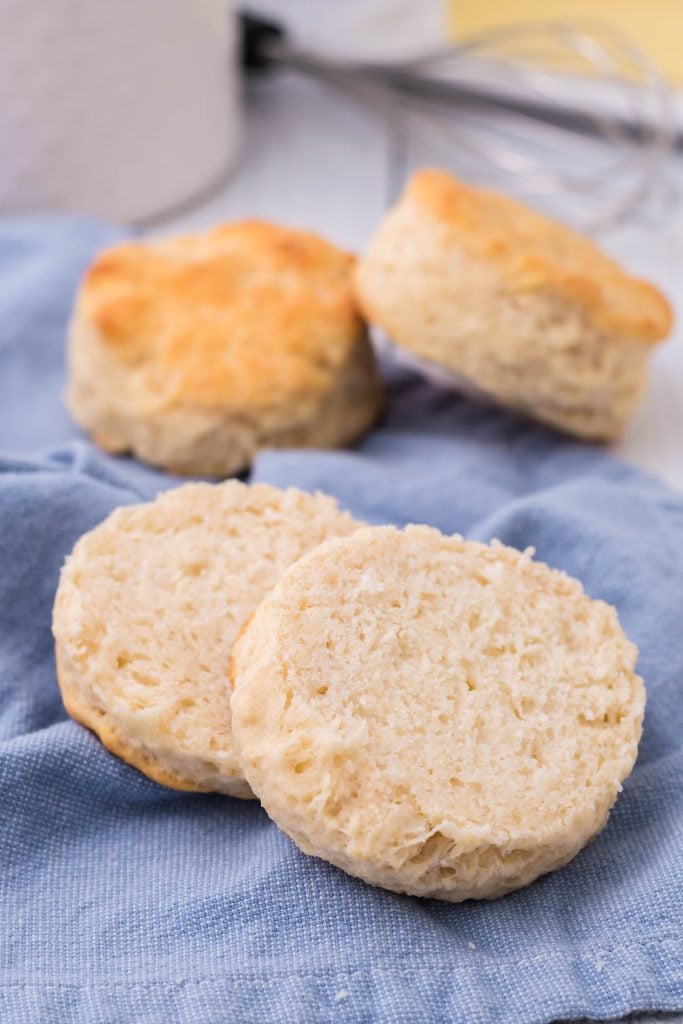 How To Make Authentic Southern Style Biscuits
Prop a sifter over a mixing bowl, and add the flour, salt, sugar, and baking powder to it.
Shake it gently to sift the ingredients together into the bowl until all are sifted into the mixing bowl.
To the center of the bowl make a well by pushing the dry ingredients out towards the bowl's walls.
Add the wet ingredients, buttermilk and shortening, to the well.
Using your hands, knead the dough together, cutting in as you go. This step may take a few minutes.
The dough should come together pretty easily, but if it's not- add a bit more milk, just until it's combined.
Lightly four a flat work surface, such as a clean counter top or cutting board.
Turn your dough ball out onto that.
Knead the dough roughly for a few minutes, until it's easy to work with.
Roughly pliable would be what you're looking for.
Roll the dough out evenly until it's 1/2″ thick all the way around.
Use a biscuit cutter to cut roughly 8 rounds out of the dough.
Reroll the remaining scraps, roll out and cut another 2-3 biscuits out of them.
Lightly spray a baking sheet with non stick cooking spray, and transfer the cut biscuit rounds to it.
Bake the biscuits at 425 degrees for 10-13 minutes.
Let the biscuits cool briefly before handling, and then serve them with a pat of butter & a drizzle of honey- as desired.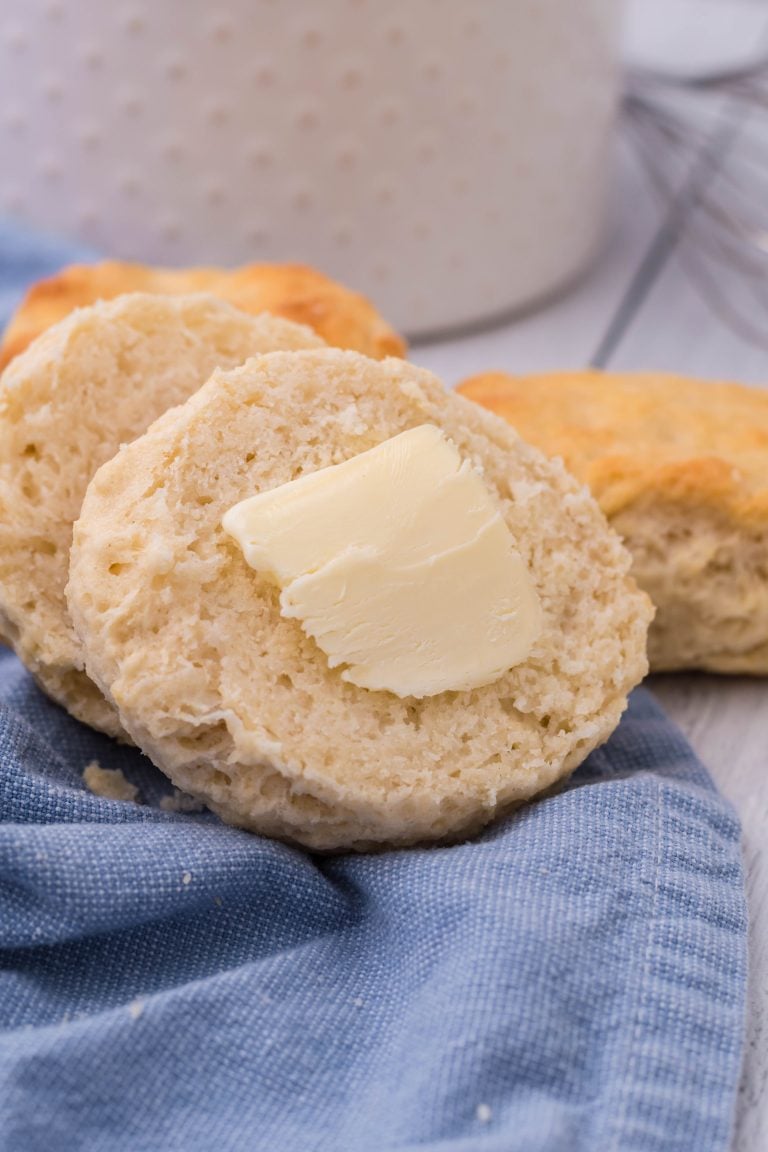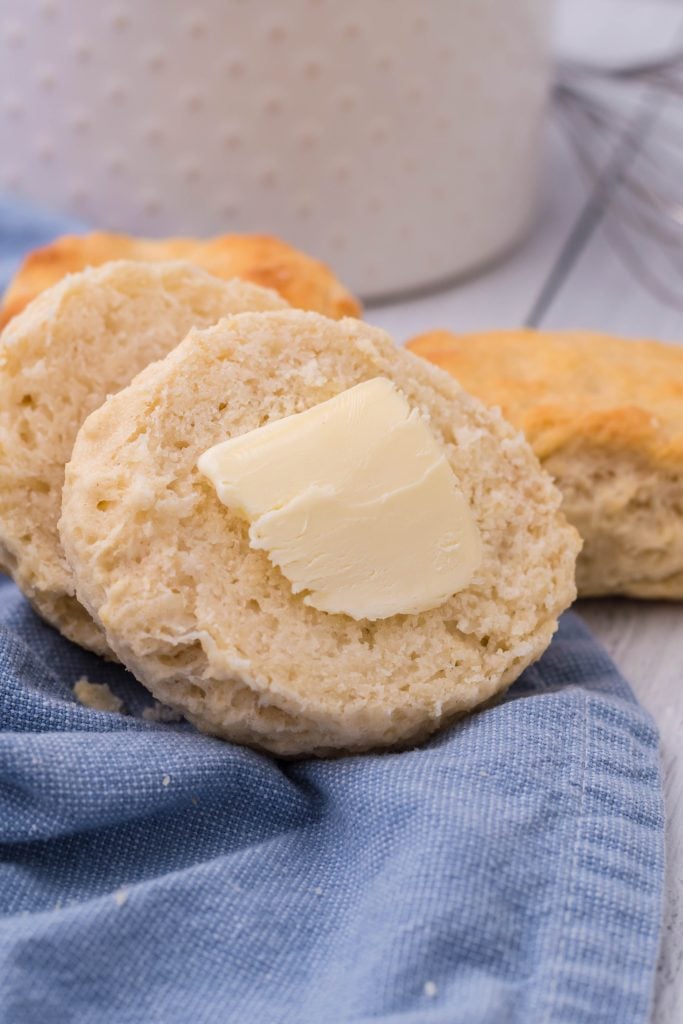 What Can I Use Instead Of A Biscuit Cutter?
Don't have a set of biscuit cutters handy? That's ok.
Plenty of things can work in a pinch!
a glass cup
an aluminum can- just clean and wash it well with soapy water first to remove any smells or residue
a circular cookie cutter
a mason jar canning lid
If you don't have a traditional biscuit cutter, any of these will work.
As a matter of fact, this batch of copycat KFC biscuits were cut using an upended glass from my kitchen cabinet.
It happens.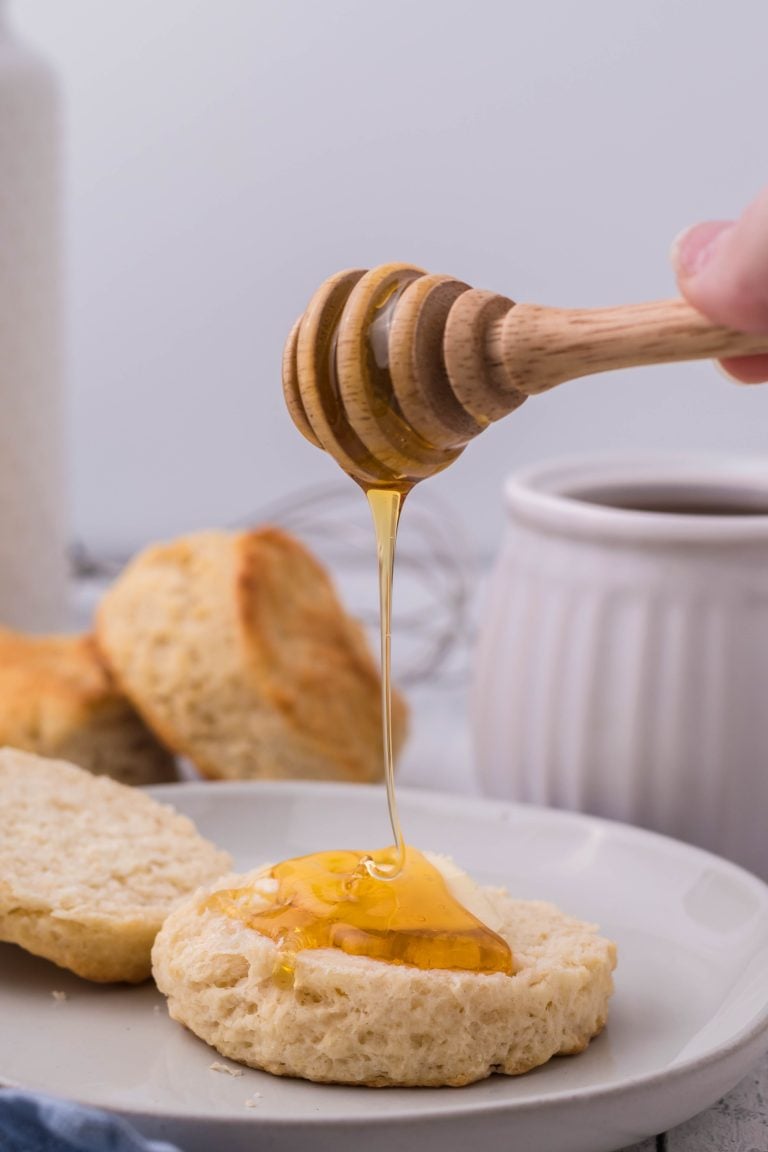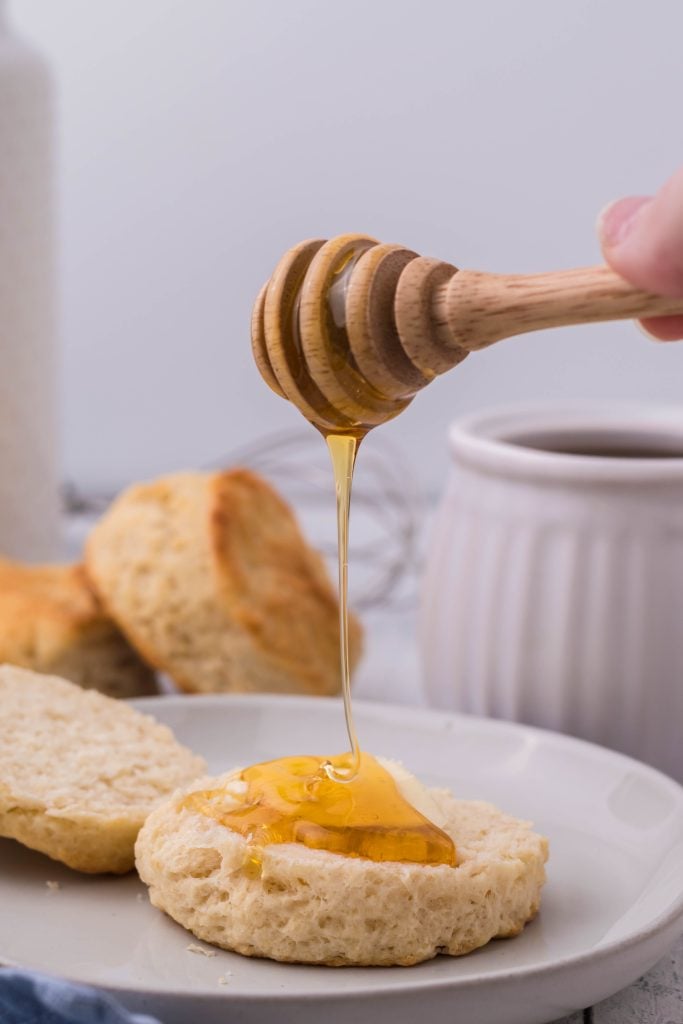 Light, flaky, buttery– these biscuits are a must have & taste just like the ones you love getting from Kentucky Fried Chicken restaurants.
Seriously, you need to print this recipe, and put it somewhere safe.
Better yet– get it a protective cover because that's how much you'll be using it.
The best part, well in addition to getting your favorite Southern style biscuits fix, is how easy they are to whip up.
Having company at the last minute and need a few more? Easy Peasy, just double the recipe.
Got a house full of hungry teens like I do and they scarfed them all down before you get any or the littlest siblings?
Good thing they're so simple– at least that's what you'll be thinking when you slide a second batch into the oven.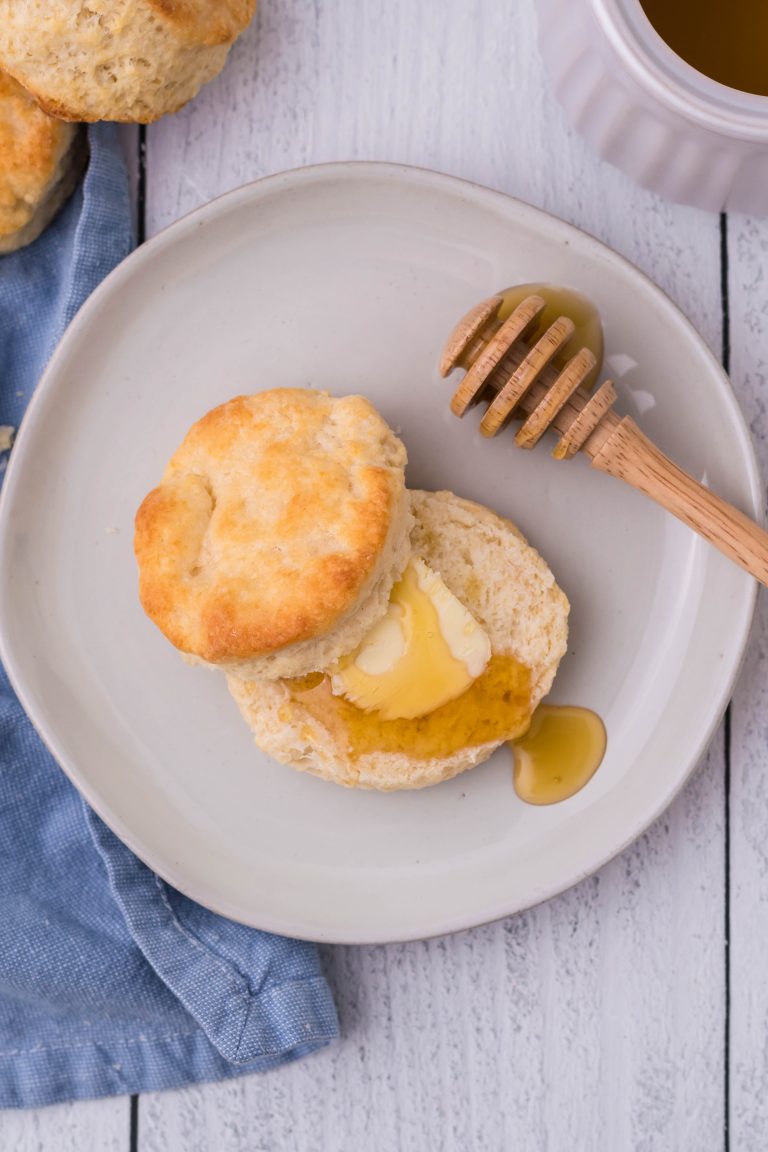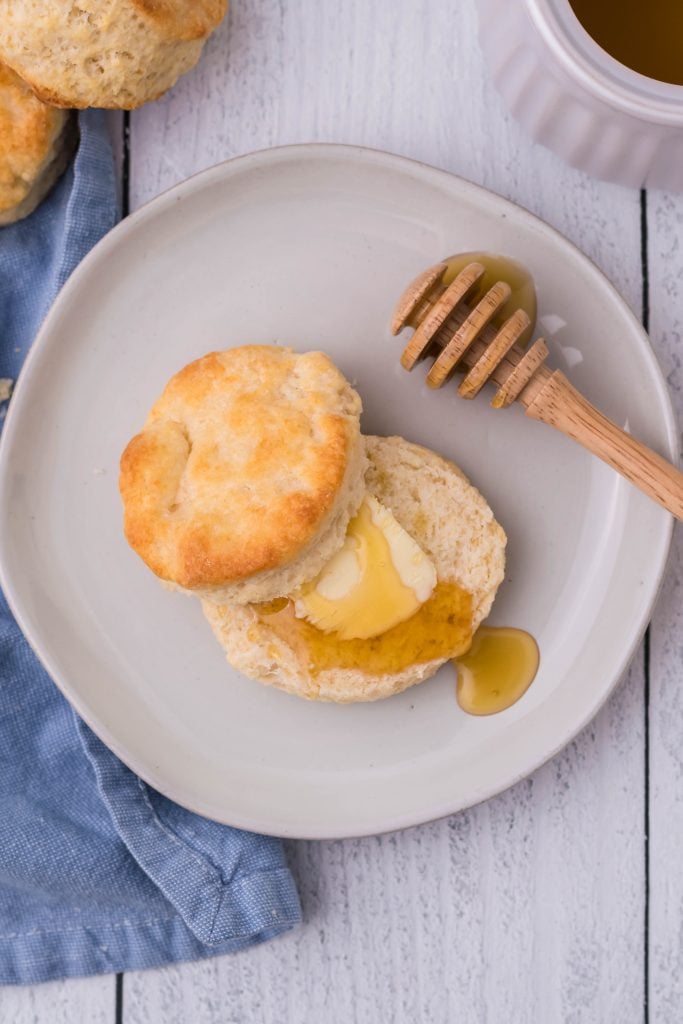 Don't Miss These Other Yummy Bread Ideas:
If you've tried these COPY CAT KFC BISCUITS, or any other recipe on my site, let me know in the comment section how it turned out, we love hearing from our readers! You can also follow along with me on PINTEREST, FACEBOOK, and INSTAGRAM to see more amazing recipes and whatever else we've got going on!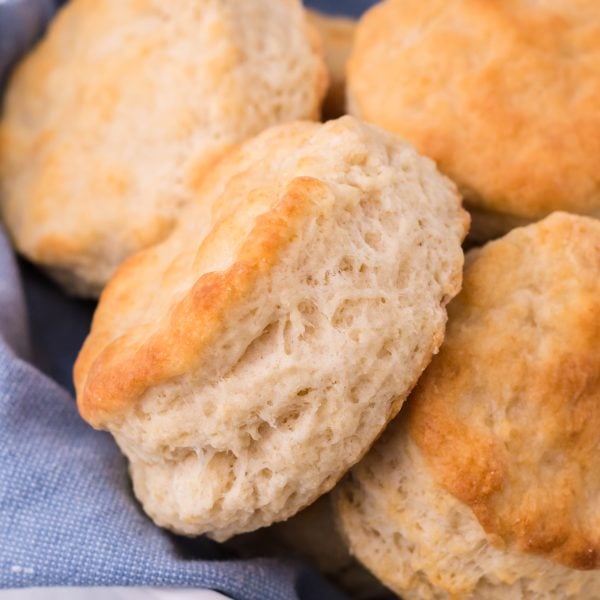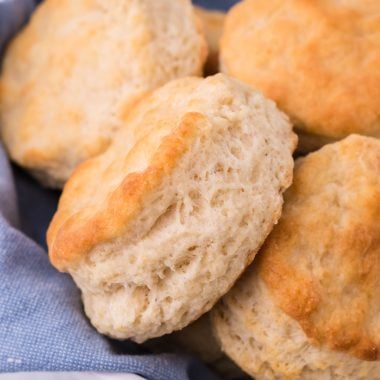 Copy Cat KFC Biscuits
The perfect Southern biscuit, crisp & golden on the outside-- but soft and flaky on the inside, these buttery copy cat muffins will melt in your mouth with ever bite.
Print
Pin
Rate
Ingredients
1 1/2

cups

flour

1 1/2

tsp

salt

1

tbsp

sugar

1

tbsp

baking powder

2/3

cup

buttermilk

or full fat milk

1/3

cup

vegetable shortening
Instructions
Add the dry ingredients to a sifter or mesh strainer. Sift them together over top of/into a large bowl.

Make a well in the dry ingredients and add in wet ingredients. Use your hands to knead the dough, cutting them in as you go.

If the dough isn't coming together just yet, add a bit more milk, just until the dough has come together and formed.

Lightly flour a work surface and turn the formed dough out onto it. Knead the dough 6-8 good times.

Roll the dough out until it's 1/2" thick all the way around.

Use a glass or a biscuit cutter to cut 8 biscuits out of the dough. Form the remaining scraps into two biscuits. Transfer the biscuits to a baking sheet.

Bake the biscuits at 425 degrees for 10-13 minutes.

Serve warm with drizzle with honey or topped with a pat of butter.
Nutrition
Calories:
180
kcal
|
Carbohydrates:
21
g
|
Protein:
3
g
|
Fat:
9
g
|
Saturated Fat:
3
g
|
Cholesterol:
2
mg
|
Sodium:
459
mg
|
Potassium:
204
mg
|
Fiber:
1
g
|
Sugar:
3
g
|
Vitamin A:
35
IU
|
Calcium:
91
mg
|
Iron:
1.2
mg