A homemade version of Kentucky Fried Chicken's Famous Bowls, these copycat KFC Famous Bowls are a winner. Crispy chicken and sweet corn sits on top of creamy mashed potatoes. Finished off with a hearty drizzle of rich brown gravy, and shredded cheeses- it's a hearty bowl full of comfort food with that classic KFC taste without ever having to leave your house.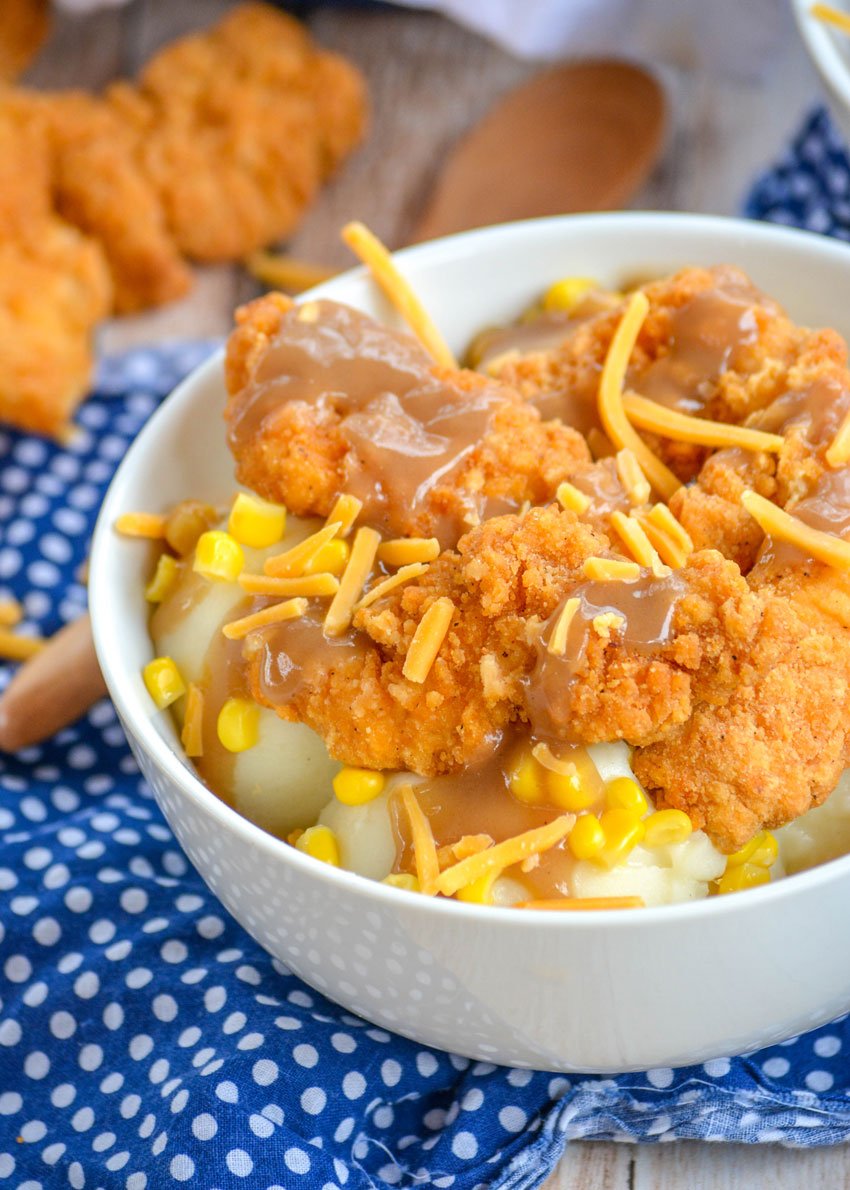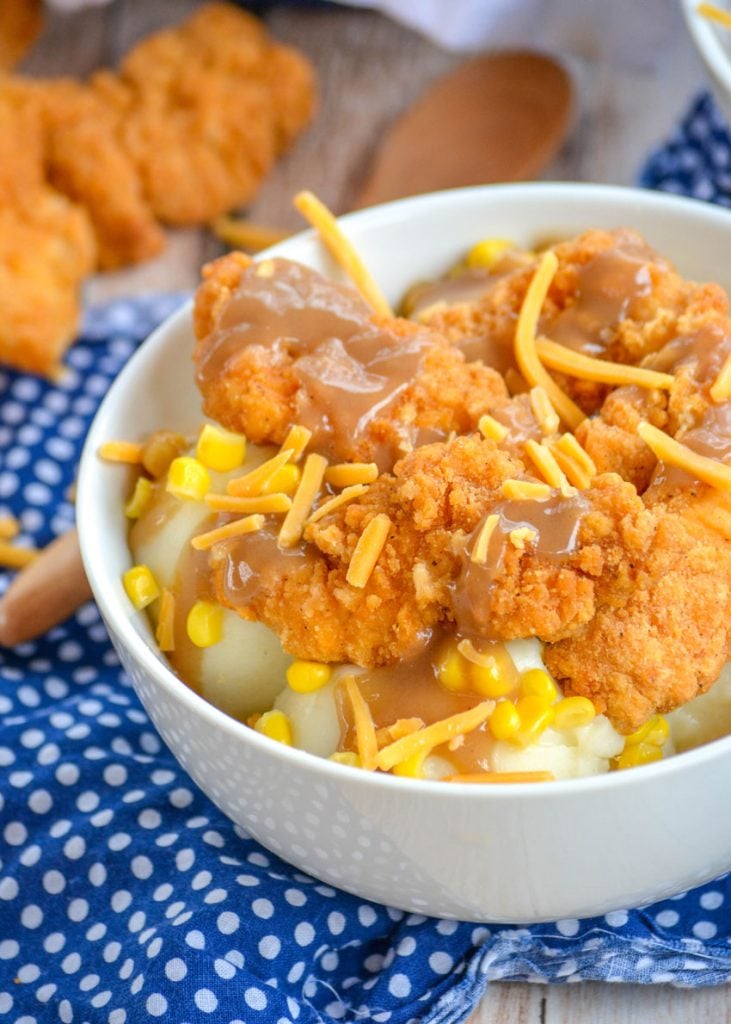 Is there anything much better fried chicken and sweet corn covered in gravy and cheese nestled on top of a bowl of fluffy mashed potatoes? Go ahead. I'll wait while you try to think of something.
The only thing I can think of that comes close to this goodness is the way I eat my Thanksgiving dinner. I use the potatoes and stuffing as a base and pile on top all of the turkey fixings and gravy for a bowl of Thanksgiving goodness.
And to be honest, though I love that bowl of Thanksgiving, I love these copycat KFC Famous bowls even more.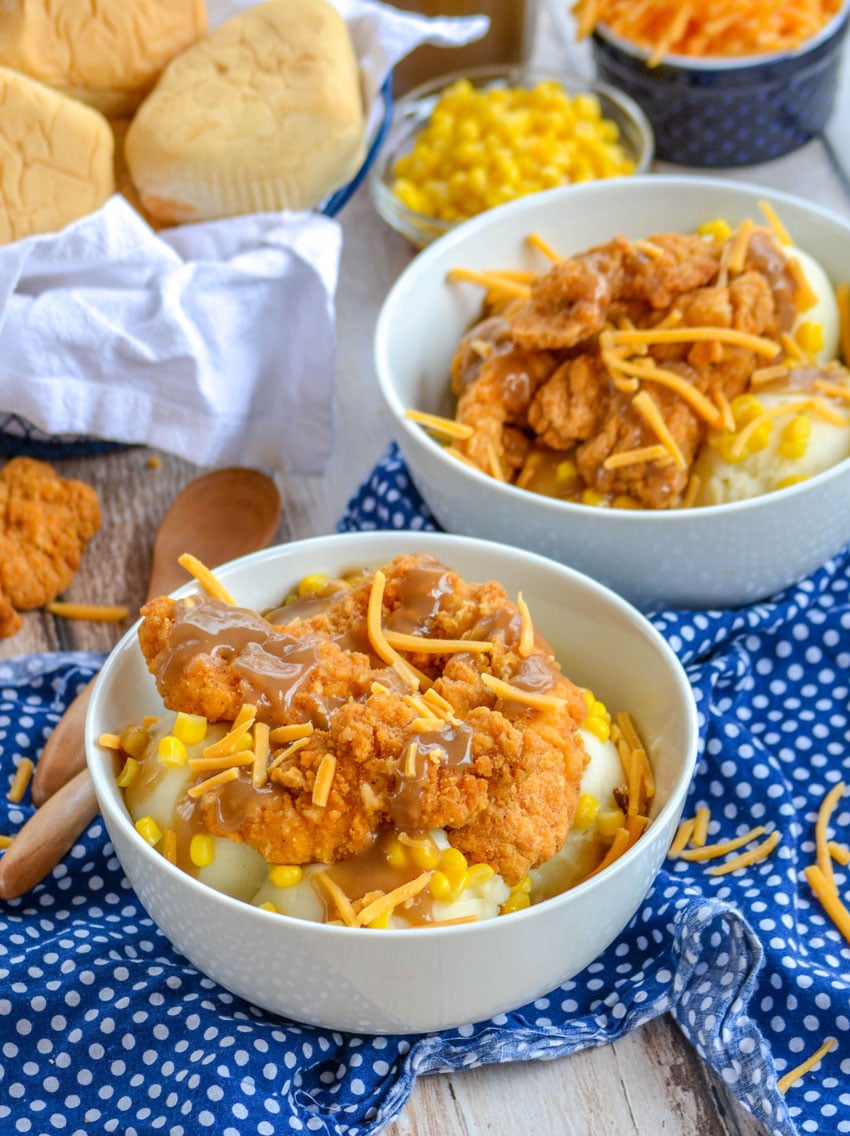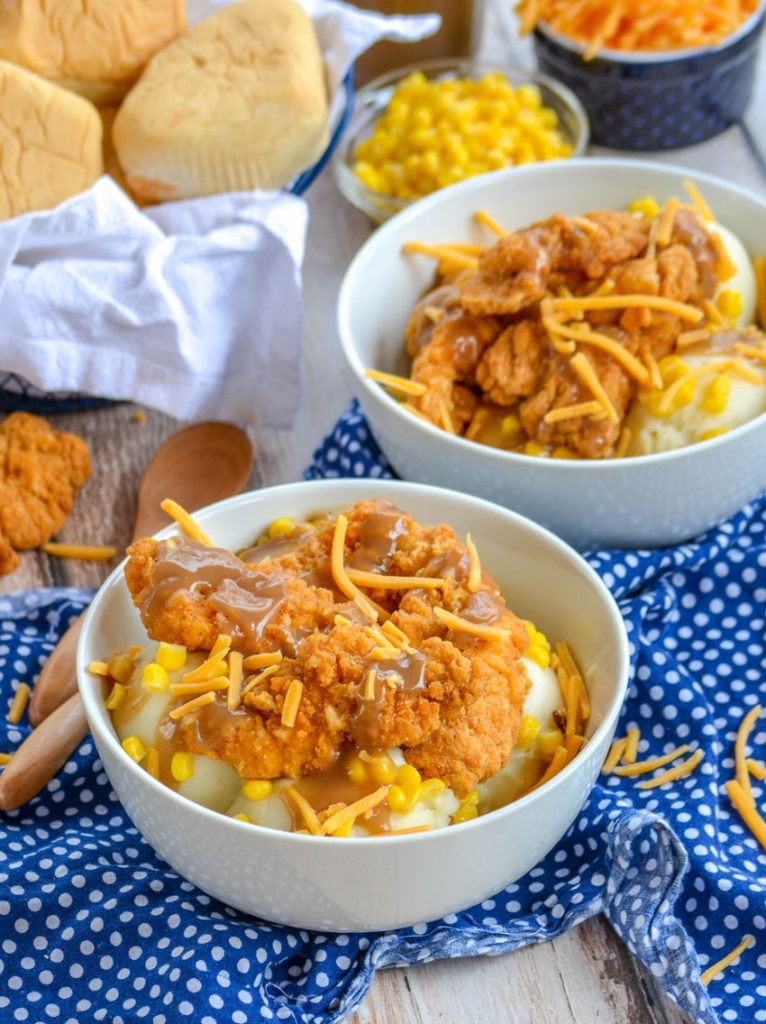 What is a KFC Famous Bowl anyway?
If you've never had a KFC Famous bowl, you're missing out my friend. It's KFC's popcorn chicken and sweet corn nestled on top of their signature mashed potatoes.
Then they cover the whole thing with their delicious gravy and sprinkle on a blend of shredded cheese. It's everything great about KFC in one really addicting bowl.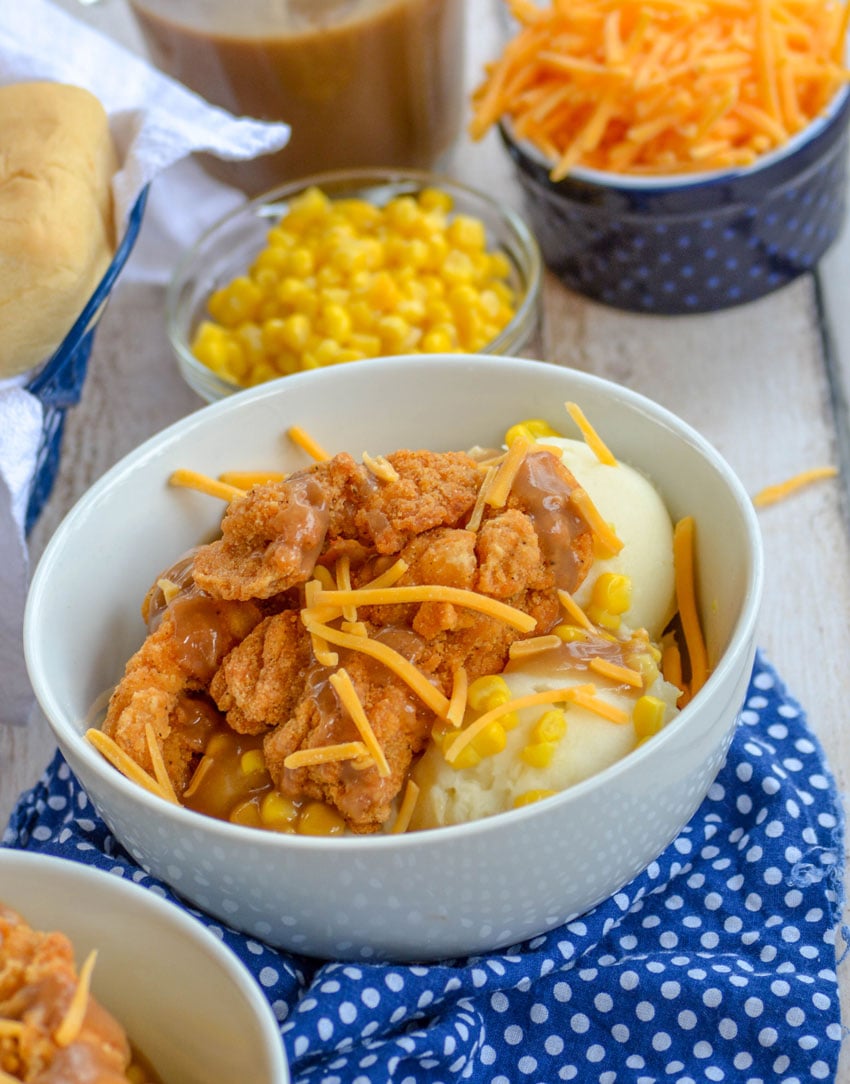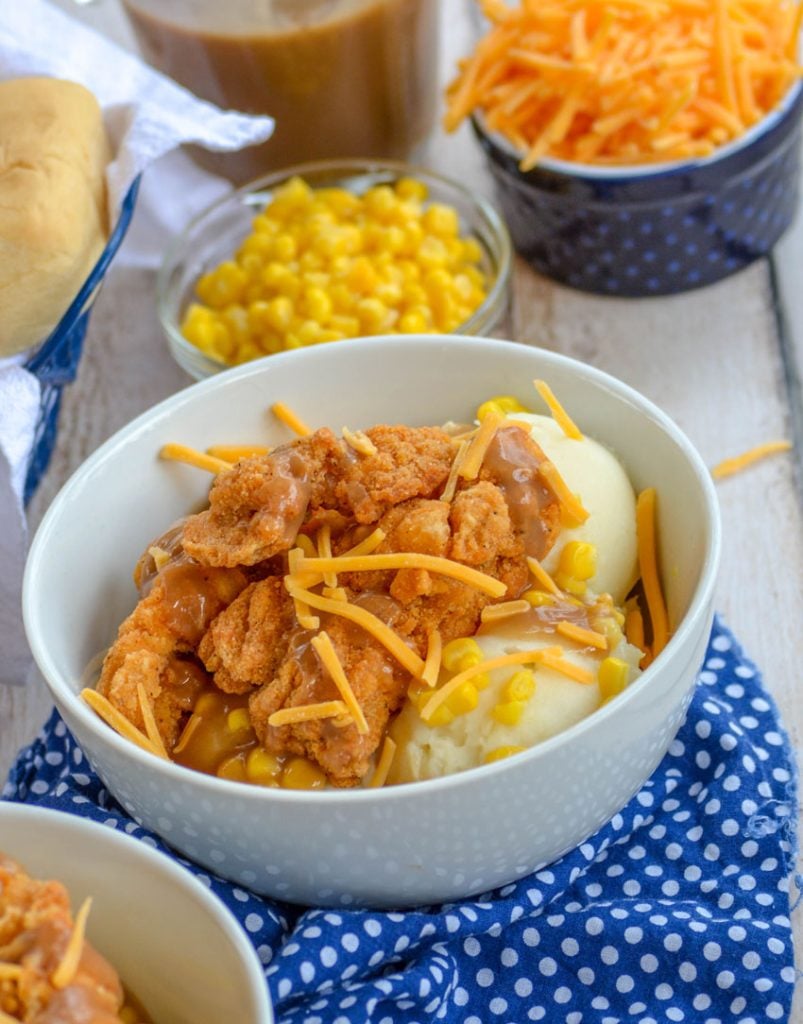 Isn't it hard to make a Famous Bowl at home?
Nope! Not at all! I like to shortcut this copycat KFC recipe by making the mashed potatoes from scratch and using premade versions of everything else. However, you can make the whole thing from scratch if you like and try this homemade chicken tender recipe.
You could even make a copycat version KFC's gravy from scratch if you like. I just buy my favorite store gravy to save on time.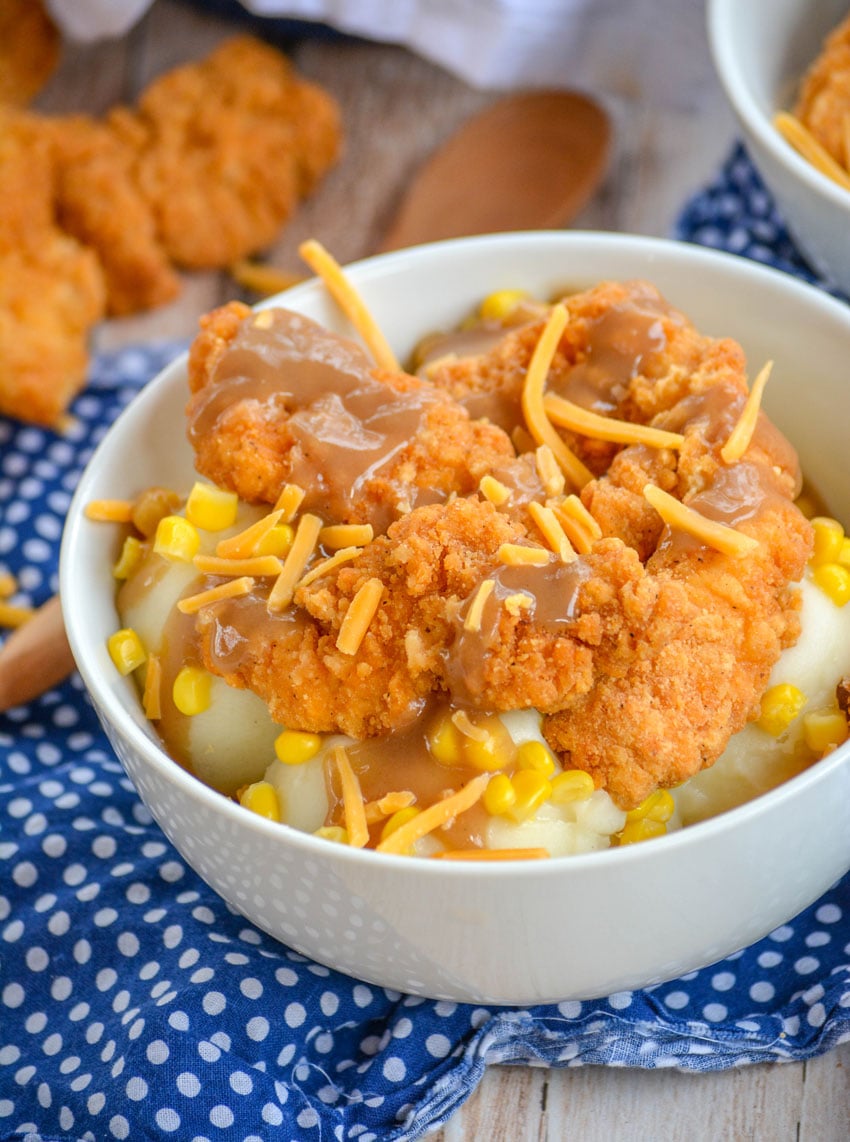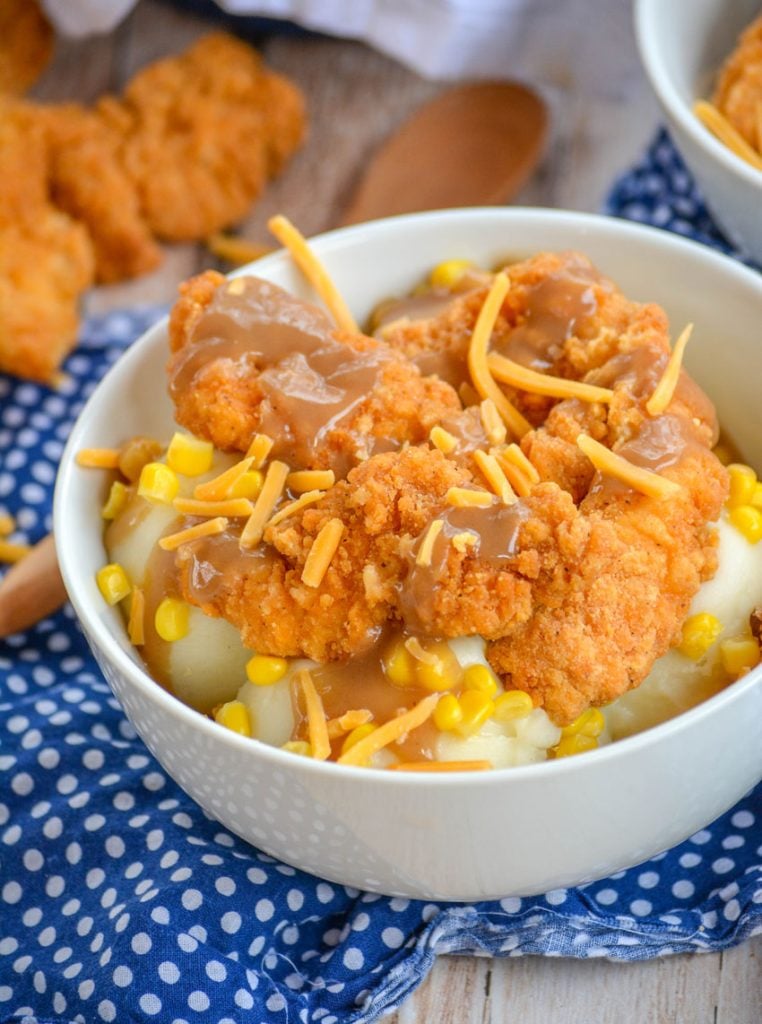 Making the Mashed Potatoes: The Secret to a Delicious Famous Bowl
The mashed potatoes are the best part of the KFC Famous bowl for me. I wanted to make my own that would do the KFC bowl justice. Making copycat KFC mashed potatoes at home isn't difficult.
To make the mashed potatoes, first peel and cube 8-10 baking potatoes. Yep, that's right. Plain old baking potatoes like Russets. They don't have a lot of moisture but do have a lot of starch. This combination makes the base for a perfectly fluffy yet creamy mashed potato.
After you have your potatoes cubed, boil them until they are fork tender, about half an hour. Then drain the water and return the potatoes back to a hot pot. Now it's time to season them and mash the potatoes with a potato masher.
Yes, before you add the half and half and cream cheese. They will be fluffier this way. After you have them mashed as best you can, go ahead and add the half and half and cream cheese and mash again.
Now you can assemble your copycat KFC famous bowl. Add a scoop of mashed potatoes as the base, then top with corn, chicken strips, gravy, and cheese.
TIPS & TRICKS FOR THE EASIEST COPY CAT KFC FAMOUS BOWLS:
While I peel my potatoes, you can totally skip that step. Just wash/scrub them, and then chop & boil as instructed. Another great way to save a little time, and an easy way to include some added nutrients from the skins.
Mashing potatoes can be hard, especially when you want that uber creamy texture for the final result. You can use a hand mixer to whip them up right in the bowl. Whipping the potatoes not only gets them super soft and creamy, but it aerates them and the result is oh so fluffy.
Don't have chicken strips on hand? You can sub pop corn chicken, or chicken nuggets. We've also used breaded chicken cutlets cut into thin strips and served over top the potatoes. As long as it's some sort of crispy breaded chicken, you can't go wrong. It will still satisfy your craving for this fast food copycat recipe.
Canned corn isn't the only kind of corn that goes great in this recipe. Frozen corn is just as good, just make sure it's thawed and heated through. Got fresh corn on the cob? Cook them and top these chicken & mashed potato bowls with crunchy corn cut right off the cob.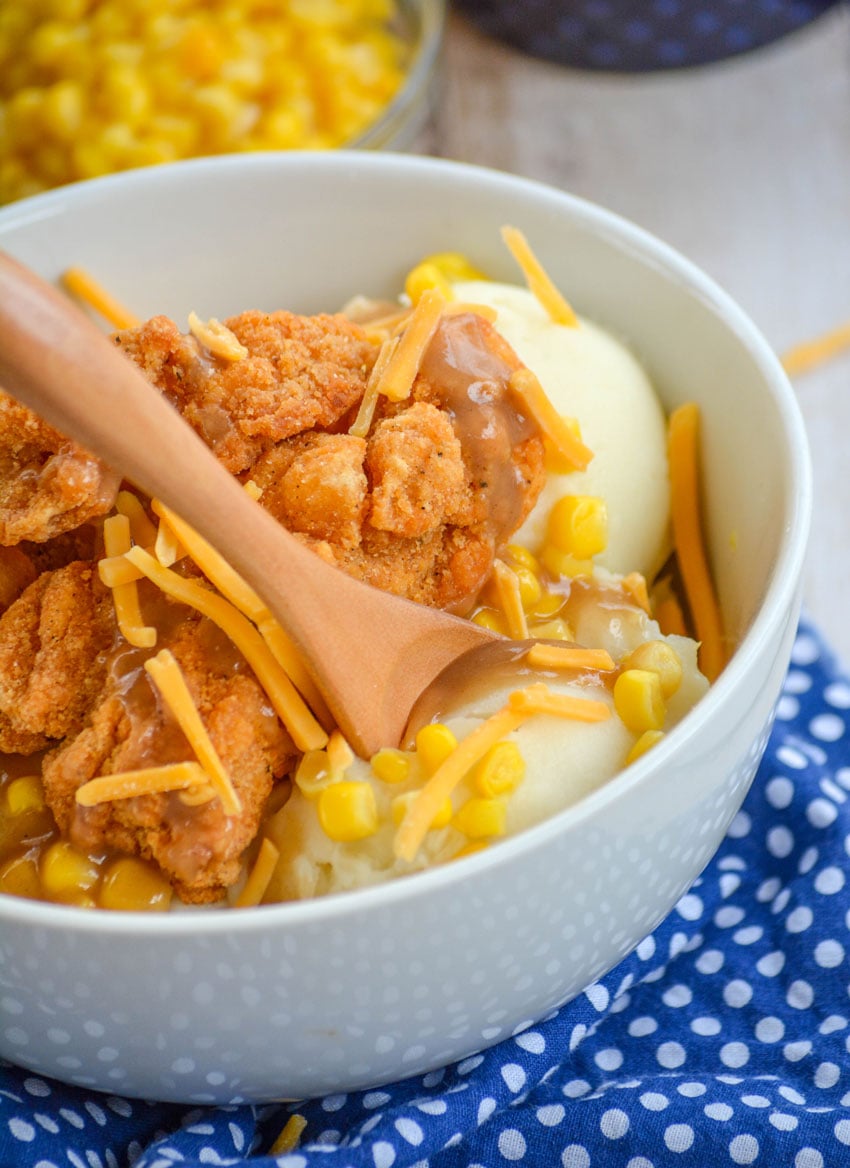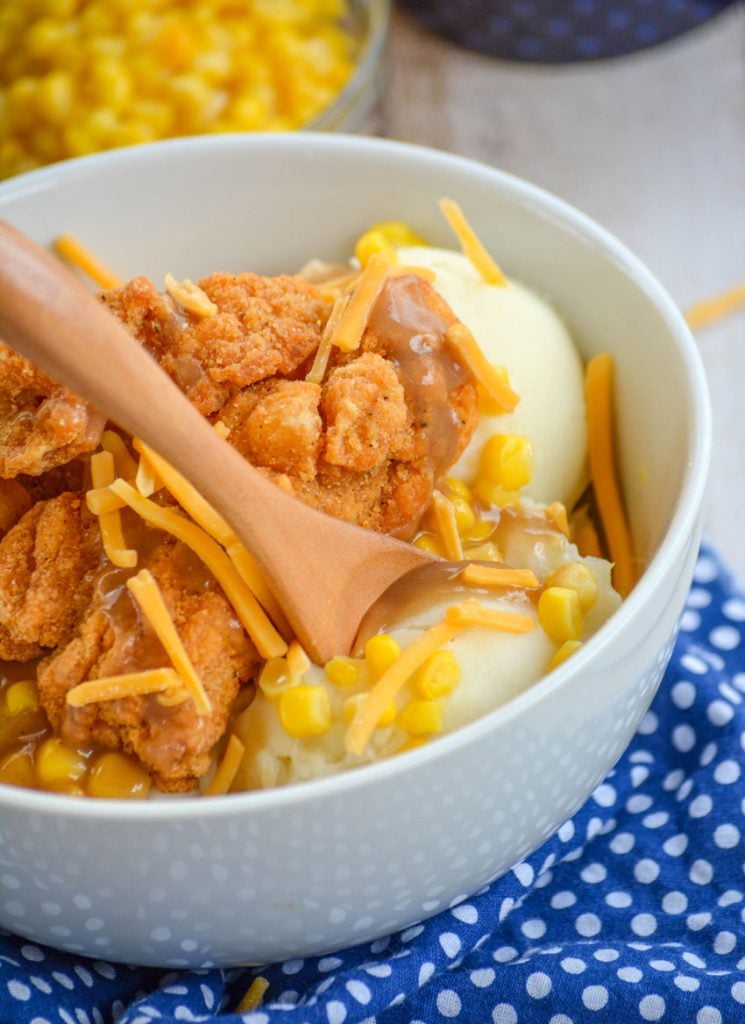 Other Copycat Recipes To Try
Part of the fun of this copycat KFC recipe is getting KFC taste without having to leave your house. I'm a huge fan of making my favorite restaurant food at home for comfort and convenience sake.
Plus, home cooking is almost always less expensive than getting the meal out. Other delicious copycat meals we love include:
If you wanted, you could do a theme night with copycat KFC everything. These are some other delicious KFC copycat recipes:
copycat KFC fried chicken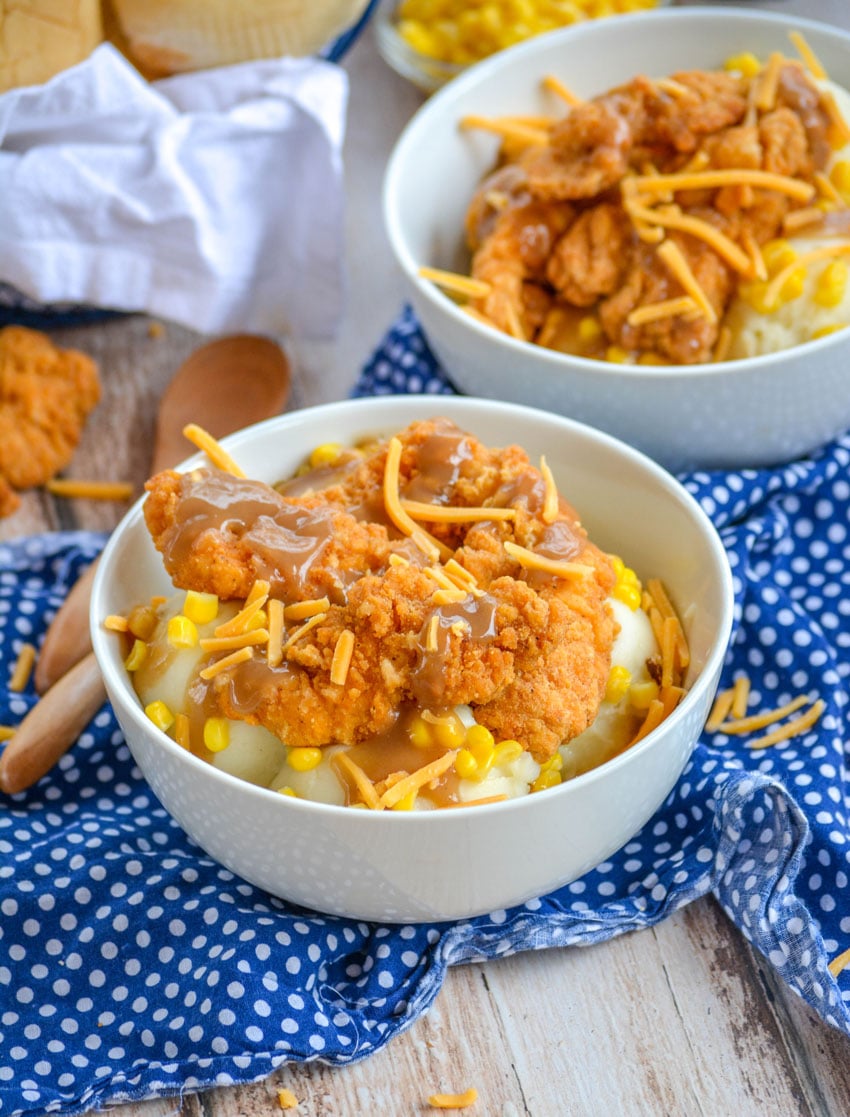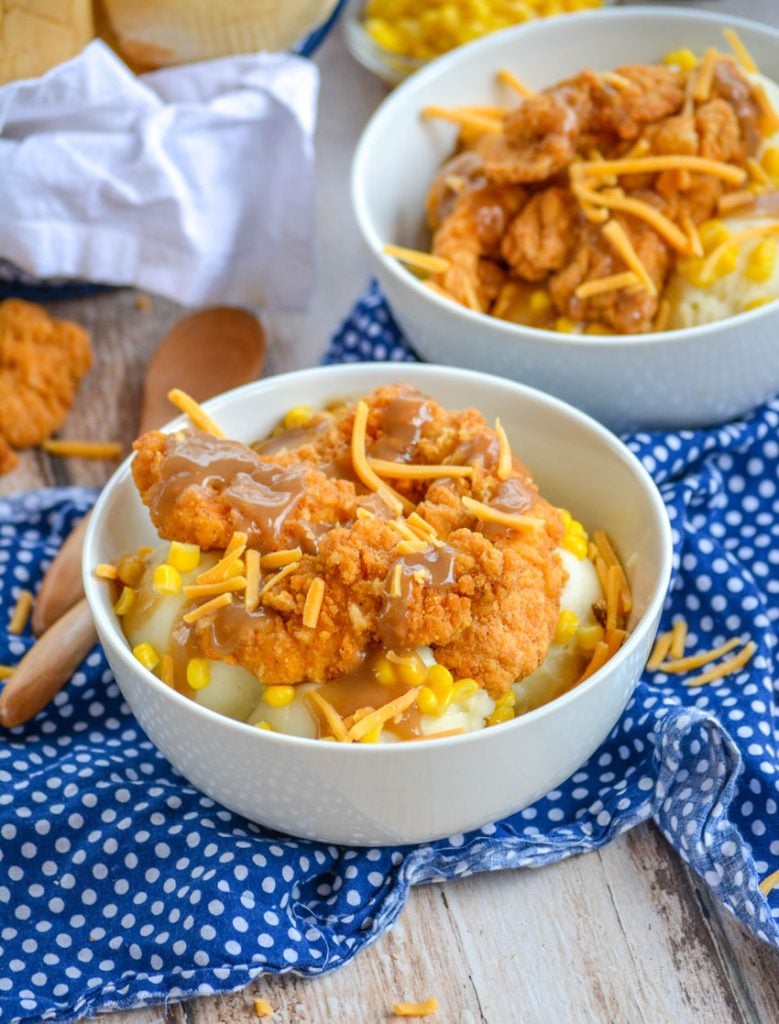 Even if you choose not to make another copycat recipe, these copycat KFC famous bowls will be sure to leave you wanting seconds.
If you've tried COPY CAT KFC FAMOUS BOWLS, or any other recipe on my site, let me know in the comment section how it turned out, we love hearing from our readers! You can also follow along with me on PINTEREST, FACEBOOK, and INSTAGRAM to see more amazing recipes and whatever else we've got going on!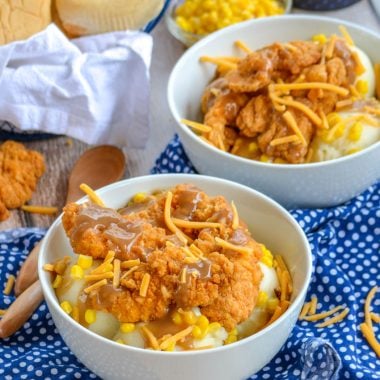 Copy Cat KFC Famous Bowls
Crispy chicken and sweet corn sits on top of creamy mashed potatoes. Finished off with a hearty drizzle of rich brown gravy, and shredded cheeses- it's a hearty bowl full of comfort food with that classic KFC taste without ever having to leave your house.
Print
Pin
Rate
Ingredients
For The Mashed Potatoes
8-10

baking potatoes

peeled & cubed

1/4

cup

half & half

1

8 oz block

cream cheese

softened

salt & pepper, to taste
For The Chicken Bowls
12-14

crispy

chicken strips

cooked

1

can

golden corn kernels

warmed

1

cup

brown gravy

2

cups

shredded cheddar cheese
Instructions
To Make The Mashed Potatoes
Bring a large pot of salted water to a boil over high heat. Once the water's boiling, reduce the heat to medium high. Add the potatoes. Cook the potatoes for 30 minutes, or until they're & tender.

Strain the potatoes, and then return them to a hot pot. Using a potato masher, mash them as smoothly as possible. Salt & pepper the potatoes, to taste.

Add the half & half and the cream cheese, mash the mixture again until smooth & everything's evenly incorporated.
To Assemble The Chicken Bowls
Add one or two scoops of the mashed potatoes to a soup bowl. Add a spoonful or two of corn kernels to the bowl.

Top with a couple chicken strips. Drizzle gravy out over top, and finish it off with a sprinkle of the shredded cheddar cheese.

Repeat until all the ingredients have been used. Serve immediately, and enjoy!
Nutrition
Calories:
436
kcal
|
Carbohydrates:
61
g
|
Protein:
17
g
|
Fat:
15
g
|
Saturated Fat:
9
g
|
Cholesterol:
45
mg
|
Sodium:
540
mg
|
Potassium:
1290
mg
|
Fiber:
4
g
|
Sugar:
4
g
|
Vitamin A:
429
IU
|
Vitamin C:
17
mg
|
Calcium:
319
mg
|
Iron:
3
mg