Ground beef and sauteed onions come together in a thick creamy white country gravy, served over buttered noodles. Grandma's Country Beef Gravy will soon be a mainstay on your family's comfort food menu too!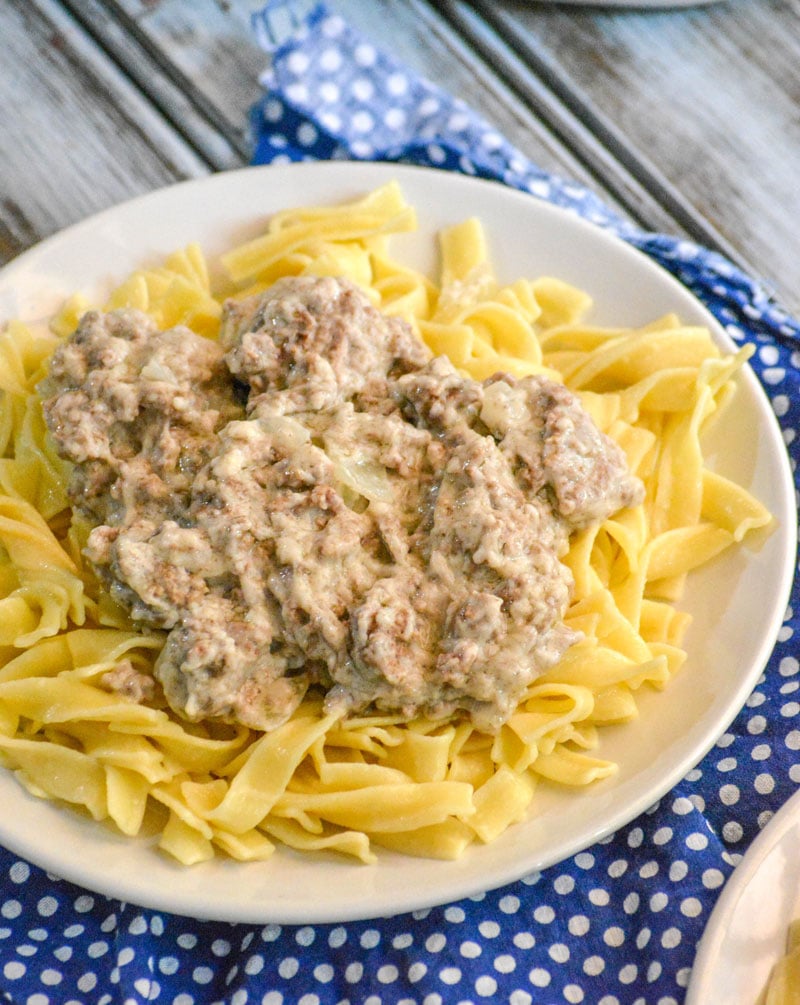 Anything Grandma made was almost always a hit. She could serve us the simplest thing, and as soon as we tasted it- amazing.
I'm not sure if it was her cooking skills, which were legendary, or if it was just the fact that it came out of her kitchen.
She's gone now, and it will be 10 years this year. Still, there are things she made that I've never been able to get out of my head.
Whether it's just the memories ingrained on my taste buds, or just me holding onto special moments- her country beef gravy will always be at the top of the list.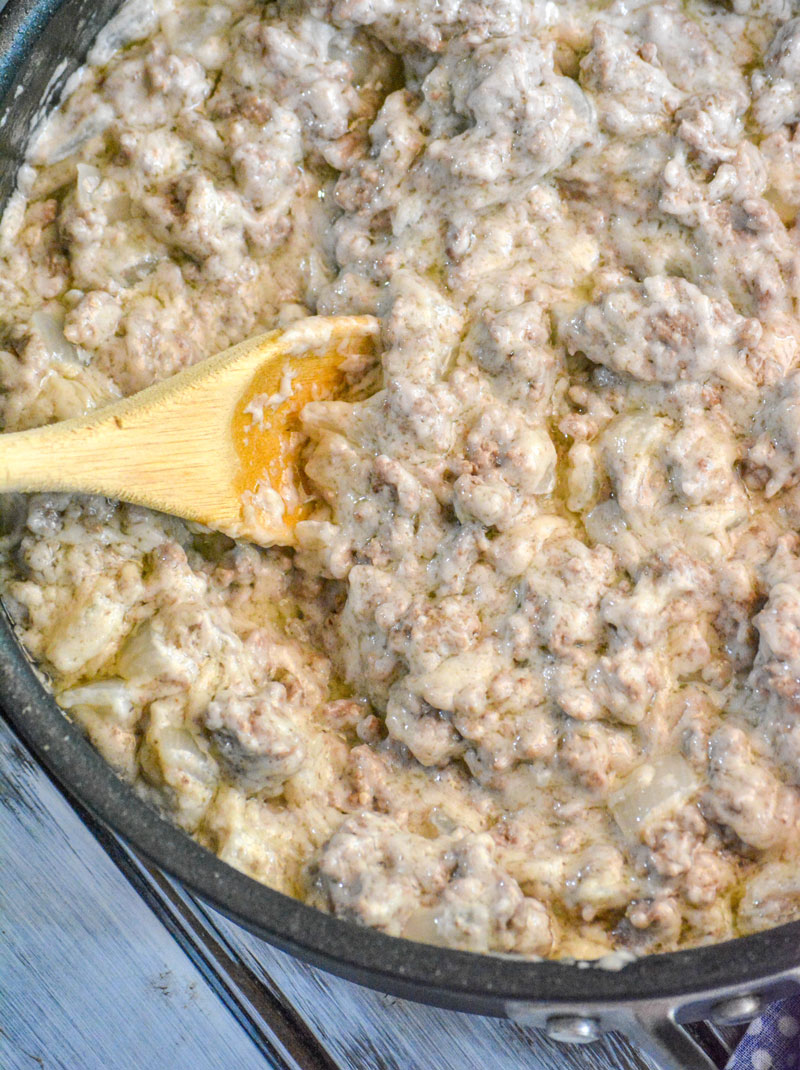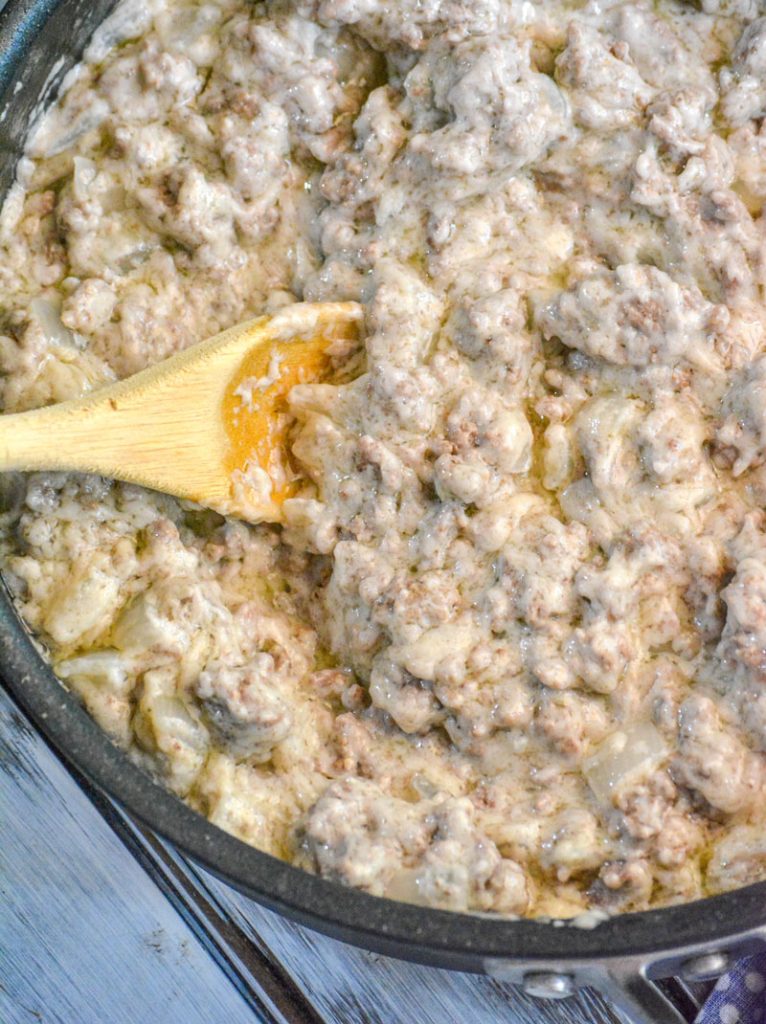 You know those taste memories you have? This is one for me.
Anywhere I go that happens to have this particular item listed on the menu, I have to order it. It's not just a compulsion, it's more like trying to share the memory and feel a piece of her with me again.
While no version I've ever ordered has every tasted quite like hers, many have been similar.
Each time, it's like I'm sharing a meal with Grandma again, seated at her well worn table. I can always feel her love surrounding me.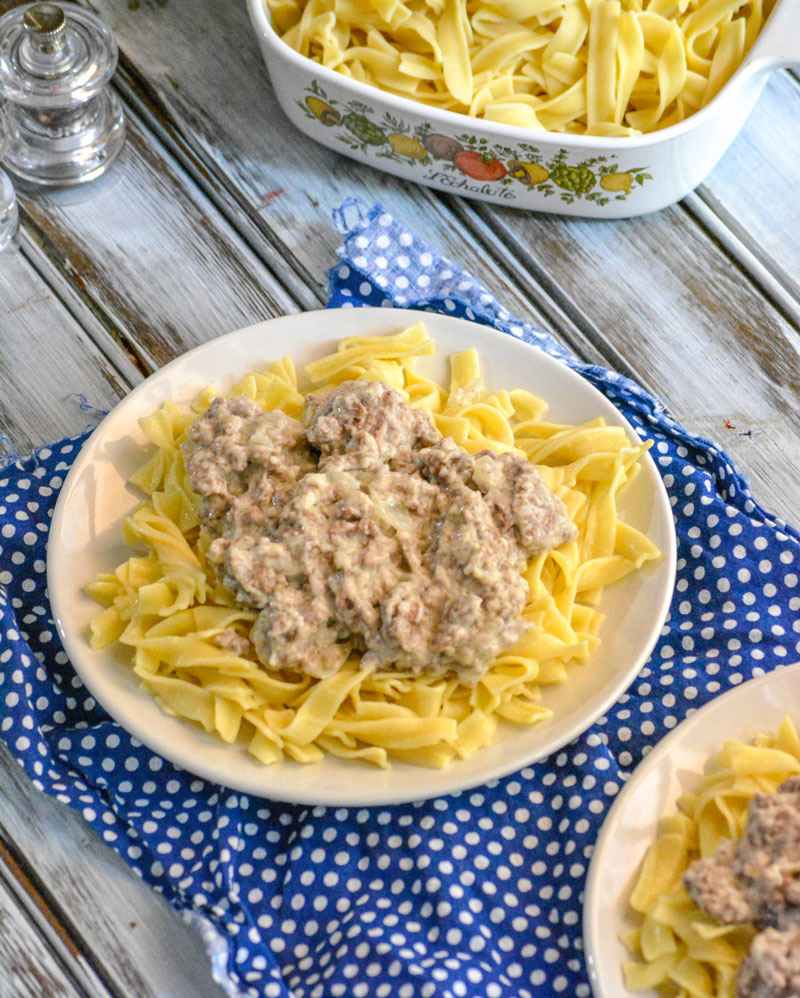 See part of the problem is that the white gravy, even when it says 'country' uses a blend of breakfast sausage as the main meat.
Grandma's always used ground beef, never would a substitute have been acceptable. I'm loyal and stuck firmly in the ground beef country gravy camp too.
Another problem I kept running into? Everyone wanted to serve their country style gravy over biscuits.
I love a good biscuits & gravy as much as the next Southerner, but that was not the dish I'd grown up on. The one from my childhood memories was always served over a bed of egg noodles.
Occasionally we'd enjoy it over mashed potatoes, but that was only when the pantry wasn't fully stocked. Still good, but not the traditional version.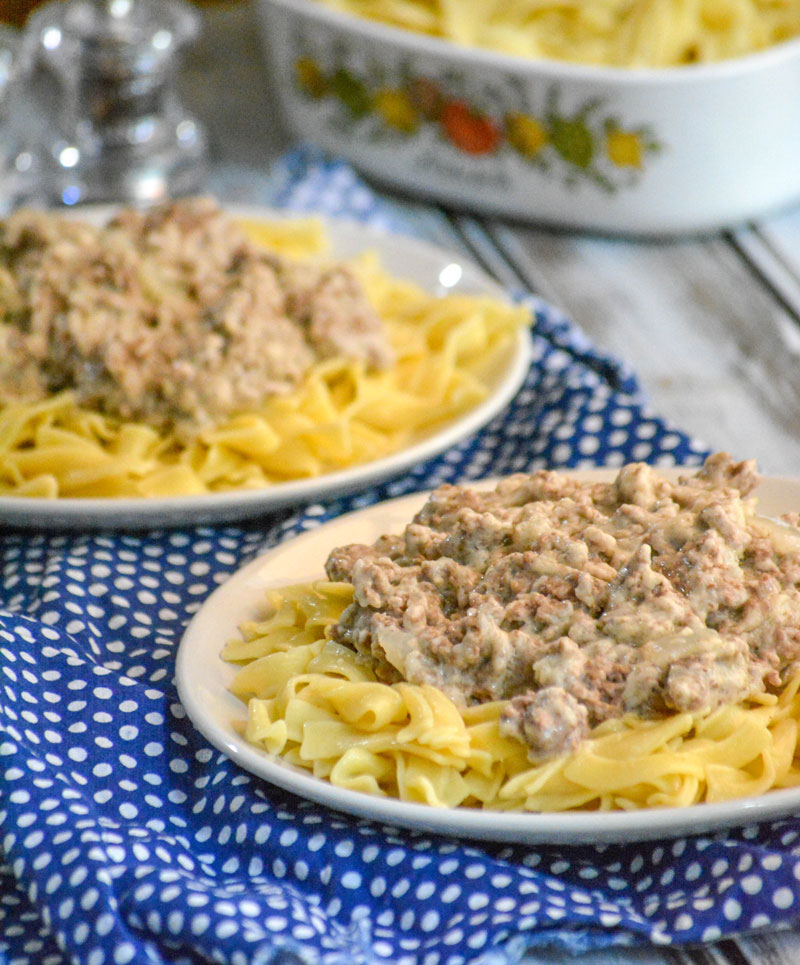 Luckily, it only took a couple years of nostalgia and cravings for me to finally hunt down a recipe that mirrors Grandma's own.
Seriously, Julia's Simply Southern hit the nail on the head. I'll forever be grateful to the Google search that led me to her version.
My kids now enjoy this for dinner whenever a real cozy comfy meal is called for. They call it a 'Great Gran' dinner.
Those dinners are always good, both for the belly & the mind- and we share family stories and treasured memories. My favorite kind of meal- ever!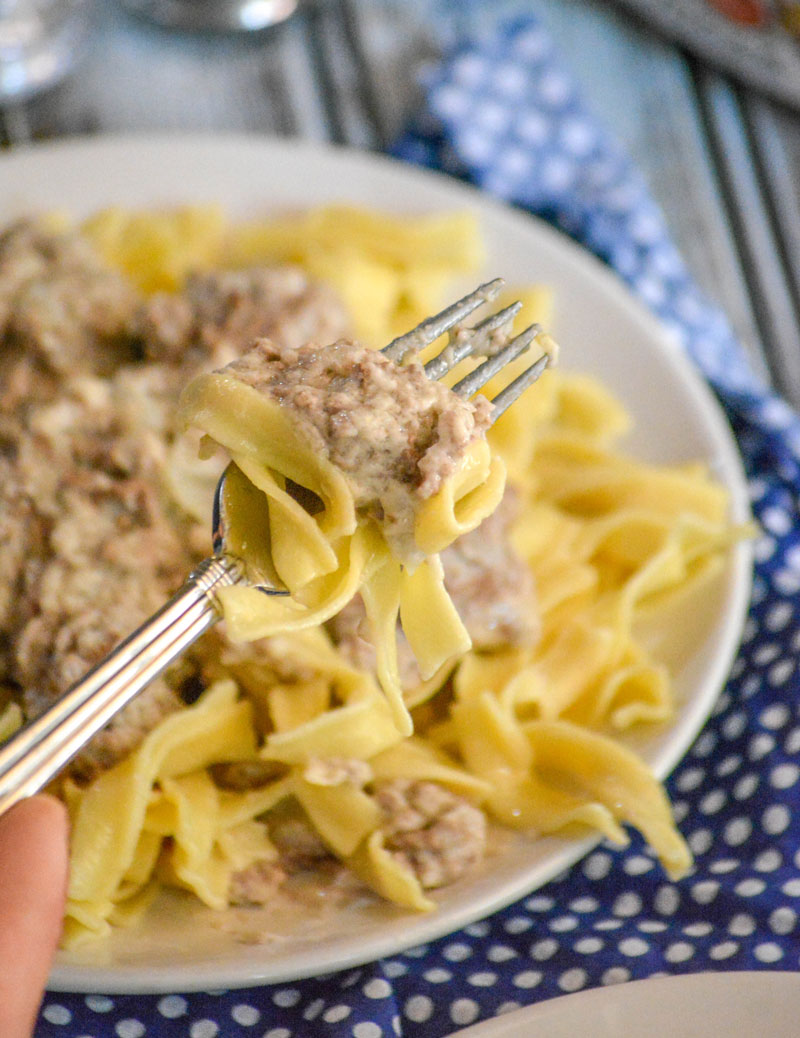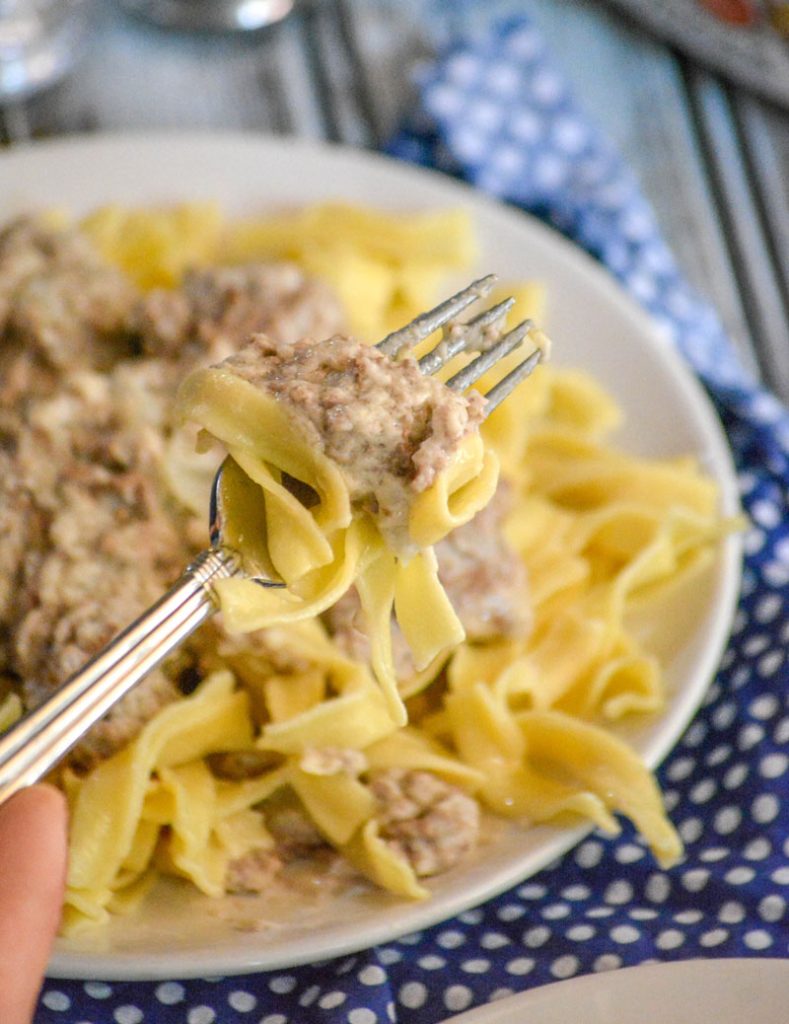 To get started on Grandma's Country Beef Gravy, we're first going to get our pasta started.
Bring a pot of salted water to a boil, add the noodles, and continue cooking & stirring, until al dente. While the pasta's cooking, we're gonna get started on the gravy.
Heat a tablespoon of oil in a large dutch oven over medium heat. When the oil's hot add in the ground beef, salt, pepper, and onion powder. Stir together, breaking the meat up as it cooks.
When the meat's about halfway cooked through, add in the actual onions-stirring to evenly incorporate. In a separate bowl, whisk together the milk & the broth.
Scoot the meat & onion mixture to the side of the pot, as much as possible. Add the flour to the cleared part of the pot, and whisk it together with the grease drippings from the cooked beef mixture, cooking it for about 45 seconds.
Mix the meat mixture with the roux. Slowly pour in the milk/broth mixture, a little at a time- whisking until incorporated. Let the mixture simmer, until thickened, stirring occasionally.
Remove the dutch oven from heat, and let it rest for a couple minutes- no more than two.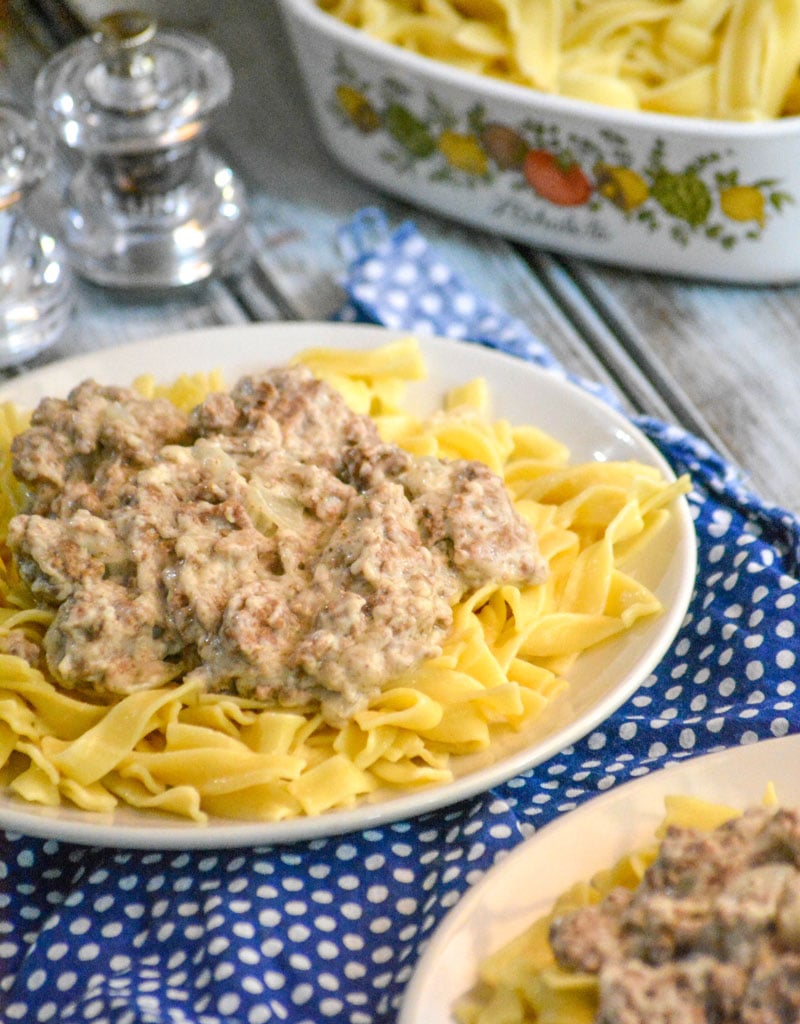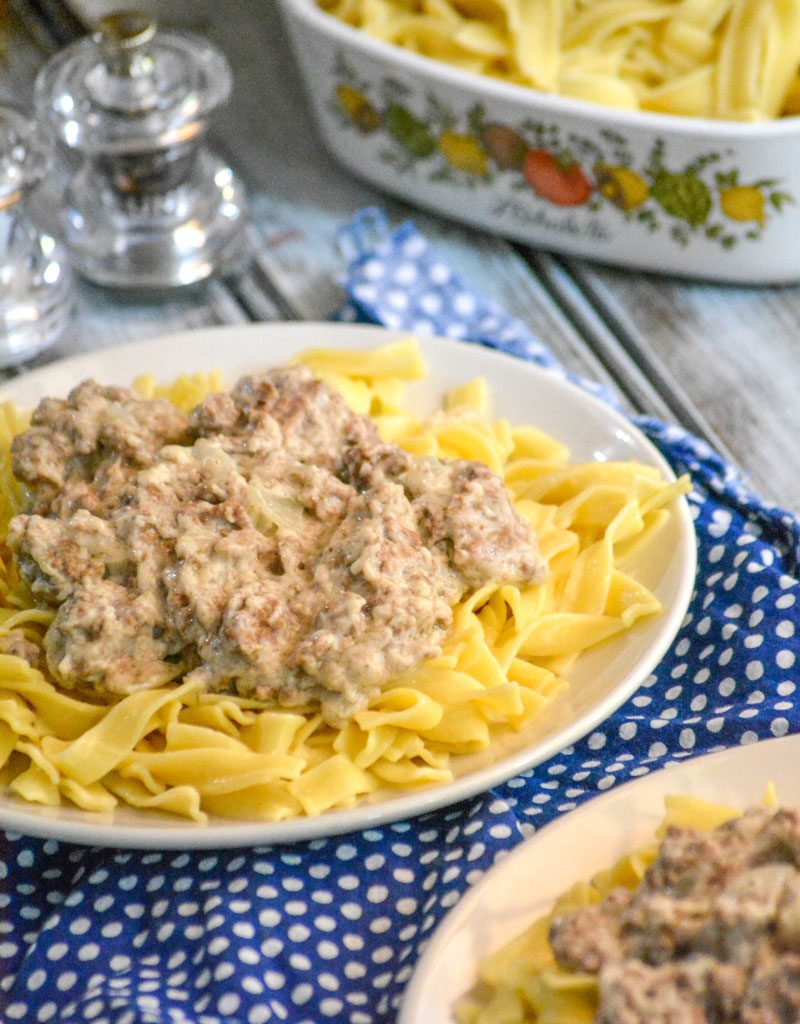 Now we're going to drain the cooked pasta, and return it to the pot it was cooked in. Stir in the butter until melted and all the noodle's are coated.
Add a helping of noodles to a bowl or plate, and ladle over it a heapin' helpin' of Grandma's country beef gravy. Serve immediately, and enjoy!
If you want pure Southern comfort food in a bowl, a pasta bowl none the less, then Grandma's Country Beef Gravy is just the thing you're looking for.
Other Grandma's Recipe Favorites You'll Love:
If you've tried this GRANDMA'S COUNTRY BEEF GRAVY, or any other recipe on the site, let me know in the comment section how it turned out, we love hearing from our readers! You can also follow along with me on PINTEREST, FACEBOOK, and INSTAGRAM to see more amazing recipes and whatever else we've got going on!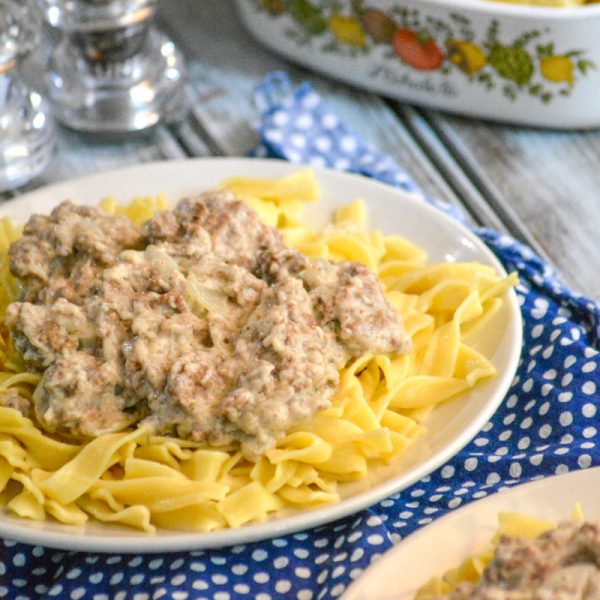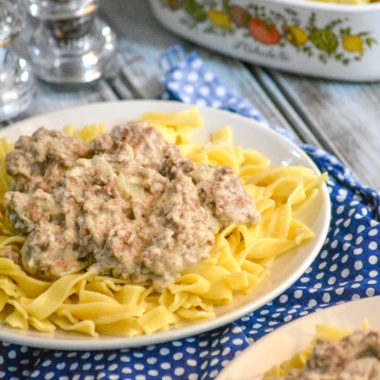 Grandma's Country Beef Gravy
A creamy Southern white gravy using ground beef, instead of sausage, and served over a bed of old fashioned egg noodles- this can be brunch or dinner.
Print
Pin
Rate
Ingredients
1 1/2

lbs

ground beef

1

white onion, thinly sliced

1

tbsp

canola oil

1 1/4

tsp

salt

1

tsp

ground black pepper

1/2

tsp

onion powder

1/3

cup

flour

2

cups

whole milk

1

cup

chicken broth

1

pkg

medium egg noodles

4

tbsp

butter
Instructions
Cook the pasta, in salted water, until al dente. Drain.

While cooking the pasta- heat a large dutch oven over medium heat, and add the oil. Once hot add the meat, salt, pepper, and onion powder. Stir everything together, breaking up as it cooks.

In a large bowl, add the milk & broth, whisking together. Set aside.

Once the meat is half cooked, add in the onion stirring to incorporate, and continue cooking the mixture until the meat's cooked through.

Scootch the meat to the side of the pot, and add the flour to the pot whisking it together with the drippings. Once evenly combined, let the mixture cook for 30-60 seconds.

Slowly pour in the milk/broth mixture, whisking to evenly incorporate. Allow the gravy to simmer until it's thickened, then remove from heat.

Return the drained pasta to it's pot. Add the butter, and stir until it's all melted and mixed in.

Serve it by adding the buttered noodles to a plate of bowl, and ladling the gravy out over top.