Have your favorite ice cream and enjoy it too, on a budget. This Copy Cat Ben & Jerry's Cherry Garcia Ice Cream is simple to whip up, and our no churn recipe means you don't even need and ice cream maker. Silky smooth, creamy soft serve is studded with chopped sweet, dark cherries and chunks of dark chocolate.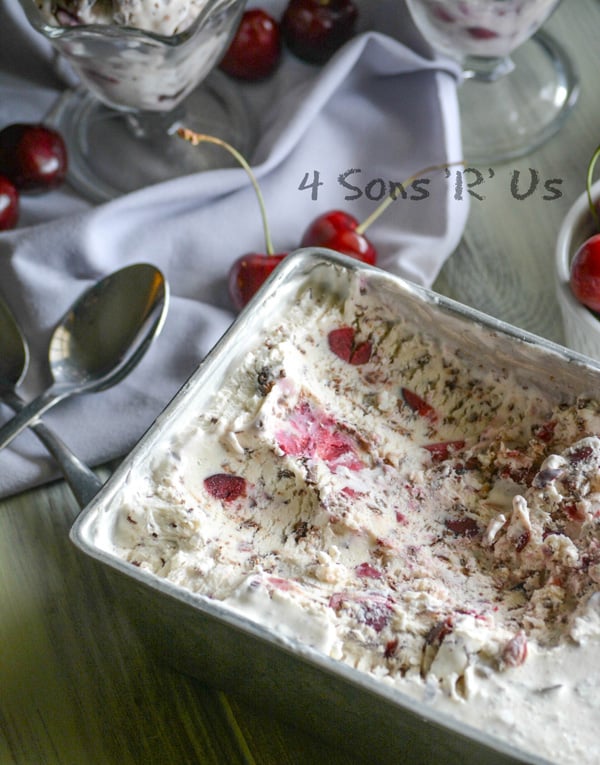 I remember when I was little that Grandma's house, and her back yard, seemed like the most magical places in the world.
That back yard was where I spent hours after school and in the Summer, traipsing through the woods, biting into juicy tomatoes fresh off the vine.
Once or twice I even tried to ride the dog like a horse. In my defense, I was like four and that German Shepherd was a gently giant– emphasis on the giant bit.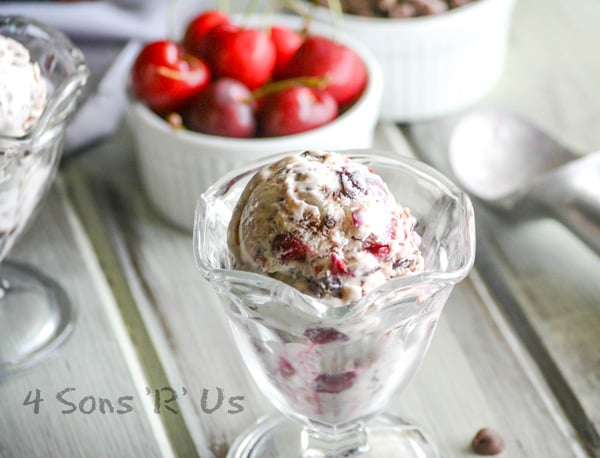 It's where I learned that rhubarb was not in fact 'rotten celery', and that not all cherries are created equal. Or in my case, equally sweet.
Some were actually tart. Like you think your pickin this secret sweet treat– well actually getting away with sneaking it out of the bucket Grandma was putting the picked ones in, and you pop it in your mouth all set to enjoy.
Then BAM it hits you, the tartness that makes you screw your eyes shut and pucker up so fast it makes your cheeks hurt. Ok, ok… it wasn't that bad, but it was completely shocking to lil ol me who was expecting a mouthful of sugar.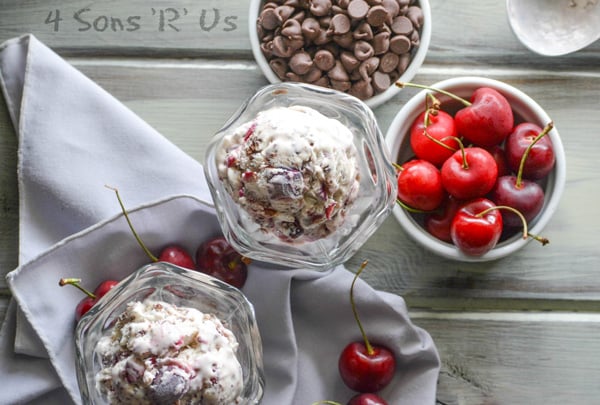 In the years since, I have learned that they make some of the best cherry pies. And it was a very sad day when we had to chop Grandma's beloved cherry tree down, despite her valiant efforts to save it.
My personal preference hasn't changed much though in all this time, and I still prefer the sweet, dark variety. So naturally I look forward to Spring rolling in every year.
The produce aisle at every local grocery store in inundated with rows and rows of bags filled to the brim, bursting with my favorite seasonal fruit. With the right price tag too.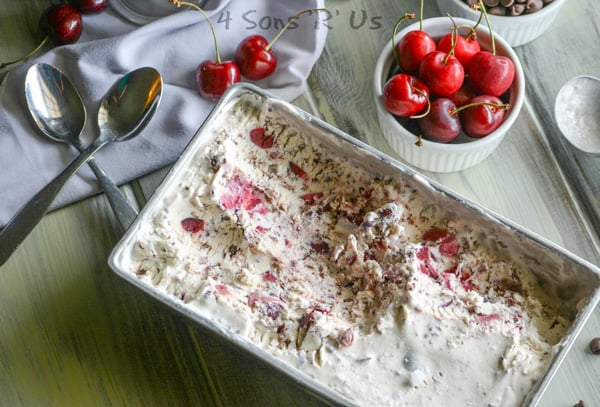 Obviously I stocked up on several pounds worth, immediately. I also got down to making one of my favorite desserts almost as soon as I walked in the door form the grocery store. A spot on Copy Cat Ben & Jerry's Cherry Garcia Ice Cream.
This version tastes just like the real deal. It's quick and easy, no churn soft serve studded with fresh chopped dark cherries and chunks of indulgent dark chocolate. Copy Cat Ben & Jerry's Cherry Garcia Ice Cream is the cure for whatever ails you, and it may even just bring back some awesome memories form your childhood too.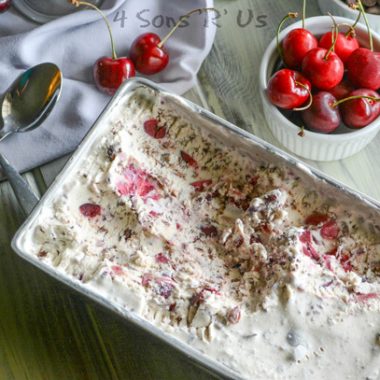 Copy Cat Ben & Jerry's Cherry Garcia Ice Cream
A quick and easy, no churn copy cat version of one of your favorite Ben & Jerry's ice cream treats.
Print
Pin
Rate
Ingredients
2

cups

cold heavy whipping cream

1

tsp

vanilla extract

1

14 oz can

sweetened condensed milk

2

cups

sweet dark cherries, pitted and roughly chopped

4

oz

dark chocolate, finely chopped
Instructions
Add the heavy cream and the extract to the bowl of a stand mixer. Whip the mixture on medium speed, just until stiff peaks have formed.

Using a spatula, stir the condensed milk in until it's evenly incorporated.

Use the same spatula to fold in the cherries and chocolate until evenly incorporated.

Pour the mixture into a metal loaf pan, and freeze until set. Scoop into bowls, or cones, and serve immediately.