Quick and easy meals are a life saver on busy days. This chicken parmesan casserole uses ingredients most of us keep on hand in the pantry, and combines them in a simple casserole dish. Taking the flavors of the much loved Italian classic, we've streamlined the process transforming it into a simple supper the whole family will love.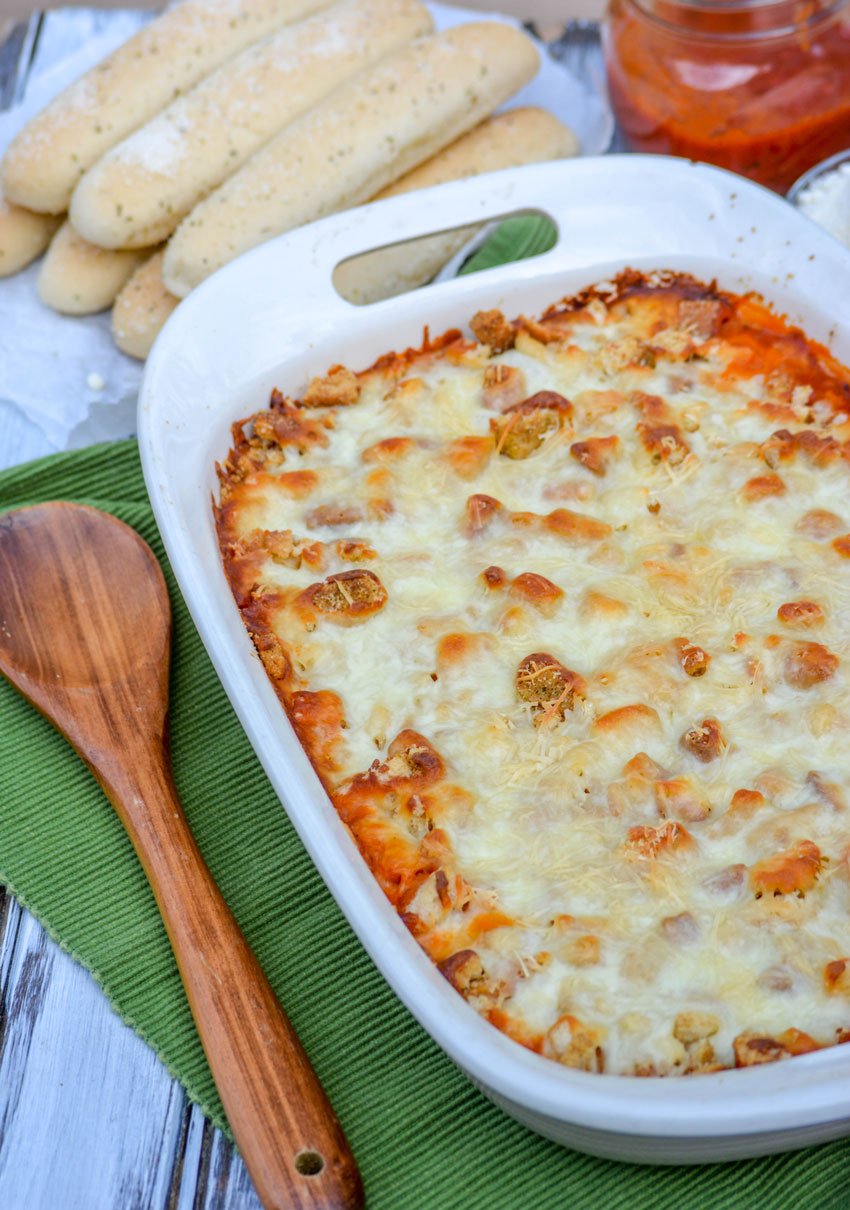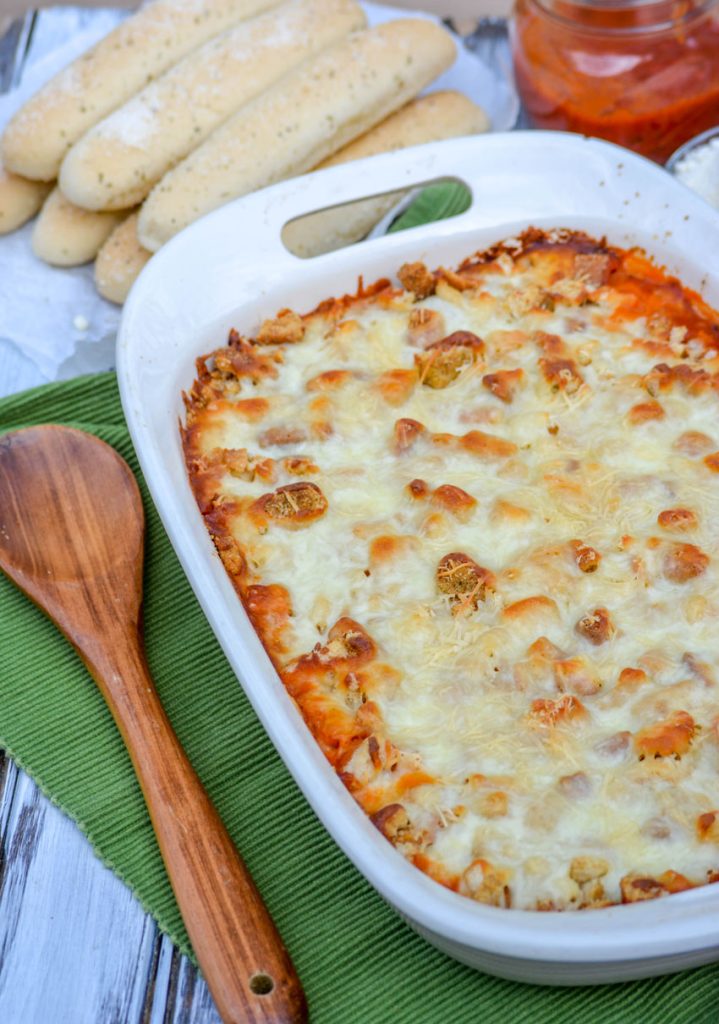 It's casserole season year round here. Warm weather, cold weather- it doesn't matter, it's always appropriate to whip up a comforting casserole for supper.
You really can't go wrong serving one for virtually any occasion. They're also a great way to use up leftover meats, and to showcase great flavor combinations. Take these favorites for example: chicken cordon bleu casserole, chicken & dumpling casserole, & beefy cheesy tomato casserole. All a variety of different dinners, and all super delicious.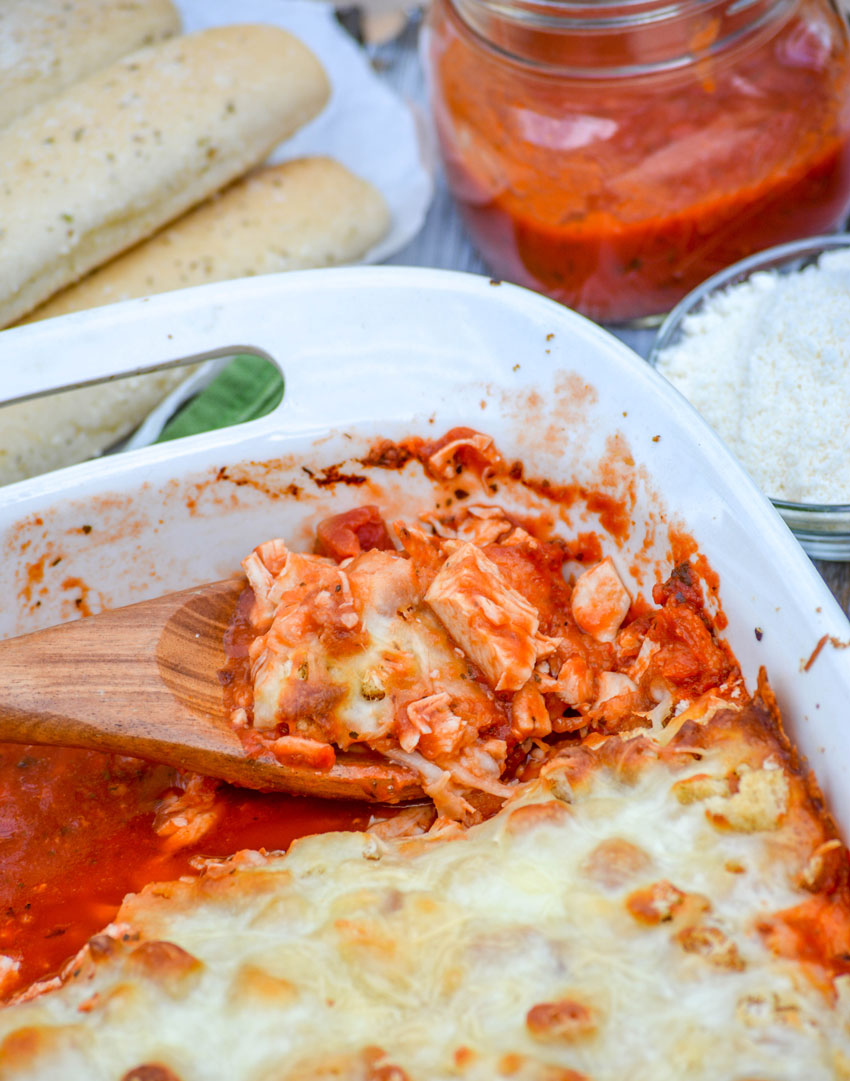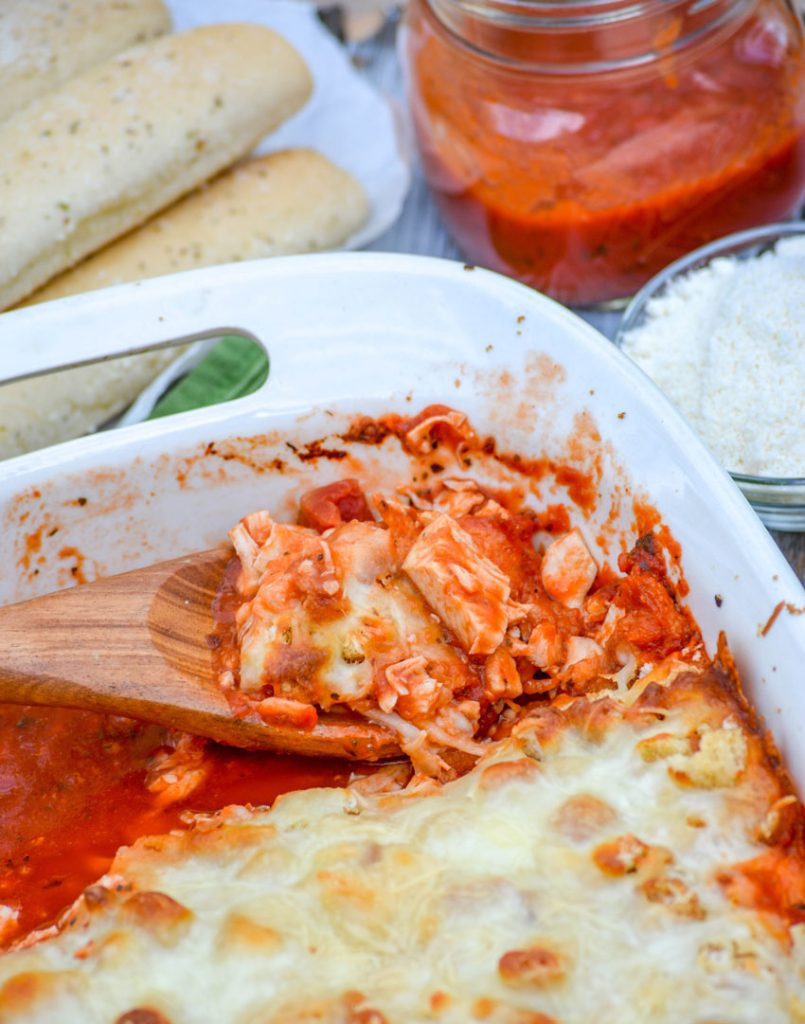 I make dishes and call them 'casseroles' all the time. Like really- they're a regular menu item around here. I did find myself wondering, what exactly the name meant though.
What Is A Casserole?
Casseroles are great for many reasons, chief among them being that they're generally easy to make & even easier to serve. The dictionary definition is 'a dish or side that's cooked slowly in the oven'. Allow me to elaborate. I wouldn't ever call a casserole a stew, but it generally does start with a dish full of hearty ingredients in a somewhat soupy mixture that bakes out becoming thicker as it cooks.
A mixture of meats and vegetables meld together with a long, slow bake in the oven. Another signature of a casserole is the casserole dish. This name generally applies to a thick, deep stoneware or glass baking dish that can be used for both baking & serving.
As for what actually goes into a casserole, well the options are pretty much endless.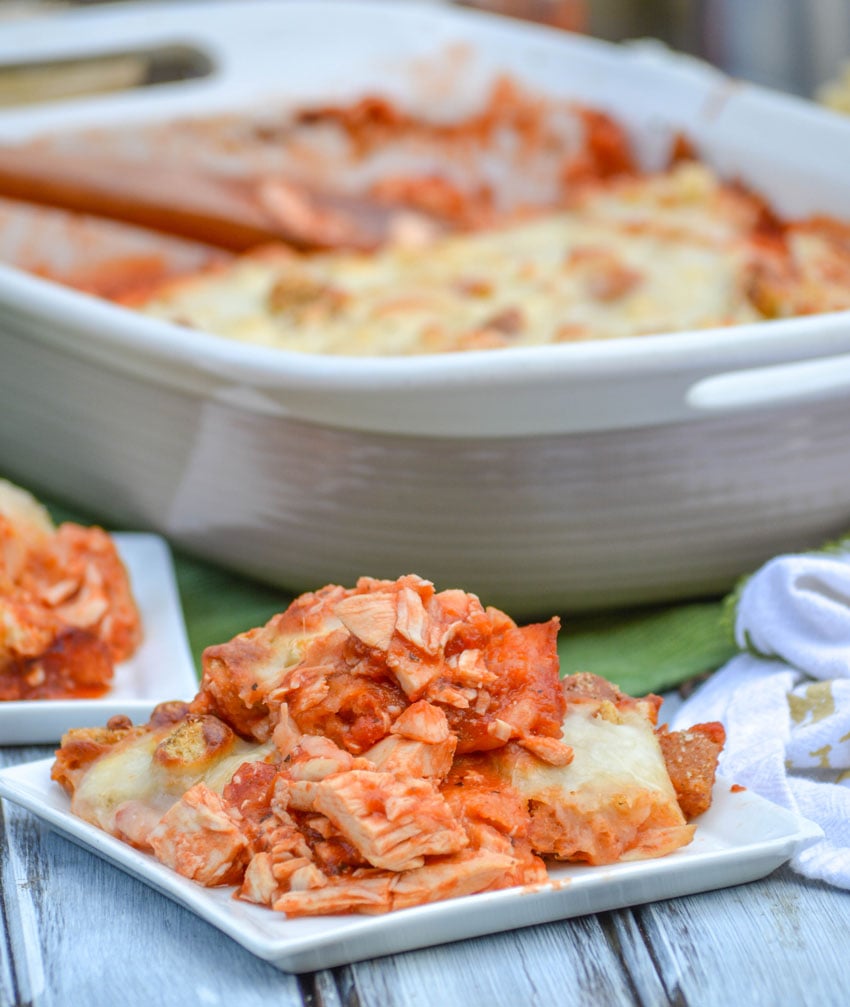 How Do You Create A Casserole?
All casserole can be broken down into a few key components. Six, to be exact. Starch, protein, vegetable, sauce, flavor, and topping. Sounds simple enough, right? Starches can range from potatoes, pasta, rice, or noodles. We've even used pierogi before as our starchy ingredient. The protein's a bit more obvious, and can be pretty much any meat you and your family love. Ground beef & chicken tend to be the most popular around here. Although we have used tuna before with delicious results!
Vegetables can be virtually anything you desire. Fresh or frozen. If using frozen, I like to thaw them beforehand so I'm not adding extra liquid to the casserole. Including fresh vegetables increases the cooking time a bit, but I've found it's a great way to use up my Spring & Summer garden surplus. It's also good for those hidden veggies in the crisper drawer that happen to be on their last leg!
Any casserole does need a liquid sauce for all it's ingredients. In this classic chicken casserole we opted for a red sauce. Spaghetti sauces or even undrained canned tomatoes work well, as do white sauces like alfredo. Plan for a sauce that matches the overall flavor profile you're planning for. Flavor's another important part. Flavoring can come from including ingredients like sauteed onions & celery, or from the spice rack. Fresh herbs are a great option for infusing too. With every other ingredient, you'd usually pick just one to build your casserole. With the flavor portion though, more is usually better.
Finally, the toppings! Toppings very much embraces the 'last but not least' motto. They're the piece de resistance of the whole casserole. Typically they add a bit of texture, and a final satisfying note. Our toppings tend to be creamy melted cheese and something crisp or crunchy- like bread crumbs or fried onions. In this case though, I decided to use actual croutons.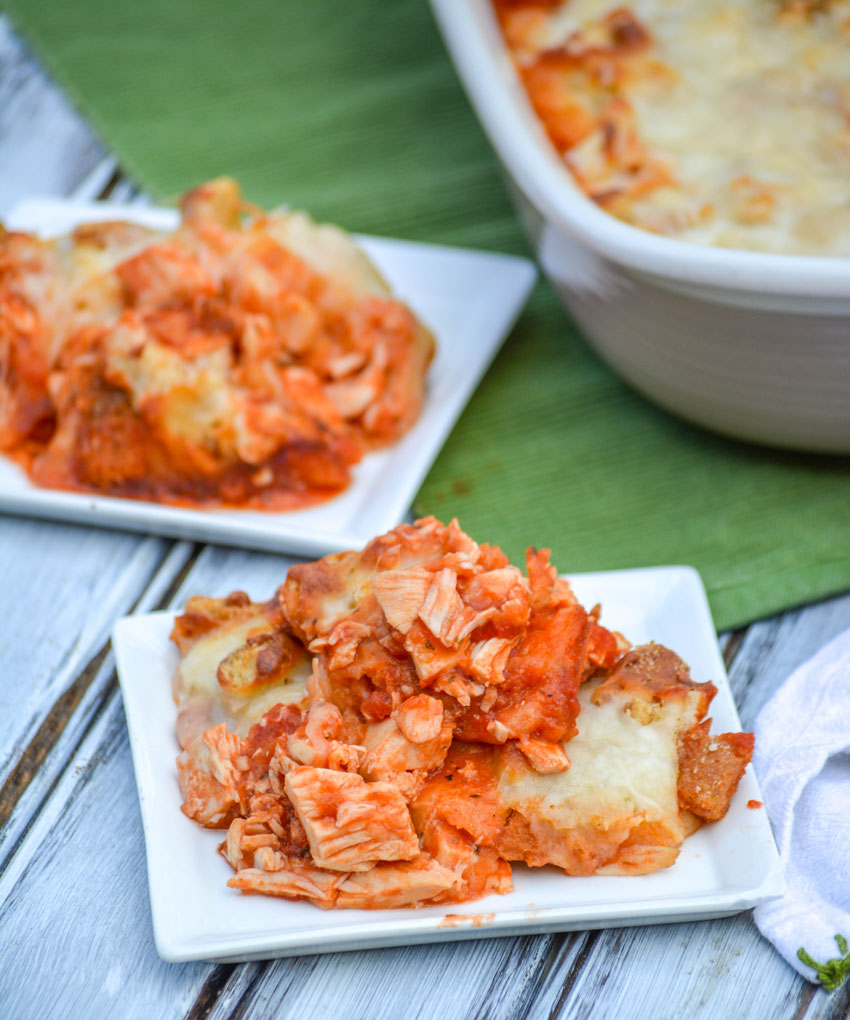 I was really craving chicken parmesan for supper, but that seemed like a whole lot more work that I was feeling. It's like basic Italian comfort food. It's relatively simple, using thins I keep on hand. Most importantly, it's something all my guys can always agree on. That pretty much makes it priceless to me. But, I hadn't planned ahead so my chicken breasts were still frozen solid buried in my chest freezer. Totally unhelpful.
I also had some pulled rotisserie chicken in the refrigerator that needed to be used. It was from a Costco chicken, so it was good meat too. I couldn't let that go to waste. The wheels had begun to turn at this point, and an idea was forming for me. We'd recently made another dish, a chicken marsala and rice casserole, as a quick short cut version of one of our favorite meals. We loved it y'all, love it. It really was a win win. What if I found a way to do the same thing, but with our beloved chicken Parmesan instead? The result was this quick, easy, and totally delicious chicken parmesan casserole.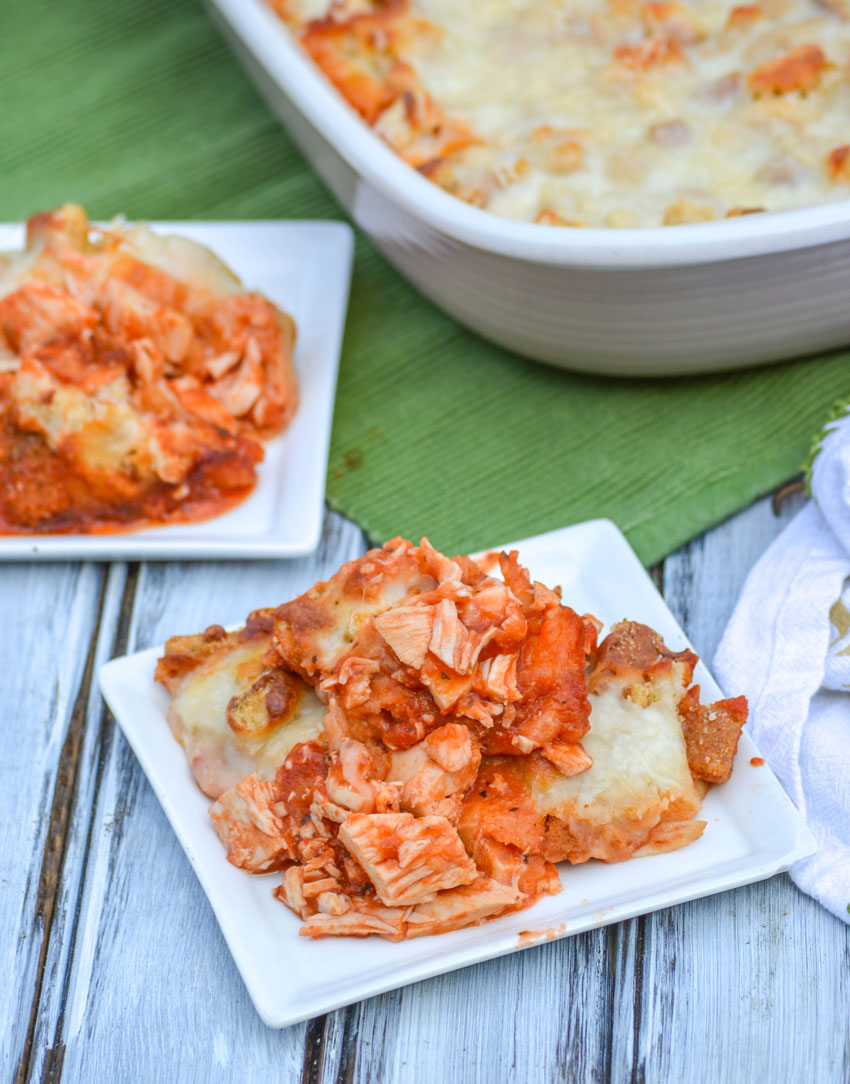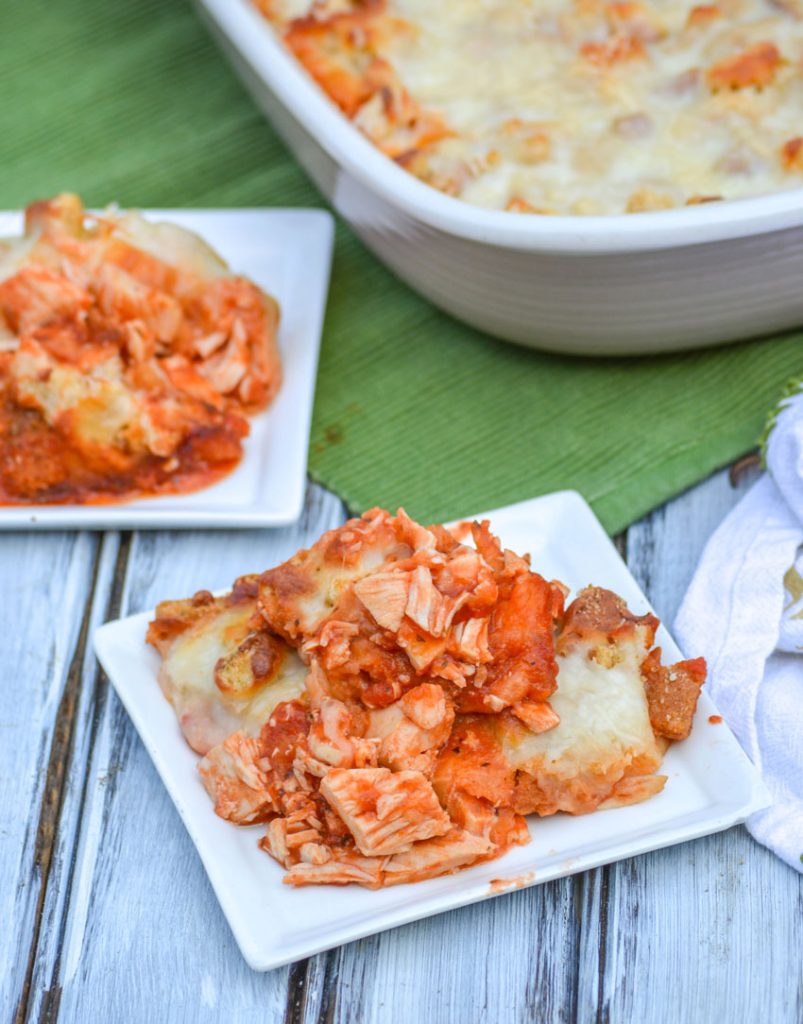 Ingredients Needed To Make Chicken Parmesan Casserole:
chopped rotisserie chicken
garlic
crushed red pepper flakes
fresh basil
marinara sauce
mozzarella cheese
Parmesan cheese
croutons
That's it, a simple ingredient list that most of us probably keep on hand. That and the simple prep and relatively quick cooking time makes this an ideal family meal for busy weeknights. Just like the ingredients list is simple and straightforward, the instructions are too.
How To Prepare The Chicken Parmesan Casserole:
Lightly spray a casserole dish with non stick spray.
Spread the chicken out over the bottom of the dish.
Top it with the seasonings, followed by the sauce. Spread as necessary.
Sprinkle half the cheeses evenly out over top.
Spread the croutons out over the casserole, and top with remaining cheeses.
Bake for 40-45 minutes at 350 degrees.
This chicken casserole is technically ready to serve as soon as it's removed from the oven. However, I recommend waiting & letting it rest for a couple of minutes first. It's kinda like with pizza fresh from the oven. When you're working with all that hot, melty cheese you want it to set up for just a minute or two. That way when you scoop & serve it doesn't all slide right off. Nobody wants to lose their cheesy topping, nobody. That'd be a sad meal indeed.
Tips & Tricks:
We use pulled rotisserie chicken in this recipe. I make sure to always have one on hand for easy meals like this. However, you can also cook 2-3 chicken breasts and chop them or shred them and then use them in the recipe.
If you don't have fresh garlic cloves on hand, you can easily sub prepared minced garlic.
Marinara sauce is thin and what I prefer in this recipe for a more 'classic' chicken Parmesan feel, but we've subbed spaghetti sauce plenty of times. The result's equally tasty.
Plain croutons will work just as well as their garlic infused counterparts. Be careful when smashing them though. You don't want to pulverize them, because then they'll become soggy during cooking. You just want to break them up a little bit.
If you don't have Parmesan on hand, you can use all mozzarella. Alternatively, pecorino romano makes a perfect substitute.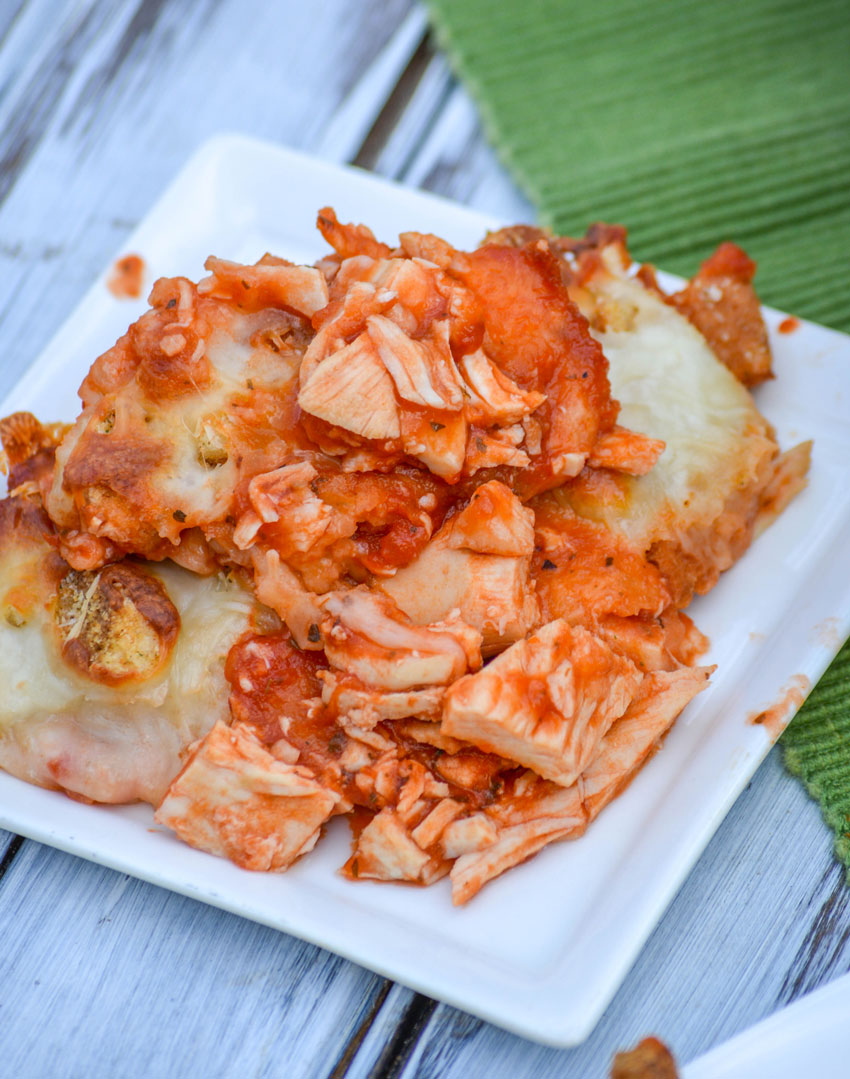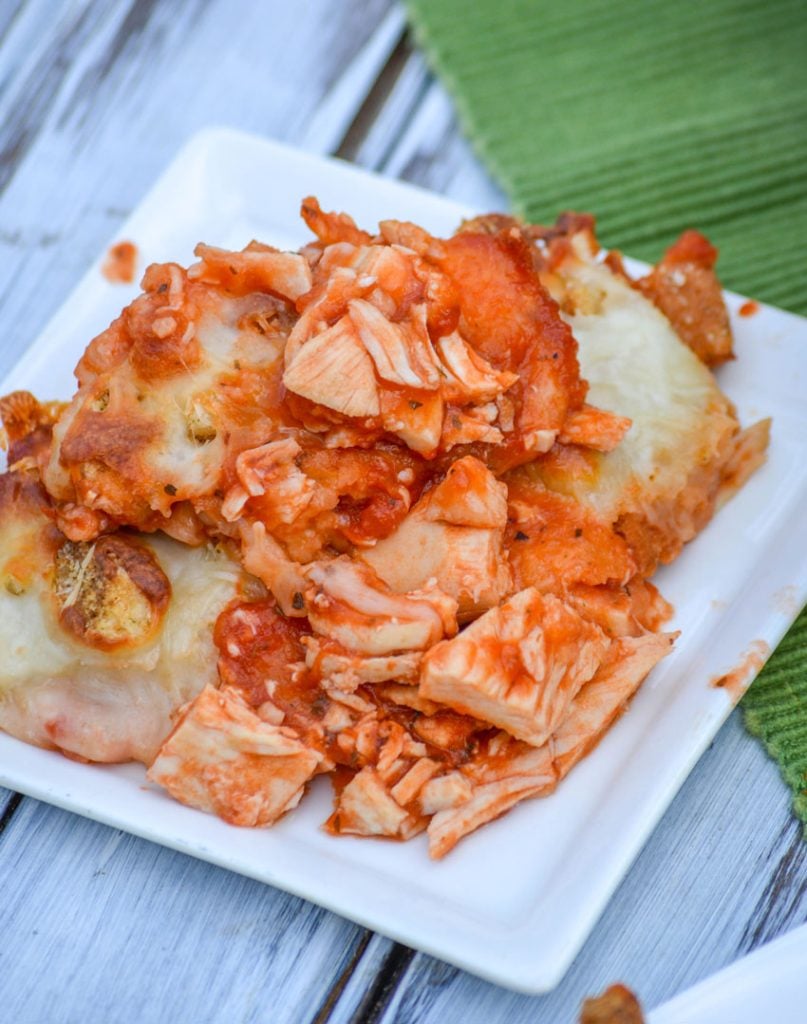 This chicken parmesan casserole isn't anything fancy. It's not hard to prepare; it's actually shockingly simple. It's classic comfort food mixed with traditional Italian flavors, making it perfect for busy nights or a delicious dinner the whole family has time to dig into and savor. You decide, because whatever the occasion- it's perfect however you choose to serve it.
Other Saucy Casseroles You'll Also Want To Try: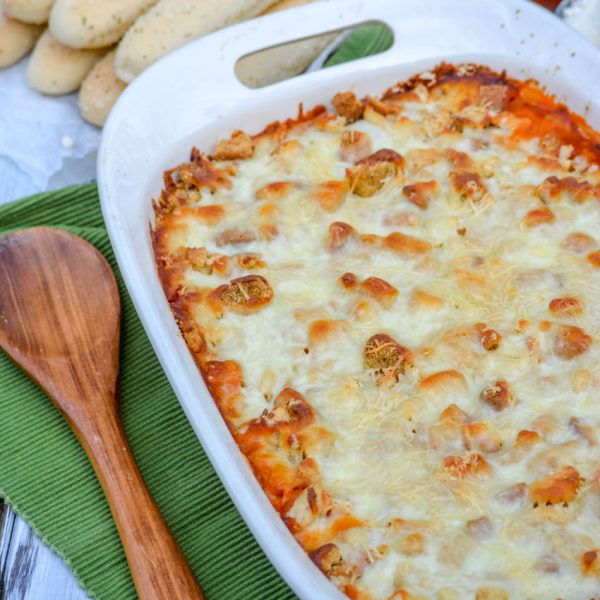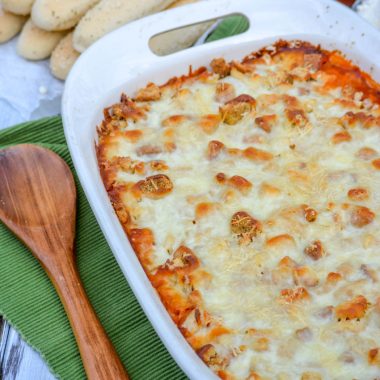 Chicken Parmesan Casserole
A simple casserole this version features the classic flavors of chicken Parmesan and condenses signature Italian comfort food into a single serving dish.
Print
Pin
Rate
Ingredients
3-4

cups

chopped rotisserie chicken

2

cloves

garlic

minced

pinch

crushed red pepper flakes

5-6

basil leaves

chopped or chifonade

2

cups

marinara sauce

1 1/2

cups

shredded mozzarella cheese

1/2-1

cup

shredded Parmesan cheese

2

cups

garlic flavored croutons

lightly crushed
Instructions
Lightly spray a 9x13" baking dish with non stick cooking spray. Spread the chicken out evenly in the bottom of the dish.

Sprinkle the seasonings evenly out over the chunked chicken.

Pour the sauce evenly out overtop, using the back of a spoon if necessary to spread it out evenly.

Sprinkle half of the cheese evenly out over the top.

Add the croutons in an even layer. Top with the remaining cheese.

Bake at 350 degrees for 40-45 minutes. Let the casserole rest for 2-3 minutes before scooping and serving.
Nutrition
Calories:
282
kcal
|
Carbohydrates:
13
g
|
Protein:
27
g
|
Fat:
14
g
|
Saturated Fat:
6
g
|
Cholesterol:
82
mg
|
Sodium:
1003
mg
|
Potassium:
475
mg
|
Fiber:
2
g
|
Sugar:
4
g
|
Vitamin A:
650
IU
|
Vitamin C:
6
mg
|
Calcium:
269
mg
|
Iron:
1.7
mg