Wegman's chicken French is one of their delicious premade meal options that we can't get enough of. With this easy copycat chicken French, you and your family can enjoy an easy chicken dinner that tastes just like the Wegman's version with barely any prep- in less than 30 minutes.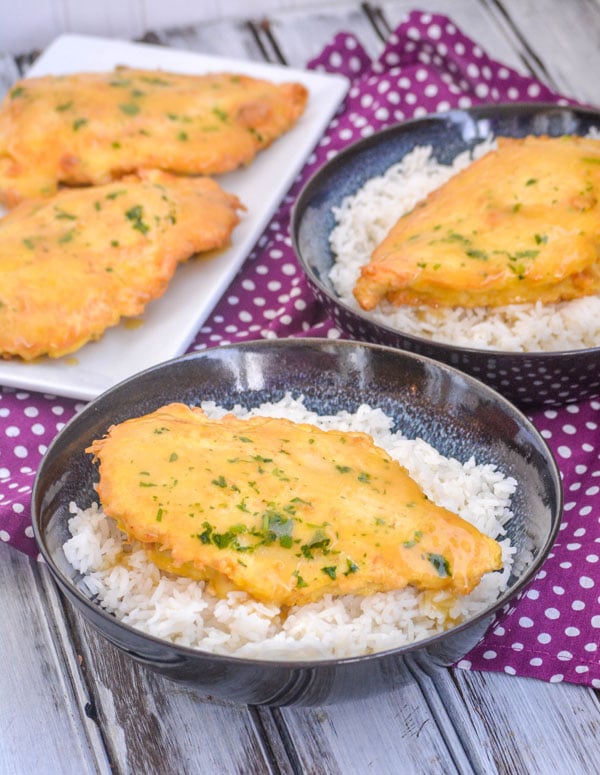 Do you have Wegman's where you live? If not, let me tell you, you are missing out my friends. Wegman's is a grocery experience. You know how you go to Costco for bargain hunting and so many samples? Well, you go to Wegman's for variety, quality, and an amazing buffet. Don't take my word for it. Even The Washington Post wrote an article about why so many people love Wegman's.
It's different from other grocery stores in that it has a massive selection of really fresh food kind of like Whole Foods, but it's inexpensive for the most part like Trader Joe's. Plus, it has a really extensive buffet complete with a loaded salad bar, at least 5 soups, Chinese food, pizza, chicken dishes… The list could go on practically forever. It's a definite life saver when everyone wants something different and we're on a time crunch.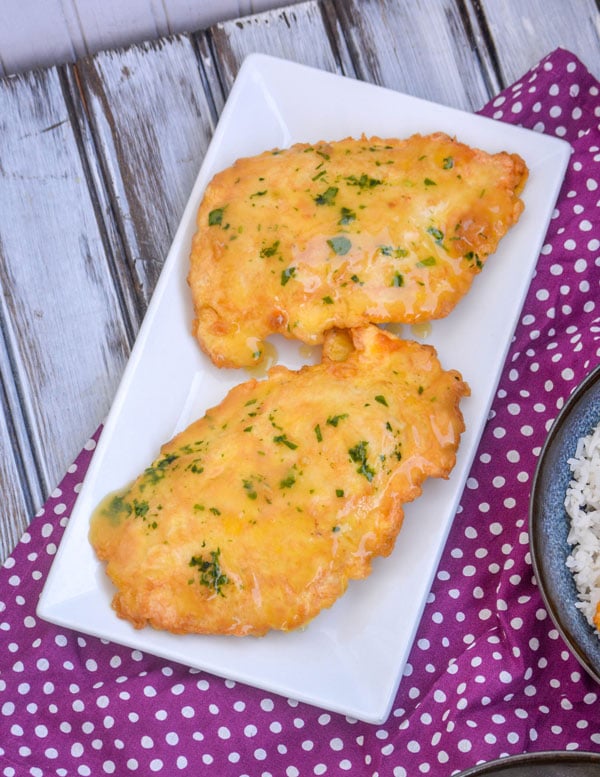 Some of the options at the buffet are packaged and available to take and eat or available in bulk through their catering department for parties. Their chicken French is one my entire family absolutely love.
Chicken French is a thinly cut chicken breast, commonly referred to as a chicken cutlet, that's floured and cooked in a lemon butter wine sauce. It's simple and easy to make at home if you can't make it to a Wegman's. Seriously. A quick 5 minute trip into the store is all you need. Even the sauce can be grabbed, bought, and go head on home.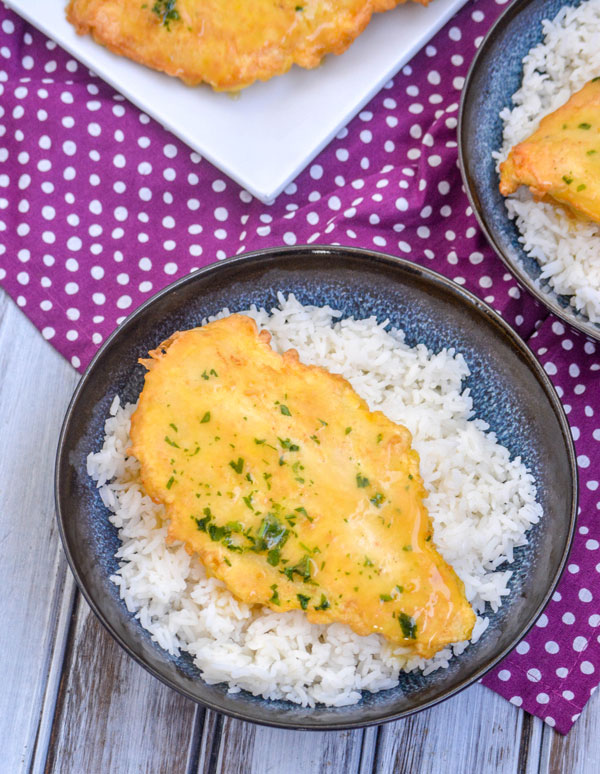 Chicken French is not actually French food at all. The "French" stands for francese. Another name for the dish is chicken francese. Some people, particularly those in New York state, think it should be called chicken Rochester. Not only is it extremely popular there, but the dish has its origins there.
Italian American immigrants brought a version of this dish with them when they settled in the Rochester area that they would make with veal. They began substituting chicken for the more expensive veal. Something very common across all cultures once they immigrated to America & began experimenting with available ingredients.
While chicken francese is very popular in Italian American cuisine, you won't find it in traditional food in Italy. However just like my chicken Lombardy, it's every bit as delicious as any traditional Italian food.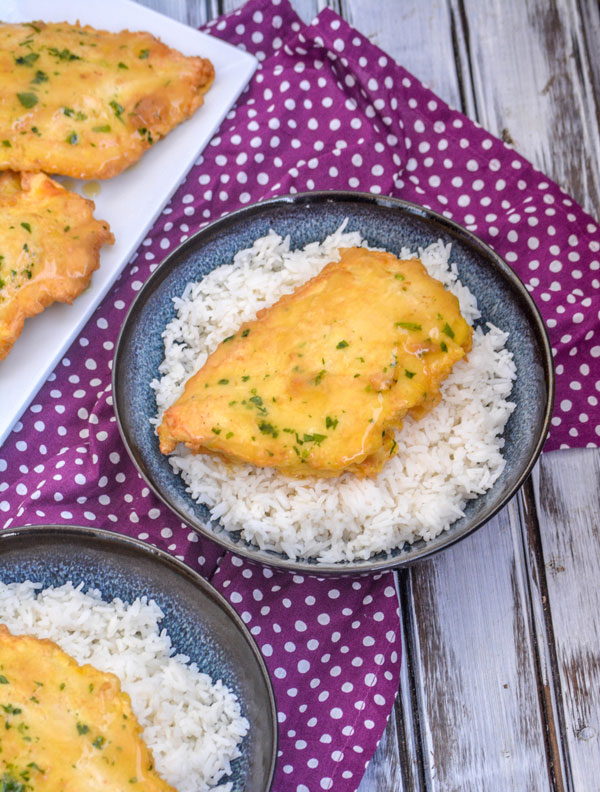 While it may not be classic Italian food or French for that matter, chicken French is classically delicious. It's full of so much flavor from the French sauce. The sauce is a combination of the most delicious ingredients: butter, white wine or sherry, and lemon.
So simple, but so perfect. And my copycat Wegman's chicken French is even simpler because you're using premade French sauce to make this easy chicken recipe. Just another reason we love them- fancy sauce offerings ready to go!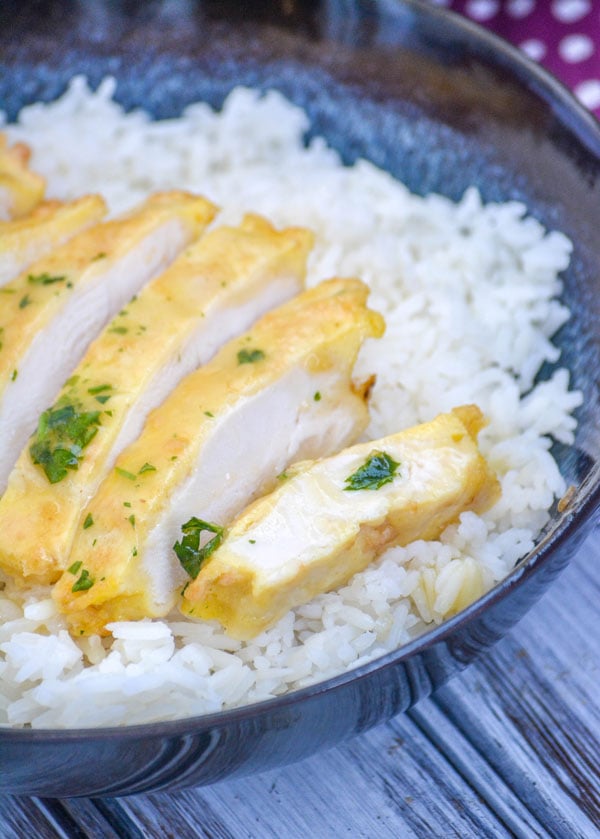 Using the premade sauce means you only need a few ingredients to get this scrumptious dinner on the table. Likely you have most of what you need in your kitchen already.
You will need chicken cutlets, flour, eggs, salt, pepper, parsley and the chicken French simmer sauce.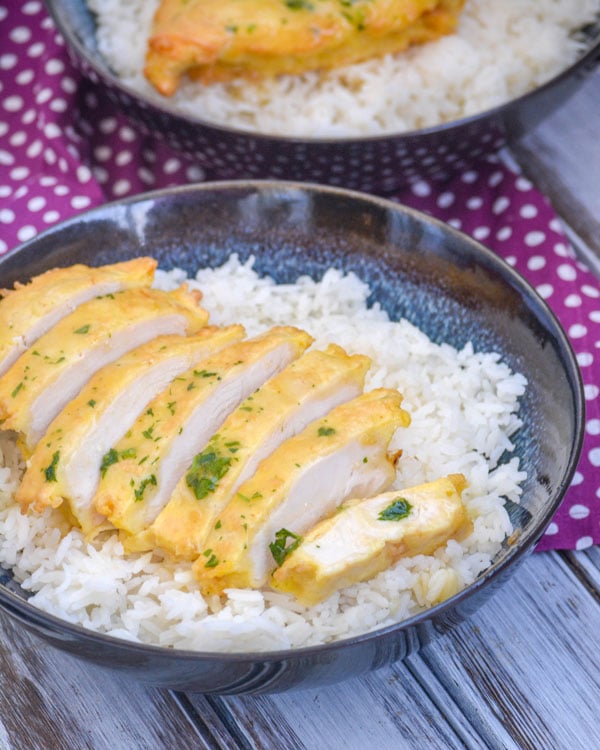 To make this chicken French recipe, first measure out your flour into a shallow wide bowl. Set it aside then crack and beat your eggs in another shallow bowl. Then season each chicken cutlet with salt and pepper before you dredge them one at a time in flour. Next dip the floured cutlets into the beaten eggs. Then heat an inch and a half or so of olive oil in a large heavy bottomed pan.
Working in small batches, cook each side of the chicken for 3 minutes or until the chicken gets nice and golden brown. When the chicken is cooked, you can lay it on a paper towel lined plate to drain the excess oil off. Then serve over rice, potatoes, or pasta and pour the warmed sauce over top. Sprinkle with parsley to finish.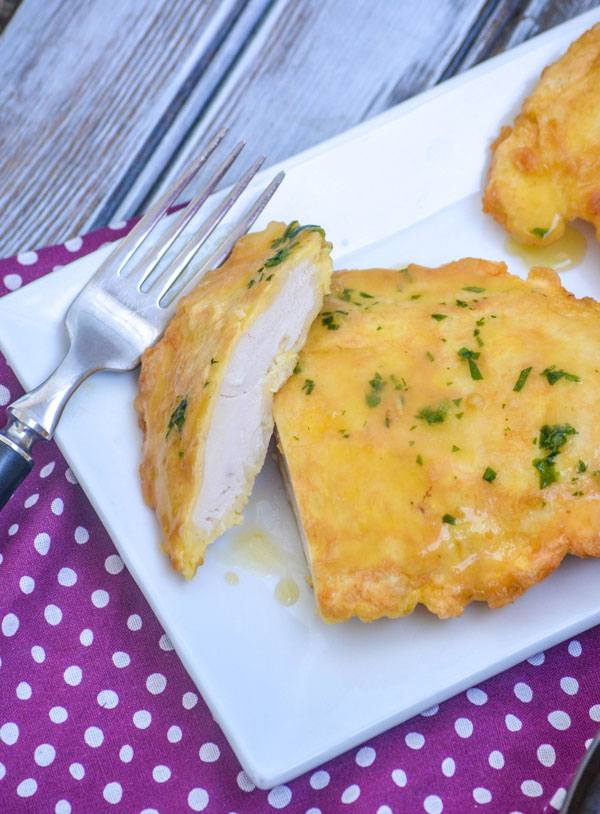 Then sit down and enjoy this classic copycat Wegman's chicken French for the perfect quick and easy family dinner.
So while I'm fortunate enough to now live within driving distance of a Wegman's, I realize not all of my readers may have that luxury. The chain just isn't everywhere yet, especially in the South. It's just now crossing the Mason Dixon line. Also, your local grocer may not carry a comparable version of lemon sauce. So I'm sharing a simple lemon simmer sauce you can make at home, whether homemade is more your thing, or proximity makes it a necessity.
INGREDIENTS NEEDED TO MAKE LEMON SAUCE FOR CHICKEN FRENCH:
lemon juice
butter
shallot
salt
parsley
That's it. Five ingredients, a skillet, and you've got a quick and easy homemade lemon simmer sauce in the making. It's as simple to whip up as the ingredient list is too.
HOW TO MAKE HOMEMADE SAUCE FOR CHICKEN FRENCH:
Add lemon juice & shallot to a small skillet, heated over medium- high heat.
Simmer until the mixture's reduced by half, stirring occasionally.
Add the butter, stirring until melted & the butter's completely incorporated.
Season the sauce with salt & parsley, stirring to combine.
That's it! Simple right? So at this point you could store the sauce to use later, or if you're ready to get cooking- start the recipe and set it aside to pour over the chicken cutlets as instructed in the recipe.
The Hubs & sons like it so much, I often end up doubling it. The extra I save for chicken tender dipping, or to toss with cooked pasta.
Other Saucy Chicken Entrees To Try:
If you've tried this COPY CAT WEGMAN'S CHICKEN FRENCH or any other recipe on my site, let me know in the comment section how it turned out, we love hearing from our readers! You can also follow along with me on PINTEREST, FACEBOOK, and INSTAGRAM to see more amazing recipes and whatever else we've got going on!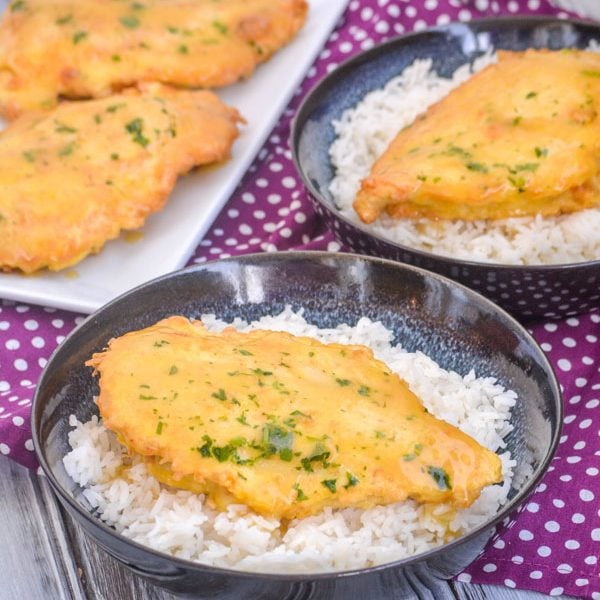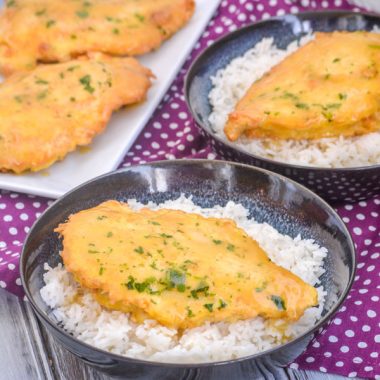 Ingredients
1/2

cup

flour

3

large

eggs

well beaten

1 1/2

lbs

chicken cutlets

salt & pepper

to taste

1/4

cup

olive oil

1 16 oz

jar

Francese lemon simmer sauce

Italian parsley

washed & finely chopped to use as garnish
Instructions
Measure the flour & eggs out into their own shallow bowls.

Generously season each chicken cutlet with salt & pepper. Flip it to it's other side, and repeat seasoning.

Working with one cutlet at a time, coat them in flour. Pressing in if need be to ensure an even coat. Loosely give each cutlet a shake to remove any excess, then transfer them to the beaten eggs, turning to coat.

Working with a heavy bottomed pot, add oil until it's 1 1/2-2 inches deep. Heat the oil over medium high heat for 1-2 minutes.

When the oil's hot, work in batches cooking 2 cutlets at a time. Let them cook for about three minutes, or until the edges are nice and golden brown.

Flip them, and cook an additional three minutes or until the other side is just as pleasantly golden brown. To ensure each cutlet is cooked through, use a meat thermometer and make sure the thickest part reads 165 degrees.

Transfer the cooked chicken to a paper towel lined plate, to drain off any excess grease. Repeat for the remaining cutlets.

Warm the sauce over medium low heat, just until heated through. Pour it evenly over the cutlets just before serving. Alternatively, you can toss the fried cutlets in the sauce, whichever works better for you personally.

Garnish the cutlets with freshly chopped Italian parsley, and serve with a side of freshly cooked white rice or pasta.
Nutrition
Calories:
431
kcal
|
Carbohydrates:
12
g
|
Protein:
43
g
|
Fat:
22
g
|
Saturated Fat:
4
g
|
Cholesterol:
267
mg
|
Sodium:
258
mg
|
Potassium:
705
mg
|
Fiber:
1
g
|
Sugar:
1
g
|
Vitamin A:
280
IU
|
Vitamin C:
2.1
mg
|
Calcium:
32
mg
|
Iron:
2.2
mg