A colorful breakfast dish the whole family can get in on & enjoy, this sheet pan breakfast pizza is a dish worth diving into. Sliced up, it's breakfast, brunch, or maybe dinner served on a sheet pan.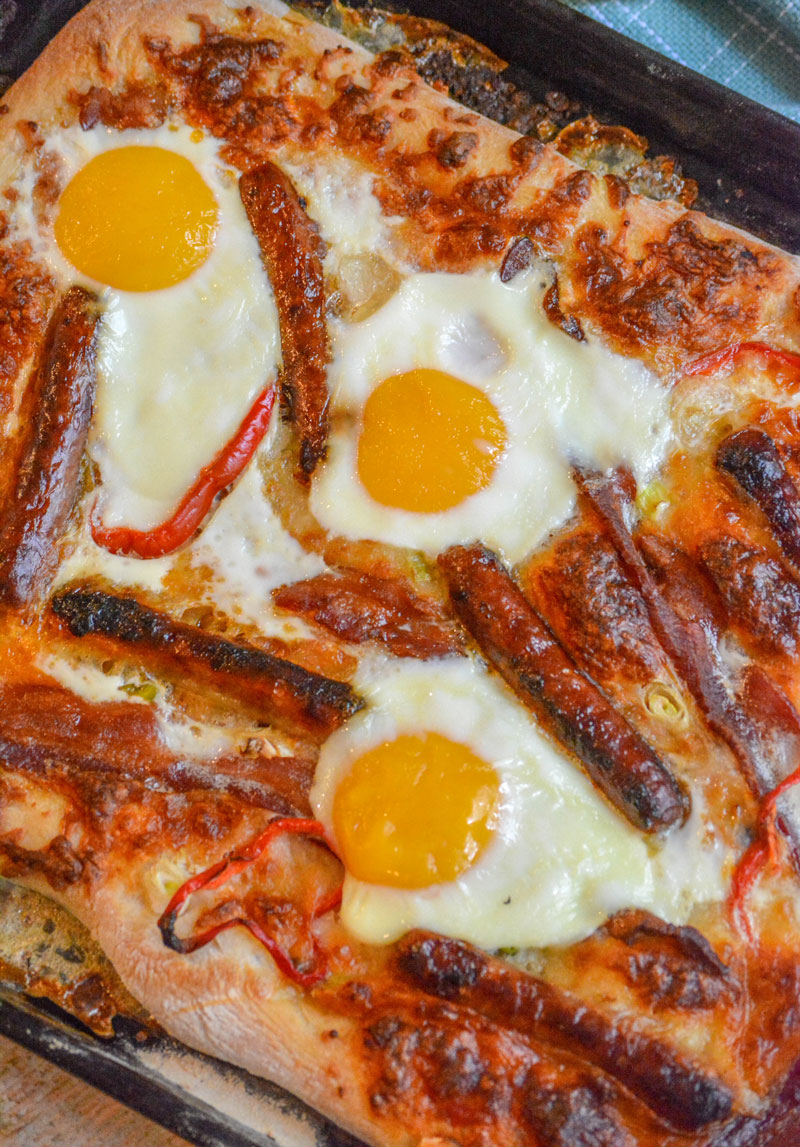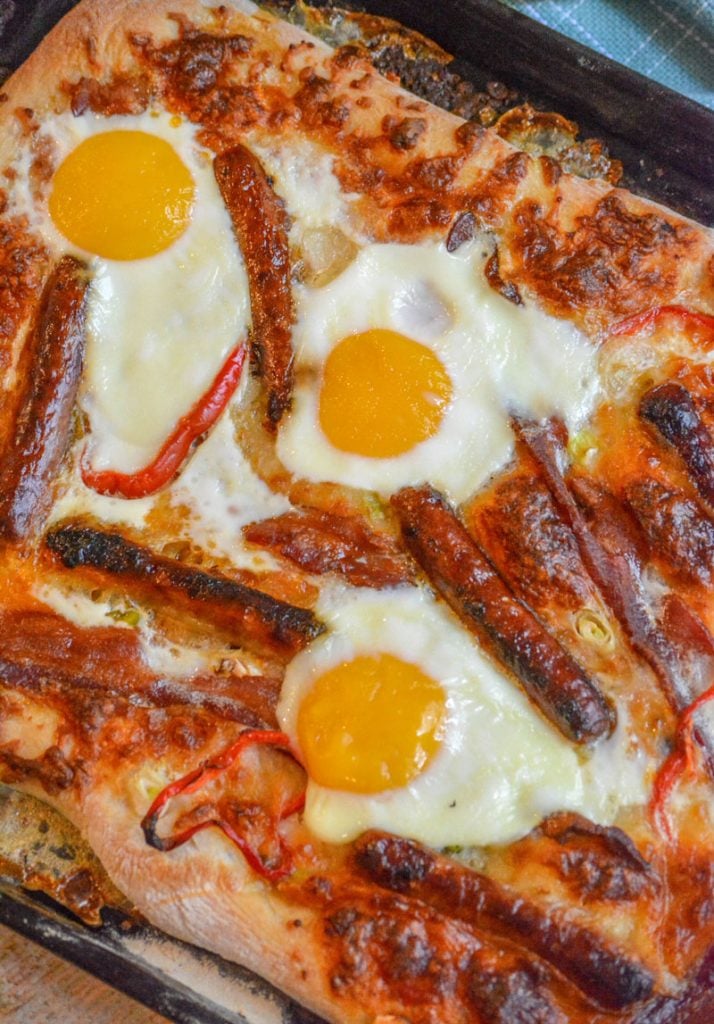 Is there ever a wrong time for pizza? That question would be met with a resounding 'no' in this house. My kids love pizza. Pizza for all the meals. All the times of the day.
While I love them dearly, my Mama's heart can't get behind them on the 'pizza all the things, all the time' campaign. I can, and do, though agree to pizza depending on the circumstance. Pizza for breakfast is even ok, depending on the pizza. If it's sheet pan breakfast pizza, count me in!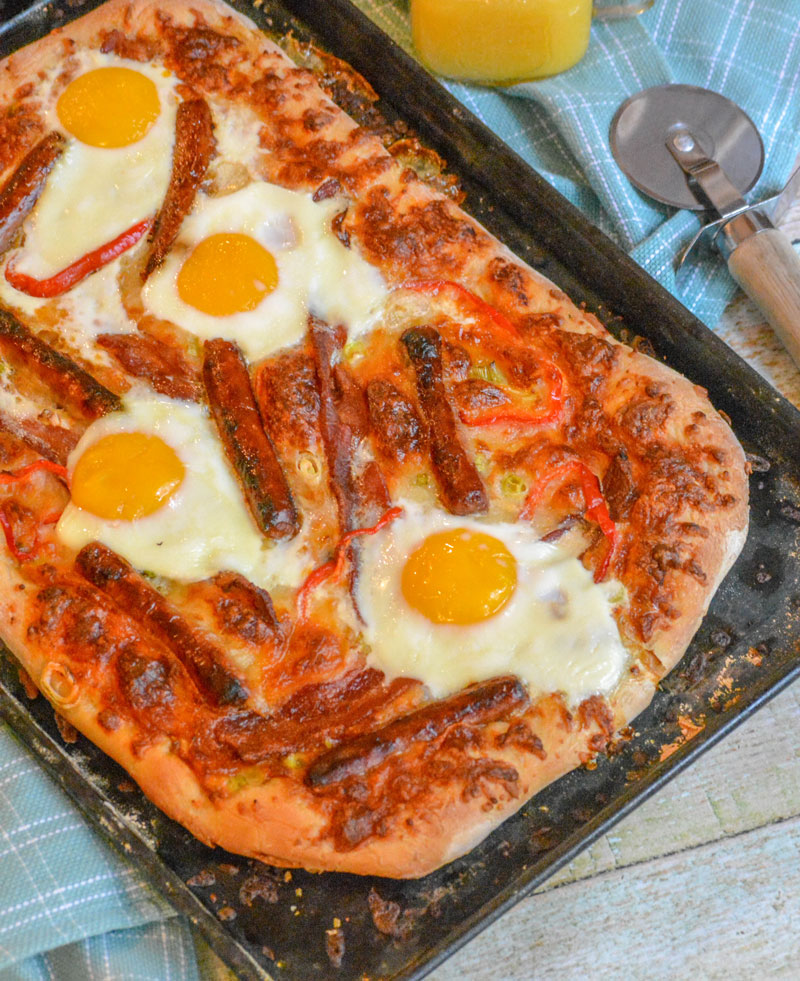 So many meals are made easier when a sheet pan's involved. Take our sheet pan charcuterie meat & cheese snack tray for example. It makes snack time a synch to pull together. My roasted chicken and vegetable sheet pan supper makes meal time a breeze. You can even make a whole meal on a single sheet pan with this meatloaf supper!
Did I mention before how much I love sheet pan everything? Seriously, a solid sheet pan should be in every home cook's kitchen arsenal. If it's not, get on that! They're so versatile, and really open up your options as far as main meals, sides, and even desserts.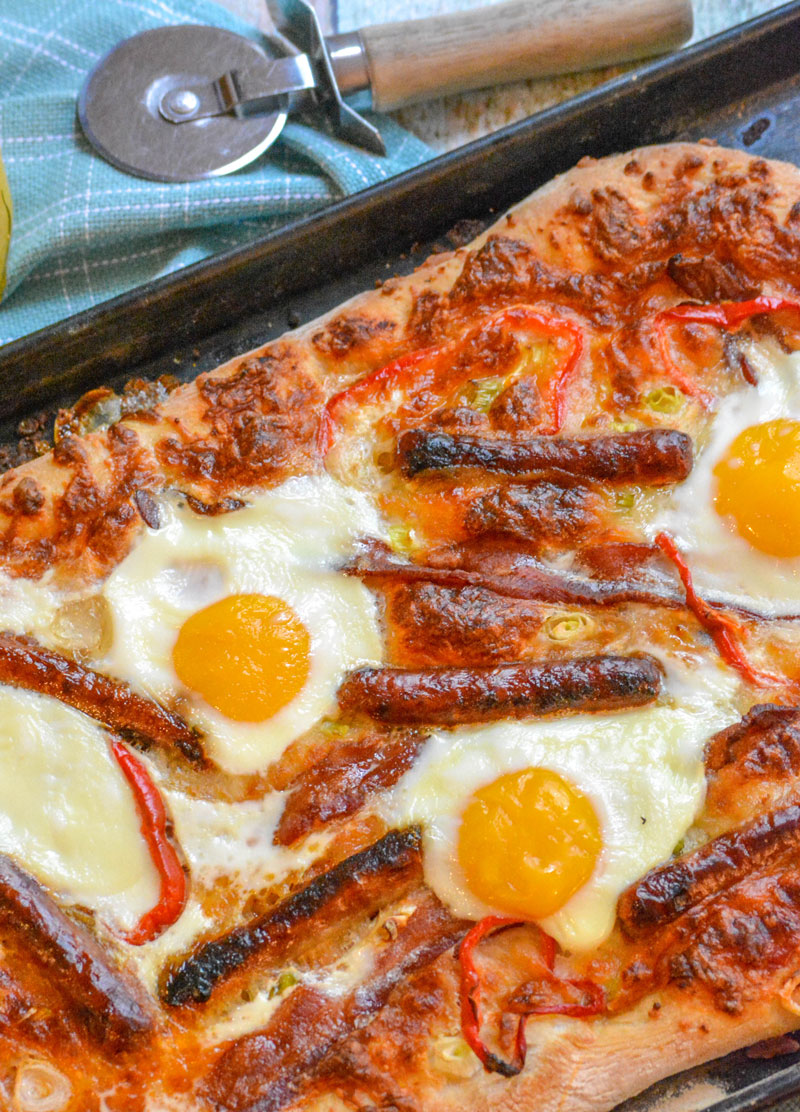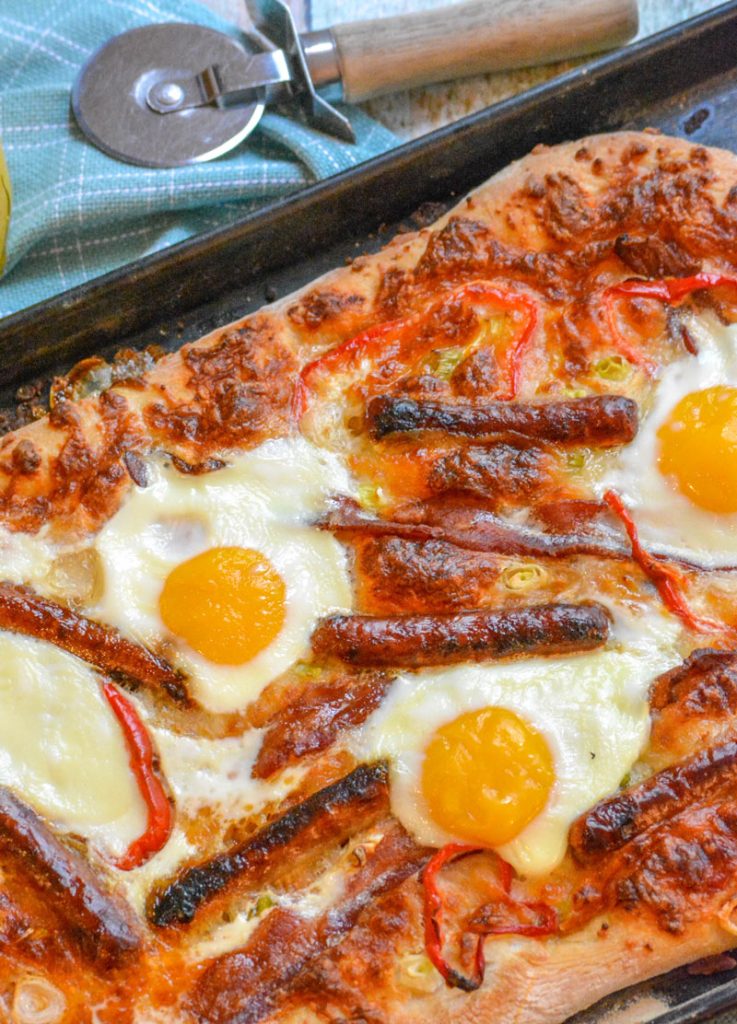 This breakfast pizza is one of our family's favorites, especially since it cooks on a single pan. How many times can you say that about a full breakfast? All your favs on a single crust, with only a single dish left behind. Hallelujah!
I kid you not, this sheet pan breakfast pizza has it all. Crisp golden doughy crust. Savory sausage links. Crisp strips of bacon. Sunny side up eggs. Roasted peppers & onions. All of it bound together with a sweet pizza sauce & creamy melted mozzarella cheese. It's a bit of breakfast magic in every bite.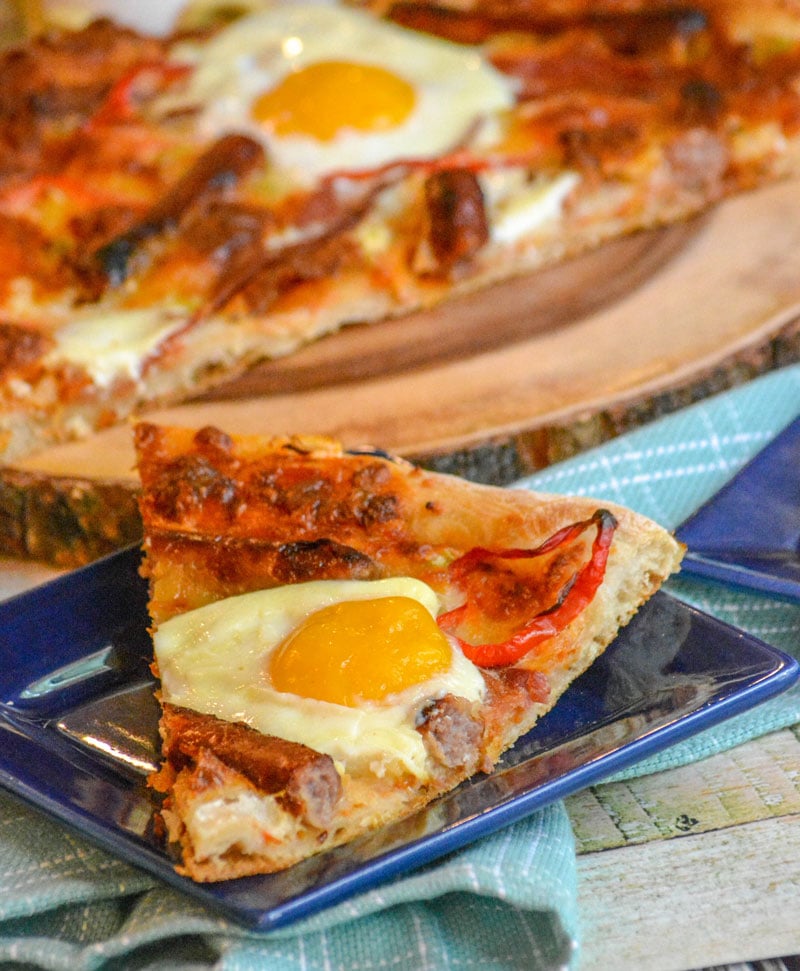 I know I've touched on the highlights, but what do you actually need to make a seriously delicious sheet pan pizza for breakfast? Well the ingredients are probably a lot simpler than you'd think. You've most likely got many of them on hand already. Let's dig in!
Ingredients Needed For This Sheet Pan Breakfast Pizza:
pizza dough
pizza sauce
shredded mozzarella cheese
breakfast link sausage
bacon
red bell pepper
onion
eggs
That's it. It's really a simple list of ingredients. That's all that stands between you and a delicious sheet pan breakfast pizza. This is also one of those recipe where you not only want to, but totally should get them in on the action and helping. Little hands are perfect for shaping dough.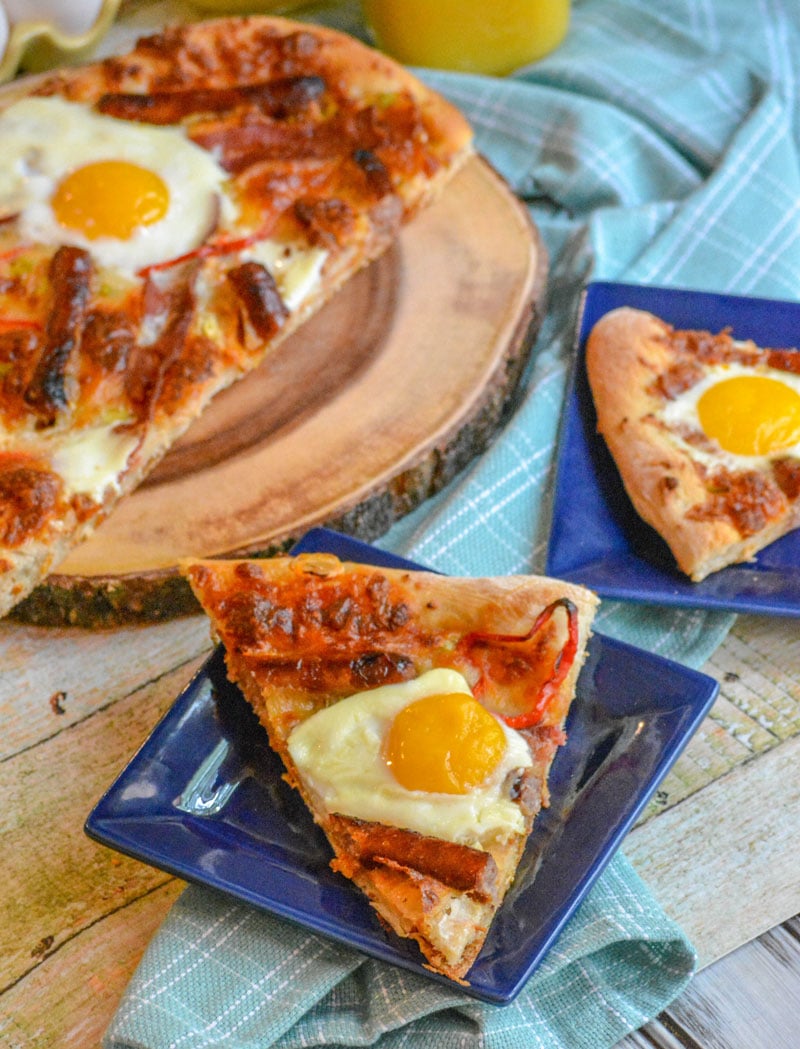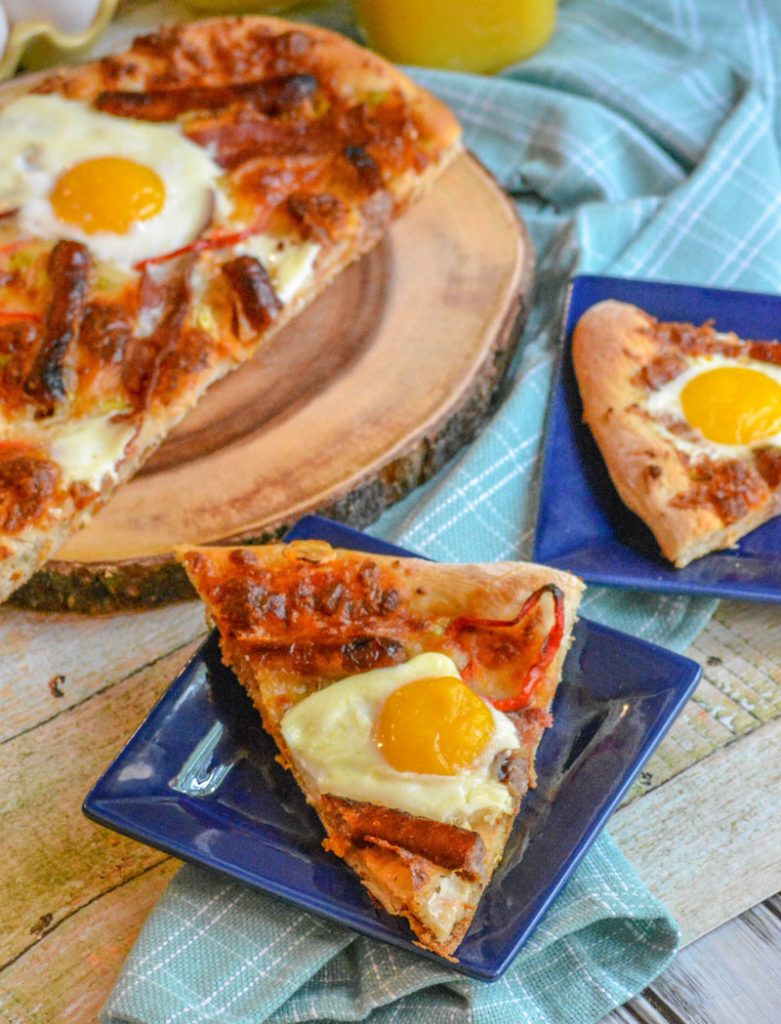 How To Make Sheet Pan Breakfast Pizza:
The bacon & sausage are cooked according to their packages instructions.
Roll the pizza dough out into a thin, even layer. Transfer that to a sheet pan.
Add the sauce, and spread it out evenly.
Sprinkle the shredded cheese out evenly over the crust.
Add the sausage & bacon, spreading it out.
Sprinkle the peppers & onion evenly out over the pizza.
Cook the pizza at 475 degrees for 10 minutes. Remove the pizza from the oven.
Carefully crack the eggs out over top of the pizza.
Bake for an additional 5 minutes, or until the egg whites are set.
Let the pizza rest for 2 minutes before slicing & serving.
It's a very simple recipe. Like I mentioned earlier, this is a great one to get the kids in on. No matter how hard I try, I can never get pizza dough to roll out perfectly. It's always lopsided. My kids never care though. They also enjoy the meal 10x more if they're the ones helping prep it. Let them roll out the dough into an oblong shape. Perfection isn't the goal, and those memories are priceless. Sheet pan pizza for the win!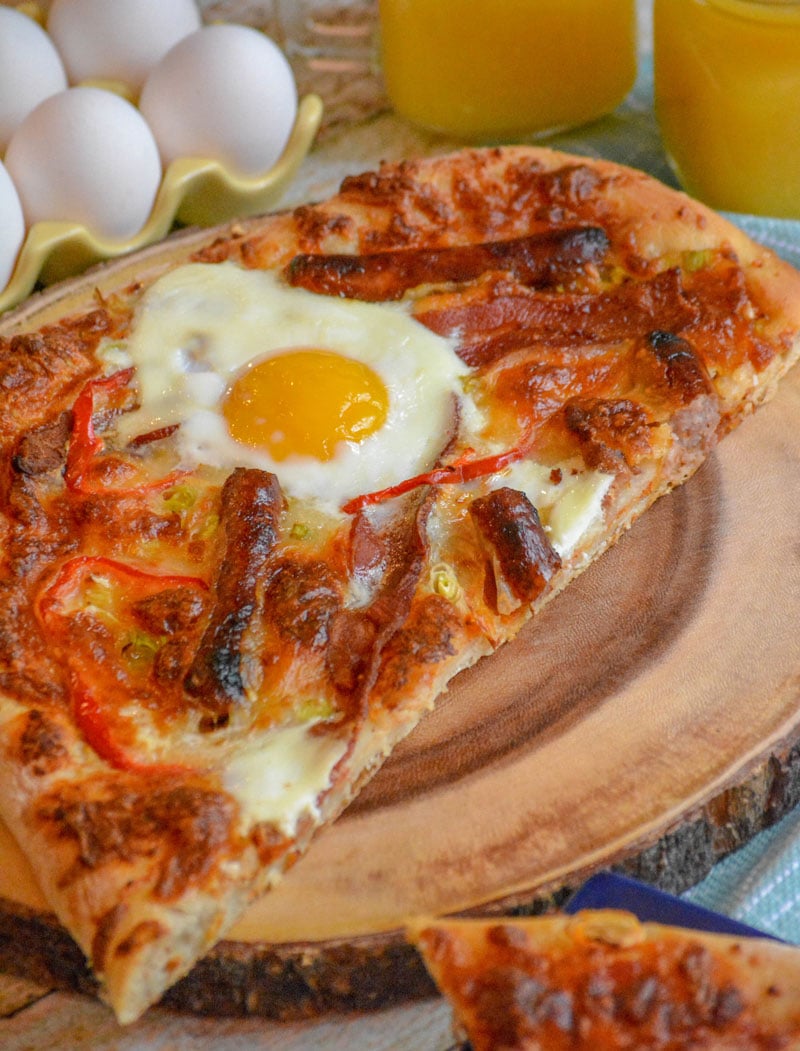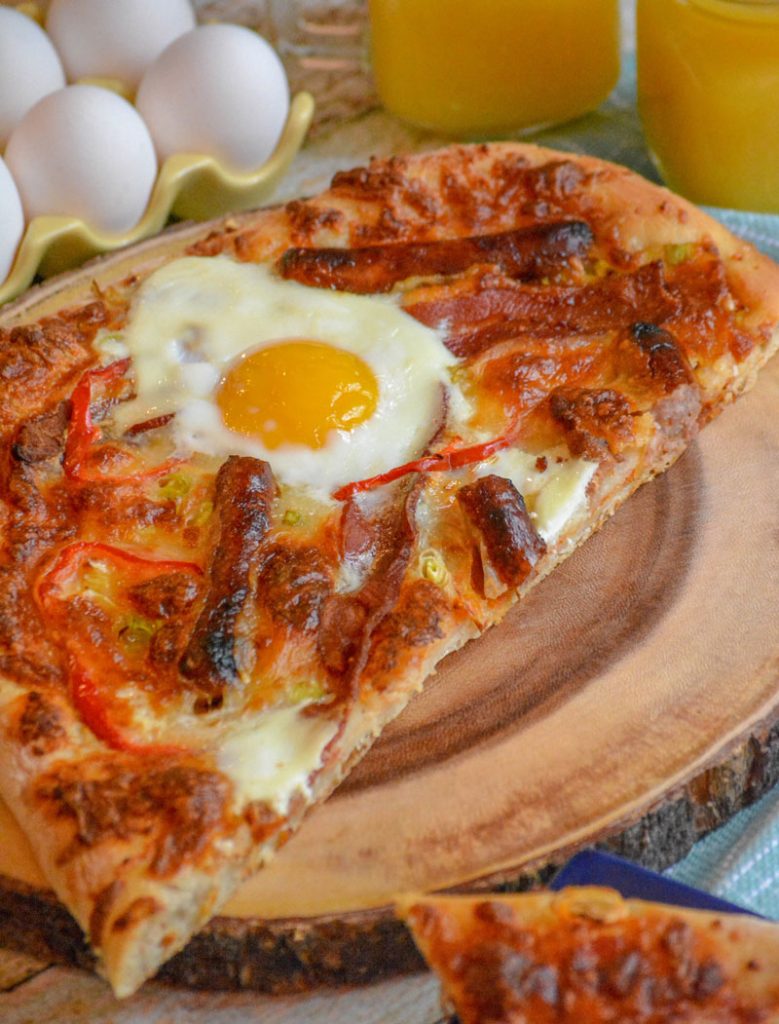 This sheet pan breakfast pizza is going to immediately rise in the ranks as far as your favorite recipes go. Breakfast, lunch, dinner- breakfast for dinner, it fits the bill. Plus, it's delicious. It also includes all my AM go to's. It's got sausage. Bacon, check. It's got sauteed peppers & onions for flavor infusion.
It's all seated on a crisp, golden brown pizza crust. With savory sauce and melted cheese thrown in for good measure. We could've stopped right there. It would be delicious none the less, but no we really couldn't. A couple eggs cracked out overtop? Well that just took this breakfast pizza over the top.
The recipe is perfect as is, but I know everyone has a preference when it comes to how their eggs are cooked. Even on a sheet pan, on top of a pizza- it's no different. Cook the eggs as directed, but watch the whites. If you're looking for poached eggs- as soon as the whites are set, remove the pan from the oven. The eggs will split beautifully with delicious juices. Our house is divided though, and if you don't like any runny yolk that's ok too. Let the dish cook an additional one or two minutes. The egg's centers should cook through.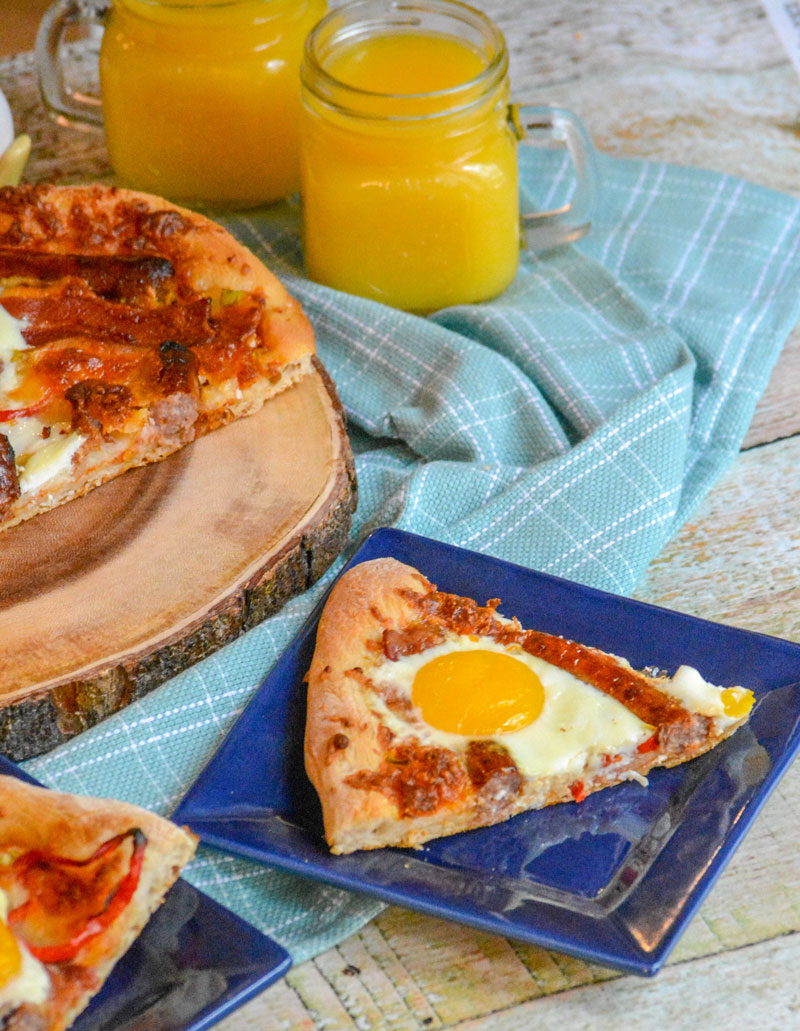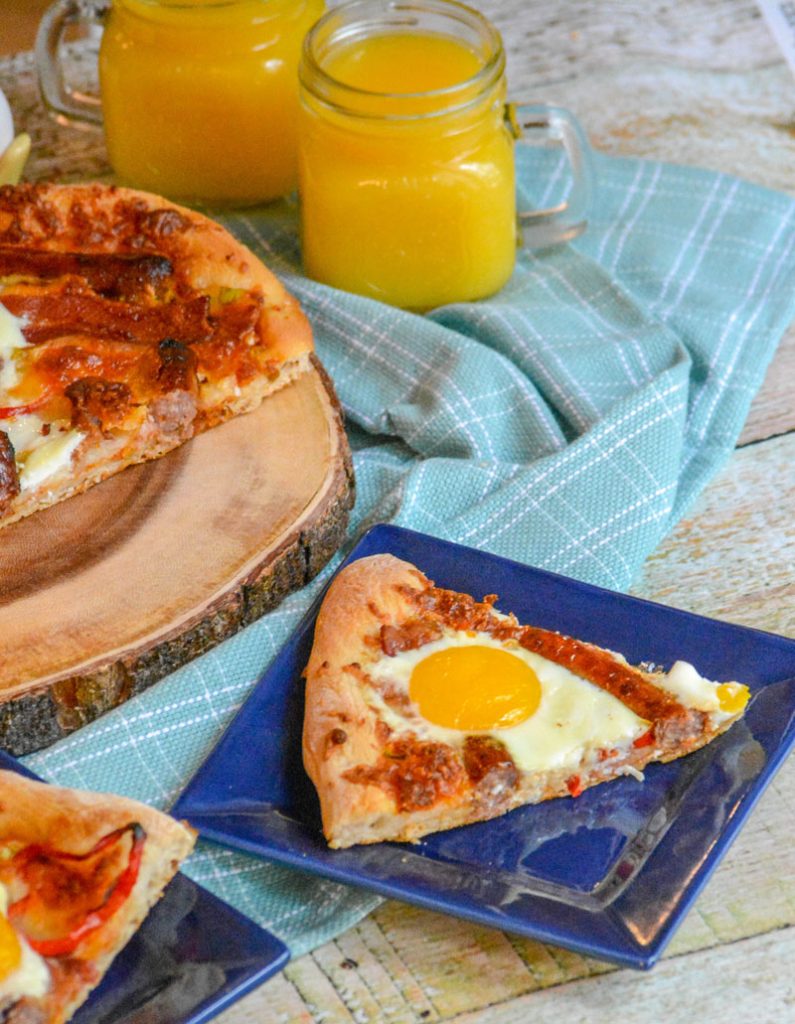 Slice and serve this delicious sheet pan breakfast pizza. You can't go wrong! Breakfast, brunch, or dinner- our family will gladly enjoy this sheet pan pizza all day long.
Other Brunch Style Sheet Pan Meals: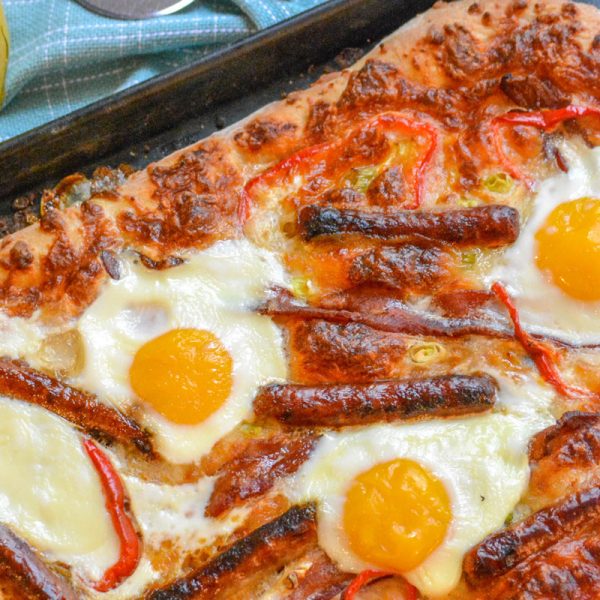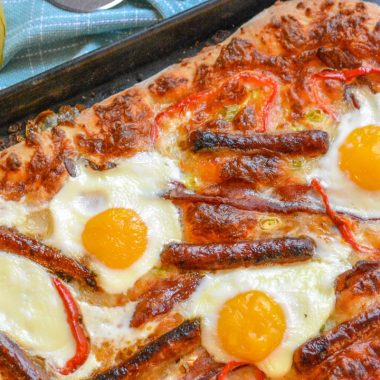 Sheet Pan Breakfast Pizza
An easy breakfast option, this sheet pan pizza is a perfect way to get the kids in the kitchen excited to top a simple crust with their favorite breakfast fixings.
Print
Pin
Rate
Ingredients
1

lb

pizza dough

flour

for dusting

6

slices

bacon

6-8

links

breakfast sausage

1/2

sweet red bell pepper

thinly sliced

1/4

cup

green onion

thinly sliced

1 1/2-2

cups

shredded mozzarella cheese

1/4

pizza sauce

4

eggs
Instructions
Cook the bacon and sausage, according to package instructions. Set aside.

Dust a clean work surface with flour. Roll the pizza dough out onto it into a thin even layer.

Transfer the dough to a non stick sheet pan. Top it with the sauce, and use the back of a spoon to spread it out evenly.

Sprinkle the cheese evenly out over top. Add the bacon & sausage. Spread the pepper & onions evenly out overtop.

Cook the pizza at 475 degrees for 10 minutes.

Remove the pizza from the oven. Carefully crack the eggs overtop so that they're evenly spaced and the yolks don't break. Return the pizza to the oven to cook for another 5 minutes- or until the egg whites are set and the crust is golden brown.
Nutrition
Calories:
306
kcal
|
Carbohydrates:
28
g
|
Protein:
14
g
|
Fat:
15
g
|
Saturated Fat:
6
g
|
Cholesterol:
110
mg
|
Sodium:
688
mg
|
Potassium:
88
mg
|
Fiber:
1
g
|
Sugar:
4
g
|
Vitamin A:
290
IU
|
Vitamin C:
0.6
mg
|
Calcium:
121
mg
|
Iron:
2.1
mg