Sometimes a fully homemade meal isn't in the cards, which is why snack supper nights can be a real life saver. Give a traditional fried chicken spread an upgrade by transforming it into a charcuterie- style, picnic dinner idea. This fried chicken dinner board easy, it's fun, and also customizable.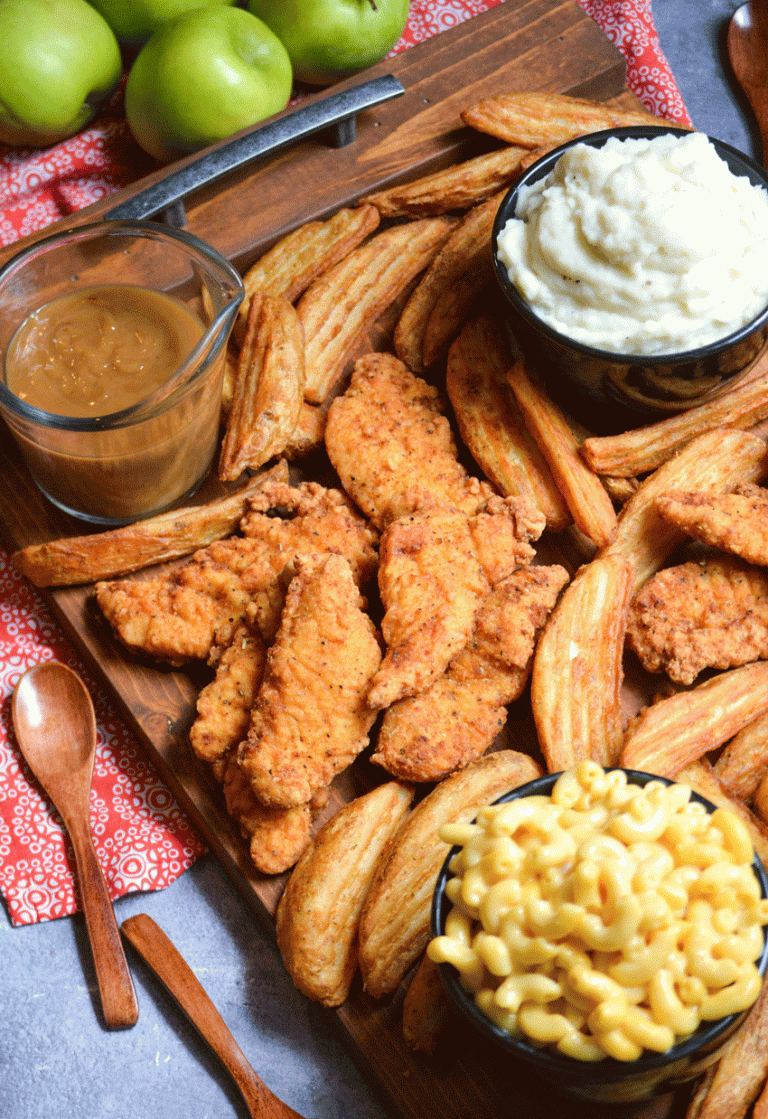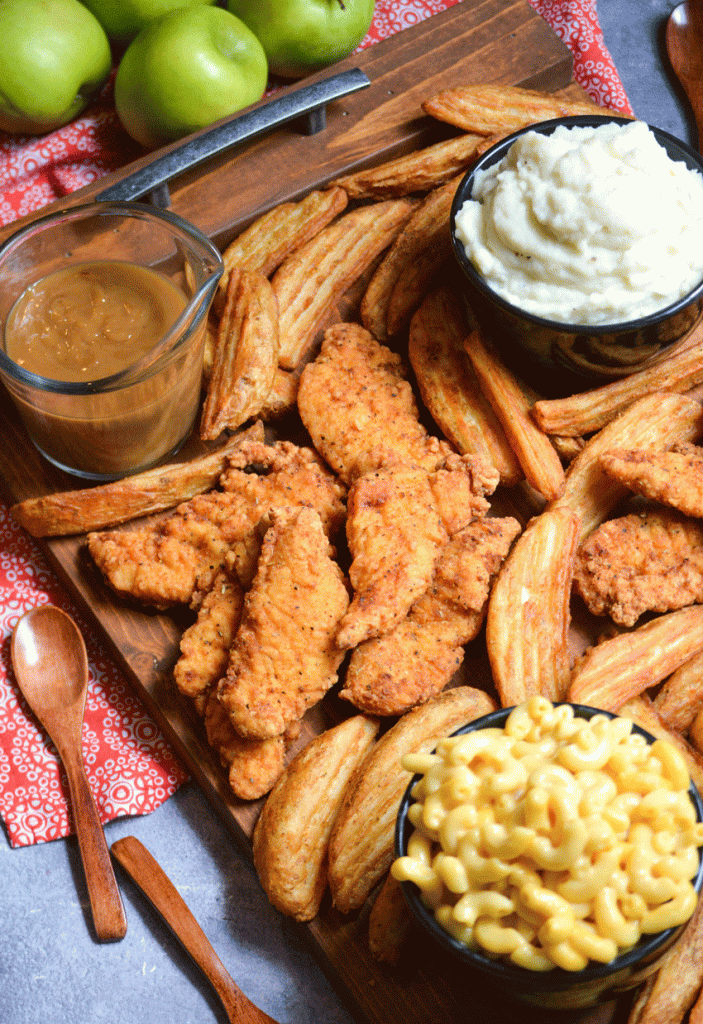 For a busy family, dinner time can be daunting.
The planning, the cooking, the plating.
Then there's the serving. If your kids are anything like mine- there's always one who's inevitably unhappy.
Doesn't matter the meal, the truth remains the same.
Even if it was something everybody agreed on and loved the week before.
However, I've found two things that always trump this rule.
Snack suppers & fast food.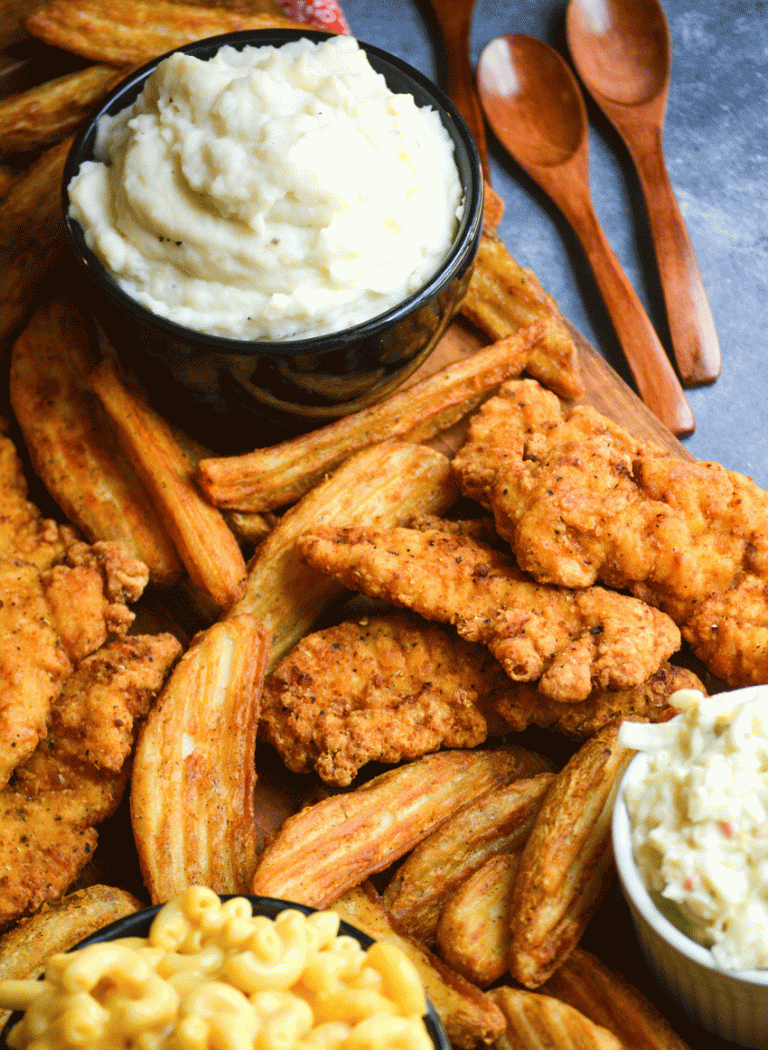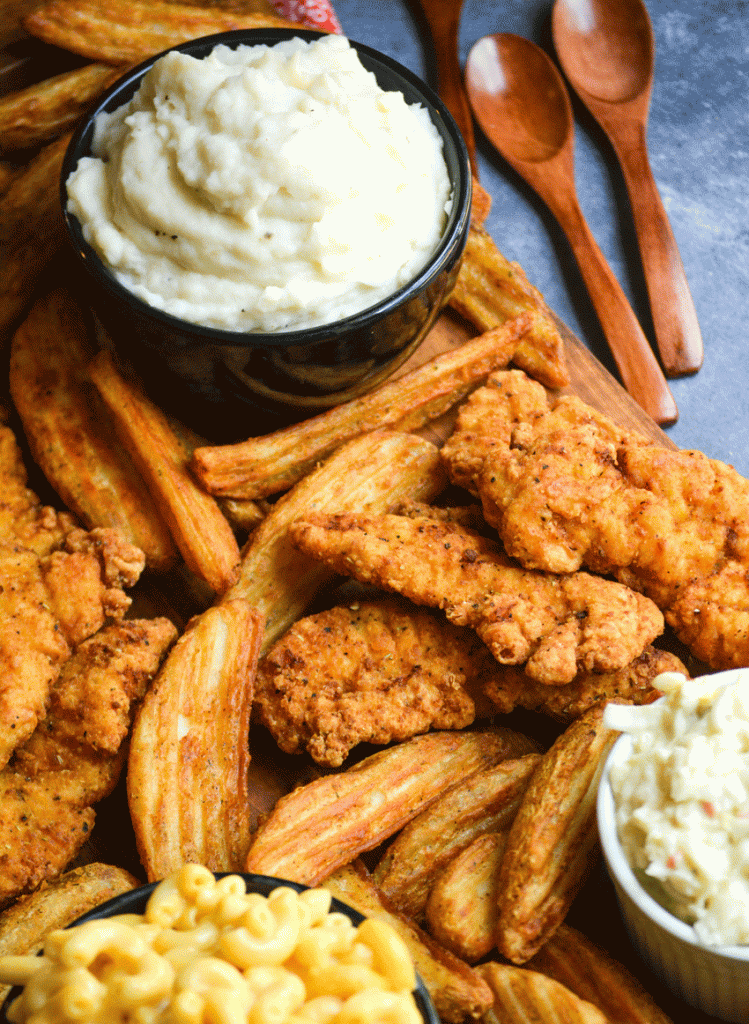 Seriously, some of my kids best memories are when I threw my Dad's old army blanket down on the living room floor and exclaim it a 'picnic supper' night.
Sometimes this means we party with unpacking a bag of fast food.
I'm not a perfect, from scratch parent every night of the week after all.
Another picnic supper favorite is Grandma's Cheesy Beef Nachos.
Recently though, there's been this trend of charcuterie boards.
Literally the epitome of snack suppers.
The French word means meat & cheese.
Instead of throwing a bucket of fried chicken on the table and telling everyone to tuck their napkins, and dig in- I decided to change things up.
We gave the traditional fried chicken dinner the snack board treatment, and the sons' absolutely loved the idea.
And while our assortment had the meat, it didn't contain the traditional assortment of cheeses.
Still, we included mac and cheese with our arrangement, and since that includes cheese- we all decided that technically the word charcuterie board still applies.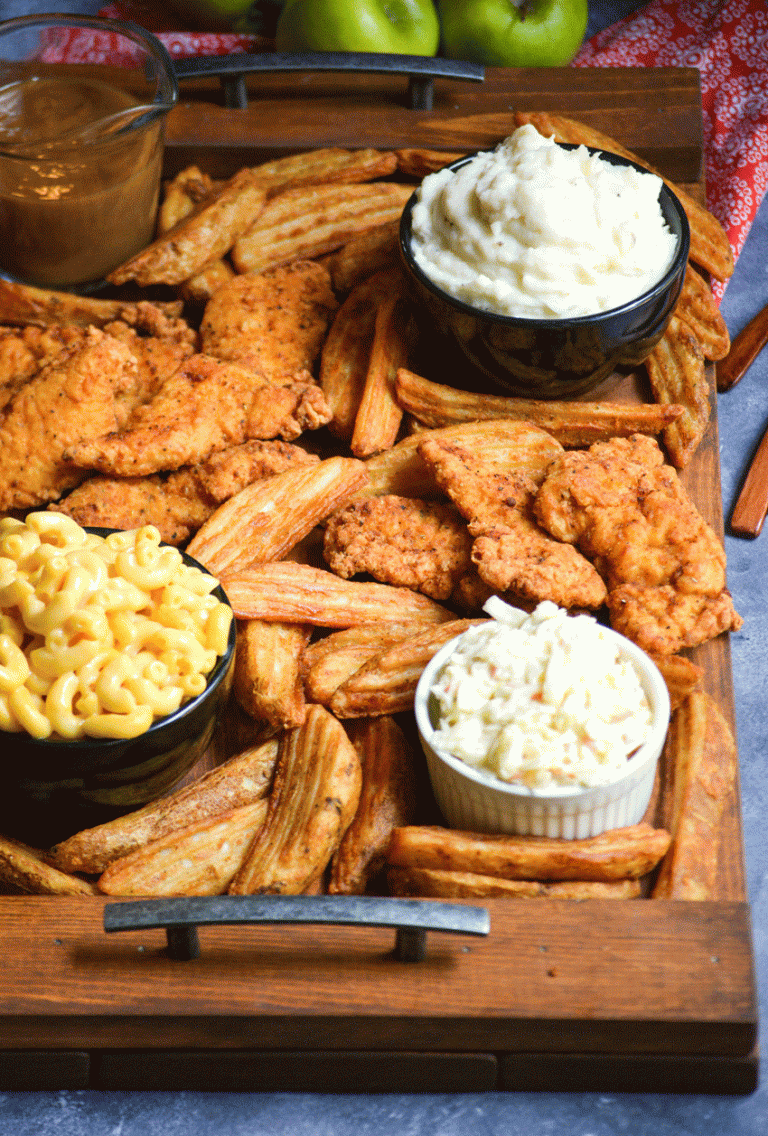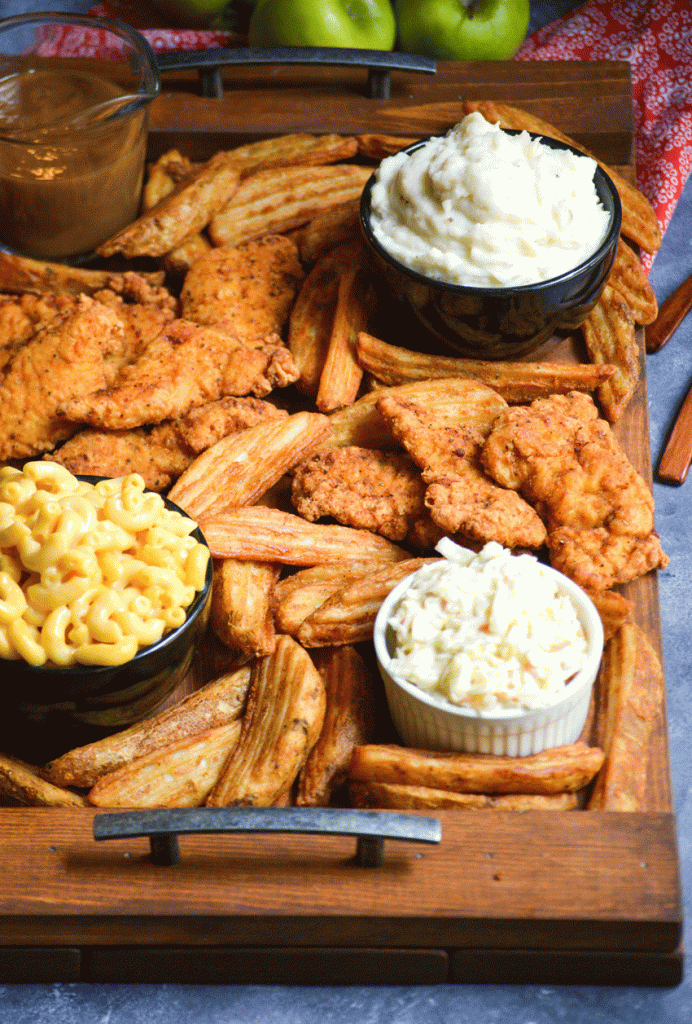 What To Include In Your Dinner Board Spread
The first step is to decide what type of chicken your featuring on your board.
The Chicken
Are you going with classic fried chicken?
Homemade or store bought?
Either works great for this type of snack supper, and makes catering to your family's' preferences easy.
For the board pictured in this post, I went with all fried chicken strips- tenders as my kids prefer to call them.
Easy, no fuss. No bones about it!
We've used a mixture before when making this for company- fried chicken, chicken wings, and fried chicken strips for the kids.
The Sides
Fried chicken is good with so many different things, but almost everyone is guaranteed to have their own favorites as far as sides and sauces go.
These fixin's are easy to customize, and a huge part of what made this dinner idea so appealing to all four sons.
There's no such thing as too many carbs where my kids are concerned, so they didn't bat an eye at including both crisp potato wedges AND their favorite creamy mashed potatoes.
Macaroni and cheese is another must have for us.
And this Mama can't enjoy her fried chicken without a little bit of coleslaw. Our sides were set.
Depending on the size of your serving board, you could absolutely include more options. Variety is the spice of life after all, and often key to a great charcuterie style spread!
Other Side Dish Ideas:
traditional French fries
corn on the cob
hush puppies
The sky's the limit. What does your family love to pair with fried chicken?
The Sauces
The first thing I learned about fried chicken?
The good stuff doesn't require anything extra. Yeah, I'm looking at you condiments.
My kids weren't built the same.
Two of them put ketchup on their ketchup. I've given up fighting them, and just roll with it now.
Depending on the size of your board, tiny bowls of sauces can be included for dipping. Otherwise, you can serve them on the side.
Sauce Ideas Include:
ketchup (the obvious kid choice)
hot sauce
gravy
ranch dressing
barbecue sauce
melted butter
Again, here's another opportunity to cater to your family's tastes and to get creative.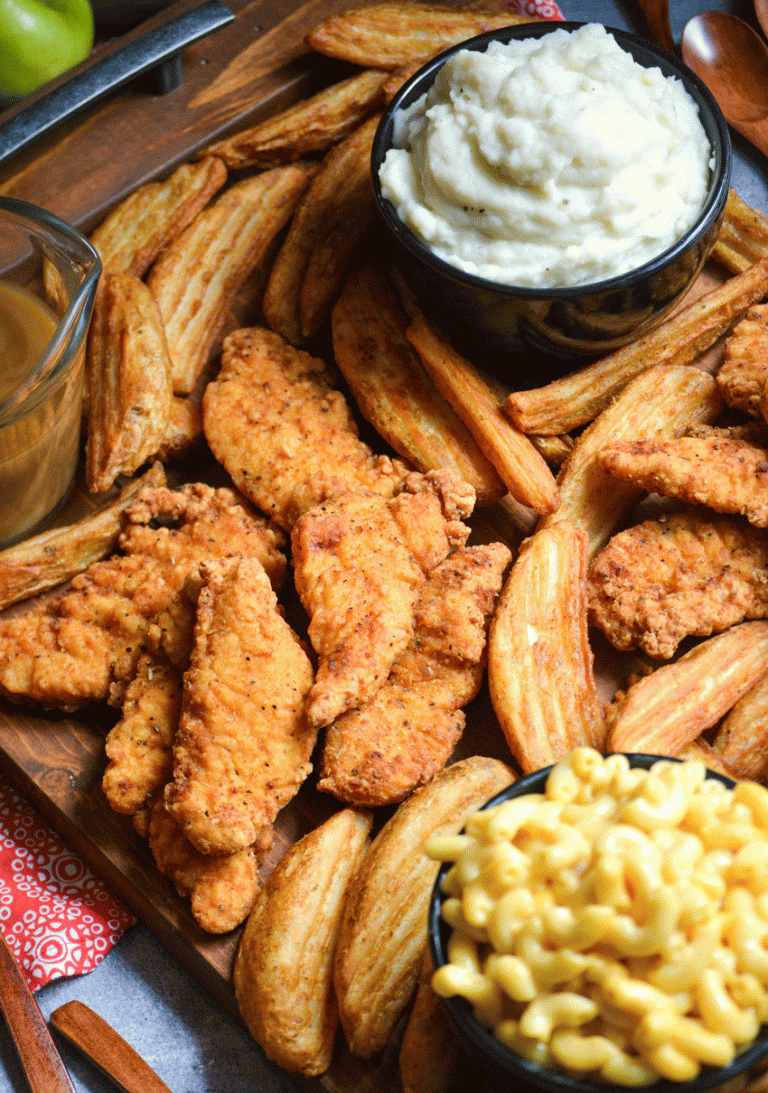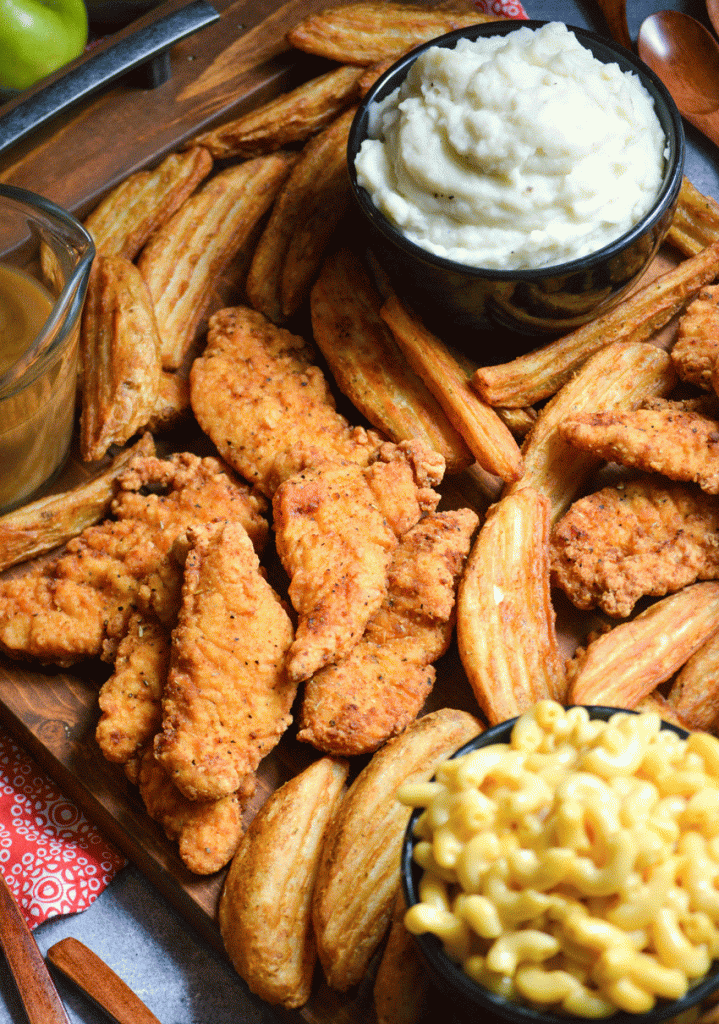 How To Arrange A Grazing Style Board For Dinner
If you're anything like me, you've seen this idea a million times but have no idea where to begin to put an eye appealing display together.
Especially with regular dinner items.
It may seem obvious, but begin by pulling all of your ingredients out and arranging them in an easily viewable space. I like to use a large counter top.
Everything's easy to grab, identify, and see at a glance.
Keep in mind how many people you're serving. Whether it's 2, 4, or 6- you'll want to ensure there's enough food to fill everyone up.
Remember the meat is going to be the start of the show. It's the main event after all.
Pick your must have sides & sauces- I recommend using 4 small bowls of relatively the same size. Ramekins work great for this.
Fill them with the desired contents, and then arrange them on the board.
Since we were using four, we went with the four corners for placement.
After that it's a matter of filling in with the dry ingredients.
Make sure the board is covered nicely, without any visible gaps.
My board is on the smaller side, so the sauces weren't serve on it.
Other Spins On A Fried Chicken Dinner Board
Chicken & Waffles – arrange toasted waffles on your board next to your fried chicken, make sure to have plenty of maple syrup on hand, and even a bowl full of scrambled eggs on your board
Country Style – crispy fried chicken arranged on the board with buttermilk biscuits and bowls of luscious white gravy & fluffy scrambled eggs
Salad Style – arrange the chicken in the center of the board, have a large bowl of your favorite salad greens, two others with various toppings, and a cruet with your preferred dressing
Southwestern – arrange the fried chicken in the center of the board with thick slices of crumbly cornbread. Arrange small pieces of steamed corn on the cob on the sides, and serve with a small dish of sliced jalapenos, melted butter, and some chipotle ranch for dipping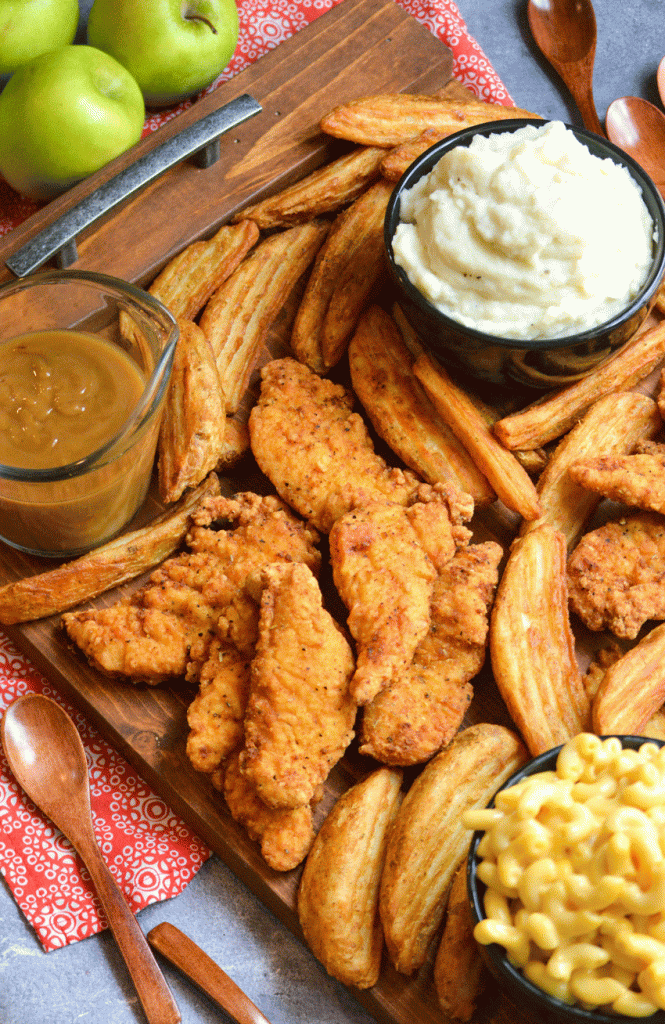 This easy Chicken & Fixin's Fried Chicken Dinner Board is perfect for snack suppers and picky eaters.
It's fun, and simple to assemble. Plus it's easily customizable.
Serve it with a side of fruit for dessert, and it's a fun family meal everyone can feel good about.
It's a great idea for game days, pot lucks, and picnic suppers in the living room.
Next time you're in the mood for a fried chicken dinner, give it a face lift and throw in some fun for the whole family by serving it charcuterie style.
Other Snack Supper Ideas
Looking for more options to serve for snack suppers for your family?
Any of these ideas could easily be arranged on a serving tray with fixin's to create a delicious snack supper!
If you've tried this FRIED CHICKEN DINNER BOARD or any recipe on my site, let me know in the comment section how it turned out, we love hearing from our readers! You can also follow along with me on PINTEREST, FACEBOOK, and INSTAGRAM to see more amazing recipes and whatever else we've got going on!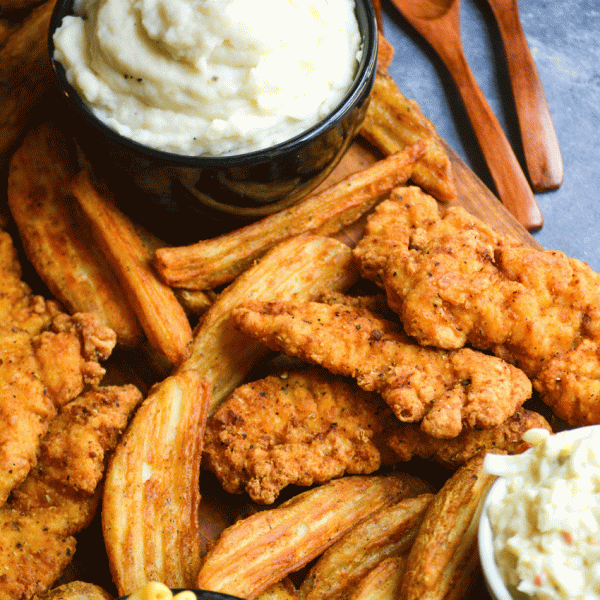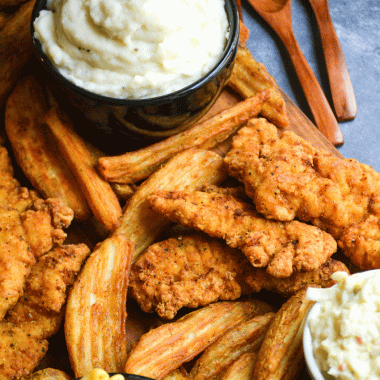 Fried Chicken Dinner Board
Sometimes a fully homemade meal isn't in the cards, which is why snack supper nights can be a real life saver. Give a traditional fried chicken spread an upgrade by transforming it into a charcuterie- style, picnic dinner idea. This fried chicken dinner board easy, it's fun, and also customizable.
Print
Pin
Rate
Ingredients
crispy fried chicken strips

potato wedges

mashed potatoes

macaroni and cheese

brown gravy

coleslaw

various sauces

for dipping
Instructions
Make sure your sides are heated through, except for the chilled coleslaw. Add them to small bowls and place them on the board.

Add hot chicken strips and potato wedges evenly out onto the board to cover the remaining blank spaces.

Serve the board picnic style, with plates for serving, and your desired sauces for dipping.