Baked potatoes don't have to take forever, or even involve an oven. Get your microwave involved. These fluffy spuds are done in just 10 minutes! Microwave baked potatoes are a convenient side dish that pairs perfectly with a variety of meaty main dishes, and can also work as a stand alone lunch or dinner.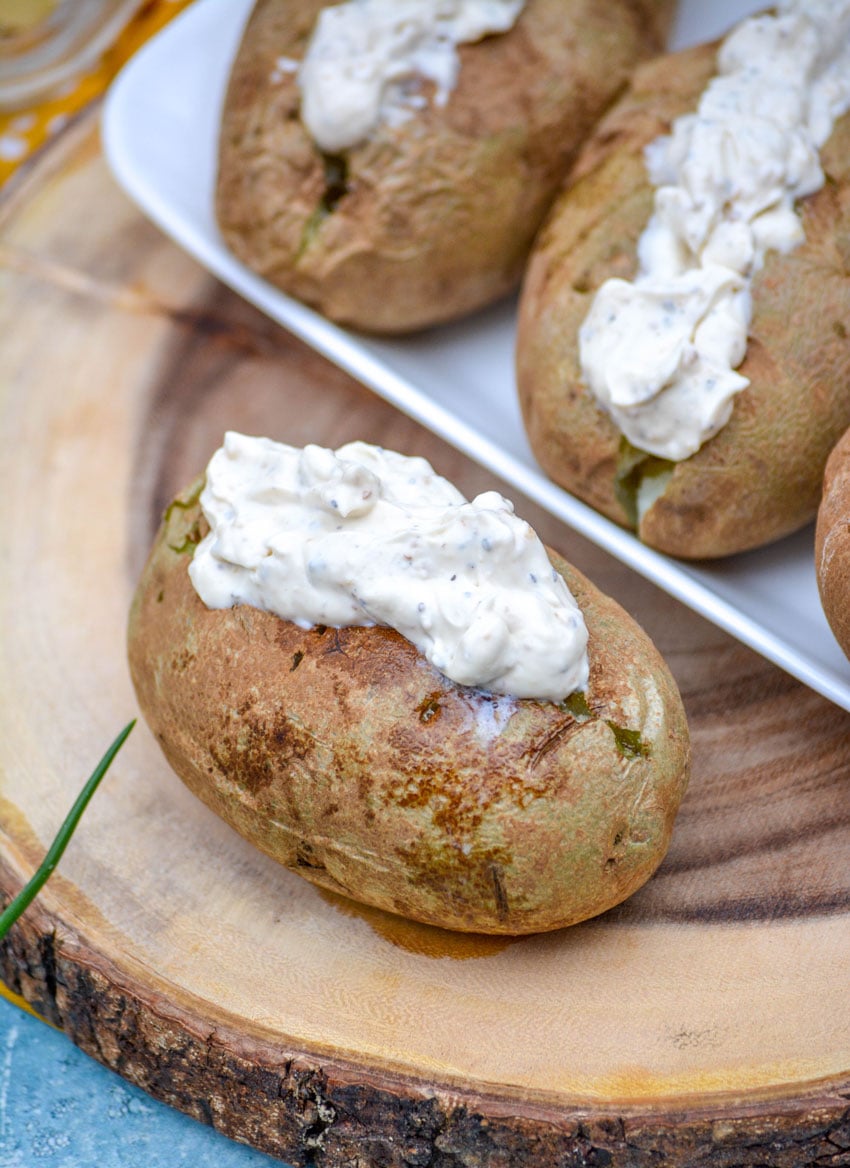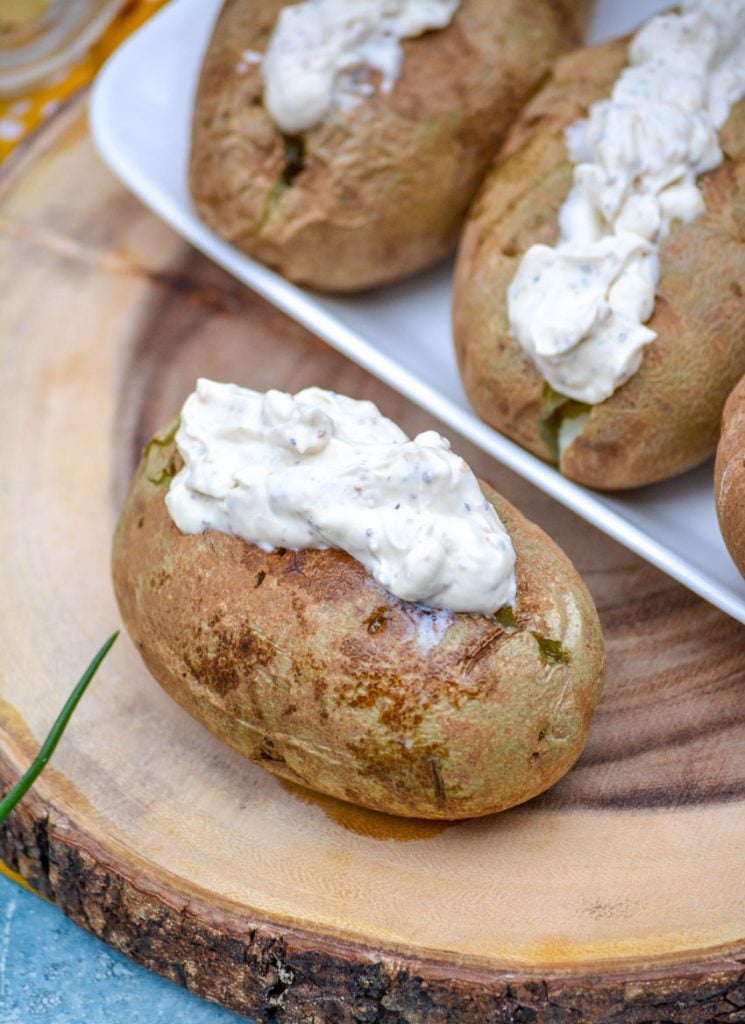 Baked potatoes are things of beauty in my book.
They're also a deliciously blank, edible canvas. Ready & waiting to take on all your favorite toppings.
A fulffy baked potato's practically begging to be topped with copious amounts of shredded cheddar, a bit of butter, and maybe even some sour cream. We skip the plain cream and love topping ours with this easy Montreal steak seasoning dip.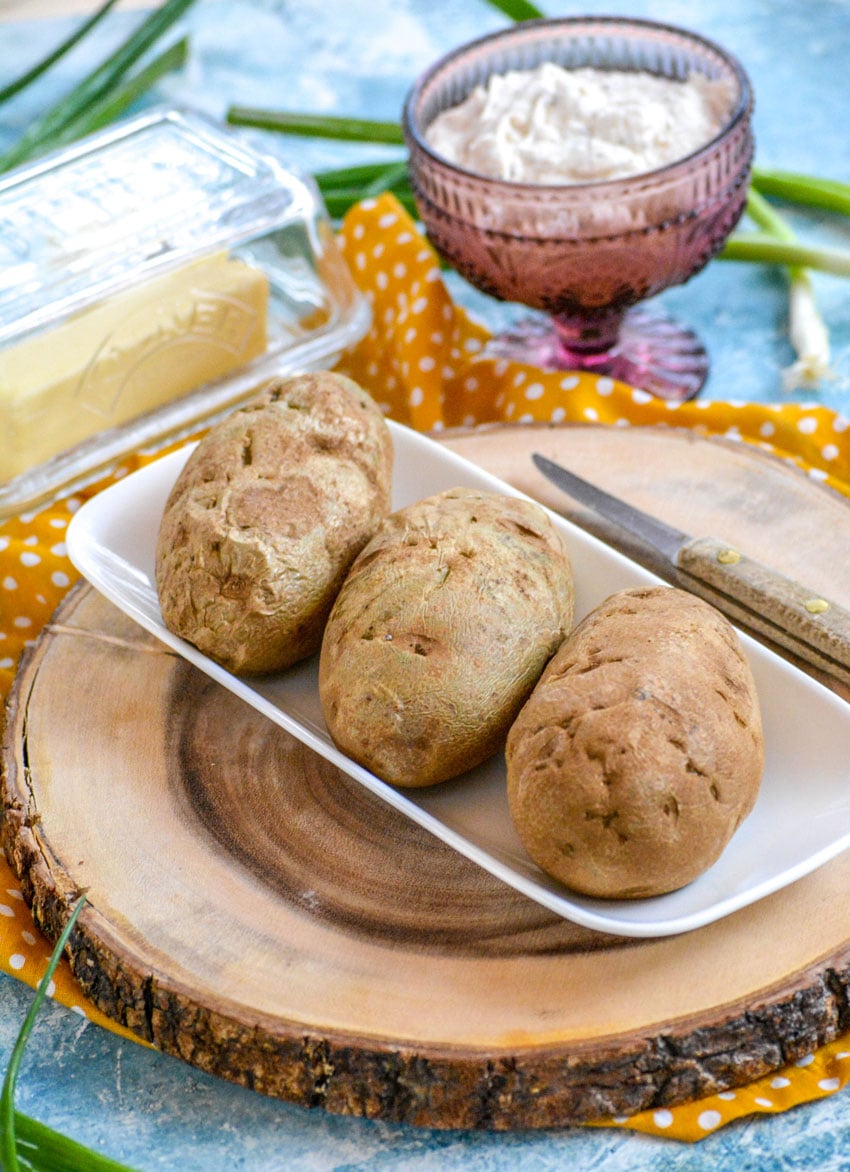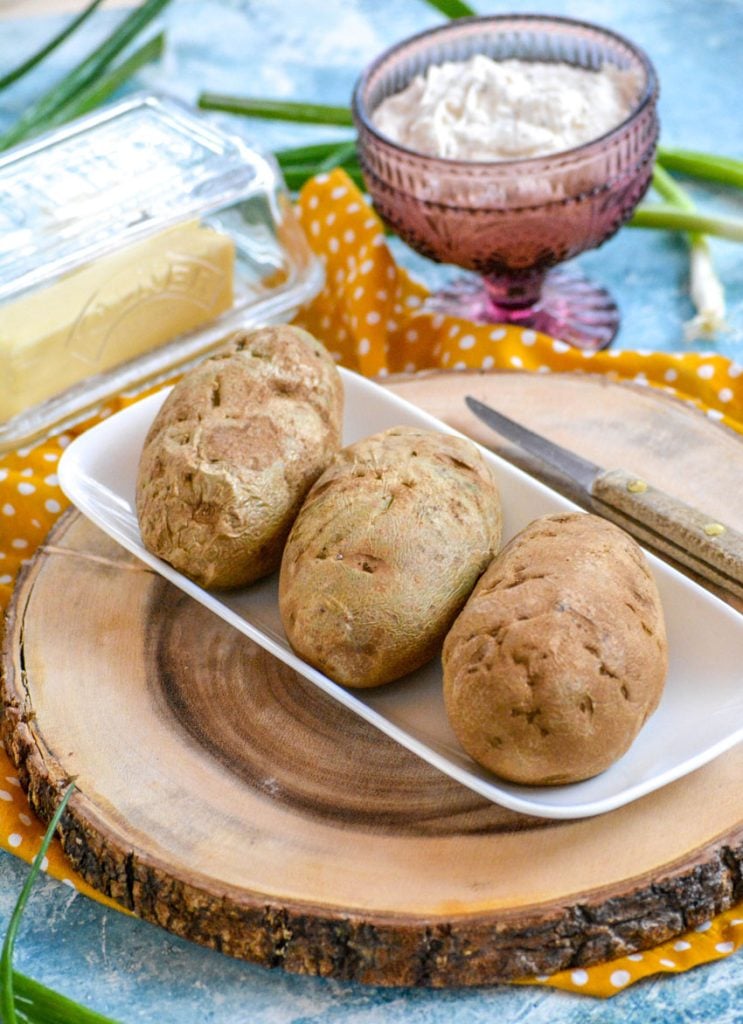 Over the years I've experimented with many of our recipe favorites, trying different cooking methods. Basically on a search for the quickest, easiest ways to get our favorites on the supper table with time to spare on my busiest nights.
We've done the whole oven roasted baked potatoes, and they're great. Pretty much fool proof, but they take time. They also heat up my whole house for a simple side dish.
I adore making my baked potatoes in the crockpot. That too is a fool proof method, and great for weekends when I have time. Or when company's coming over and my oven is already being overworked and over used.
It's still not really a practical solution for me for weekday dinners. And that is precisely where my often overlooked microwave has come in to save the day!
A few minutes, well 10 minutes to be exact, is all that stands between you and perfectly cooked fluffy straight from the microwave baked potatoes.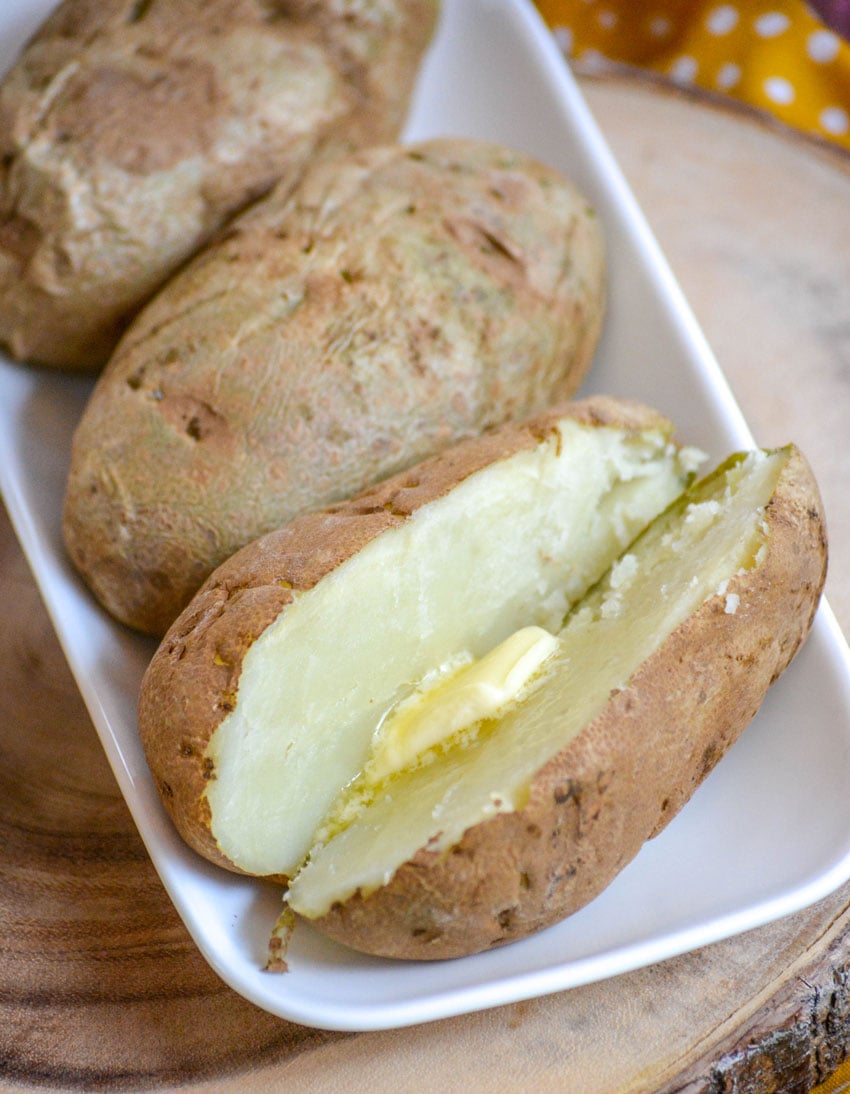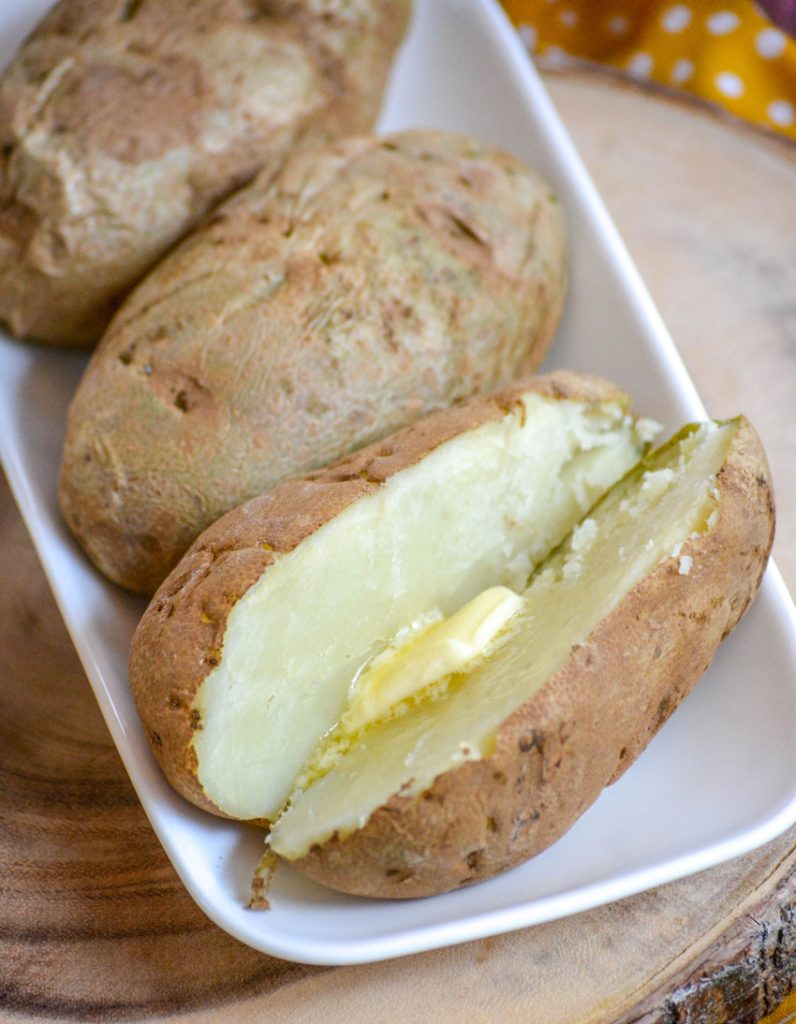 How To Make A Baked Potato In The Microwave- The Prep Work
Making baked potatoes in the microwave is super simple. To get the perfect fluffy result though, requires following a few key steps.
Start by thoroughly scrubbing and washing your potatoes clean. You can prep one potato for a single serving, or more but they can only be cooked in batches of two.
Once the potato or potatoes are clean, use paper towels or a clean dish towel and pat them dry. Completely dry for best results.
Next we're going to poke wholes all over and around each potato. This step is very important. Do not skip it.
Plenty of people have told me they don't prick their potatoes and they cook just fine, but I do not suggest taking that chance.
When the potatoes cook, steam from the moisture inside the potato builds up. With no way to escape the thick skin, the pressure builds and builds. Literally creating a possible ticking time bomb.
As someone who witnessed this as a child with the microwave mere feet away when it went off, I can assure you not only does it make a very large mess but it will scare the living day-lights out of you.
Pricking the holes gives the steam an escape route. Once or twice won't cut it either. The more holes the better.
I like to think of my potatoes as having four sides, and try to prick them three times each roughly on each side.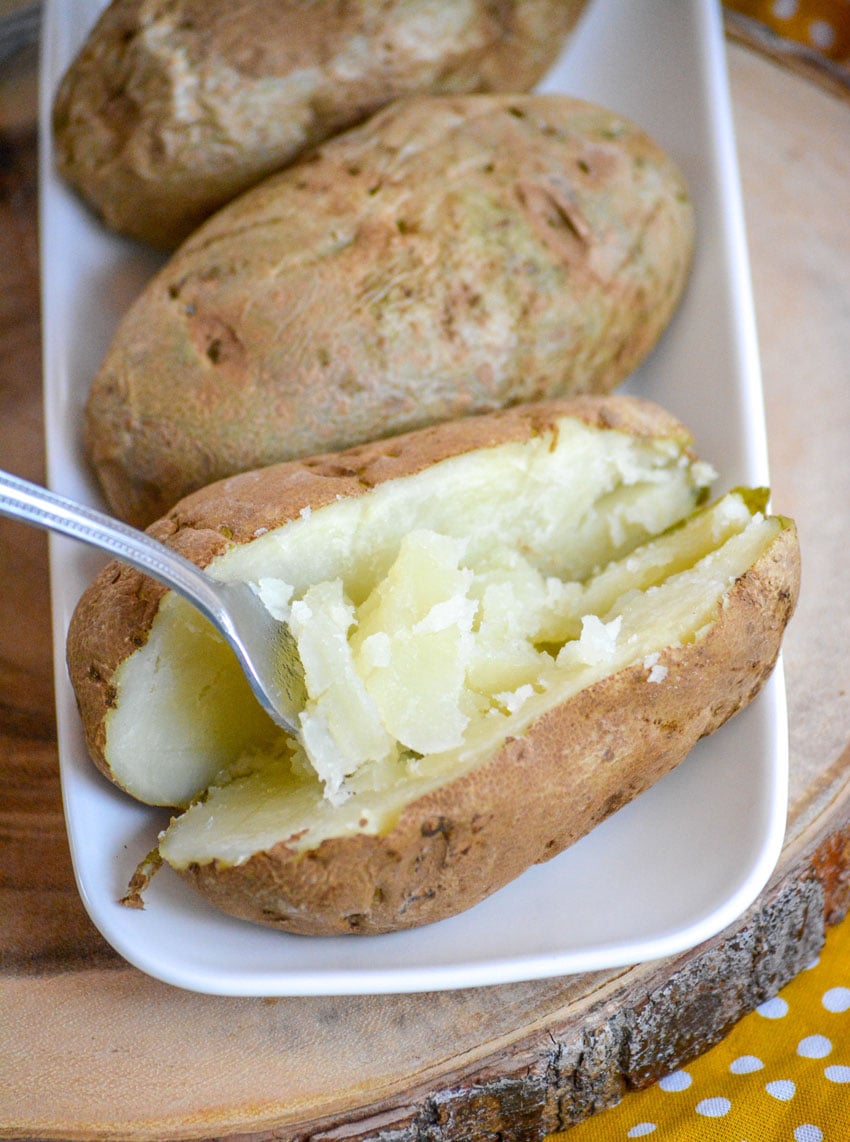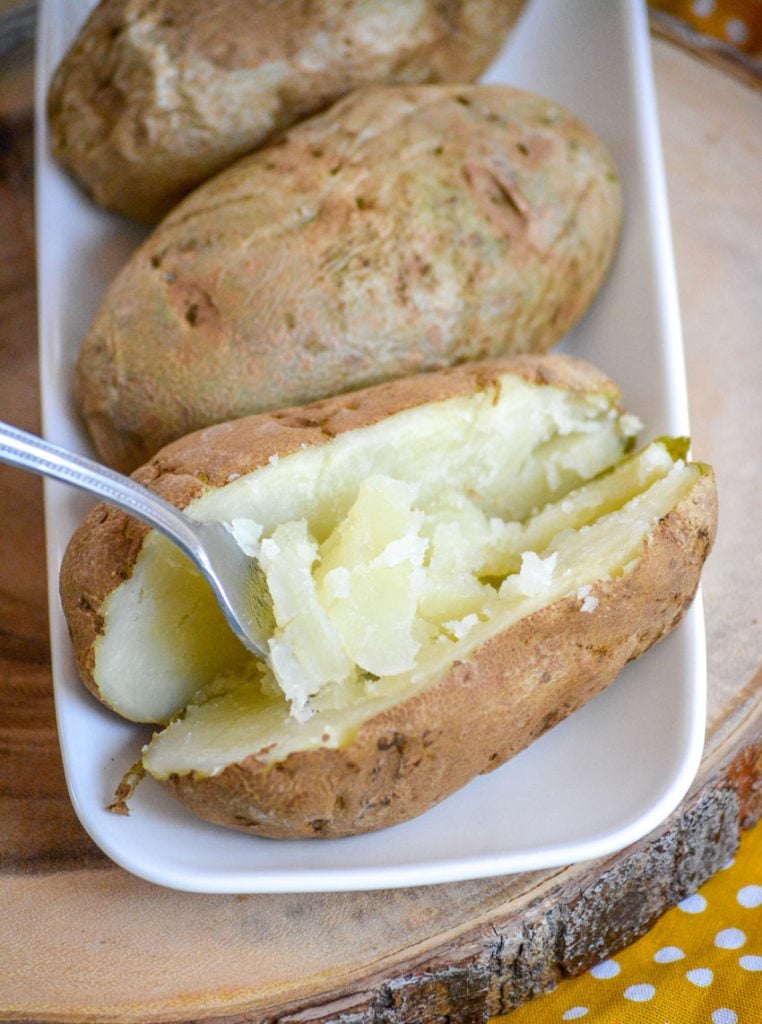 How Long Should You Cook A Baked Potato In The Microwave?
Depending on the wattage of your microwave this can be a bit tricky. I always make sure mine is set to high heat to ensure success.
Place one or two potatoes in the center of the microwave tray, allowing at least an inch of space between them. Cook them for ten whole minutes.
I recommend flipping the potatoes at the five minute mark for more even cooking, but you don't have to.
If you choose to flip your potatoes midway through cooking, use a pair of tongs to do so to avoid getting burned by the hot steamy spuds.
Let the potatoes rest for 1-2 minutes before opening the microwave. The potatoes will keep cooking during this time, and that's ok.
To test for done-ness, use a clean dish towel like you would an oven mitt and gently squeeze each potato. If it's tender to the touch, starting to open up then it's ready. If it's still hard then it needs more time.
If not, close the microwave and cook them another one to two minutes, or until done. Repeat for the remaining potatoes.
Again, once cooked let the potatoes rest a minute before slicing and still be careful to watch and avoid any escaping steam. Your microwaved baked potatoes are ready to serve.
I like to transfer them to individual plates, then slice them down the middle to open slightly. Season them liberally with salt & pepper, and then insert a little pat of butter right in the seam. So good!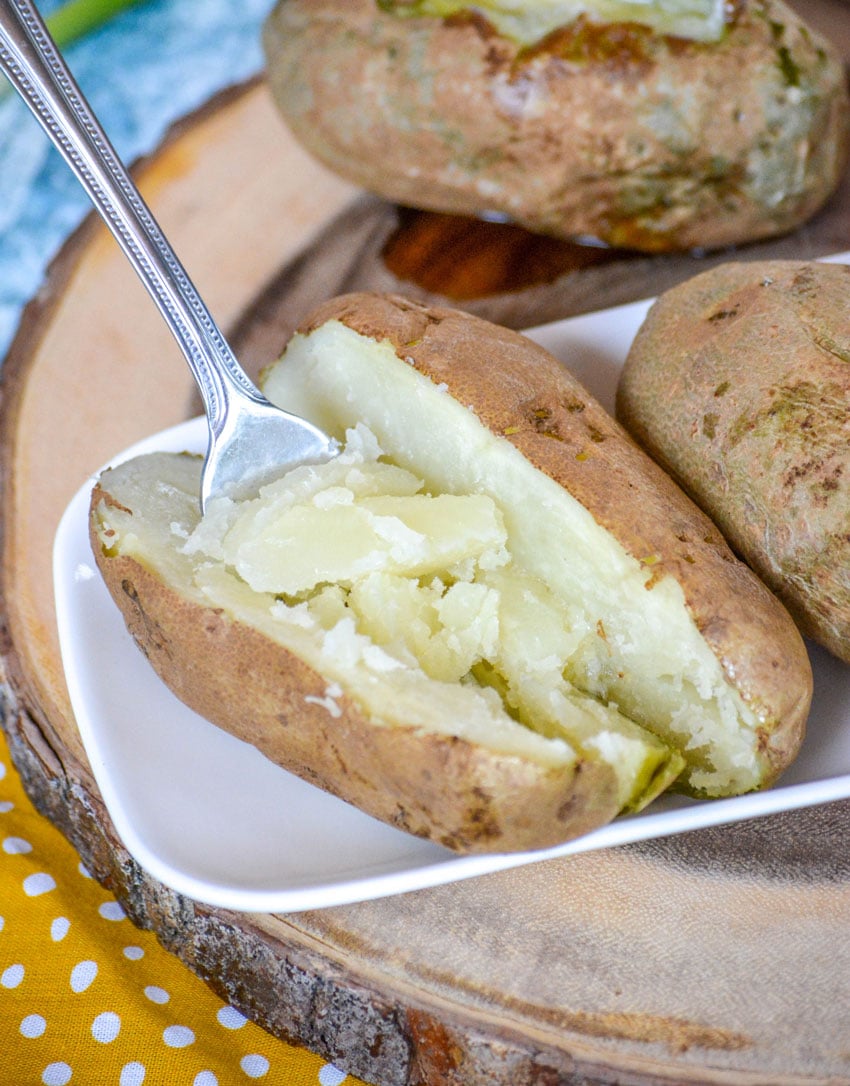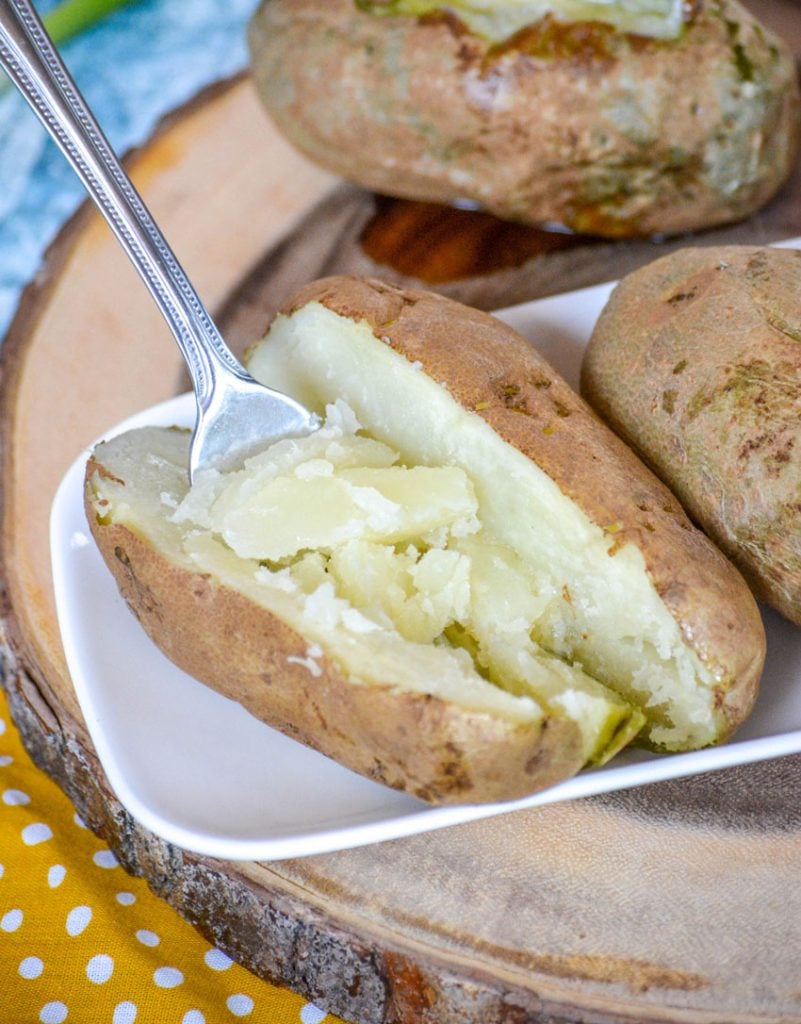 TIPS & TRICKS For Making The Best Microwaved Baked Potatoes:
Use a fork to poke plenty of holes in each potato before cooking to allow steam to escape. This prevents them from exploding otherwise.
Per my Southern Grandma, you can wrap each potato in a damp paper towel before placing in the microwave. She swears this trick results in the fluffiest results.
Do not season the potatoes before cooking. Extra salt will dry them out. Instead season, to taste, after the cooking's completed.
Turn the potatoes over half way through cooking for a more evenly cooked end result.
DO NOT peel the potatoes before cooking. Trust me on this. If you don't like the skin, just eat the potato out of it and leave it behind when dinner's done.
Don't try to overload the microwave with multiple potatoes. For best results, cook one potato at a time and work in batches. To keep them warm before serving, transfer the cooked potatoes to a waiting plate & tent them with aluminum foil.
These microwave baked potatoes are ready in a flash making them a perfect side dish for dinner.
Potatoes tend to go really well with meat, like a juicy steak. Pork, especially a good pork chop's another tasty pairing.
These potatoes also pair well with chicken. I love grabbing a rotisserie chicken on the way home after a long day, prep these in the microwave, and then serve with a simple side salad for an easy meal we can all agree on.
The Best Baked Potato Toppings
Baked potatoes also can make a whole meal all by themselves, especially when you consider the toppings!
Some of our favorite toppings include:
Cheese, obviously. Not just cheddar though! Mozzarella, Monterrey Jack, and even Swiss all make tasty additions
Chives, or thinly sliced green onions
Crisp, crumbled bacon
Sour cream, or plain Greek yogurt
chopped rotisserie chicken or diced ham, for meats
chili- yes chili makes a delicious baked potato topper
steamed broccoli- you'd be surprised what veggies you can get the kids to eat when carbs are involved
These are just a few of our favorites, but that's one of the best things about potatoes.
They're a blank slate you can dress, deliciously pretty much any way you want. Get creative and find the combination you love!
Another little hack I've learned- need freshly mashed potatoes in a hurry? These microwave baked potatoes can easily be scooped out of their shells and mashed in a bowl. Done!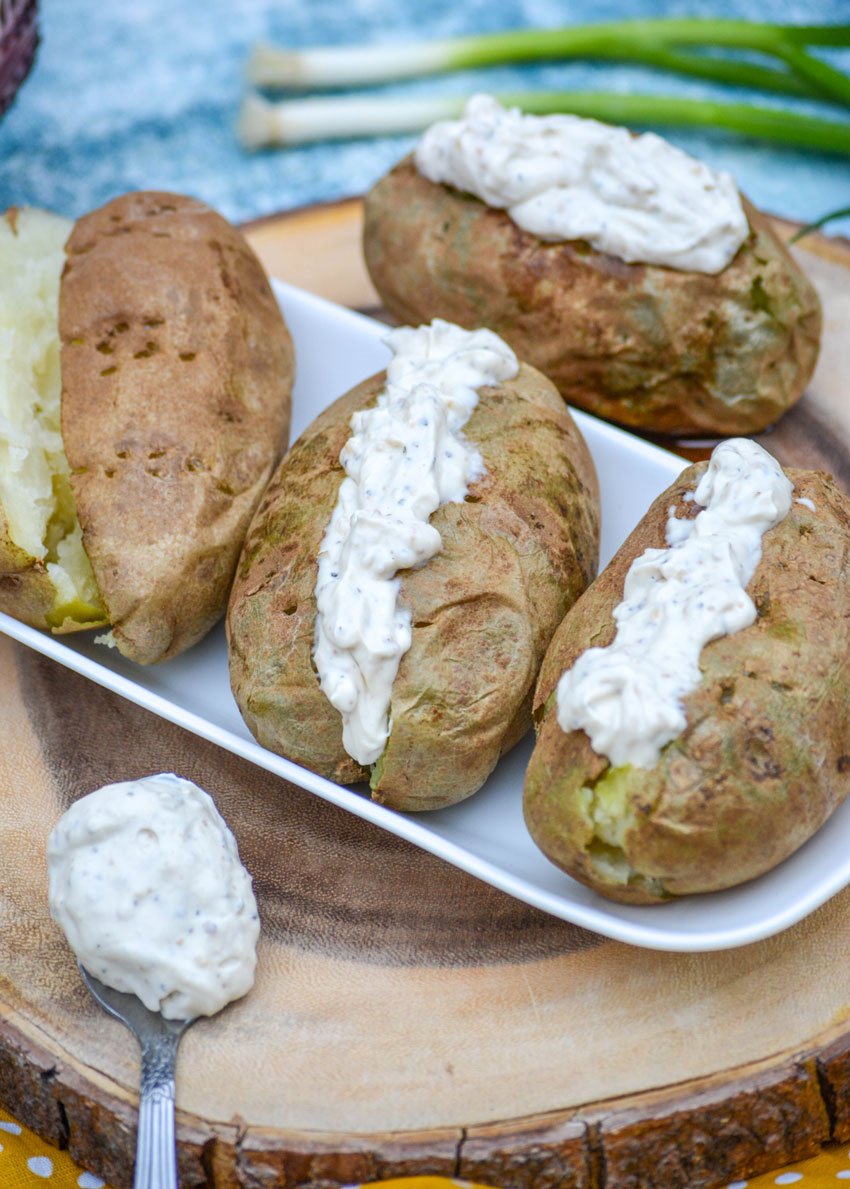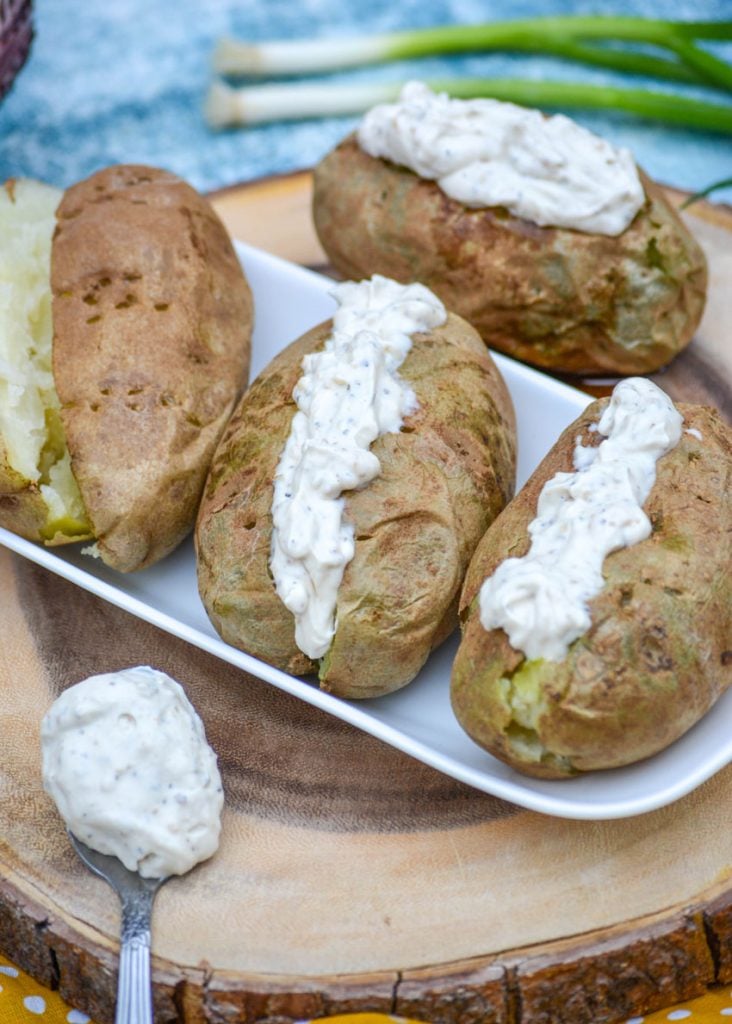 If you love a good fluffy baked potato straight from the oven, but find you don't always have the time- well then a 10 minute microwave baked potato is just what you've been looking for!
Other Tasty Baked Potato Recipes To Try:
If you've tried these 10 MINUTE MICROWAVE BAKED POTATOES, or any other recipe on the site, let me know in the comment section how it turned out, we love hearing from our readers! You can also follow along with me on PINTEREST, FACEBOOK, and INSTAGRAM to see more amazing recipes and whatever else we've got going on!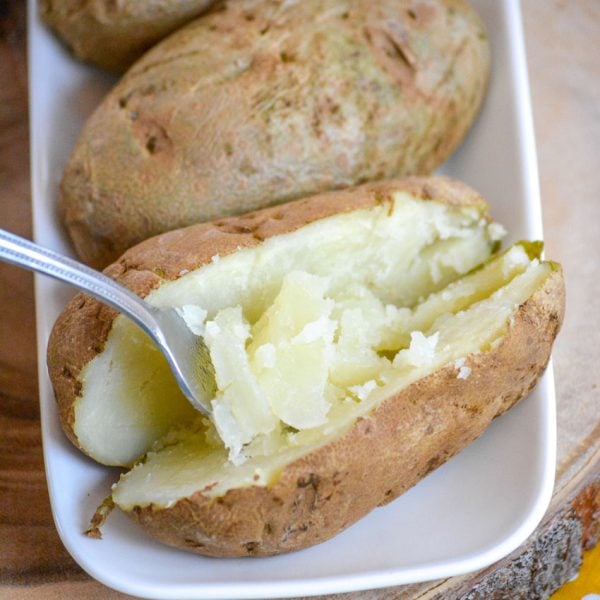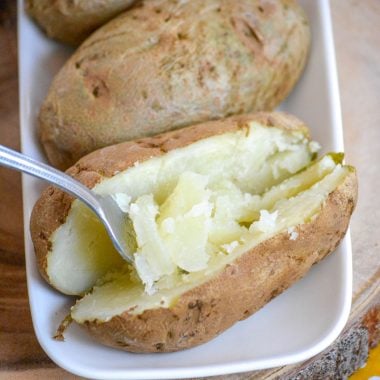 10 Minute Microwave Baked Potato
Baked potatoes don't have to take forever, or even involve an oven. These fluffy spuds are done in just 10 minutes in your microwave. It's a convenient side dish that pairs perfectly with a variety of meaty main dishes, and can also work as a stand alone lunch or dinner.
Print
Pin
Rate
Ingredients
2-4

medium

russet potatoes

salt & pepper

to taste

butter

toppings

of choice
Instructions
Wash & scrub each potato, then pat them dry.

Using a fork, poke a generous amounts of holes in each potato on all sides.

Place two prepped potatoes directly onto the microwave tray and cook on high heat for 10 minutes.

Let the potatoes rest for a minute, and using a clean dish towel give the larger of the two a squeeze. If it's tender and starts to open up they're ready- if not cook them an additional two minutes or until tender to the touch.

Repeat for the remaming two potatoes.

Transfer the cooked potatoes to plates, and slice them open being careful to avoid any escaping steam that comes out.

Salt & pepper the potatoes, to taste. Add a pat of butter, and serve them immediately with any extra toppings you like.
Notes
If you want to make four potatoes at once, you can but they won't take just 10 minutes. Cook them for 15-16 minutes, squeezing them as previously instructed to check for done-ness. If they are still too firm, cook them an additional minute or until tender.
Nutrition
Calories:
337
kcal
|
Carbohydrates:
77
g
|
Protein:
9
g
|
Fat:
1
g
|
Saturated Fat:
1
g
|
Sodium:
21
mg
|
Potassium:
1776
mg
|
Fiber:
6
g
|
Sugar:
3
g
|
Vitamin C:
24
mg
|
Calcium:
55
mg
|
Iron:
4
mg