Quick and easy dinners are something we're always on the look out for. This yummy Cheeseburger Gnocchi Skillet Dinner is a 100% a comfort food recipe that's a creamy, cheesy dumpling filled spin on an old favorite.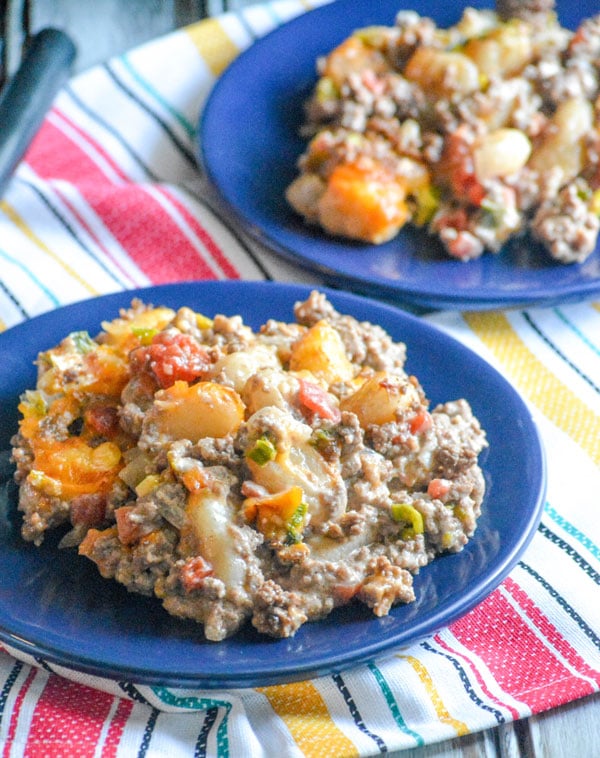 I was talking to a friend the other day, and she was slightly appalled that I was still making meals full of pasta and cheese. Well, hot meals to be specific.
I guess I missed the memo that in warmer weather the only acceptable dishes with pasta and cheese (meat being totally optional) are served cold.
Yep, like pasta salad. And every kinda of variety you can imagine.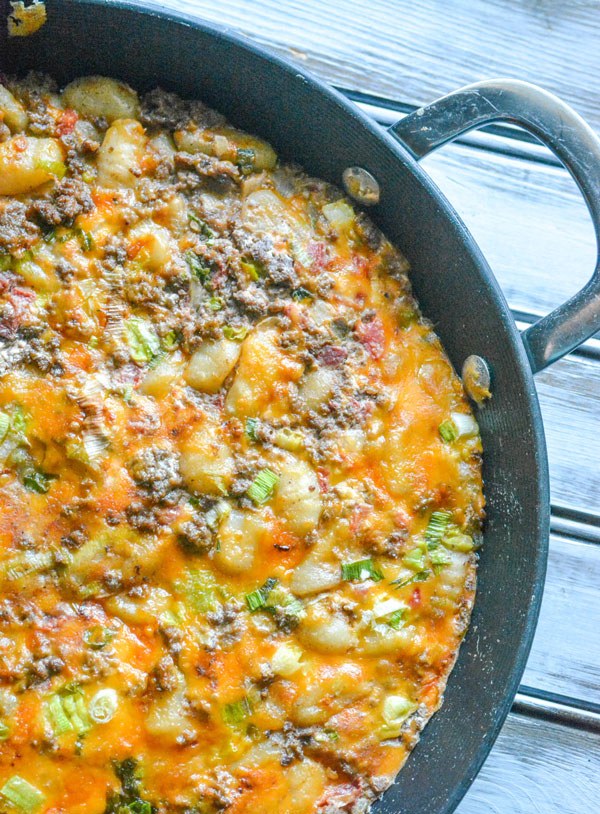 Don't get me wrong, I adore a good pasta salad- especially when cheese is involved. I'm your go-to gal for a bevvy of pasta salad recipes in the Summer.
Whether as a solid side dish served with some of our favorite grilled meats, or even as a whole meal. Pasta salads in the Spring and Summer are to me, what casseroles are in the colder months.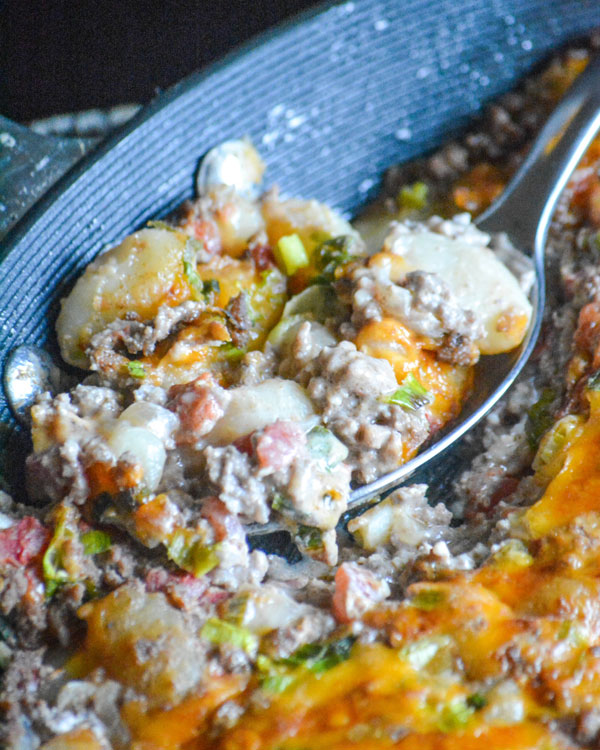 My thoughts being, as long as the heat stays outside where it belongs- then there's no reason I shouldn't be able to enjoy comfort food in the Summer months too.
Granted I crave it a lot less, I get full a lot faster, and it's almost always accompanied by some sort of lettuce based, refreshing salad.
None the less, it's still comfort food. Some days, I just need a bowl full of that. Even when it's hot-as-you-know-what outside.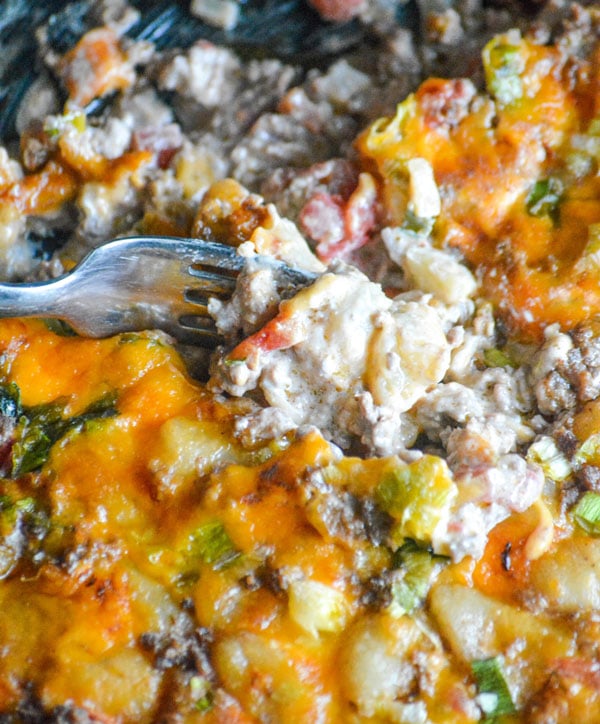 Our Cheeseburger Gnocchi Skillet Dinner is a family favorite anytime of the year.
Ring the dinner bell, or just shout out the back door like I usually do, and watch them all come running. They'll even use table manners with a resounding chorus of 'thank you' for this meal.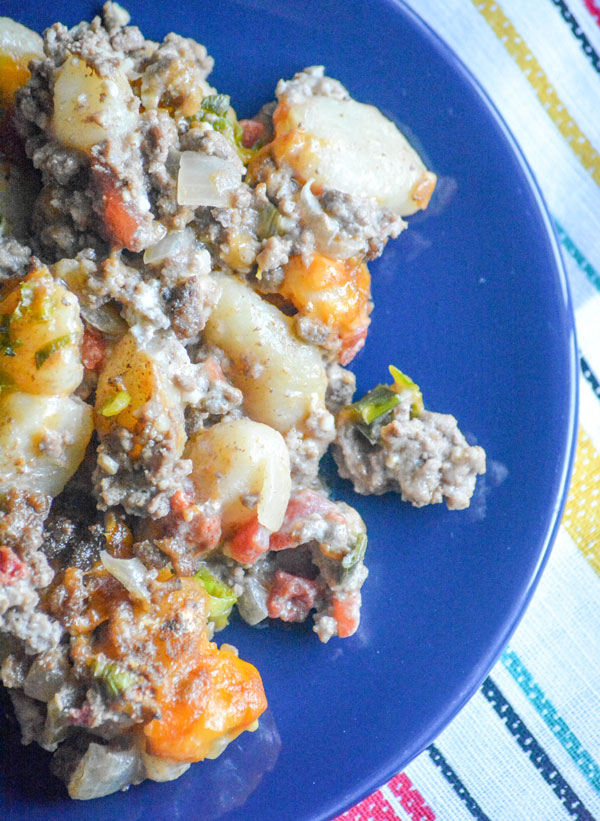 Gnocchi may long be associate with Italy (where my husband's family is from), but it didn't originate there- at least not the potato dumpling we all know and love today.
It was originally a very crude mixture that consisted of flour, bread crumbs, and a binder. When the Spanish introduced potatoes to Europe from South America, it began to take it's modern shape.
There's different views on what the translation actually means, from 'knuckles' to 'walnuts', either way it's a word for small shapes. Small doughy, potato-based shapes that when boiled in salted water come out like fluffy little pillows of happiness.
We love gnocchi because they take on any flavor they're intended to, but we couldn't leave them in Italy- we had to Americanize them. This Cheeseburger Gnocchi Skillet Dinner was just the way to do it.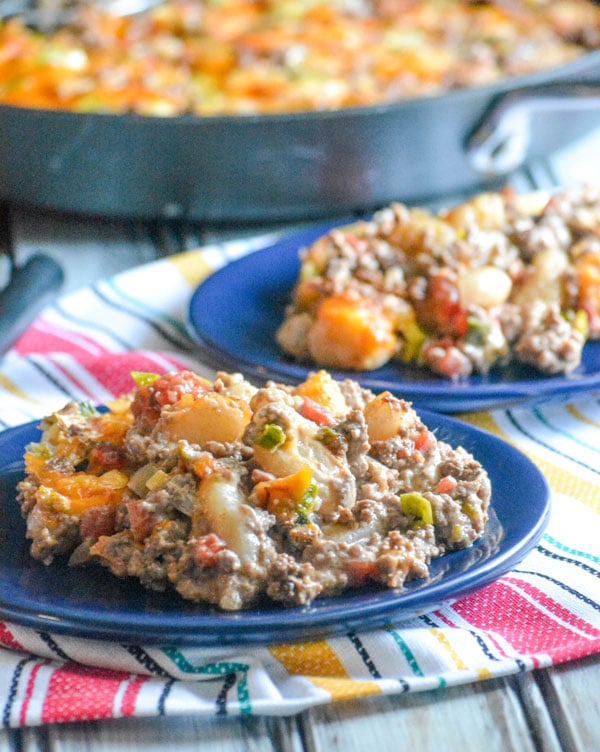 Other cheeseburger-themed recipes you might enjoy: Cheeseburger Quesadillas, Grandma's Easy Cheeseburger Pie, Bacon Cheeseburger Tater Tot Casserole, & Cheeseburger Stuffed French Bread.
If you've tried this CHEESEBURGER GNOCCHI SKILLET DINNER, or any other recipe on my site, let me know in the comment section how it turned out, we love hearing from our readers! You can also follow along with me on PINTEREST, FACEBOOK, and INSTAGRAM to see more amazing recipes and whatever else we've got going on!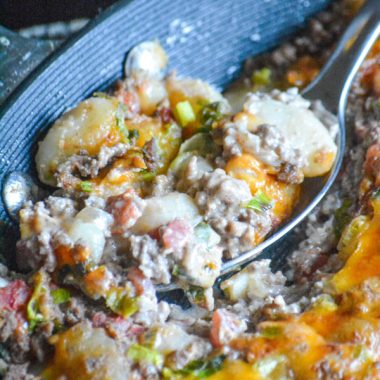 Cheeseburger Gnocchi Skillet Dinner
An easy, one dish dinner- this cheeseburger flavored gnocchi dish is everything you could every love in a fun new twist on an old classic.
Print
Pin
Rate
Ingredients
1

tbsp

butter

1

lb

gnocchi

1

lb

lean ground beef

salt & pepper, to taste

1

tsp

cumin

1/2

tsp

smoked paprika

1

tbsp

yellow mustard

1

large

white onion, diced

4

tsp

minced garlic

1

10 oz can

diced tomatoes with green chiles

1

cup

beef broth

scant 1/3

cup

cream

1 1/2

cups

shredded sharp cheddar cheese

1

bunch

green onions, washed & thinly sliced
Instructions
In a large skillet over medium heat, melt the butter. Add the uncooked gnocchi to the pan. Stir, breaking apart as you go, until it's in a single layer. Let the gnocchi cook about 2 minutes, until lightly toasted. Stir to turn the gnocchi, cooking again until the other side's lightly toasted too. Remove the gnocci to a plate, set aside.

Increase the heat to medium high. When the skillet's nice and hot, add the beef and onion, stirring to break up. Season liberally with salt and pepper, then stir in the cumin, paprika, mustard, and garlic until evenly combined. Continue cooking, stirring occasionally, until the ground beef is cooked. Drain the beef, and return to the pan.

Add the tomatoes, broth, and gnocchi to the beef mixture in the pan, stirring to evenly incorporate. Bring the mixture to a rolling boil, immediately reduce the heat to a simmer.

Cover the pan to seal, and let it simmer about 5-7 minutes, or until the gnocchi are completely cooked and most of the liquid's been absorbed.

Remove the lid from the pan, and remove the pan from heat. Let it rest 1-2 minutes. Stir in the cream and 3/4 cup of cheese until evenly combined and the cheese is melted.

Sprinkle the remained cheese evenly out over the skillet. Sprinkle half the green onions over top. Place the skillet under a broiler, watching carefully, just until the cheese is melted and golden brown on top.

Remove the skillet from the oven, and let the mixture rest for another minute. Scoop onto plates, top with the remaining green onions, and serve immediately.