Cheddar Bay Biscuit sausage balls are a cheesy sausage ball recipe that makes the perfect appetizer for entertaining. These easy sausage balls have the classic Red Lobster Cheddar Bay biscuit flavor with extra cheese and sausage for tons of extra flavor. With only 4 ingredients and tons of cheesy taste, these cheesy sausage balls deserve a spot on your table!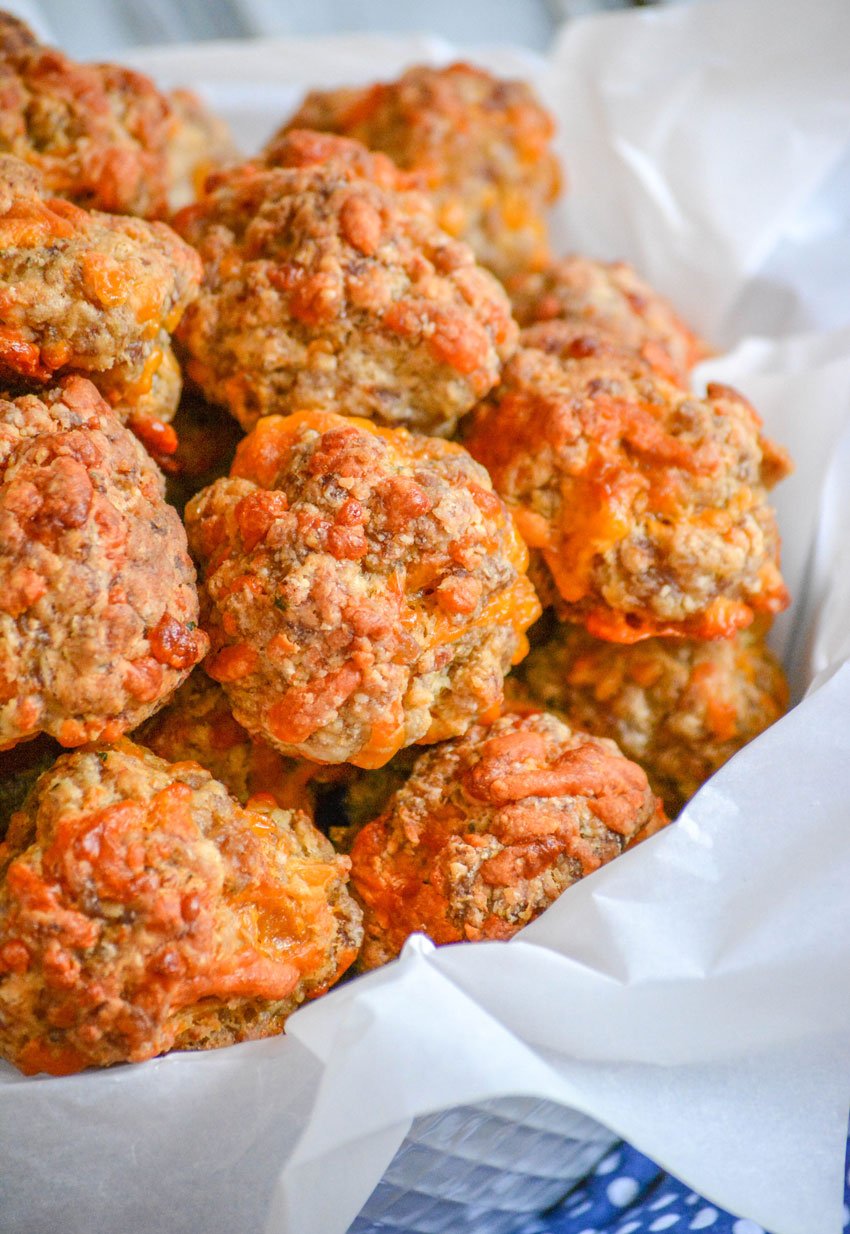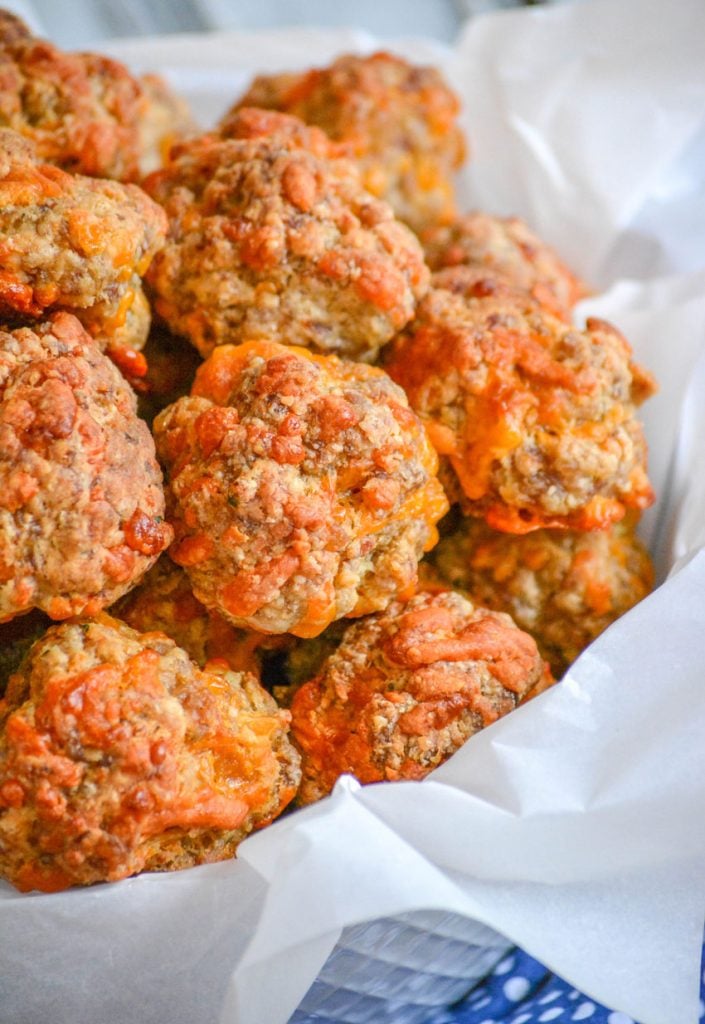 The holiday season is here!
I know, it's early.
But you can't dispute that Thanksgiving is fast approaching and that means the seasoning of entertaining is too.
When entertaining season hits, I like to put out a bunch of different appetizers for my guests to enjoy while they wait on the main course.
And sometimes, I prefer hosting appetizer parties and just making lots of casual snacks.
These cheesy, delicious sausage balls are perfect for either of those situations.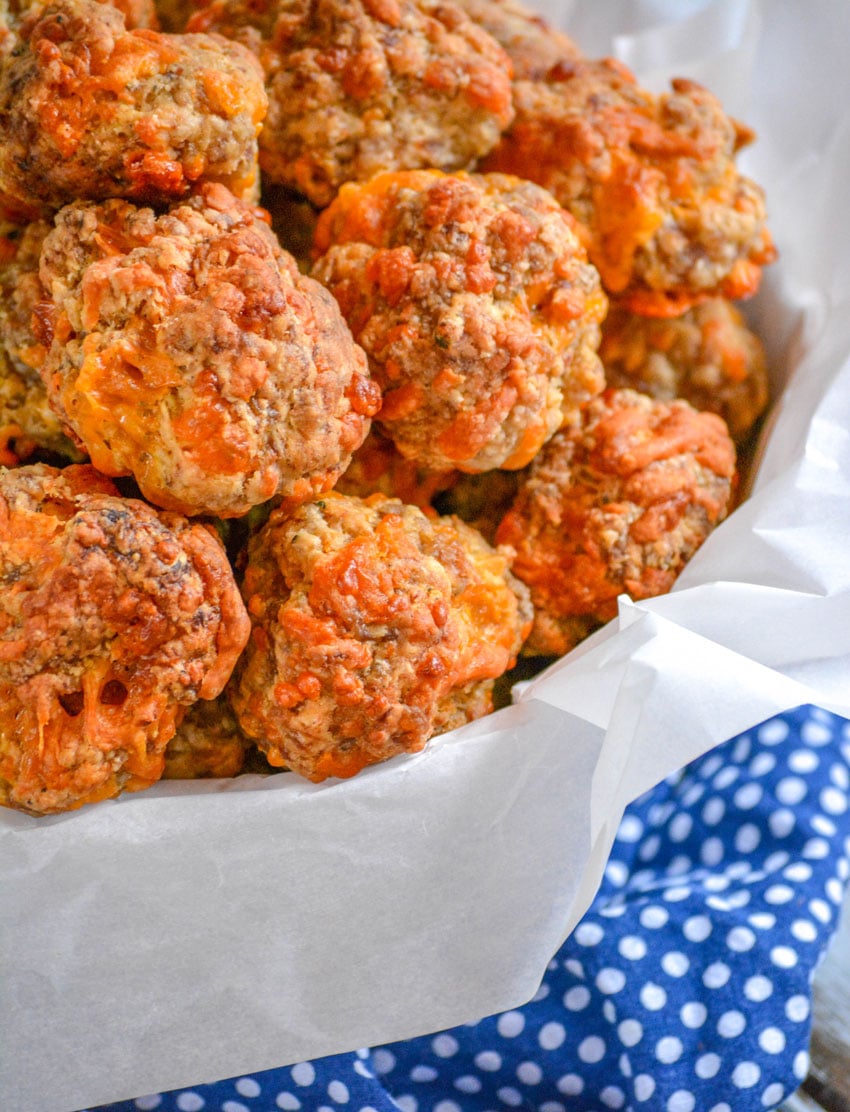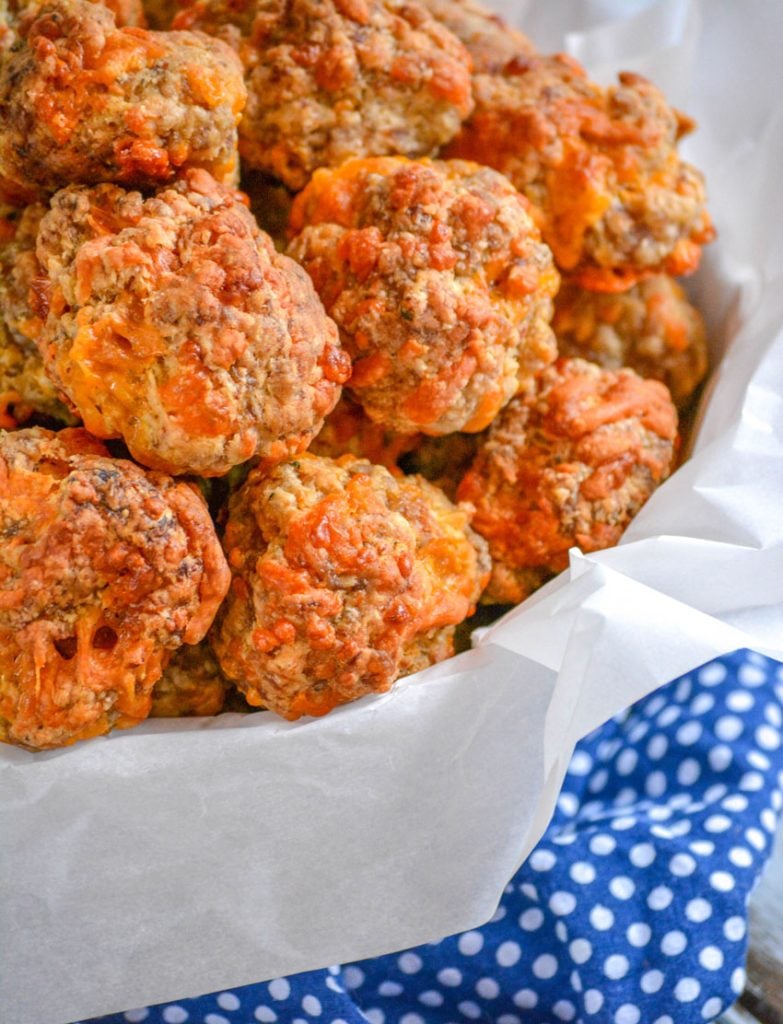 The Easiest Sausage Balls! Making Cheddar Bay Biscuit Sausage Balls:
Part of what I love about these Cheddar Bay biscuit sausage balls is how easy they are to make.
Not only are they delicious but they only need 4 easy ingredients and take next to no time to come together.
To make these sausage balls, start by adding your Cheddar Bay Biscuit mix and sausage to a large bowl.
Use your hands to mix them together until it's evenly mixed.
You can use a sturdy wooden spoon, but it takes a lot longer to get the mixture properly mixed together and quite a bit of upper arm strength.
Once evenly mixed add the cheese, and mix it again to evenly distribute it.
Using clean hands, roll the mixture into balls. Each ball should be roughly 1 1/2 inches.
Once you have rolled a ball out, place it on a baking sheet you've lined with parchment paper. Repeat this, spacing the balls about a half inch apart, until you've rolled all the balls out.
Then you bake them at 350 for 25 minutes.
When they come out of the oven, transfer them to a clean surface lined with a double layer of paper towels to soak up any extra grease.
Serve them warm- plain or with dipping options on the side.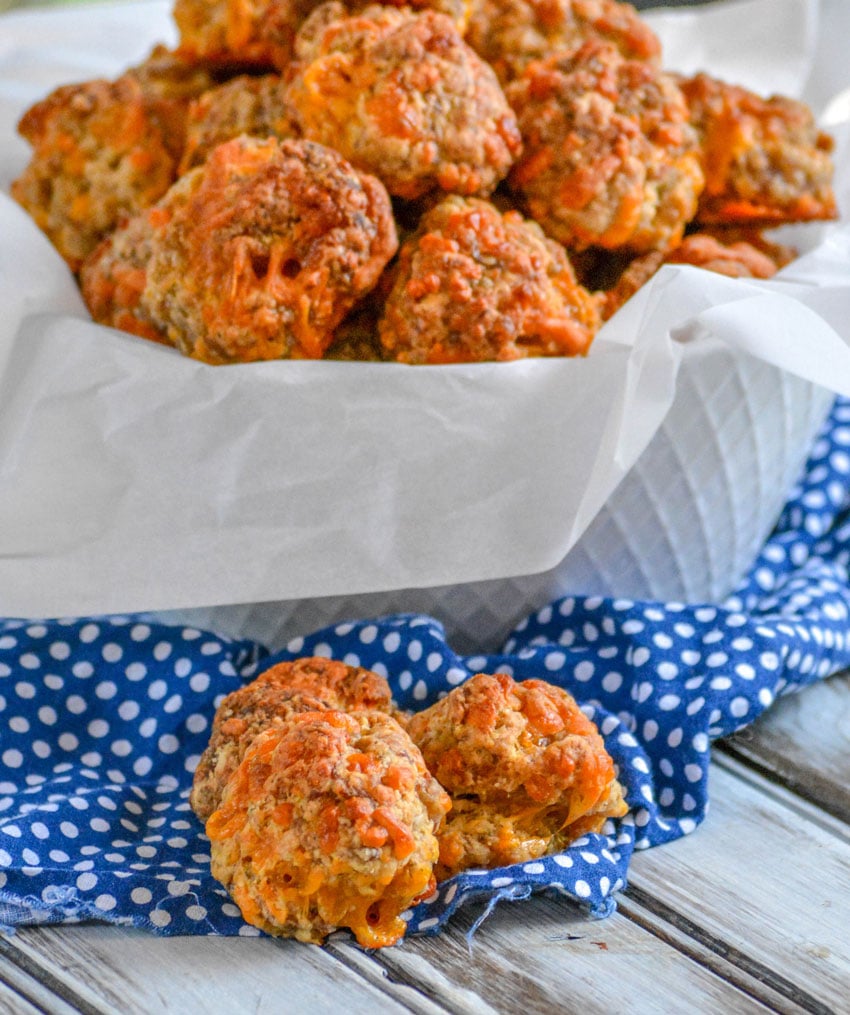 What kind of sausage should I use to make this sausage ball recipe?
You can use any kind of ground sausage you like.
I used ground breakfast sausage but you could absolutely use sweet Italian sausage, mild or even spicy sausage.
Do keep in mind though that sweet and hot sausage will each add different kinds of flavors to this sausage ball recipe.
What to Serve with Sausage Balls:
I'd serve these sausage balls as an appetizer for any holiday entertaining.
And the dipping possibilities are endless!
You could pair them with almost any dip you like including: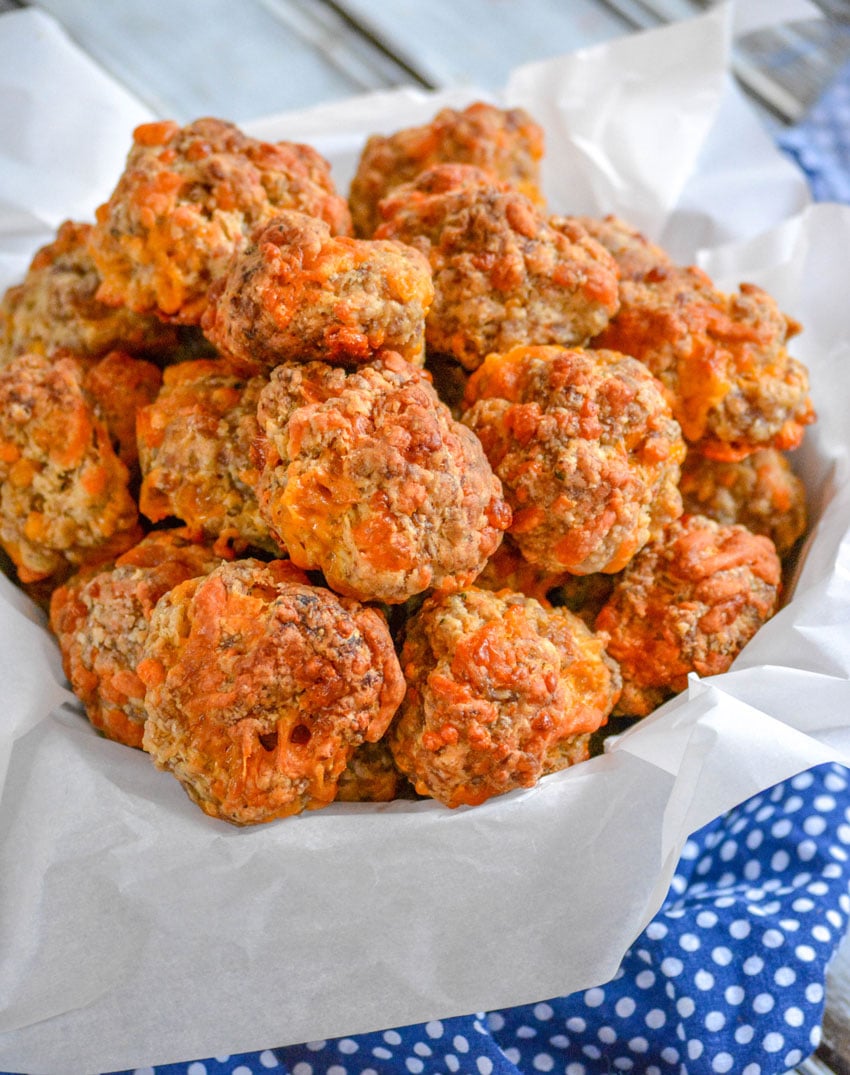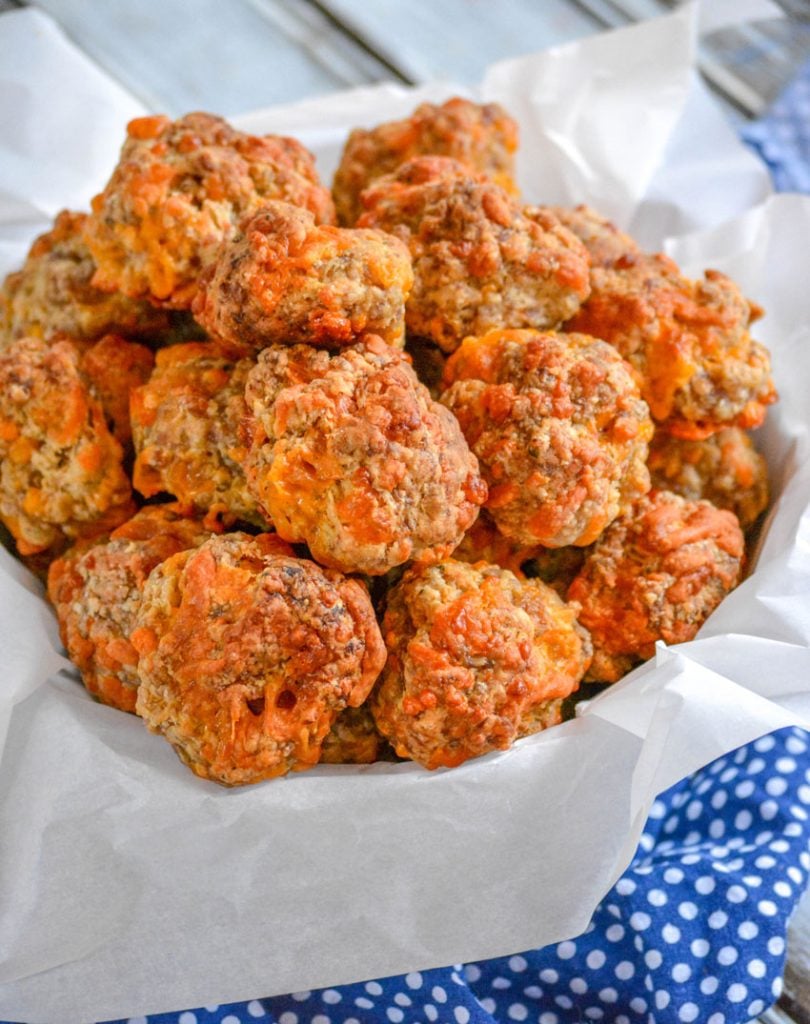 How To Store Leftover Cooked Sausage Balls:
Rarely, if ever, do we have leftovers when we serve this recipe but on the rare occasion we do- there's no way we're getting rid of them.
They're just too good to even consider tossing.
Cooked sausage balls are super easy to safely store.
Once completely cooled, store them in a sealed tupperware container.
You can even use a large zip-locking bag, just squeeze excess air out as you seal it.
Refrigerate the leftovers for up to five days safely.
When ready to enjoy them again, you can pop them into the microwave or the toaster oven, just until heated through.
I wouldn't recommend baking them in the main oven to reheat, only because you don't want them to completely dry out and get hard.
While we love these cheddar bay biscuit sausage balls in particular, we pretty much adore any sausage ball recipe.
We're equal opportunity sausage ball enthusiasts.
Do You Use The Seasoning Packet?
One of the most common questions I get on this recipe is whether or not to include the little seasoning packet that comes in the box of cheddar bay biscuit mix.
The answer is yes, you should include the seasoning packet.
You can add it in along with the biscuit mix to be mixed together with the sausage & cheese.
For best results, mix it evenly into the biscuit mix until they're evenly combined before combining that with the sausage and cheese.
Other Easy Appetizer Ball Recipes You May Love
Looking for other easy appetizer ball recipe ideas? Here are a few of my favorites:
If you've tried this CHEDDAR BAY BISCUIT SAUSAGE BALLS, or any other recipe on my site, let me know in the comment section how it turned out, we love hearing from our readers! You can also follow along with me on PINTEREST, FACEBOOK, and INSTAGRAM to see more amazing recipes and whatever else we've got going on!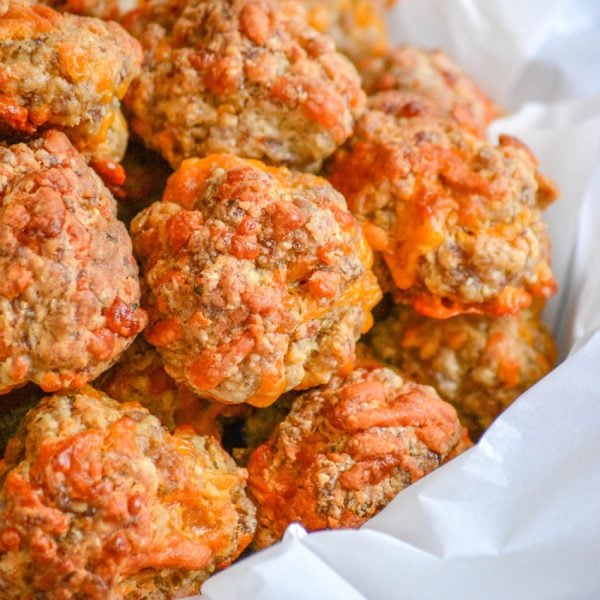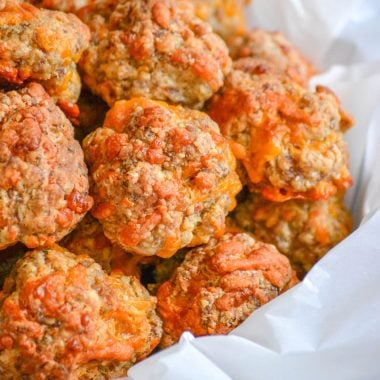 Cheddar Bay Biscuit Sausage Balls
Sausage balls are a standard, savory appetizer perfect for so many different occasions. Giving them a little lift using cheddar bay biscuit mix takes them over the top, and will make them the quick & easy star of any party or gathering they're served at.
Print
Pin
Rate
Ingredients
1

box

Red Lobster cheddar bay biscuit mix

1

lb

ground sausage

1

8 oz block

sharp cheddar cheese

shredded

1

8 oz block

pepper jack cheese

shredded
Instructions
Add the biscuit mix and sausage to a large mixing bowl. Mix them together until evenly incorporated.

Add the cheese to the mixture, and mix again until all the cheese is also evenly incorporated.

Line two large baking sheets with parchment paper. Roll the sausage mixture into roughly 1 1/2 inch balls.

Place the balls on the parchment, roughly spacing them out about 1/2 inch apart from each other. Repeat until all the mixture's been rolled into balls & added to the prepared baking sheets.

Bake the sausage balls at 350 degrees for 25 minutes.

Cover a clean surface with a double layer of paper towels. Transfer the cooked, still hot sausage balls from the baking sheets to the paper towels to drain off/soak up any excess grease.

Serve when still warm, but cool to the touch.
Nutrition
Calories:
129
kcal
|
Carbohydrates:
5
g
|
Protein:
5
g
|
Fat:
9
g
|
Saturated Fat:
3
g
|
Cholesterol:
22
mg
|
Sodium:
302
mg
|
Potassium:
89
mg
|
Fiber:
1
g
|
Sugar:
1
g
|
Vitamin A:
23
IU
|
Vitamin C:
1
mg
|
Calcium:
18
mg
|
Iron:
1
mg