Football can be such a hot topic, it really can see a house divided. Unite everyone behind one spectacular dish with this Pull Apart Pretzel Bread & Honey Mustard Dip. Buttery, salted, golden brown pretzel bites are easily pulled apart and dipped in a lightly spiced honey mustard for an awesome appetizer every one will want to get behind.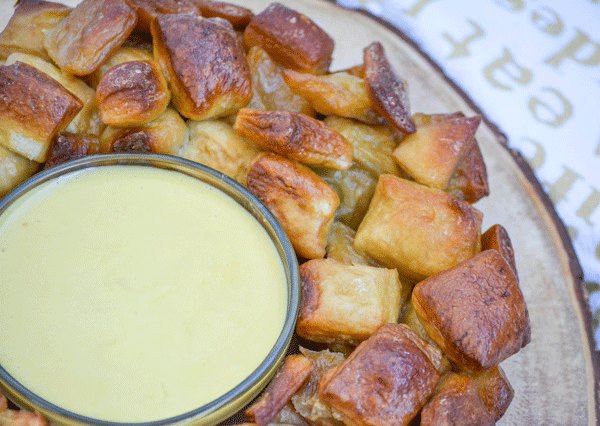 Another weekend of Football came and went. How'd your favorite team fare this weekend?
The Italian hubs who hails from Pittsburgh typically would tell you he bleeds green, white, and red. However, on Sundays and occasionally on Monday and Thursday nights, he bleeds black and yellow.
Say it with me now: black & yellow, black & yellow, black & yellow.
Did you sing that bit too? I can't help it.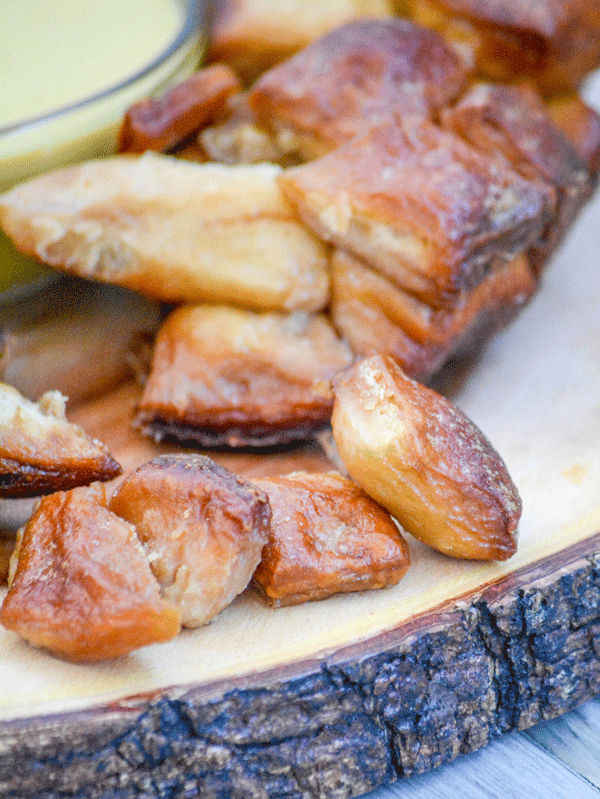 Last week was a bit rough on our household. See when the Hubs and I met, a major point of contention with my future in laws, even my future Nonna-In-Law when I wore a Bears sweatshirt to meet her for the first time in The Steel City- was that I was rooting firmly for Chicago.
Obviously, they're all about dem Steelers. And I thought, just like the Hubs though, it'd be no big deal. Separate divisions, different conferences- never our two worlds should meet on the field, or so we thought.
Fast forward to last weekend, when our respective teams faced off on Soldier Field.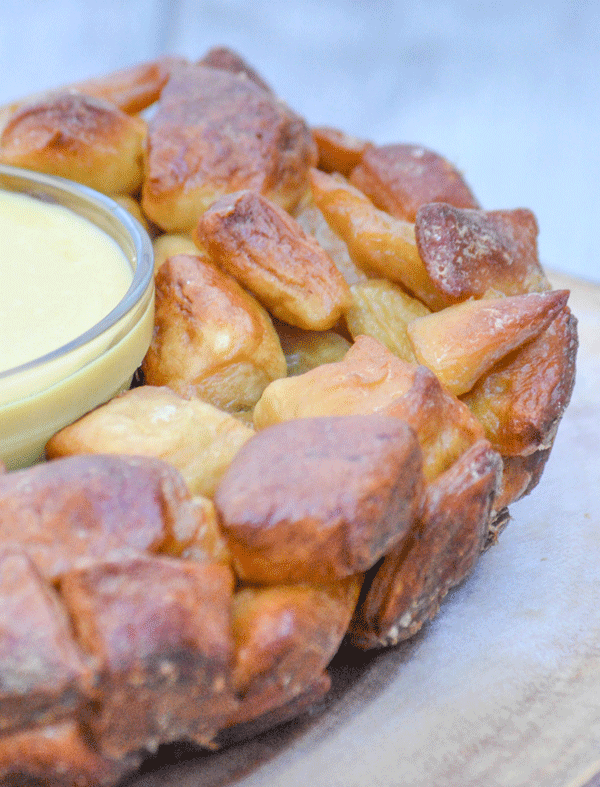 I'm sure most of our friends, even family, assumed that we were happily unified in our NFL love and our like of all things Black & Yellow. But, if you were on my personal FB page you'd have known that something was amiss if you paid attention.
Cue the posts on my wall from my husband's closest cousin and even my FIL wanting to know who things were looking in our household with the 'big' game coming up.
Lots of laugh crying emojis were shared.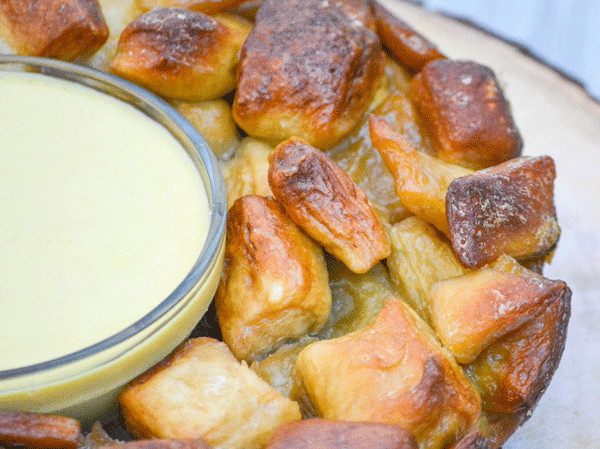 Especially at the Steeler's suprising loss, and a nail-biting, on the edge of our seats game that ended in OT with an epic TD.
Insert my own laughing until you cry emoticon here!
No really, the Hubs and I are both good sports. And there was no need for me to rub anything in, we'd won after all. About time too.
As far as my husband was concerned anyway, for his team the big game was this weekend. They took it to the Ravens, their bitter rivals and walked off the field with the 'W'. So all's good in our hood. At least until next week, and whatever that brings.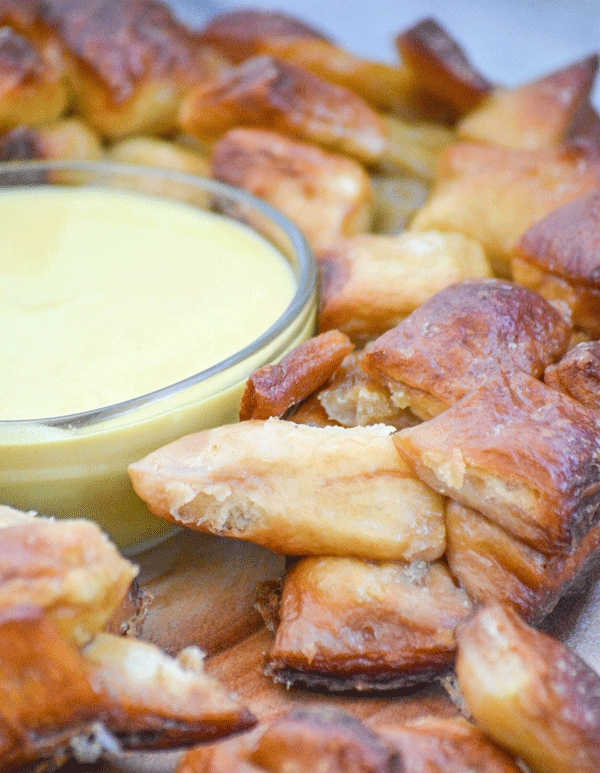 Even when we're sitting on opposite sides of the field, one thing always brings us together without fail- good game day eats on the family table.
Even when we're 'pulled apart' by our rivalries, this Pull Apart Pretzel Bread & Honey Mustard Dip easily brings everyone back together. Funny how food does that. It's the ultimate ice breaker.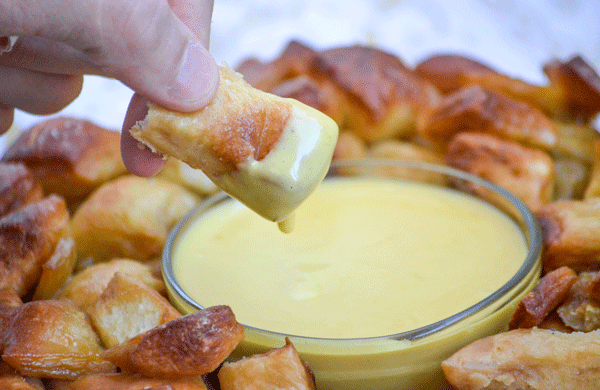 Golden brown bites of chewy pretzel perfection are perfectly salted and drizzles in the perfect amount of melted butter. Paired with the most addictive Honey Mustard Dip, this is the perfect dish to bring a crowd together and really get the talking.
Pull Apart Pretzel Bread & Honey Mustard Dip is a must have appetizer on game day, holiday get togethers, and especially family gatherings where everyone doesn't see eye to eye– whether it's just on what colors their jersey sports or more touchy subjects.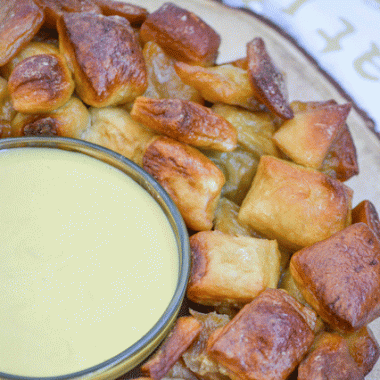 Pull Apart Pretzel Bread with Honey Mustard Dip
Buttery pretzel bites are baked into a simple pull apart, and served with a spiced honey mustard dip.
Print
Pin
Rate
Ingredients
To Make The Pretzel Dough
3/4

cup

warm water

1 1/2

tsp

sugar

1 1/2

tsp

active dry yeast

1/2

tsp

salt

2 1/4

cups

flour

2

tbsp

butter, melted
For The Pull Apart Bread
1

tbsp

butter, softened

10

cups

water

2/3

cup

baking soda

1

large egg yolk, whipped with 1 tbsp water

2

tbsp

butter, melted

sea salt
For The Honey Mustard Dip
1/2

cup

mayonnaise

3

tbsp

honey

1 1/2

tbsp

yellow mustard

1 1/2

tbsp

Dijon mustard

1

tsp

cider vinegar

1-2

tsp

hot sauce
Instructions
To Make The Honey Mustard Dip
In a small bow, whisk together the dip ingredients until smooth. Refrigerate until ready to serve.
To Make The Pretzel Dough
In the bowl of a stand mixer, whisk together the water, sugar, & yeast. Let the mixture stand for 5 minutes while the yeast foams.

Using the dough hook, stir in the flour, butter, and salt, mixing for 5-7 minutes- or until the dough is smooth and elastic.

Gently pull the dough away from the mixing bowl. Spray the mixing bowl with non stick cooking spray, and then return the dough to the bowl. Seal the bowl with plastic wrap. Let the dough rise in a warm place, until it's doubled in size.
To Make The Pretzel Pull Apart Bread
Prepare the bundt pan by smearing it with the softened butter. Prepare a counter top by lining it with parchment paper.

In a large pot, bring the water and baking soda to a rolling boil.

Turn the dough out onto a lightly floured surface. Roll the dough out into a rectangle, roughly 12 x 6". Use a metal pizza cutter, and cut the dough into 1" pieces.

Working in batches of 15-20, boil the pretzel bites for 30 seconds. Use a large slotted spoon to remove the boiled pretzels, so the water can all drain away, and place them on the parchment paper- making sure that none are touching. Repeat until all the pretzels are boiled.

Evenly layer half of the prepared pretzels in the bundt pan. Brush them with the egg wash, and then drizzle with a tablespoon of butter. Sprinkle some sea salt evenly out over top. Repeat with the remaining pretzels.

Bake the prepared pull apart at 400 degrees for 25-30 minutes, or until golden brown and cooked through. If you notice any bits getting *too* brown, just cover them with foil.

Run a bread knife around the edges to release the pull apart from the pan. Then invert onto a plate then invert again onto serving plate. Serve the pretzel pull apart with the Honey Mustard Dip in the center.