The perfect copy cat, this restaurant style White Queso Dip is flavorful with that thick, creamy consistency you're craving. It's also surprisingly simple to whip together with only a handful of ingredients needed. Pair it with crisp tortilla chips for an indulgent appetizer fit for any occasion.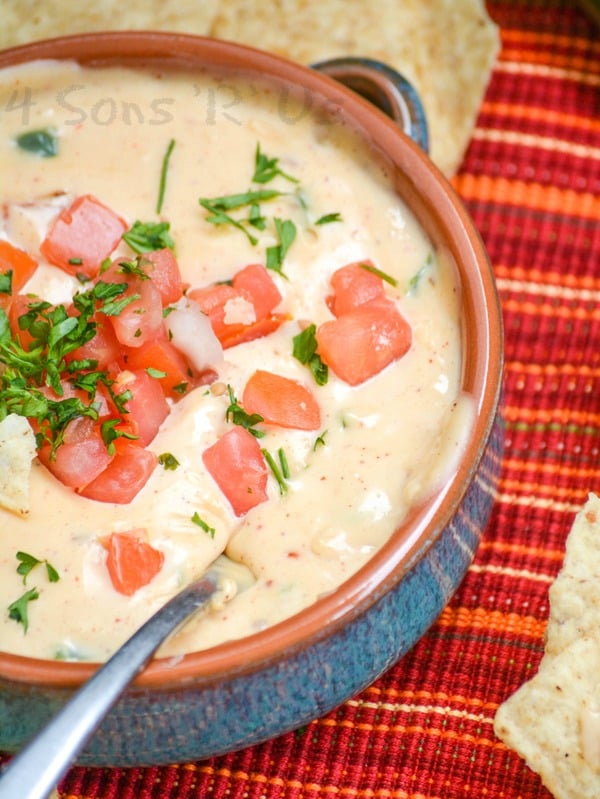 We strongly encourage (read here: require) all of our kids to get a job when they turn 16. They can work one shift, shoot one hour, a week– or as many as they're able to and maintain their grades. That choice is up to them and usually their maturity level.
Son # 2 has had a few jobs before settling in at a local Tex Mex barbecue joint, coincidentally run/owned by two guys I went to high school with. It's been awesome. It's a great family atmosphere and they pride themselves on taking care of both the customers and the employees.
In that vein, they send the kids home with all the mess ups/left overs they could want and then some. My boy always sneaks a nip of their leftover homemade queso home for his Mama.
It's my guilty little pleasure, that until he started working there, I didn't even know I was obsessed with.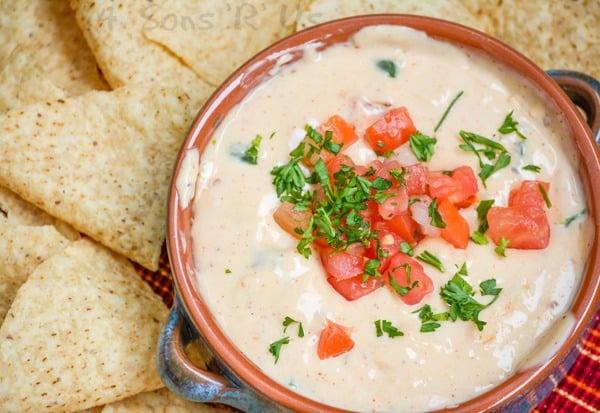 And it's best enjoyed with their amazingly crisp fries. But it's still just as finger lickin' good on a crisp chip.
Being that the sons' in culinary school, and that he has access to the kitchen to watch and observe– we've been making it at home for months now. And OMG, it is fantastic. It's like no other we've made, or even tried at other venues.
I kid you not, this isn't chili queso. Neither is it queso con carne, or any other version of queso you may have heard of.
It's the holy grail of Tex Mex Dips– the all white kind. The white cheese dip known as Queso Blanco.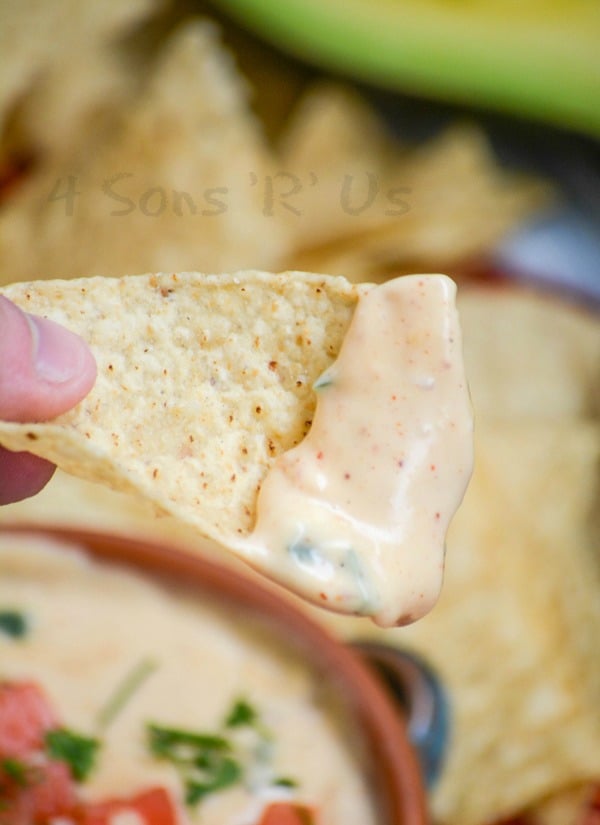 What's The Secret Ingredient In Mexican Restaurant Queso?
The secret to the best Mexican white cheese dip, also known as Queso Blanco, is actually white American cheese.
I kid you not! The same kind from the deli that you can find in any grocery store. Chop it up into squares and it melts beyond compare.
Typically another white cheese is also added- usually either Monterrey jack or mozzarella.
We used fontina because it makes it extra rich, but you could easily sub one of the others if it's easier to find or more affordable.
How To Make Queso Taste Better
You've heard of shakin' things up… it's no secret, y'all know how much I love to and live for seasoning things up around here.
This Restaurant Style White Queso Dip wasn't going to be any different.
I deliberately, and heavy handedly, spiced this version right on up. Spices are the easiest way to up the flavor factor in your queso.
However, I did want to give you a heads-up and let you know that's why this version has an ever-so-slight reddish hue.
You want the traditional 100% white color, skip the spices. Okay, the nutmeg is probably safe. But omit any red spice.
Still with me? If you want a copy cat white queso that will also knock your socks off…stir in alllllll the spices.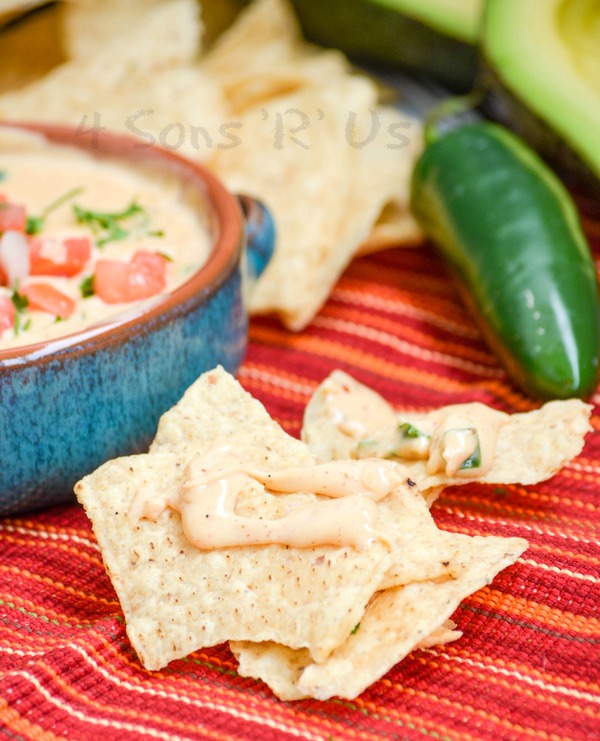 Can This Be Made In A Crockpot?
While I usually make this dip in a skillet on the stove top, this thick white cheese dip can absolutely be made in a crockpot!
It's literally perfect for it, especially if trying to prep foods ahead of time for a gathering and for keeping it warm and dippable for guests for the duration of the occasion.
Add all of the ingredients to the greased crock of your slow cooker.
Cover and cook on low heat for 3-4 hours, stirring occasionally.
When everything's come together in a smooth, thick & creamy cheese sauce- your restaurant style white queso dip is ready to serve!
Turn your crockpot to the keep warm setting to keep it from firming back up during your intended serve time.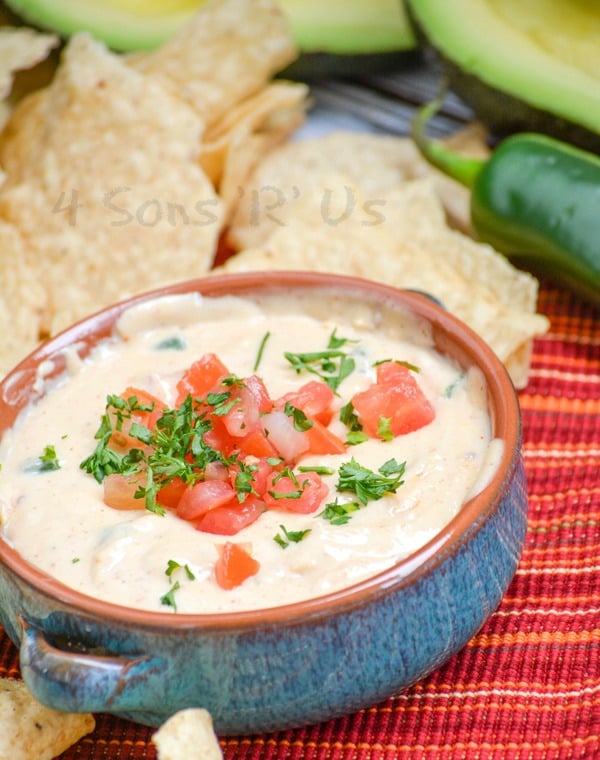 How To Serve Queso Blanco
While we highly recommend the classic pairing of queso dip and crispy, salted tortilla chips- there are plenty of other ways to enjoy this.
On nachos
As a sauce for tacos & burritos
As a sauce for grilled chicken
As a dip for french fries, pretzel bites, or even raw veggies like cauliflower, broccoli & carrots
Stirred with cooked pasta for an extra creamy mac and cheese
Poured over baked potatoes or roasted veggies like asparagus and brussels sprouts
The possibilities are endless!
Other Creamy Cheese Dips You Might Also Enjoy
Thick & creamy, with plenty of beautifully blended spices– this Restaurant Style White Queso Dip is the version you've been searching for.
You can serve it as is, or add some diced tomatoes and freshly chopped cilantro leaves for a bright & flavorful garnish.
Looking for other hot cheese dips? Try these:
If you've tried this restaurant style WHITE QUESO DIP, or any other recipe on the site, let me know in the comment section how it turned out, we love hearing from our readers! You can also follow along with me on PINTEREST, FACEBOOK, and INSTAGRAM to see more amazing recipes and whatever else we've got going on!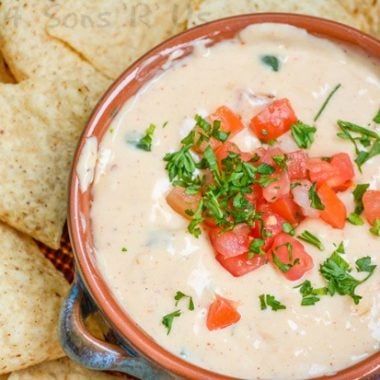 Restaurant Style White Queso Dip
The perfect copy cat, this restaurant style White Queso Dip is flavorful with that thick, creamy consistency you're craving. It's also surprisingly simple to whip together with only a handful of ingredients needed. Pair it with crisp tortilla chips for an indulgent appetizer fit for any occasion.
Print
Pin
Rate
Ingredients
3/4

lb

deli sliced white American cheese, roughly chopped

1/4

lb

fontina cheese, shredded

1 1/4

cup

half & half

can sub evaporated milk

2

tbsp

canned green chilies, minced

1

tsp

chili powder

1/2

tsp

ground nutmeg

1

tsp

red pepper flakes, optional

salt & pepper, to taste

diced tomatoes, for garnish

cilantro leaves, for garnish
Instructions
Heat the half & half in a medium skillet over medium/high heat. Watch as soon as it starts simmering, just before it reaches a boil, reduce the heat to low.

Starting with the american cheese, slowly stir the cheese in working in batches. Slowly increase the heat to medium, stirring constantly. And I do mean stirring constantly. As each addition of cheese is completely incorporate, smooth/bubbly, add a bit more and continue the process until all the cheese has been completely incorporated.

Stir in the chilies, chili powder, nut meg, salt & pepper, and chili flakes until evenly incorporated.

At this point you have two options. A) Transfer the queso to a bowl or a small crock pot to keep it warm, and serve with chips. B) Transfer the queso to a small oven proof dish, and broil for 3 minutes, or just until it begins to bubble and brown.

Whichever method you choose, top the dish with diced tomato and cilantro leaves before serving and enjoy!
Nutrition
Calories:
177
kcal
|
Carbohydrates:
3
g
|
Protein:
8
g
|
Fat:
15
g
|
Saturated Fat:
9
g
|
Polyunsaturated Fat:
1
g
|
Monounsaturated Fat:
4
g
|
Trans Fat:
1
g
|
Cholesterol:
48
mg
|
Sodium:
570
mg
|
Potassium:
88
mg
|
Fiber:
1
g
|
Sugar:
2
g
|
Vitamin A:
545
IU
|
Vitamin C:
1
mg
|
Calcium:
377
mg
|
Iron:
1
mg