Beer Bratwurst with Caramelized Sauerkraut is a quick and easy, one dish dinner that is pure comfort food for any occasion. Shared with friends, made as a quick family meal- however you choose to serve & enjoy it, you can't go wrong.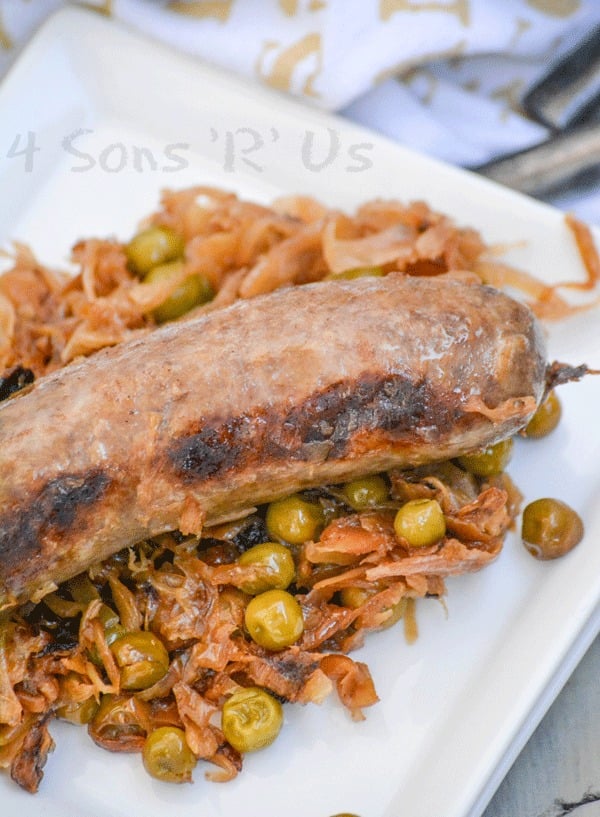 I know, I know- this post probably seems a bit like an outlier given our recent focus on more Holiday-themed recipes. I promise you though, it's not. Or at least not as much of one like it first may appear.
Unless you're somewhere very south of central VA, it's cooooollllllld out side. Not something I'm one to complain about either. I much prefer Winter to Summer.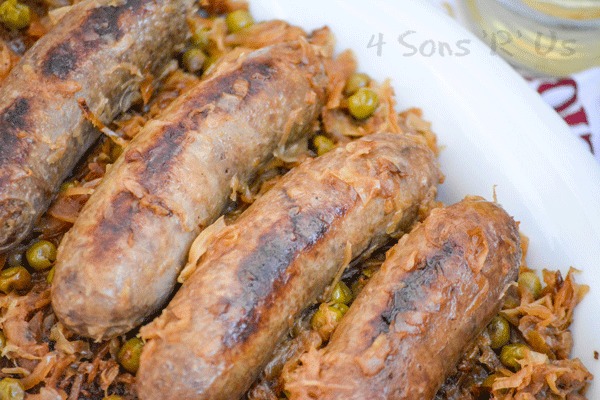 I may miss the occasional dip in the pool, bay, or ocean- but that's about it.
One thing I miss in the warmer weather? Those heartier, heavy dishes. The ones that weigh you down in the warmer weather, making you feel miserable and greasy. In the Winter though? They're gobbled up- welcome and warm, fortifying fare!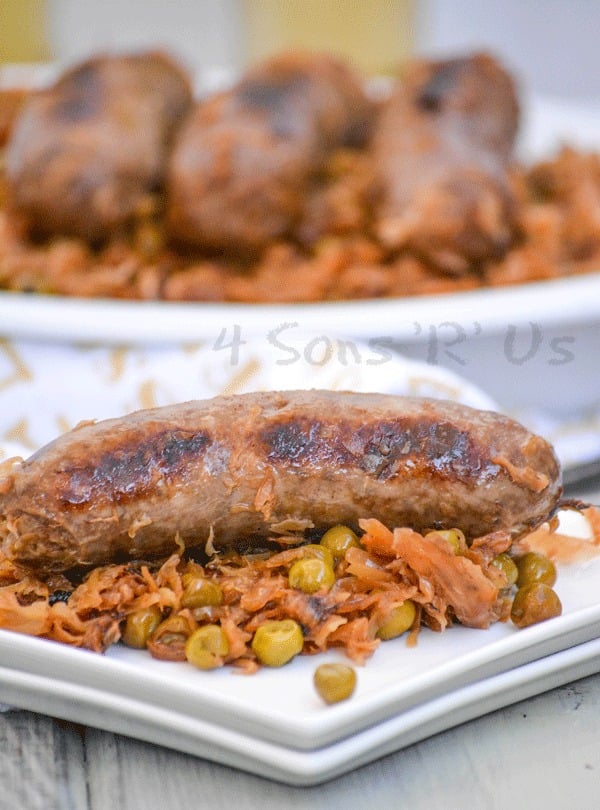 This Beer Bratwurst with Caramelized Sauerkraut is just what I'm taking about.
It's a meal that will hold you down, even when the weather's raging outside, without weighing you down in any of the ways you don't want.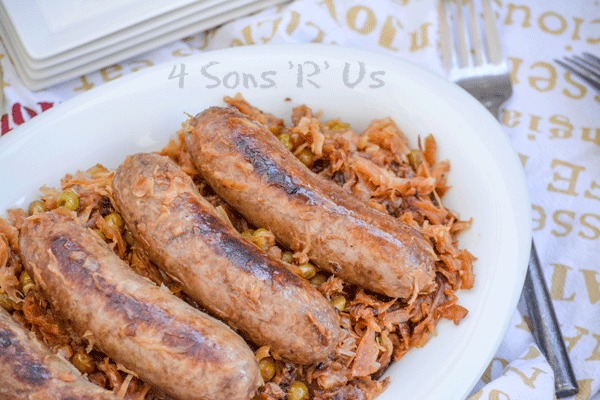 It's also surprisingly simple. I'm talking a handful of ingredients simple. 7 to be exact. It's also quick and easy. Like one pot, and under 30 minutes and done quick and easy.
I like brats and sauerkraut already, but that is my kinda meal and speaking my language.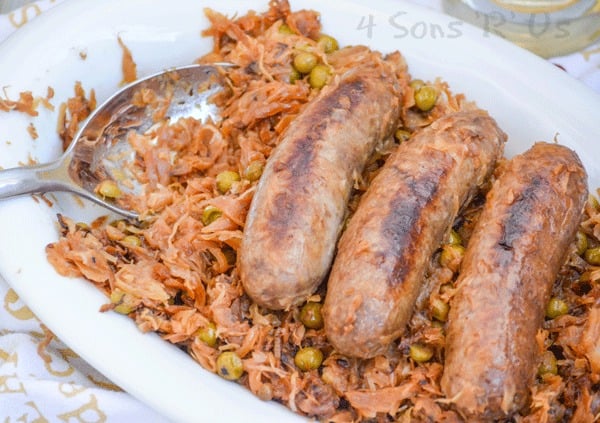 While most people tend to associate beer flavored brats and especially sauerkraut with Oktoberfest, or even St Paddy's Day- we tend to think of sausage specifically in terms of seasons.
Sausage/Brats = Fall/Winter. Grilled or Smoked Sausage/Brats = Spring/definitely Summer. It's ok if you do it differently, that's just how we roll.
So let me tell ya just a teensy bit more about this yummy, one pot Beer Bratwurst with Caramelized Sauerkraut dinner.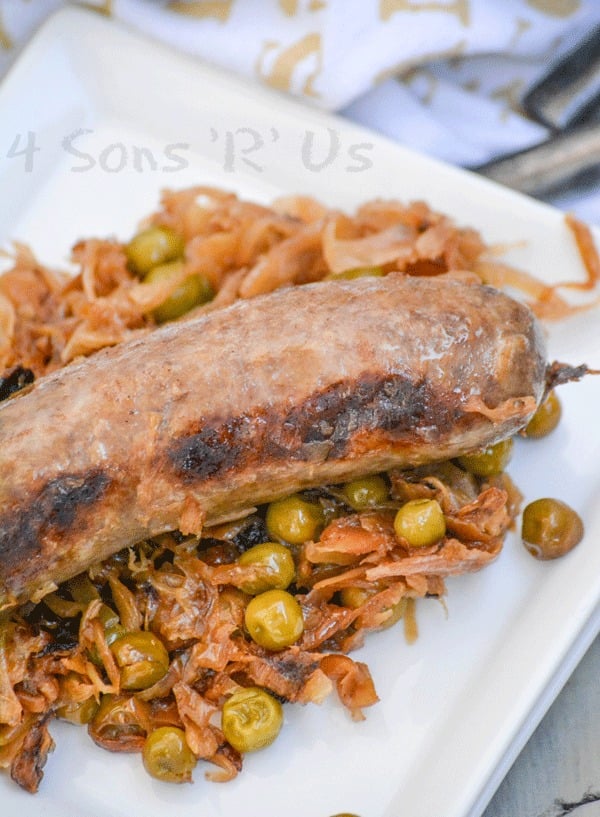 Hearty brats and sliced onions are simmered in beer until the sauce is syrupy and the onions are caramelized, before finishing cooking on a slow simmer in savory broth.
The seared sausages are served over a bed of lightly crisped caramelized sauerkraut tossed with sweet green peas.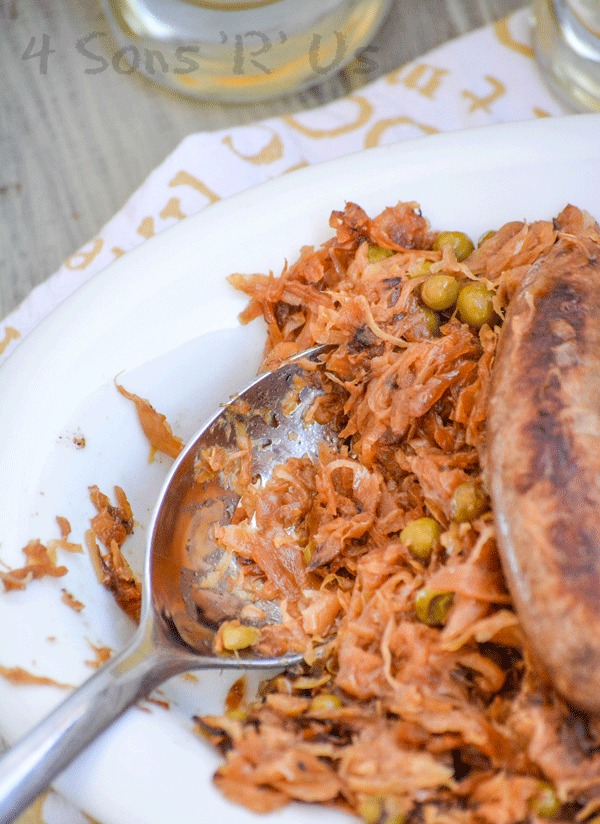 Whatever the occassion. Whether you've got time on your hands, or are running short on it. Whether for family or friends. However you choose to serve and enjoy this Beer Bratwurst with Caramelized Sauerkraut is a dinner made to feed (and please) any crowd.
If you've tried this BEER BRATWURST WITH CARAMELIZED SAUERKRAUT, or any other recipe on my site, let me know in the comment section how it turned out, we love hearing from our readers! You can also follow along with me on PINTEREST, FACEBOOK, and INSTAGRAM to see more amazing recipes and whatever else we've got going on!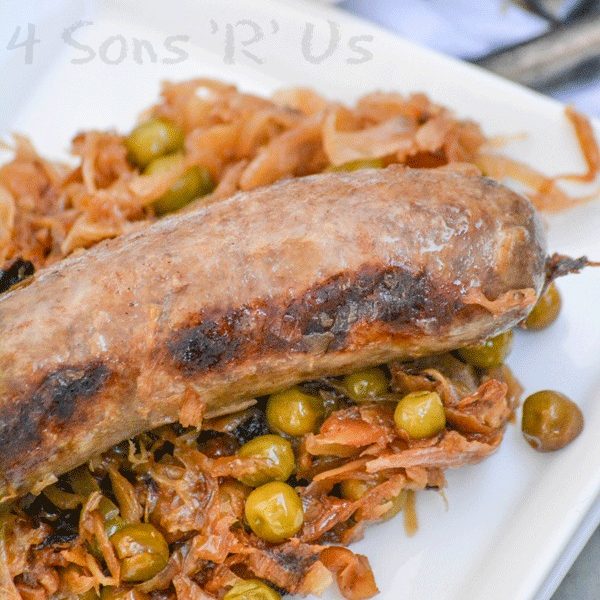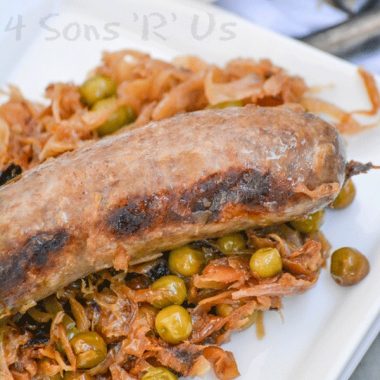 Beer Bratwurst with Caramelized Sauerkraut
An easy, one dish dinner these savory beer brats are served over a bad of caramelized sauerkraut & onions, tossed with sweet green peas.

Print
Pin
Rate
Ingredients
1

white onion, thinly sliced

1

bottle

lager style beer

1

lb

fresh bratwurst, or Italian sausages

2

cups

beef broth

2

tbsp

butter

2

cups

sauerkraut, drained- first in colander, then on paper towels

1/3

cup

frozen peas

salt & pepper, to taste
Instructions
Heat a dutch oven over medium high heat. Add in the brats, beer, and onions. Simmer the sausages and onions, turning the sausages occasionally and gently stirring the onions, about 10 minutes or until the beer's reduced to syrup and the onions are caramelized.

Push the sausages to the edges of the pot. Stir in the beef broth, de-galzing the pan, and scraping up all the crispy bits. Push the meat back to teh center of the pot, and continue simmering for 10 minutes, or until the sausages are cooked through.

Bring the mixture to a boil, and boil-stirring occasionally- just until the sauce has reduced and once again turned syrupy.

Reduce the heat to medium low. Add the butter. Stir it getting up any crispy bits stuck to the bottom.

Push the brats back into the middle of the pot. Add the sauerkraut in around the brats. Continue cooking, turning the sausages and stirring the sauerkraut often, until the sauerkraut's heated through and a little bit crisp.

Stir the peas into the sauerkraut, again heating just until they're heated through. Remember to stir/turn so nothing burns!

Salt & pepper the sauerkraut to taste, serve, and enjoy!