Turn a quick & easy dinner idea into something so fun, so delicious- the whole family will be scrambling to get to the table when the timer goes off. This baked spaghetti pie has layers of savory Italian sausage, sliced pepperoni, & melted mozzarella sandwiched between layers of spaghetti pasta. The whole thing's cooked in a springform pan and topped with an extra layer of ooey, gooey cheese for good measure.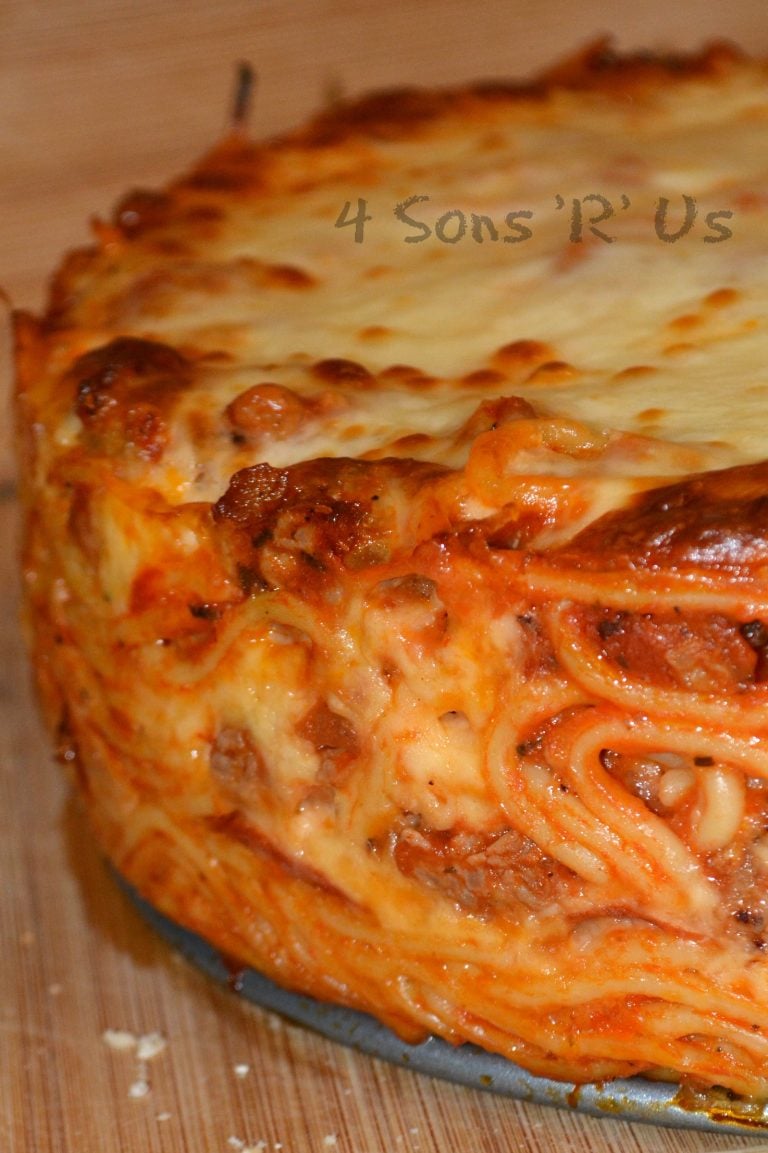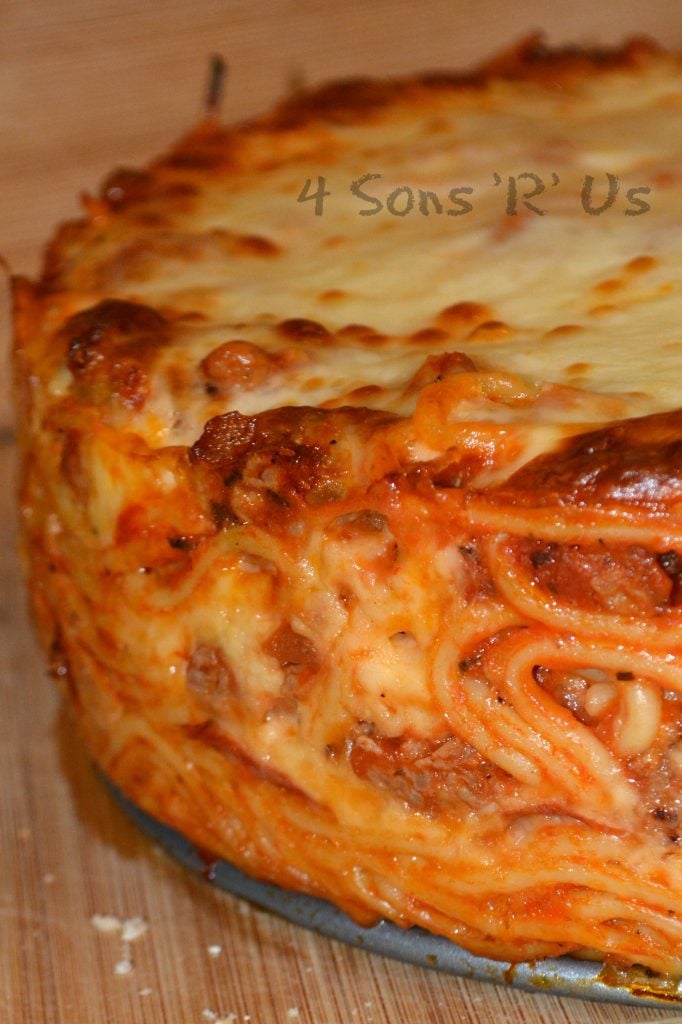 Do you remember where you went or who came over for one of the biggest milestones of your elementary school life? What event you may be wondering, since at that age there are so many 'firsts' to choose from– your first sleep over.
The youngest son finally got to have one this Fall and if you could die from excitement– he'd have been a goner.
Everything had to be perfect–even dinner, so when he requested spaghetti pie (and let me know he actually meant a spaghetti pie). I knew I had to come up with something to fit the bill.
He thought my idea for a baked spaghetti pie with pepperoni sounded perfect.
Looking back, I was just as excited as he was. I so wanted to welcome a new kid into the fold. It's always so exciting. But I forget that sometimes the chaos and constant motion and noise in our house can be overwhelming to newbies.
As can my meal time routines. I'm all business calling out orders– telling my troops to get to the table and plate up. It works for us.
It does not work for a kid with extreme food aversions who's not used to being in a new environment, or forced to sit at a kitchen table for meal time. Or a kid that's also then put on the spot with whether they'd like Parmesan cheese on top or not.
In my defense, I just said 'everybody take a seat'. Anyway, we were all a bit unprepared for when tears just burst forth and the poor kid sat sobbing at the dinner table.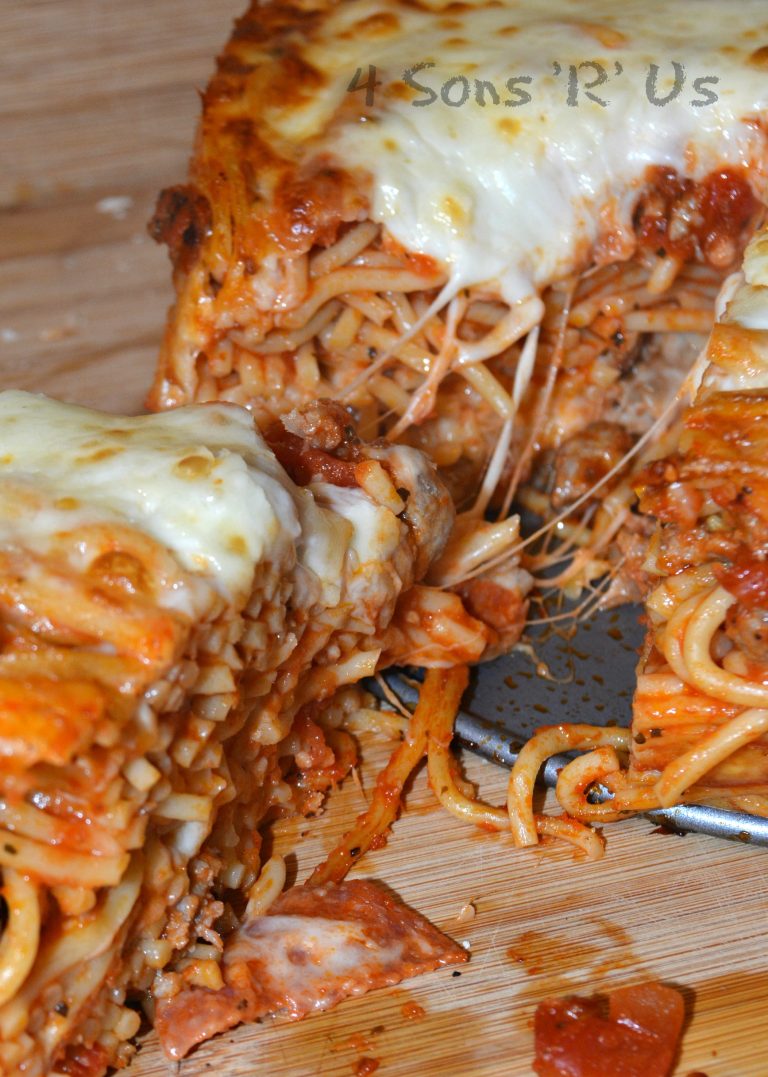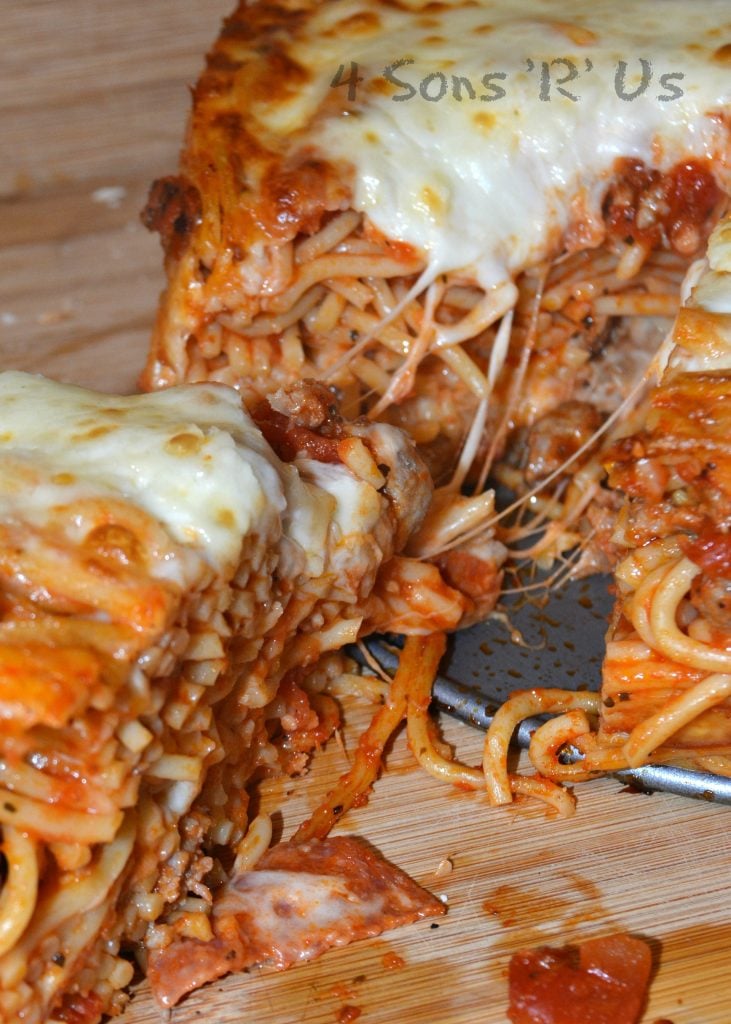 Luckily his Mom and I went to school together so we were able to straighten everything out and get to the bottom of it without too much of a problem. Still, it was quite an auspicious start to the youngest son's sleepover debut.
Luckily, even though the sleepover couldn't be salvaged that night, dinner so exceeded the son's expectations that he was only a bit disappointed.
Which as far as I was concerned was way better than crushed or devastated. (The son's all have a dramatic flair and tend to adhere to the worst case scenario.)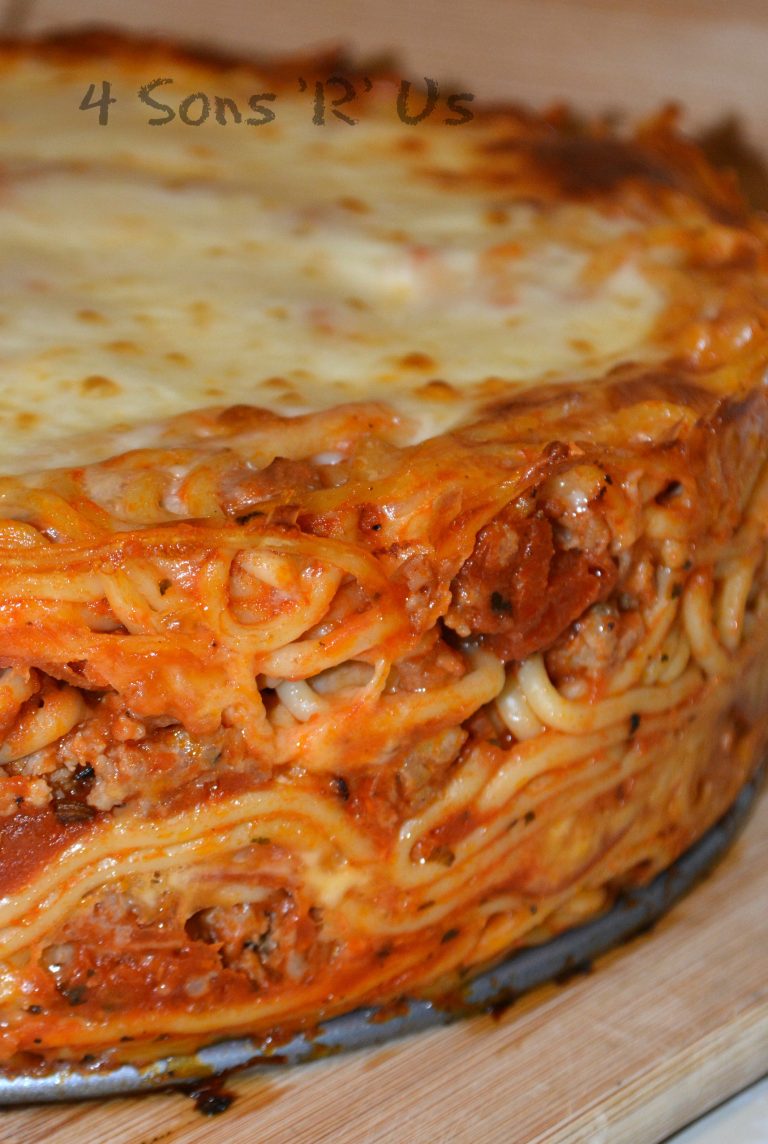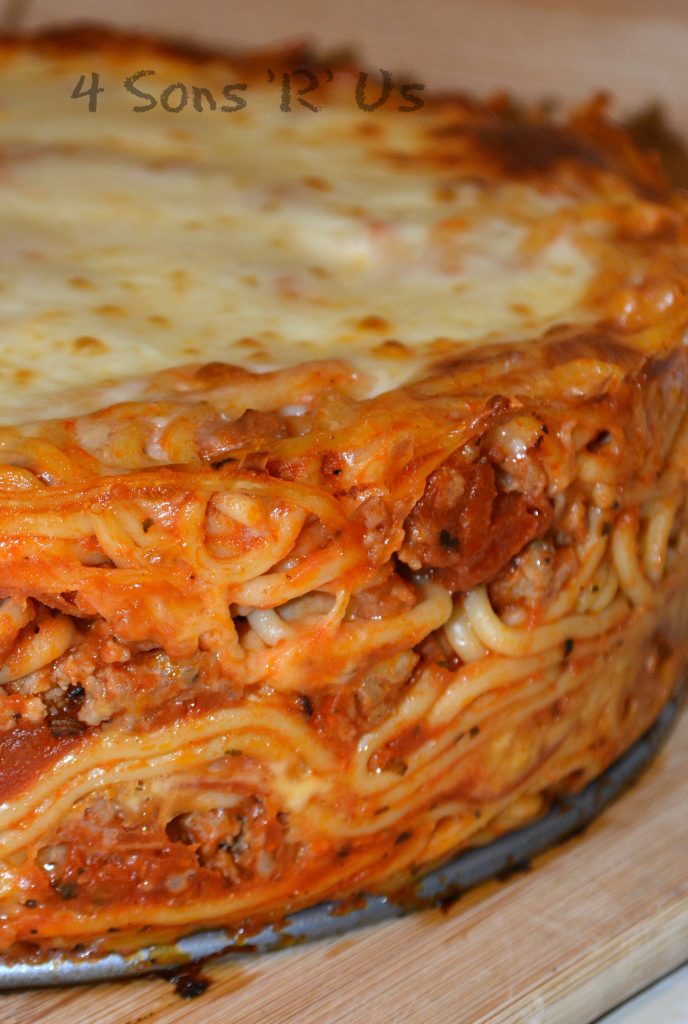 The classic combo of spaghetti and meat sauce are layered into a spring form pan with layers of shredded mozzarella, that create a mouth-watering cheese pull when slicing, and studded with chopped pepperoni.
It's a bit of a twist on an old stand-by meal for us, but it added just the right amount of fun for the youngest son to think it was super cool.
Plain ol' sketti is good enough for any night, but this upgraded baked spaghetti pie is his first choice for now special occasions suppers.
If you've tried this BAKED SPAGHETTI PIE WITH PEPPERONI, or any other recipe on my site, let me know in the comment section how it turned out, we love hearing from our readers! You can also follow along with me on PINTEREST, FACEBOOK, and INSTAGRAM to see more amazing recipes and whatever else we've got going on!
Baked Spaghetti Pie with Pepperoni
A fun new spin on baked spaghetti, this dish is easy to make and just as endearing as the regular version.
Print
Rate
Ingredients
1

lb

spaghetti

3½

cups

spaghetti sauce

1

lb

mild Italian sausage

casings removed

roughly 28 regular sized slices of pepperoni

2 1/2

cups

shredded mozzarella cheese

1/2

cup

shredded Parmesan cheese
Instructions
Cook the spaghetti al dente, according to the package directions. Drain the spaghetti in a strainer and run under cold water for a minute or two to stop it from cooking. Set it aside.

Crumble up the sausage into the same pot that you cooked the spaghetti in. Brown the sausage over medium high heat, using a sturdy spoon or spatula to break it up as it cooks.

Stir in the spaghetti sauce and let it simmer- stirring occasionally- for 6-8 minutes. Turn the heat off and transfer the spaghetti to the pot and gently stir to combine until it's evenly incorporated.

Add 1/3 of the pasta to the bottom a 9" nonstick springform pan. Arrange half the pepperoni slices over the pasta, then top with 1/3 of the cheese. Repeat.

Top the second layer with the remaining pasta. Cover with foil and bake at 375 degrees for 30 minutes. Remove the foil, add the remaining cheese and return the spaghetti to the oven for another 15 minutes.

Remove the baked spaghetti from the oven and let it rest for 20 minutes (it needs this time to 'set'). Remove the outer ring of the pan and using a sharp knife, cut the pie into slices and serve warm.
Notes
Serve this baked spaghetti dish with a side salad and garlic bread for a fun, filling meal.
Nutrition
Calories:
562
kcal
|
Carbohydrates:
49
g
|
Protein:
27
g
|
Fat:
28
g
|
Saturated Fat:
12
g
|
Cholesterol:
75
mg
|
Sodium:
1299
mg
|
Potassium:
657
mg
|
Fiber:
3
g
|
Sugar:
6
g
|
Vitamin A:
750
IU
|
Vitamin C:
9
mg
|
Calcium:
287
mg
|
Iron:
3
mg