Potatoes are a pretty common occurrence on our dinner table, but certain recipes take them above and beyond. These boiled Syracuse style salt potatoes are a regional specialty that everyone should know & love. Potatoes cooked in a heavily brined water result in the creamiest potatoes we've ever experienced, with less starch. This is the potato recipe bandwagon you want to jump on.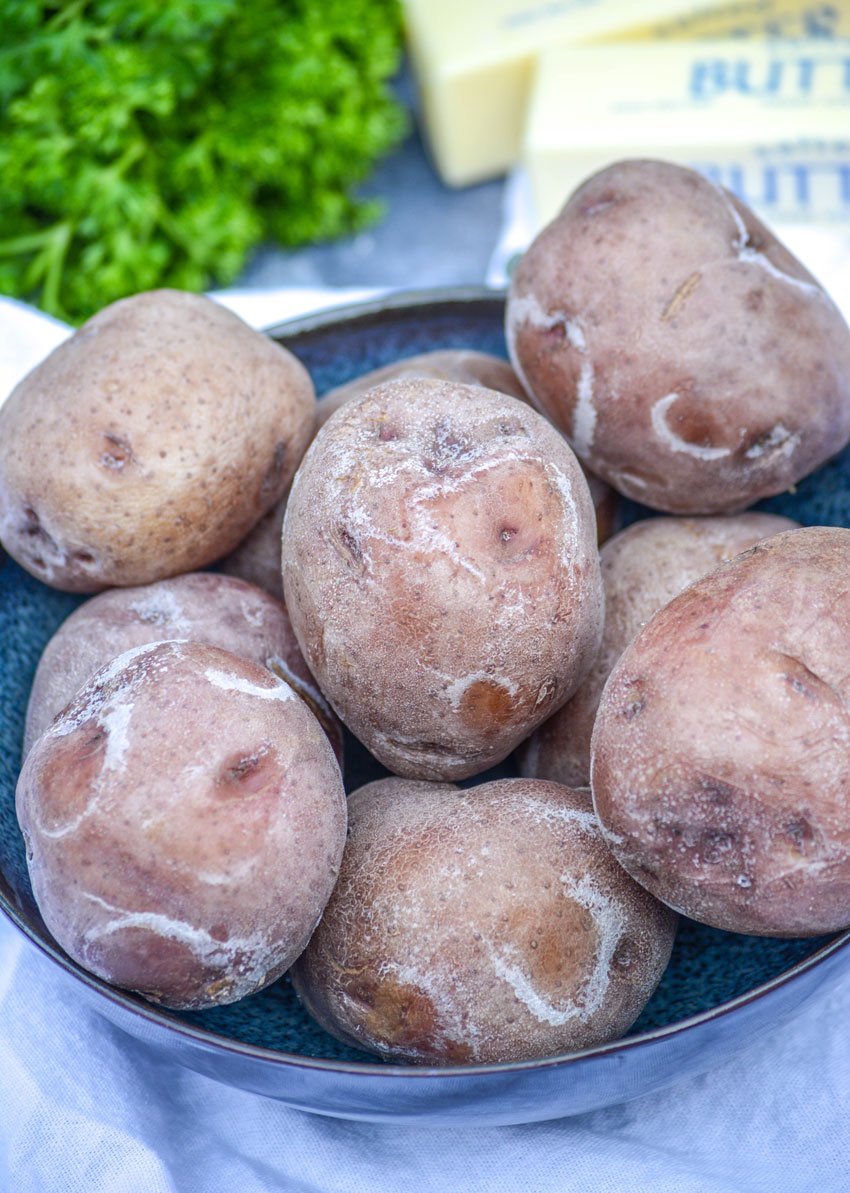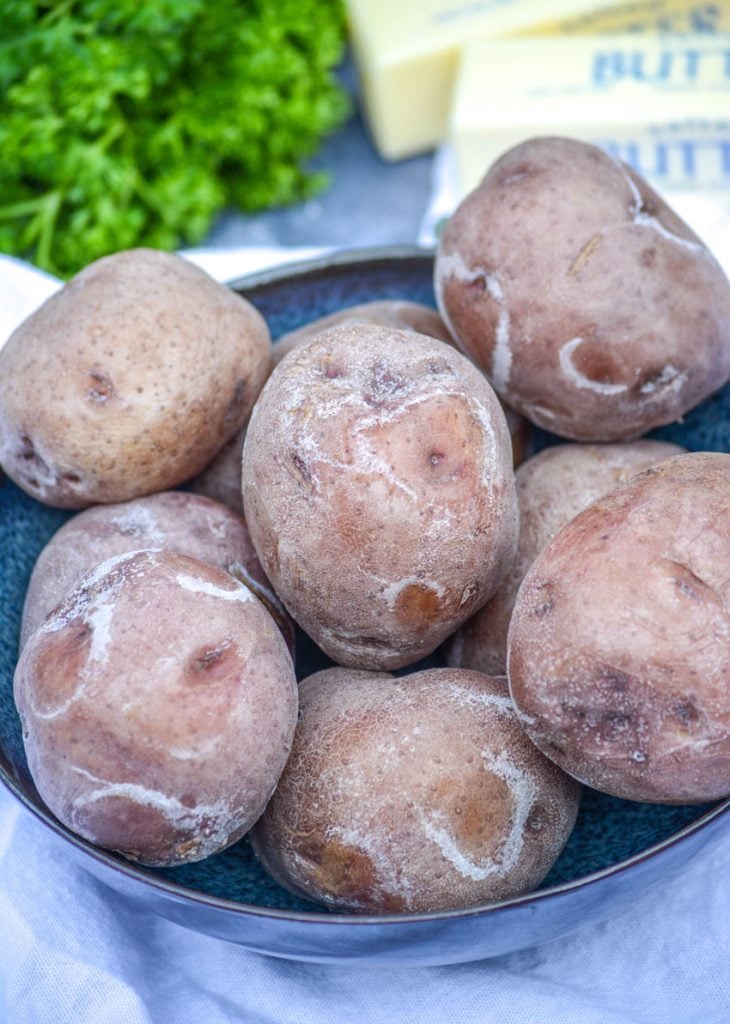 It wasn't until a decade ago when my culinary world started expanding. It was when I met my husband, and he started taking me up North to visit his family.
Since then I've learned many things, and have discovered and shared many family recipes.
Making homemade halupki stuffed cabbage shells, Nonna's fresh basil pesto, or even Italian chicken noodle soup.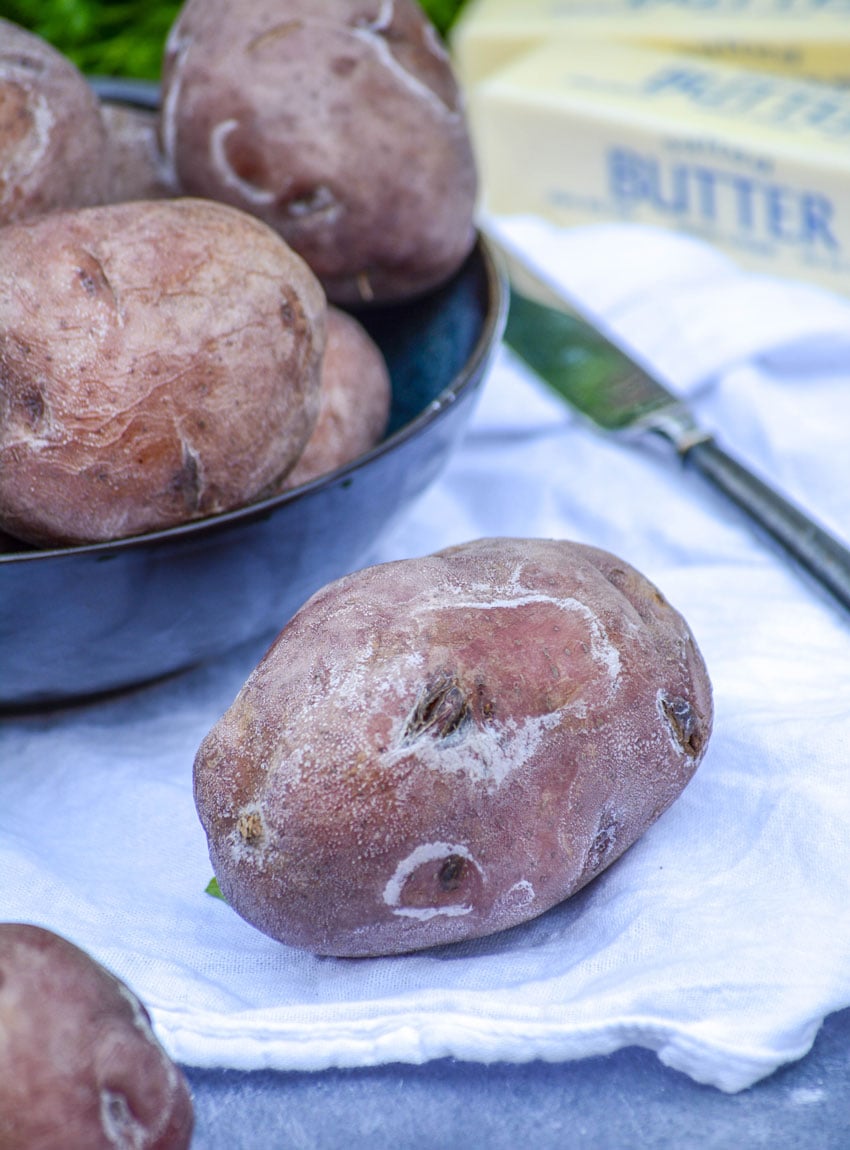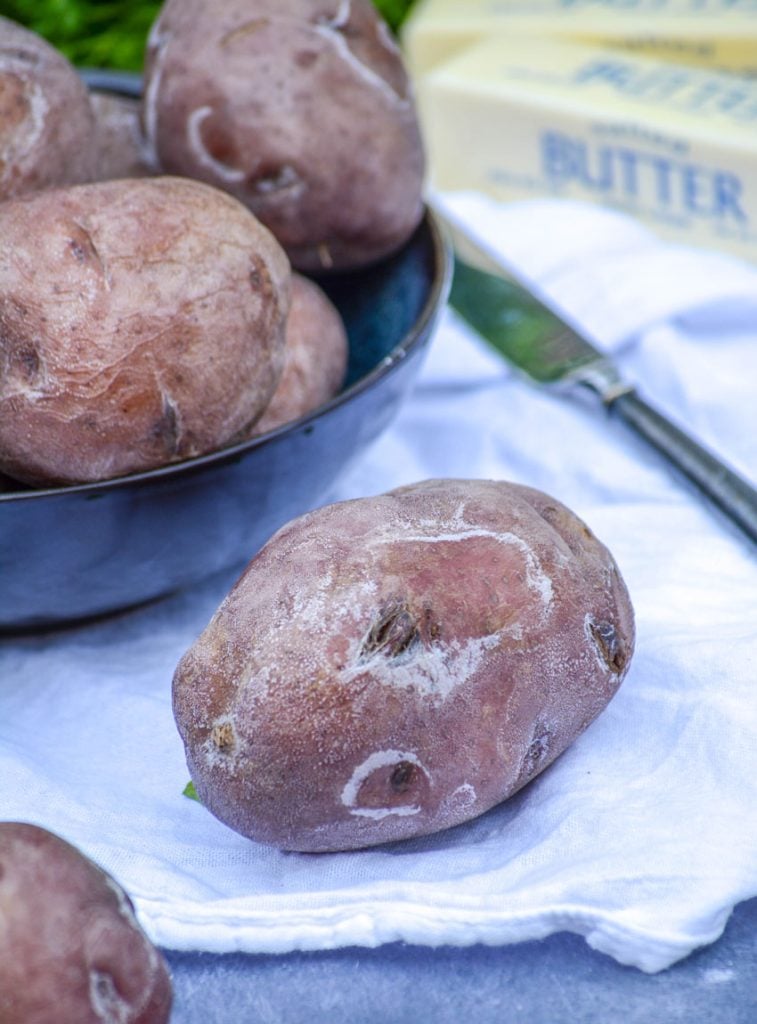 While salt potatoes aren't a family specialty, I did first learn of them on a family trip.
They're a special delicacy everyone should enjoy, and they hail from the Syracuse region of New York.
They've actually got a really interesting origin story too.
They originally sprouted from the Syracuse region of New York. Salt mines & salt springs abound in the area. It's no big deal.
Around there, salt is really life. Gives the beach-y 'salt life' a whole new meaning.
Time may have marched on for a lot of us, but that's no the case with salt potatoes.
These creamy, boiled potatoes first came on the scene in the 1800's. They originated from smart, industrious workers in the local salt mines.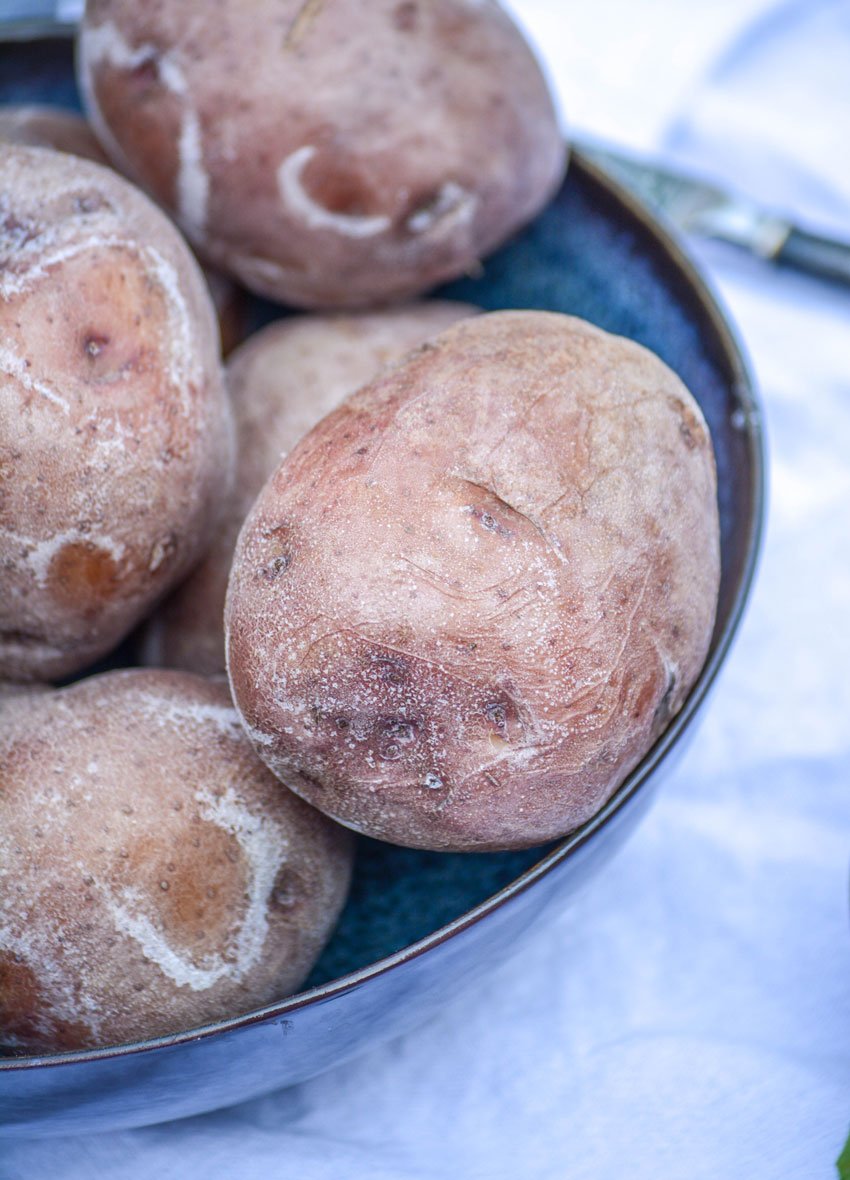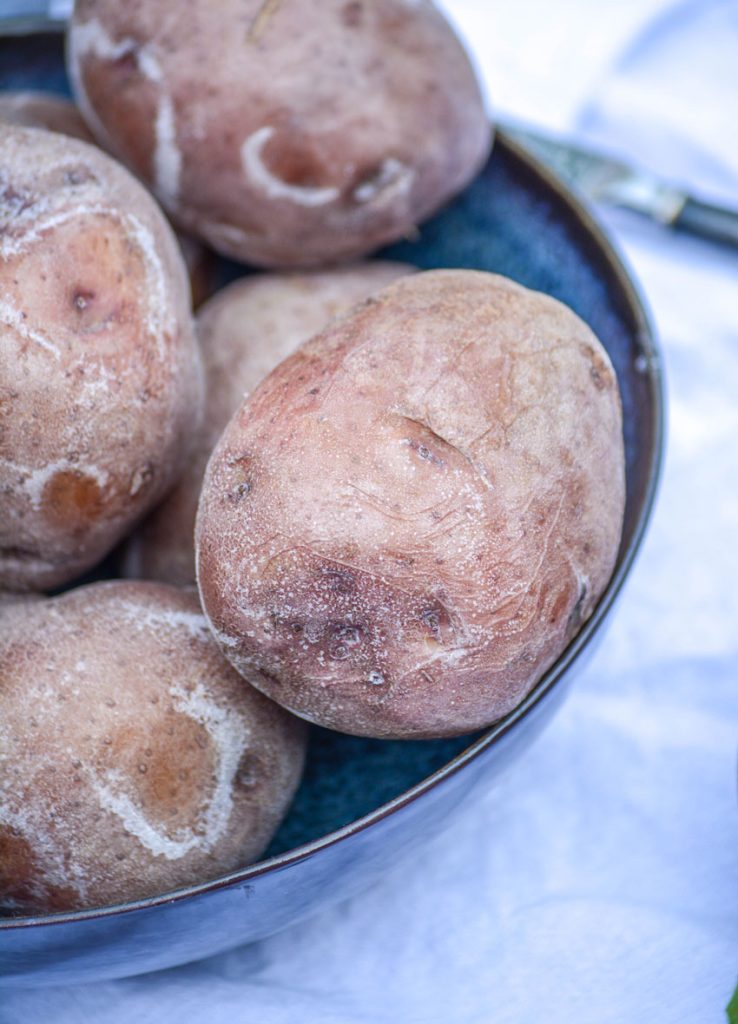 Salt potatoes, as they're called are really a specialty of a specific region in New York- the Syracuse region. It's also been given the name ' salt city'.
Not sure how exactly it began, but the basic version is that Irish immigrant workers (very proficient with potatoes), found a new way to cook their spuds for lunch.
Potatoes were cheap, and what they had. Obviously they'd take them for lunch. They boiled them in the brine from the mines.
Salt potatoes are, as the name implies, salty. On the outside. The saltiness was never the real goal though.
When cooked in a salty brine, the potatoes became extremely tender & creamy on the inside. This was what made them so popular.
It also made for an easy, cheap lunch earlier laborers couldn't ignore.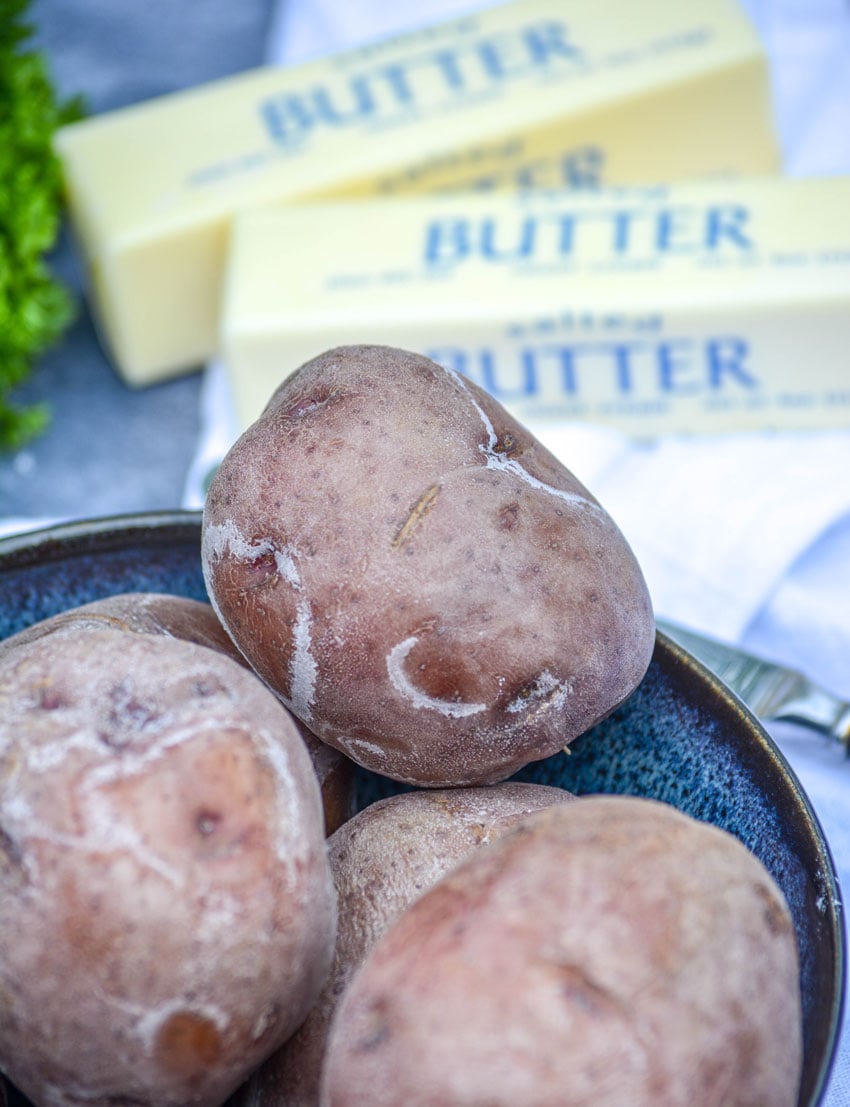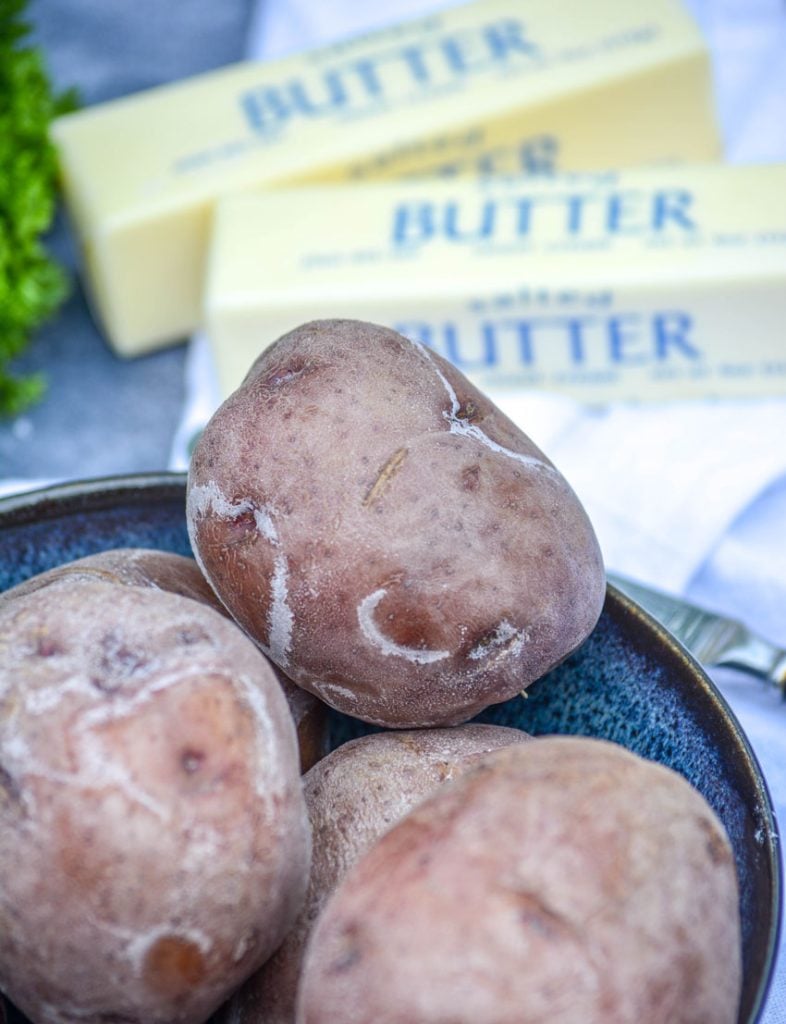 Again, let me say that salt wasn't the actual purpose- it just had a role to play.
Remember the creaminess I mentioned earlier? That was the delicious result of an unknown miner's ingenuity.
I'm no stranger to the amazing way salt enhances my favorite potato based sides. In this recipe though, the salt is an incidental flavor enhancer.
It's real purpose is to drastically lower the boiling point of the water in the main pot. That makes the flesh of the potato super creamy, and it also reduces the starchiness. Win, win!
If the salitness is a concern, the biggest thing is to make sure you're using enough water in your pot.
While the amount of water in this recipe isn't measured to an exact amount, I'd estimate that I used roughly three quarts for this recipe.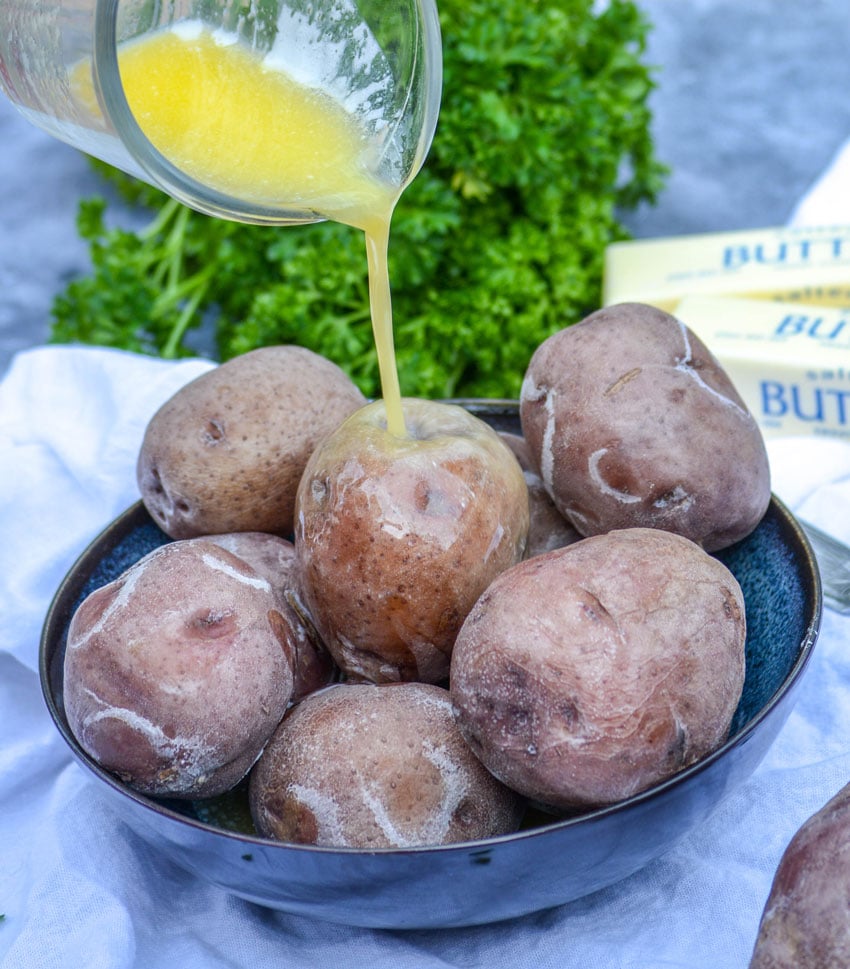 The ratio ends up being roughly one cup of salt (kosher/sea salt is best) to six cups of water. Make sure to stir, stir, stir.
Stir that water, and keep on stirring, until the salt's finally dissolved into it & no longer settling at the bottom of the pot.
Syracuse Style Salt Potatoes are also a Spring & Summertime staple in their native region, making them a perfect recipe to share with you all now.
Cook the potatoes according to the recipe instructions, but a pro tip- let them sit in the strainer when done. Not indefinitely though.
Cover the strainer with a bit of tin foil to keep in some of the heat. We want them to stay hot, but this will allow all of the excess water to completely drain away- causing the skins to crisp up & the salt to re-solidify.
Resist the temptation to rinse the salt potatoes after they've done cooking. Either serve them along with melted butter for dipping, or do what we do and just pour the melted butter right on top.
Just don't use salted butter. Obviously, there's enough salt on the potatoes for everyone!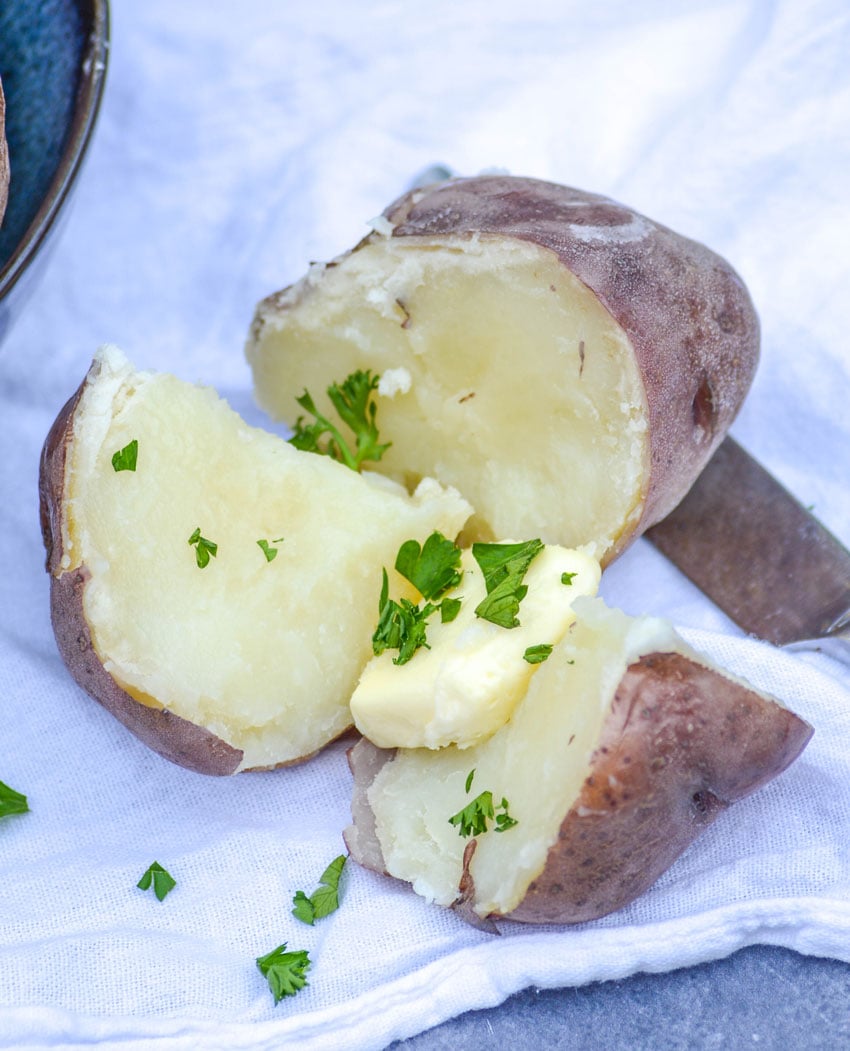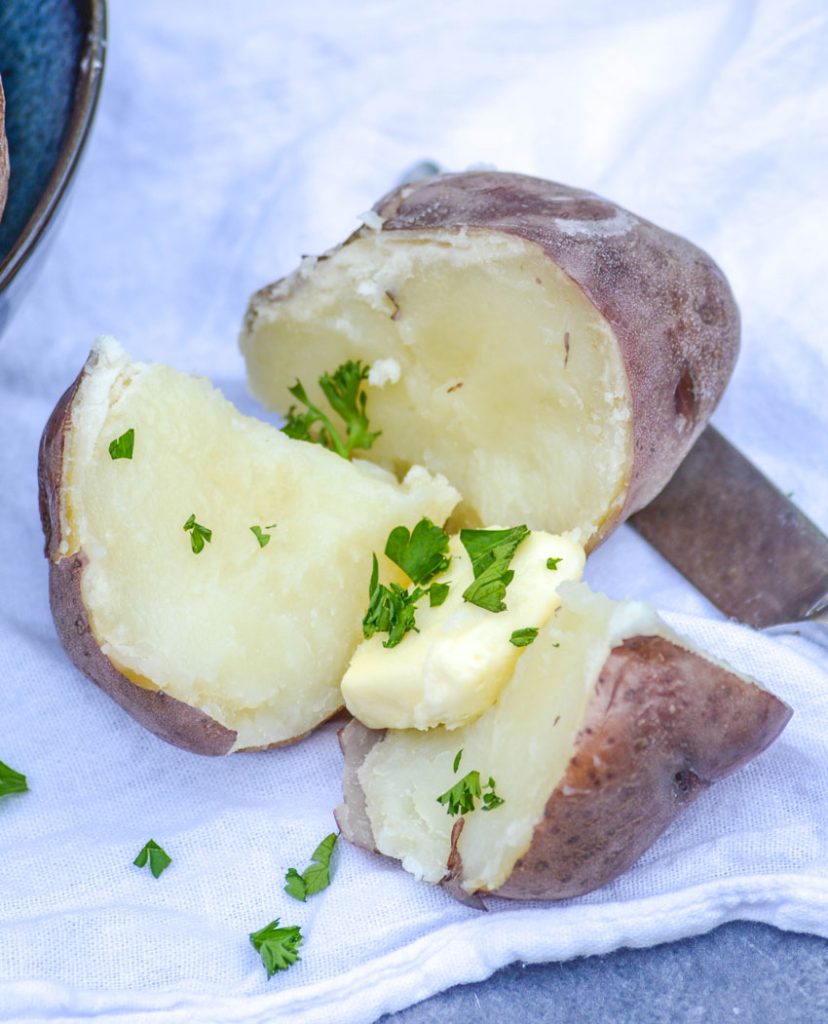 If you want to experience the creamiest dinner potatoes ever, then fill a pot of water add copious amounts of salt & boil your red potatoes.
These Syracuse style salt potatoes are about to be your new go to method for enjoying the starchy veggie. And they're guaranteed not to disappoint, whatever your level of cooking experience.
Other Tasty Ways To Use Up Potatoes:
If you've tried these SYRACUSE STYLE SALT POTATOES, or any other recipe on the site, let me know in the comment section how it turned out, we love hearing from our readers! You can also follow along with me on PINTEREST, FACEBOOK, and INSTAGRAM to see more amazing recipes and whatever else we've got going on!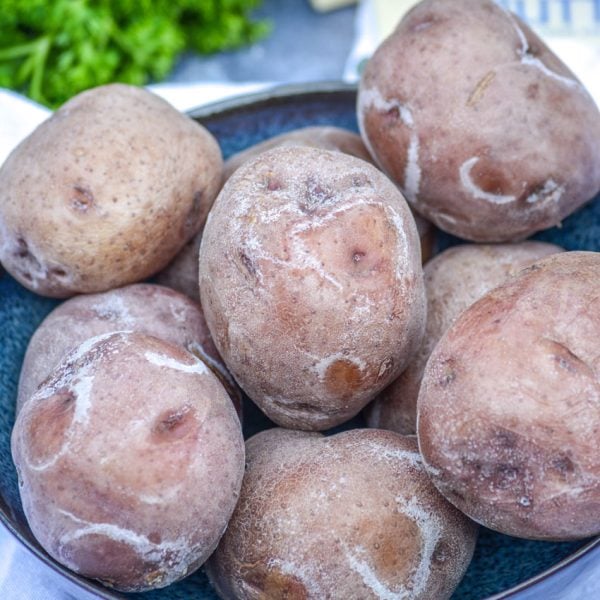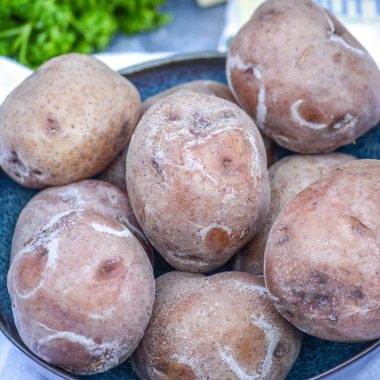 Syracuse Style Salt Potatoes
A regional specialty hailing from New York, these potatoes are boiled in briney water resulting in a tender, super creamy, less starchy dinner potato.
Print
Pin
Rate
Ingredients
4

lbs

red potatoes

1 1/2

cups

fine sea salt

8

tbsp

butter, melted
Instructions
Scrub the potatoes with your hands, washing them with warm water. Pat them dry and set aside.

Fill a large pot with water, so that when the potatoes are added they'll be covered but there's still room for the water to safely boil. Add the salt. Stir until the salt's completely dissolved and not settling on the bottom anymore.

Add all of the potatoes to the pot. Bring the pot to a rolling boil. Reduce the heat to a simmer, and cook the potatoes for 15 minutes- until they're fork tender, but still firm.

Strain the potatoes, then return them to the pot and cover to keep them hot until ready to serve.

Serve them as quickly as possible, with the melted butter poured over top. You can serve them without the butter, but it's a delicious addition.
Notes
You can use other potatoes, and they'll still be good- but red potatoes really do yield the best results.
For the most authentic version, use baby red potatoes.
Also, while I recommend sea salt- regular table salt will also work just as well.
Nutrition
Calories:
261
kcal
|
Carbohydrates:
36
g
|
Protein:
4
g
|
Fat:
12
g
|
Saturated Fat:
7
g
|
Cholesterol:
31
mg
|
Sodium:
21362
mg
|
Potassium:
1032
mg
|
Fiber:
4
g
|
Sugar:
3
g
|
Vitamin A:
370
IU
|
Vitamin C:
19.5
mg
|
Calcium:
39
mg
|
Iron:
1.8
mg