Crisp skinned, roasted baby potatoes are drizzle din garlic butter and topped with an ooey gooey, golden brown mozzarella crust. Serve these Cheesy Garlic Butter Cracked Potatoes with your favorite meat, and give a whole new meaning to a simple meal of meat and potatoes!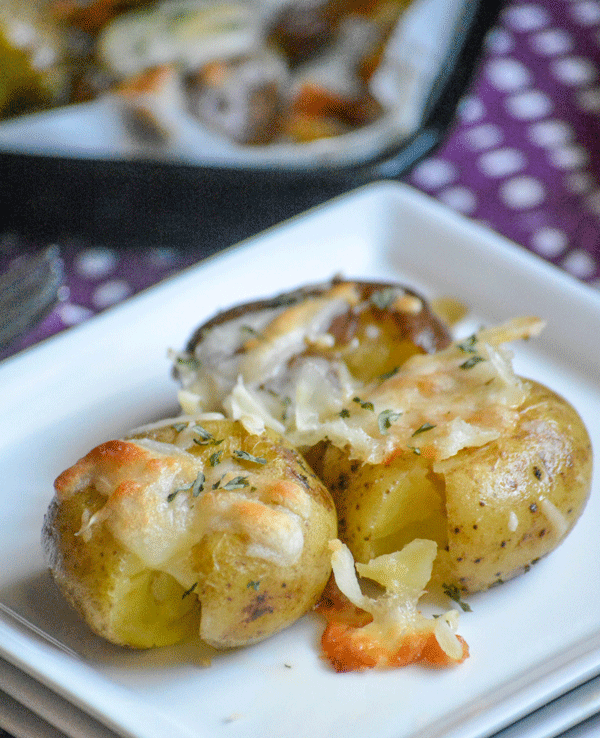 So I bit the bullet and went to the youngest son's school tonight for the informational, tentative registration tonight for Cub Scouts. He's been adament since the Summer that it was something he wanted to do. I was skeptical, thinking maybe his interest would wane at first– but it didn't.
Knowing nothing much about the organization, and knowing how 'boy'-centric it is, I was nervous to go by myself since the Hubs is putting in 80 hour work weeks while the OT is available.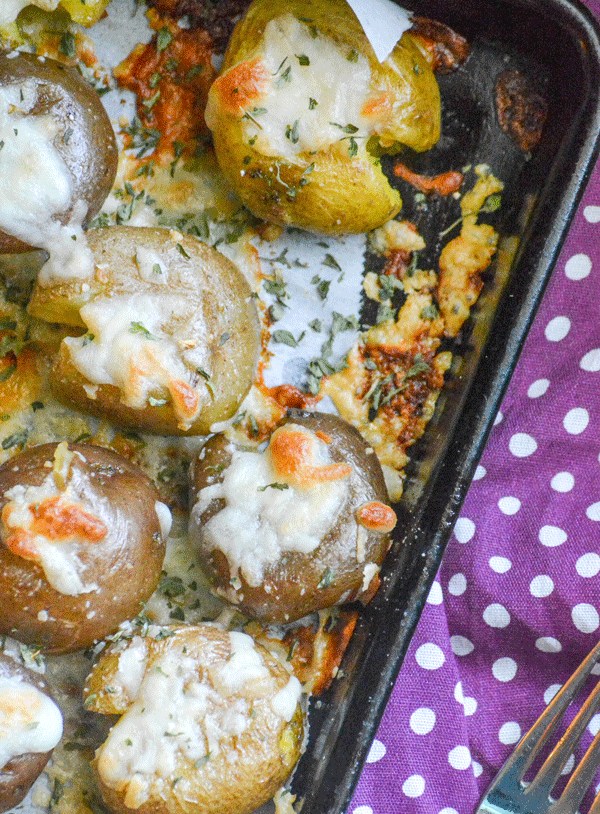 I didn't want the son to feel funny if I was the only Mom there, or if he was the only boy without his Dad with him. So I recruited my Mom, and we both rolled up ready to support him and get him started on this new adventure.
Boy, was I worried for nothing. There were Moms, Dads, Grandparents, brothers, sisters– everyone, and families of all kinds. I have never felt so much friendship or goodwill in any group atmosphere of the like.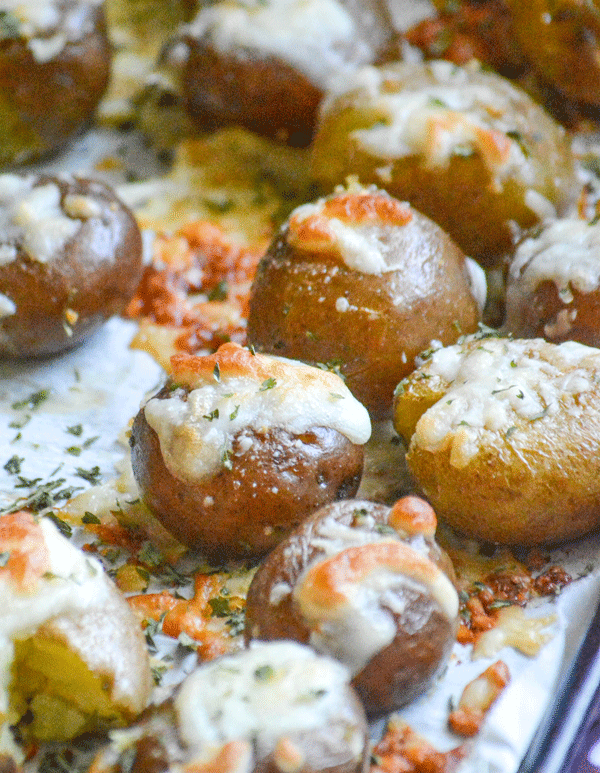 It was awesome. I can't wait for our first pack meeting next week! I've already got fundraisers and camping trips penciled in my planner.
Everyone was so friendly, one conversation flowed into the next. The excited squeals of a gymnasium full of elementary school boys playing together was the perfect background and ice breaker.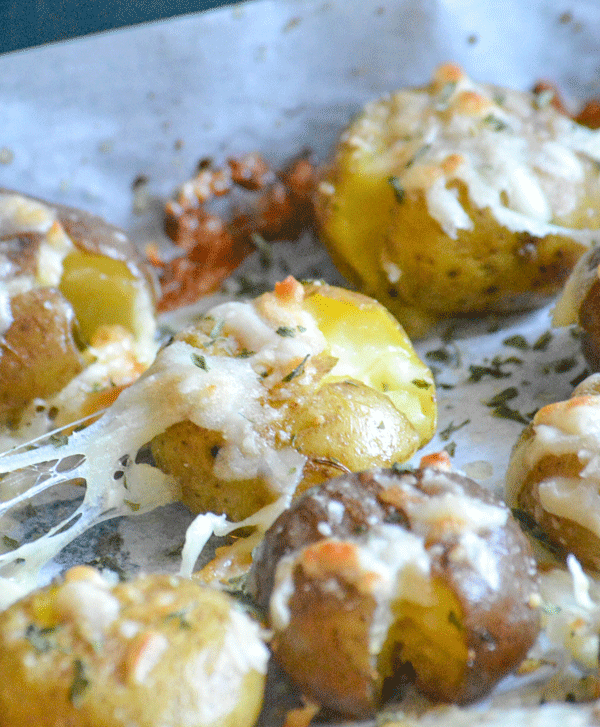 Then I managed a glance at the clock and realized it was already 8:30 and past the youngest son's bedtime. Much to the regret of both of us, we had to make our exits and hurry home for a quick shower and bed.
Needless to say, both of us were pleased as punch. I knew he had a good time when he didn't even grump or groan a single time throughout his bed time routine!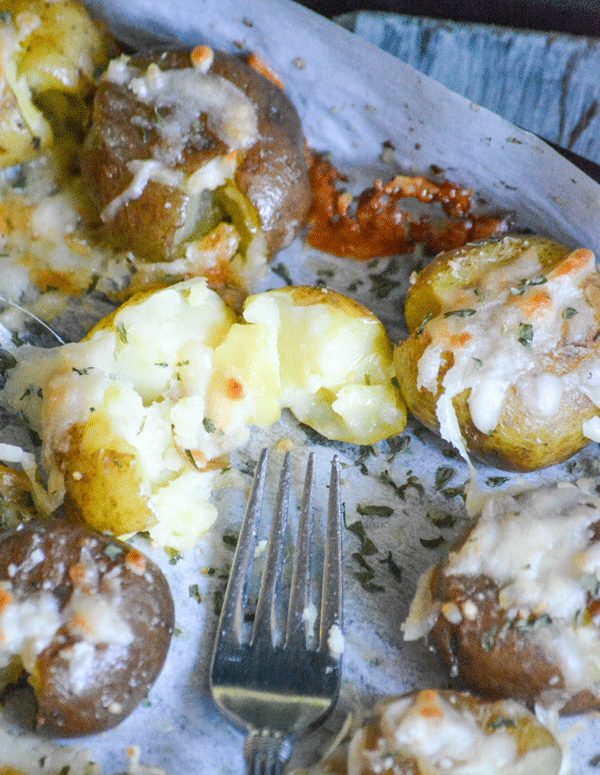 Either way, I've never seen a crowd thaw faster or come together than at that meeting- with one exception.
Any time there's a spread of truly good food on hand. It's the ultimate party trick.
Despite not needing any edible ice breakers at that meeting, the holidays are coming quickly.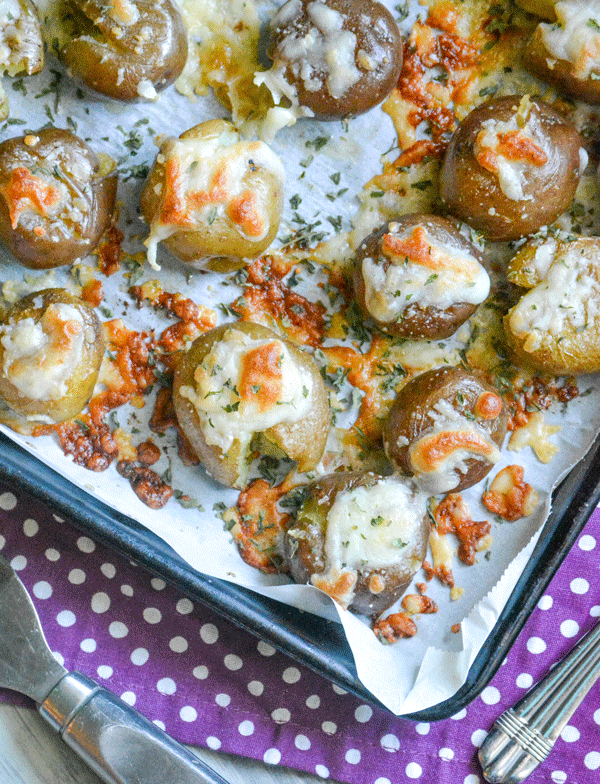 Whether you're hosting the main event, or you've been invited to attend someone else's Thanksgiving or Christmas soiree, it's good to be prepared. A solid side dish is a must.
We all know a roasted turkey or a spiral ham are typically the stars of the show, so having something that compliments but doesn't take away is essential. Even better? Cheesy Garlic Butter Cracked Potatoes are traditional enough to be welcome at any meal, and yet different enough to get everybody talking about how great they are in between helpings.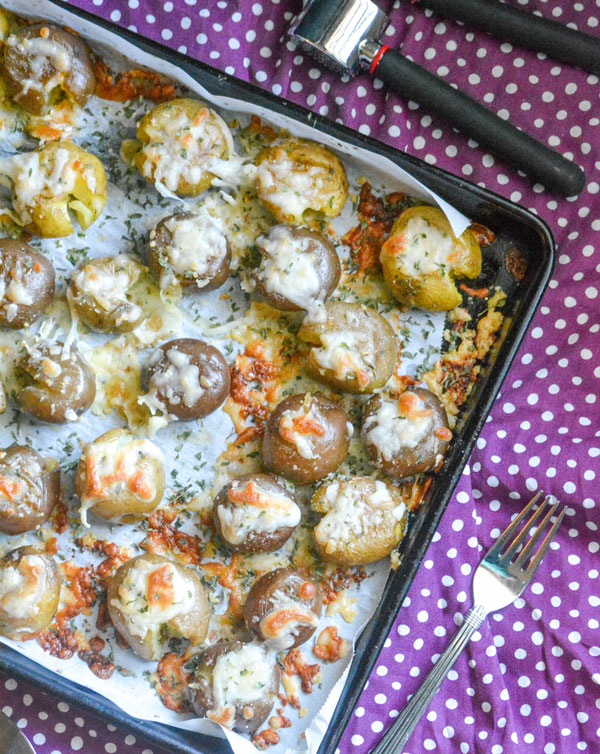 Need a great conversation starter? Ask your guests, or the other attendees, if they've ever imagined the offspring of a union between garlic bread and buttery roasted potato that's been wrapped in a blanket of melted cheese. Because that's exactly what they're in for with these Cheesy Garlic Butter Cracked Potatoes.
A little crunch on the outside, soft roasted potato inside, these baby potatoes are drizzled with melted garlic butter. Topped with melted mozzarella, they're broiled until golden brown. Each potato is a mouthwatering experience, that has to be eaten to be truly appreciated and enjoyed.
No one will be able to keep from commenting on them!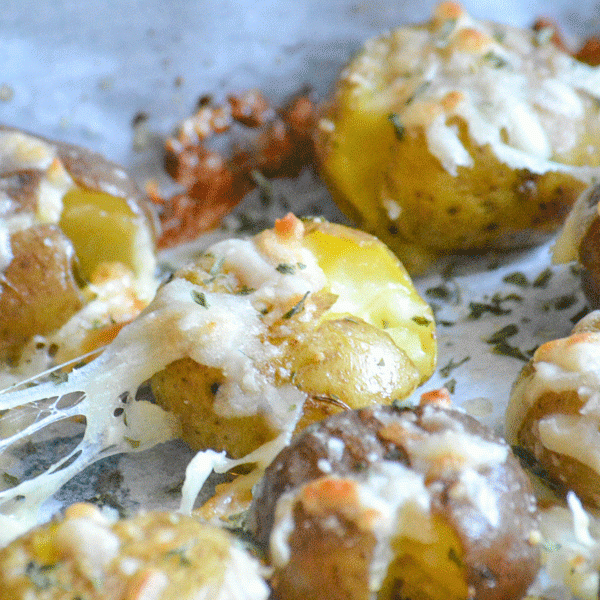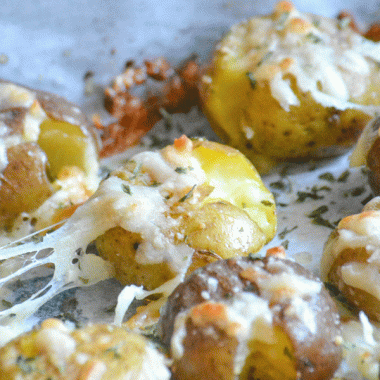 Cheesy Garlic Butter Cracked Potatoes
Lightly crisped, roasted baby potatoes are drizzled in garlic butter and topped with an ooey gooey cheesy crust.
Print
Pin
Rate
Ingredients
1 1/2

lbs

baby potatoes, washed, scrubbed, & dried

1/4

cup

butter

2

tsp

minced garlic

1/4

tsp

salt

2

tsp

dried parsley

1

cup

shredded mozzarella
Instructions
Add the potatoes to a medium sized pot. Fill the pot with enough water to cover the potatoes. Bring the pot of water to a boil, and cook the potatoes for 15 minutes.

Line a baking sheet with parchment paper, or lightly spray it with non stick cooking spray. Drain the potatoes completely, then transfer them to the prepared tray. Bake the potatoes at 400 degrees for 10 minutes.

In a small skillet, heat the butter over low heat until melted. Whisk in the garlic, and continue to cook for 2 minutes. Remove the skillet from heat, and whisk in the salt and parsley.

Remove the potatoes from the oven. Using the back of a fork, press down on each potato lightly, just until it's slightly squished and the skin has just cracked.

Drizzle the garlic butter evenly out over the potatoes. Sprinkle the cheese on top of them.

Return the potatoes to the oven, cooking for 10-15 minutes, or until it's bubbling and has just begun to turn golden brown. Serve them with your choice of entree, and enjoy!