This smoked sausage & pierogi skillet is a classic 20 minute meal. Busy parents deserve some help with short cuts, and this meal embraces that while also making it possibly to get a hot, cozy meal on the table. In less time than it takes for the kids to enjoy a single episode of their favorite cartoon, this cozy dinner's on the table.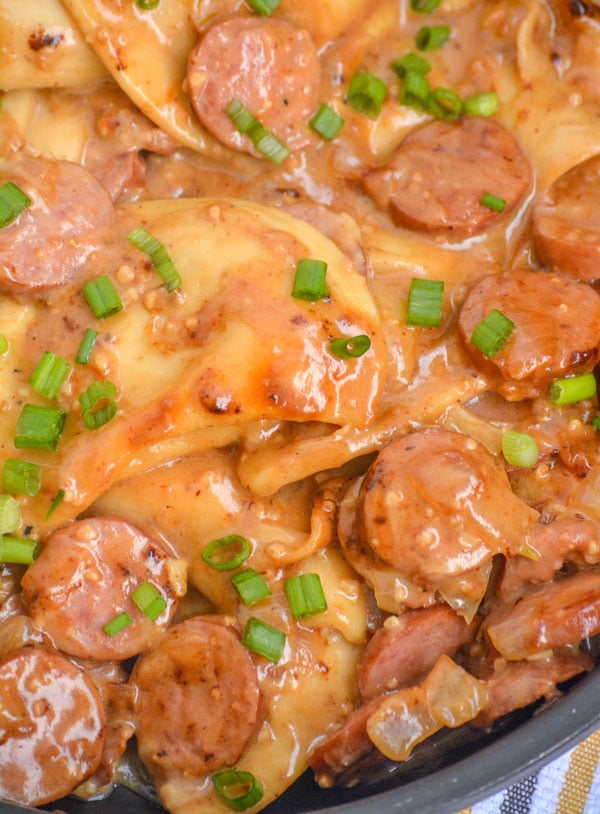 Adulting can be hard y'all. It requires discipline, and a bunch of other super adult-y traits. Parenting is even harder, and just adds more things to the proverbial plate. Both things I willingly took on. No regrets about either, but there is the bit about realizing that no matter how prepared you thought you were… surprise!
It was always bound to be harder than you thought. Thank goodness being a wife, and even more so being a Mama will always be the most rewarding jobs I'll ever have.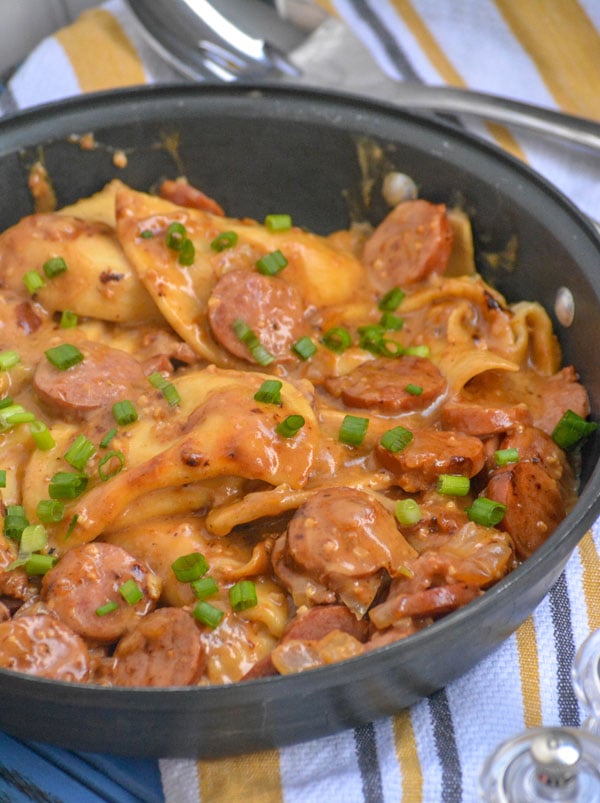 \
Knowing that, I always want to feel like I'm doing the best for my family. That includes what I choose to set on the supper table each evening. Of course, I want dinner to be healthy. I also want it to taste good. I even want it to please my pickiest eaters. Making it healthy & a real family flavor favorite can be tricky.
Add to that the fact that often I need it to be something fast fix too. By fast fix I mean, under thirty minutes. I know 30 minutes is a relatively median standard for dinner prep, but some nights I don't even have that kind of time. I need to breeze in the door, pull ingredients out of my freezer & fridge and still magically pull a meal together to serve in just 20 minutes. Yep, 20 minutes flat.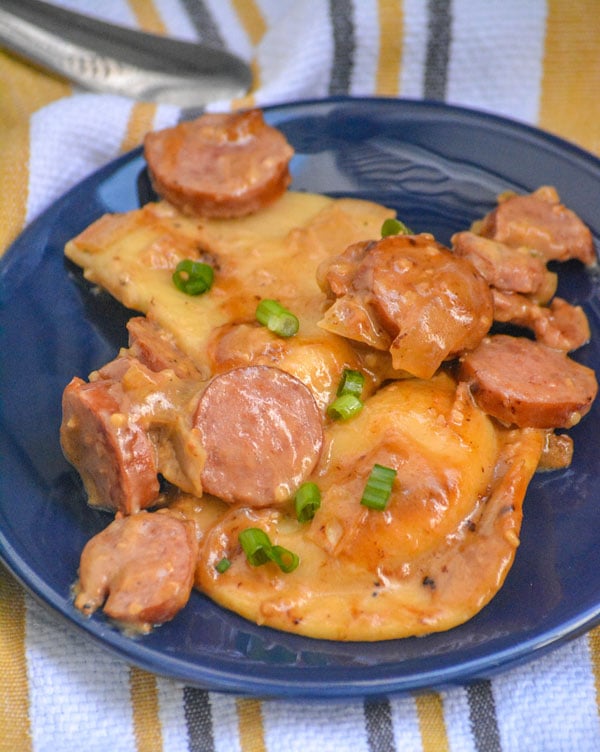 Thankfully, I have an arsenal of options- this Smoked Sausage & Pierogi Skillet chief among them. A couple others include my 15 minute taco pasta, 20 minute Chinese pork meatballs, & 15 minute, skillet beef barbecue sandwiches.
While I love the idea of serving my family happy, healthy, wholesome meals every night- that's not always an option. Some days I have all afternoon to slave over the stove. Others we've got less than an hour to get in and out, dinner digested and homework done in between. It's quite the juggling act.
Dinners around here end up being the same, all about balance. The balance between good for you, and good for getting on the table. I'm not ashamed to admit that I take full advantage of shortcuts when I can. It's the number one reason you'll find my freezer stocked with things like frozen pizza dough, prepped meats, and even frozen pierogi. Speaking of that pierogi, just a handful of other ingredients and you've got a full meal in a few minutes. 20, that magic number, to be exact.
Ingredients Needed For This Sausage & Pierogi Skillet:
frozen pierogi
butter
olive oil
smoked sausage
white onion
garlic
chicken broth
cornstarch
heavy cream
salt & pepper
It never ceases to amaze me how such a common handful of ingredients can come together in a single cast iron skillet to make meal time magic. They do though. In just a couple simple steps, we're gonna show you how to make a savory saucy smoked sausage meal in a single skillet.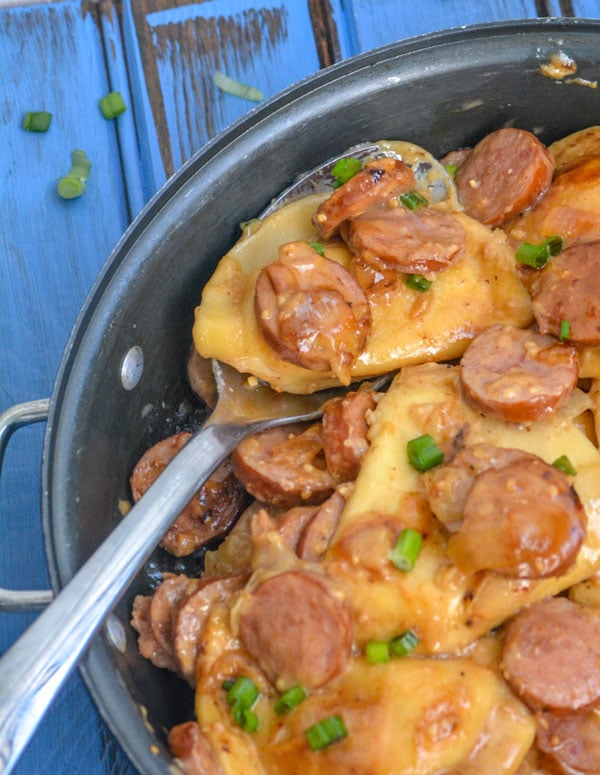 How To Make Sausage And Pierogi:
Cook the frozen pierogi per the package instructions. Strain, and set aside.
Cook the sausage & onion in a heated cast iron skillet seasoned with a mix of butter and olive oil. Stir them occasionally to ensure even cooking for about 5 minutes.
Stir in the garlic, cooking just until fragrant.
Add the pierogi to the skillet, stirring to coat, and cooking until they've begun to brown on both sides.
Whisk the broth & cornstarch together in a small bowl until smooth.
Add the broth to the skillet, and bring it to a simmer.
Let the mixture simmer for several minutes until it's thickened considerably.
Add the cream, stirring until completely incorporated. Let the sauce heat through.
Serve this immediately, and garnish with fresh green onions & shredded Parmesan cheese- if desired.
As promised, there's nothing complicated about this recipe. Simple ingredients with simple steps to follow. This pierogi skillet is a must make, and one I recommend every busy adult keeps locked in their regular meal plan rotation.
Tips And Tricks:
We used store bought frozen pierogi in these pictures, but we've made this recipe with homemade pierogi and it's just as yummy. The Hubs might argue even yummier if it's with his Mama's fresh pierogi.
The pierogi we typically use are the simple mashed potato stuffed kind, but mashed potato & cheese also taste great. You can really play around with this bit. Use your favorite.
Like the pierogi flavors, you can also play around with the smoked sausage. Other rope sausages like kielbasa, even andoullie sausage will work. Just know that while the end result will be delicious with any of them, some are more spicy than others.
Don't have chicken broth handy? You can sub vegetable broth or beef broth, although beef broth will yield a much stronger flavor in the sauce.
The recipe calls for yellow onion and that's not a mistake. Yellow onion caramelizes beautifully and also have a longer shelf life than their white & red counterparts. If you don't have yellow onions on hand, white onions do make a great substitute.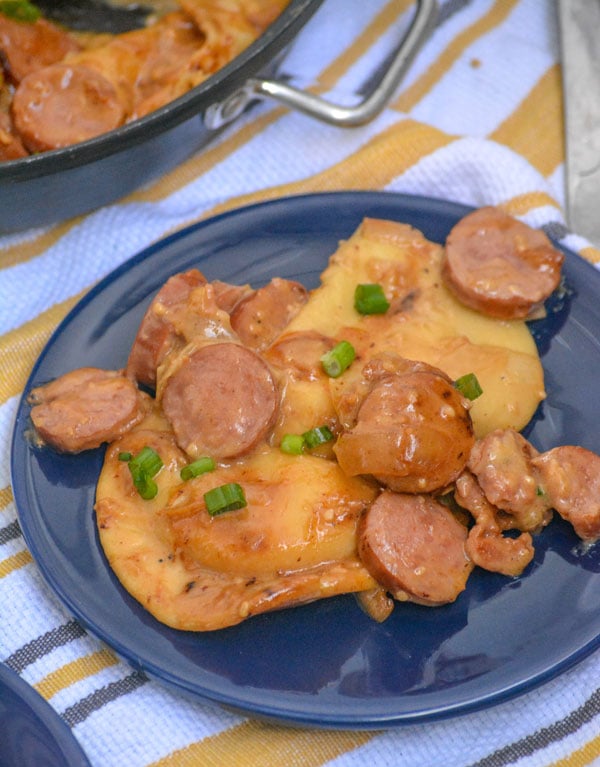 Mashed potato stuffed pierogi dumplings, caramelized onions, and thick coins of smoked sausage swim in a savory sauce in this easy recipe. Make it for an everyday dinner. Make it for company. One try and you'll soon discover, this smoked sausage & pierogi skillet is a go to meal for all occasions.
Other Tasty Ways To Use Pierogi: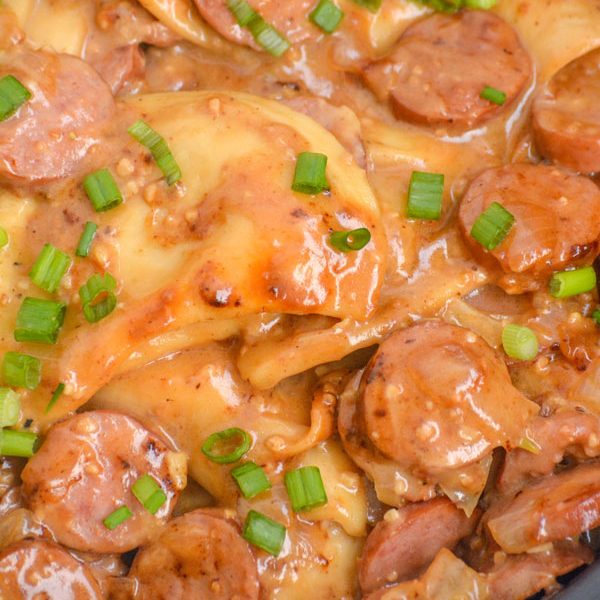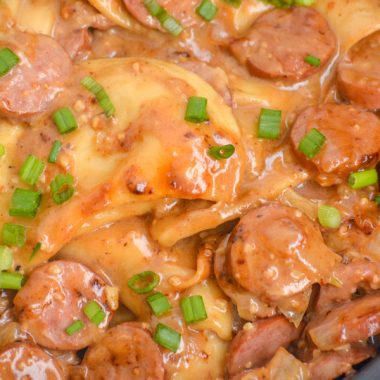 Smoked Sausage & Pierogi Skillet
A fast fix 20 minute meal, this comes together in a single skillet & features savory smoked sausage, fluffy pierogi dumplings, & caramelized onion in a simple cream sauce
Print
Pin
Rate
Ingredients
1

box

frozen pierogi

around 16.9 ounces

1

tbsp

butter

1

tbsp

olive oil

1

12 oz pkg

smoked sausage

1

medium

yellow onion

diced

1

tbsp

minced garlic

3/4

cup

chicken broth

1

tbsp

cornstarch

1/4

cup

heavy cream

salt & pepper

to taste
Instructions
Cook the frozen pierogi according to the packages instructions.

Heat a large cast iron skillet over medium high heat. Add the olive oil & butter. Add the sausage & onion, tossing them to coat. Cook, stirring ocassionally, for 5 minutes or until the sausage has browned and the onions are tender & just beginning to caramelize.

Stir in the garlic and let it saute for about 60 seconds- just until you can smell it.

Add the pierogi to the skillet, cooking and stirring until they've begun to brown a bit.

In a small bowl, whisk the broth and cornstarch together until the mixture's smooth. Don't leave any lumps behind. Pour the mixture into the skillet, and bring the broth to a simmer.

Let the mixture simmer, for two to three minutes, until it's noticeably thickened and clings to the back of a spoon.

Whisk in the cream, stirring until it's completely incorporated in the sauce. Let the sauce heat through, and remove the skillet from heat.

Garnish with freshly sliced green onions or fresh parsley, and a bit of Parmesan cheese (optional). Ladle onto plates and enjoy!
Nutrition
Calories:
132
kcal
|
Carbohydrates:
6
g
|
Protein:
1
g
|
Fat:
12
g
|
Saturated Fat:
6
g
|
Cholesterol:
28
mg
|
Sodium:
196
mg
|
Potassium:
87
mg
|
Fiber:
1
g
|
Sugar:
1
g
|
Vitamin A:
305
IU
|
Vitamin C:
5.8
mg
|
Calcium:
22
mg
|
Iron:
0.1
mg