Homemade corn dogs let you enjoy this classic county fair favorite all year long at home. Kids and adults both love this fun corn dog recipe and will gladly gobble them up anytime you serve them. Easy to make and so much more delicious than frozen corn dogs!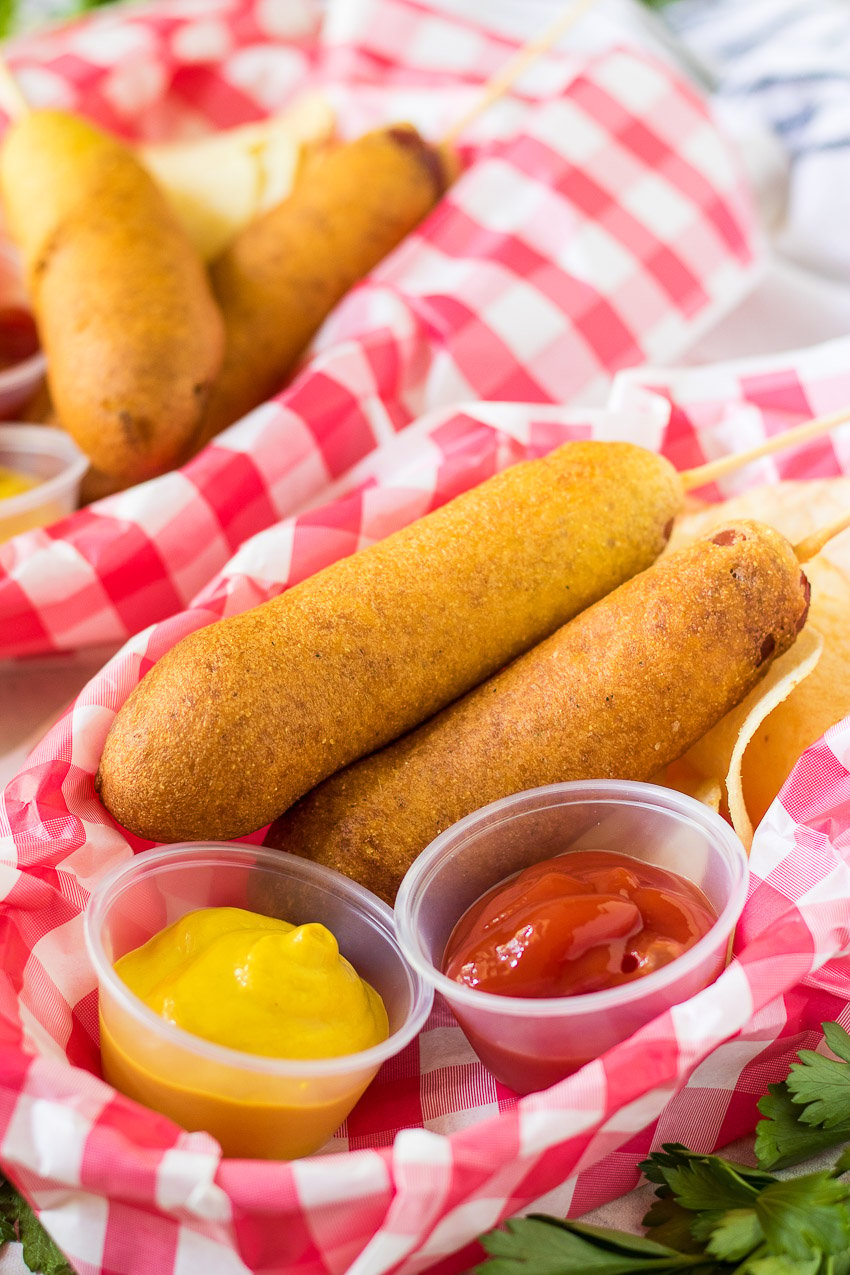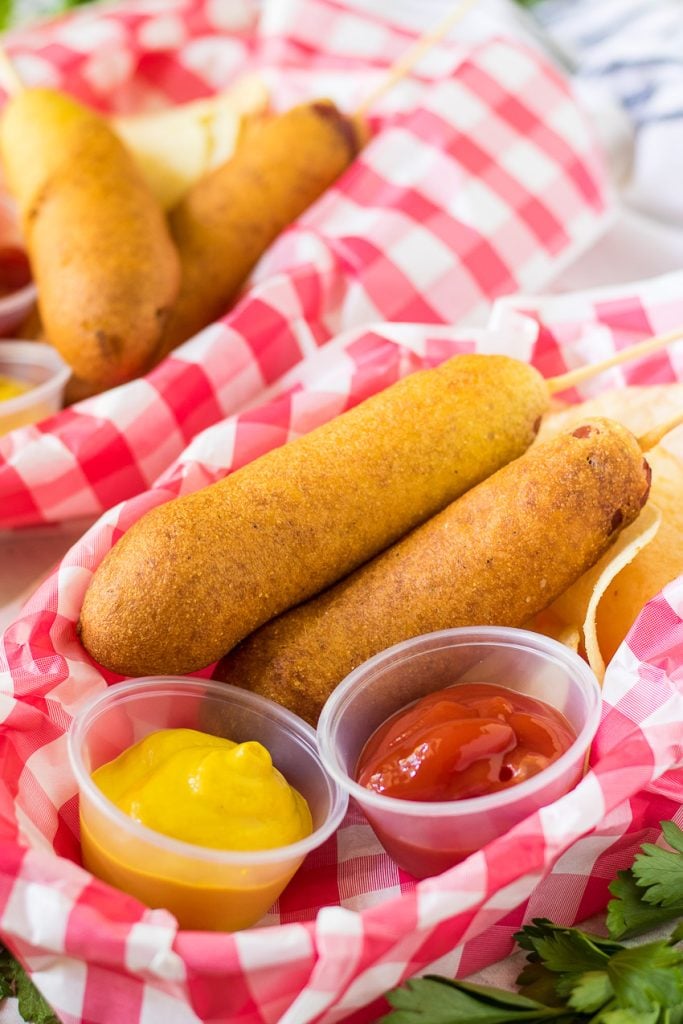 Corn dogs are such a fun food to eat. Maybe because they are on a stick, and anytime you eat food on a stick it's instantly at least 10 times more fun than eating that food without it being on a stick.
Maybe it's because food on a stick invites you to play with it. Of course, this may only happen in a family full of boys, but let's just say corn dog sword fights are a thing that may happen occasionally.
Plus, food on a stick is just so dippable. It practically begs you to dip it into ketchup, mustard, or even cheese sauce.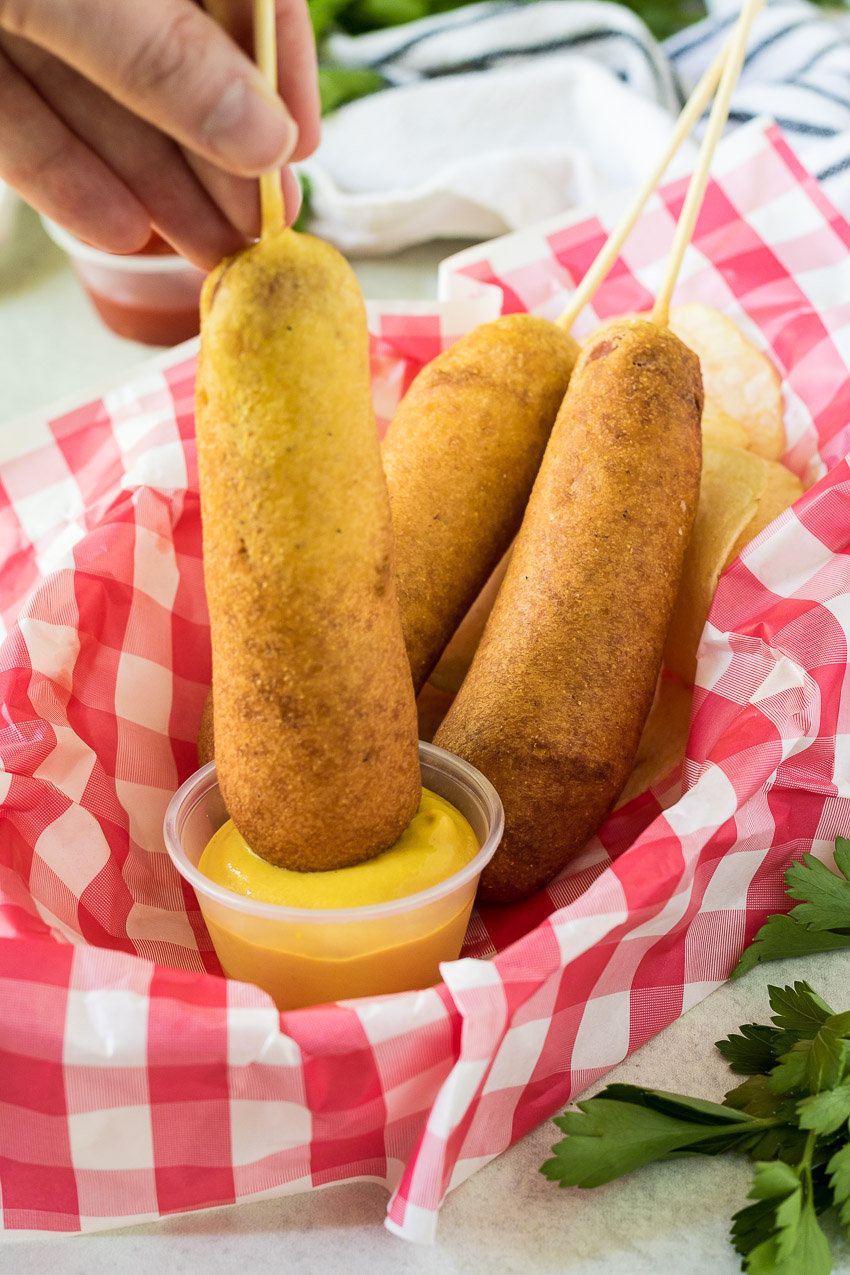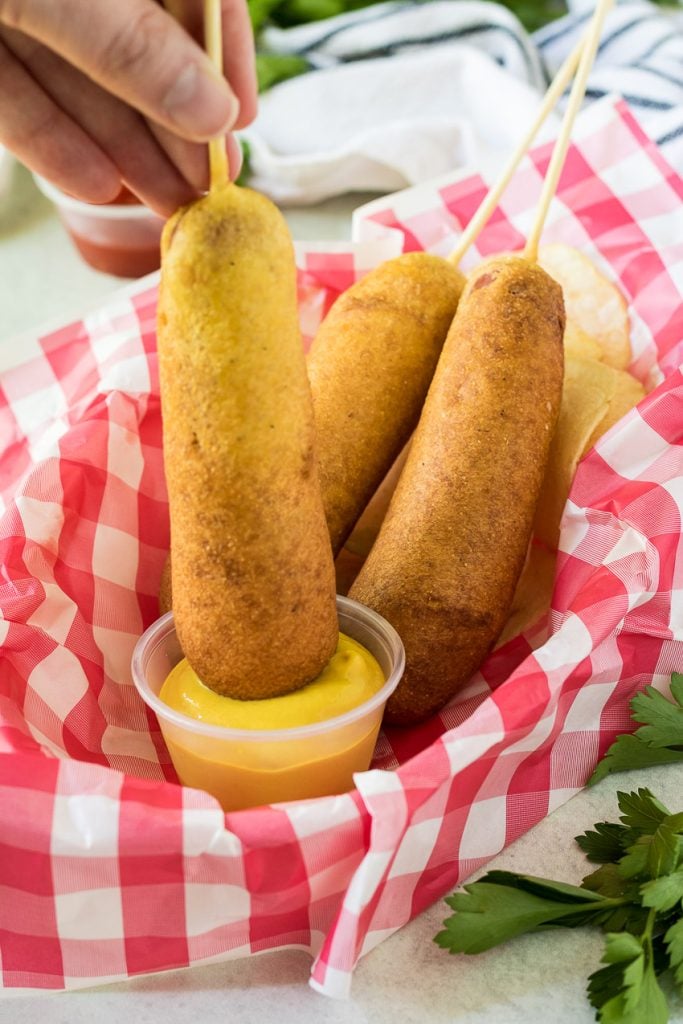 Classic Fair Food at Home! How to Make Corn Dogs
Making corn dogs is all about the corn bread batter.
To make the batter start by mixing the dry ingredients together in a big bowl.
When you've whisked together the flour, cornmeal, baking powder, sugar, and salt and pepper, add the egg and milk to the bowl. Again whisk it until just combined, being careful not to over mix.
When the batter is combined, you can get ready to dip your corn dogs.
You can also swap the milk for buttermilk. A lot of people swear by buttermilk in their batter. I tend to use regular milk because I've always got it on hand, but buttermilk would create a richer batter.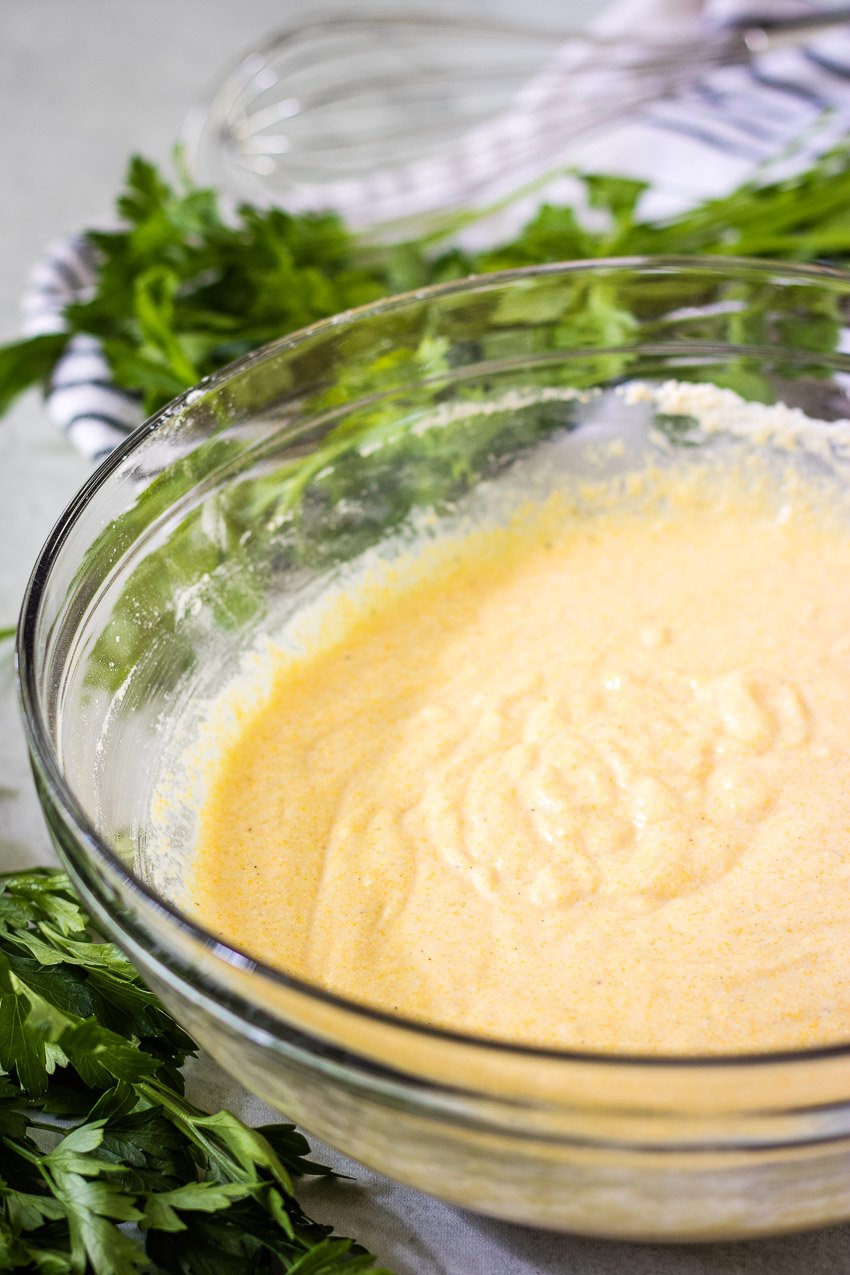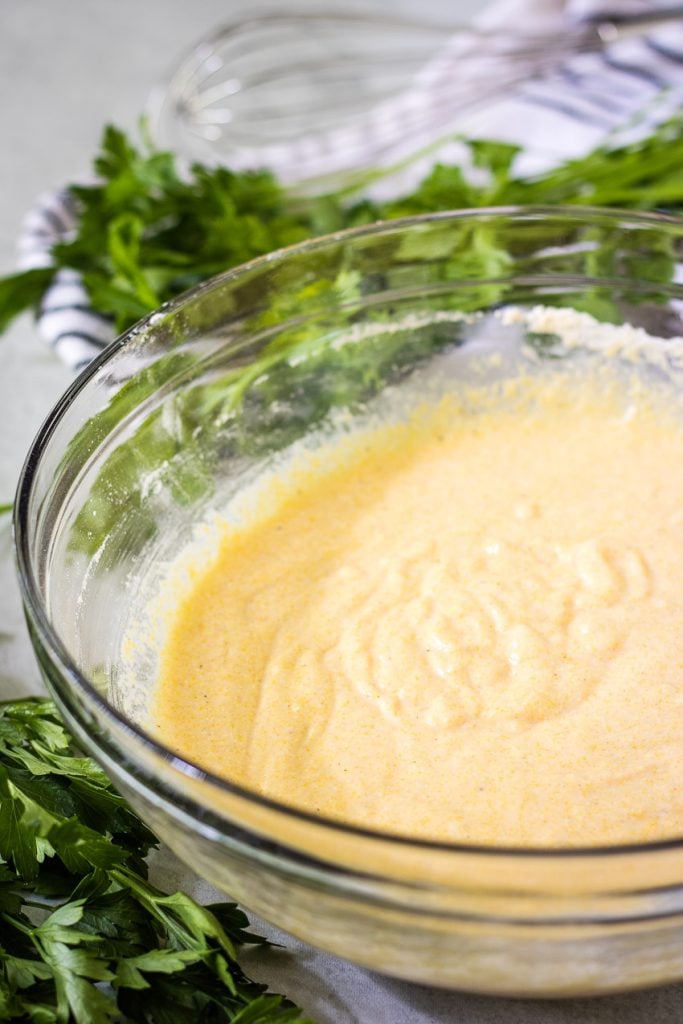 Once the batter comes together, heat your oil up in a large pot. You'll want to heat it until a cooking thermometer in the oil reads 350.
While you're waiting for the oil to come up to temperature, you can insert the skewers into each hot dog.
When you have all the sticks in the hot dogs, dip the hot dogs into the batter.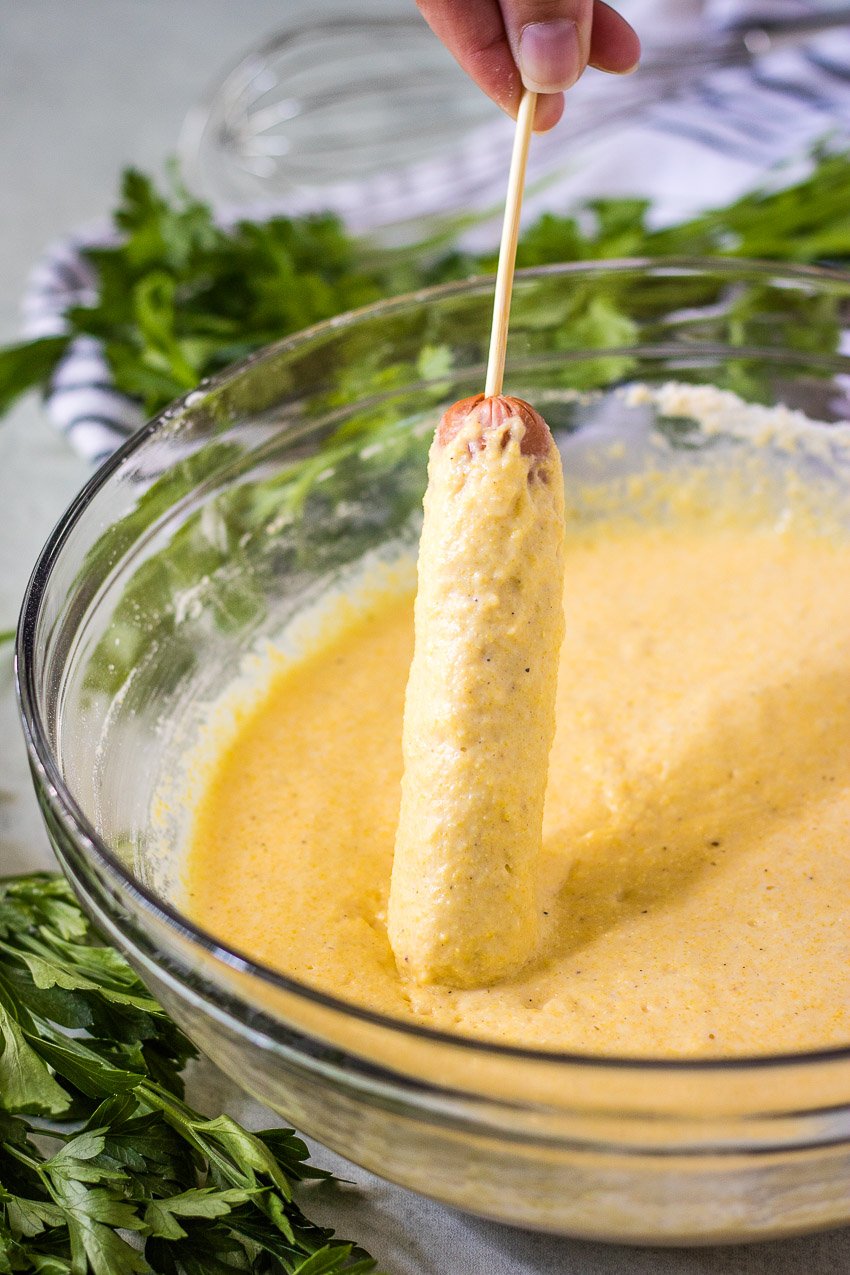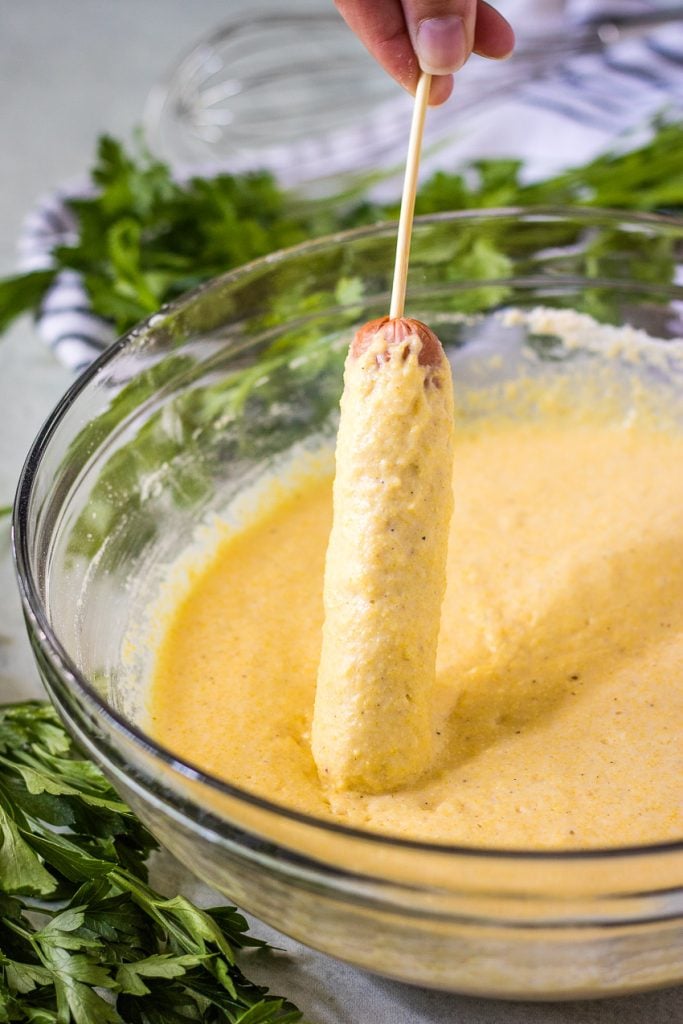 Battering Your Corn Dogs: Tips and Tricks
The trickiest part of making homemade corn dogs is coating them in the batter. You want the corn dogs to get evenly coated.
To do this, I like to roll the hot dogs from side to side after I dip them in the batter to let any bigger drips drip off.
I tend to dip my hot dogs in the batter in the same bowl I mixed it up in. But I know when the sons make this recipe, they add the batter to a tall glass and dip them in that. They swear by this method.
Rolling the hot dogs in the batter also helps evenly distribute the batter so each part of the corn dog will be covered in the delicious, slightly sweet breading.
I also like to work in very small batches, doing no more than 2-3 hot dogs at a time. This way the batter doesn't all slide off while you're dunking the rest of them.
Plus, cooking the corn dogs in smaller batches lets you be absolutely certain that you will cook them evenly through and have no spots of under cooked batter.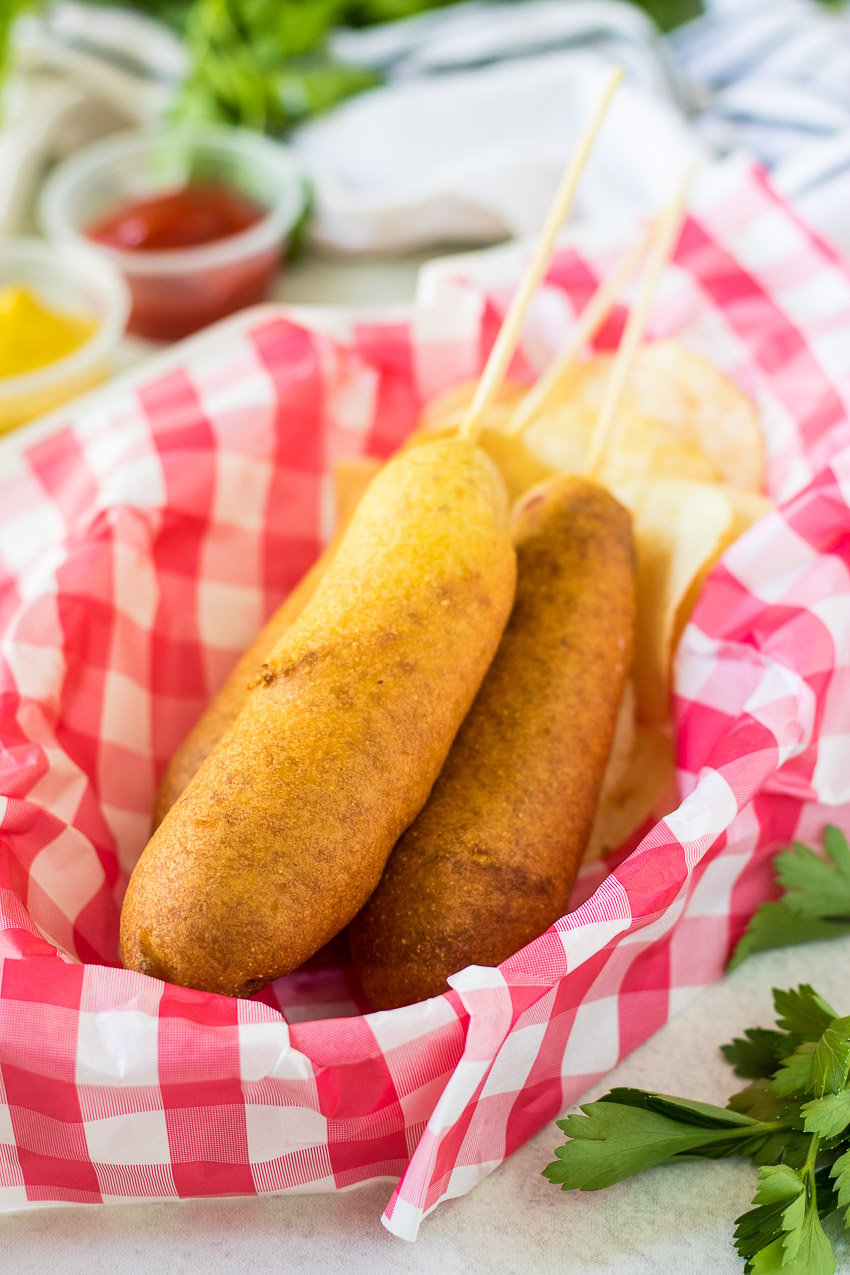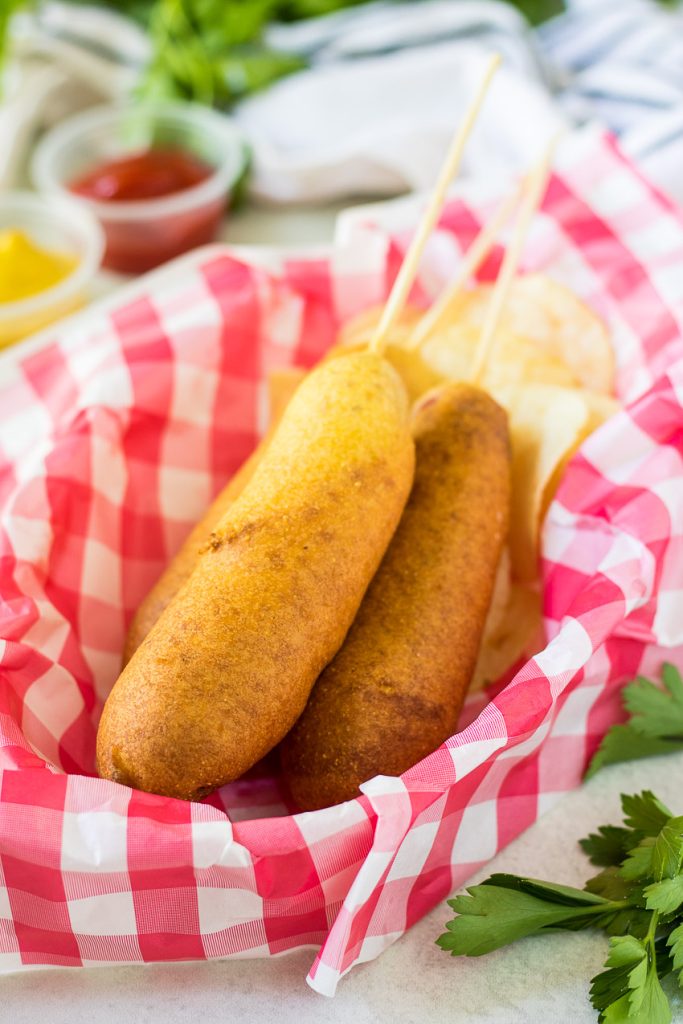 Saving Some For Later- Can You Freeze Homemade Corn Dogs?
When the corn dogs are done frying, transfer them to a paper towel lined plate or platter to allow any excess grease to drain away. This will keep the corn dog crispy. Nobody likes a soggy crust!
Once the grease has been drained away, transfer the cooked corn dogs to a baking sheet lined with parchment paper. Place them, on the sheet, in the freezer until frozen through.
Transfer the frozen corn dogs to a gallon sized zip locking bag. Seal the bag tightly, squeezing out any excess air as you do so.
These homemade corn dogs will keep in the freezer for up to three months.
When you're ready to heat & eat, simple remove the desired number of corn dogs. Place them on a lightly greased baking sheet, and bake them at 375 degrees for 16-20 minutes- until heated through.
What to Serve with Homemade Corn Dogs
You can serve homemade corn dogs all on their own. I like to serve them up with ketchup and mustard.
If you want to take them to the next level, I love them with this spicy smoked ketchup or homemade cheese sauce.
It's also super fun to serve them with other homemade classic fair food. I would pair them with: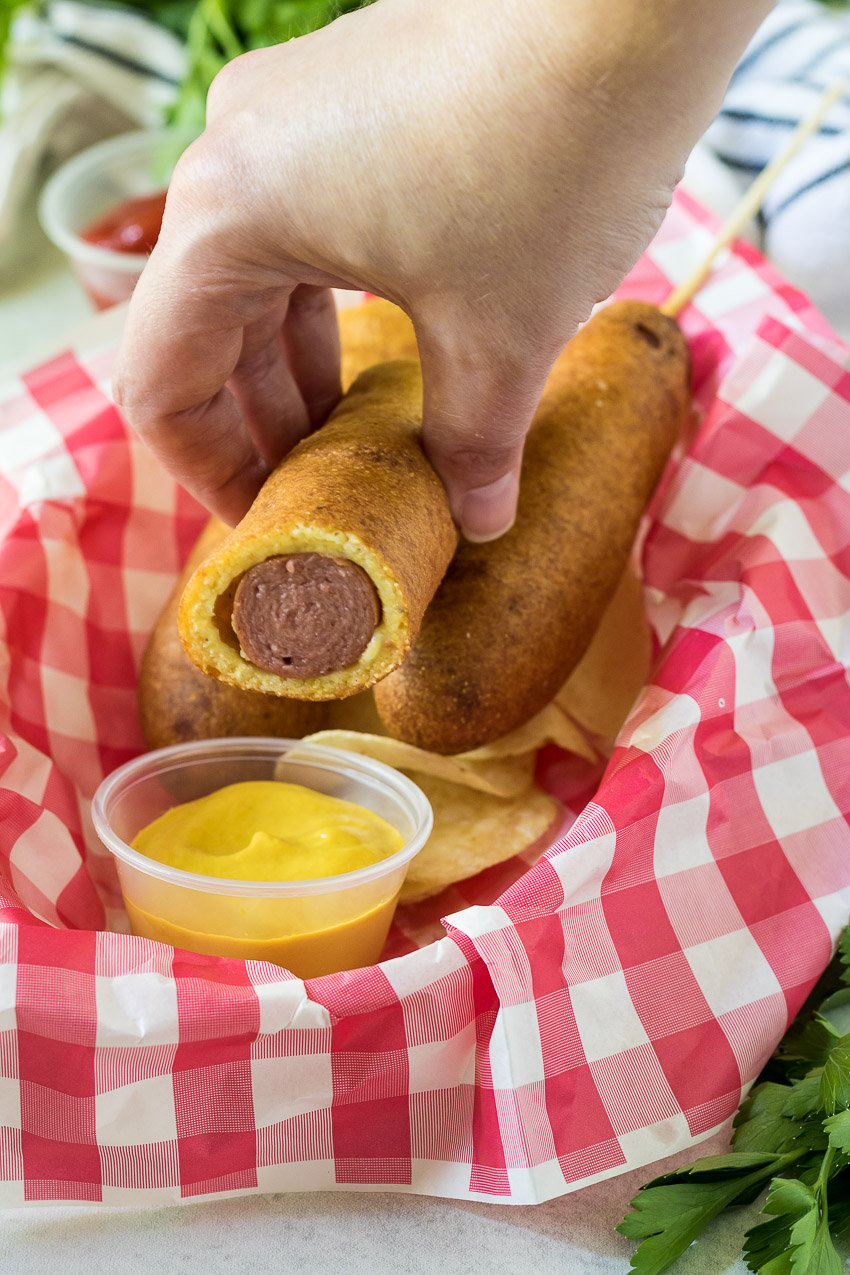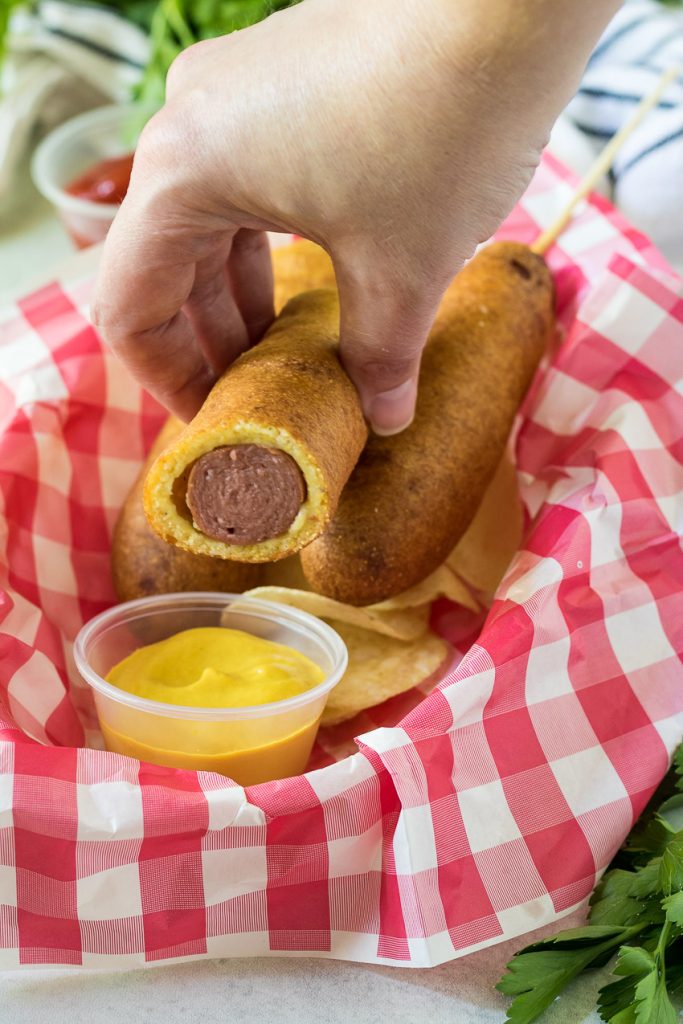 Whatever you serve them with, these homemade corn dogs are a fun way to enjoy a childhood classic. Your whole family will beg you to make these corn dogs over and over again.
If you've tried these EASY HOMEMADE CORN DOGS, or any other recipe on my site, let me know in the comment section how it turned out, we love hearing from our readers! You can also follow along with me on PINTEREST, FACEBOOK, and INSTAGRAM to see more amazing recipes and whatever else we've got going on!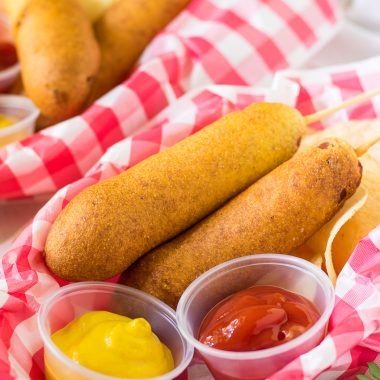 Easy Homemade Corn Dogs
Did love corn dogs as a kid? We did then, and still enjoy them with this easy recipe for the battered classic fried hot dog on a stick.
Print
Pin
Rate
Ingredients
1

cup

stone ground yellow corn meal

1

cup

all purpose flour

salt & pepper

to taste

1/4

cup

sugar

4

tsp

baking powder

1

egg

1 1/8

cups

milk

vegetable oil

for frying

2

16 oz pkgs

beef hot dogs

16

long

wooden skewers
Instructions
Add the dry ingredients to a large mixing bowl. Whisk them together until evenly combined.

Pour in the milk & crack the egg into the bowl. Whisk the mixture again, just until the batter has come together.

Add the oil to a large pot, and heat until a thermometer reads 350 degrees Fahrenheit.

Insert a skewer into the center of each hot dog until all the hot dogs are skewered.

Dip the hot dogs into the batter, rolling them from side to side until they're evenly covered. Let any major excess batter drip off, but don't wait too long.

Working with 2-3 battered dogs at a time, cook them in the hot oil until the batter's set and they're golden brown- about 3 minutes or so.

Remove the fried corn dogs to a paper towel lined plate to drain them of any excess grease. Repeat until all the dogs are fried.

Serve them warm with ketchup & mustard, for dipping.
Nutrition
Calories:
189
kcal
|
Carbohydrates:
36
g
|
Protein:
5
g
|
Fat:
3
g
|
Saturated Fat:
1
g
|
Cholesterol:
24
mg
|
Sodium:
29
mg
|
Potassium:
386
mg
|
Fiber:
2
g
|
Sugar:
8
g
|
Vitamin A:
85
IU
|
Calcium:
152
mg
|
Iron:
2
mg