Take all the work out of your favorite potatoes. Add in some ground beef, extra seasonings, and copious amounts of cheese? And these Slow Cooker Beef & Potatoes Au Gratin are a hearty meal the whole family will love.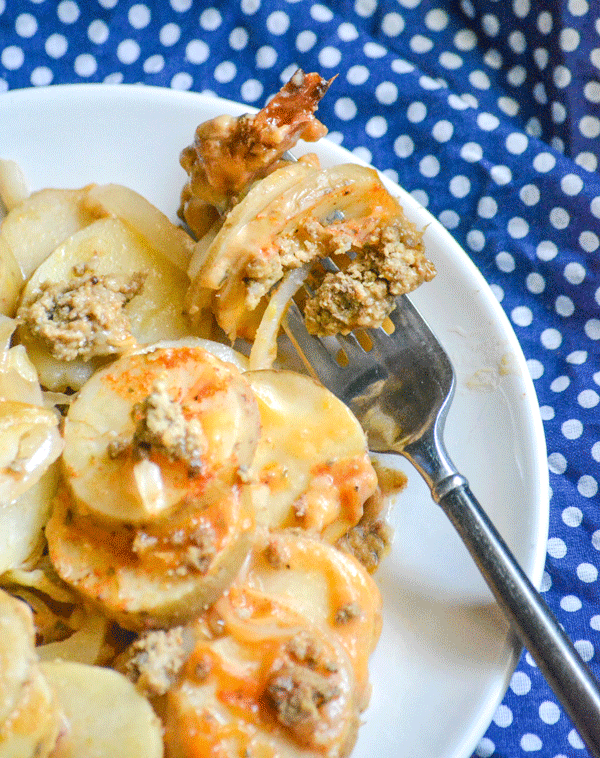 There are days where I love my crockpot. Every day, I like my crockpot.
Then there are the days I feel like I should get down on bended knee and recite an ode for the ages to that epic electric machine.
Not like in some odd worshipy, check my into the loony-bin way. More like, this machine is a worker of practical miracles and even-though-i-know-its-an-inanimate-object-that-cant-actually-hear-me I feel an undeniable urge to sing it's praises.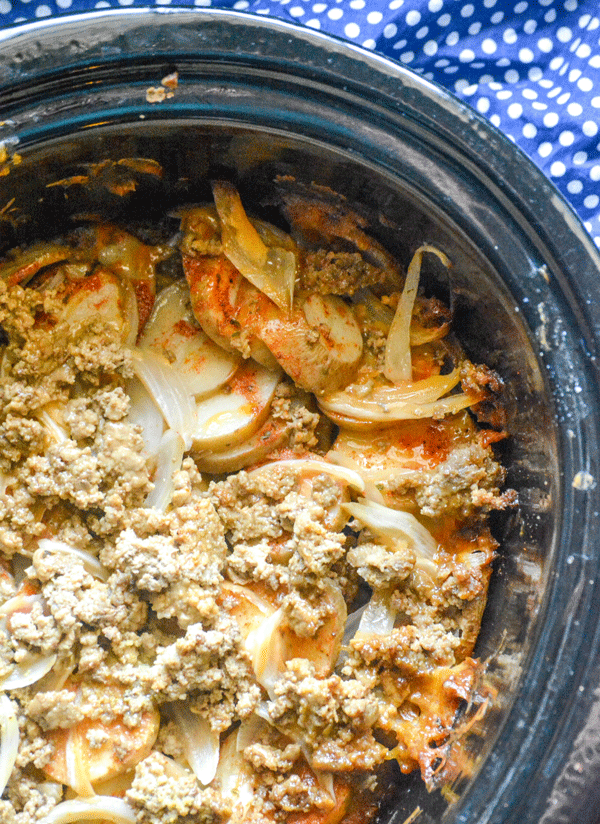 Hold on just a minute. Don't write me off as crazy just yet.
This deep dish, slow cooker takes a meal (yup, a full meal) hours sweating/slaving in the kitchen, and makes it all in one pot while I go about my day.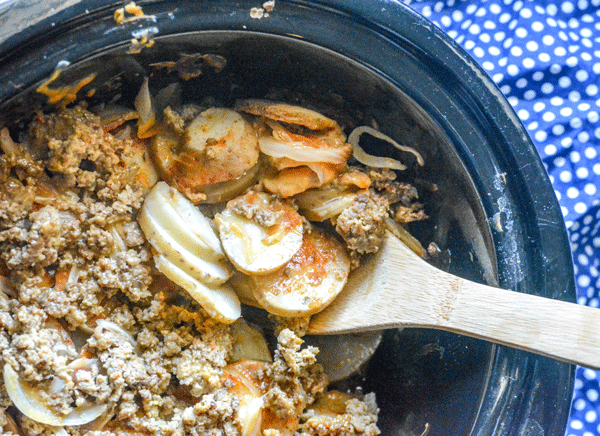 Not only does it unchain me from the bonds of my kitchen and my familys' voracious appetites, it frees me from my entire house I so choose.
Everything prepped, ready, into the pot. Set it, forget it, and BOOM– dinner's ready in about 8 hours, regardless of whatever else I have or haven't done that day.
Talk about liberating.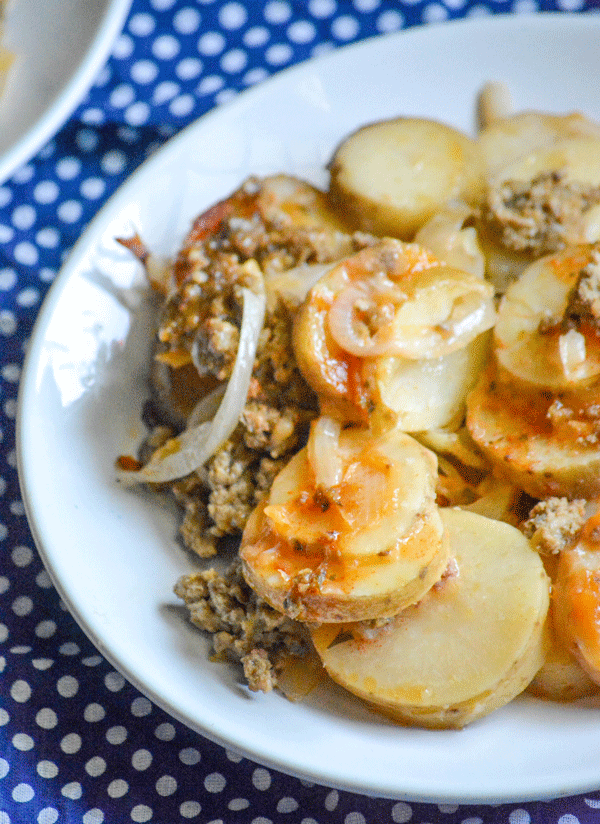 If only I had another machine that ran on the same principle and I came home to folded laundry and matched socks.
I mean, I've got one for everything but putting away my dishes. And there's another for cleaning my floors. Why not for this last chore on my 'Things I Hate To Do' list??
Who knows. Maybe I should patent this idea? Maybe it'll be on the market by the time my kids have kids.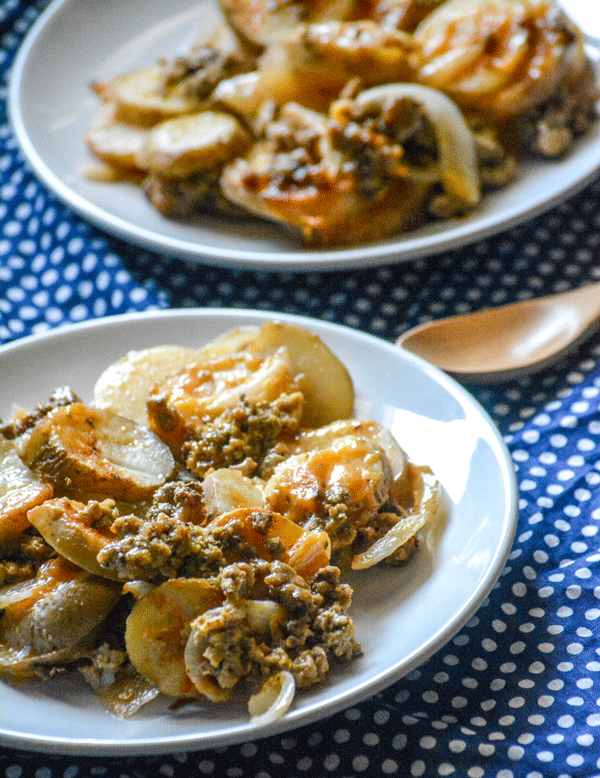 Cheesy Au Gratin Potatoes is one of those dishes I mentioned earlier that took me hours of prepping and cooking. It was a show stopper at holiday dinners, and the whole family loved it whenever it would grace our supper table.
But it was work, and it took time.
Thankfully, my BFF- the crockpot- stepped in and made it almost effortless, and with a few alterations I even managed to turn one of our favorite side dishes into a complete main meal.
Slow Cooker Beef & Potatoes Au Gratin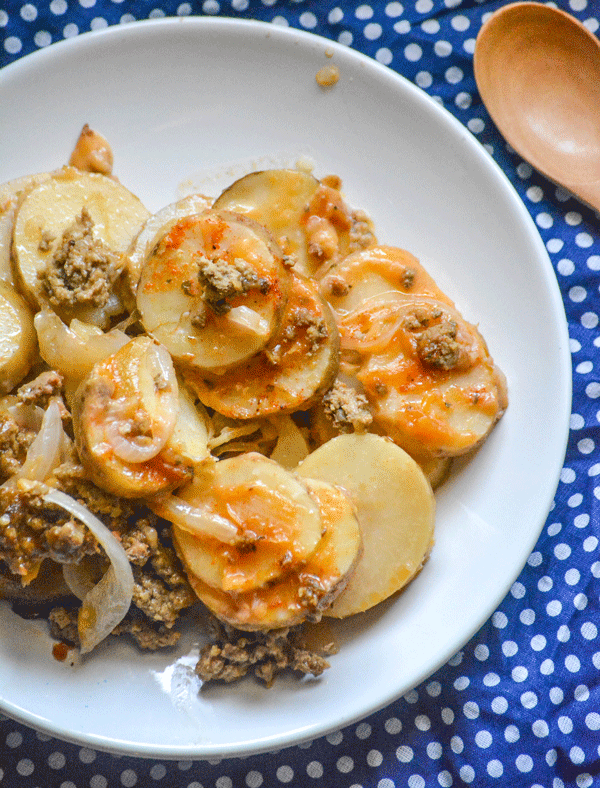 Thinly sliced, seasoned potatoes are layered with ground beef and shredded cheddar cheese for a hearty family-friendly meal that's slow cooked to perfection.
The same au gratin potatoes you love, without all the extra work, and upgraded to an all in one meal. Just like a slow cooker, this Slow Cooker Beef & Potatoes Au Gratin recipe should be in everyone's kitchen.
If you've tried this SLOW COOKER BEEF & POTATOES AU GRATIN, or any other recipe on my site, let me know in the comment section how it turned out, we love hearing from our readers! You can also follow along with me on PINTEREST, FACEBOOK, and INSTAGRAM to see more amazing recipes and whatever else we've got going on!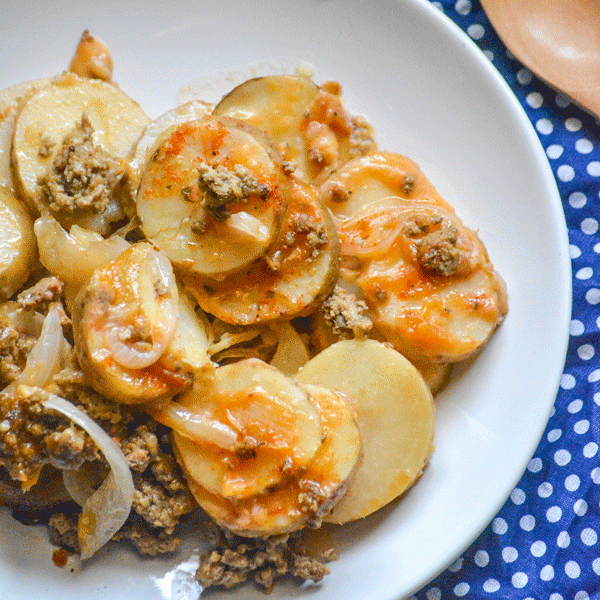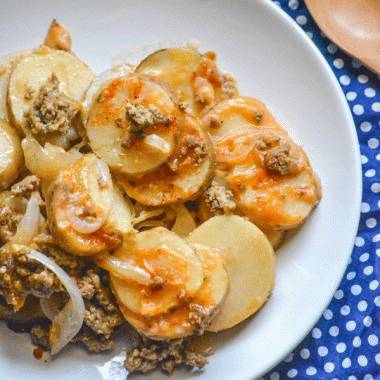 Slow Cooker Beef & Potatoes Au Gratin
An easy, hearty family meal made in the convenience of your slow cooker.
Print
Pin
Rate
Ingredients
1

lb

ground beef

3

lbs

russet potatoes, washed, peeled, and sliced into 1/4" coins

1

cup

thinly sliced white onion

1

tsp

smoked paprika

1/2

tsp

garlic powder

1

tsp

parsley

salt & pepper, to taste

3

cups

shredded sharp cheddar cheese

2/3

cup

chicken broth
Instructions
In a skillet over medium high heat, brown the ground beef- stirring and breaking up as it cooks. Drain, return to the skillet, and set aside.

Add the seasoning to a small prep bowl, stir them together until evenly combined.

To the bottom of your slow cooker, add half of the potatoes in an even layer. Spread half of the sliced onions evenly out over the potatoes. Sprinkle half of the seasonings evenly out over top. Add half of the meat in an even layer, followed by the cheese. Repeat the layers.

Slowly pour the chicken broth evenly out over the layers.

Cover and cook the casserole on high for 4 hours without removing the lid. Resist the temptation, and trust me when I say that if you do, the heat lost in the process will prevent the potatoes from getting soft.

Turn the slow cooker off, and let the casserole 'rest' for 3-5 minutes before serving.
Nutrition
Calories:
613
kcal
|
Carbohydrates:
45
g
|
Protein:
32
g
|
Fat:
34
g
|
Saturated Fat:
18
g
|
Cholesterol:
113
mg
|
Sodium:
510
mg
|
Potassium:
1273
mg
|
Fiber:
4
g
|
Sugar:
3
g
|
Vitamin A:
730
IU
|
Vitamin C:
16.7
mg
|
Calcium:
457
mg
|
Iron:
4
mg