It doesn't get anymore original than baked beans for the original, official side dish of Summer barbecues & tailgating season. Shake things up a bit, upping the flavor factor with these easy slow cooker baked beans with bacon. Your guests will thank you, and beg for your recipe- over & over again!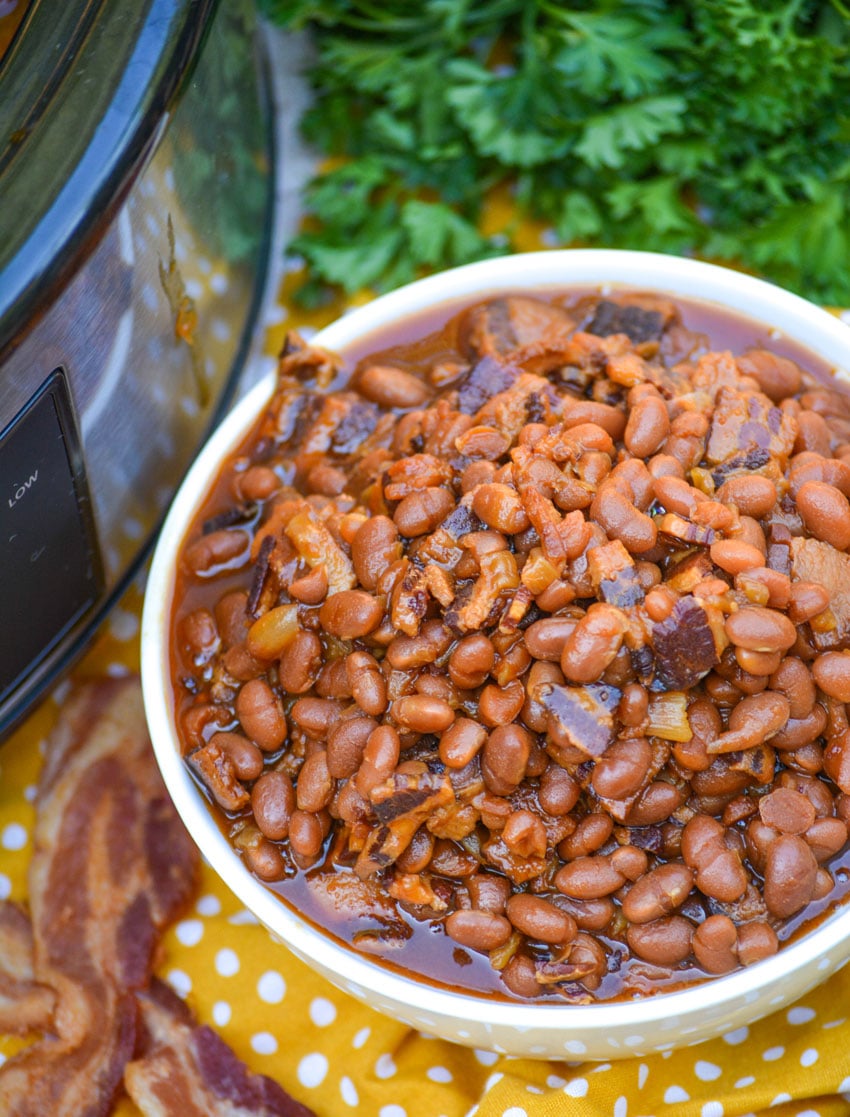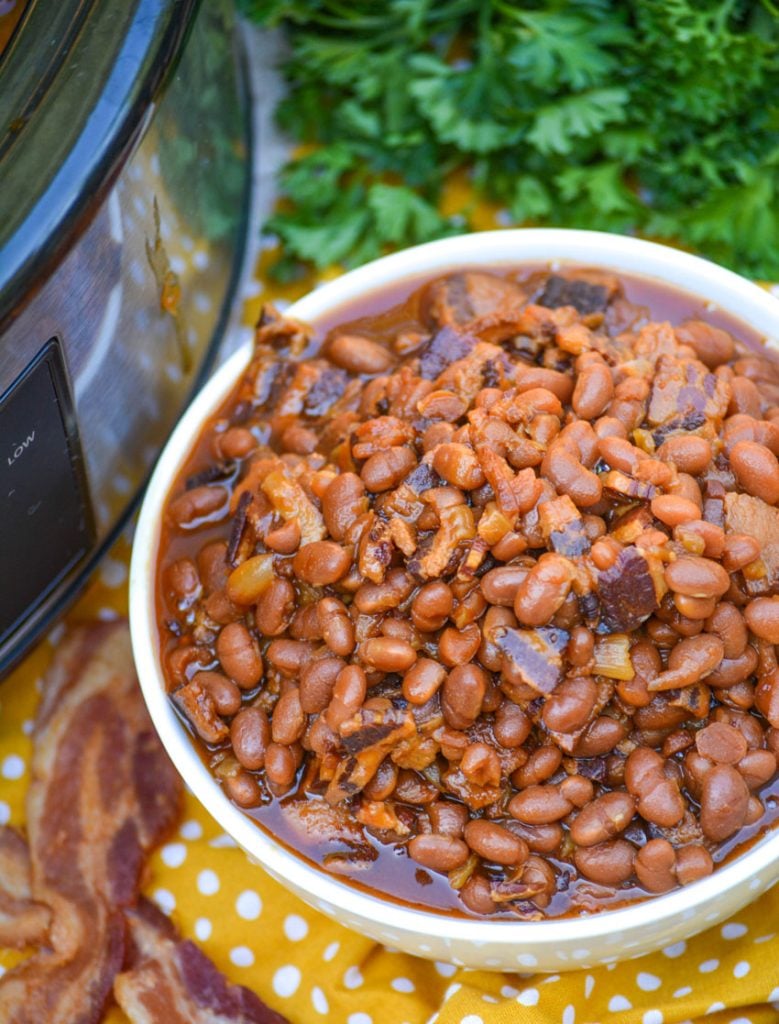 Hard to believe, but Summer's quickly coming to an end around here. That means we're trying to squeeze as many backyard barbecues, picnics, & potlucks into the schedule as possible before school & the faster paced calendar year begins.
It's also a time where recipes tend to blur for me. The kitchen becomes a melting pot, and a fine line exists between what's appropriate for Summer and what was born to be served in Fall.
It may seem a bit off at first, but consider Fall is the official start of Game Days & tailgating season. A lot of what we look forward to at those parties & events is also the same stuff the graces any well dressed picnic table.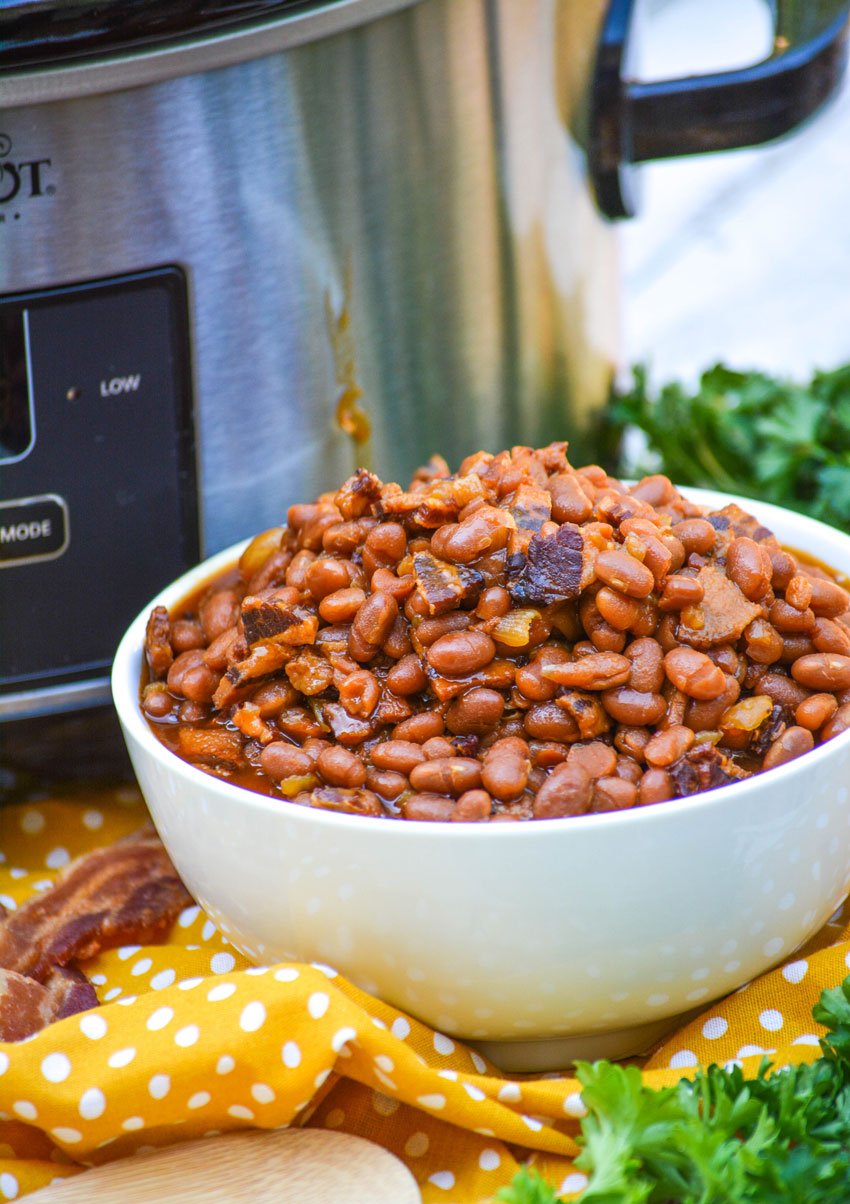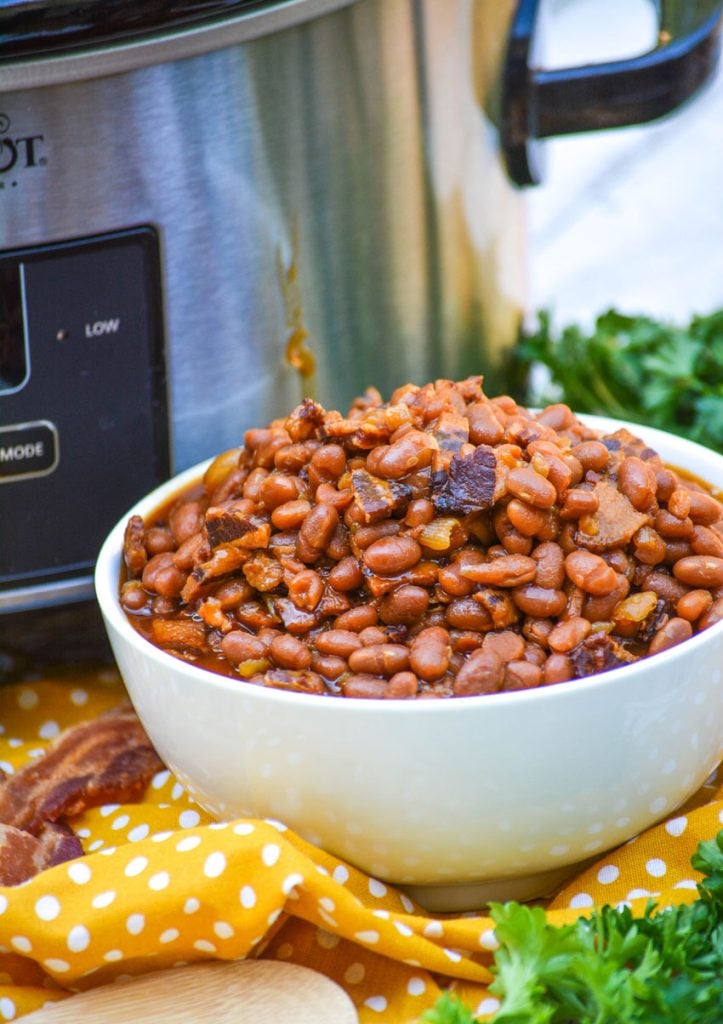 It makes perfect sense when you think about it too. Both tend to include easy recipes fit for a crowd. More often than not a grill is involved. Meaning that regardless of the particular main meat (or meats) you're serving, side dishes are necessary and pretty standard stuff.
Think potato salads, french fries, dips, etc. With one notable exception. I've found that Summer sides seem to be more traditional, more standard in comparison to those we love during Football season.
I can use potato salad as a perfect example. Take Grandma's Simple Southern potato salad for example. This is a family favorite and is pretty much standard issue at any function, even Easter dinner. It's simple, but delicious.
During football season though, the tailgating table can get a little extra. Those dishes need to have some extra mmph to them. For those events, I'm bringing my loaded baked potato salad or even this healthier buffalo flavored version.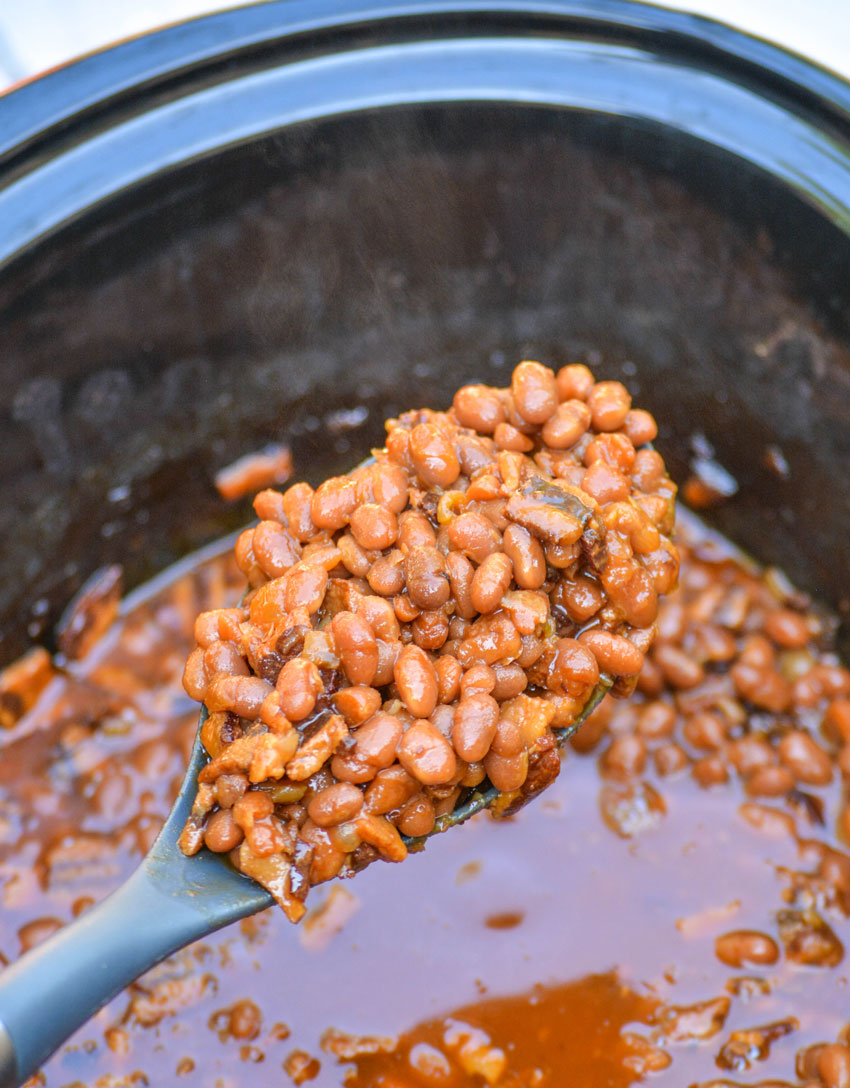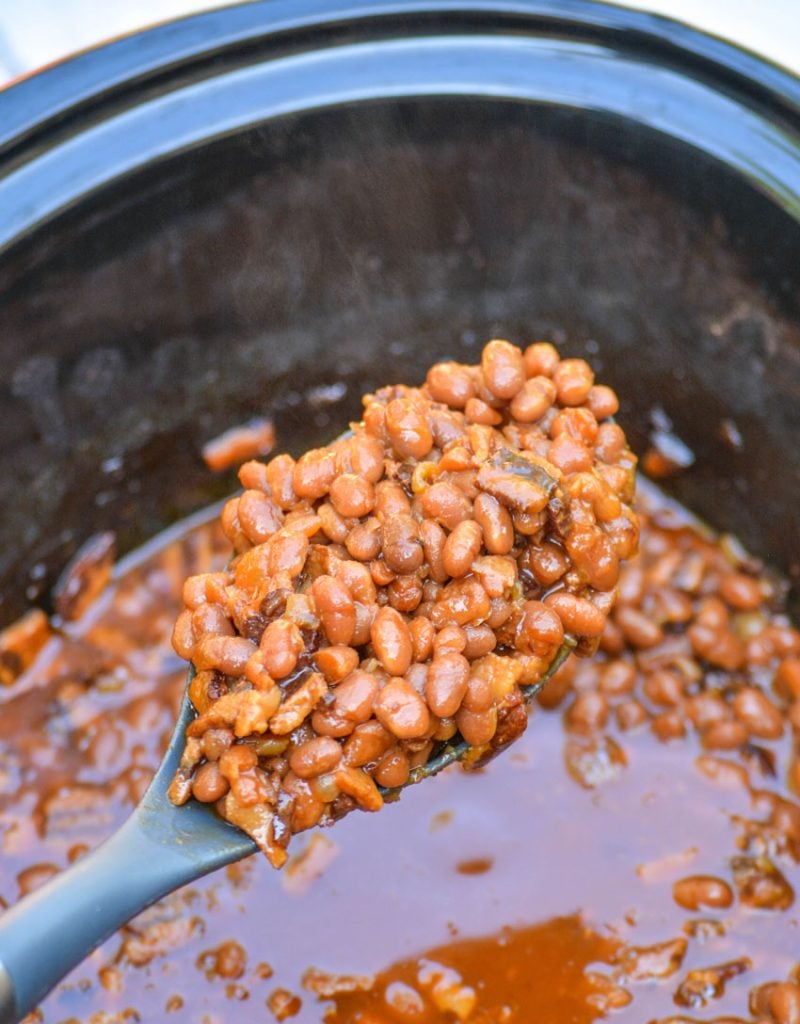 While Summer sides tend to be more of the traditional variety like I mentioned, in no way does that mean I'm sacrificing an ounce of flavor.
I still want my dishes to be loaded with flavor, albeit in a more standard style. Nothing is a better example of this than my slow cooker baked beans with bacon.
Simple, but with loads of flavor in every bite- these things are magical baked beans. They always get eaten at every gathering, and I love being asked to bring them because they're so easy to throw together.
INGREDIENTS NEEDED TO MAKE SLOW COOKER BAKED BEANS WITH BACON:
canned pork & beans
thick cut bacon
onion
brown sugar
bacon grease
Only a handful of ingredients between you and the best baked beans your guests have ever had. I know these aren't technically homemade. They're more 'froofed' than anything, but that's ok with me.
My life can get crazy busy, but I still want to have time to show up to the party, dish in hand, without added stress. That's where semi-homemade recipes like this one come in super handy.
Ok, let's talk bacon grease. I know, I know- so many of you are probably balking at the mere mention of it in the ingredients list. It's fat, and fat's got a bad rap.
If you're from the South though, or if you're an old school cook then you know that sometimes the flavor fat renders in a dish in small doses makes all the difference. Without totally ruining your diet for the day either!
While you may be skeptical at first, I urge you to include the bacon grease. Don't skimp, it's not much & this is the Southern cooks secret weapon. Seriously, it's like liquid gold. It's the easiest way to add rich flavor to virtually any dish, especially a simple side dish like baked beans. Luckily, a little goes a long way too!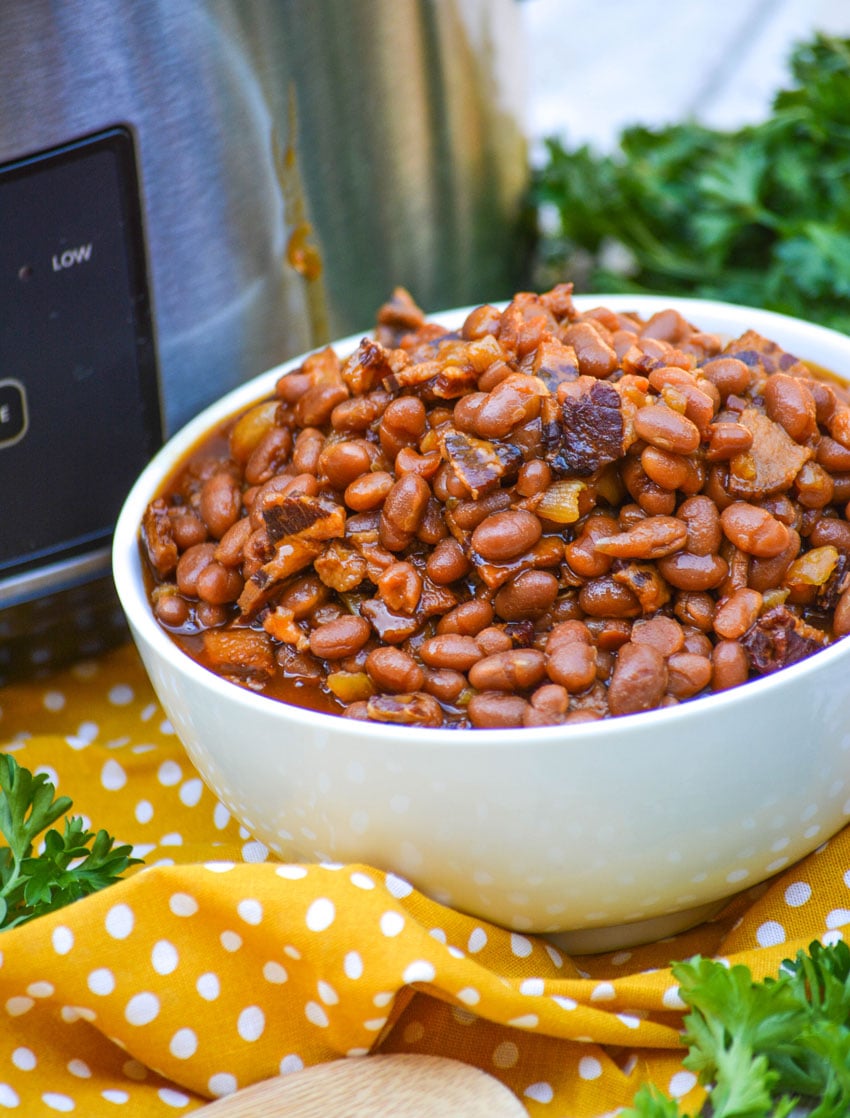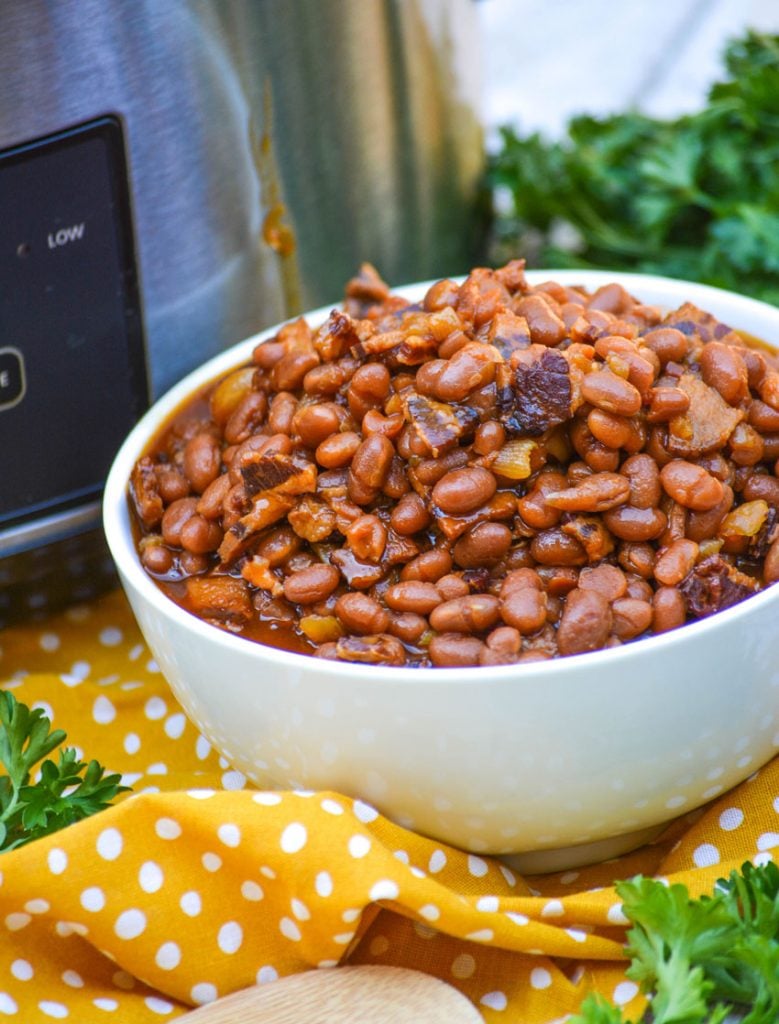 HOW TO MAKE AND USE BACON GREASE:
If bacon grease really is a foreign concept (some thing I struggle to wrap my Southern head/heart around) for you, no worries- it's super simple to render, to use, and even to store.
When prepping for these slow cooker baked beans with bacon, you'll need to cook an entire pound of thick cut bacon until crisp. Not cracklin crispy, but crisp. You can use a cast iron skillet and do it on the stove top, but that typically requires working in batches and takes more time than I care to devote to the task.
Instead, I prefer to use this easy oven-baked bacon method– it's fool proof and yields perfect results every single time. A pound of bacon will render roughly a cup of bacon grease. Cooking the bacon this way keeps all that grease in place.
I just use a pair of tongs to transfer the cooked crisp strips to a waiting paper towel lined plate. Wait about 5 minutes for the grease to cool (this reduces splattering which hurts & burns) tip my pan and measure out my two table spoons of grease into a small prep bowl and set them aside.
Then I gather the edges of the parchment paper and use them to channel the grease neatly into a small, clean waiting jar.
Allow the grease to cool to room temperature, seal the jar shut with its lid, and refrigerate the remaining grease until ready to use again.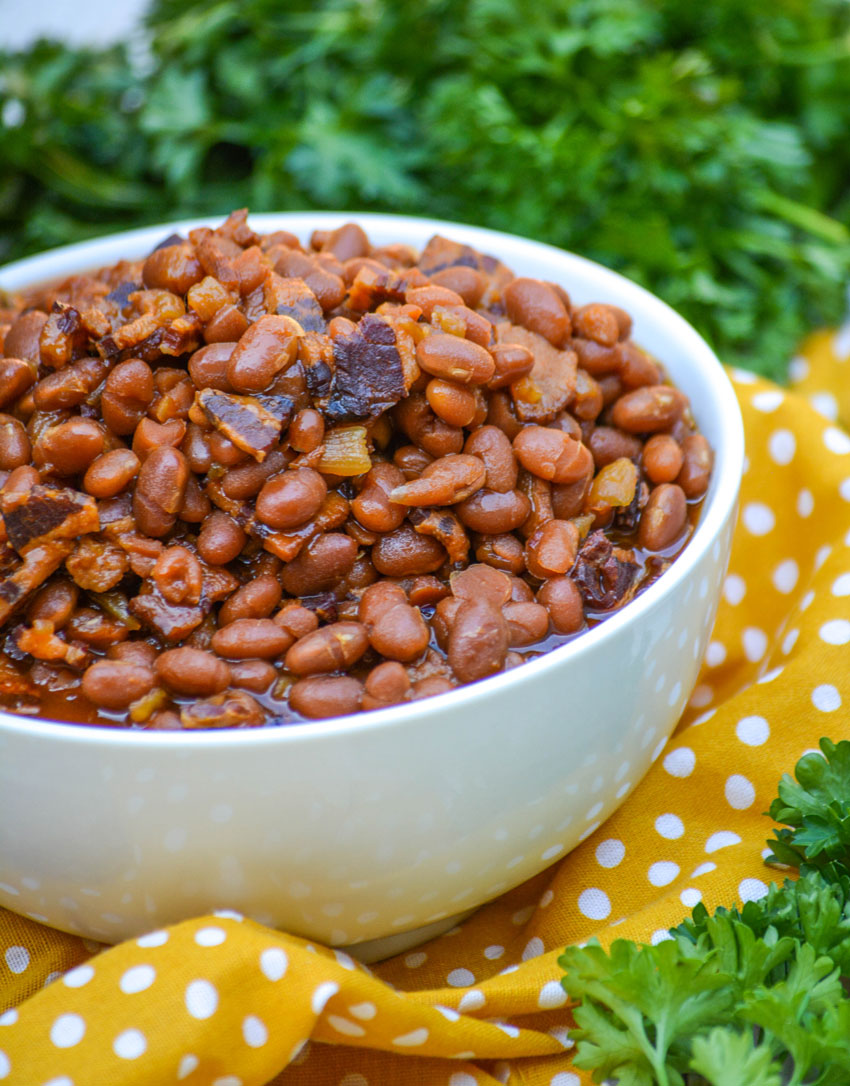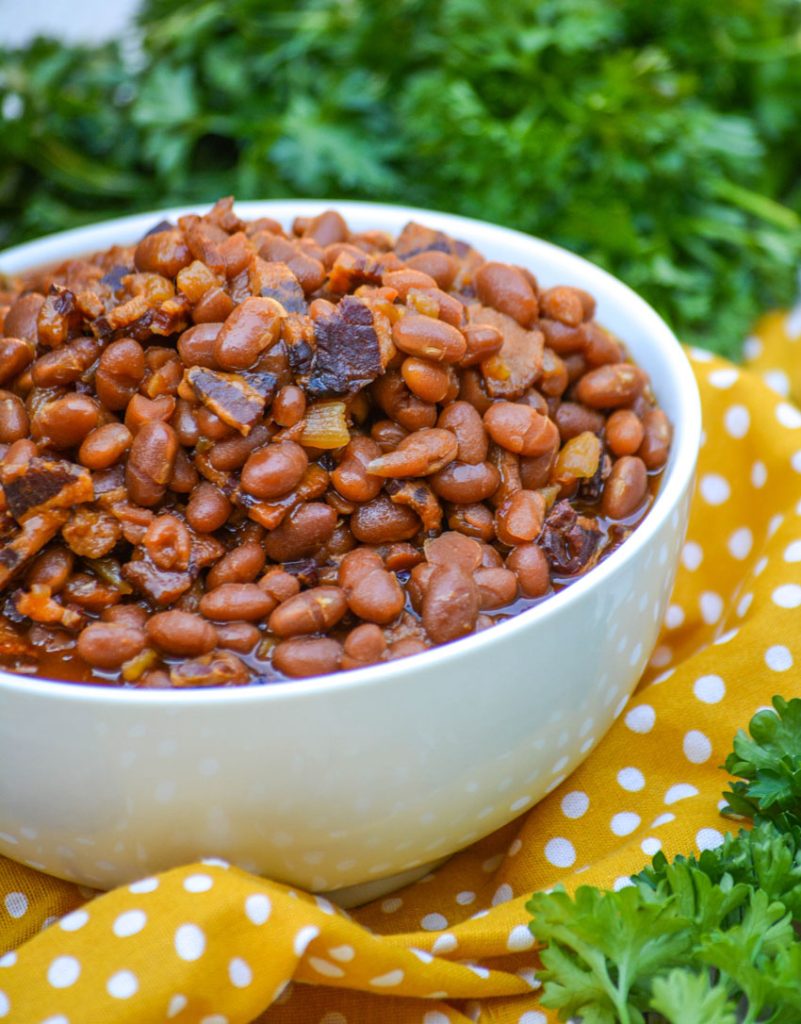 HOW TO MAKE SLOW COOKER BAKED BEANS WITH BACON:
The bacon's really the only actual 'prep' work involved. Once that's cooked it's simple to throw the rest of the recipe together.
Once the bacon's cooled to the touch, and the excess grease has drained off- crumble the crisp bacon. Now simply throw all of the ingredients into the bowl of your slow cooker. Give them a bit of a stir to evenly combine things. Cover the slow cooker with it's lid, and cook them.
I really like my beans to go low & slow, simmering for a long stretch to ensure maximum flavor factors develop. I tend to let them cook on the low heat setting for a full 6-8 hours, stirring occasionally. That said, if time's an issue- they're equally good when cooked for 3-4 hours on the high heat setting.
The recipe list is simple, and these beans really are the best in my opinion- but there's plenty of room for interpretation & experimenting with your own ideas. If nothing else, these slow cooker baked beans make a perfect base recipe for branching out on your own.
TIPS & TRICKS FOR MAKING SLOW COOKER BAKED BEANS:
Don't have bacon on hand? Have an aversion to that particular cut of pork? You can swap the bacon for diced ham. In that case, omit the bacon grease as well. The flavor will be different, but just as tasty & hearty a side dish.
We love using canned pork & beans as the base for this recipe, but in a pinch have subbed other style canned baked beans. If you have a favorite brand or style, you can totally use that instead.
Love Boston style baked beans? For more of that flavor, try adding a tablespoon or two of molasses with all the other ingredients at the beginning.
For the best quality and taste, keep the baked beans hot while serving- another reason we love this slow cooker method. If your pot has a keep warm option, use that to keep them shelf stable during the meal.
Depending on your venue- you may or may not have leftovers. This is one of those situations where I plan for the worst (no leftovers obviously), and 100 % hope for the best (yay, leftovers). Baked beans are one of those things that always taste even better the next day.
Transfer any leftovers to a Tupperware, close tightly with it's lid, and refrigerate them. They must be refrigerated, otherwise they will spoil. The stored beans can then be kept safely in the refrigerator for up to 5 days.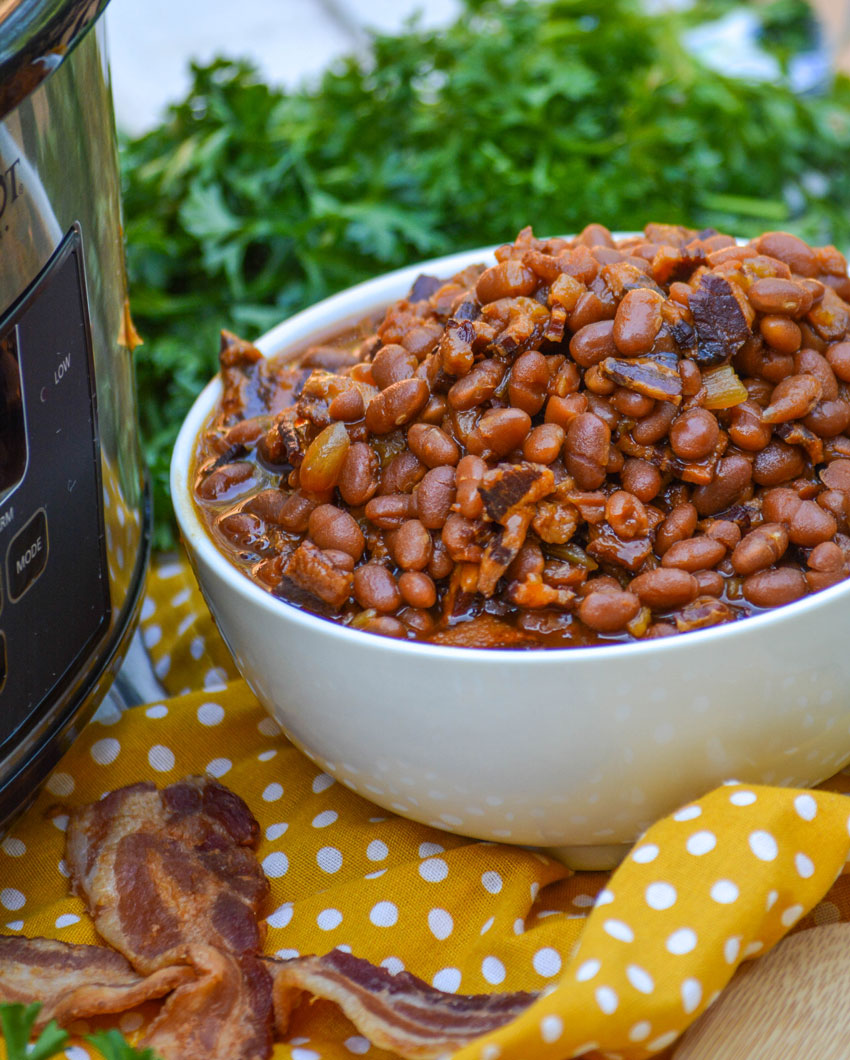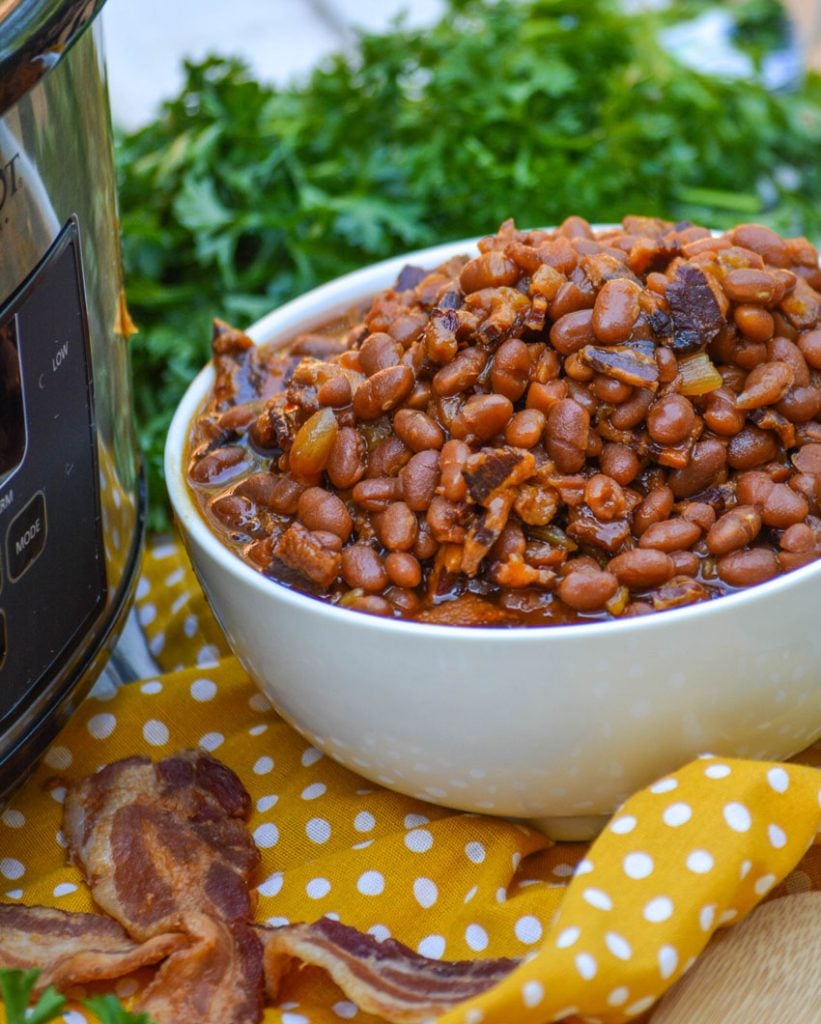 CAN YOU FREEZE BAKED BEANS?
What if for some crazy reason, you're baked beaned out. Sure, you could be a nice person & give away the leftovers. But they taste so good, and you don't have that kind of will power.
I've got great news! Your freezer is there to save the day. These slow cooker baked beans freeze beautifully. When ready to enjoy them again, just set them out to thaw, and then heat & eat.
Baked beans are never wrong for any occasion in my opinion, but bringing these slow cooker baked beans with bacon is always the right decision when it comes to potlucks & parties.
Be a star known for the world's easiest 5 star side dish. Nobody else needs to know just how easy either!
Other Baked Bean Ideas Dressed To Impress:
If you've tried this SLOW COOKER BAKED BEANS WITH BACON, or any other recipe on my site, let me know in the comment section how it turned out, we love hearing from our readers! You can also follow along with me on PINTEREST, FACEBOOK, and INSTAGRAM to see more amazing recipes and whatever else we've got going on!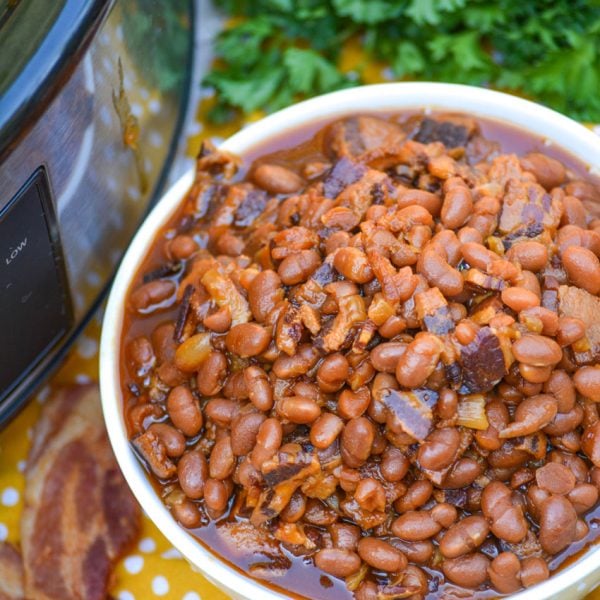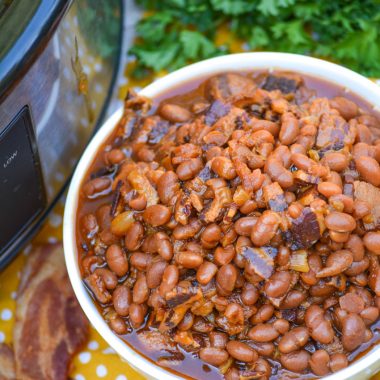 Slow Cooker Baked Beans with Bacon
Rich baked beans are slow cooked to savory perfection with bacon infused in every bite for the ultimate potluck side dish.
Print
Pin
Rate
Ingredients
1

53 oz can

pork and beans

1

lb

thick cut bacon

cooked crisp & crumbled, bacon grease reserved

1

medium

white onion

diced

3/4

cup packed

brown sugar

2 1/2

tbsp reserved

bacon grease
Instructions
Add all of the ingredients to the bowl of your slow cooker. Give everything a quick stir to combine.

Cover the slow cooker, and cook the beans on low for 6-8 hours or high for 3-4.

Remove the lid of the slow cooker, stir the beans.
Nutrition
Calories:
241
kcal
|
Carbohydrates:
15
g
|
Protein:
5
g
|
Fat:
18
g
|
Saturated Fat:
6
g
|
Cholesterol:
28
mg
|
Sodium:
259
mg
|
Potassium:
107
mg
|
Fiber:
1
g
|
Sugar:
14
g
|
Vitamin A:
14
IU
|
Vitamin C:
1
mg
|
Calcium:
15
mg
|
Iron:
1
mg