It's time we combine some Summer flavor with some warmer weather comfort food. This shrimp scampi pasta salad is the best of both worlds. It makes for a bright, flavorful infusion with a creamy dressing into a hearty pasta salad base.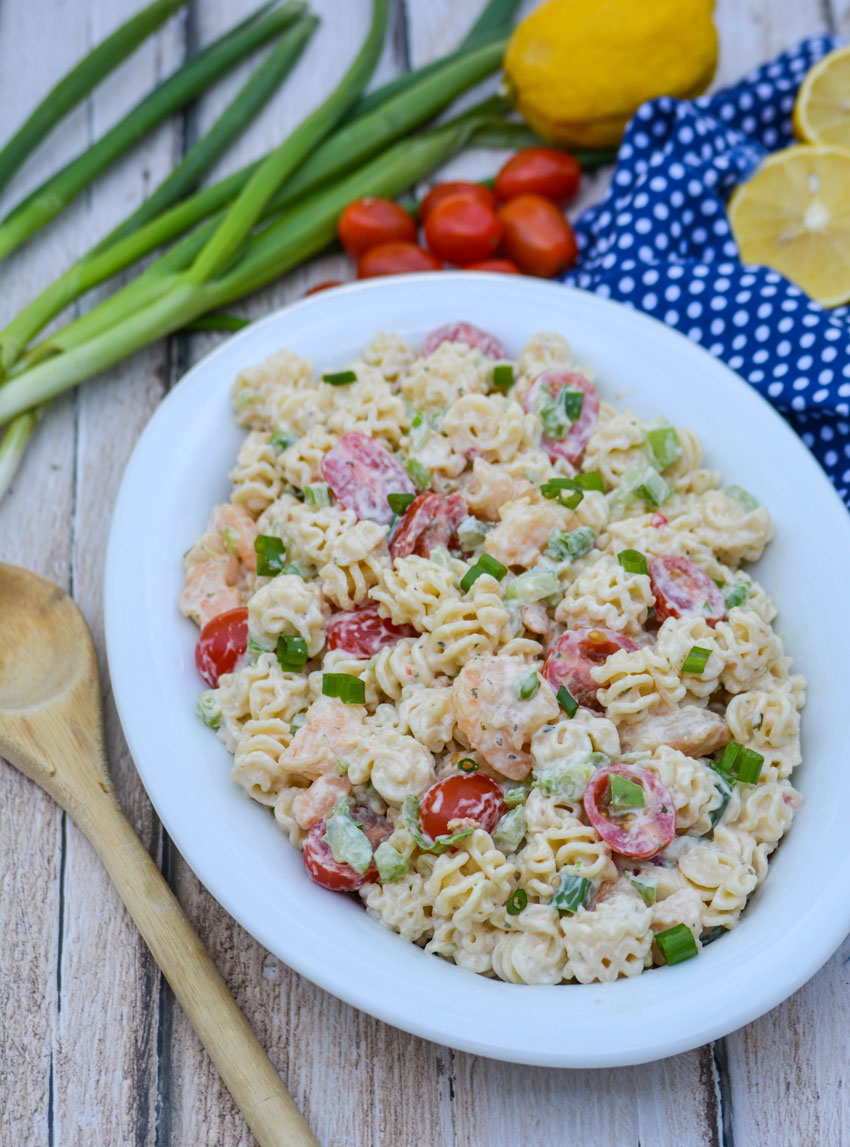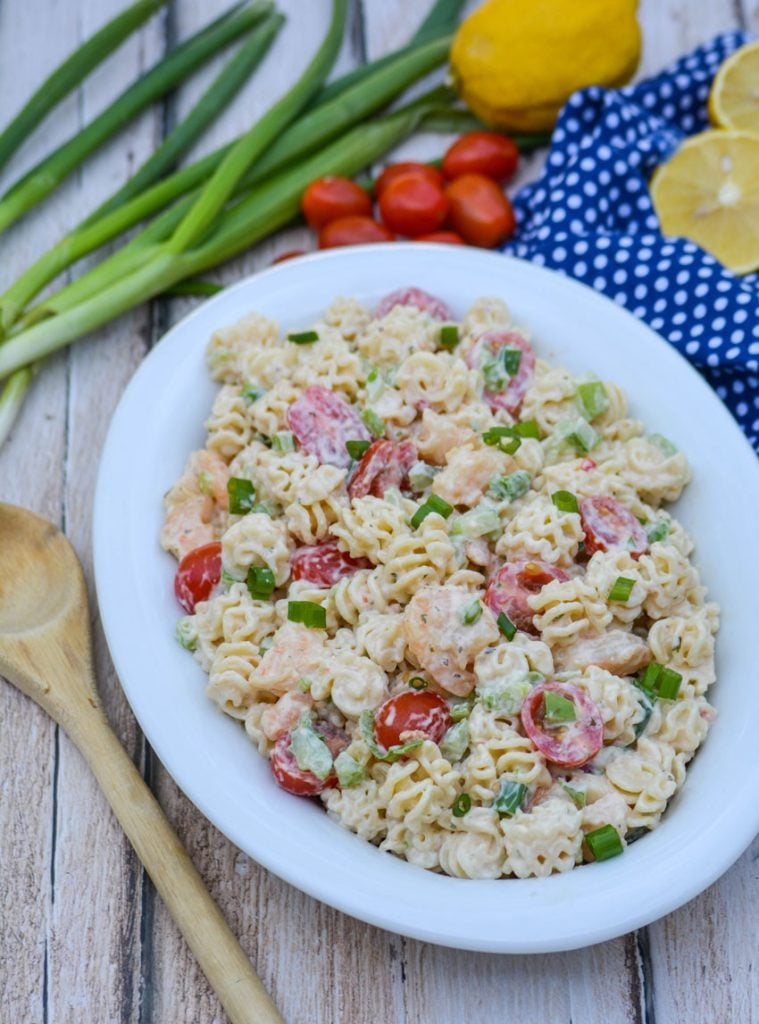 Summer may be coming to an end quicker than I care to admit, but that doesn't mean I'm shifting gears in my kitchen. At east not just yet.
Kinda like the old adage that you don't wear white before Labor Day, we don't close up shop on Summer recipes until after Labor day.
That means that for at least another week & a half, I'm still relishing in the season of barbecues, grilling/smoking, and all things cold side salads to serve with them.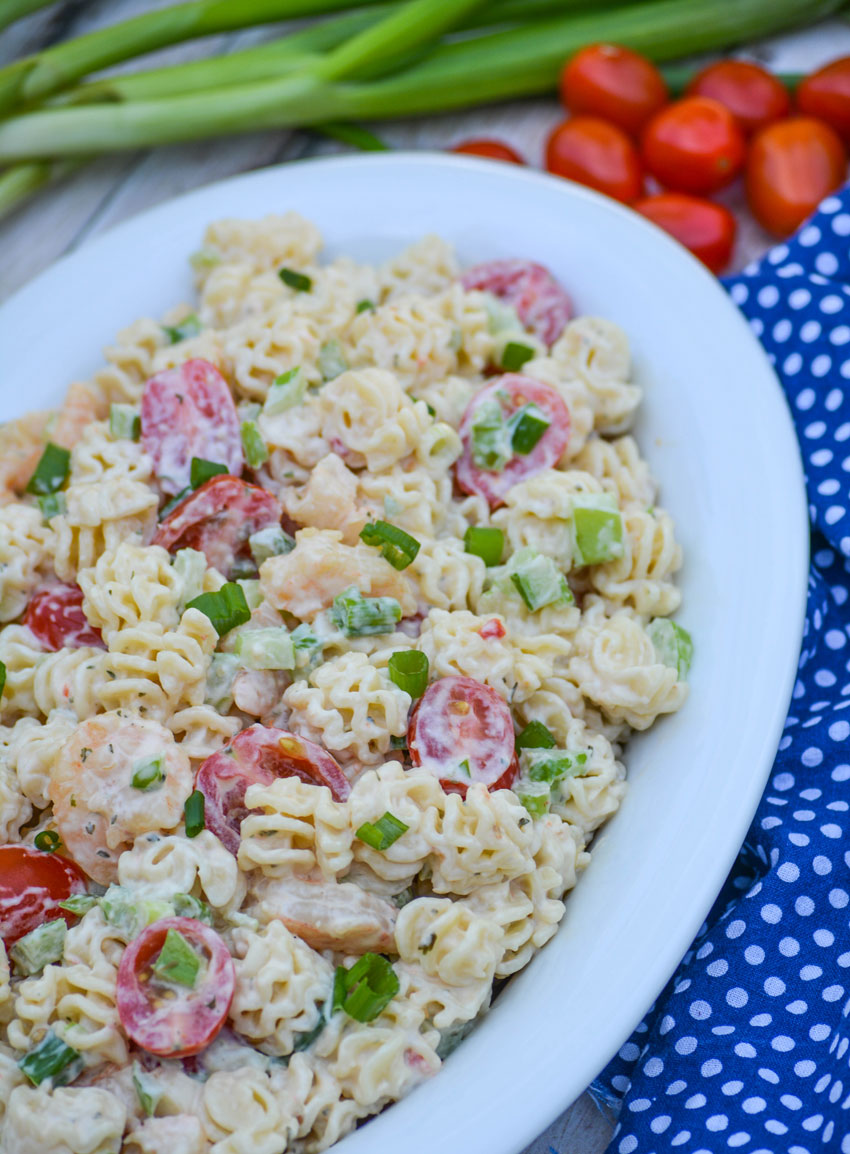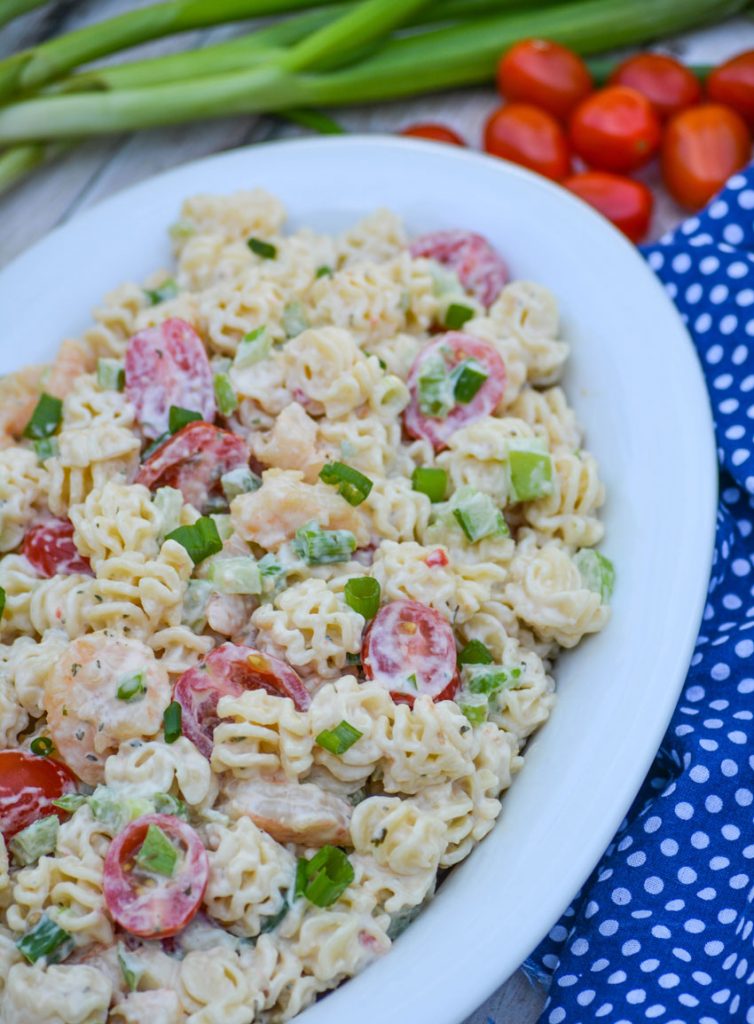 Which means I'm gonna keep right on enjoying some of our classic Summer favorites. Especially those that really do embrace 'Summer' flavors.
Like this ranch BLT pasta salad, creamy asiago Italian salad, and of course, this Mediterranean tortellini pasta salad.
While they may tide me over, they weren't going to be my endgame. The best way to send off the pasta salad season, and Summer-esque foods in style was a mashup. A totally unforeseen mash up.
That brain child led to the creation of this creamy, dreamy shrimp scampi pasta salad.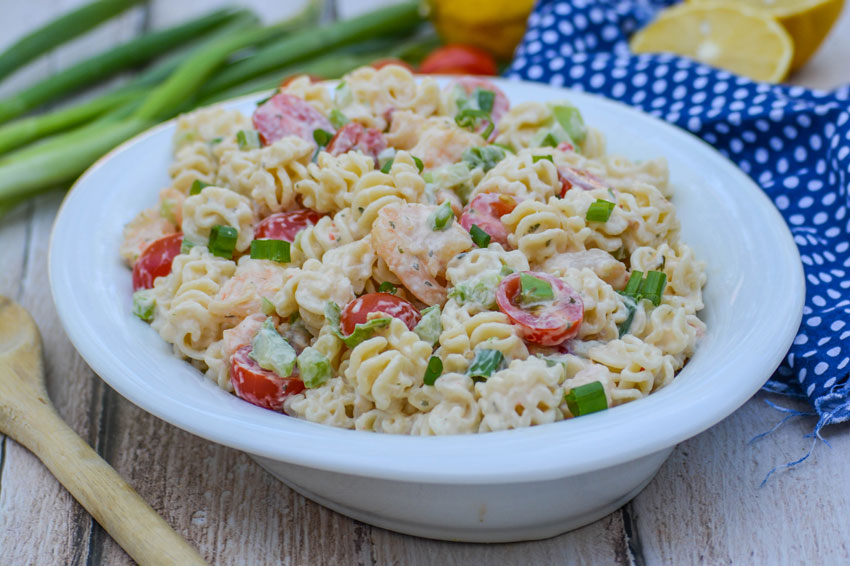 WHERE DID SHRIMP SCAMPI COME FROM?
If you're a typical, middle- American kid like me- you probably have an idea. It's tiny shrimp (fat jumbo ones if it's a special occasion) simmered in a butter wine sauce, and served tossed with pasta.
Would it surprise you to know that that's the American-ized version??
Scampi, in fact, are actually tiny lobster-like soft pink shelled crustaceans. They're other common name is langoustines.
As with many other things, when this dish came across the sea- Italian immigrants gave it a bit of a different name. This time they kept the familiar scampi, but also added shrimp to the title. This made it appealing to both Italians & Americans alike.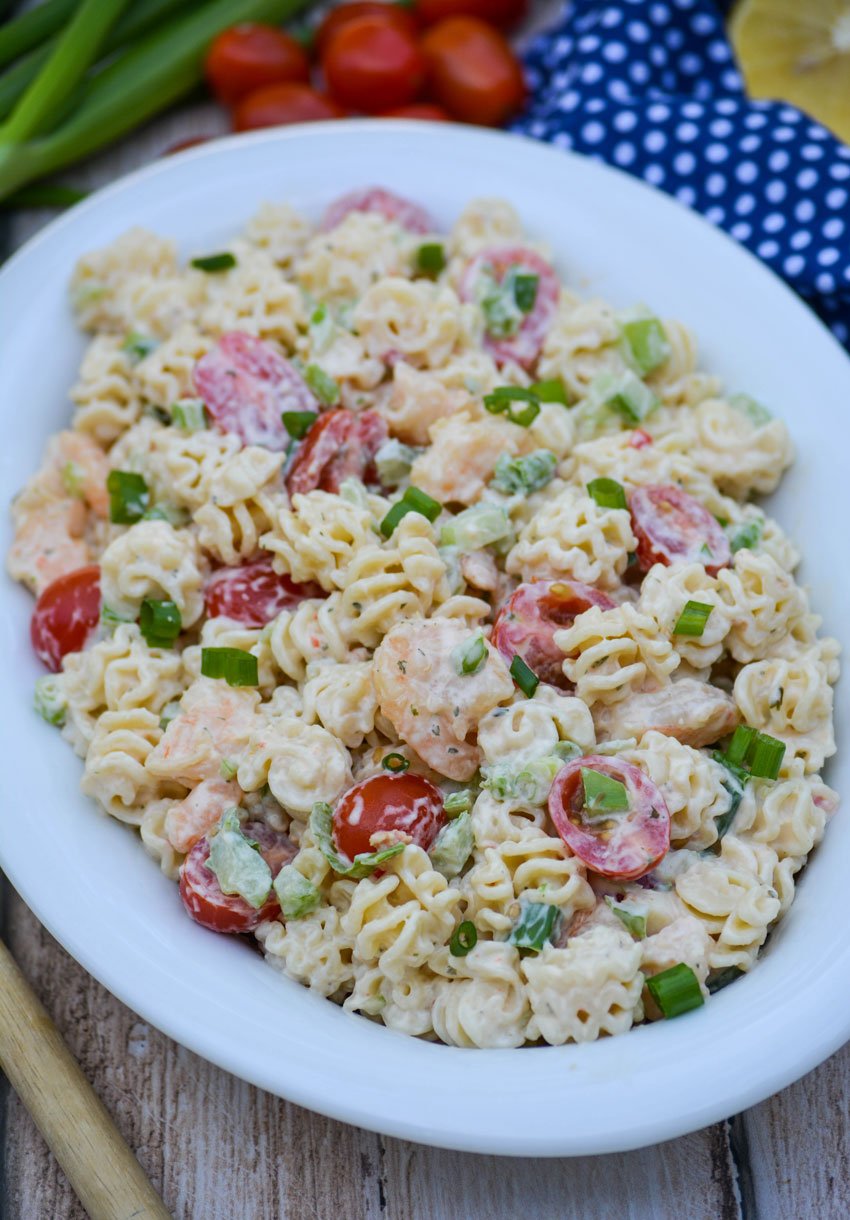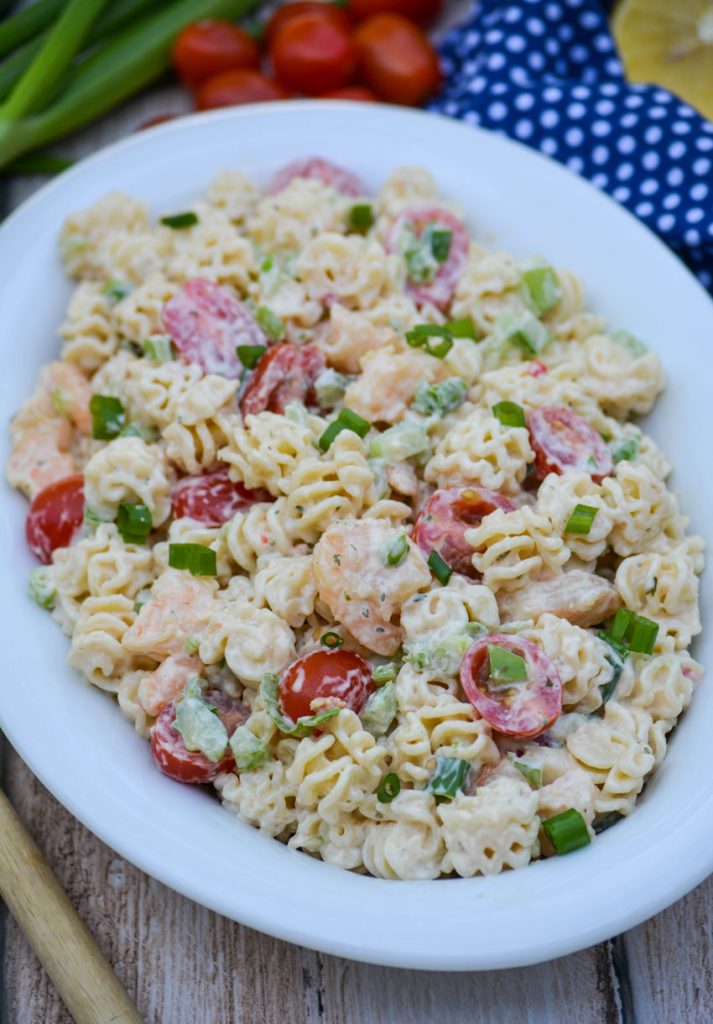 WHAT IS SHRIMP SCAMPI MADE OF?
At it's most basic, shrimp scampi is a really simple dish. A classic comfort food if you will. Some of the best ones are really that simple.
A classic shrimp scampi sees lightly pan fried shrimp, sauteed with olive oil, fresh garlic, crisp white onion, and a pinch of optional red pepper flakes.
The semi-cooked shrimp are then tossed in a white wine butter sauce, & simmered until done. Then it can be served over a bed of pasta, or tossed with pasta before serving.
Shrimp scampi is an amazing dish. Add in the pasta, and it's total comfort food. By now y'all know comfort food is never wrong around here.
But a heavy butter laden dish has colder weather written all over it. So we changed things up, and took a short cut to turn it into this creamy shrimp scampi pasta salad that's perfect for any potluck or party style occasion.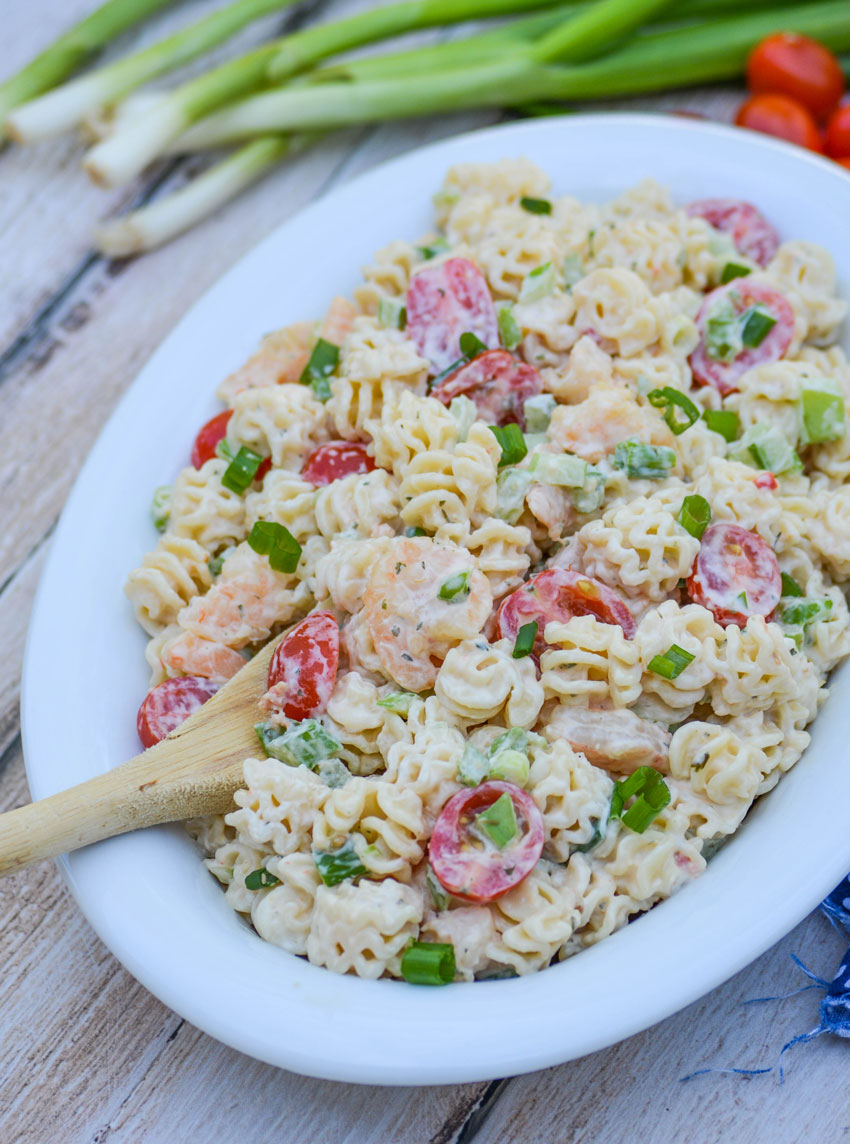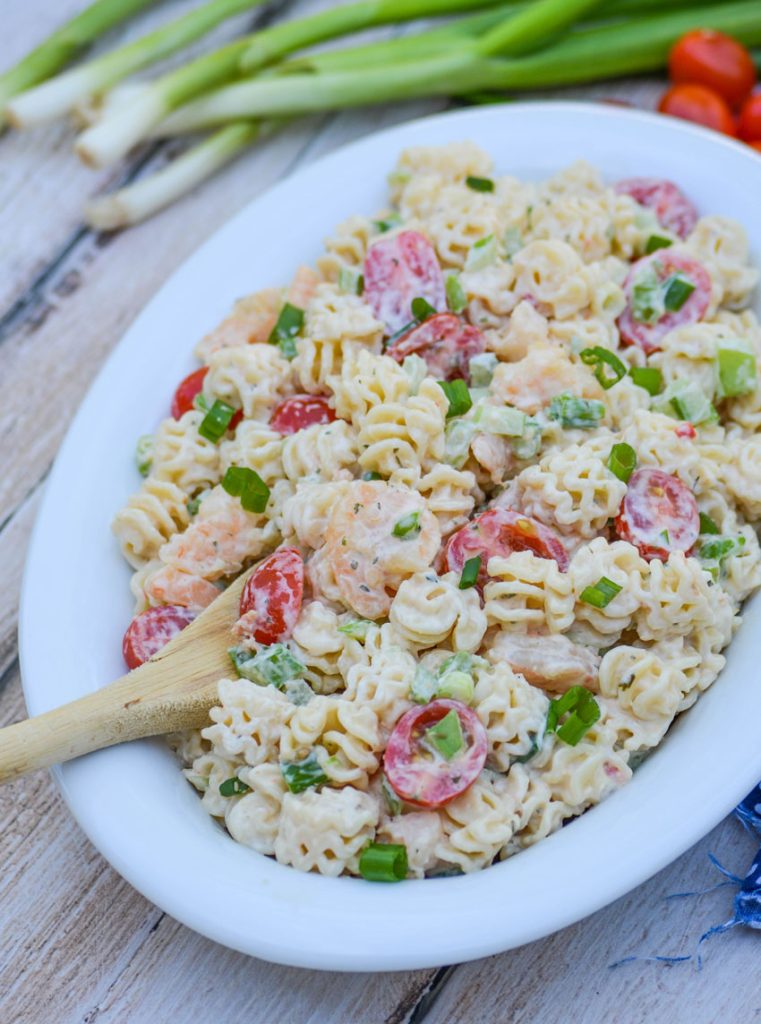 WHAT INGREDIENTS ARE NEEDED TO MAKE SHRIMP SCAMPI PASTA SALAD?
The ingredient list for this dish is pretty simple, especially thanks to a handy little frozen shortcut.
pasta
frozen shrimp scampi
mayonnaise
lemon zest
garlic
celery
green onions
tomatoes
That's it! The only other thing needed is a couple tablespoons of the seasoned juices from the cooking shrimp scampi. More on that in a second.
HOW DO I TURN SHRIMP SCAMPI INTO PASTA SALAD?
Trust me, it seems magical but it's not hard at all. It's one of my favorite recipes for this very reason. Any level of cook can master it.
First things first, you have to swing by your local grocer's frozen food section. You'll need two pounds of frozen shrimp scampi.
Yes, I know. We usually tout homemade, but this is still fast fix- just with a little help from the freezer aisle.
Start by cooking the pasta according to the package directions. Strain the cooked pasta, then run it under cool water tossing until cool to the touch. Set it aside.
Now cook your frozen shrimp according to the package directions. Take out a couple of the plumpest ones, and set them aside. Scoop a couple tablespoons of the seasoned juice up, and transfer it to a small bowl and set aside.
Remove the rest of the shrimp, using a slotted spoon, to a waiting cutting board. Roughly chop them, then wipe the skillet clean.
In a large mixing bowl, add the cooked pasta, celery, onions, & tomatoes. Gently toss them to evenly combine.
To a smaller medium sized mixing bowl, add the mayonnaise, zest, garlic, and shrimp juices. Whisk until everything's evenly combined and frothy.
Pour the dressing over the pasta mixture & toss to evenly combine. Cover the pasta, & chill 2-3 hours before serving.
It has all the magical flavors of the original shrimp scampi, with the pasta but this version turns it into a dish best served cold. Turning one of the best comfort foods into potluck fare.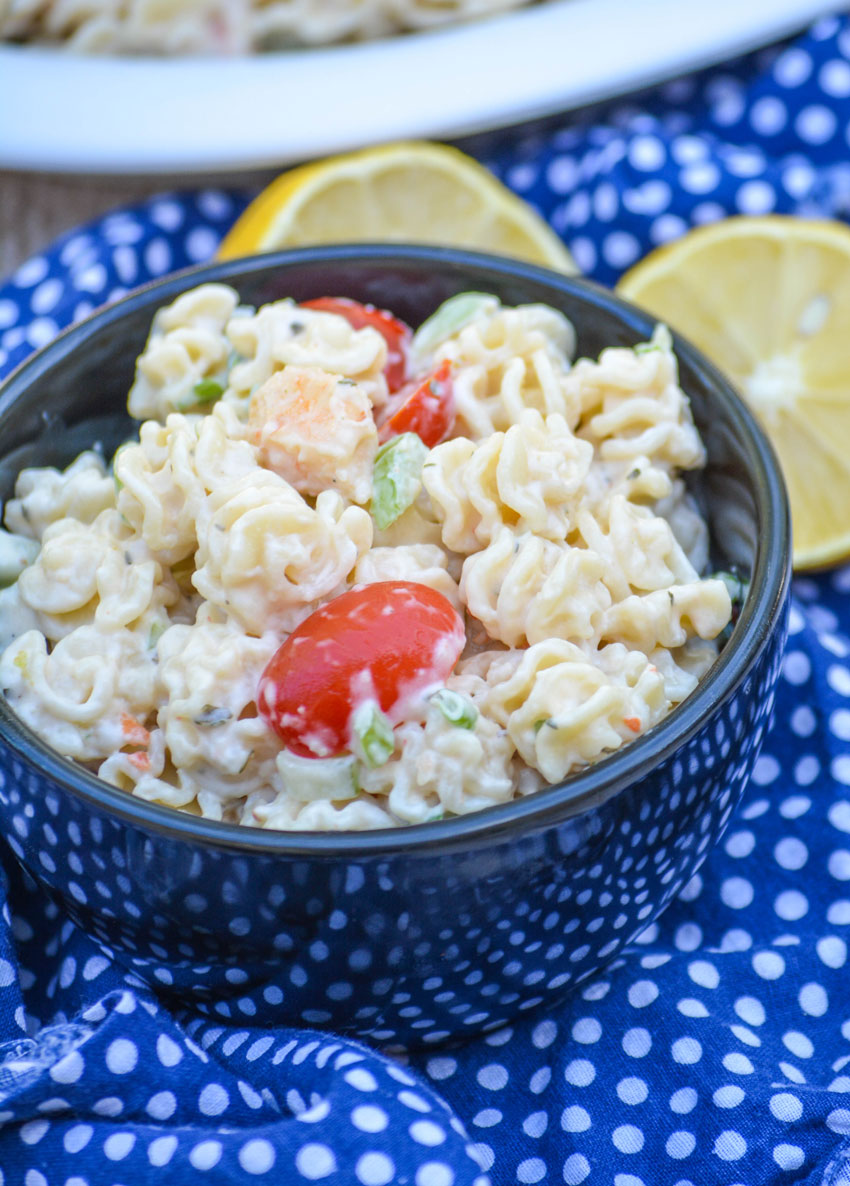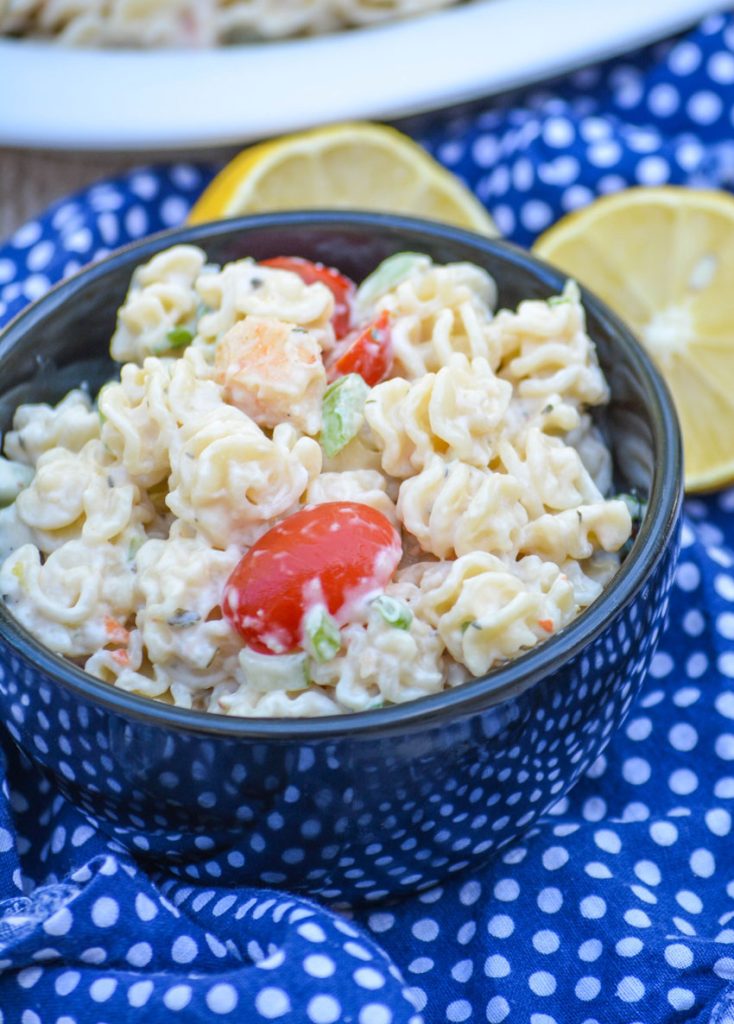 The flavors of your favorite shrimp & pasta comfort food have been throw into a mixing bowl and turned into a cold pasta salad. Our shrimp scampi pasta salad is perfect for any barbecue or potluck-style get together.
OTHER SUMMER PASTA SALADS TO TRY:
If you've tried this SHRIMP SCAMPI PASTA SALAD, or any other recipe on my site, let me know in the comment section how it turned out, we love hearing from our readers! You can also follow along with me on PINTEREST, FACEBOOK, and INSTAGRAM to see more amazing recipes and whatever else we've got going on!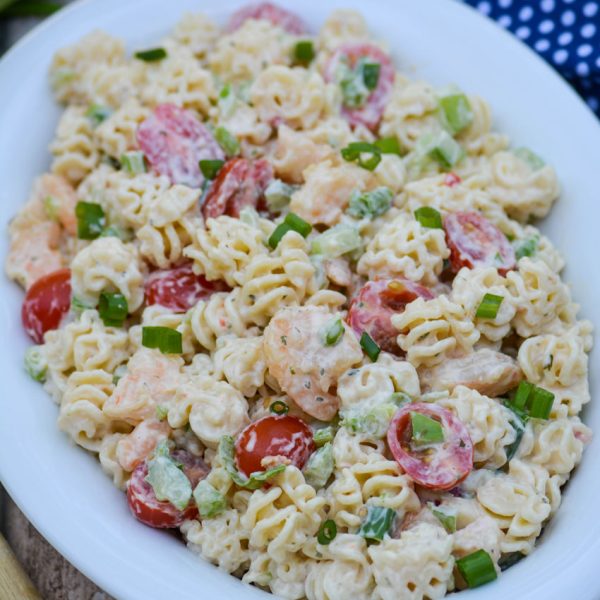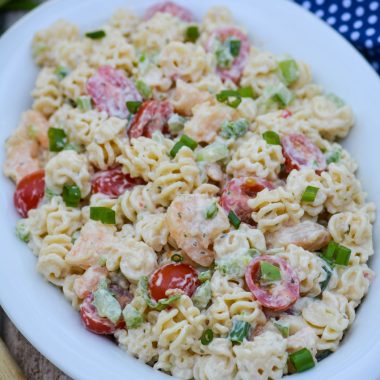 Shrimp Scampi Pasta Salad
A creamy pasta salad featuring the flavors of shrimp scampi- this one's perfect for potlucks, picnics, & universal lunches.
Print
Pin
Rate
Ingredients
1

lb

radiatore pasta

2

lbs

frozen shrimp scampi

1

cup

mayonnaise

2

tsp

freshly grated lemon zest

2

tsp

minced garlic

1/2

cup

celery

chopped

1

bunch

green onions

thinly sliced

1

cup

grape tomatoes

halved lengthwise

6

tbsp

seasoned juices from the cooked shrimp scampi
Instructions
Cook the pasta, according to the package directions. Drain, and run under cold water- tossing until cool to the touch. Set aside.

Cook the shrimp according to the package directions. Pick a couple of the plumpest shrimp, remove them from the skillet & set aside.

Use a slotted spoon, letting the juices drain back into the pan, and remove the rest of the shrimp to a waiting cutting board. Roughly chop them.

Scrape the pan, getting all the juicy bits and herbs up and whisked into the butter mixture. Measure 6 tablespoons of this out into a waiting prep bowl.

To a large mixing bowl add the pasta, celery, onions, and tomatoes. Gently toss to evenly combine.

In a separate, small mixing bowl whisk together the mayo, zest, garlic, & shrimp butter. Whisk together until smooth.

Pour the dressing out over top of the salad mixture. Toss everything to coat evenly.

Cover the pasta salad and chill for 2-3 hours before serving.
Nutrition
Calories:
478
kcal
|
Carbohydrates:
35
g
|
Protein:
25
g
|
Fat:
26
g
|
Saturated Fat:
7
g
|
Cholesterol:
256
mg
|
Sodium:
916
mg
|
Potassium:
233
mg
|
Fiber:
2
g
|
Sugar:
2
g
|
Vitamin A:
398
IU
|
Vitamin C:
7
mg
|
Calcium:
151
mg
|
Iron:
3
mg