Breakfast is arguably the most important meal of the day, and so few have realized the genius of incorporating pasta laden carbs into the mix. This carbonara inspired breakfast pasta features sausage, melted cheddar cheese, spaghetti noodles, and plenty of scrambled eggs. Breakfast spaghetti is easy to whip up, but filling enough to keep the whole family fueled throughout the day.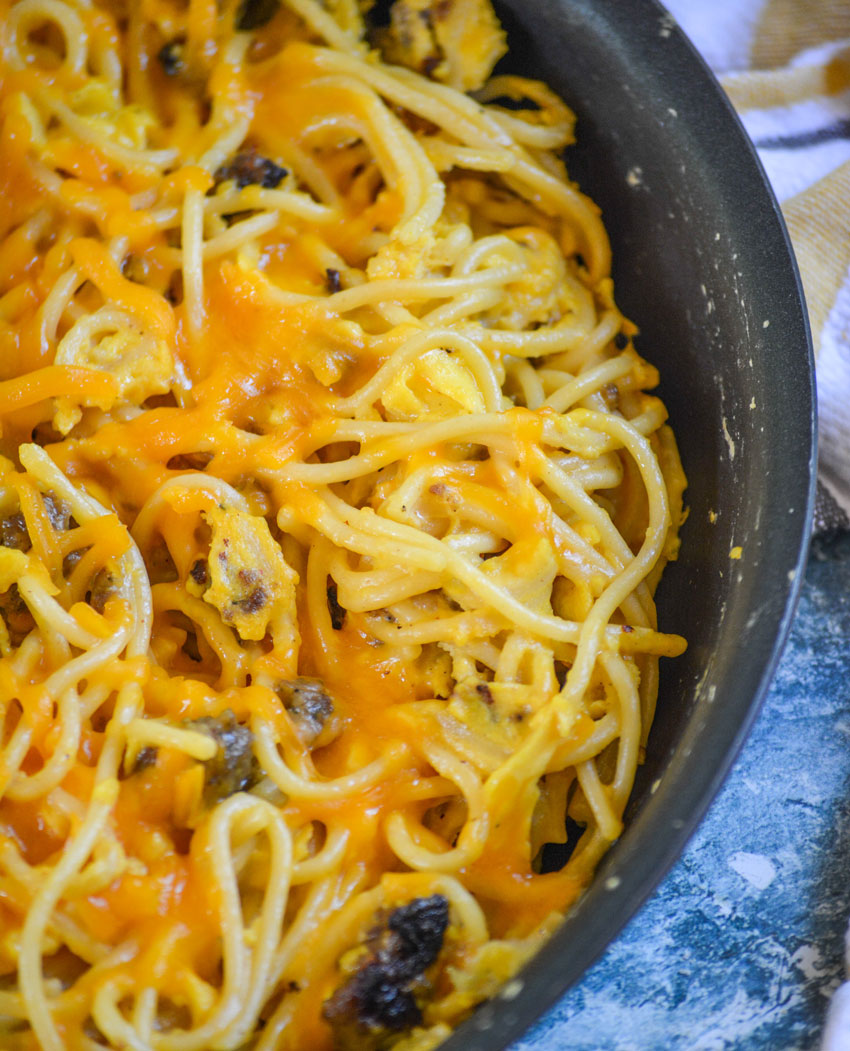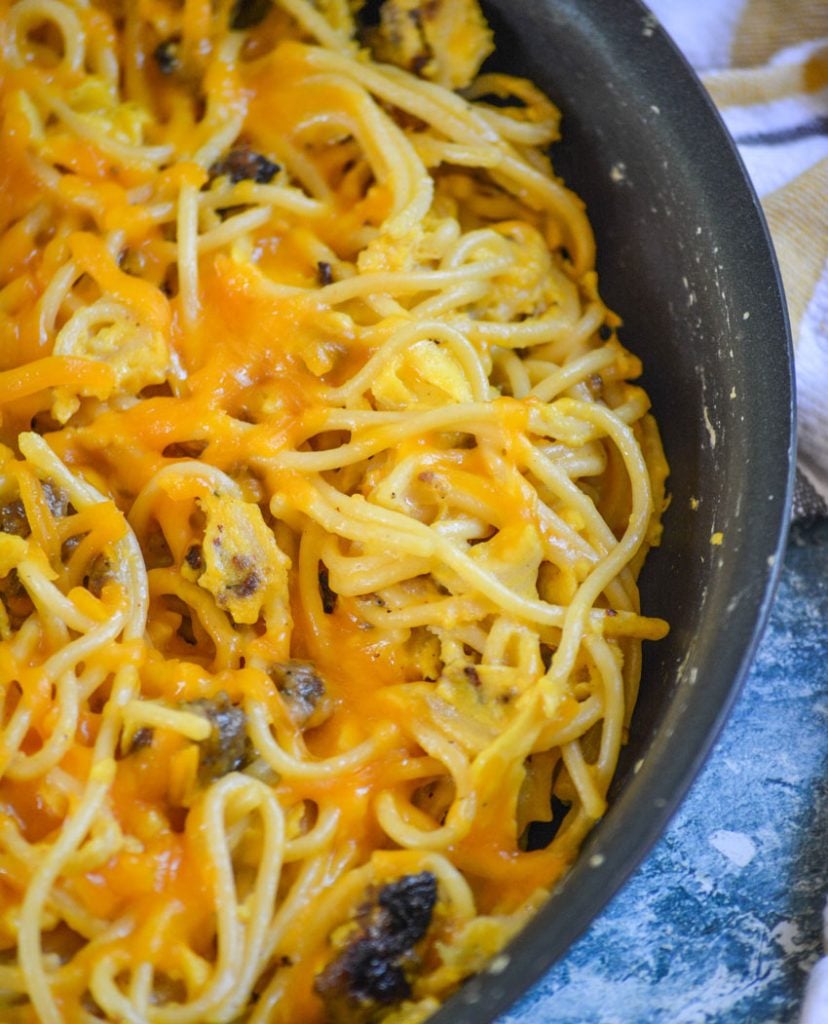 Not sure if it was in school. If it was in commercials. OR even if it was just my parents, but one thing that was ingrained in my brains from as long ago as I can possibly remember is that breakfast is the most important meal of the day.
Not just any breakfast either. One eaten at the very beginning in the early AM hours.
With it, your day will be off to a great start. Without it? Well, you can pretty much kiss a successful day goodbye.
And the message stuck, for years. Then somewhere in my early twenties, it lost all traction. I'm guessing it was right around the time I had kids.
Not only was I not remotely hungry when I first woke up, I didn't want to even think about fixing anything. Not even something as simple as a bowl of cereal even.
If I could make it to the coffee pot, that golden nectar would see me through until lunch- at which point I was actually hungry. But, again… kids.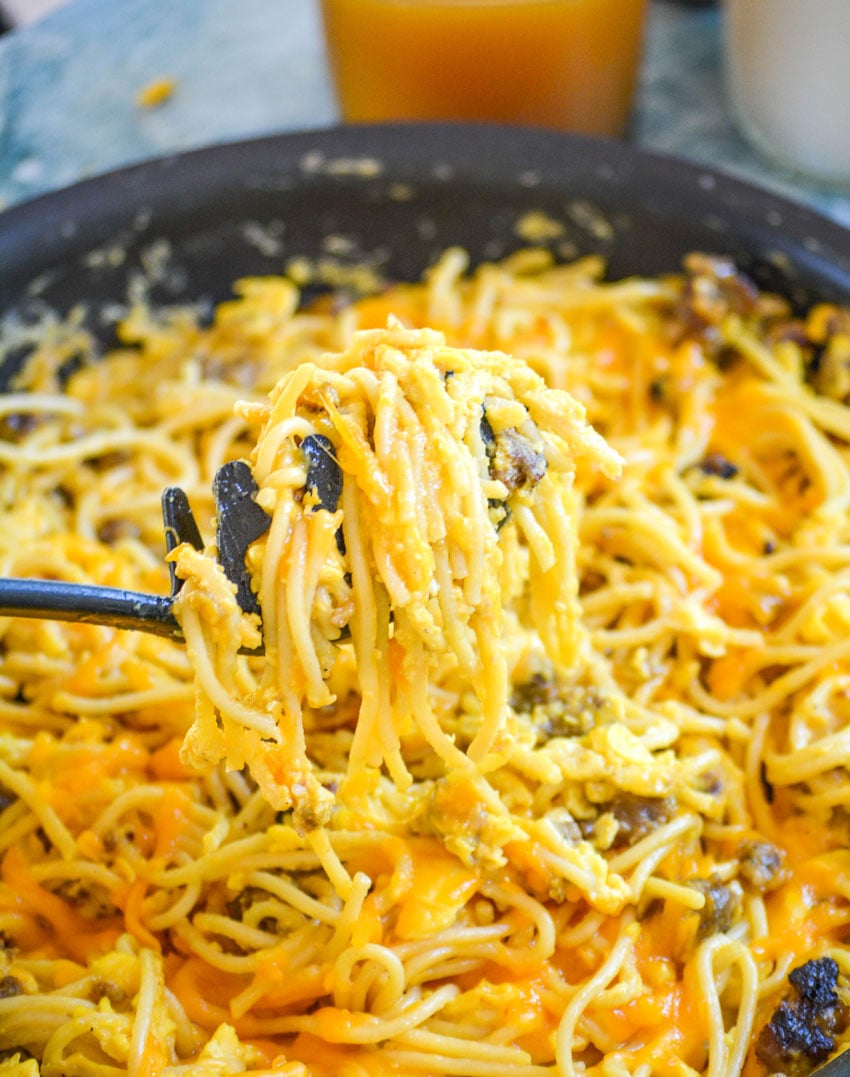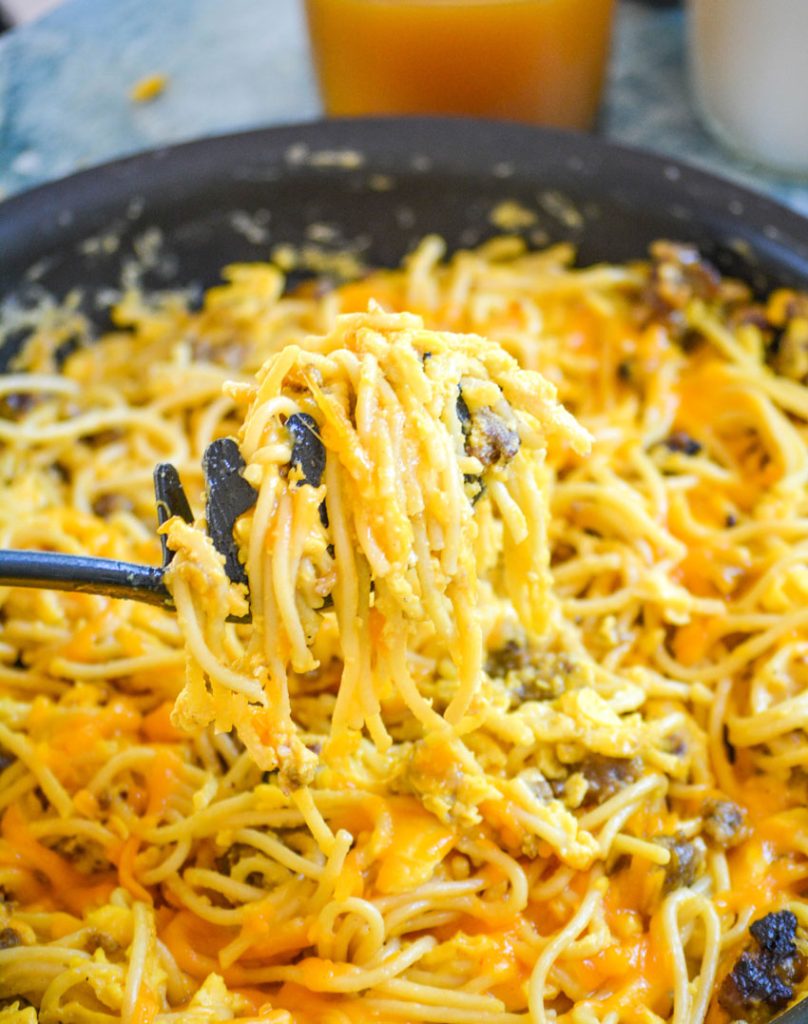 The kids got bigger, and hungrier, and even older, and somehow over night they all morphed into loveable (but very smelly) bottomless pits. They reminded me a bit of baby birds.
As soon as the sun hit their window they were awake and sqwaking for food. And there was never enough food. They would plow through bowls of cereal. They'd demolish fruit. Chug glasses of milk.
These kids were served a full breakfast and still hungry.
And I somewhat believed in their hunger since they were never over weight or anything, but how in the heck was I supposed to keep up? I mean there were a whole table full of them!
Not that I'm saying I expected any of the sons to starve, but we also had a budget to adhere to. So basically it meant that this Mama had to go back to the basics and get creative.
I had to find a way to feed the troops, fill them up, and keep them fueled. Well eggs were a no brainer, and pasta (carbohydrates) is cheap and a great option for energy, provided they were working it off.
Thus breakfast pasta, or breakfast spaghetti as the sons' dubbed it, was born and loved by all.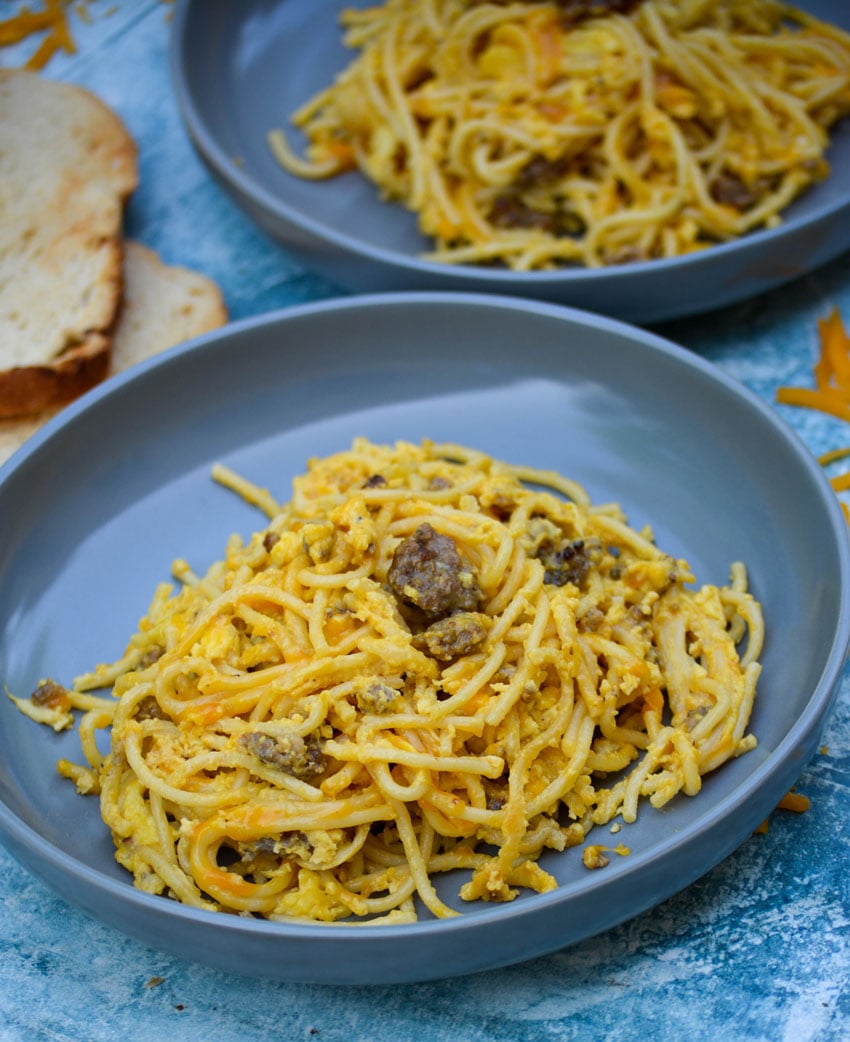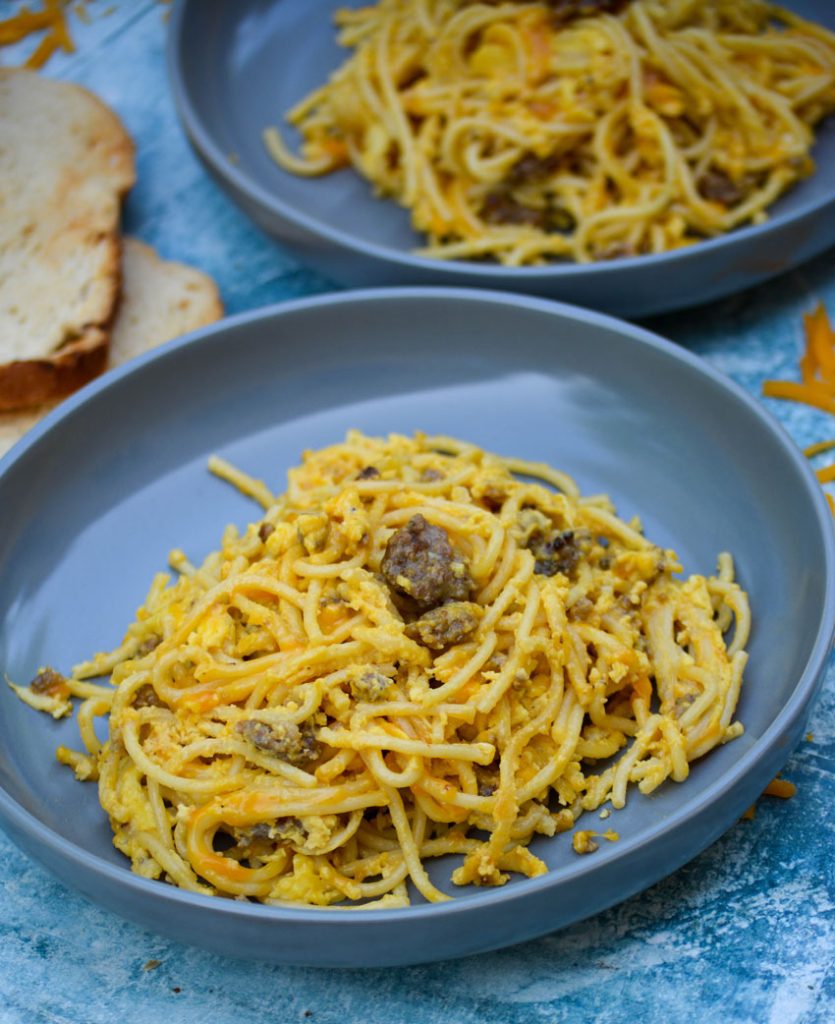 Enjoying Pasta For Breakfast- What Is Breakfast Spaghetti?
Breakfast spaghetti is pretty much exactly what it sounds like. Pasta combined with simple scrambled eggs, along with some flavorful additions.
Obviously it contains pasta, I used spaghetti because I like the way it cooks with the eggs. The scrambled eggs adhere to every noodle, and everything gets swirled together in the end on forkfuls of deliciousness.
In addition to the tender pasta, there's crisp crumbled breakfast sausage, rich melted cheddar cheese, and the usual salt & pepper to taste for simple seasonings.
It's a complete hearty breakfast made in a simple skillet. What more could my hungry heathens ask for? Not much as it turns out!
Pasta Carbonara For Breakfast- Making Breakfast Spaghetti Is The Answer
Are you familiar with the infamous Italian dish? Pasta carbonara is a classic Italian staple and most typically a dinner time favorite. It's also the ultimate in simple fare.
It's basically a creamy mixture of pasta, eggs, and bacon.
Simple ingredients that when combined and done right are a winning combination that can make the eyes roll back in your head. Those ingredients with a little help from some cheese combine to form a rich, smooth natural cream sauce and it is truly an experience.
Those are three ingredients we absolutely love, and anything with eggs & bacon is only a hop skip and a jump from breakfast right?
The next leap was only natural, making transforming the dish from night to day surprisingly easy.
We swapped breakfast sausage for the bacon, and we scrambled the eggs among the pasta instead of letting it create any kind of sauce. The cheese was added after everything was cooked and allowed to get gooey & melty thanks to the heat just from the still hot pasta skillet.
Finished off with a simple seasoning of a pinch of salt & pepper, it really does seem like simple food. And it is, which is actually pretty fitting.
While we tend to think of carbonara as a rich, indulgent special occasion meal in this day and age in America- it's actually peasant food that originated among shepherds working in the Italian fields. It was their grab and go meal.
Funny how things naturally have come full circle for us with this easy sausage egg & cheese breakfast spaghetti!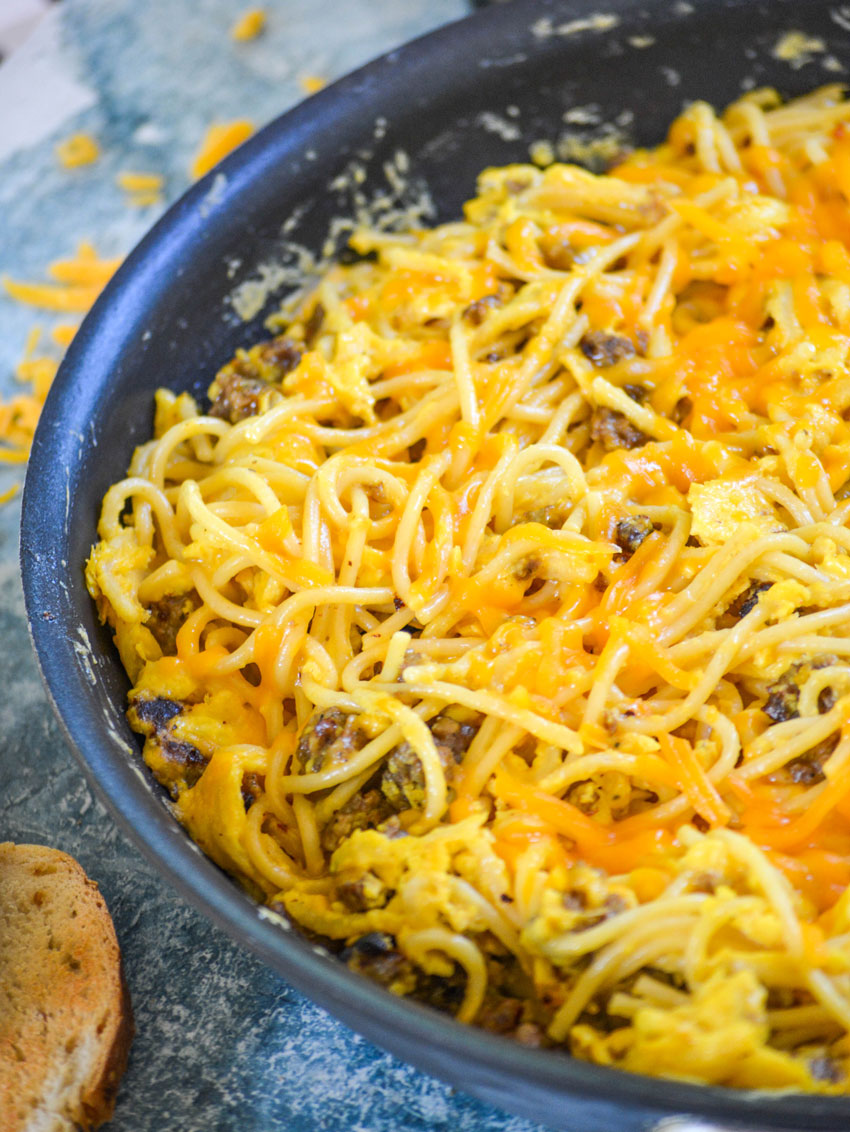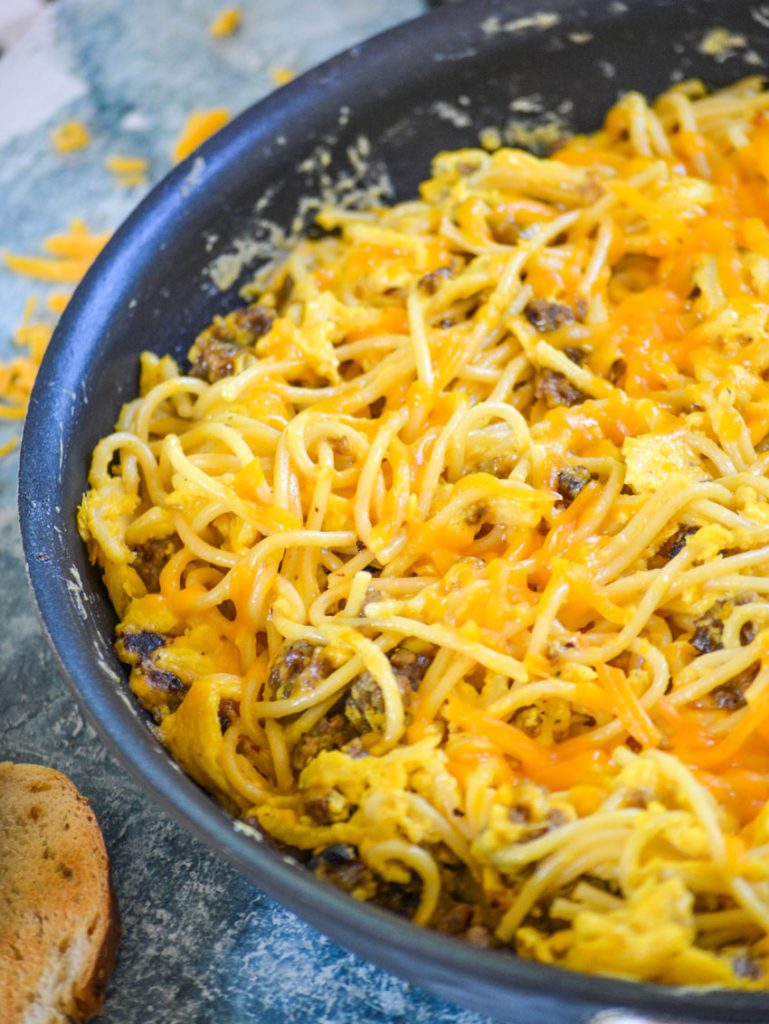 Tips & Tricks For Making The Best Breakfast Pasta
Don't have ground breakfast sausage? You can easily substitute cooked sausage links, but I'd recommend thinly slicing them first.
Worried the eggs won't be fluffy enough? Whisk a tablespoon or two of cream into your beaten eggs. It's not necessary but always yields smoother, fluffier scrambled eggs.
Bring back the bacon! While this dish is great as is, we love our toppings. We serve each plate topped with crisp crumbled bacon & thinly sliced green onions for the ultimate indulgent breakfast on a dime.
Make the mornings more interesting, and also get back to the basics with this simple AM pasta recipe. Breakfast spaghetti is the way to go! It's easy to whip up, with only a handful of ingredients but it's also a filling protein & carb rich meal meant to keep you fueled throughout the morning.
This simple twist on the classic pasta dish may not have everyone excited to wake up, but it will certainly get them all to the breakfast table. And one thing I've learned when your commanding a crew of little ones, that alone is half the battle!
Other Delicious Spins On Breakfast You Might Also Enjoy:
If you've tried this SAUSAGE EGG & CHEESE BREAKFAST SPAGHETTI, or any other recipe on the site, let me know in the comment section how it turned out, we love hearing from our readers! You can also follow along with me on PINTEREST, FACEBOOK, and INSTAGRAM to see more amazing recipes and whatever else we've got going on!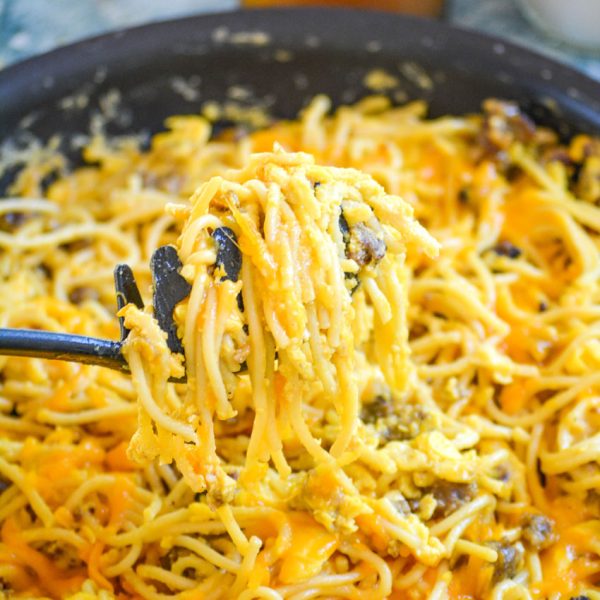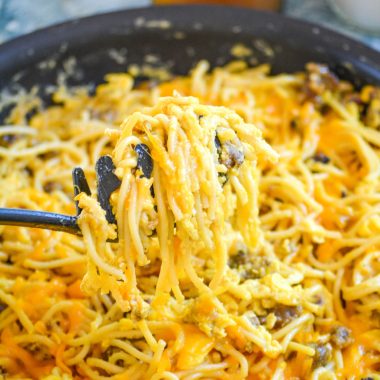 Sausage Egg & Cheese Breakfast Spaghetti
This carbonara inspired breakfast spaghetti features sausage, melted cheddar cheese, spaghetti pasta, and plenty of scrambled eggs. Breakfast spaghetti is easy to whip up, but filling enough to keep the whole family fueled throughout the day.
Print
Pin
Rate
Ingredients
2

tbsp

butter

1

lb

breakfast sausage

cooked, broken up, and drained of grease

1/2- 1

lb

spaghetti pasta

cooked according to package instructions, drained, and rinsed

8

large

eggs

beaten until smooth

3/4

cup

shredded cheddar cheese

salt & pepper

to taste
Instructions
Add the butter to a large skillet, and heat it over medium heat until melted. Turn the skillet gently until the butter's completely coated the bottom.

Spread the cooked pasta out in the skillet, and the pour the beaten eggs evenly out over top of the pasta..

Add the sausage, spreading it evenly out over the pasta. Top with the cheese, and give everything a good stir to evenly combine it all.

Continue cooking, stirring as needed, just until the eggs are cooked.

Salt & pepper the breakfast pasta, to taste, ladle onto plates and serve warm. Enjoy!
Nutrition
Calories:
849
kcal
|
Carbohydrates:
85
g
|
Protein:
39
g
|
Fat:
37
g
|
Saturated Fat:
15
g
|
Cholesterol:
361
mg
|
Sodium:
716
mg
|
Potassium:
559
mg
|
Fiber:
4
g
|
Sugar:
3
g
|
Vitamin A:
723
IU
|
Vitamin C:
1
mg
|
Calcium:
175
mg
|
Iron:
4
mg