Breakfast for dinner. Dinner for breakfast. Either application works with this Breakfast Lasagna. Fluffy scrambled eggs and diced ham are sandwiched between layers of French toast with a syrup drizzle and a crispy hash brown crust. Day or night– it's a hearty meal that's sure to please any crowd.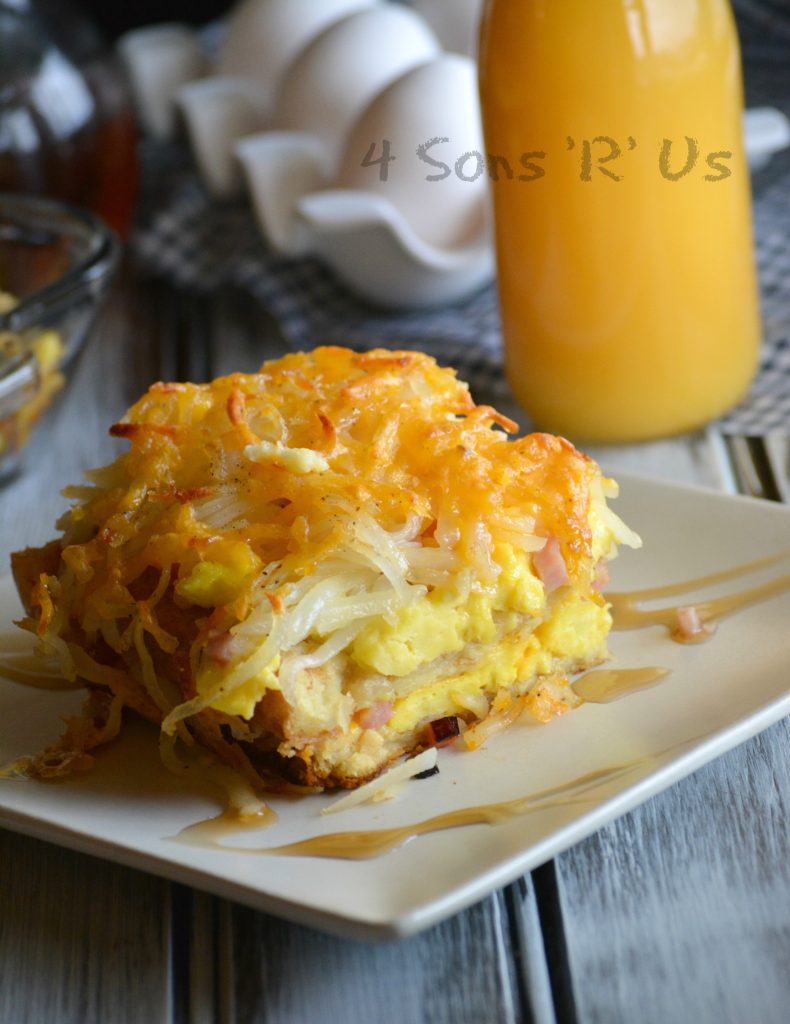 Everything has a flip side. For example– when my husband and I first met he was more the cook than I was.
Not that I wasn't capable, he was just the one who assumed that responsibility and did it. Then I quit working to stay home with our kids and that responsibility gradually shifted to me.
Except I'm not a morning person, or a breakfast person even on those mornings I am grudgingly awake at an early hour.
I was ecstatic when my husband took on the job of Saturday and Sunday brunch maker as a result.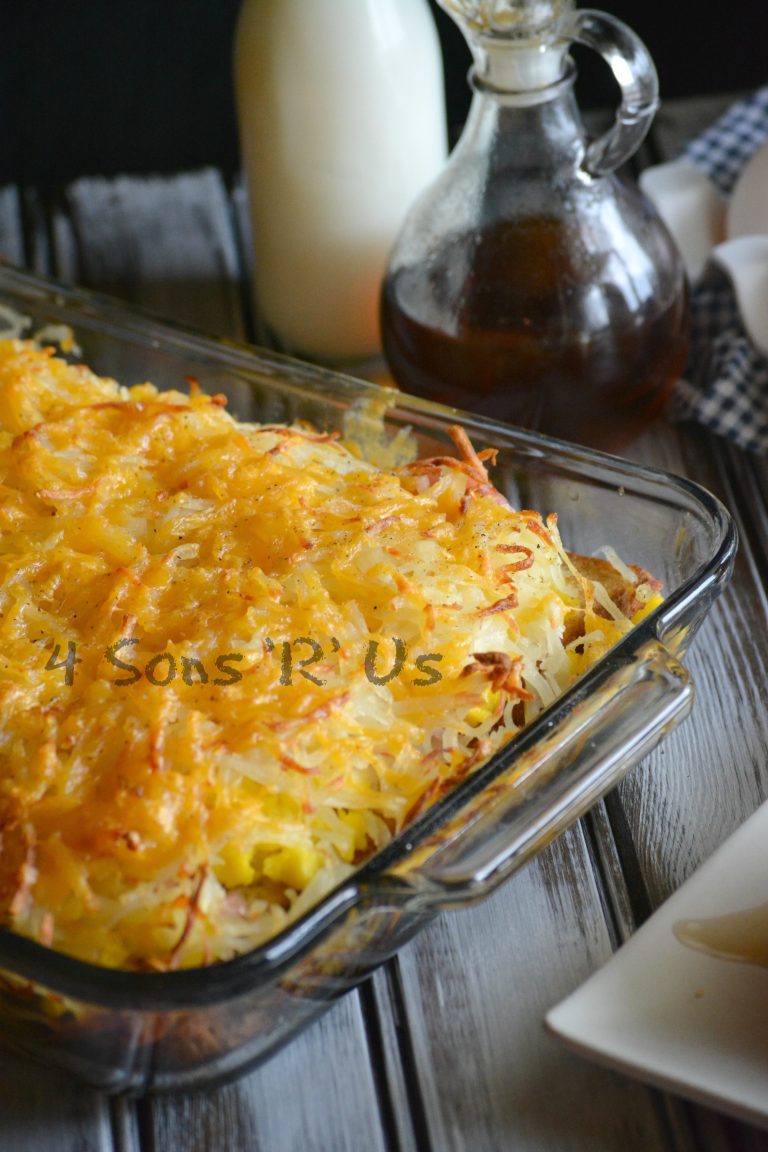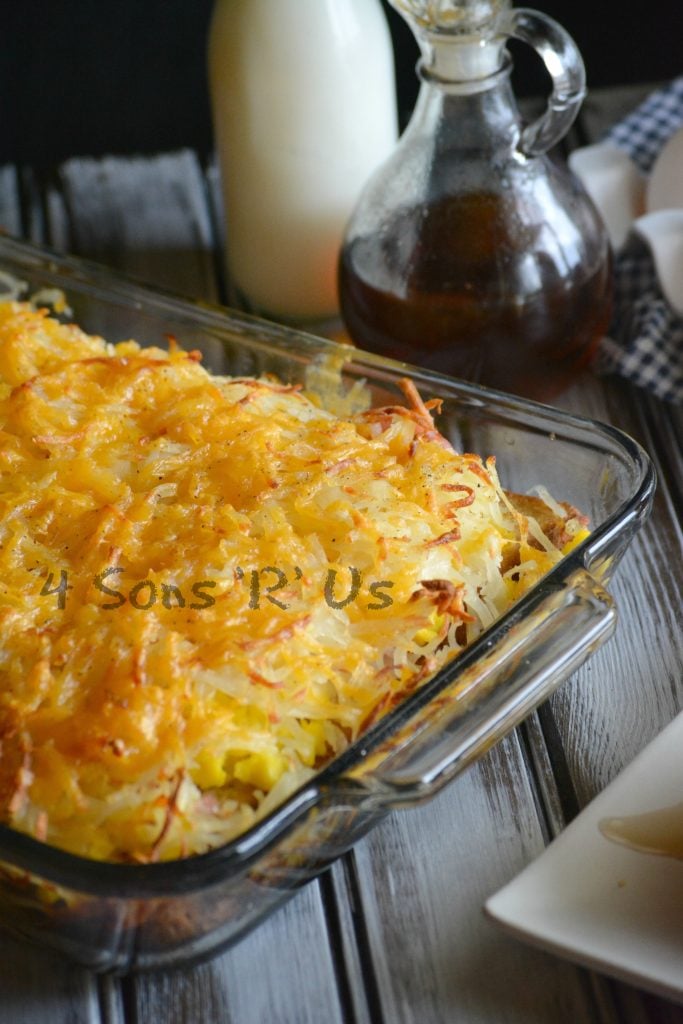 To this day every Saturday and Sunday morning he gets up, letting me sleep in, brings me coffee in bed, and gets to cooking.
Usually it's some combination of breakfast style meat like sausage or bacon, and whatever style of eggs he's craving. Occasionally he mixes things up with pancakes or waffles.
At this point yo're probably wondering what the flip side of all this is.
The catch is that because of that he really dislikes having eggs or any type of breakfast food for any other meal. Like dinner.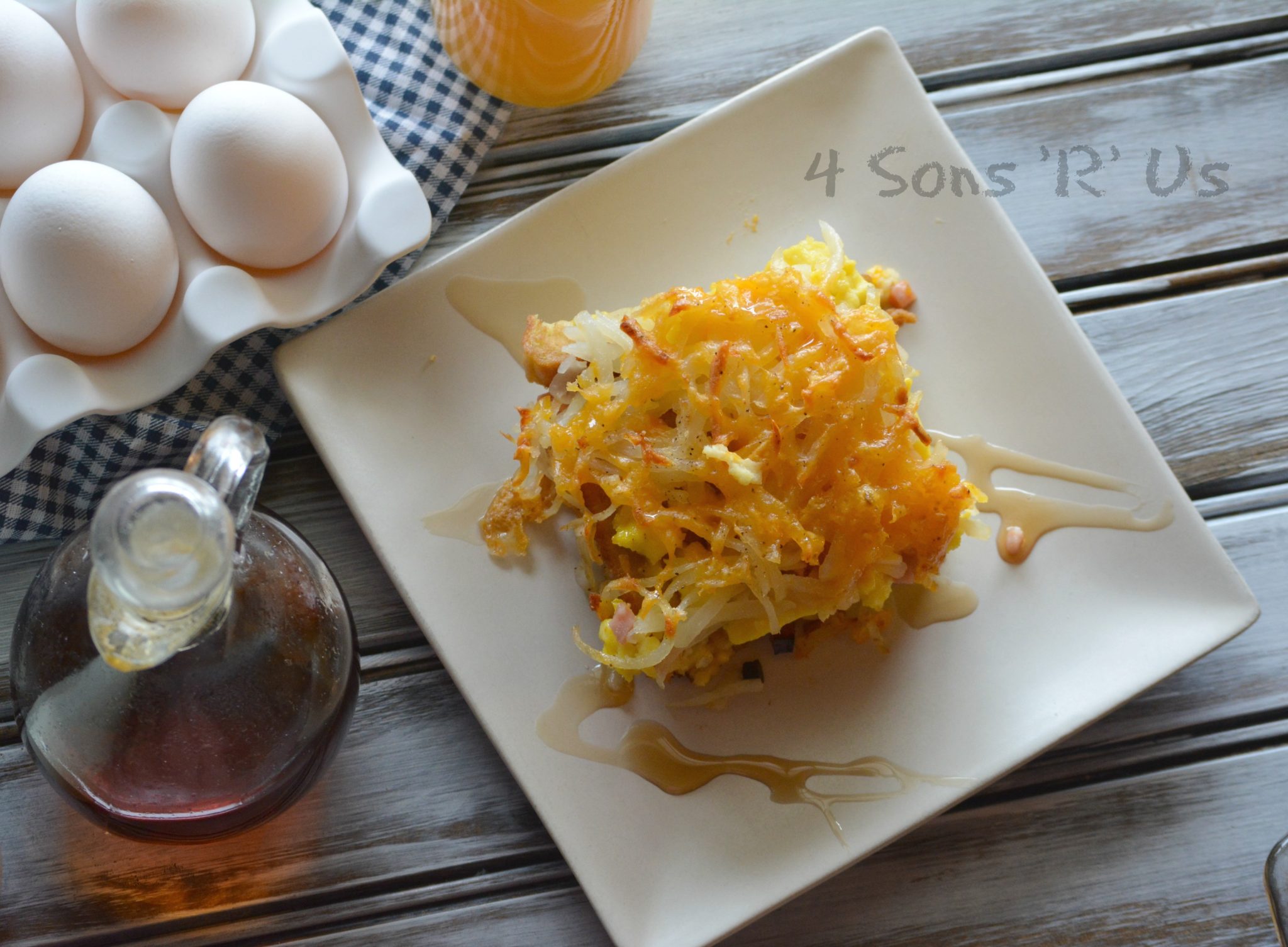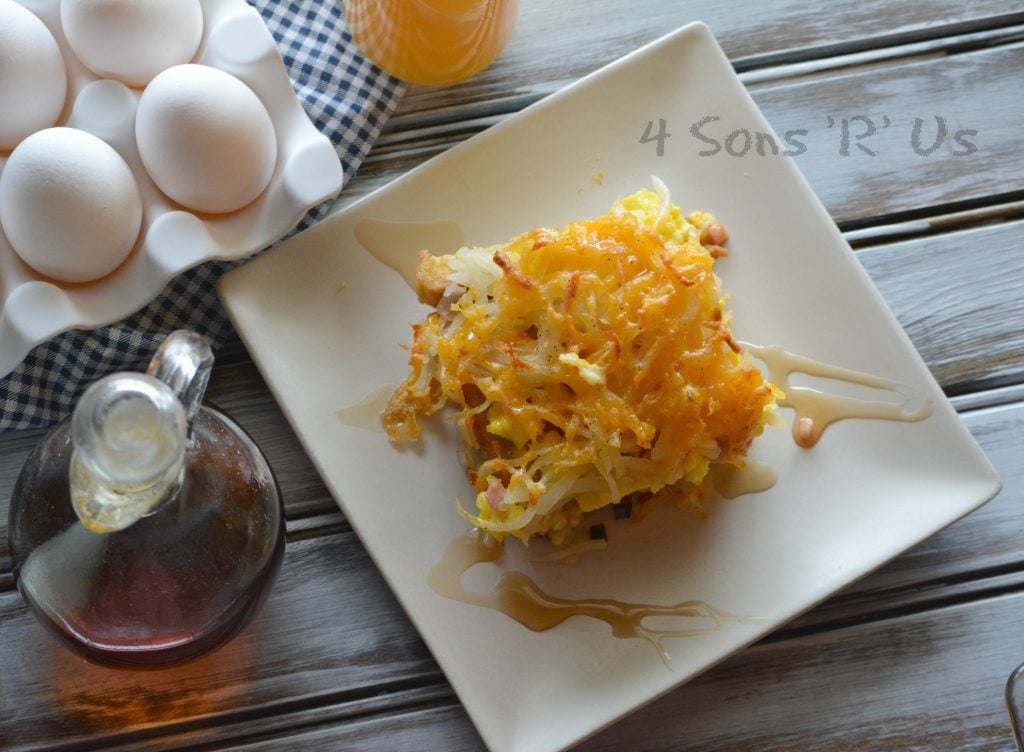 As if I'd let something like that rain on my 'breakfast is an acceptable meal any time of day' parade.
So breakfast lasagna for dinner last week is what he got. Despite his protests and annoyance.
And you know what– against his better judgement he ate it, for dinner, and liked it.
He even discovered the sweet goodness that's syrup drizzled over his scrambled eggs & cheesy hashbrown potatoes.
Even if you're skeptical about it, I highly recommend you try it before totally dismissing the idea. Sweet & savory is always a winning combination in my cook book!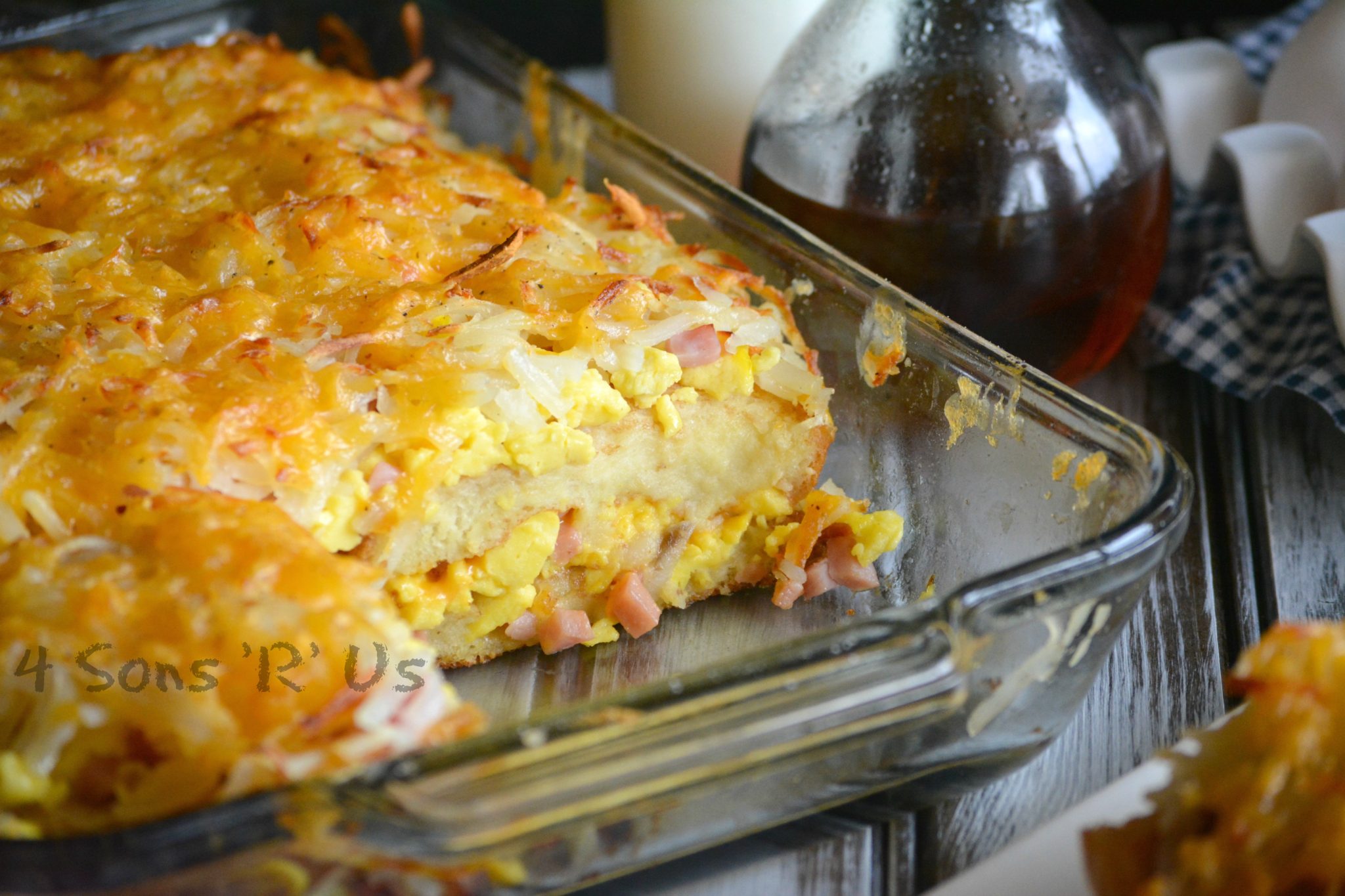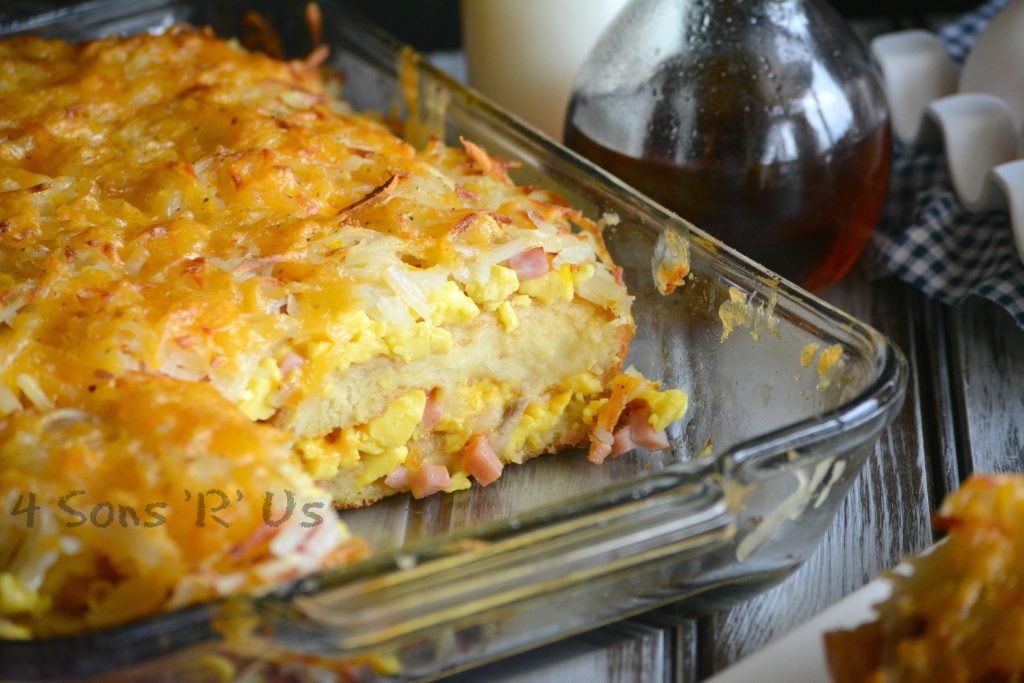 Other Breakfast/Brunch Ideas To Try:
If you've tried this BREAKFAST LASAGNA, or any other recipe on the site, let me know in the comment section how it turned out, we love hearing from our readers! You can also follow along with me on PINTEREST, FACEBOOK, and INSTAGRAM to see more amazing recipes and whatever else we've got going on!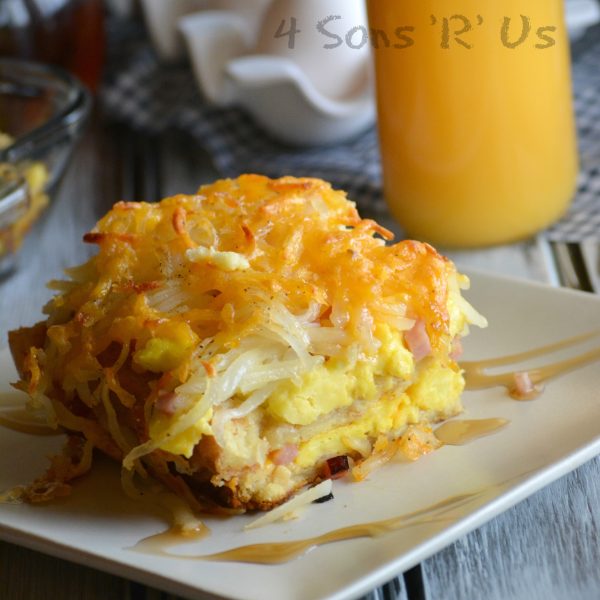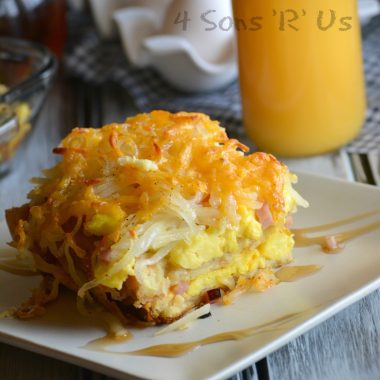 Breakfast Lasagna
An easy breakfast casserole that's perfect for breakfast or dinner, and filling enough for a family meal or a weekend brunch.
Print
Pin
Rate
Ingredients
14-16

eggs

cream

12

pieces

of frozen french toast

1 1/2

cups

shredded cheddar cheese

diced ham

syrup

1 20

oz

package of refrigerated shredded hash browns

salt & pepper

olive oil
Instructions
Crack the eggs into a large bowl. Pour in a tablespoon or two of cream and use a whisk to whip them together until frothy and evenly incorporated.

Cook the eggs in a large, non stick skillet over medium heat. Stir them occasionally to prevent sticking and break them up into rough chunks as they're cooked. Remove the cooked eggs from heat and set aside.

Spray a 9x13" baking dish with non stick cooking spray. Place 6 slices of french toast into the bottom of the dish-- in two rows of three each.

Drizzle syrup lightly over top. Spread half of the cooked eggs evenly out over top, followed by half of the diced ham, and finally 1/2 cup of the cheddar cheese.

Repeat the layer once more beginning again with the slices of french toast.

Spread the hash browns out evenly between several layers of paper towels, pressing them to remove any excess moisture. Top the casserole with the hash browns and spread them out evenly over top into a thin layer. Salt and pepper them to taste, before drizzling them with olive oil.

Bake at 350 degrees for 30-35 minutes. Remove the lasagna from the oven and sprinkle the remaining half cup of cheddar evenly out over top. Return the dish to the oven and bake for another 5 minutes or until the cheese is melted and the crust nicely crisped.

Let the dish rest for a minute or two before slicing and serving. Drizzle with additional syrup, if desired.
Nutrition
Calories:
353
kcal
|
Carbohydrates:
25
g
|
Protein:
15
g
|
Fat:
21
g
|
Saturated Fat:
7
g
|
Cholesterol:
274
mg
|
Sodium:
448
mg
|
Potassium:
494
mg
|
Fiber:
2
g
|
Sugar:
1
g
|
Vitamin A:
560
IU
|
Vitamin C:
8.6
mg
|
Calcium:
185
mg
|
Iron:
1.7
mg