Looking for a way to get all of your breakfast favorites in one easy meal? One that doesn't require any work on your part in the morning? This Slow Cooker Breakfast Soup is a savory, slightly sweet soup studded with breakfast sausage, potatoes, and tomatoes- and topped with fluffy scrambled eggs & crisp, crumbled bacon. It's sure to make any morning a good one!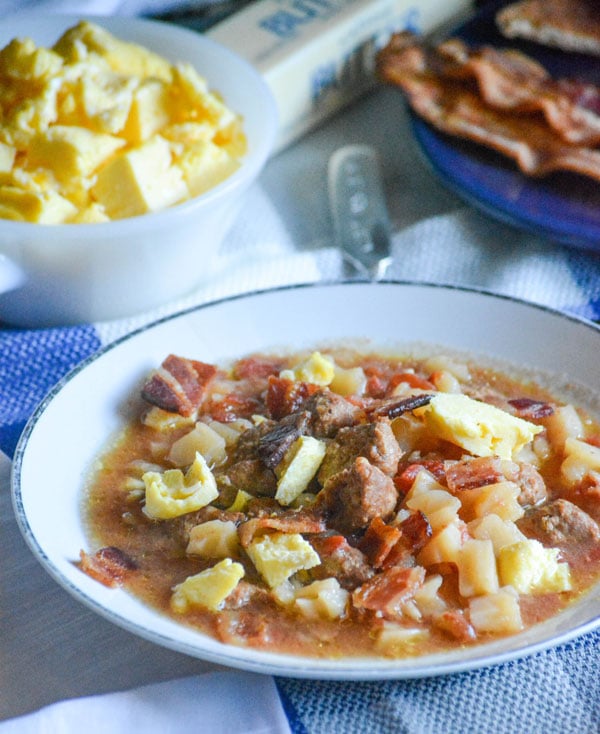 Ok, I'm just gonna come right out and say it- don't let the name put you off. I know. I know.
Breakfast soup? How could this ever be a good thing? How could it ever be a good thing to introduce to your digestive system?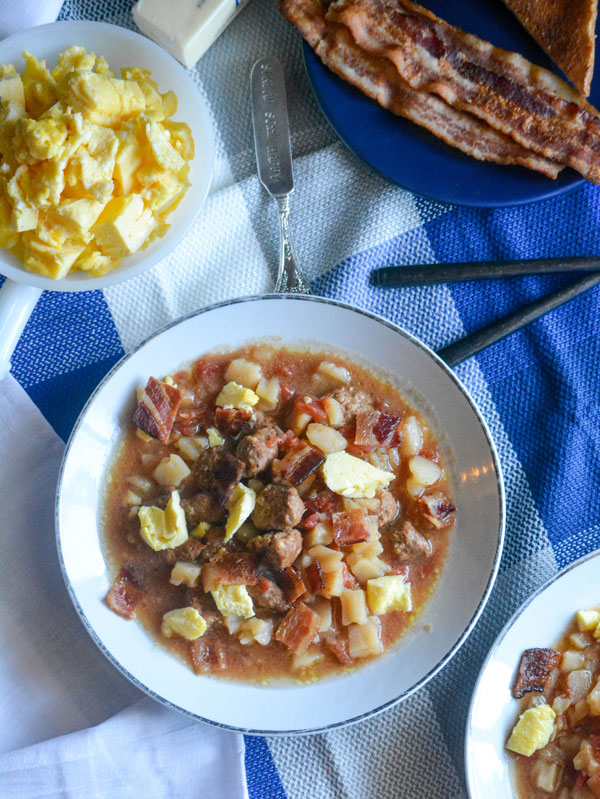 Remember when you were a lil whipper snapper and your Mama or Daddy were all on your case to at least try something before you decided you didn't like it?
Nothin's changed. Don't knock it 'til you've tried it. Trust me.
Eat your breakfast, no matter what it is- but especially give it a try if it's this Slow Cooker Breakfast Soup.
Seriously, you will regret nothing. If you don't step out on a limb and try it though, well you'll regret not living your best life.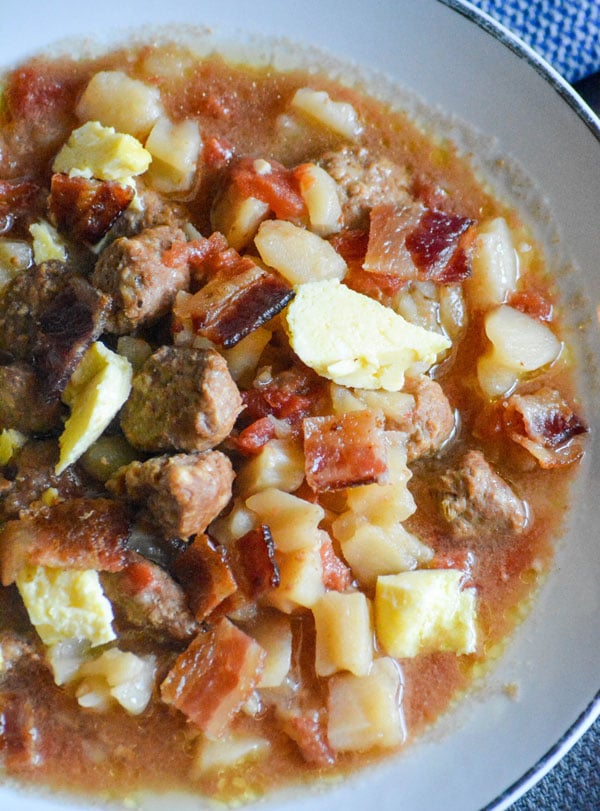 So this is essentially breakfast soup, and I know that probably sounds very off-putting all by itself.
Don't ignore this recipe though please- at least not because it contains the two words 'breakfast' & 'soup' in the title.
You can't beat what we've got in store for you! You're mild horror is going to slowly dissolve into a new saccharine appreciation.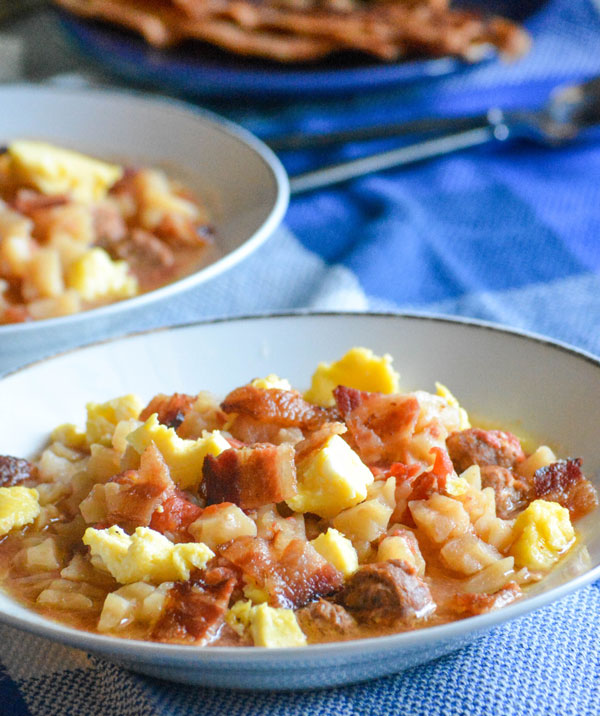 This Slow Cooker Breakfast Soup is easy to throw together. Add the potatoes, tomatoes, and sausage to the bowl of your slow cooker.
In a mixing bowl, whisk together chicken broth, minced garlic, and a packet of Hollandaise sauce until the mixture's smooth and everything's completely incorporated.
Pour the mixture into the slow cooker, cover, and cook on high for 4 hours. Let that amazing aroma wake the whole house up as the flavors meld & marry.
About 30 minutes before the soup's scheduled to be done, scramble your eggs, and cook your bacon.
You want crisp bacon that you can easily crumble for this recipe. I'd recommend using our fool proof, easy clean up oven baked bacon method.
Ladle the soup into bowls and top each bowl with scrambled egg and bacon. The kids like there's topped with shredded cheddar.
As with any soup, you want to serve it with a bit of bread. No juices left behind in bowls around here, after all!
I like mine with freshly toasted, crisp sandwich bread. It's also very good with breakfast biscuits.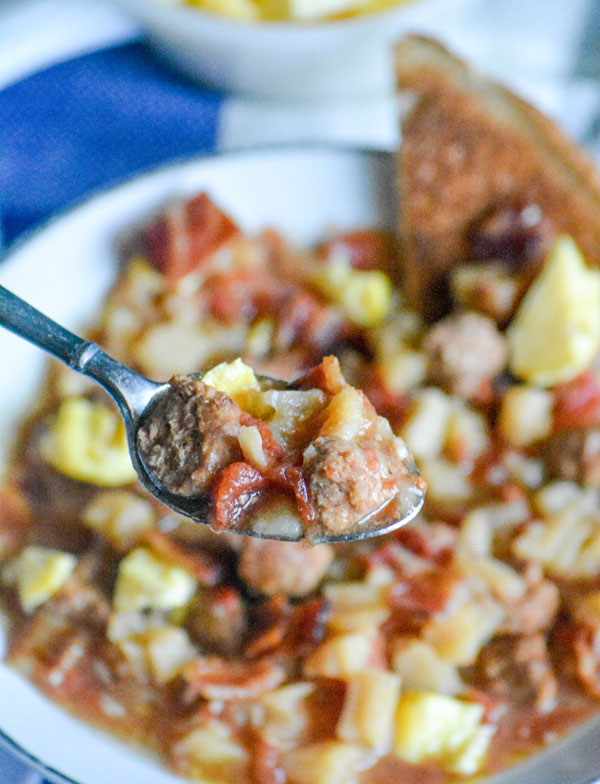 You really can't go wrong with this recipe.
I love making it on special mornings (even though it means I have to get up earlier than normal), and having the delicious smells slowly wake everyone up and bring them to the kitchen.
It makes for a fantastic brunch, especially Christmas morning.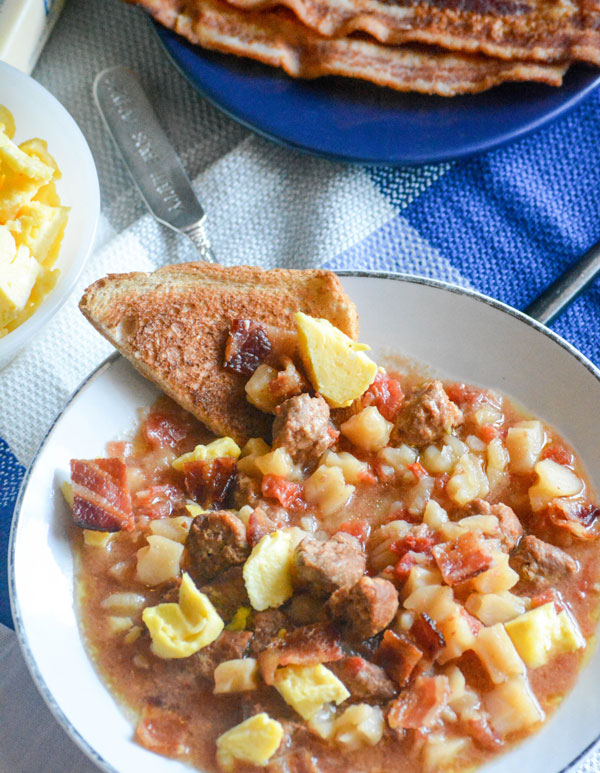 Don't want to get up early to get it cooking? Throw this Slow Cooker Breakfast Soup together before getting in bed, but cook it overnight on LOW, and it'll be ready for you to serve with some freshly scrambled eggs come morning.
Not just for holidays, this method makes it an option even on busy weekday mornings.
Other Breakfast Ideas You Might Also Enjoy:
If you've tried this SLOW COOKER BREAKFAST SOUP, or any other recipe on the site, let me know in the comment section how it turned out, we love hearing from our readers! You can also follow along with me on PINTEREST, FACEBOOK, and INSTAGRAM to see more amazing recipes and whatever else we've got going on!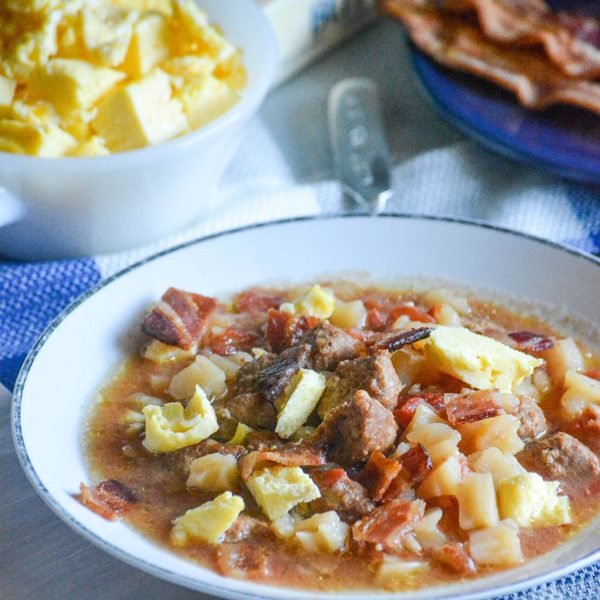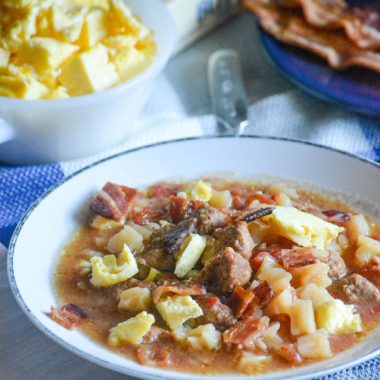 Slow Cooker Breakfast Soup
A sweet potato & tomato based soup that features your favorite breakfast foods as toppings.
Print
Pin
Rate
Ingredients
1

lb

breakfast sausage links, cut into slices

2

cups

diced potatoes

1

can

diced tomatoes, undrained

4

cups

chicken broth

2

cloves

garlic, minced

1

packet

Hollondaise sauce

1/2

cup

bacon, cooked, drained, and crumbled
Instructions
To the bowl of your slow cooker, add the sausage, potatoes, and undrained tomatoes.

To a mixing bowl, add the broth, garlic, & hollaindaise packet. Whisk together until everything's smooth and evenly incorporated. Pour the mixture into the slow cooker.

Cover and cook on high for 4 hours, or overnight on low for 8 hours.

Ladle the soup into bowls, and top each with scrambled eggs and bacon. A sprinkle of shredded cheddar is optional. Serve with fresh toast, breakfast biscuits, or other hearty, crusty bread.
Nutrition
Calories:
567
kcal
|
Carbohydrates:
14
g
|
Protein:
38
g
|
Fat:
39
g
|
Saturated Fat:
13
g
|
Cholesterol:
666
mg
|
Sodium:
1551
mg
|
Potassium:
1002
mg
|
Fiber:
2
g
|
Sugar:
2
g
|
Vitamin A:
1010
IU
|
Vitamin C:
26.2
mg
|
Calcium:
151
mg
|
Iron:
7
mg