Start the day off in a fun way with these bacon, egg, and cheese breakfast totchos or potato tot nachos. In this dish, the tots substitute nicely for hash browns and jazz up a breakfast skillet into a treat the entire family will love next Saturday morning.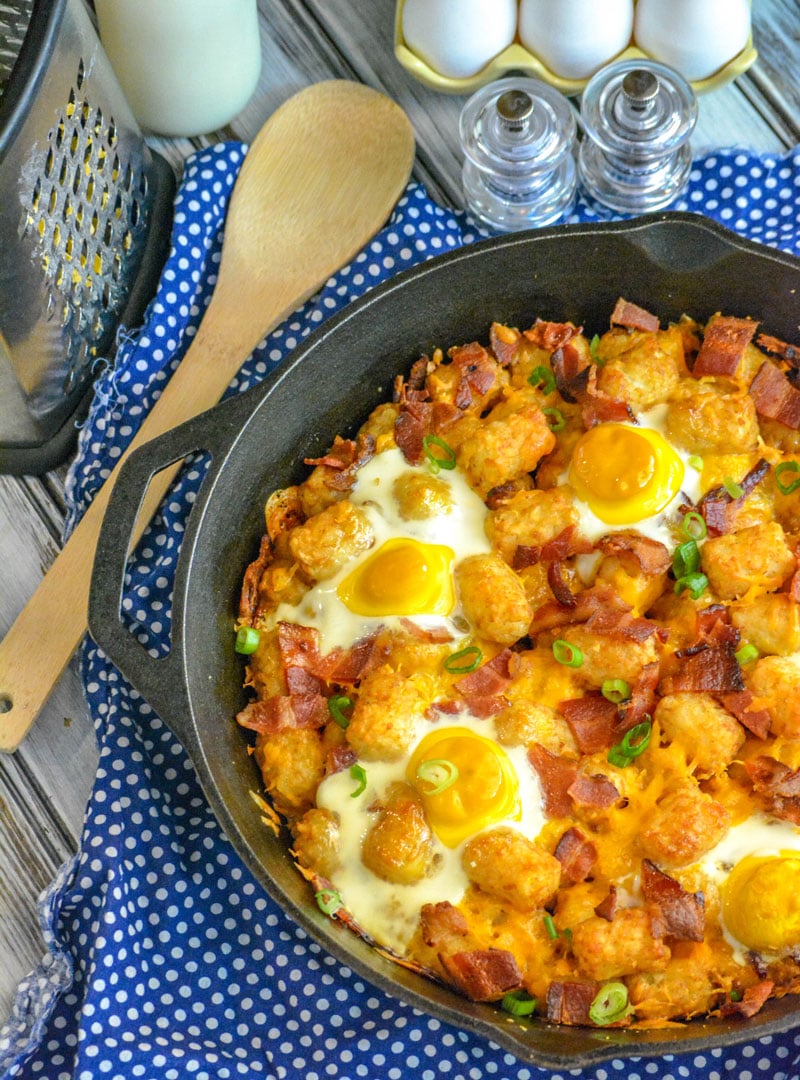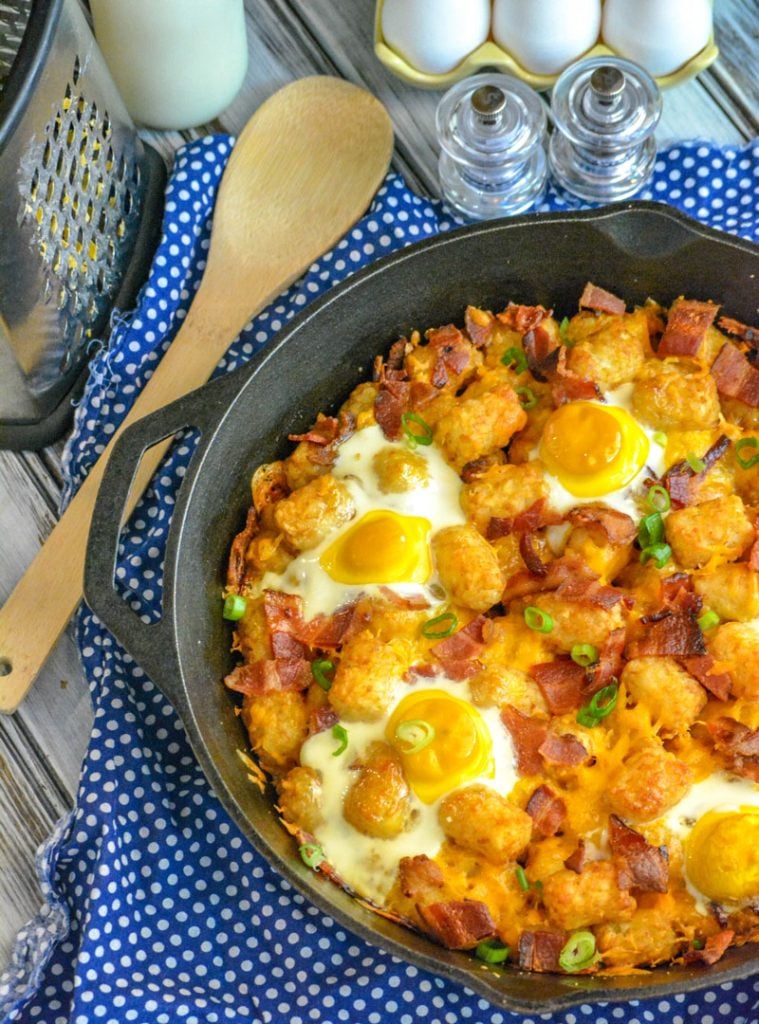 Have you had totchos yet? I just love them. There is food. And then there is food that is fun to eat. Tochos are definitely in the fun to eat category. How could they not be? They take the most fun form of potatoes – tater tots – and load them with toppings just like nachos.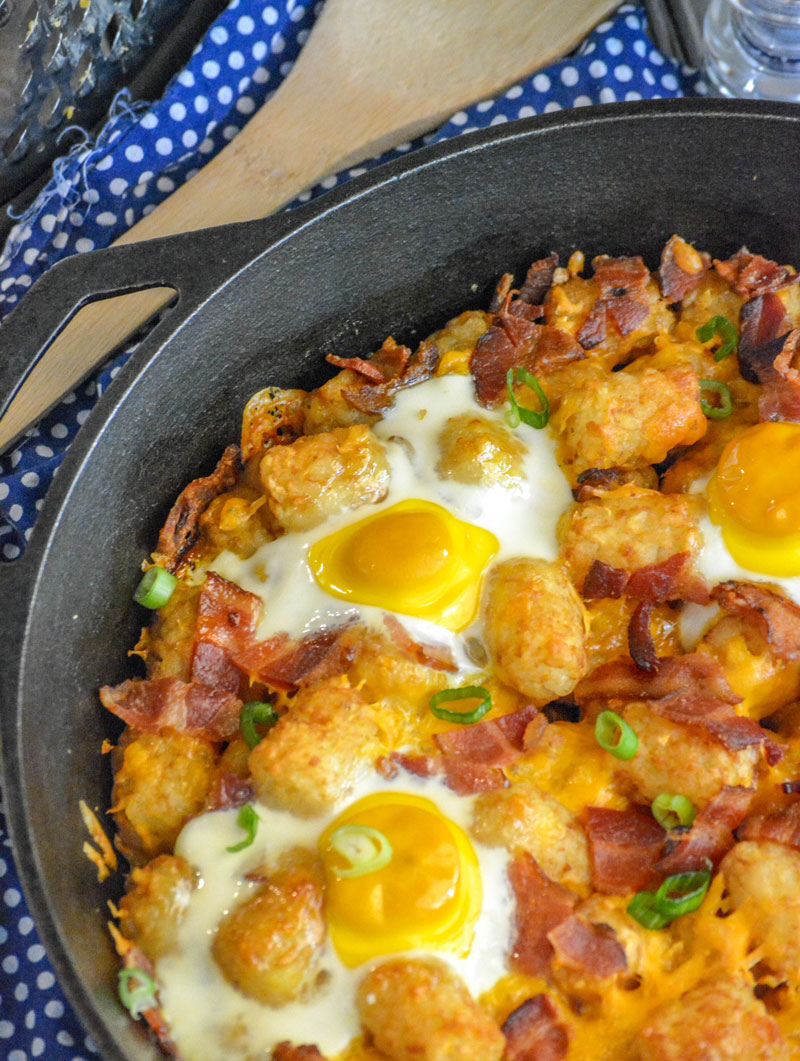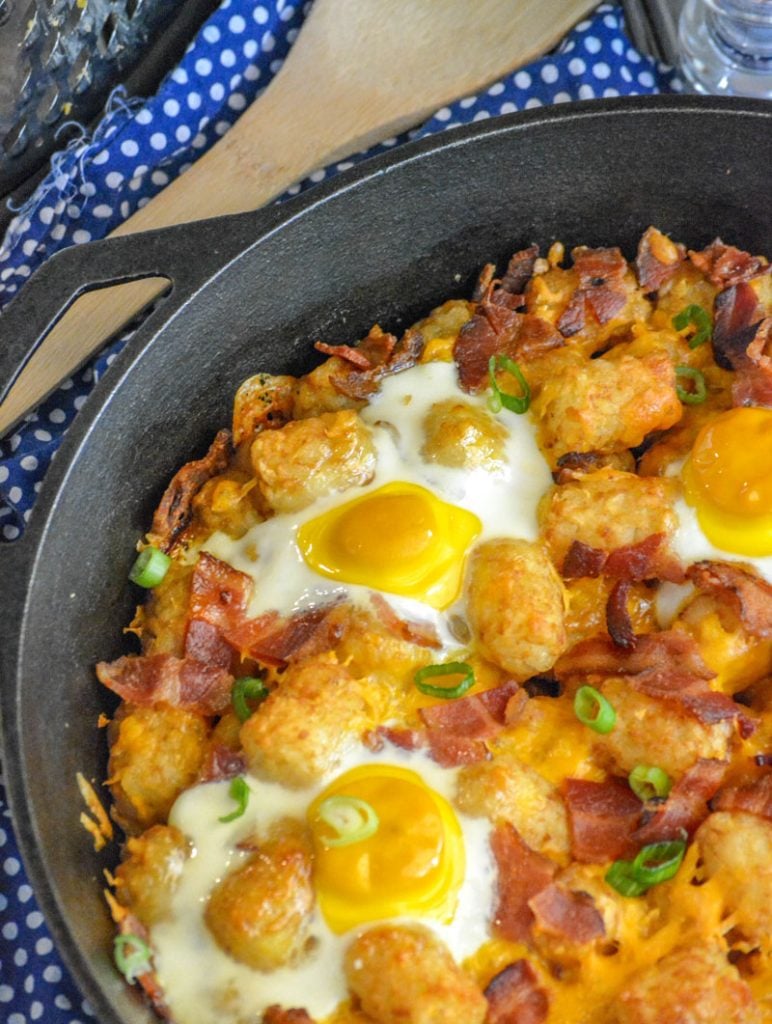 Normally totchos are a snack food but I really felt like breakfast needed some fun. Because if you start the day off with a fun, delicious breakfast, the rest of the day is bound to be just as good.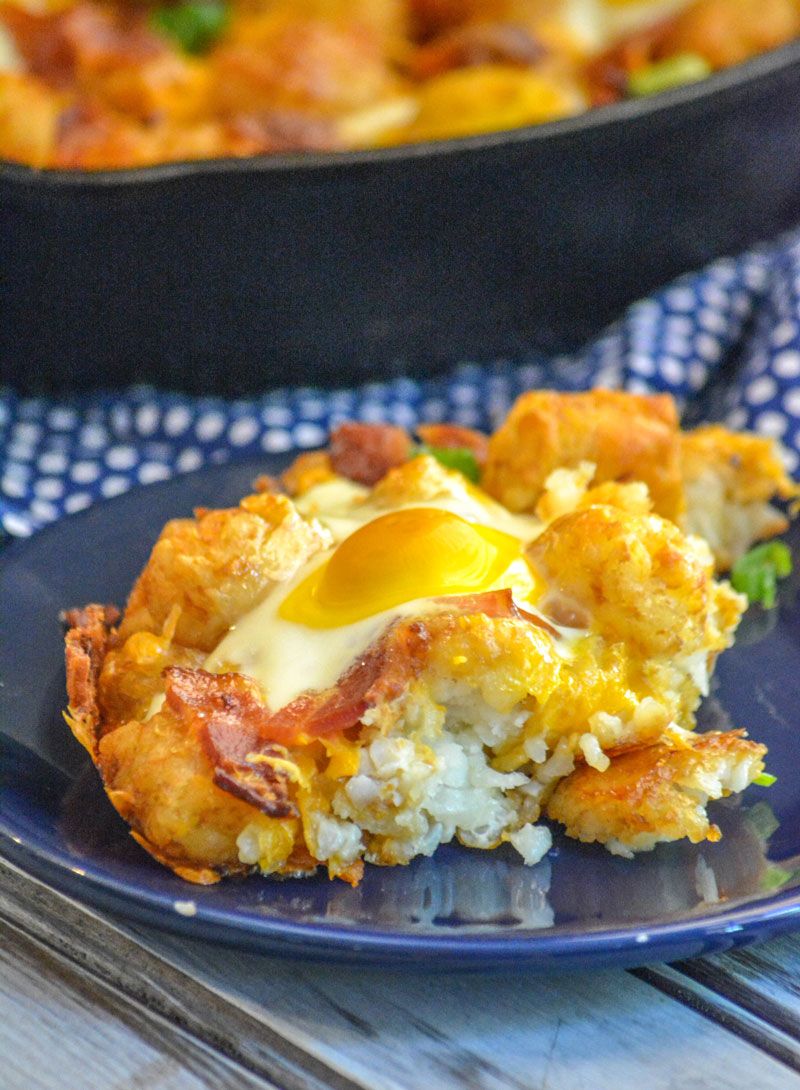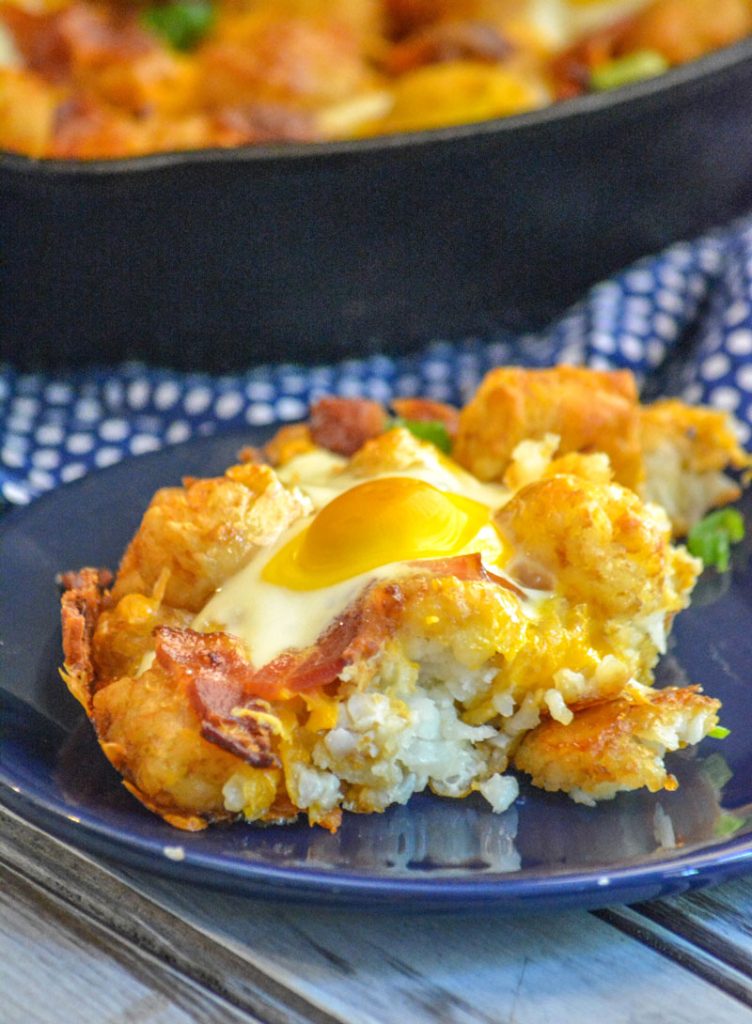 And these bacon, egg, and cheese breakfast totchos are packed with all the classic breakfast flavors. You can't really do breakfast much better than a dish that has bacon, eggs, cheese, and potatoes. Such a classic and winning combo.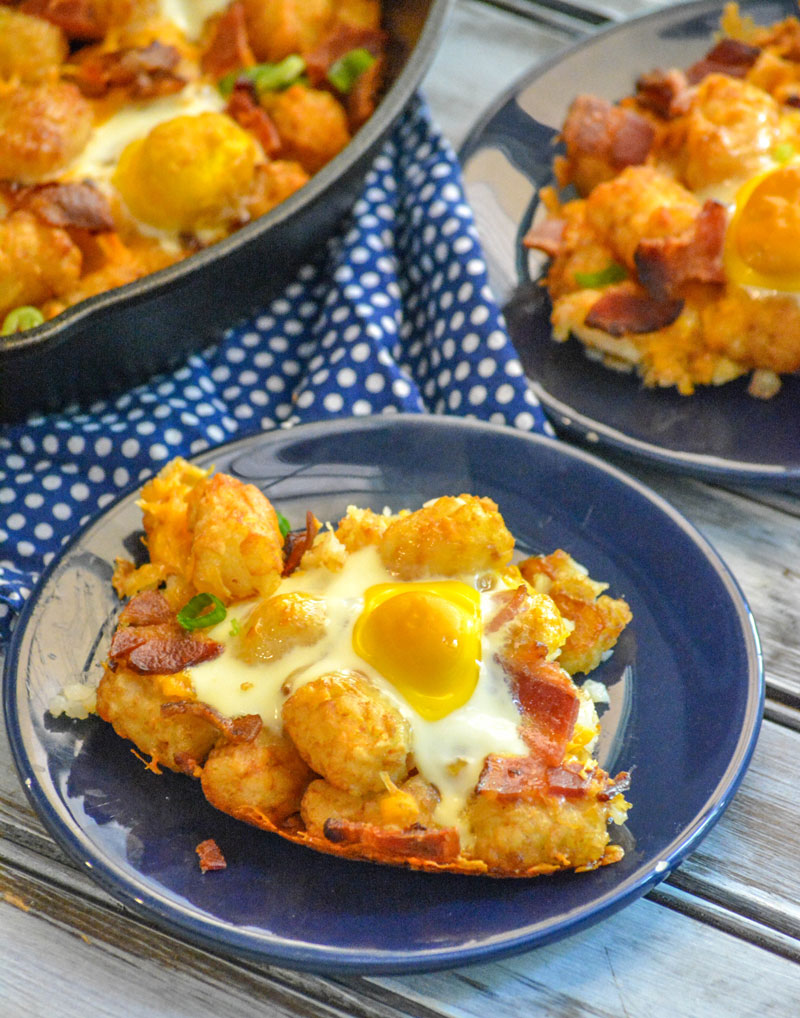 Not only is this dish full of classic breakfast flavors and served in a playful way, but it is so easy to make. I can put it together with morning chaos going on around me. And I can do that before I have even had my first sip of coffee. That's how easy it is.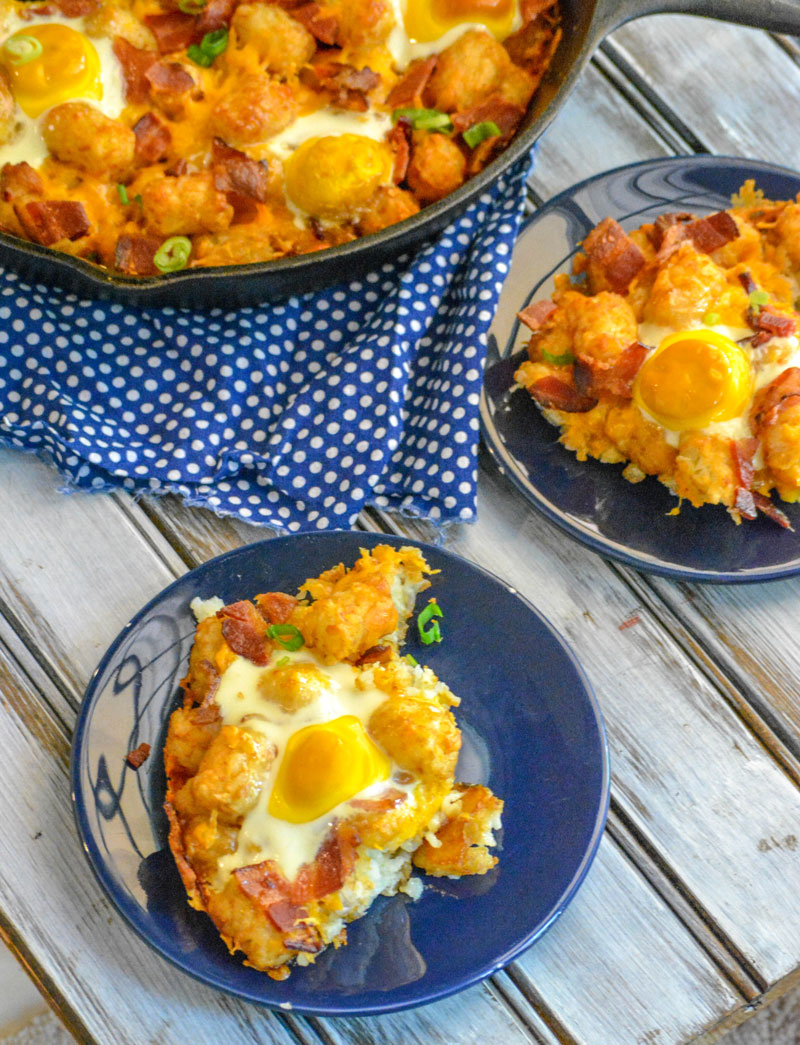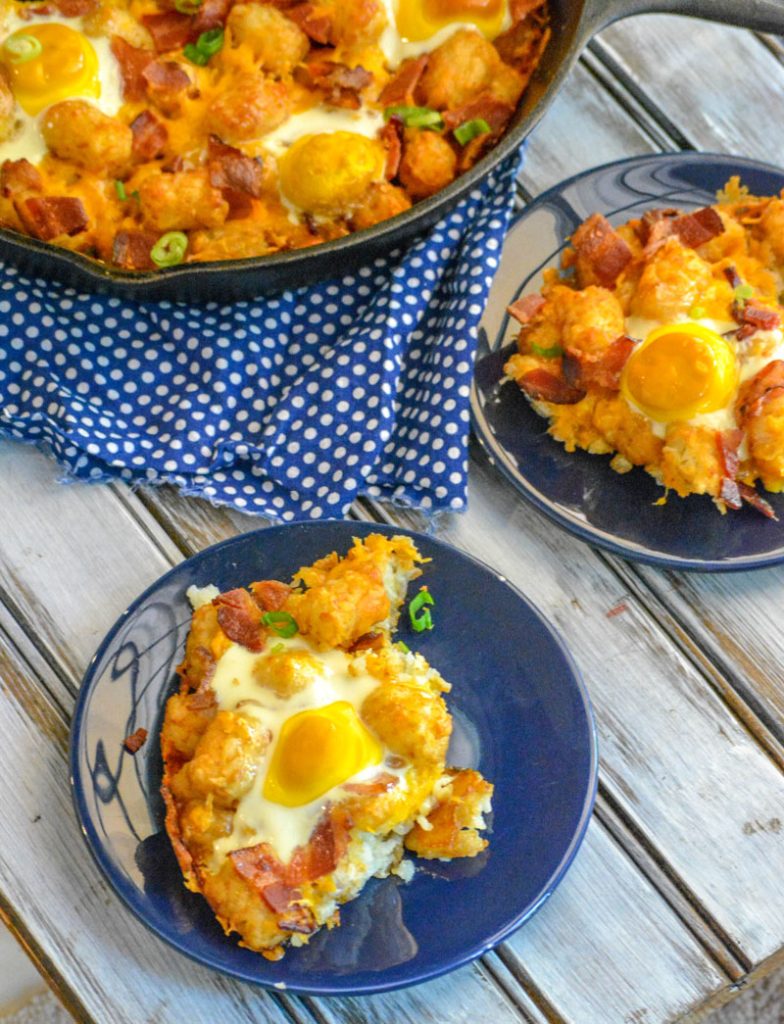 Start these bacon, egg, and cheese breakfast totchos with the bacon. Cook up 6 to 8 strips of bacon crispy.
While the bacon is cooling and you are trying not to eat it, line a 12″ cast iron skillet with a pound of frozen tater tots. The tater tots should totally cover the bottom of the skillet and you should have some extras. Just spread the remaining tots evenly over the bottom layer of tater tots.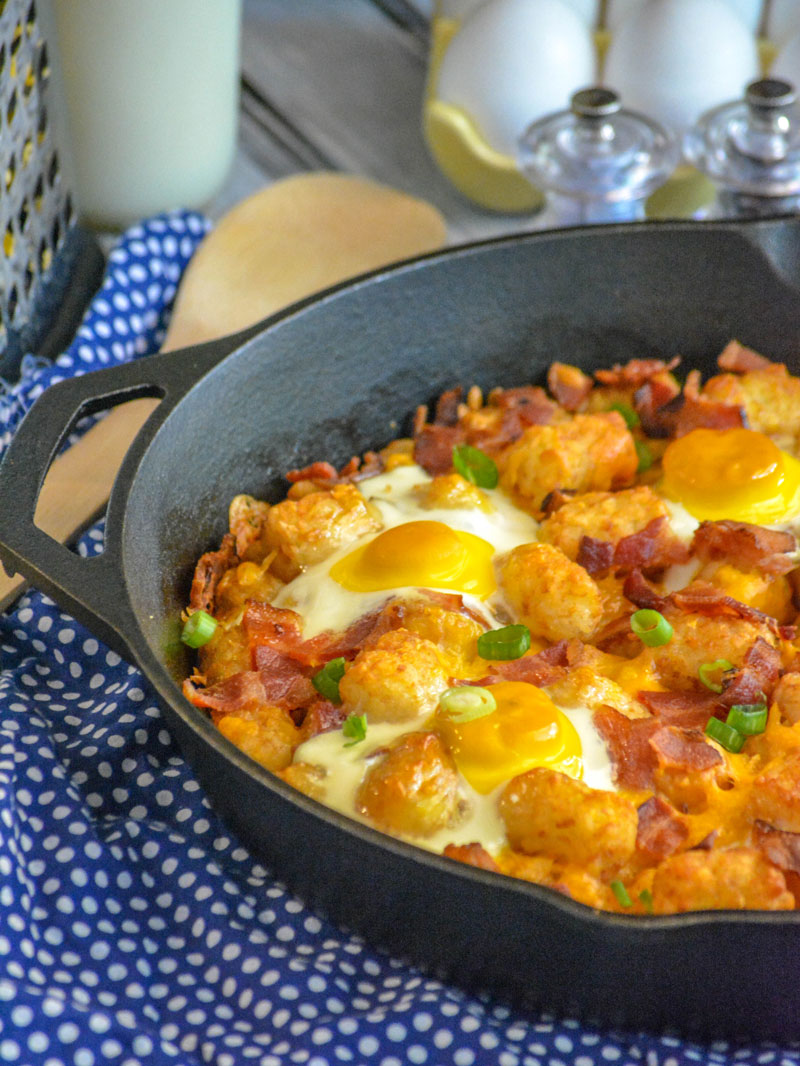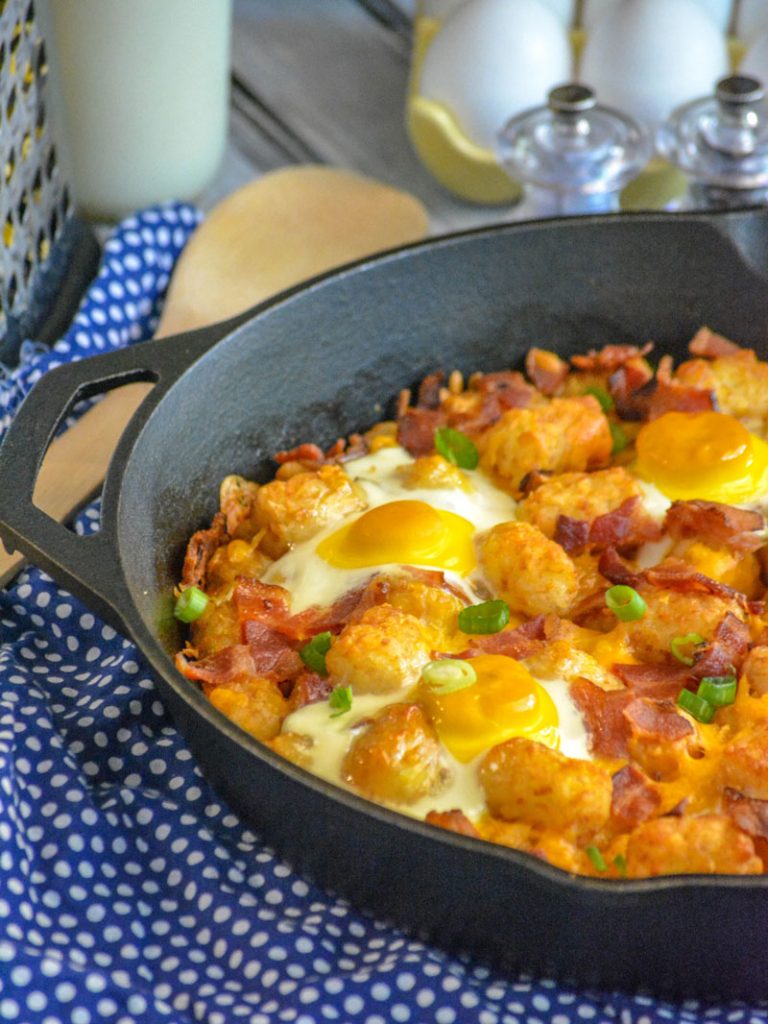 So now you have layers of tater tots just begging for some toppings. Sprinkle on the cheddar cheese evenly over the tots layer. Then take your cooled off bacon and crumble it over top of the tater tots and cheese in delicious little bacon sprinkles. Season this whole layer with salt and pepper. Use as much or as little seasoning as you like.
So now you have the base and two of the toppings of these bacon, egg, and cheese breakfast totchos. You still need to add the eggs. The base tot layer and the first two toppings should have created some natural wells. If not, just press random areas down throughout the base layers so they will nest the eggs perfectly. Then crack the eggs into the wells. Sprinkle on more salt and pepper if you wish. Then put the whole skillet into a preheated oven.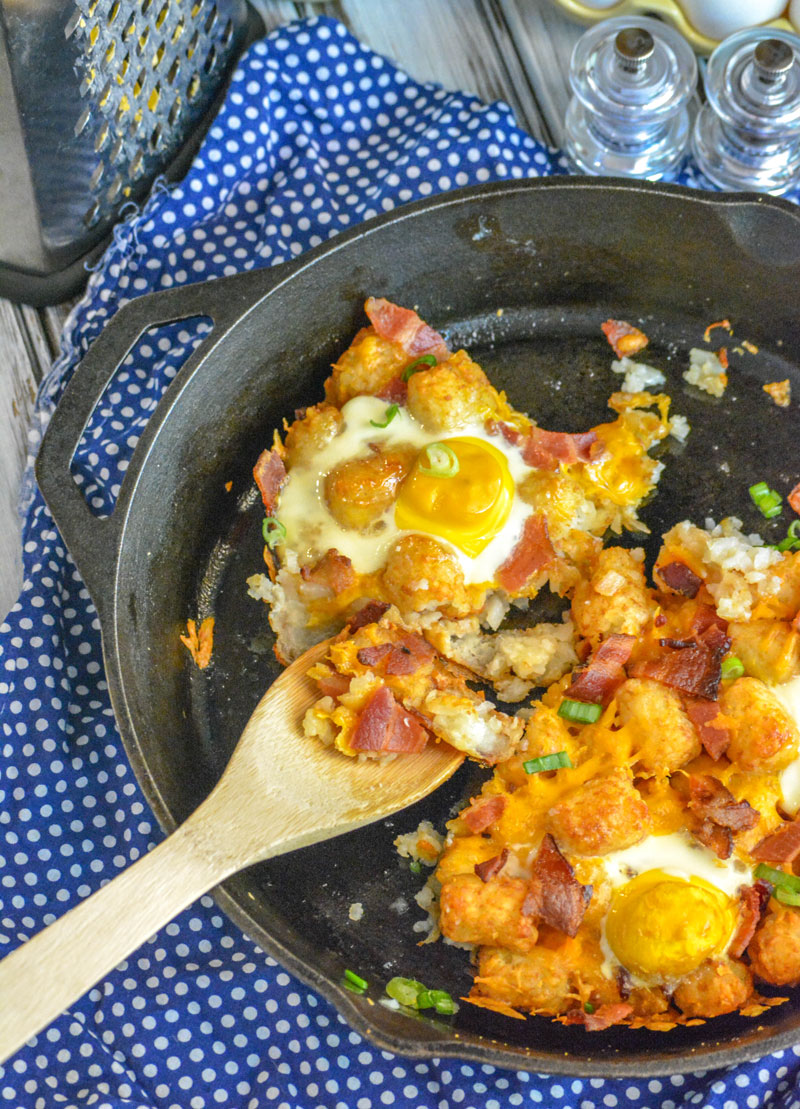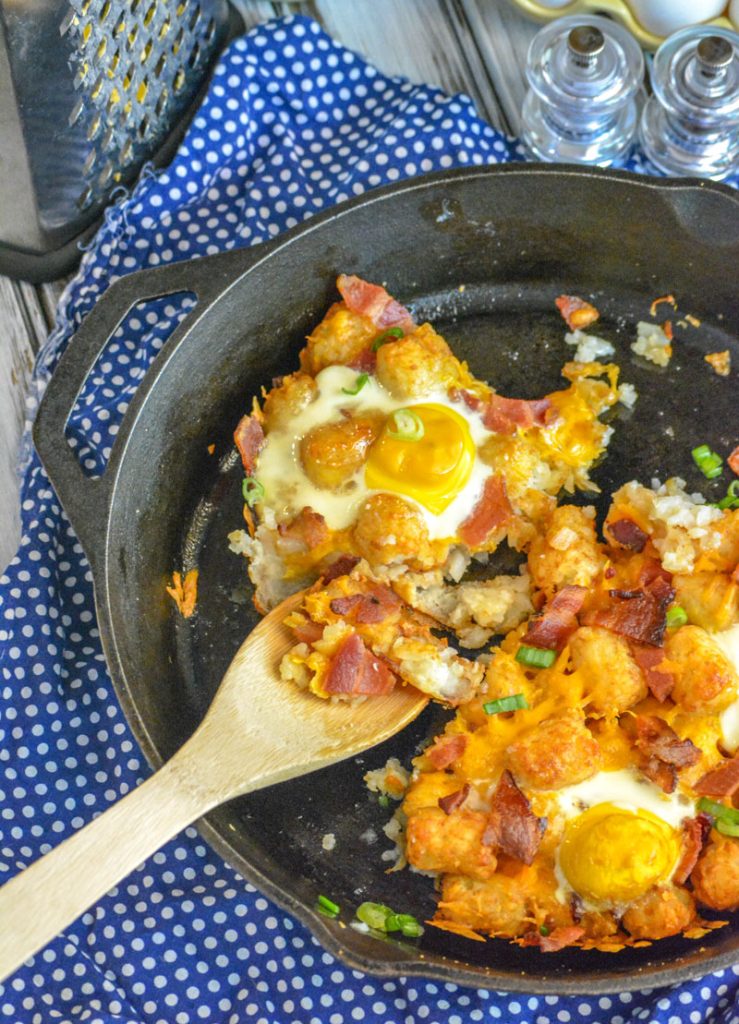 The hardest part? Waiting the 22-25 minutes for these beautiful breakfast totchos to cook. But this wait time is a great time to pour yourself a big cup of coffee before you serve up the most fun breakfast ever and go about your busy day.
Other Fun Tater Tot Ideas To Try: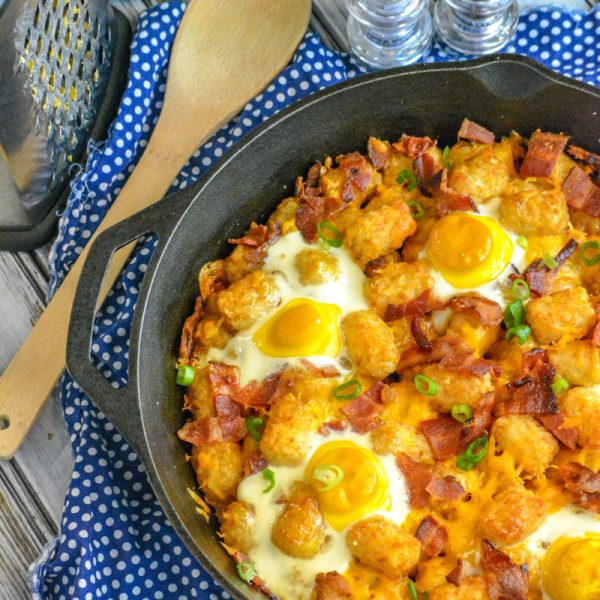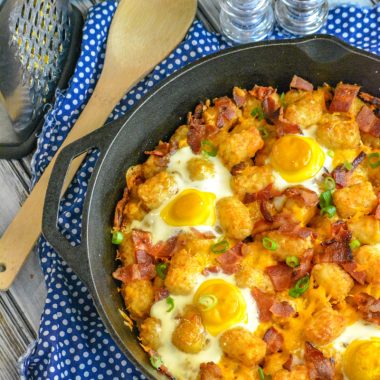 Bacon Egg & Cheese Breakfast Totchos
Totchos, aka tater tot nachos, aren't just snack food anymore- added to a cast iron skillet with bacon, and cheese they act just like hashbrowns with sunny side eggs baked right no top. It's a one stop shop kinda way to start the day.
Print
Pin
Rate
Ingredients
1

lb

frozen tater tots

6-8

strips

bacon, cooked crisp & crumbled

1 1/2- 2

cups

shredded cheddar

salt & pepper, to taste

6-8

eggs

thinly sliced green onions, for garnish
Instructions
Begin by adding a single layer of tater tots to a 12" cast iron skillet. Add the remaining tater tots evenly out over top.

Sprinkle the bacon, then the cheese, evenly out over top of the tots. Season with salt & pepper, to taste.

If natural wells aren't obvious, use a spoon to create some divets- 6-8 depending on how many eggs you want to use. Gently crack the eggs, and pull them apart to slowly release a single egg into each well, careful not to break the yolks.

Bake the totchos at 400 degrees for 22-25 minutes, or until the egg whites are opaque. Remove the skillet from the oven, and let it rest for 5 minutes.

Top with green onions, slice, and serve.