Want to infuse your meal time with all things Fall? On top of the traditional sides, you'll want to include these Pumpkin Parmesan Twice Baked Potatoes on your menu. Crisp, russet potato shells are filled with a savor mixture of whipped potatoes, smooth pumpkin, warm sage, and tangy Parmesan cheese. It's a seasonal spin on the classic baked potato that doesn't disappoint.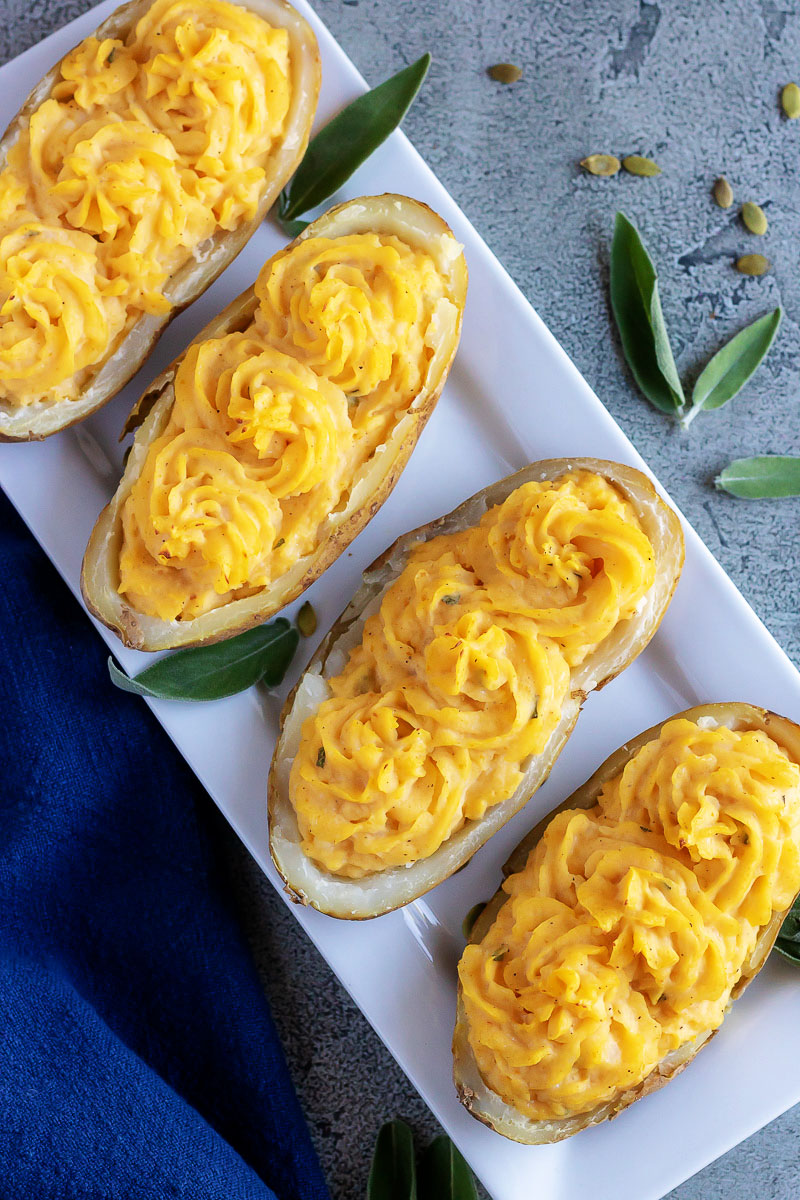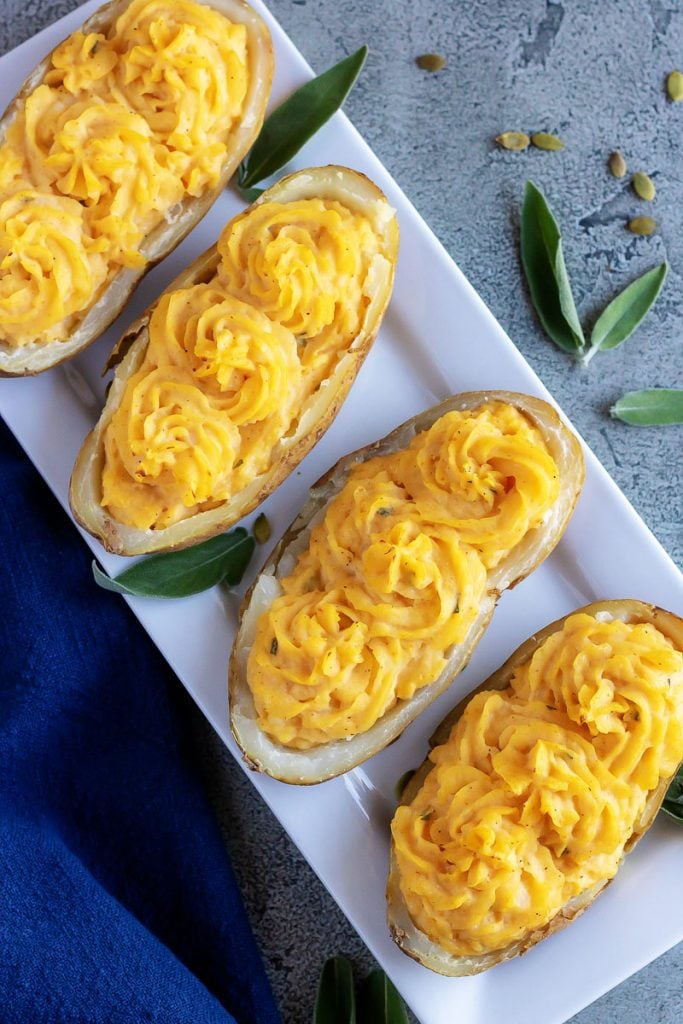 Happy Fall, y'all. I know, I know- technically it's been that time for a while now. However, for the first time this week has actually felt like it.
Which means the apple orchard and pumpkin patch are both on my familys' agenda this coming weekend. And I'm ready to revisit all things apple & pumpkin again. Can there ever really be too much of those two things in your life?
Especially when there's a crisp chill in the air and the leaves are changing? I find it hard to believe it could ever be possible.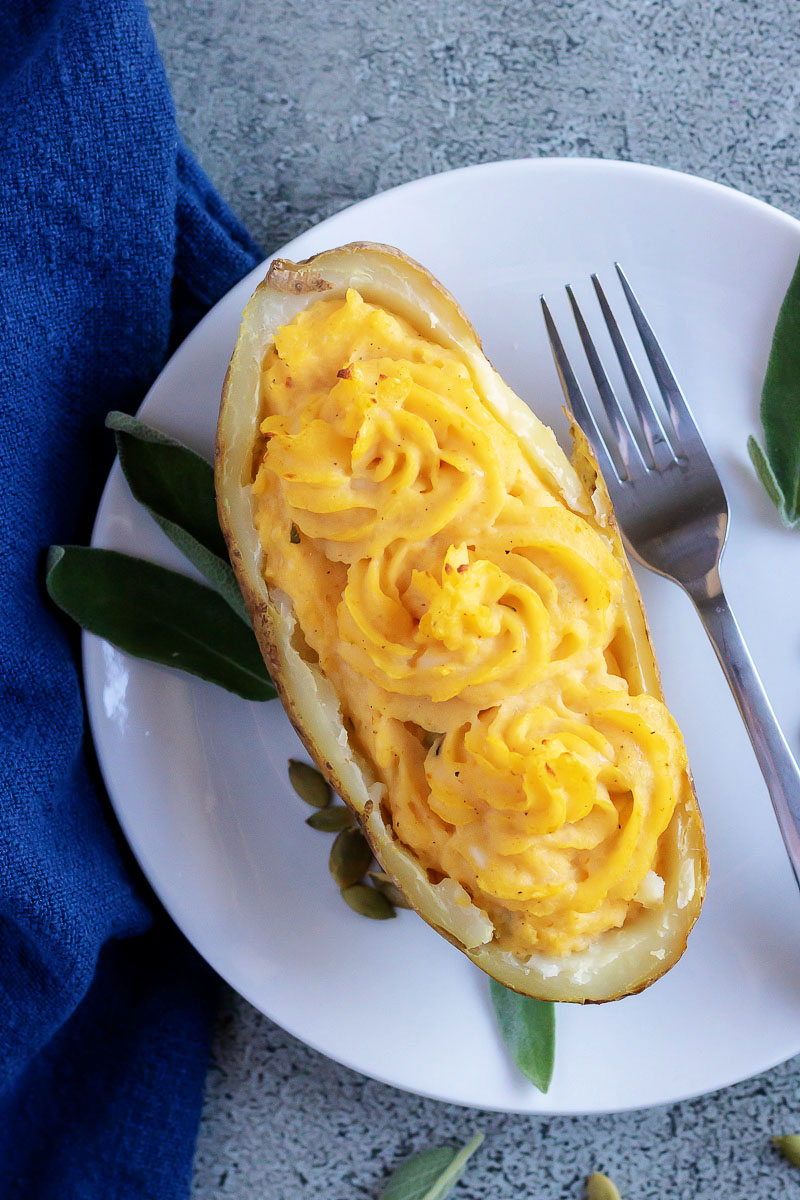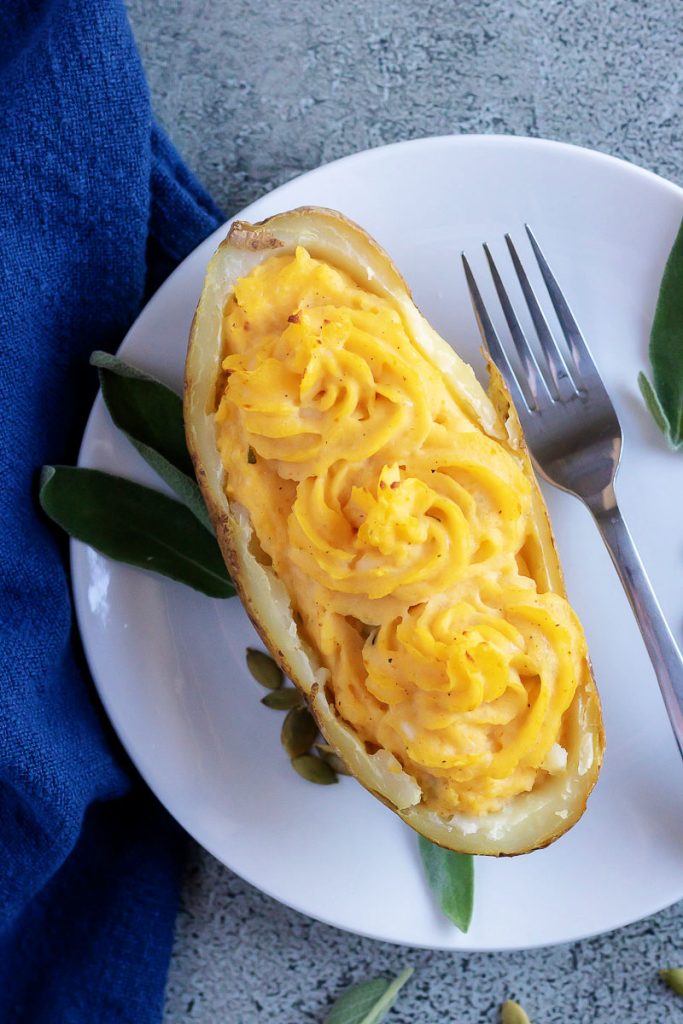 So you've got me over here trying to brainstorm all the wonderful things I could add a bit of pumpkin to, and ready to shake things up in the kitchen. Then you've got the younger sons who would probably cry and complain if I told them they were eating pumpkin.
But guess what? They love there carbs just as much as I do. Breads, Pastas, Potatoes- they say bring it on. 100 % of the time. Pretty sure by now you can see where I'm headed with this one.
I'm guaranteed to always have several bags of a variety of spuds on hand at any given time, usually one at least that needs to be used in the fairly near future. This time it was a bag of jumbo russets.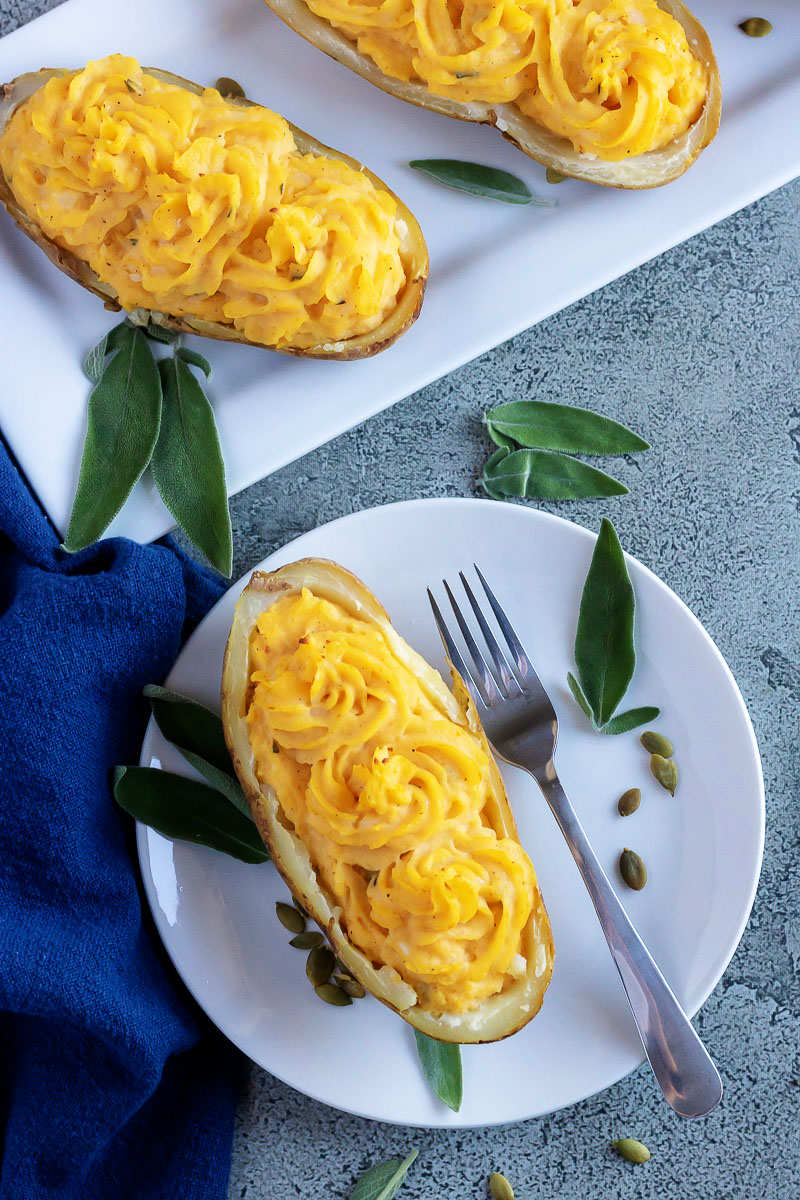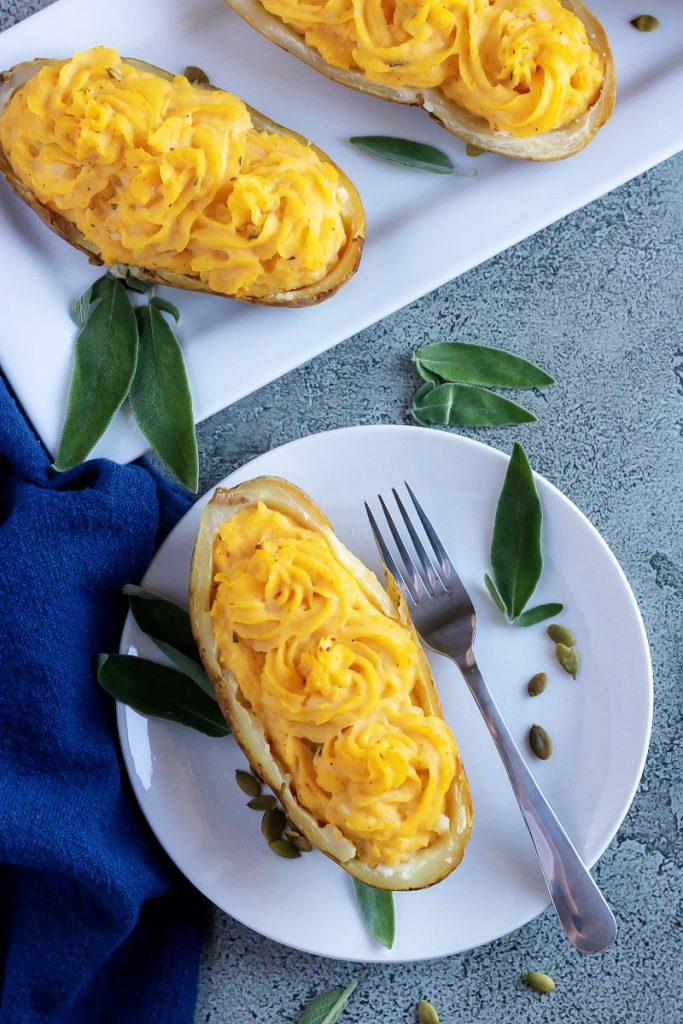 Initially I was planning on whipping some pumpkin into a special batch of homemade mashed potatoes. The holidays are coming, and if people are anything like me-they're looking for a potato recipe for their special dinner.
There are so many different potatoes though that make really good whipped potatoes, not just russets. Hello, Yukon Golds! The key for any really good mash is a potato super high in starch, which is why these two varieties are some of the best for that purpose. They fall apart during the cooking process meaning they're just begging to be whipped and fluffed, and they absorb butter and cream like a dream come true.
But, but… russets, especially the big 'uns, are also perfect for stuffing. Once my brain went there, the only logical conclusion came out of my oven an hour later- Pumpkin Parmesan Twice Baked Potatoes.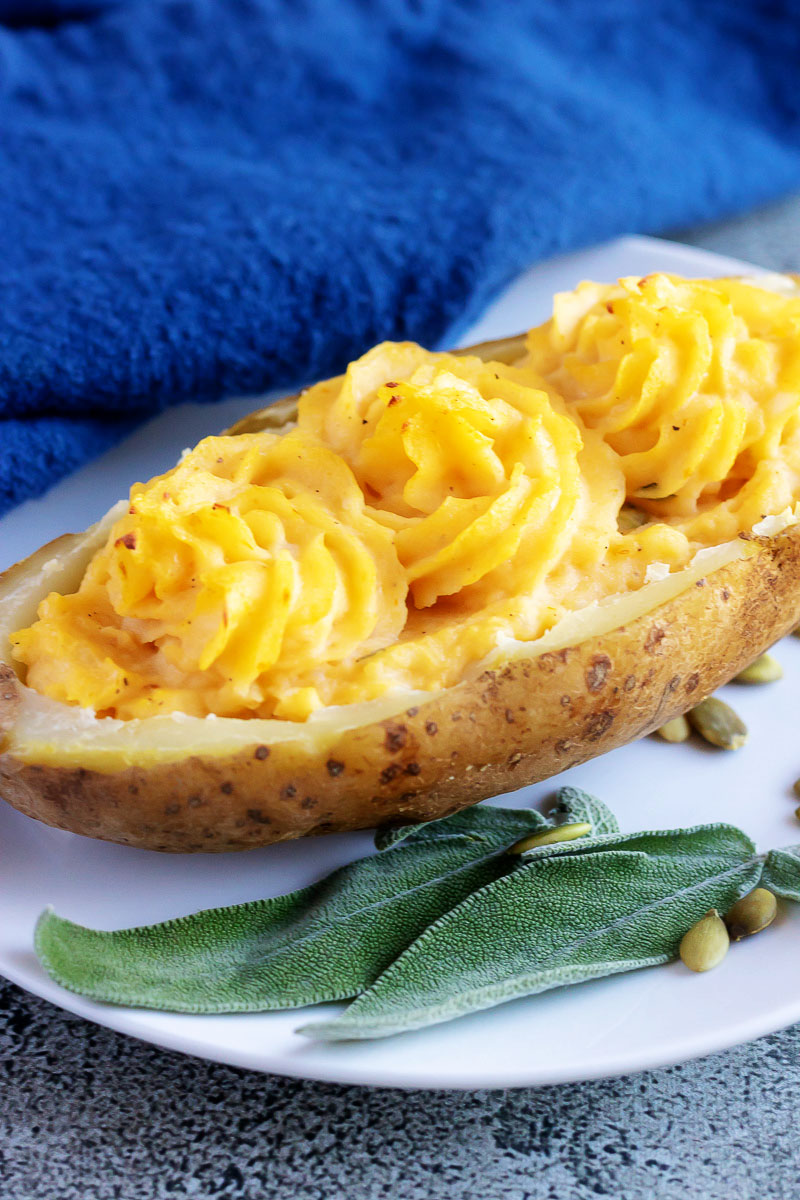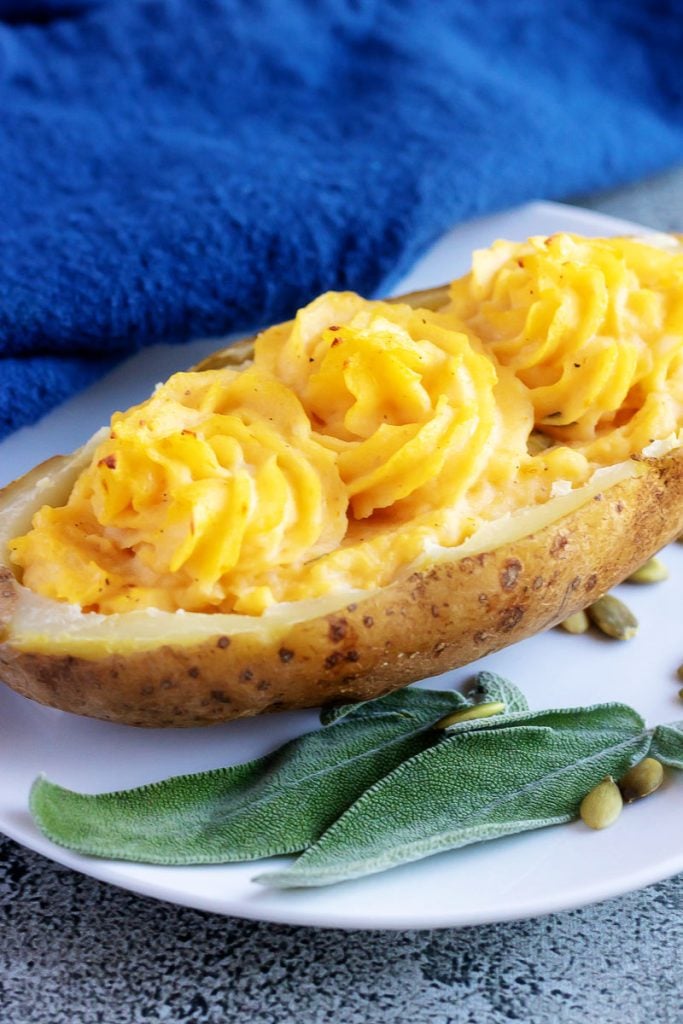 Jumbo russet potatoes are washed and scrubbed, patted dry, and pierced all over with a sturdy fork. Placed directly on the rack (yes, trust me on this), they're baked at 400 degrees for an hour- until they're crisp on the outside, and luxuriously soft on the inside.
The potatoes are allowed to cool, not completely but until safe to handle, and cut in half lengthwise. The potato pulp's scooped out in a waiting mixing bowl, leaving a 1/4 inch rim around the edges to create a bowl with a sturdy 'shell' that's then transferred to a waiting sheet pan.
Using either a potato masher or a hand mixer, they're whipped/mashed until smooth & creamy. Shredded Parmesan cheese, rich half and half, canned pumpkin, warm sage, salt & pepper are all added to the potatoes and the mixture's creamed together until once again smooth and everything's evenly incorporated.
The Parmesan pumpkin potato mixture is then evenly divided and scooped back into the potato bowls. You can use a spoon, but for a really pretty presentation- I recommend transferring the mixture to a frosting bag fitted with a decorative tip and piping them back into the potatoes. You're left with gorgeous potatoes that will wow your guests, and less mess than if you just scooped and dumped. Less mess, more fun, right?!
The Parmesan Pumpkin Twice Baked Potatoes are returned to the oven, and baked an additional ten minutes at 400 degrees. I serve them as is, but if you want to go the extra step- they can be garnished with additional chopped sage, a sprinkle of shredded Parmesan, and/or pepitas.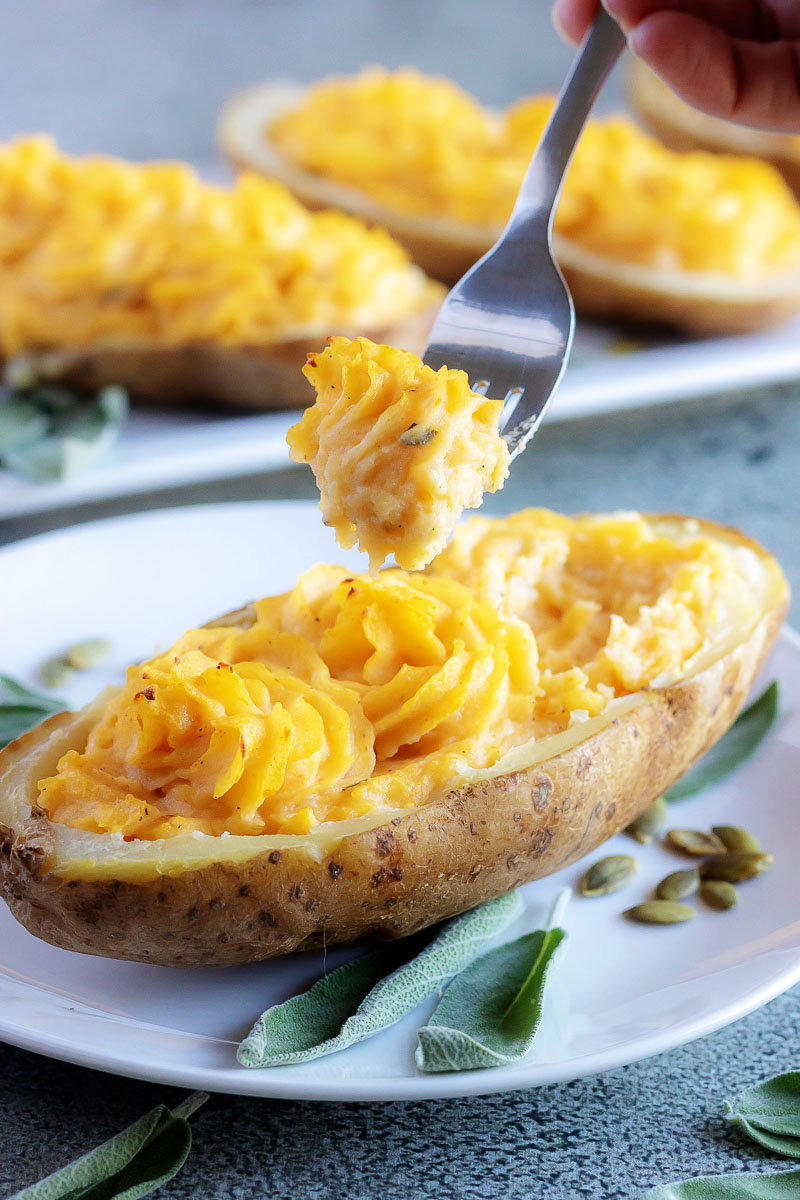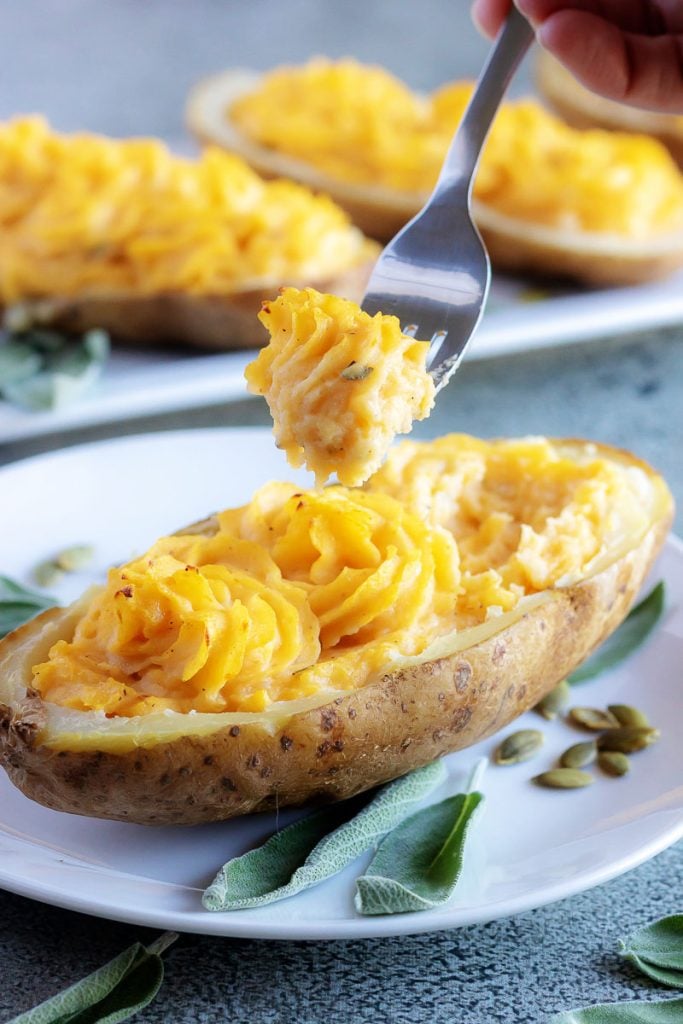 This recipe makes 4 servings, and they're easy enough for an everyday dinner side dish. Luckily, these can be doubled, or even tripled, to serve a much larger gathering. They are delicious when served with a variety of meats- steak, chicken, roasted turkey, spiral ham just to name a few.
Not a fan of meat? If vegetarian's more your style, these potatoes also make a satisfying main meal. My favorite addendum to this recipe? You don't have to make them twice baked if you don't want. Skip that step, mashing up all the potatoes and adding everything into the mixture as instructed. Just heat them until heated through, and make them pumpkin parmesan mash instead!
Don't let those potatoes go to waste if you've got 'em on hand, and if you don't then make sure to add a bag to your next grocery list and stir a little pumpkin into an otherwise ordinary potato with a bit of tangy cheese for the ultimate Fall flavored side dish- Pumpkin Parmesan Twice Baked Potatoes.
Other Pumpkin Ideas You Might Also Enjoy: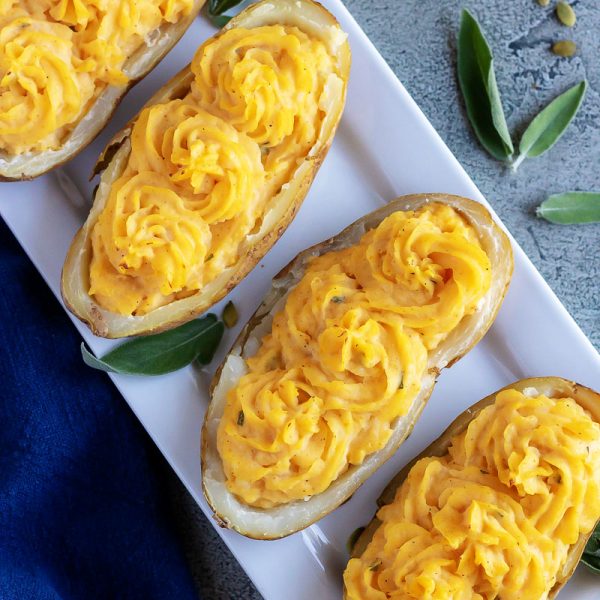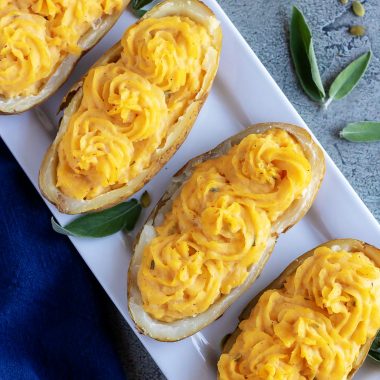 Pumpkin Parmesan Twice Baked Potatoes
Crispy twice baked jumbo russet potatoes are filled with a creamy, seasoned mixture of potato, pumpkin & Parmesan cheese- making it the perfect side dish for Fall.
Print
Pin
Rate
Ingredients
2

jumbo

russet baking potatoes

1

cup

shredded Parmesan cheese

6

tbsp

half and half

1/4

cup

canned pumpkin puree (NOT pumpkin pie filling)

1 1/2

tsp

minced fresh sage

salt & black pepper, to taste
Instructions
Scrub and wash the potatoes thoroughly. Pat the potatoes dry with paper towels. Pierce the potato in several different places with a sturdy fork.

Place the potatoes directly on the rack of an oven preheated to 400 degrees. Bake for an hour, or until the potatoes are soft and fork tender.

Let the potatoes cool, just until cooled enough to handle. Cut them in half lengthwise. Using a spoon, scoop out most of the potato inside into a waiting mixing bowl, leaving a 1/4" rim left, to create a sturdy potato shell/bowl.

Using a potato masher, or a hand mixer, mix or whip the potato pulp until smooth. Stir in the cheese, half and half, pumpkin, sage, salt & pepper until the mixture's smooth.

Transfer the potato shells to a baking sheet. Scoop, or pipe, the filling back into the potato shells, dividing it evenly as you go. Bake the potatoes an additional 10 minutes, again at 400 degrees, or until the filling's heated through.

Serve immediately, and enjoy!
Notes
Don't have fresh sage on hand? Substitute 1/4 tsp dried thyme instead.
Don't have half and half? You can sub cream, or whole or 2 % milk instead.