Life doesn't offer you many meals that are gourmet, but are surprisingly simple to prepare. Pork Tenderloin with Apple Cider Gravy is just that. An easy 30 minute supper, it's a healthy dish of pork tenderloin bathed in a sweet & savory apple cider flavored gravy.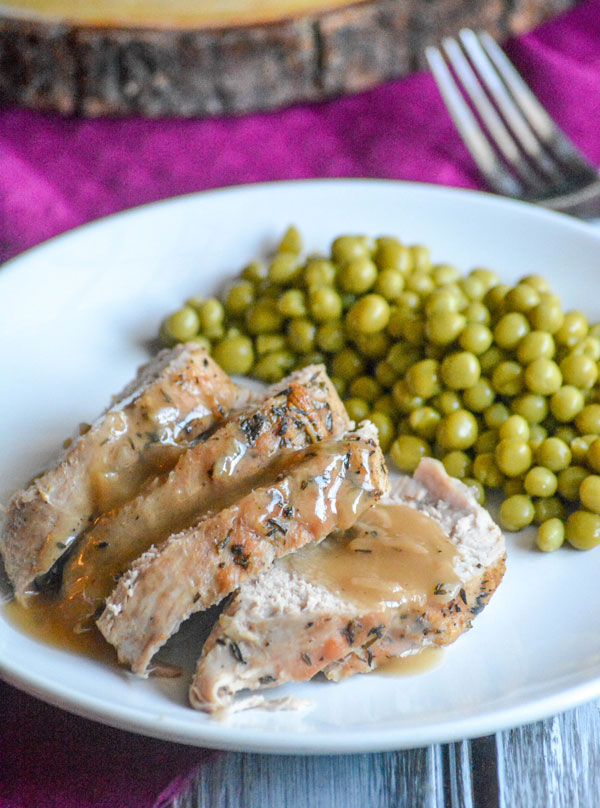 We made our annual trek to the local-ish apple orchard this past weekend. It's about 45 minutes, or so. Normally, this would be the end of that sentence, but this was actually out second attempt at it this year.
That's never happened before. Apparently, when Fall weather comes early in central VA- everyone decides to head to the orchard in the same weekend. Meaning when there's even a small accident on the single mountain road leading in or out, the orchard closes all in bound traffic for the remainder of the day.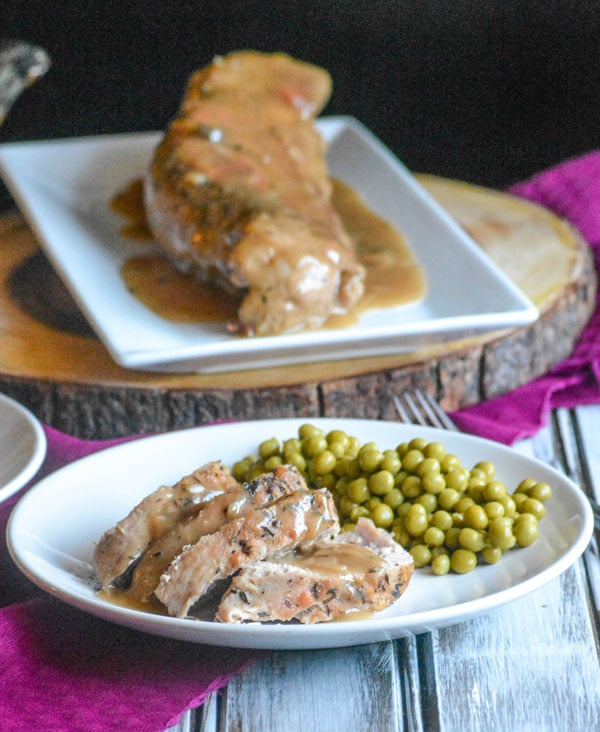 According to their Twitter account, they were hoping to be able to reopen. Luckily, we only waited two hours before they made the announcment that they were closing inbound traffic for the remainder of the day.
We'd gone up and were in Charlottesville for the day anyway, so we made the most of it. Some local shopping in the downtown distrcit followed by dinner at a small diner called The Nook.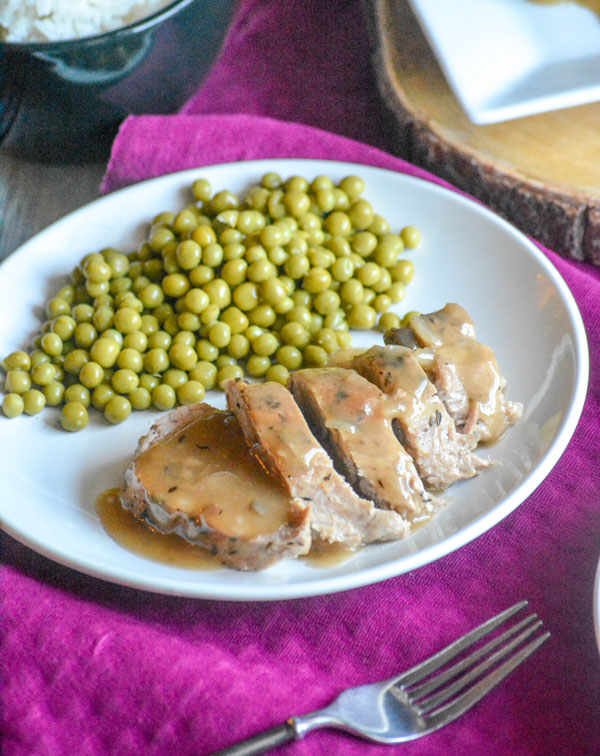 One thing I wasn't leaving that mountain without? Fresh, locally sourced apple cider. Bless my husband, because he did have to do some serious driving around (and GPS-ing), but he found me a road side stand in the end.
Yes I am well aware that I probably could have purchased some from my local grocer at this point, but that would have defeated the point entirely. It never has tasted better than when it's made from apples fresh from our local orchard.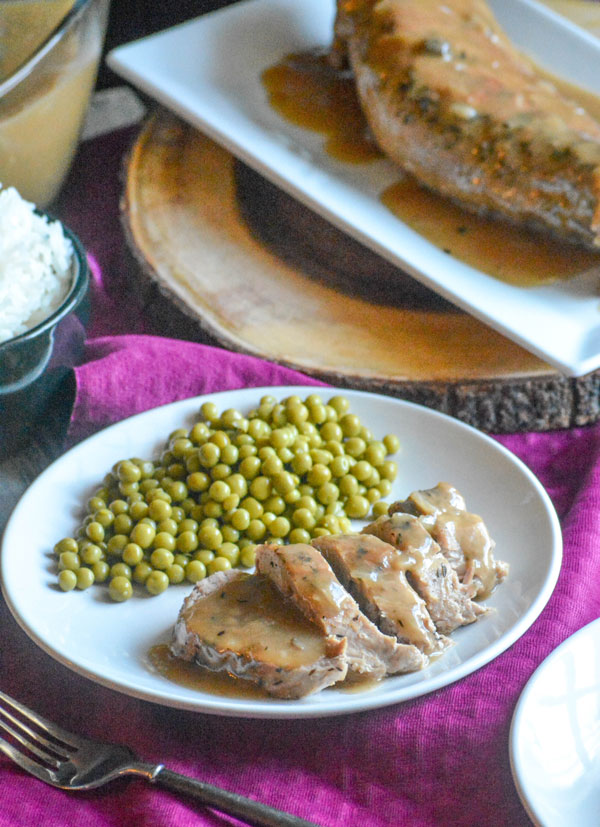 This dish, our Pork Tenderloin with Apple Cider Gravy, is great with whatever apple cider you have on hand- but as with anything else in life, the fresher the better.
This delicious sounding dinner is surprisingly easy to whip up. All you need is a dutch oven, or cast iron skillet. Several simple ingredients, and in 30 minutes- dinner's done. Not just any dinner at that, a gourmet meal. Served with a couple sides, you'll be a real meal time magician with this one!
A tender porkloin, rubbed with a mixture of dried thyme, salt, & pepper, is seared on all sides in a dutch oven with hot olive oil. A sweet, yet savory, white gravy is made from a combination of cream of mushroom soup, broth, dry onion soup seasoning, corn starch, and spices. The mixture's whisked together, poured over the seared meat, and then all baked together for a delicious marriage of Fall flavors.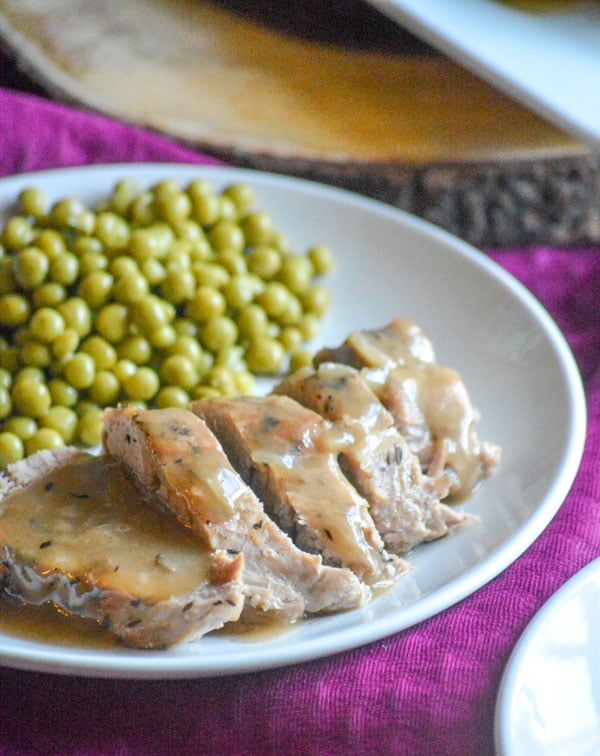 Don't have any apple cider on hand? Don't feel like running out to the store for one ingredient? Maybe it's not even apple season? No worries. Apple Juice will work just fine as a substitute.
Do you prefer a really thin, almost fine gravy for your meats? Cut the amount of cornstarch called for in half for a runnier gravy, that will still be every bit as flavorful.
Are you unfamiliar with, or not a huge fan of, taking the extra steps to sear your meat before cooking? Searing is optional, though totally recommended for this recipe. Instead, skip that step and add the pork loin in the dutch oven raw, still pouring the soup mixture in overtop as instructed, and bake until an internal thermometer inserted into the thickest part of the meat reads 145 degrees. You will want to gently stir the gravy around a few times this ways though, due to the longer cooking times.
I like using a dutch oven, because I can choose to skip the foil step entirely and just cover it- keeping it warm in the crock without any additional heat until ready to serve. You can use a regular cast iron skillet as an alternative though.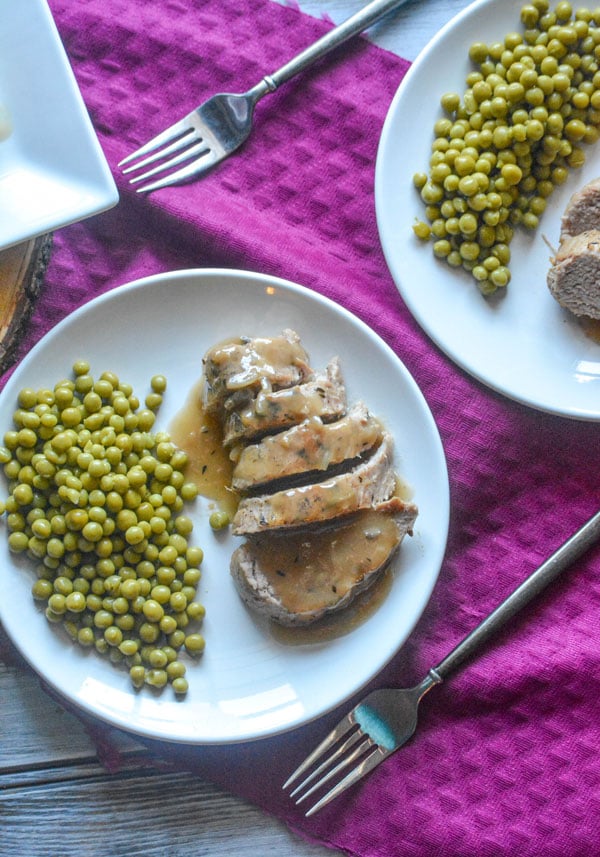 You simply can't beat a 30 minute meal that packs in so much flavor. Fall is calling, and this easy Pork Tenderloin with Apple Cider Gravy is begging to be made.
Other Apple Cider Themed Recipes You Might Also Enjoy: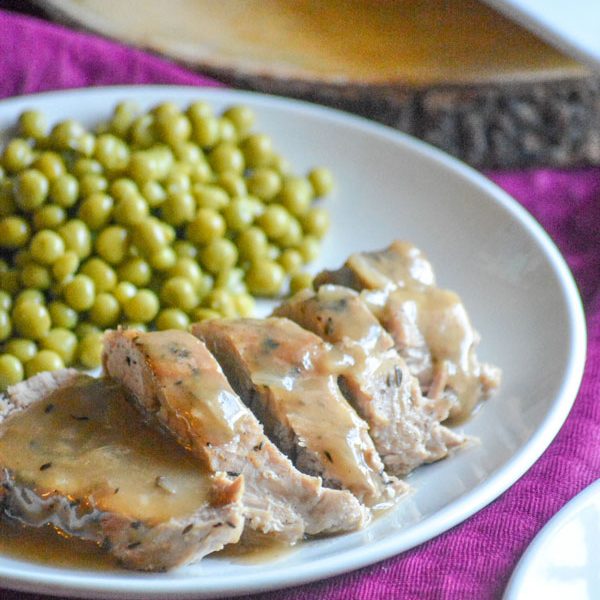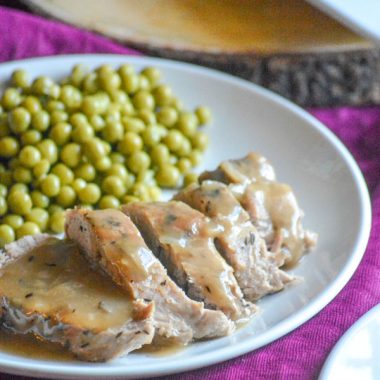 Pork Tenderloin with Apple Cider Gravy
This 30 minute meal features a savory roasted pork tenderloin dressed with a sweet apple cider gravy, making it a delicious entree that whole-heartedly embraces the flavors of the Fall season.
Print
Pin
Rate
Ingredients
2

tbsp

olive oil

1- 1 1/2

lb

pork tenderloin

salt, pepper, & dried thyme, to taste

1

14.5 oz can

chicken broth

2

tbsp

cornstarch

1

10.5 oz can

cream of mushroom soup

1

pkg

dry onion soup seasoning

1/2

cup

apple cider
Instructions
Rub salt, pepper, and dried thyme into the tenderloin- in you preferred amounts. Set aside.

Add the chicken broth and cornstarch to a medium sized mixing bowl, whisking until evenly combined & the mixture's smooth. Stir in the mushroom soup, onion soup seasoning ,and apple cider until evenly combined. Set aside.

Add the olive oil to a dutch oven, and heat over medium high. When the oil's hot, sear the tenderloin on all sides. Watch it carefully to ensure it's seared, not burned.

When every side has a nice crisp, brown sear on it- pour the soup mixture into the pot over top of the pork.

Transfer the dutch oven to an oven heated to 425 degrees, and bake for 22-25 minutes, or until cooked through.

Remove the dutch oven from the oven. Transfer the tenderloin to a baking dish, loosely cover with foil, and let it rest for 10 minutes.

Whisk the gravy in the dutch oven to combine, and serve drizzled over slices of the tenderloin.
Nutrition
Calories:
432
kcal
|
Carbohydrates:
7
g
|
Protein:
59
g
|
Fat:
17
g
|
Saturated Fat:
4
g
|
Cholesterol:
184
mg
|
Sodium:
172
mg
|
Potassium:
1144
mg
|
Sugar:
3
g
|
Vitamin C:
0.2
mg
|
Calcium:
17
mg
|
Iron:
2.8
mg