Who would've though you could've combined cheese & more cheese into one epic lunch? Pizzadillas take cheesy quesadillas and give them a pepperoni pizza perfect make-over for a fun, easy meal the whole family will enjoy.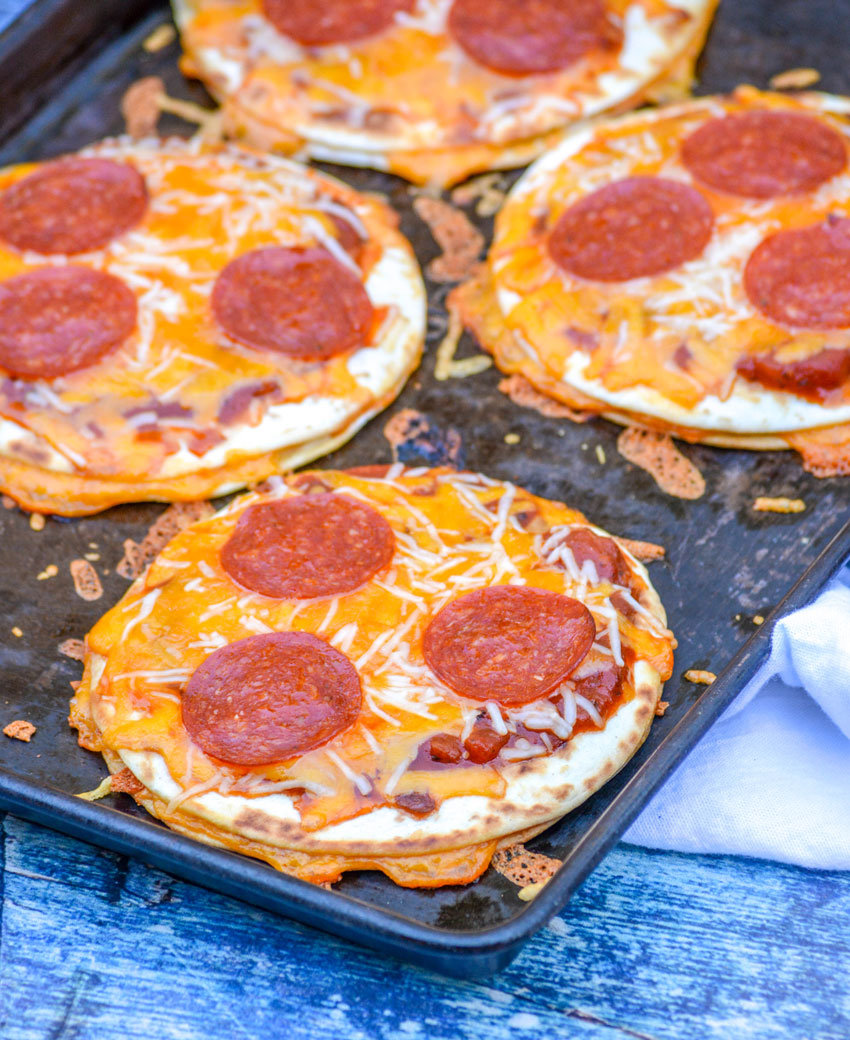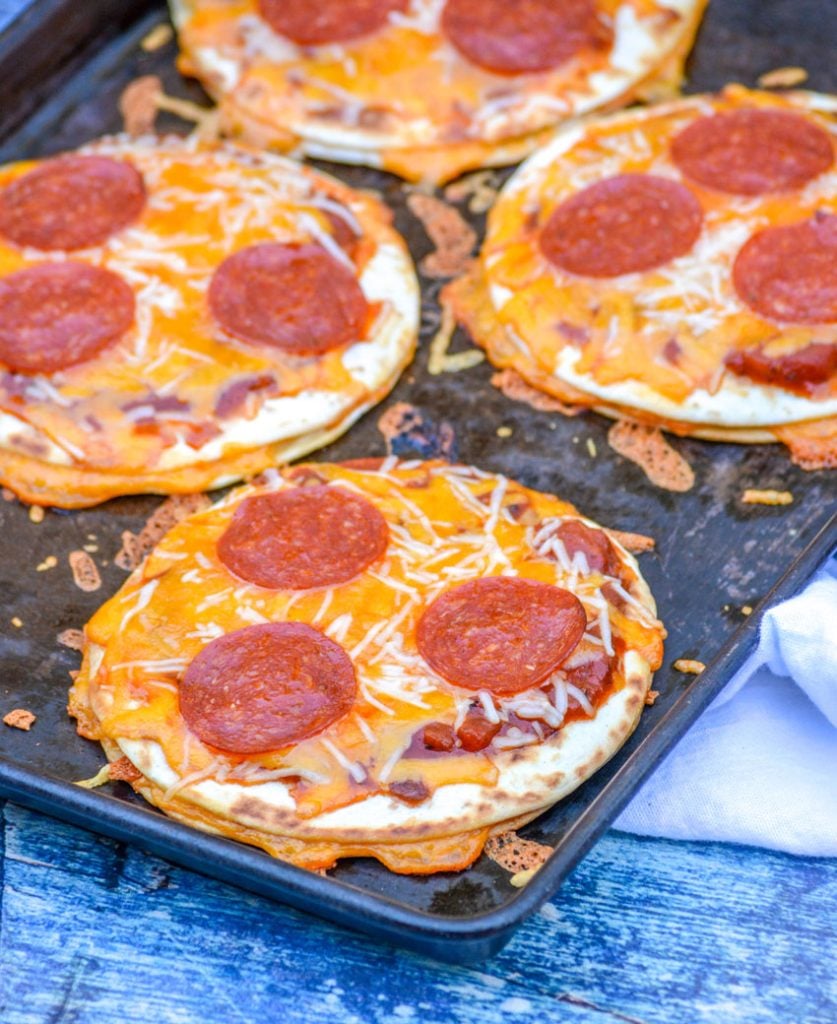 While we try to keep things 'PG' rated at best around these parts, occasionally (just occasionally, promise!) things may change.
Like now.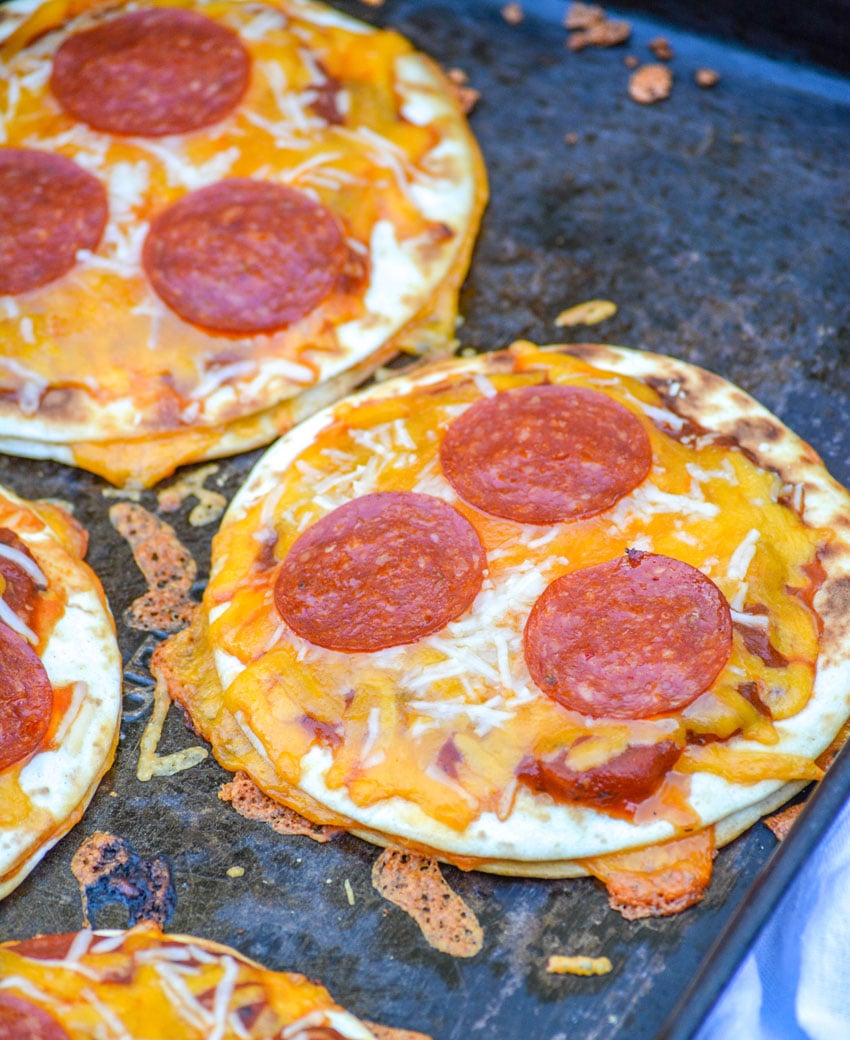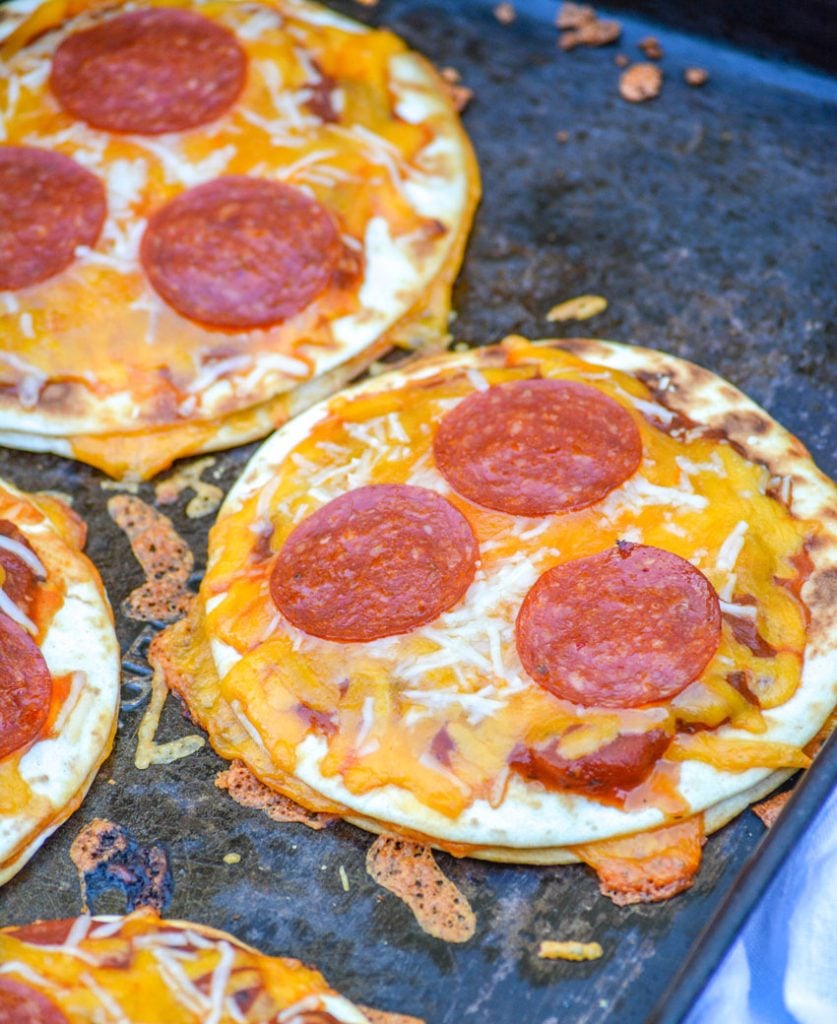 Once upon a time, a quesadilla and pizza got together.
They had a very lovely, love child. The Pizza-dilla.
And tummies and taste-buds rejoiced throughout the land and we all lived happily ever after!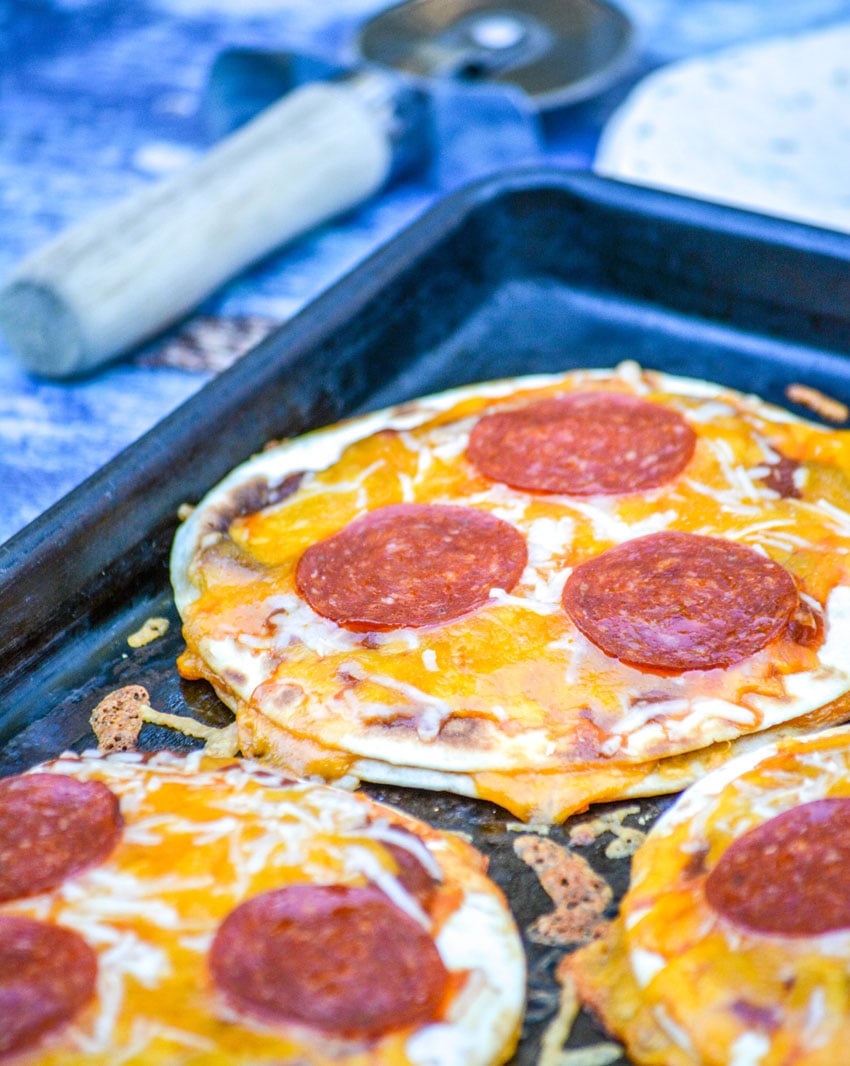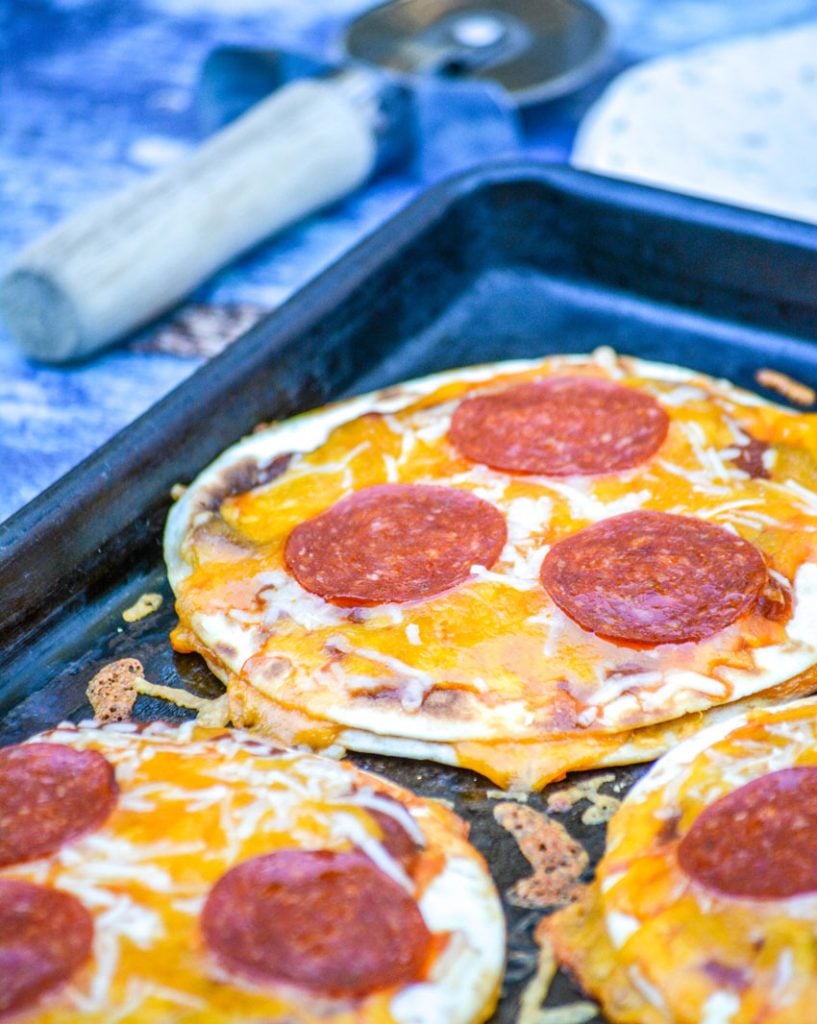 Everything you love about a crispy, crunchy quesadilla oozing melted, cheesy goodness, but instead of stopping there it's topped off like a pizza with tomato sauce, more cheese, and a few pepperonis for good measure.
These are a perfect thing to make with the kids. They're easy to assemble and easy to cook, without a lot of parental assistance required.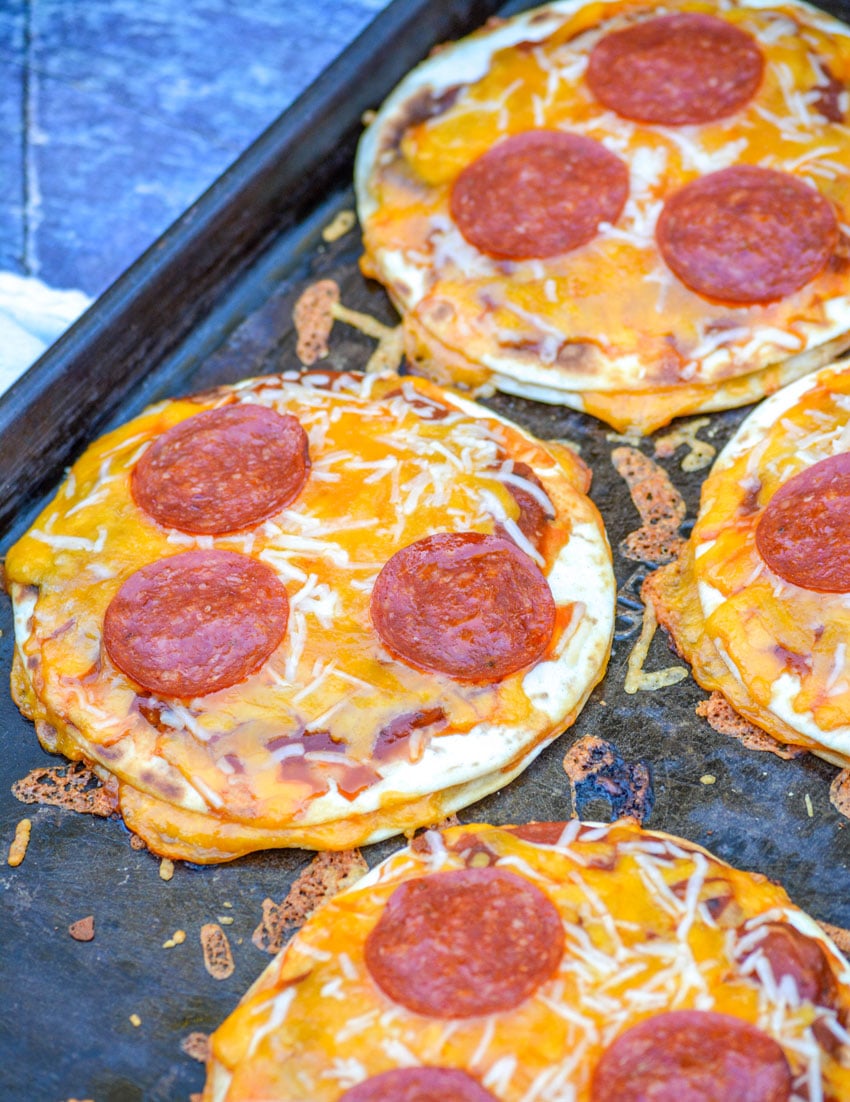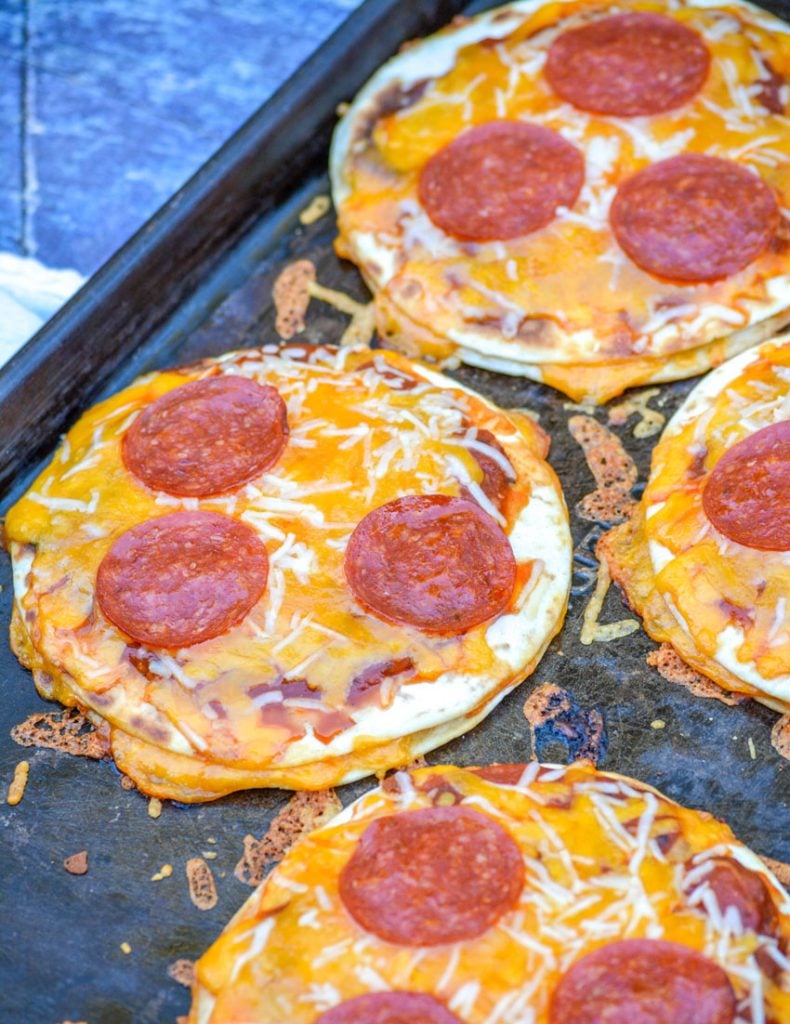 I absolutely love it when my kids ask for something for lunch, or a snack because they're hungry for the 50,472th time that day- and I can just say sure, go fix some Pizzadillas. You. You do it. By yourself.
You only need 5 ingredients to make this simple pizza- quesadilla hybrid. 4 if you're kids aren't fans of the optional black olives. Half my crew is, half aren't. The Hubs & I are equally divided.
Fixing this moves quickly, so you'll want to have gathered all the ingredients, and have them at hand, before beginning. You'll need: soft taco sized tortillas, shredded cheddar and/or mozzarella cheese, pizza sauce, sliced pepperoni, and the optional sliced black olives.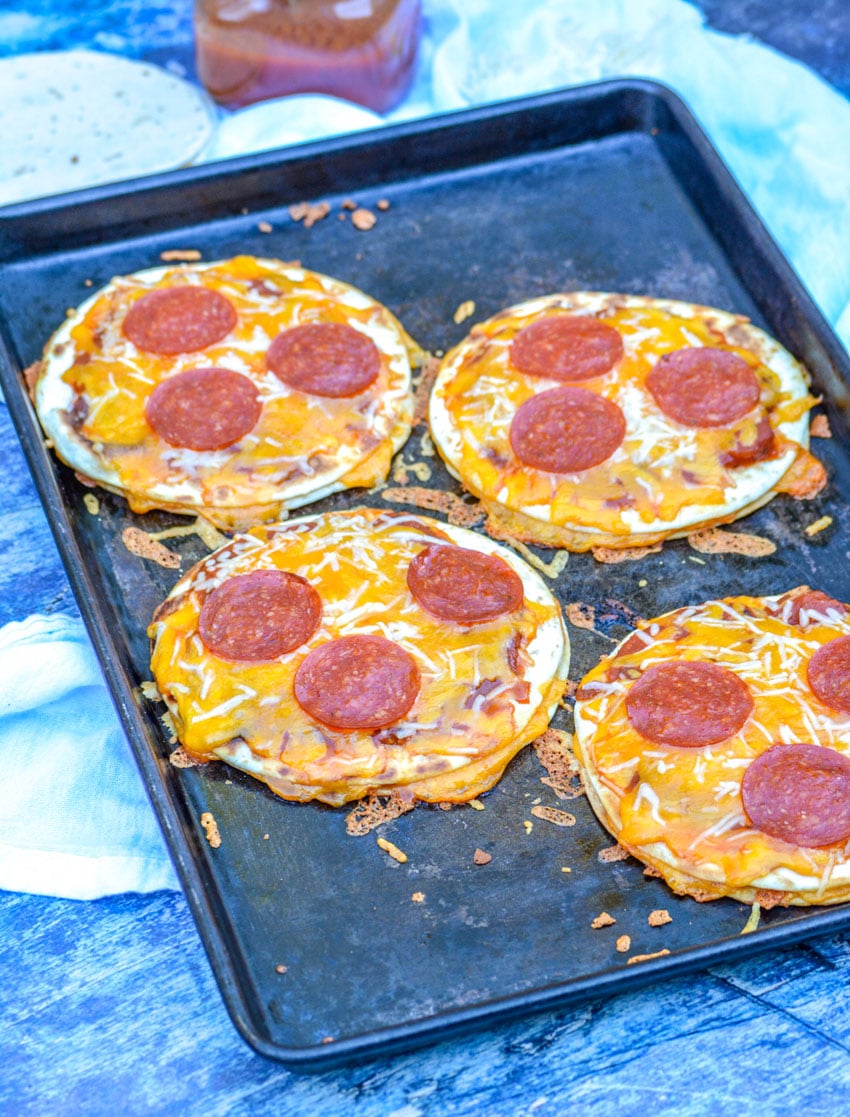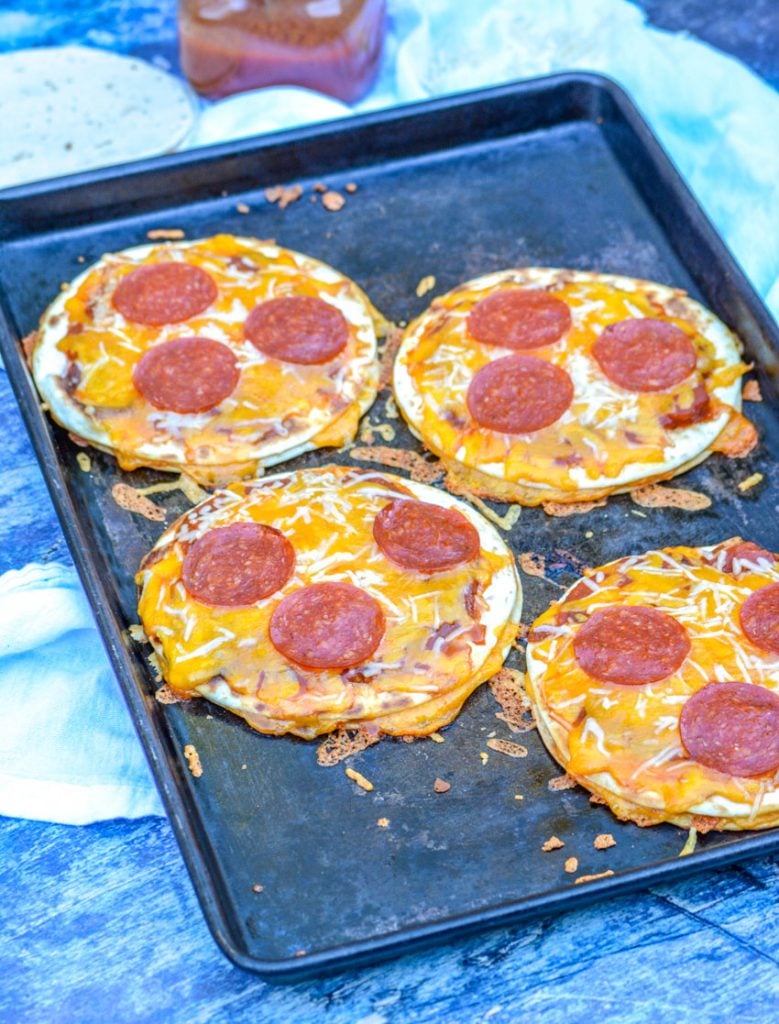 The recipe as written says tortillas, just in case you weren't sure, you'll need to use flour tortillas NOT corn. The two don't substitute interchangeably, especially not here.
Also while I say pizza sauce, any version of spaghetti sauce will work too as long as it's not the 'chunky' kind.
These Pizzadillas can be made in a shallow pan on the stove top, or using a counter top flat griddle. Totally your choice. So heat the pan (or griddle) over medium heat. When hot, working quickly, place one of the tortillas in the center of the pan. Top it evenly with one cup of shredded cheese. Place the other tortilla on top.
Let the quesadilla cook until the bottom is golden brown, and the cheese has begun to melt- about 2-3 minutes. Carefully flip, and repeat until the other side's also golden brown & the cheese has all melted.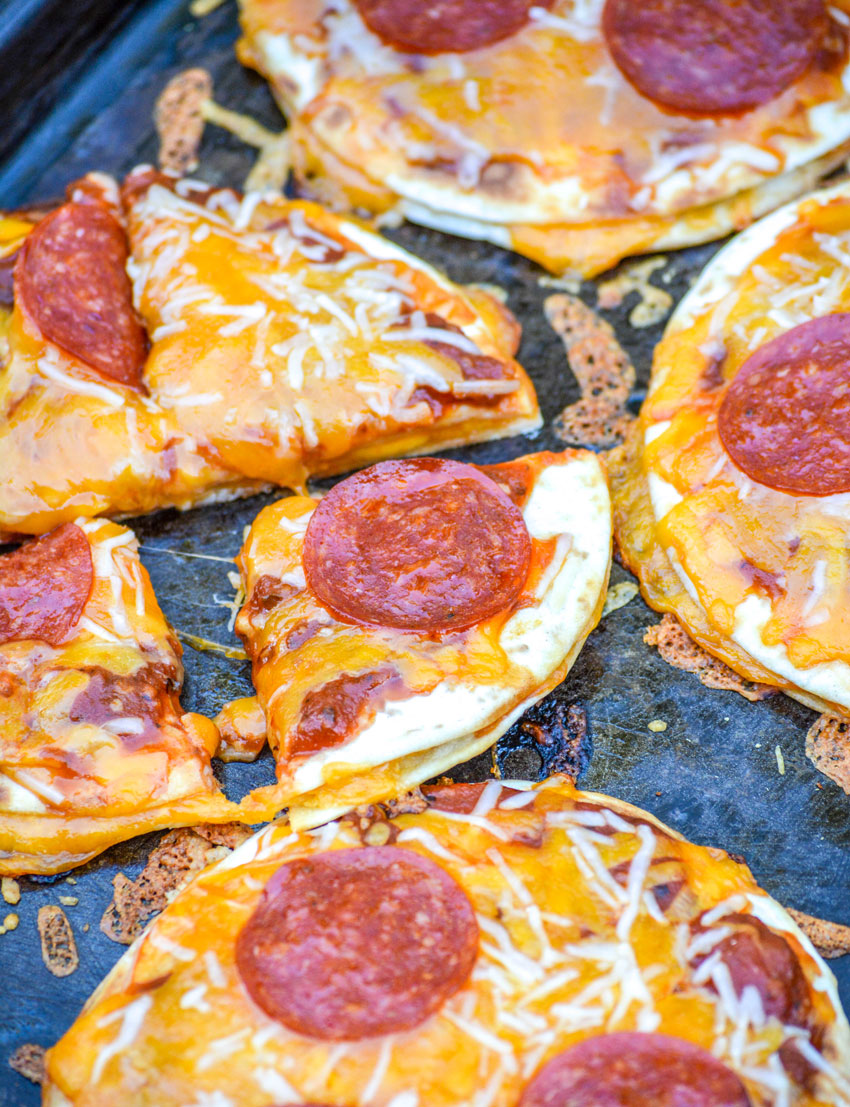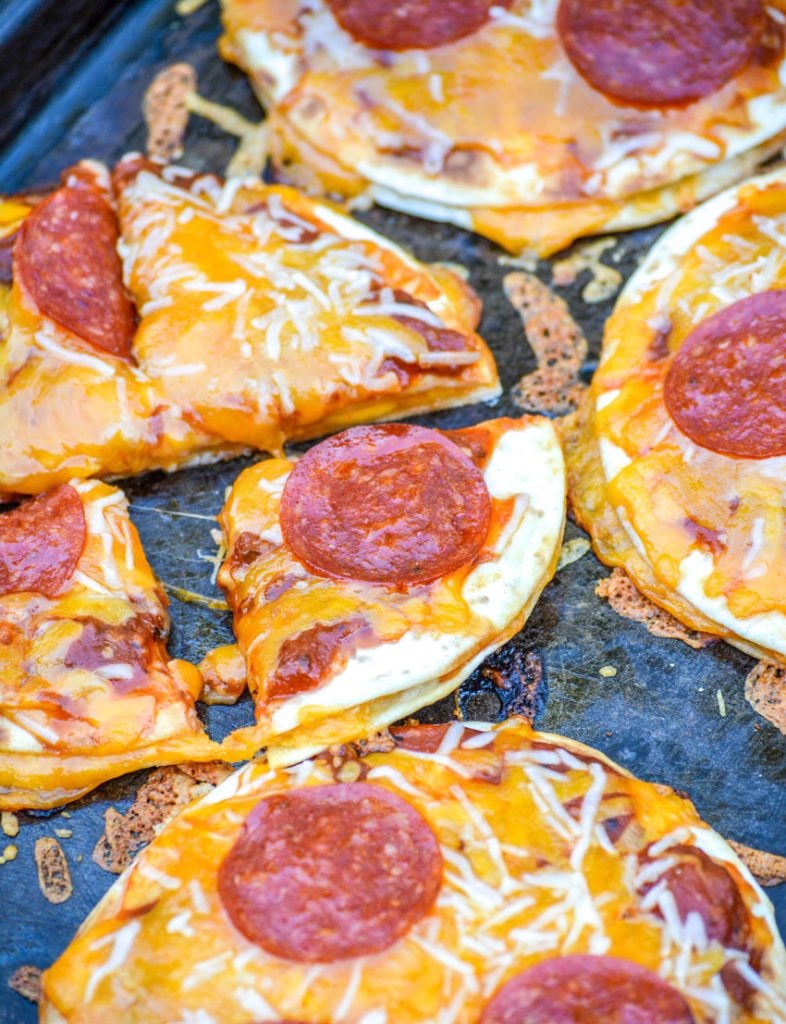 Transfer the quesadilla to a baking sheet, and spread a couple tablespoons of sauce evenly out over top the top tortilla. Just like you'd spread sauce on a pizza. Sprinkle more cheese on evenly out over top. Add several slices of pepperoni, and black olives- if using.
Repeat for as many Pizzadillas as your family requires.
Bake them at 400 degrees, about 5-10 minutes, or until the cheese on top has sufficiently melted. Let them rest for 1 minute before using a pizza cutter to slice and serve.
A quick and easy meal option, these Pizzadillas are an all around family favorite. Get the kids in the kitchen, and let this delicious cheesy hybrid magic happen!
Other Fun Quesadilla Recipes You Might Also Enjoy: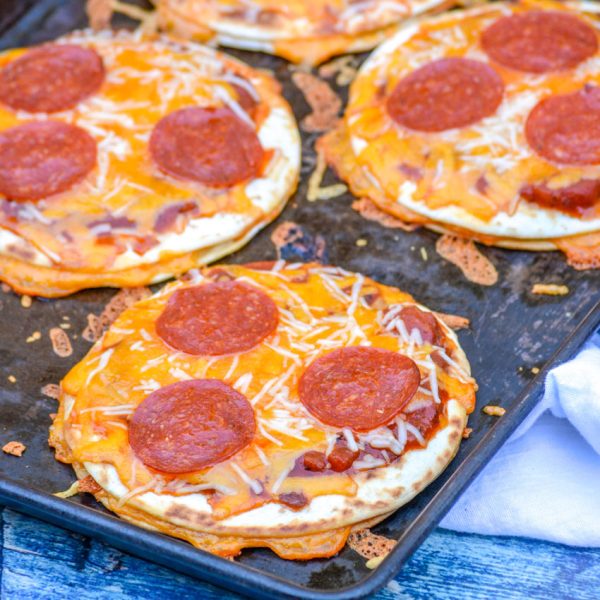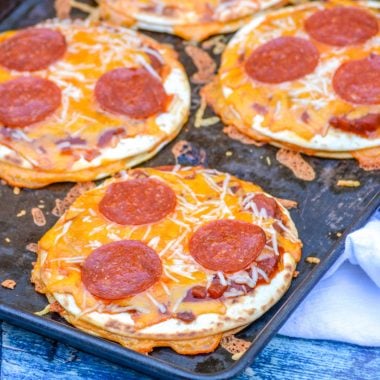 Pizzadillas
Pizza & quesadillas met up, and decided they could combine themselves creating a delicious lunch hybrid, perfect for Game Day.
Print
Pin
Rate
Ingredients
2 to

rtillas regular size

1

cup

cheddar or mozzarella

shredded

3

tbsp

pizza sauce

1/2

cup

cheddar or mozzarella

shredded

3

slices

pepperoni

1

tbsp

sliced black olives

optional
Instructions
Heat a large pan over medium heat.

Place one tortilla in the pan, sprinkle One cup of cheese evenly out over it, and top it with the second tortilla.

Cook until the quesadilla is golden brown on both sides and the cheese is melted, about 2-4 minutes per side.

Spread the pizza sauce over the top of the quesadilla followed by the mozzarella, pepperoni and olives.

Bake at 400 degrees just until the cheese on top has melted, about 5-10 minutes.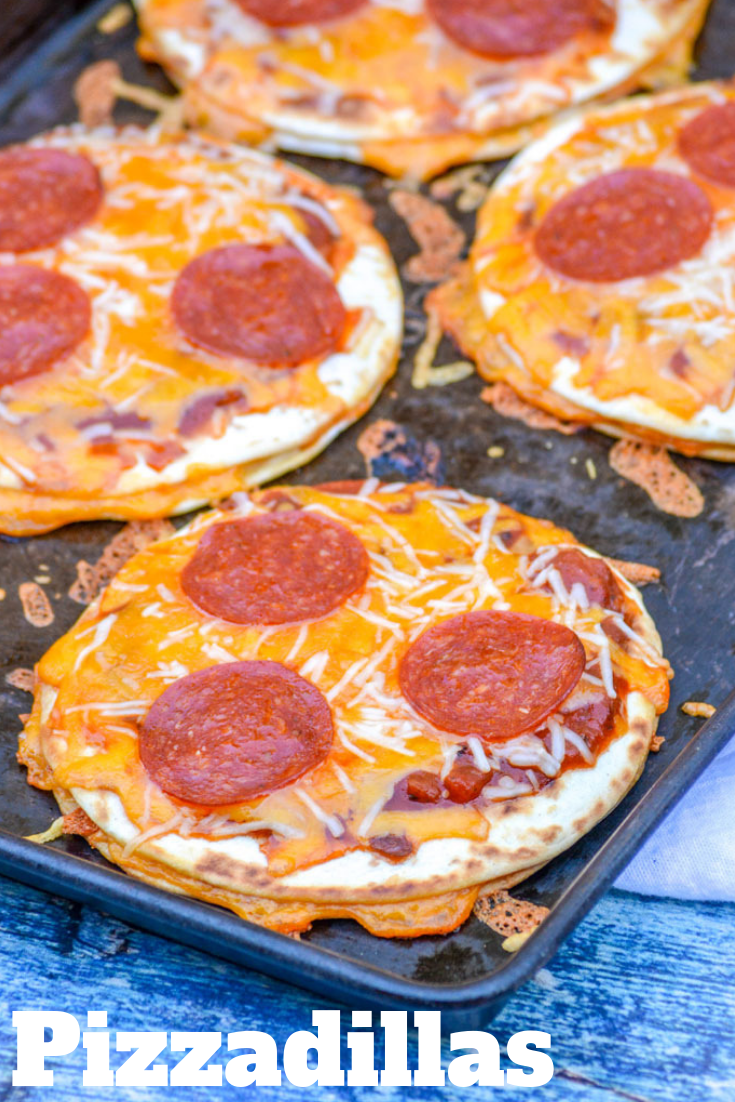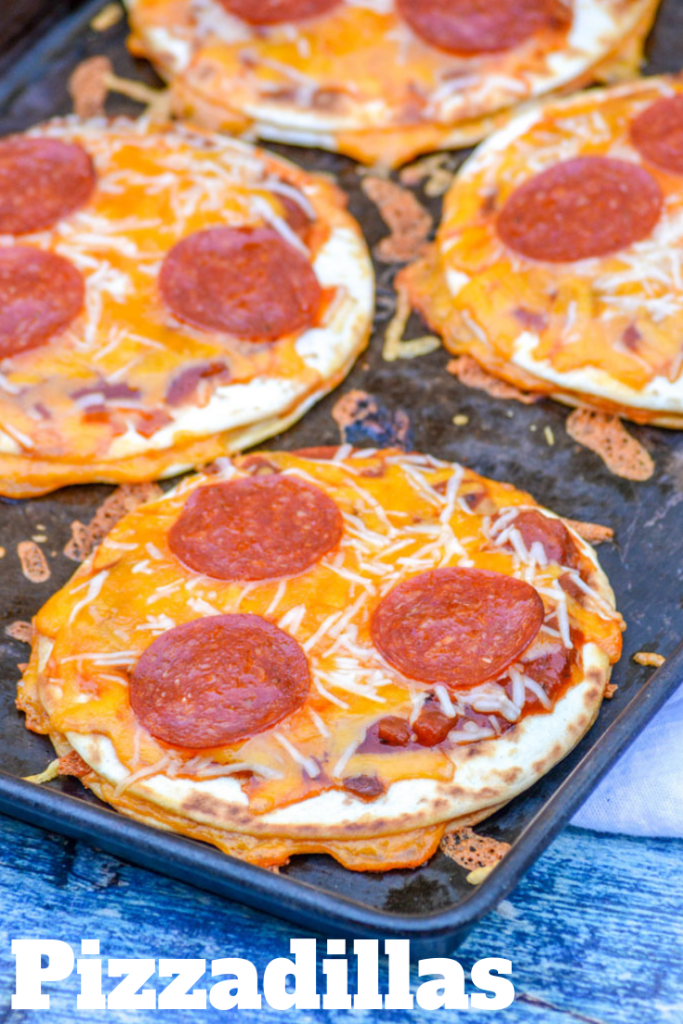 pictures & post updated 1/3/2019