This simple recipe for a one pot dirty rice is a staple on our family meal plan. It's a quick, easy way to dress up dinner featuring several ingredients typically always in the pantry- like ground beef, sauteed onions, green peppers, and (of course) Creole seasoning.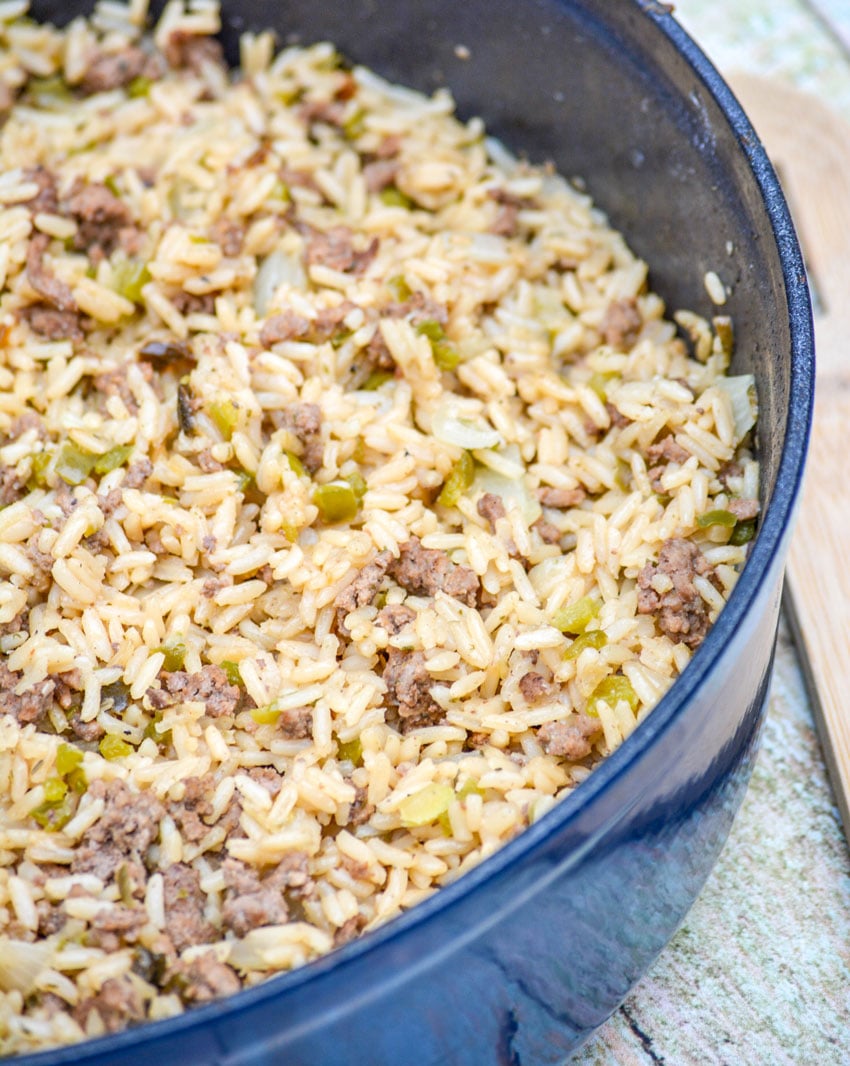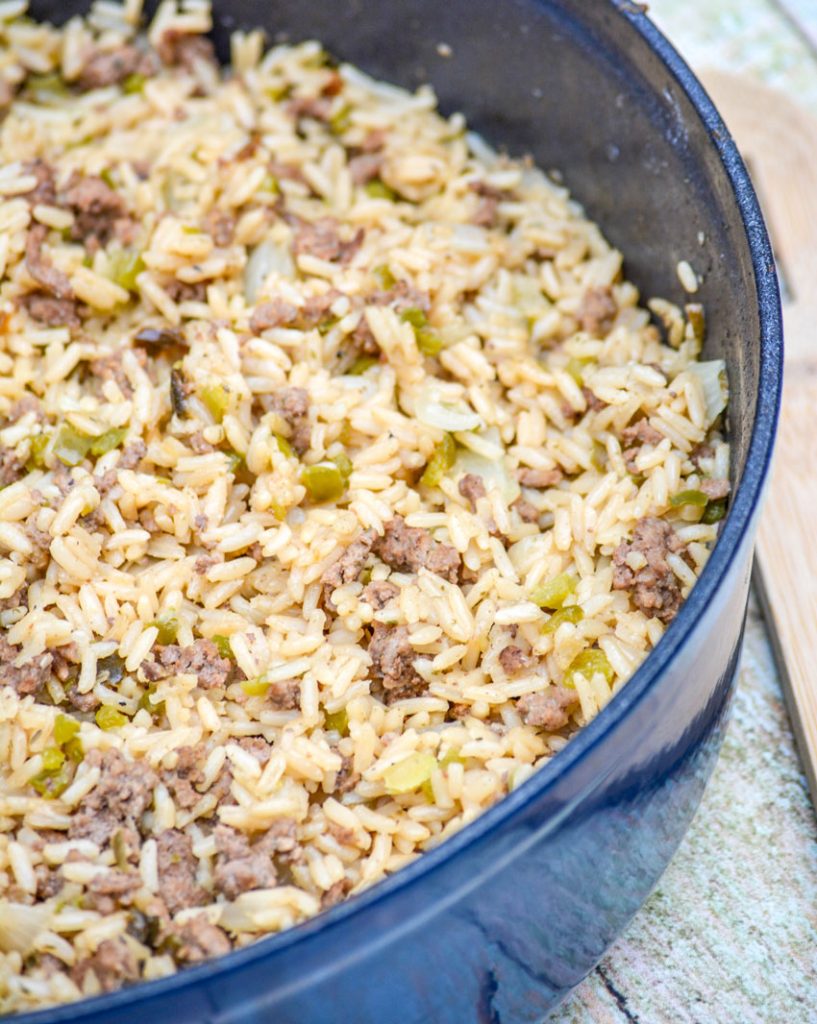 For years, we bought the box mix and simply added ground beef to it.
We were in heaven. It was divine.
It tasted great and it was quick.
Everything we ever needed or wanted in our dirty rice dinners. Or so I thought.
Sometimes I have readers send me links to recipes they think will tickle my fancy or that they want an opinion on before venturing into uncharted territory.
THAT is how this recipe fell into my lap, err inbox, late last year, and I can't say thank you enough!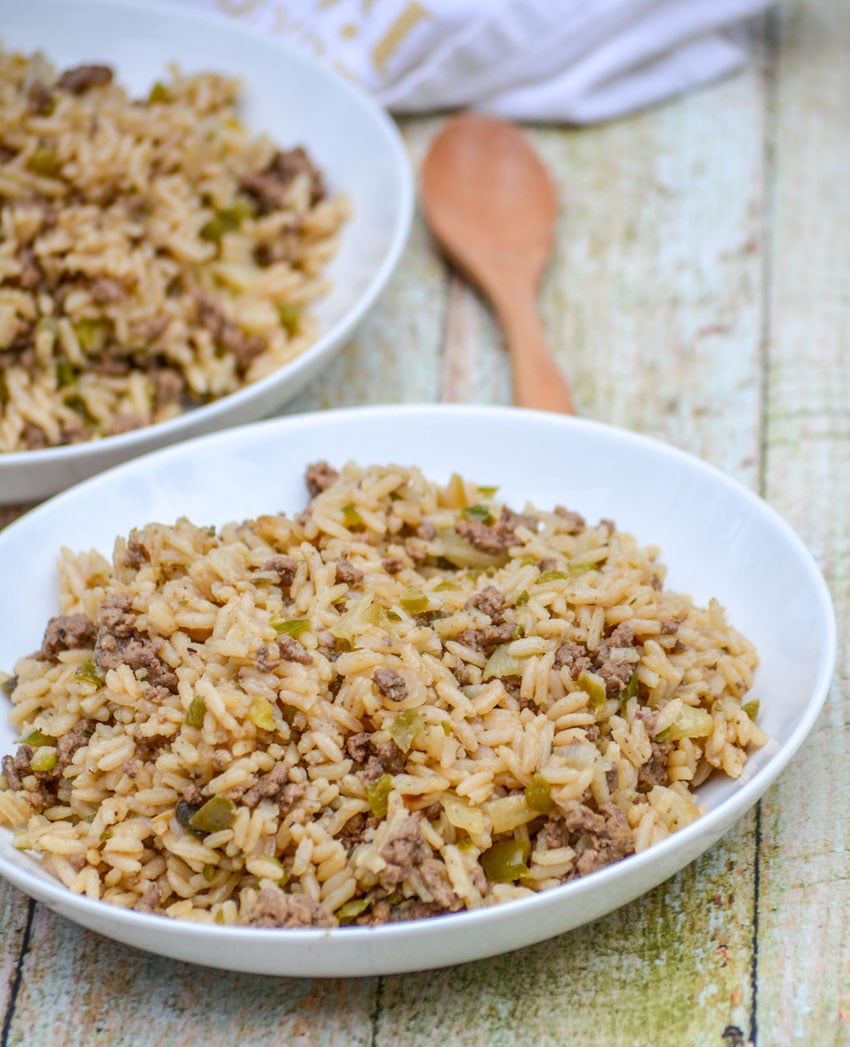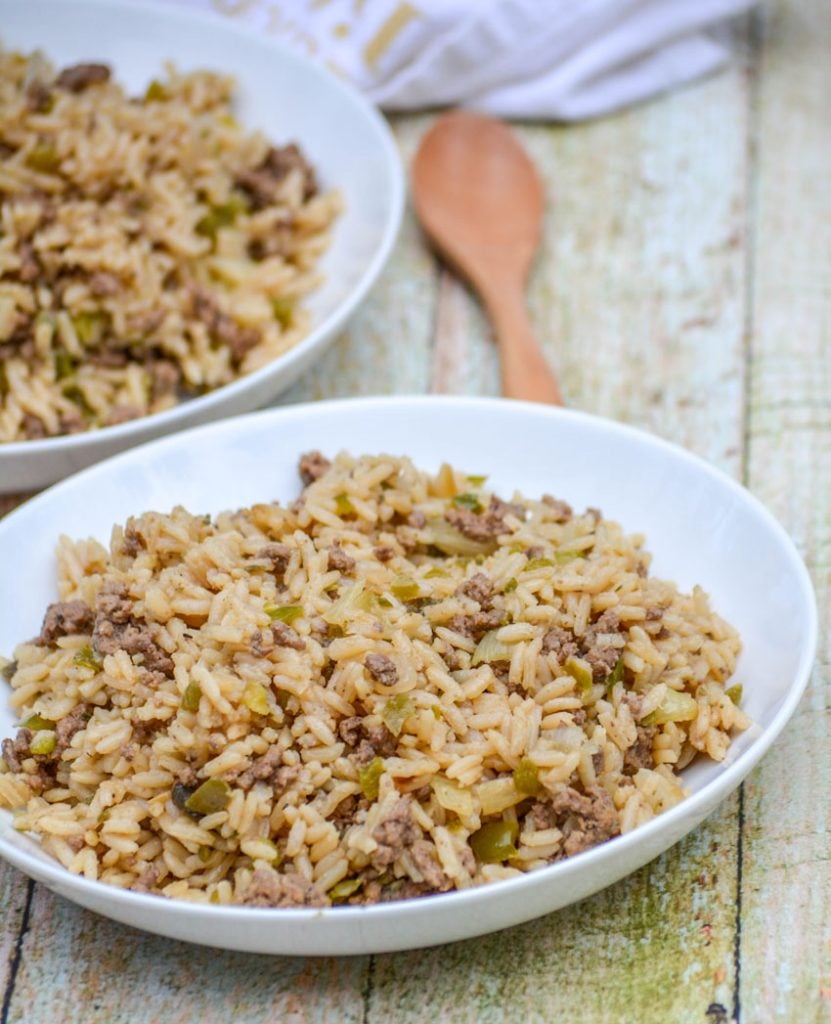 I wanted to share this with you all sooner.
I really did.
You see, I first made this late last year, and we loved it. But I don't typically take pictures until the next time I make something.
I mean, I've gotta make sure it's son approve and all.
So then there was the second time we made this, and all I had was a crappy picture that really didn't do it justice, and this meal deserved better than that.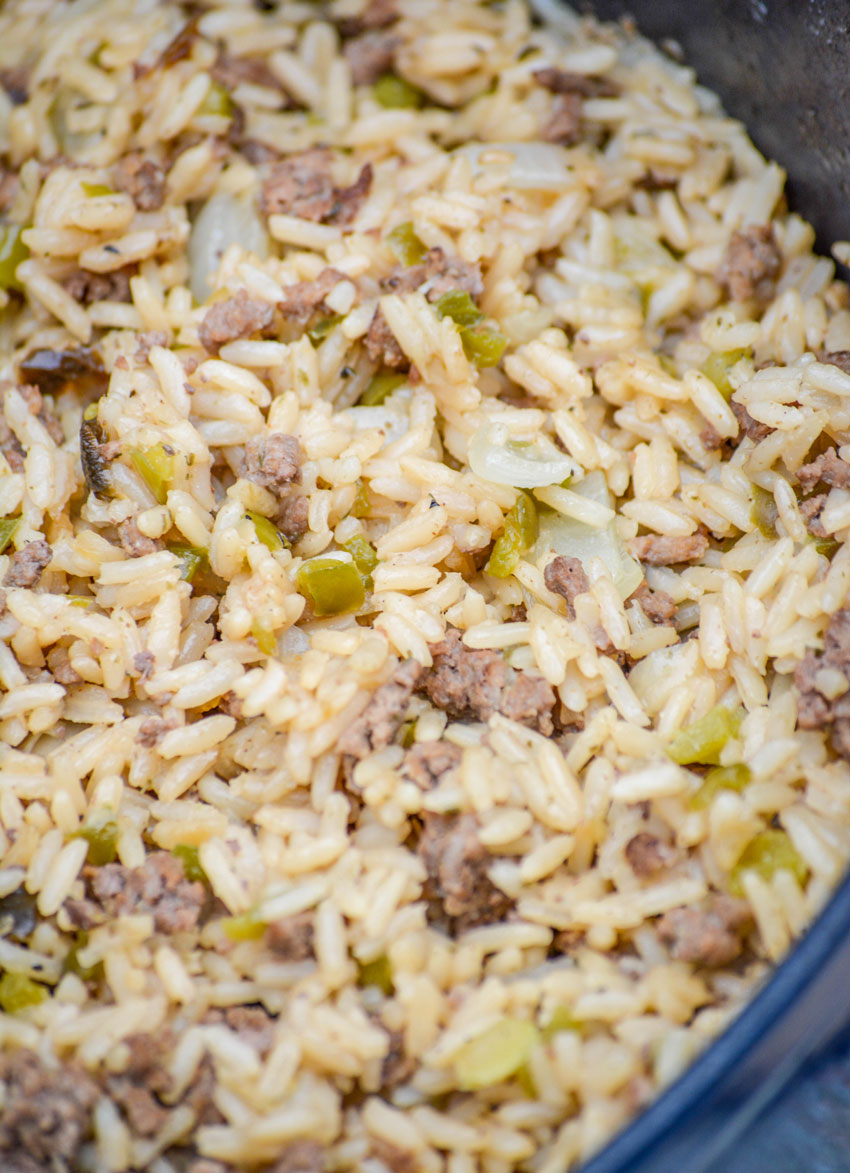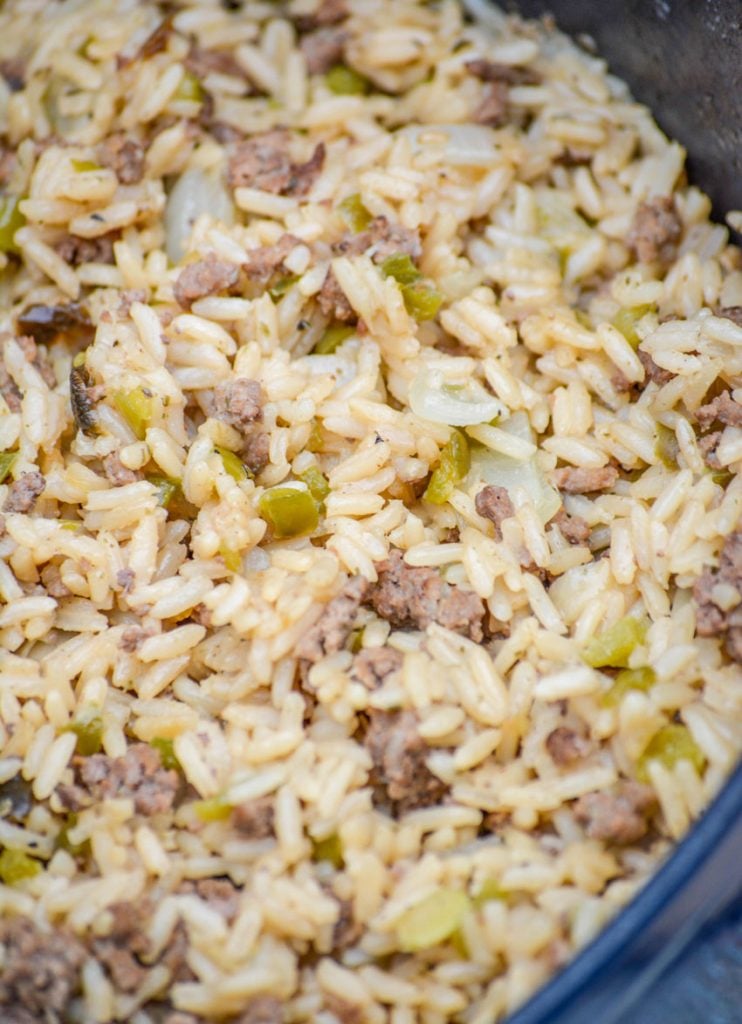 So I used that as the perfect excuse to make it again.
And it seemed that every time I got around to making it again, and again, we were all in so much of a hurry to dig into this dish that the only photo I could get was using the hub's cell phone!
Clearly you can see where our priorities lie. 😉
So this time around, about 9 months later, give or take a month or so, I didn't tell anyone what was for dinner and wouldn't let anyone near the kitchen until I'd managed to get at least one decent shot with my camera.
Once I snapped it, that was it, the troops were all over it. It was a lot like what I'd imagine feeding a pack of ravenous wolves might be like. [End tangent]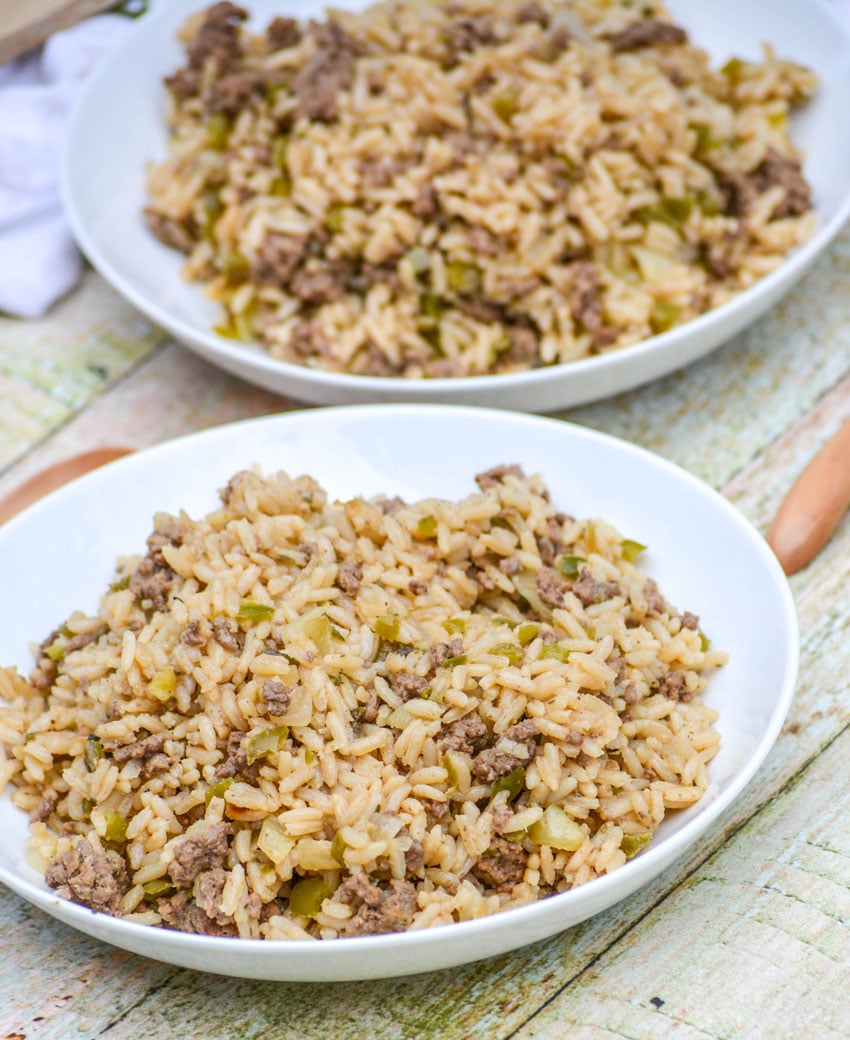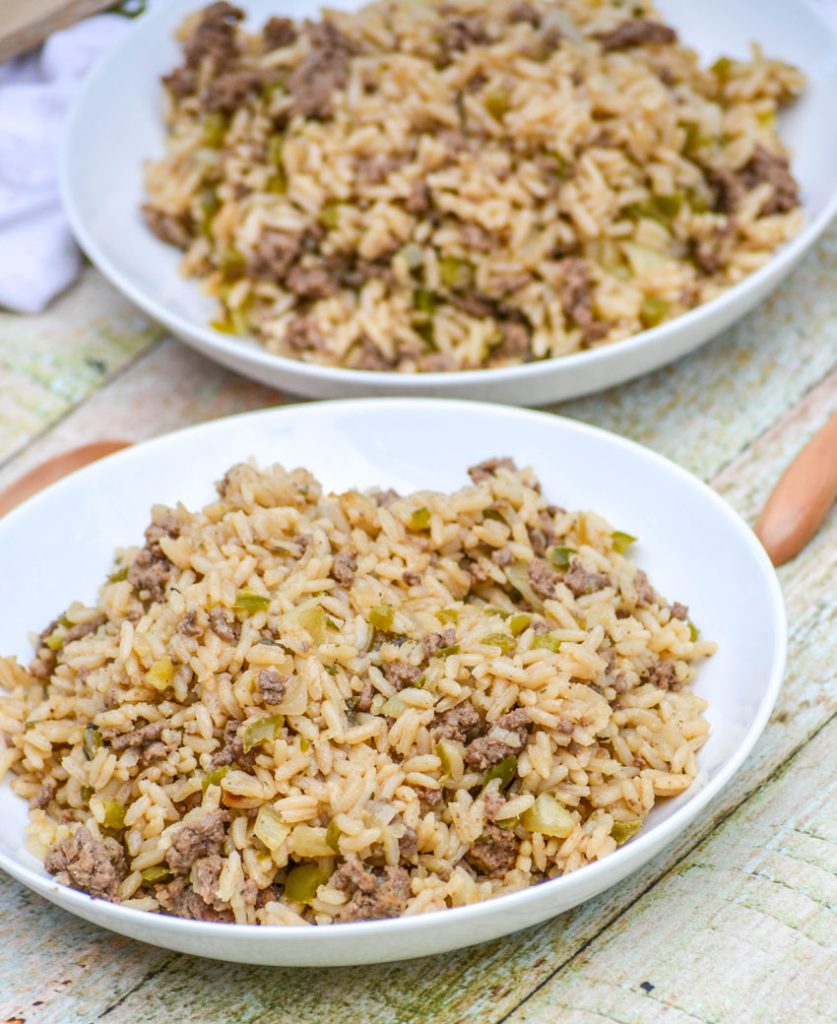 Why Is It Called Dirty Rice?
So. Dirty Rice.
If you're from the South, especially the deep south and any 'bayou' regions, you've probably grown up on the stuff.
For those of you not from the deep south, a fun fact about 'dirty' rice.
The traditional Cajun dish get it's name from the white rice it calls for that turns a 'dirty' color when cooked with small pieces of chicken livers.
Yeah. I didn't like liver when I was little, and it's still a no-go now.
I know, I know, your palette can change as you age, but I'm not chancing it.
No liver for this Mama.
I get my rice pleeeenty dirty using good ol' ground beef.
Don't like beef? Ground chicken or pork sausage both work great in this meal.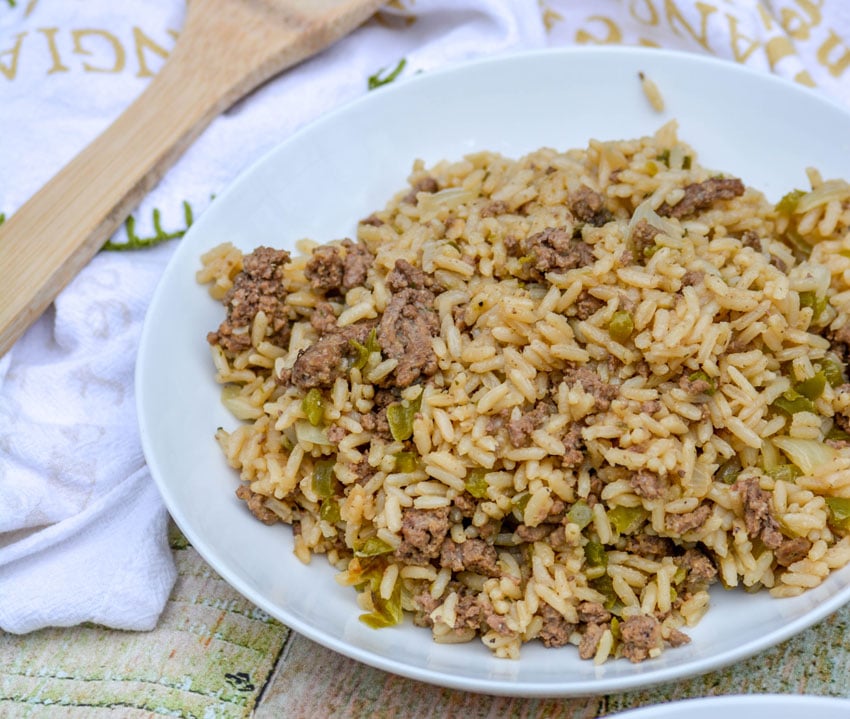 If you've got one pot, and one 20-minute window of time, you've got this amazing one pot dirty rice dinner that will leave you with only ONE dish to clean.
Priceless, right?!
Other One Pot Dinners You'll Also Enjoy:
If you've tried this ONE POT DIRTY RICE, or any other recipe on the site, let me know in the comment section how it turned out, we love hearing from our readers! You can also follow along with me on PINTEREST, FACEBOOK, and INSTAGRAM to see more amazing recipes and whatever else we've got going on!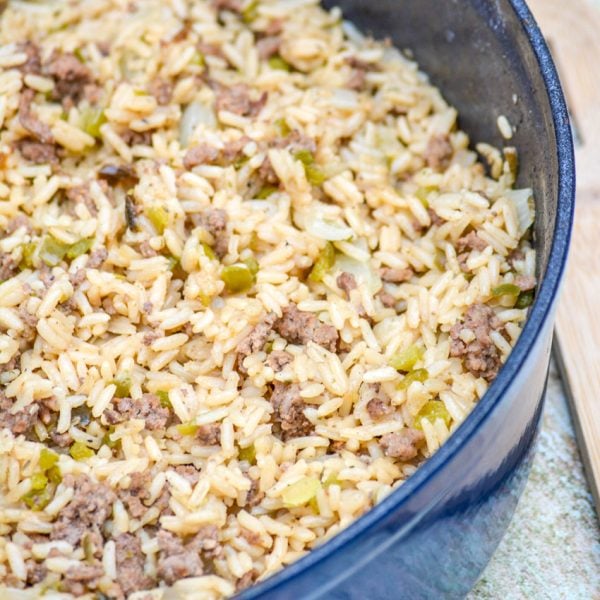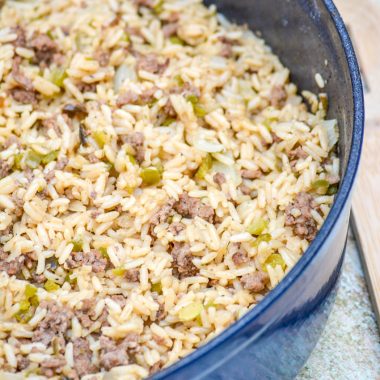 One Pot Dirty Rice
An easy one pot recipe, for a Cajun favorite- this Dirty Rice recipe is gonna be an immediate family favorite.
Print
Pin
Rate
Ingredients
1

tbsp

olive oil

1

lb

ground beef

1

stalk celery

sliced

1/2

bell pepper

diced

2

tbsp

minced garlic

1

small onion

diced

4

tbsp

fresh parsley

chopped, or 2 tbsp dried

1-3

tbsp

creole seasoning

depending on how spicy you'd like it

5

cups

cooked rice
Instructions
In a large skillet, heat up the oil, over medium heat.

Add the ground beef, celery, pepper, garlic, and onion and cook, breaking up the beef while stirring, until the ground beef is cooked through and the vegetables are tender.

Add the parsley and creole seasoning, starting on the low end with 1 tbsp and tasting before leaving it or increasing the amount as desired, stirring to combine.

Then stir in the cooked rice, and saute for 5 minutes, or until heated through, over medium heat.

Serve immediately, and enjoy!