The simplest Italian meal that everyone knows and loves featuring long pasta in a rich cream sauce gets a spicy new spin. Infused with Cajun flavor, this one pot cajun chicken alfredo is chock full of chicken chunks and has the added bonus of cooking in a single pot. It's a creamy dinner everyone can agree on.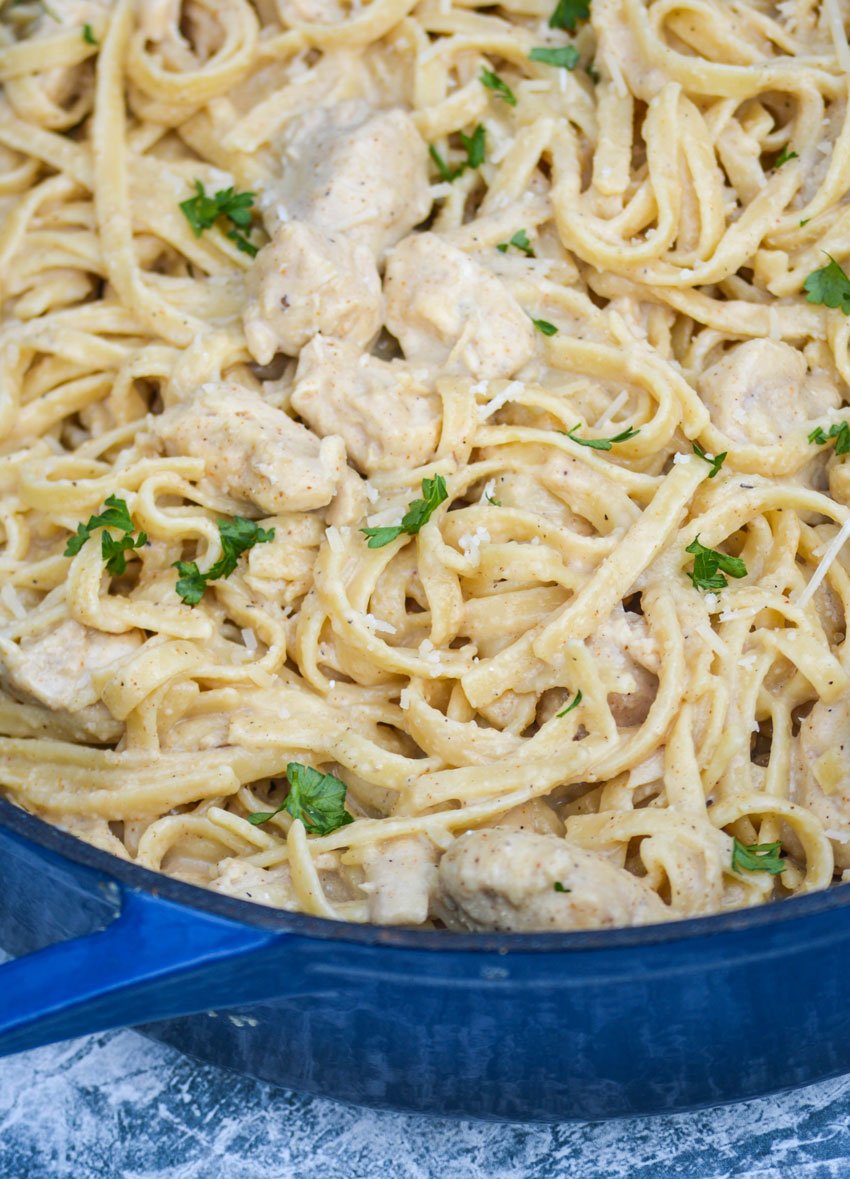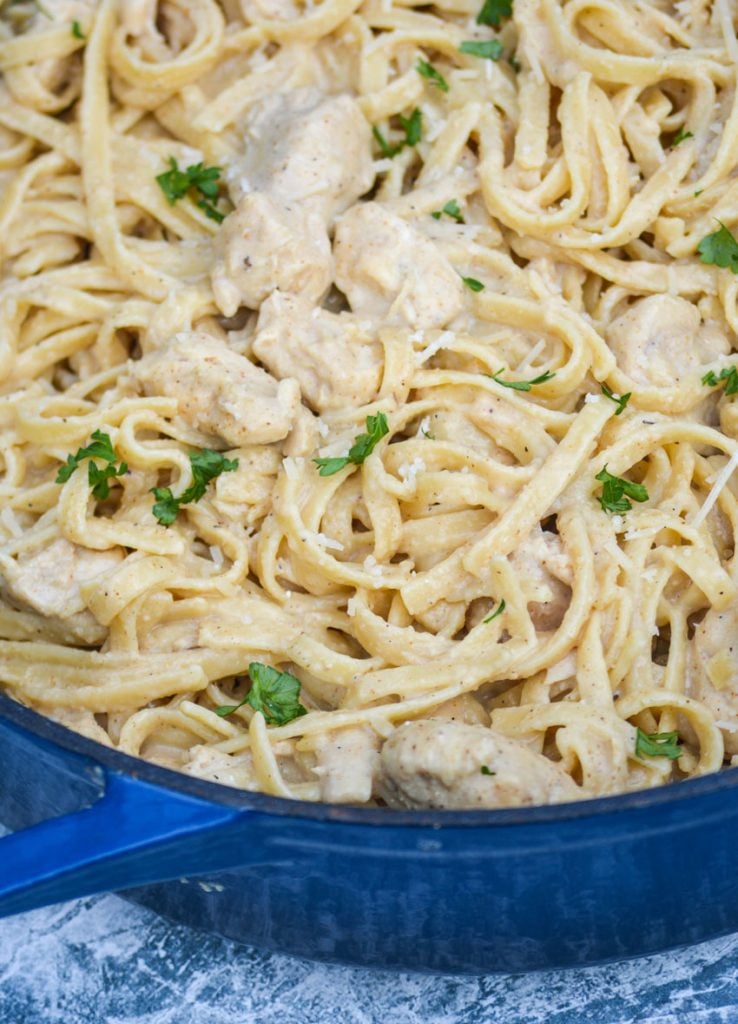 Italian food seems to speak right to my family's soul.
Probably because the hubs is (almost) a full blooded Italian, and through him, my boys are pretty close.
We make it a point to talk to them about their heritage since it's something we're proud of.
We also make it a point to teach them how to make the same authentic dishes their Nonna & Nonno made for their Dad growing up.
Like Nonna's infamous Italian chicken noodle soup & Nonno's spaghetti & broccoli, for example.
Hopefully, this will make it so that they can keep the tradition going for their own kids someday.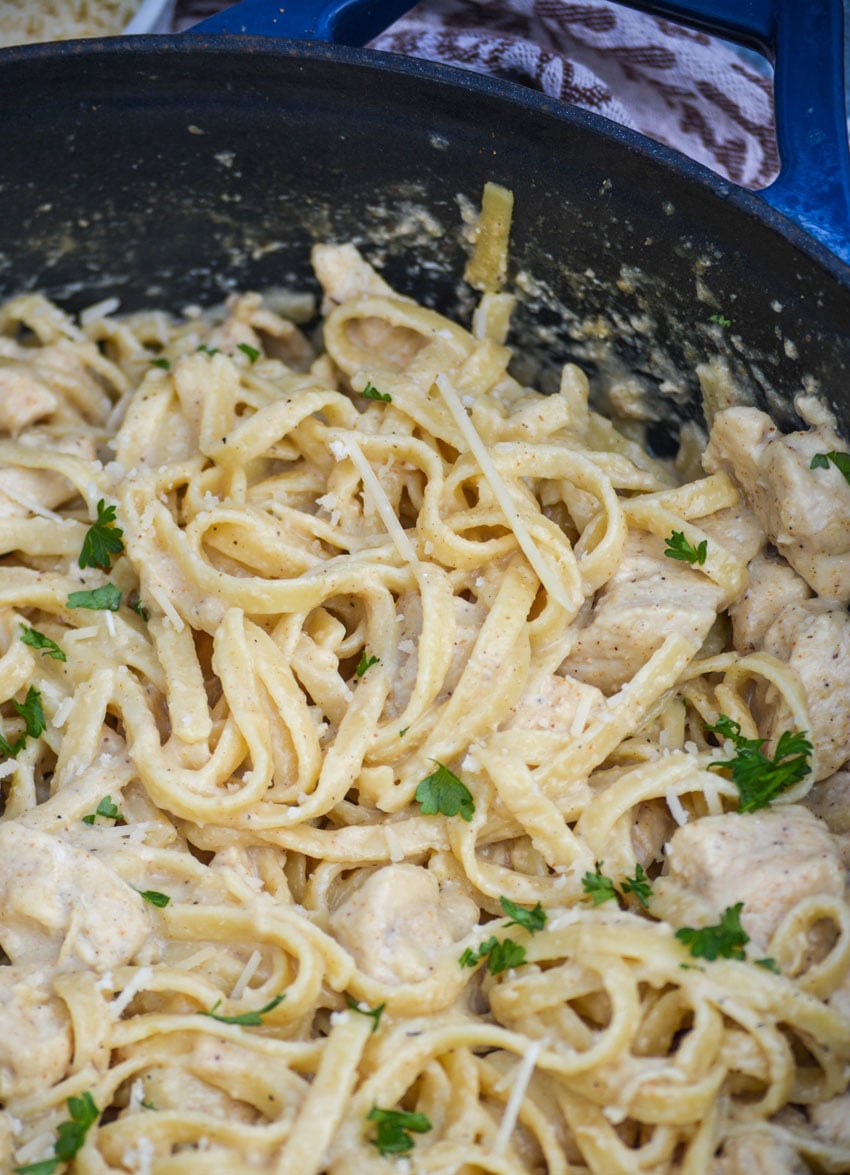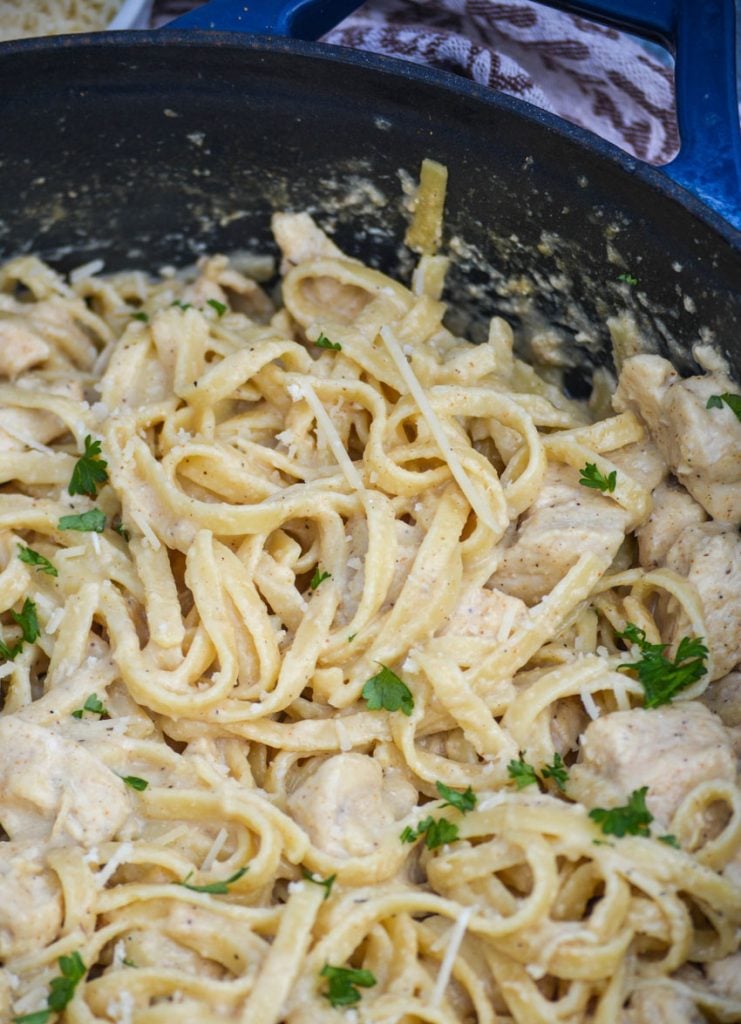 And while alfredo is a classic heart-warming, pasta in white sauce dish- the traditional Italian equivalent of buttered noodles has always been a comfort food for my family.
Occasionally though my 'American' sticks it's nose in.
And that's how we get these glorious hybrid dishes, like a Cajun version of pasta Alfredo with chicken.
It's now a family favorite, and the absolute best of both worlds!
Say hello to this simple savory one pot Cajun chicken alfredo.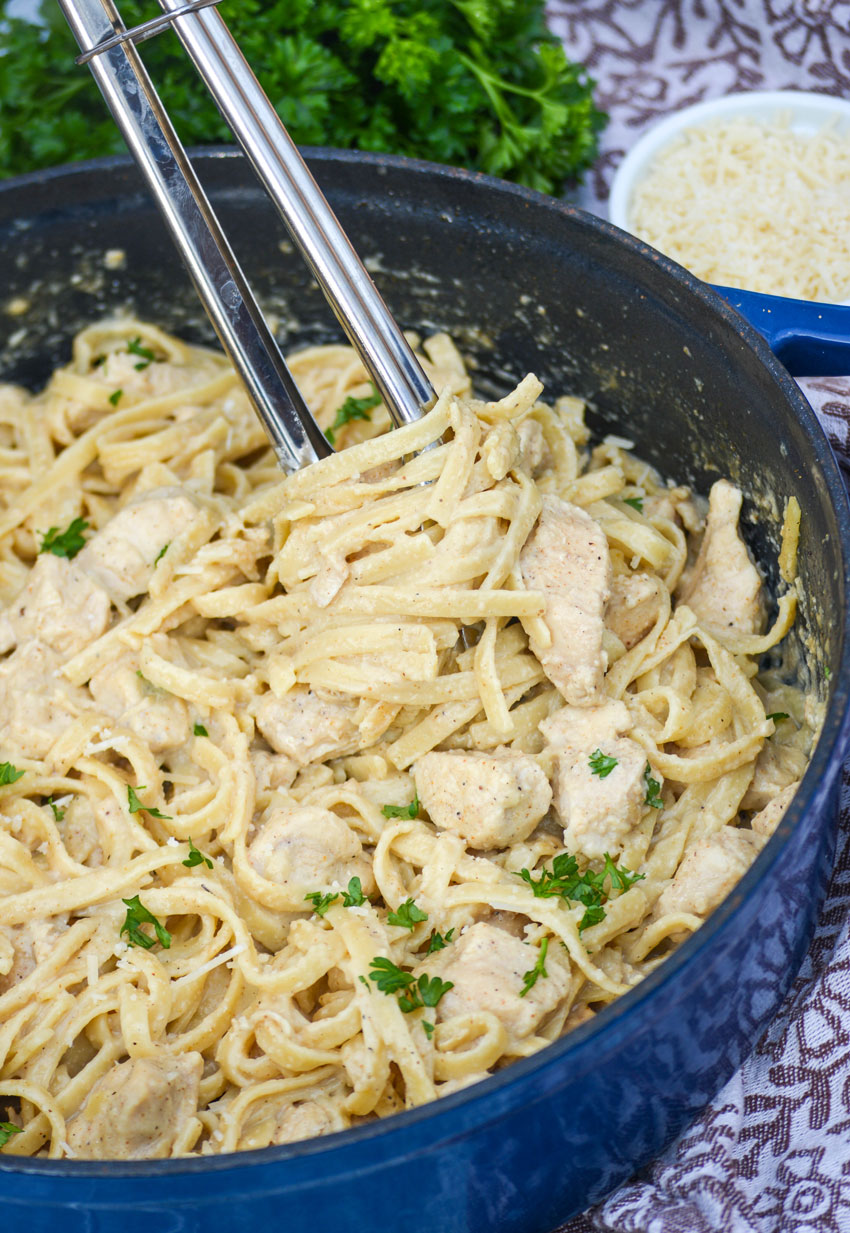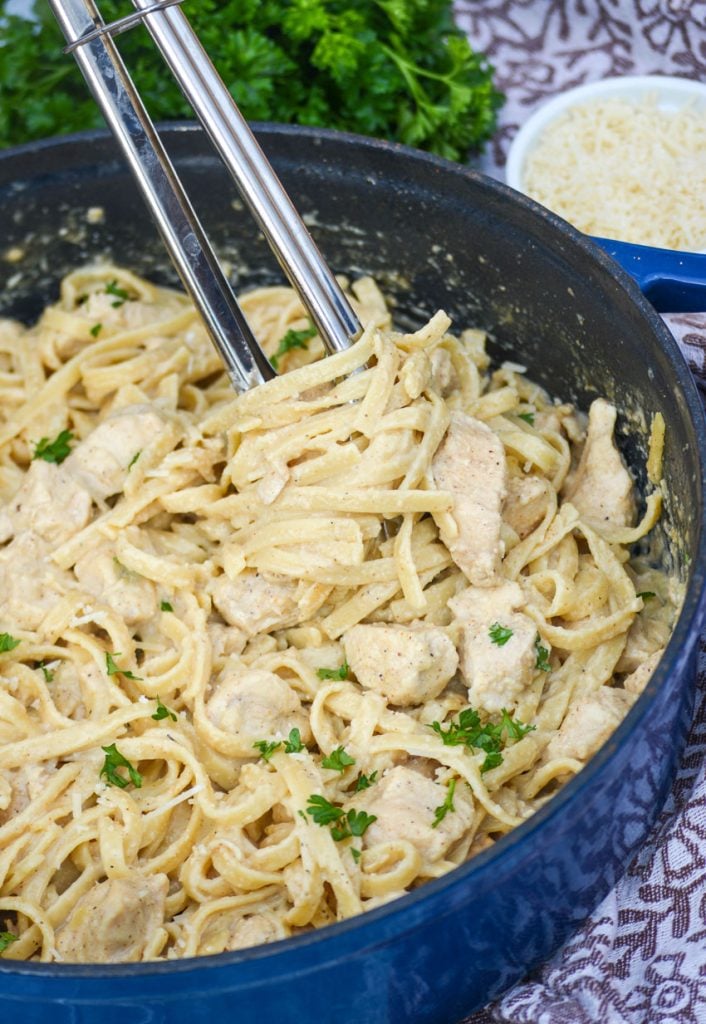 Ingredients Needed
While I'm no stranger to taking short cuts in the kitchen, this recipe doesn't use a jarred alfredo sauce.
Instead it comes together quite simple in a single dish with the pasta.
The ingredient list is super simple too!
olive oil
boneless, skinless chicken breasts
Cajun seasoning
garlic cloves
chicken broth
milk
fettuccine pasta
Parmesan cheese
salt & pepper
Mostly things a home cook has on hand!
Love it when a cozy home-cooked recipe keeps it simple with an easy ingredient list.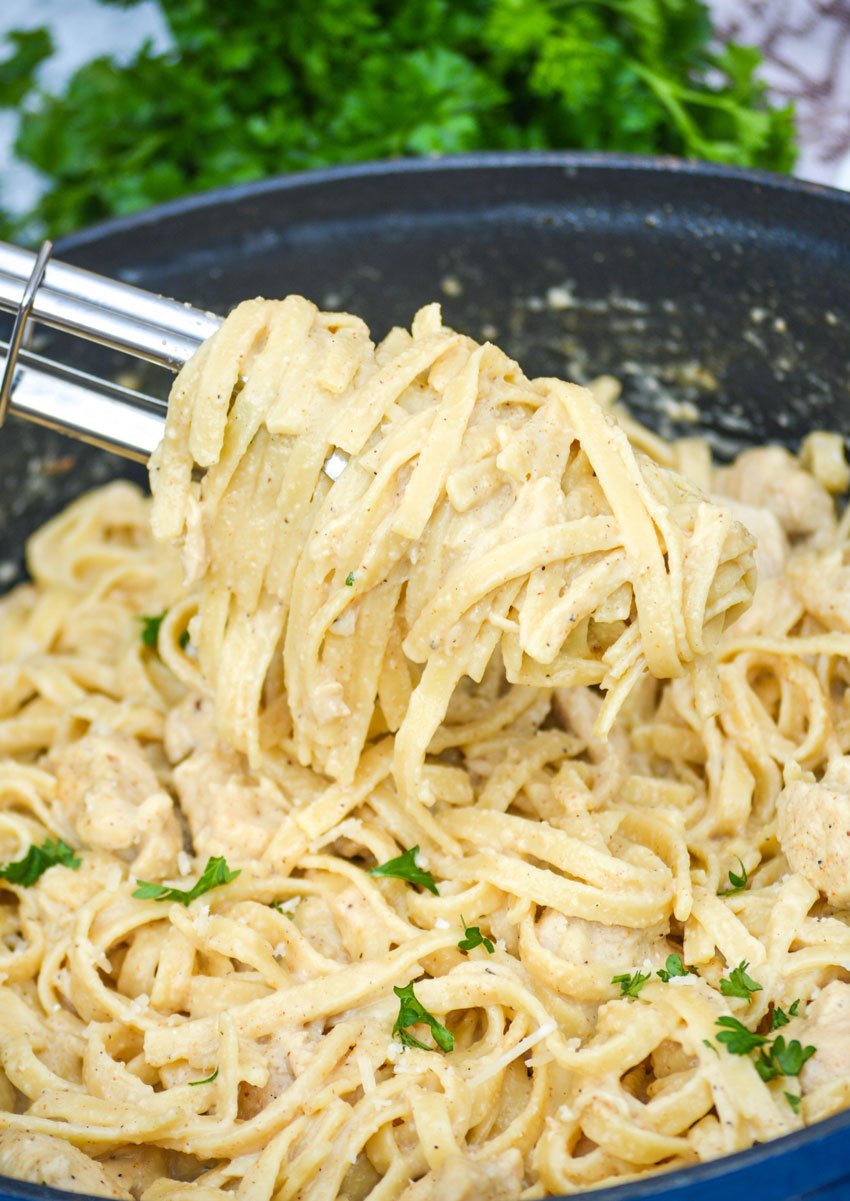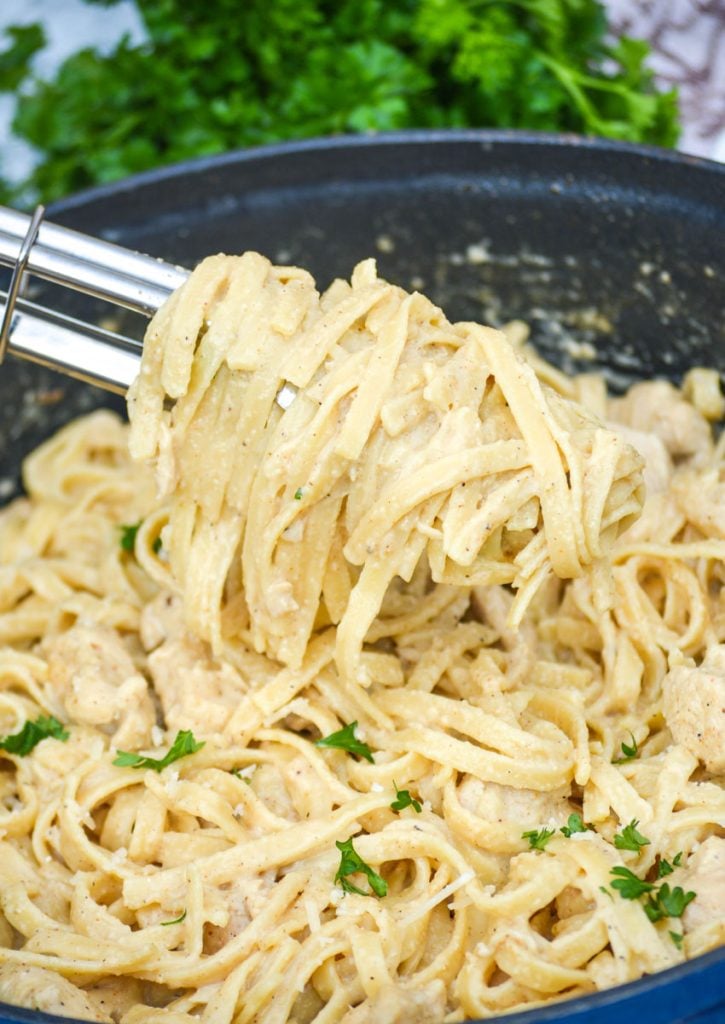 To Make This Recipe
And to build on that? This recipe is just as simple to whip up! Let's take a look.
First we cook the chicken.
Add olive oil to a heavy bottomed pot, or Dutch oven. Once the oil's hot, add in cubed chicken breast and season them with a bit of Cajun spice.
Cook the chicken, stirring often so that it doesn't stick or burn, for roughly five minutes. It's ok if it is mostly cooked, but not completely done. It will finish cooking later on in the sauce.
At this point, add in minced garlic- stirring and cooking until the garlic has infused it's flavor, but making sure it doesn't burn and turn bitter. Let the garlic cook for about 60 seconds.
Pour in the milk and chicken broth. Using a sturdy spoon (love a solid wooden one for just this purpose), scrape any browned bits up and off the bottom of the pan.
This is a technique called 'de-glazing', and it's important to many saucy dishes.
Contrary to what your naked eye might tell you, those stuck on bits aren't burnt and they carry a heavy amount of flavor and seasoning. They're often one key elements to a great sauce.
Add the pasta to the pot, and stir or agitate so that it doesn't stick together in a clump.
Cover the pot to encourage it coming to a boil, still stirring often so the pasta doesn't clump.
Once the mixture reaches a rolling boil, reduce the heat to medium low. Stir the pasta a final time, and let it simmer COVERED for 9-11 minutes.
You're still going to want to stir it every 2-3 minutes though to prevent pasta stickage. I love me some pasta, but it can be fickle when cooked in close quarters.
Cook the pasta until the time's elapsed, or until the pasta is al dente and there's only about 1/2″ of liquid left in the bottom of your pot.
Immediately remove the pot from heat, and stir in the cheese until completely melted and incorporated with the sauce.
Season the dish with salt & pepper, to taste.
Spice It Up
We've kept this dish on the milder side, mostly because I am a wuss and I want the whole family to enjoy it.
If you like living on the wilder side, then by all means spice it up.
However, since spices permeate and tend to intensify as the cooking time goes on- I would recommend cooking it as instructed and then adding additional Cajun seasoning to taste.
That's really all there is!
Scoop and serve this one pot chicken & pasta meal while still warm.
You can serve it as is, or add a sprinkle of Parmesan cheese and chopped parsley for an added garnish.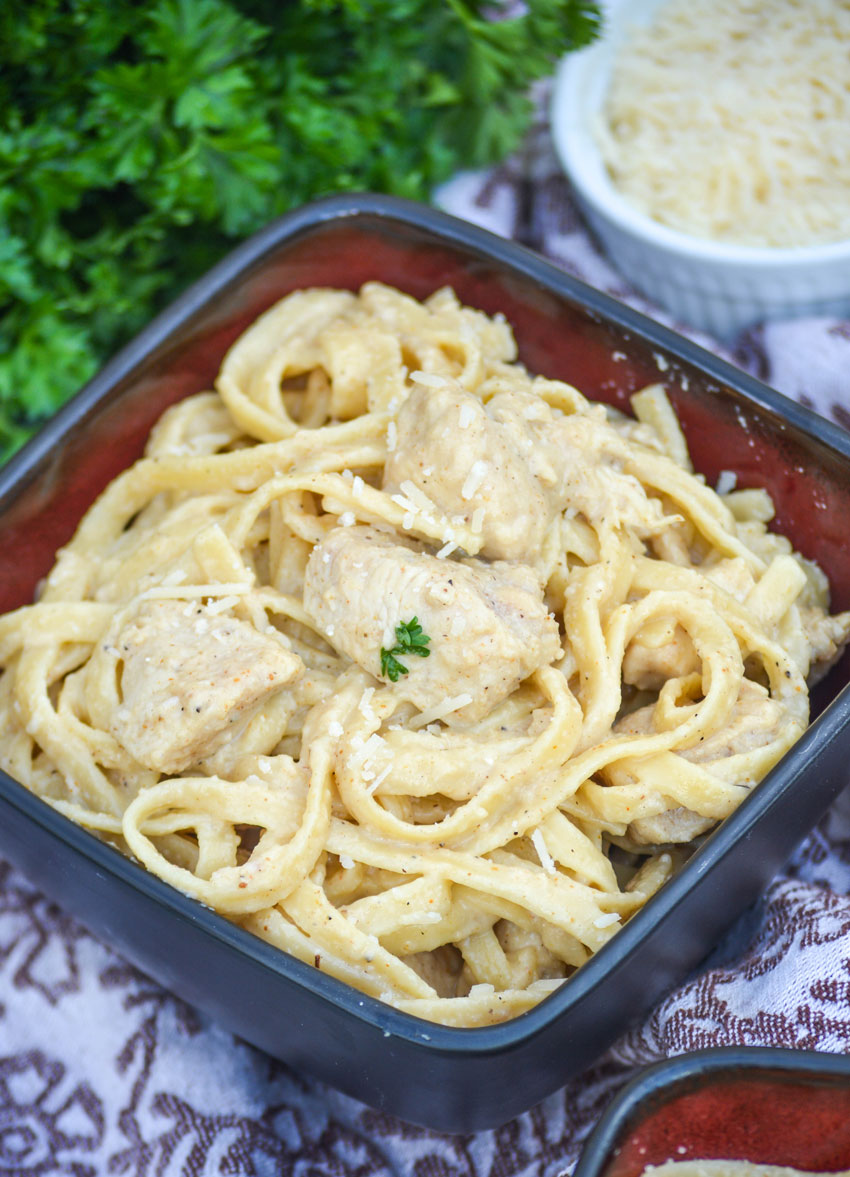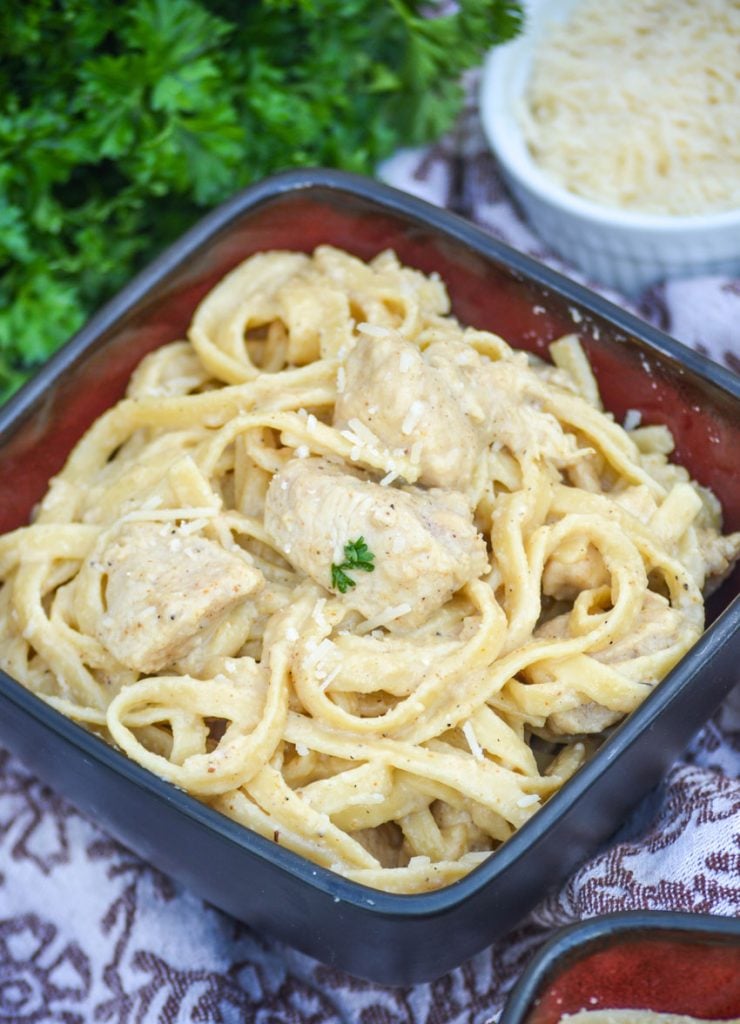 Your favorite pasta, rich, creamy alfredo sauce, chunks of white chicken, with Cajun spice mixed right in. This is a seriously flavorful meal the family will love in a single pot.
Chicken Alfredo gets a face lift with our new one pot Cajun flavored twist, and it's now even easier in this quick and easy one pot meal version.
Betcha didn't think a meal made almost entirely of noodles and sauce could get any easier.
I know I didn't, but prepare to be 'wowed' and won over to the one pot wonder cause.
Other One Pot Meal Ideas To Try
If you've tried these ONE POT CAJUN CHICKEN ALFREDO, or any other recipe on the site, let me know in the comment section how it turned out, we love hearing from our readers! You can also follow along with me on PINTEREST, FACEBOOK, and INSTAGRAM to see more amazing recipes and whatever else we've got going on!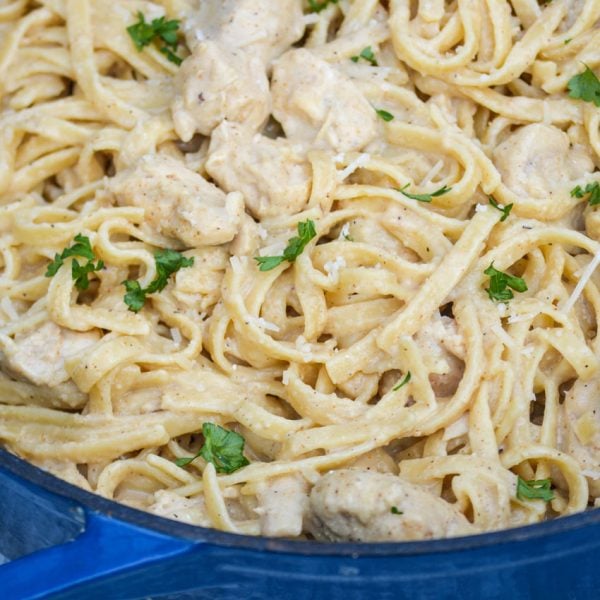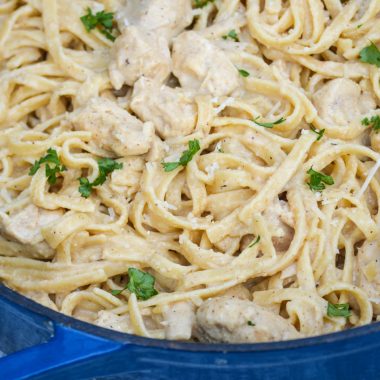 One Pot Cajun Chicken Alfredo
A quick & easy, one pot recipe for a traditional creamy chicken alfredo pasta dinner, but with a mildly spicy Cajun twist.
Print
Pin
Rate
Ingredients
2

tbsp.

olive oil

1

lb

boneless skinless chicken breast

cut into bite size chunks

3

tsp

Cajun seasoning

6

garlic cloves

minced

1 1/2

cups

chicken broth

1

cup

milk

8

oz.

dried fettuccini pasta

broken in half

1/3

cup

grated Parmesan cheese

salt & pepper

to taste
Instructions
Add the oil to a dutch oven, or other large pot. Heat over medium heat for a minute or two, when the oil is hot add the chicken and the Cajun seasoning. Cook for 5 minutes, stirring occasionally, then add in the garlic and stirring often, so it doesn't burn and turn bitter, continue cooking for another minute.

Stir in the milk and broth, scraping up and browned bits or spices stuck to the bottom of the pan. Add the pasta to the pot, stirring as you do so it doesn't clump and stick together. Cover and bring to a rapid, rolling boil, continuing to stir the mixture occasionally.

Reduce the heat to medium-low and let the pasta simmer, covered, for 9-11 minutes, stirring every 2-3 minutes to prevent sticking. Cook until the time's up, or until there's only 1/2 inch of liquid left in the bottom of the pot.

Remove the pot from heat and stir in the cheese until melted and evenly incorporated. Season with salt & pepper, and serve immediately.
Notes
This version is more on the mild-side spice-wise. If you'd like more of a kick, add extra Cajun seasoning, to taste, as desired.
Nutrition
Calories:
493
kcal
|
Carbohydrates:
48
g
|
Protein:
37
g
|
Fat:
16
g
|
Saturated Fat:
4
g
|
Cholesterol:
86
mg
|
Sodium:
613
mg
|
Potassium:
760
mg
|
Fiber:
2
g
|
Sugar:
5
g
|
Vitamin A:
944
IU
|
Vitamin C:
9
mg
|
Calcium:
196
mg
|
Iron:
2
mg
originally published 2/22/2016
recipe adapted from The Wholesome Dish