These Luck of the Irish Jello shots are the perfect adult way to celebrate St. Patrick's Day. With three deliciously fruity layers, these pretty Jello shots are a great alternative to serving up Irish beer or Irish car bombs at St. Patrick's Day parties.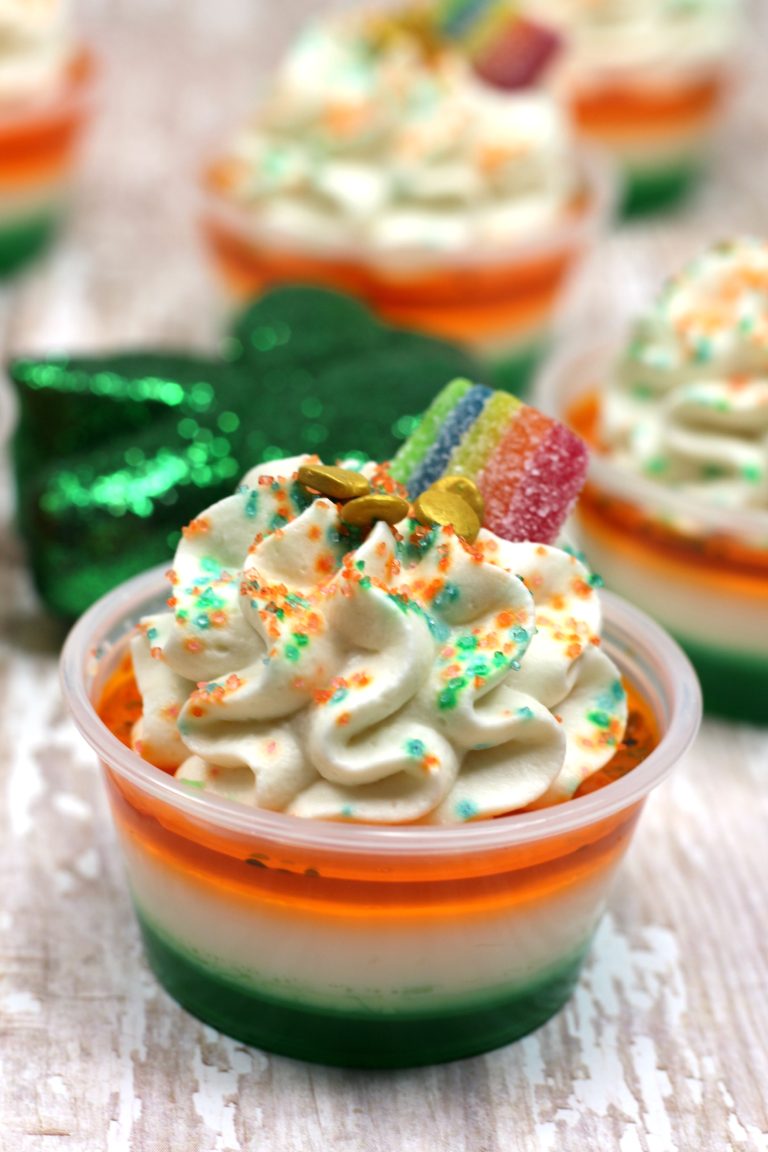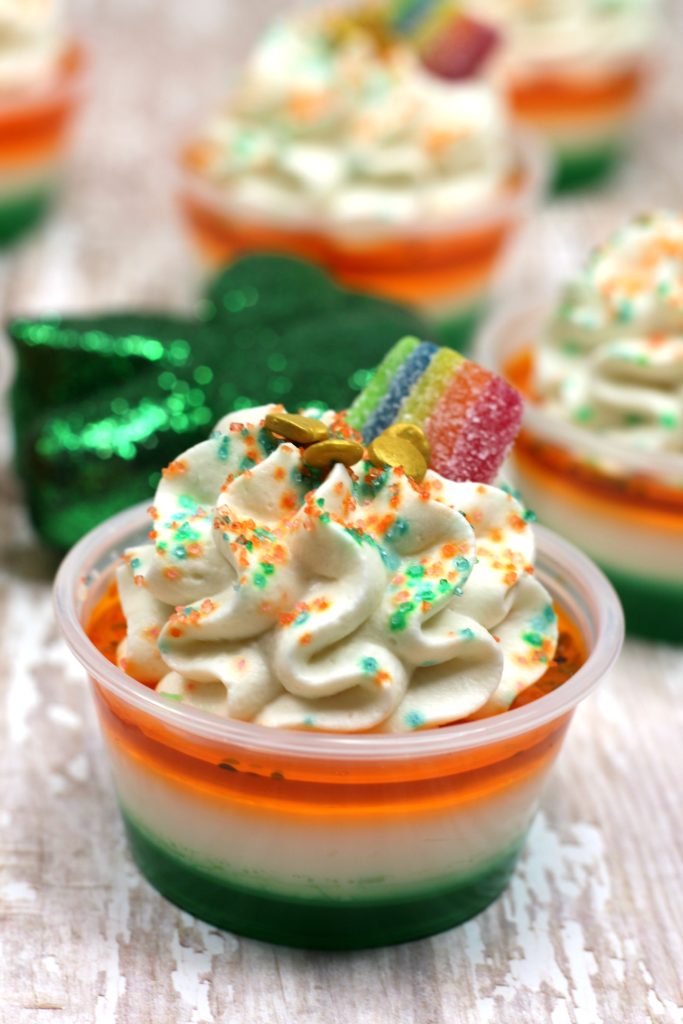 St. Patrick's Day is officially upon us, which means a few things. First, it feels like spring is finally upon us. And second, St. Patrick's Day parties. I admit now that I'm a mom I don't celebrate this holiday the way I once did, but I still like to have a little fun that day. We normally invite over a few friends and have a very low key gathering.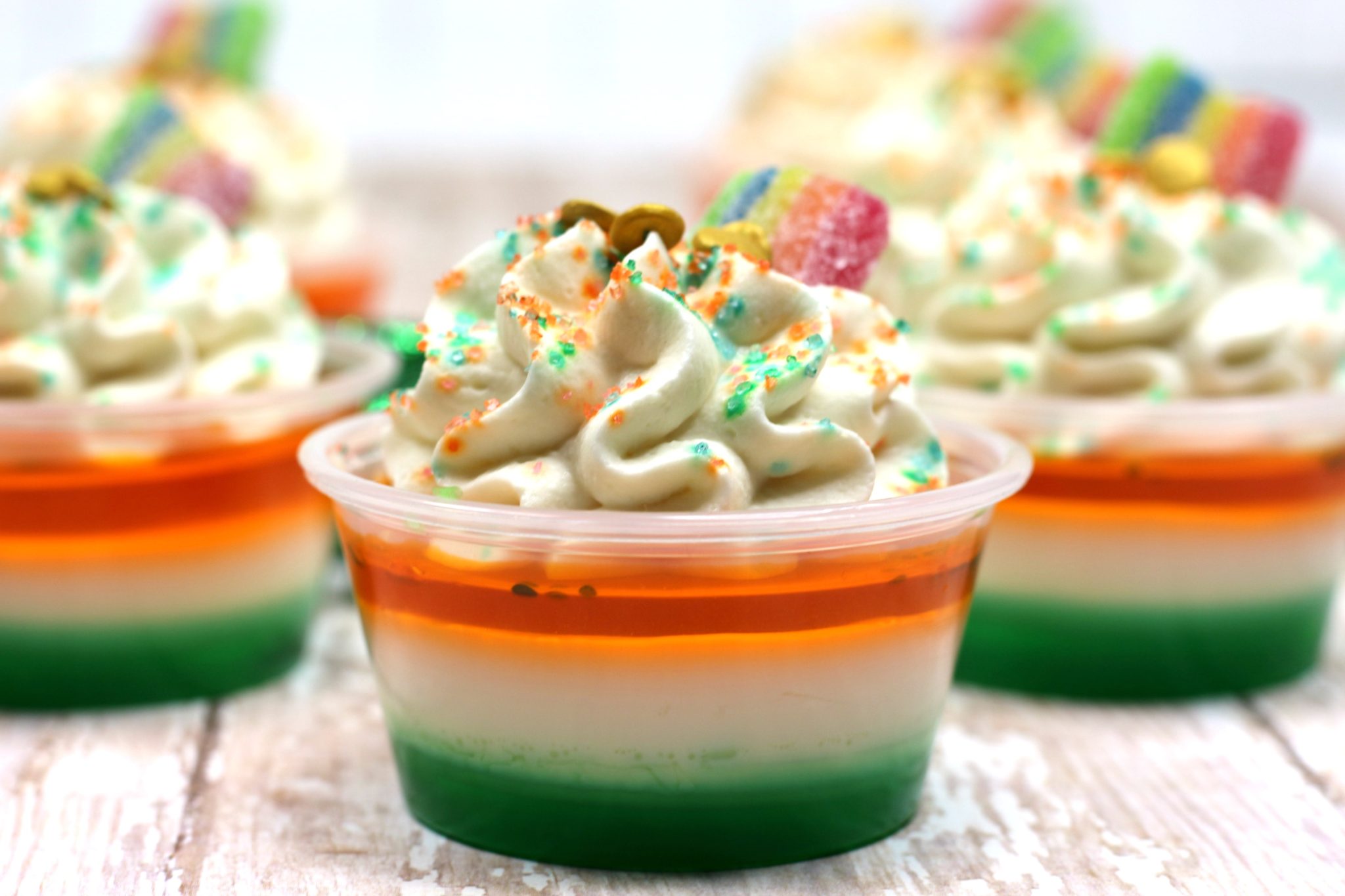 And I definitely like it to feel a little festive. The kids get festive St. Patrick's Day Andes Mint Oreo Chocolate cupcakes. Or a batch of the more traditional Irish potato candy, but I want something for the adults to enjoy too. I love serving up boozy treats for these kinds of occasions like these Luck of the Irish Jello shots. Not only are they pretty and fun, but they please the non beer drinkers.
These jello shots have a fruity, sweet and sour flavor that makes them taste a bit like sour candies. It's totally different than the heavy Guinness or the Irish car bombs. They also don't burn going down the way some people feel like whiskey does. So these Luck of the Irish Jello shots are nice for people that like their drinks sweeter.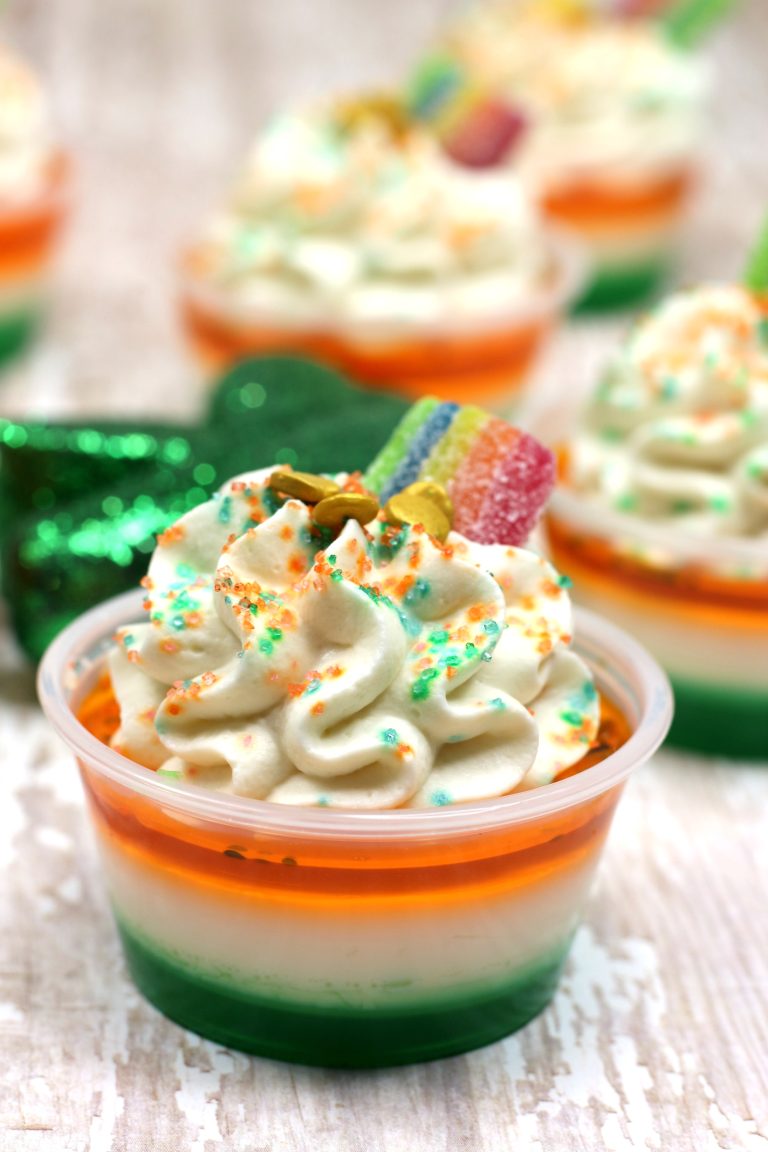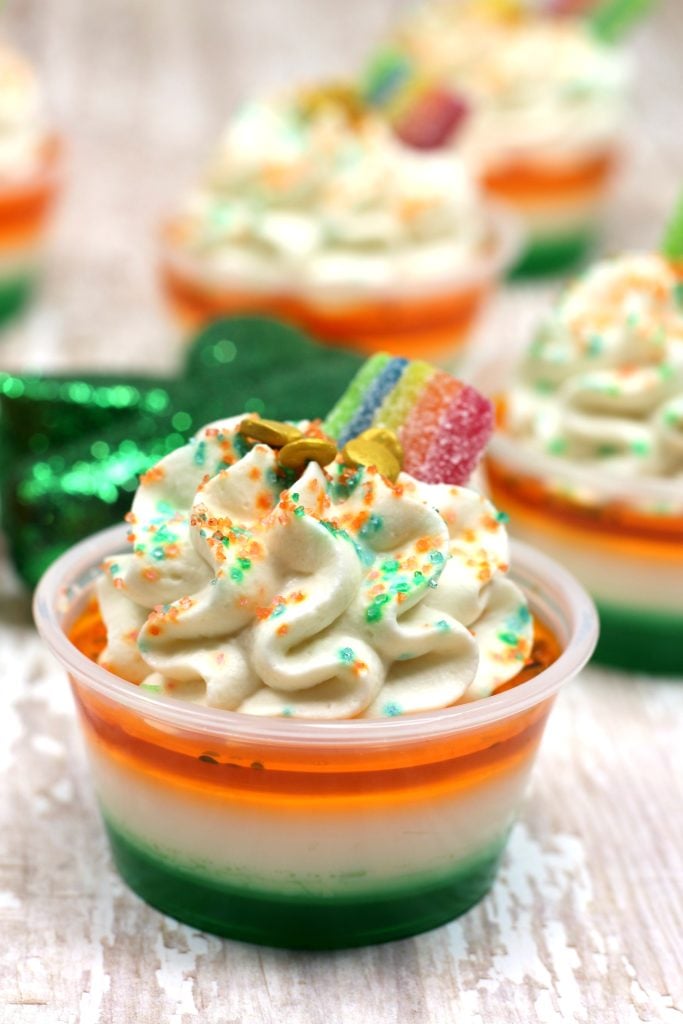 These are a huge step up from Jello shots you may have had before. Instead of college style Jello shots with red Jello and vodka, I used three different Jello flavors and three different alcohols.
The bottom green layer is lime Jello with Sour Apple Pucker. For the white layer, I've made a vanilla marshmallow flavor with coconut milk, plain gelatin, and Marshmallow vodka. The orange layer is orange Jello and orange liqueur.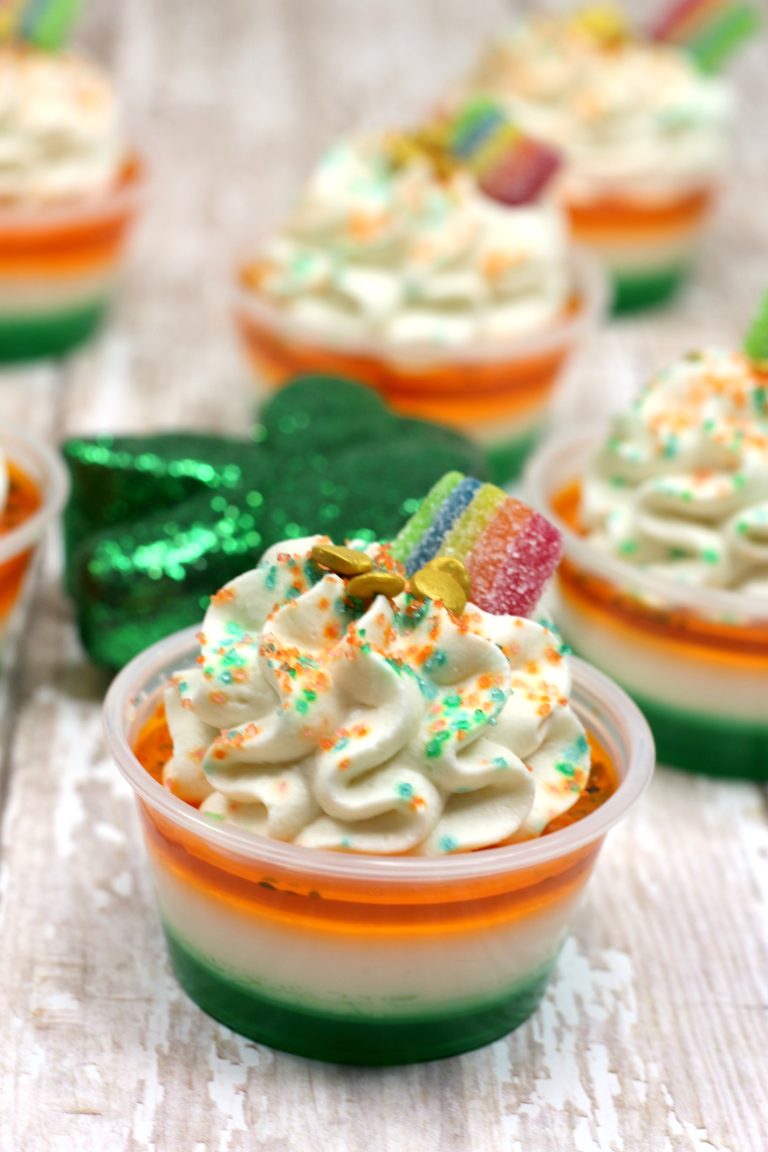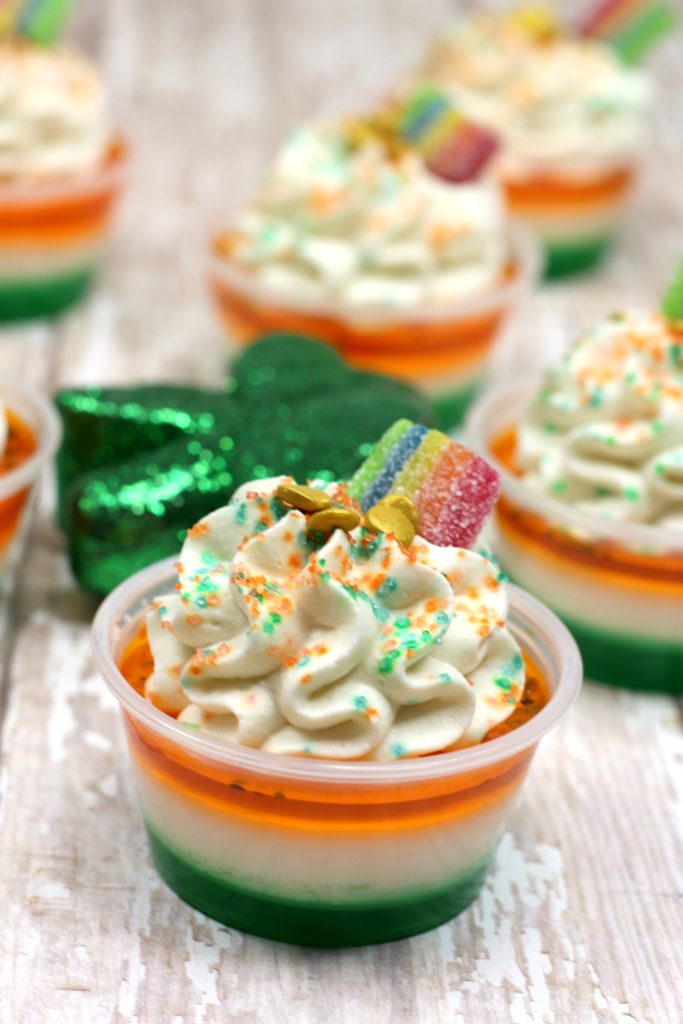 Making these Luck of the Irish Jello shots isn't difficult at all. For the green and orange layers, you just pour boiling water onto the Jello mix and stir until the the Jello dissolves completely. When the Jello dissolves, you can add the alcohol to each Jello. Then set them aside for 10 minutes to let cool.
While they are cooling, you can assemble the white layer. To do make the white layer, pour the coconut milk into a small saucepan and add the gelatin. Heat over medium heat while you break up the gelatin and then bring to a simmer until the gelatin dissolves. Then remove it from the heat and add in the sugar, alcohol, and the vanilla extract.
Then you are ready to assemble the Jello shots. Start by pouring the green Jello into plastic shot glasses, filling them a third of the way. Refrigerate them for 25 minutes so the green layer can set. Then pour the white layer on top, filling each shot glass another third. Refrigerate again for 25 minutes to let the white layer set. Finish by repeating the process with the orange layer. Let set for 2 hours in the fridge so the Jello can really firm up.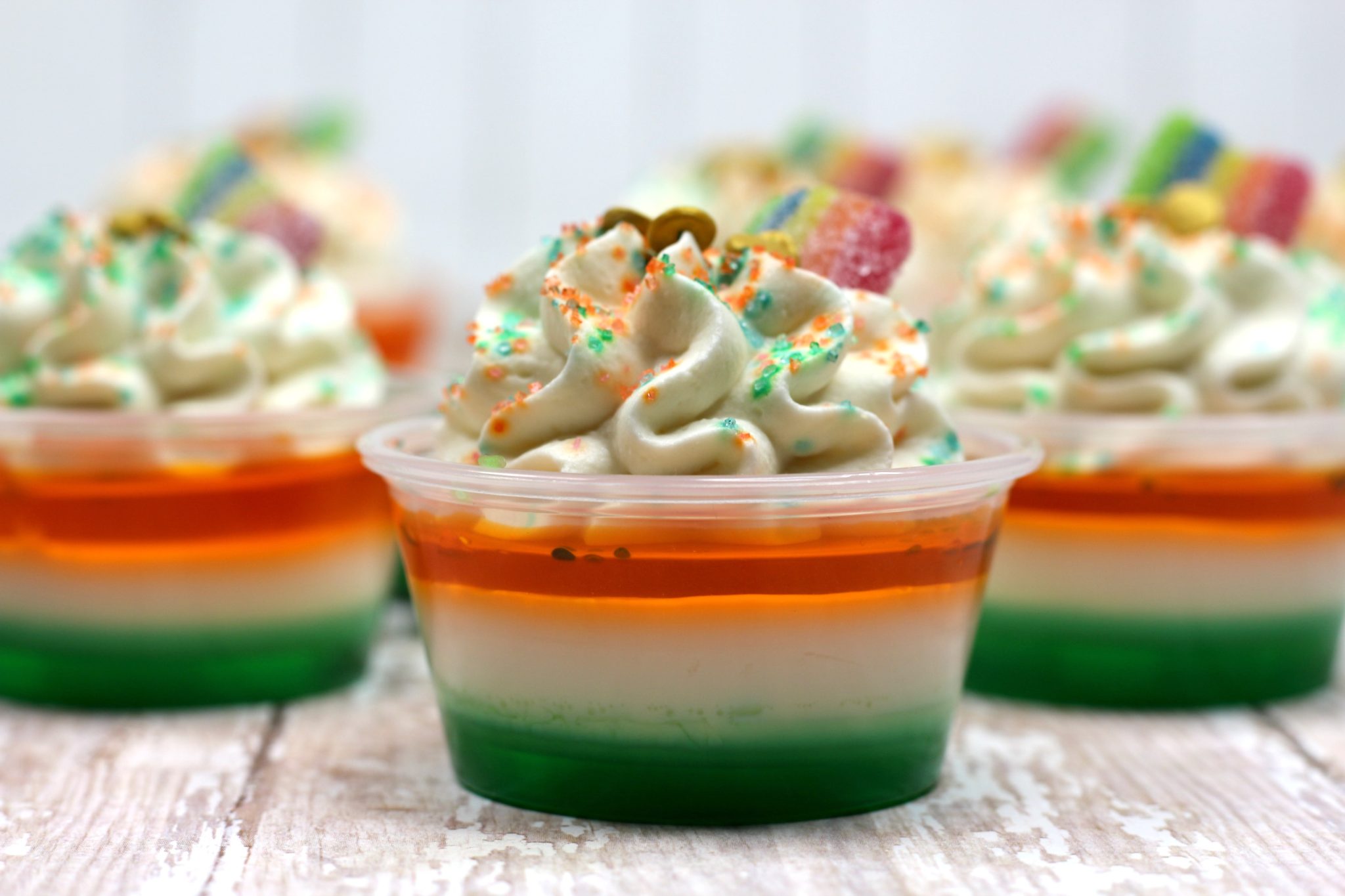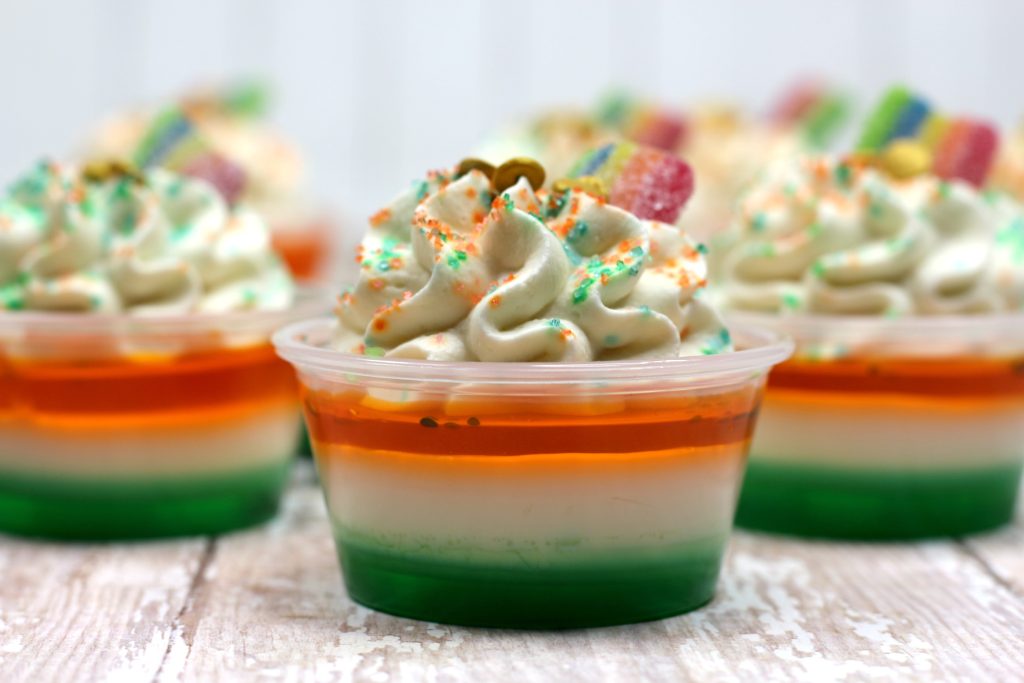 Just prior to serving, take them out of the fridge and garnish them with whipped cream and sprinkles. It makes these Luck of the Irish Jello shots as pretty as they are tasty. Cheers and Happy St. Patrick's Day!
Other Boozy St. Paddy's Day Treats To Enjoy: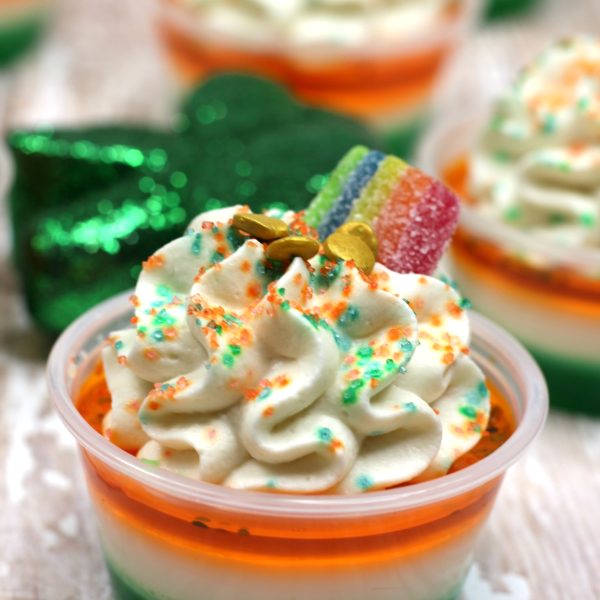 Luck Of The Irish Jello Shots
This sweet layered jello shot has a layer of marshmallow flavored jello sandwiched between fruity layers of orange and apple. It's the perfect boozy adult treat to celebrate St. Patrick's Day with.
Print
Pin
Rate
Ingredients
Green Layer
1

small Lime jell-o

2/3

cup

water

2/3

cup

Sour apple pucker
White Layer
1/2

cup

coconut milk

3

tablespoons

sugar

1

packet Knox Gelatin

1/2

cup

Marshmallow Flavored Vodka

1/2

teaspoon

vanilla
Orange Layer
1

small box Orange jell-o

2/3

cup

water

2/3

cup

Orange liquor
Instructions
Add 2/3 cup boiling water to lime jello mix in small bowl; stir 2 min. until completely dissolved.

Repeat with orange jello mix.

Add your liquors to both jell-o's and set to the side.

Cool 10 minutes.

For the white layer, pour milk into a small saucepan.

Add the gelatin packet to the milk and allow to sit for 5 minutes.

Now stir the white mixture and break up the gelatin.

Turn on medium heat, simmer until the gelatin dissolves.

Stir well, until it comes to a boil.

Remove from heat and add sugar and vanilla and stir to dissolve, add in your vodka, stir and let cool 10 minutes.

Pour or spoon lime jello into plastic shot glass 1/3 of the way full.

Refrigerate 25 minutes.

Pour white jell-o mixture on top of green layer 1/3 of the way full. .

Refrigerate 20 minutes.

Top it off with the orange jello.

Refrigerate 2 hours or until firm.

Garnish with whip cream, sour rainbow candy and chocolate gold cake sprinkles.

ENJOY!!