Bean salad is easy to throw together, & this Three Bean Pasta Salad version is no different. A heaping helping of three different beans, a couple veggies included for good measure, and it's all tossed in a simple homemade vinaigrette. Served as is, or chilled, this pasta salad was destined to please Southern palates.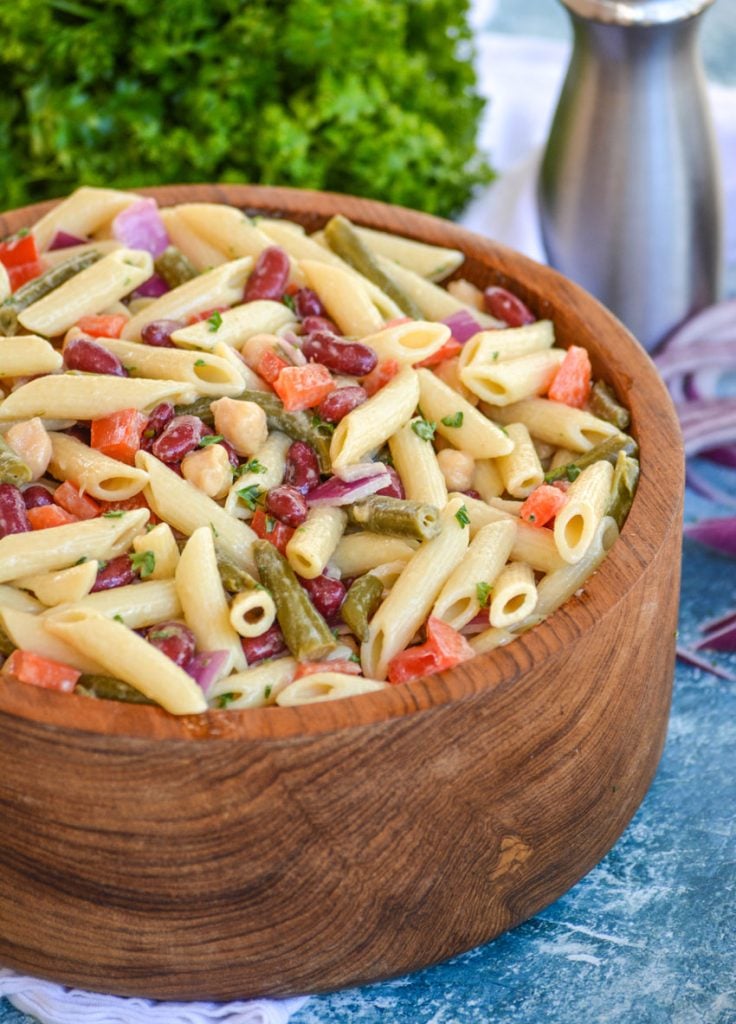 Do you have a favorite dish you associate with certain seasons? I've got several for each one, and it gets even more detailed than that. Take three bean salad for example- I don't really associate that with Summer specifically. I do think of it every time I think of fresh produce and backyard gardens in full bloom.
Nanny's garden four bean salad is 100 % responsible for this delicious association. I loathed the whole concept of 'bean salad' as a child, completely refusing to ever try a bite. It was my MIL's infamous recipe that I finally sampled and fell in love with.
Just like with so many other things, that had me wanting to try, to know, all things bean salad. What had I been missing out on?? So down the bean salad recipe rabbit hole I went.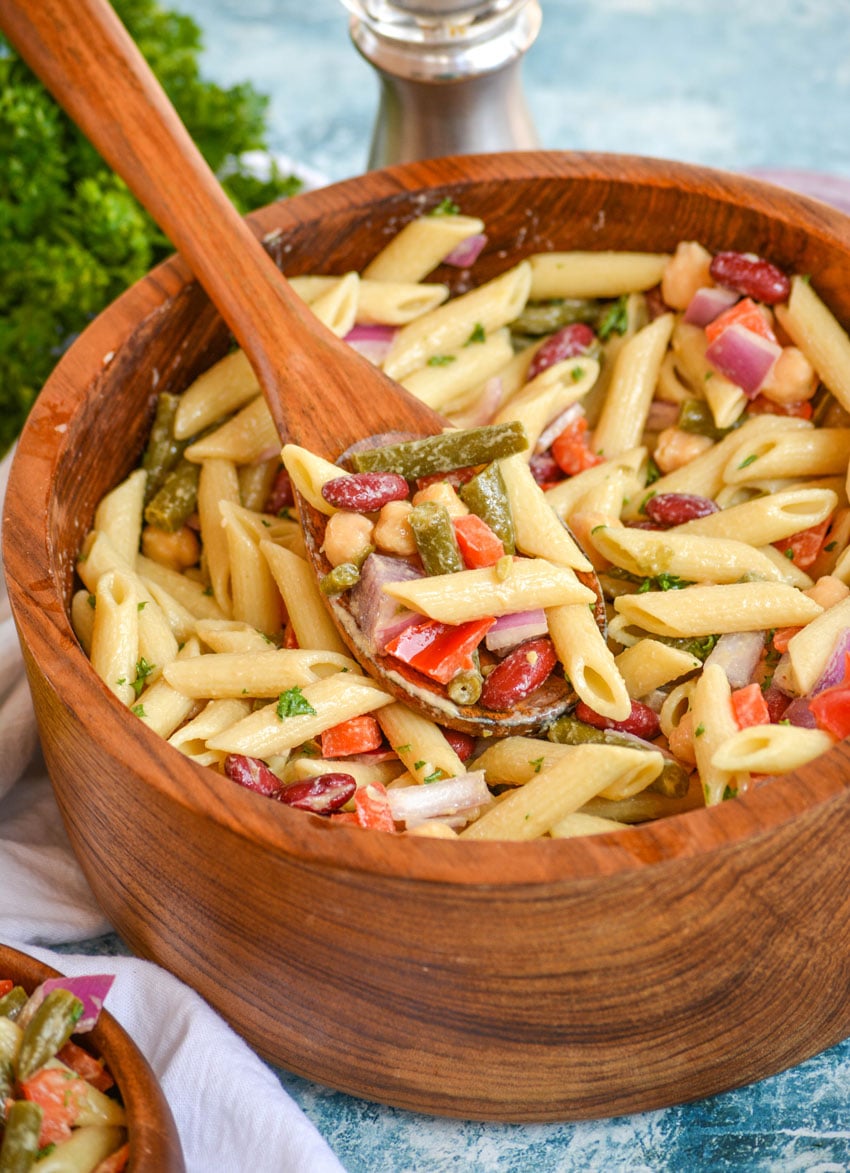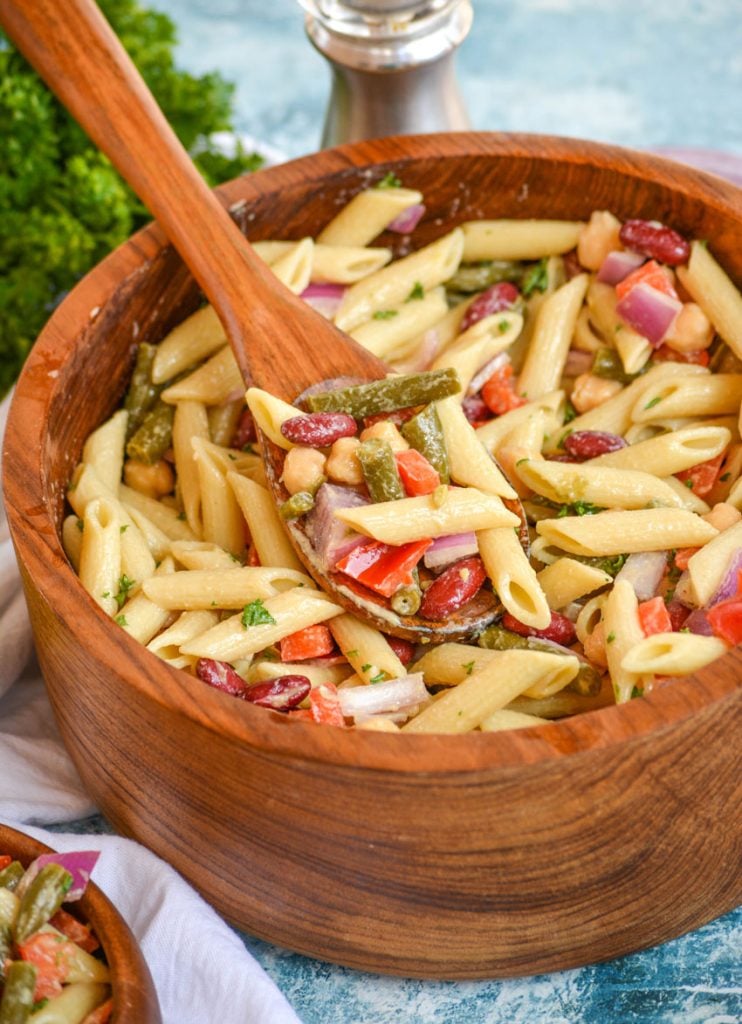 WHAT IS BEAN SALAD?
Bean salad's pretty much what it actually sounds like. A salad made up of various different beans, often of the canned variety. Typically bean salad involves a combination of green beans, wax beans, garbanzo beans, and kidney beans.
Added to the bean mix is freshly chopped raw onions & peppers. Sometimes people get creative and toss in extra veggies, making it a 'and the kitchen sink' type thing. It's then typically added to a vinaigrette or vinegar 'sauce'. Not really pickled, but it does give it a nice tang- and it's generally sweetened with sugar before the end.
These things all combine to make it a very popular candidate for canning.
WHERE DOES BEAN SALAD COME FROM?
After just a little research, I was surprised ( and pleased ) to learn that many, many cultures around the world have their own version of bean salad. Looking back I feel like I shouldn't have been so surprised, knowing how prevalent beans are in all walks of life. Especially since they store so well, no matter the season.
A common Middle Eastern version, is Balela. This Mediterranean version features a combination of chickpeas & black beans tossed with tomatoes, herbs, and lemon juice. Bright, fresh, and tangy seems to be the standard theme. Even when in South America. Their native version of bean salad features green beans tossed with tomatoes, parsley, and a mixture of vinegar & oil. It's often paired with grilled meats, like steak or chicken. Doesn't that sound delicious!
It is a very United States thing to refer to the simple bean salad by the number of various beans it includes. Such as '3 bean' or '4 bean', etc. Not sure where than originated from, but it does seem to a universal occurrence here in the States. Occasionally, you'll find a bit of a change up. Most of these recipes are a classic Southern bean salad, but with a twist. We've tried our own hand at that with our Mexican three bean salad.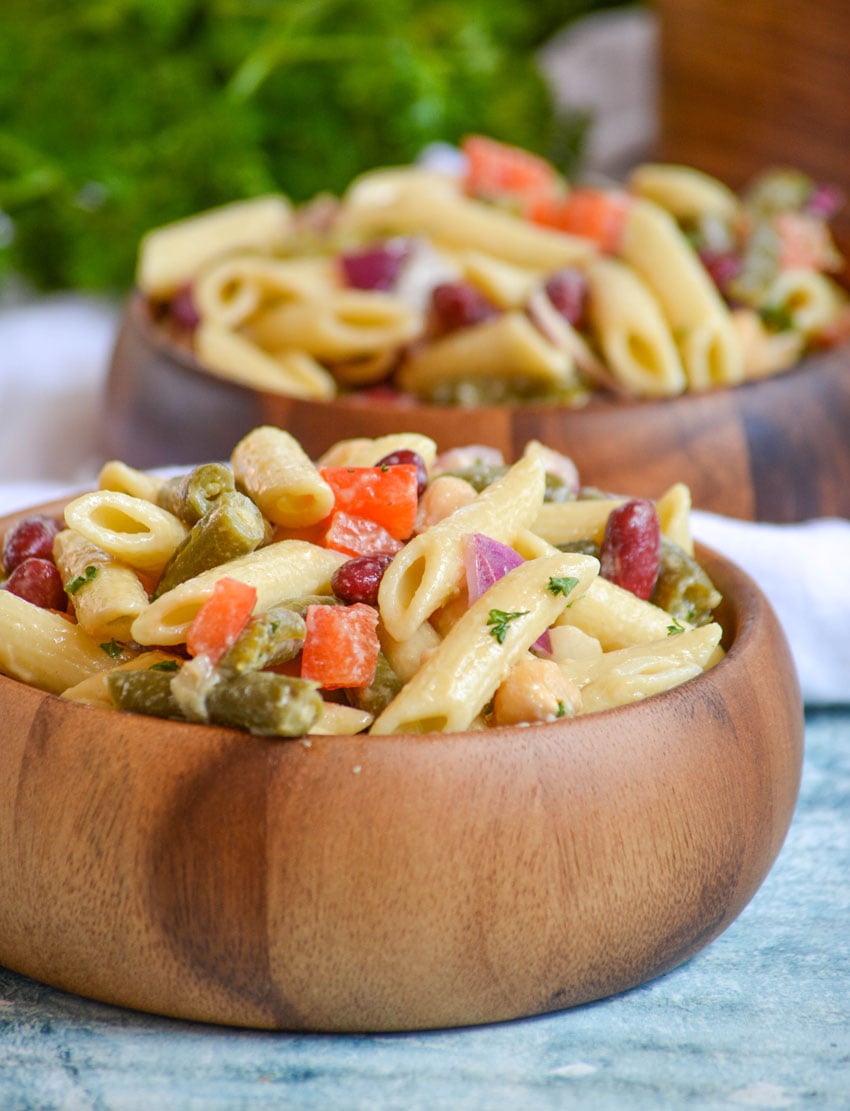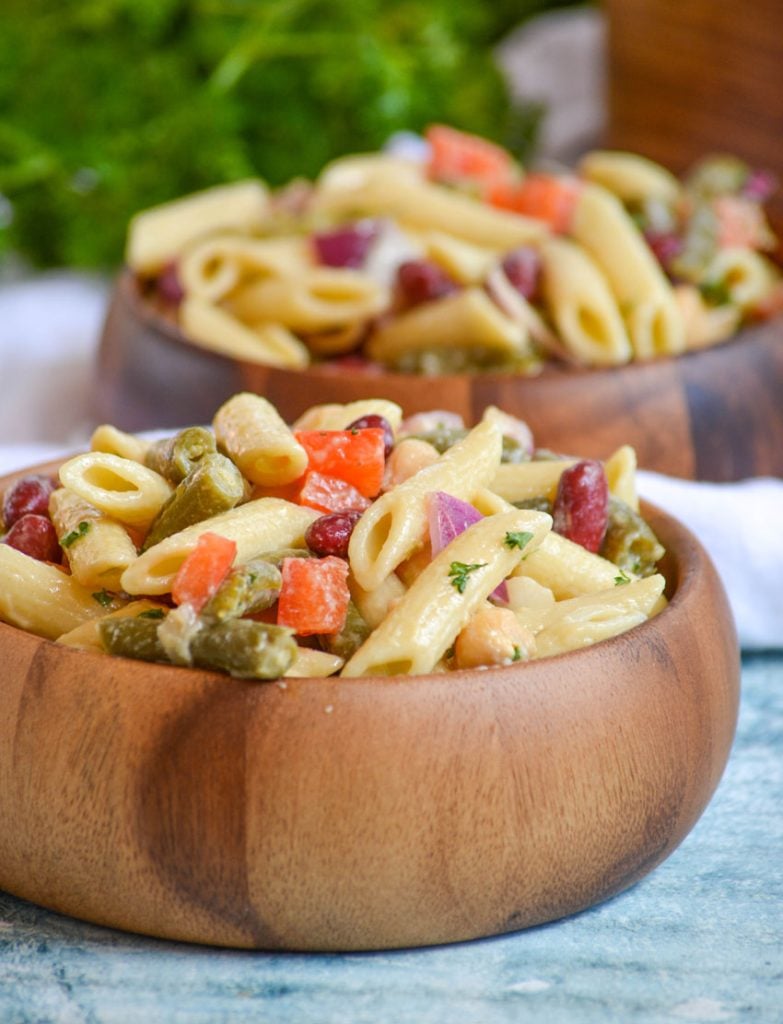 As with so many other things, we loved our classic three bean salad recipe- but over the years, even a tried & true recipe can get boring. Played out, as my kids might say. Naturally, we decided to change things up. Our favorite way to do that is a new spin on an old favorite.
Instead of just a preserved bean salad, we decided to throw some freshly cooked pasta into the mix & skip anything related to the whole idea of canning or preserving entirely. Say hello to the three bean pasta salad that was born as the result! It's still a bit tangy, but we've kept things simple & straight forward. Adding pasta took it to a new level, and helped make it more acceptable in this season of parties & potlucks.
INGREDIENTS TO MAKE THREE BEAN PASTA SALAD:
pasta
kidney beans
chickpeas
green beans
red onion
red pepper
Dijon mustard
canola oil
red wine vinegar
fresh parsley
As always, we keep it simple. Nothing out of the ordinary where the ingredients are concerned. The wonderful thing though, is how well these simple things come together. The amazing pasta salad recipe that results from their combination!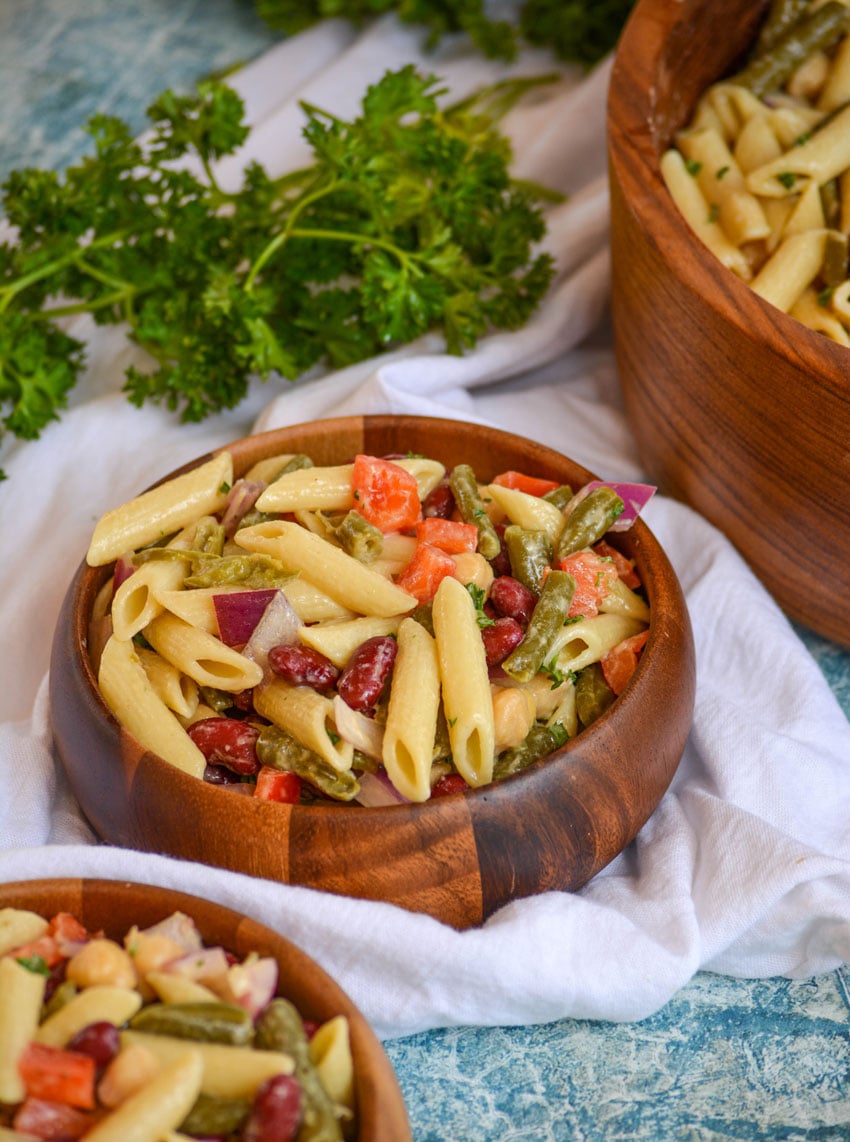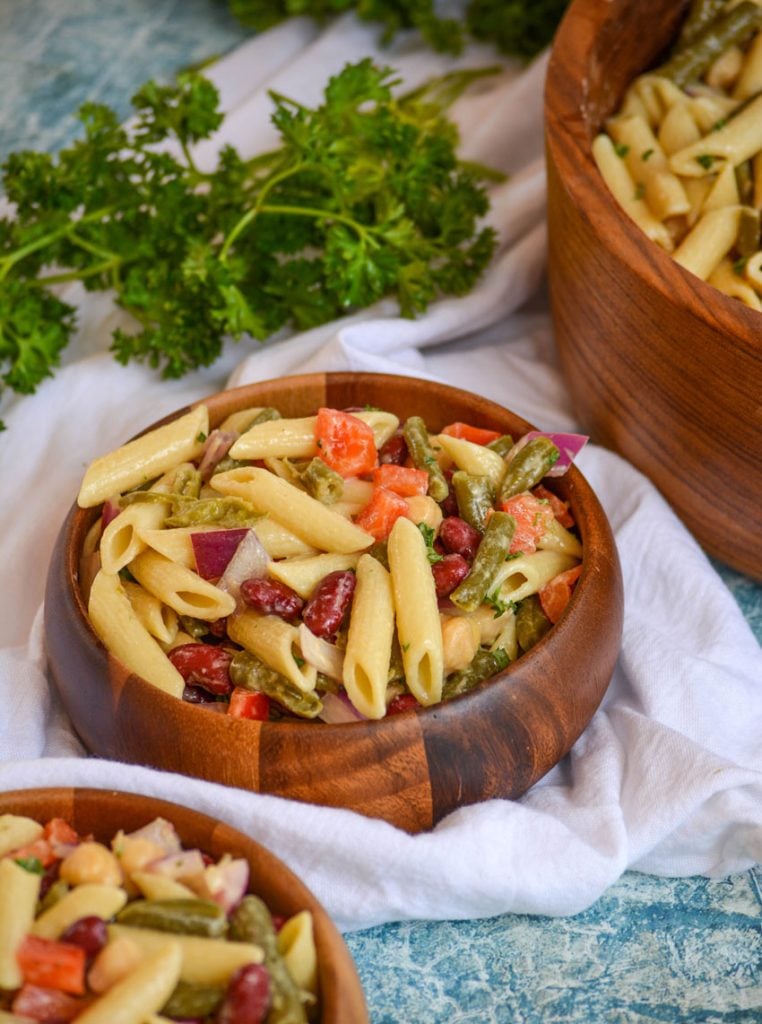 It's not even hard to do, y'all. So don't let the amount of ingredients concern you, and even though it's dressing may sound fancy when called 'vinaigrette' it's really not. I mean it tastes fancy, it's just not hard to do. Thankfully, for all of us!
HOW TO MAKE THREE BEAN PASTA SALAD:
Prepare the pasta according to the package instructions.
Strain, and run under cold water until all the pasta's cool to the touch.
To a large mixing bowl, add the beans, onion, & pepper. Toss to evenly combine.
In a small bowl, whisk together Dijon mustard, oil, vinegar, and parsley until evenly combined.
Pour the dressing over the pasta mixture, tossing to evenly combine.
Serve & enjoy!
The recipe as written, and most often enjoyed by us, is served warm- immediately after tossing together. Warm pasta salads are entirely underrated in my opinion. Still, you can totally chill this one if that's your thing. Just cover it, and stick it in the fridge for two hours before serving. Make sure to stir it generously before dolling it out.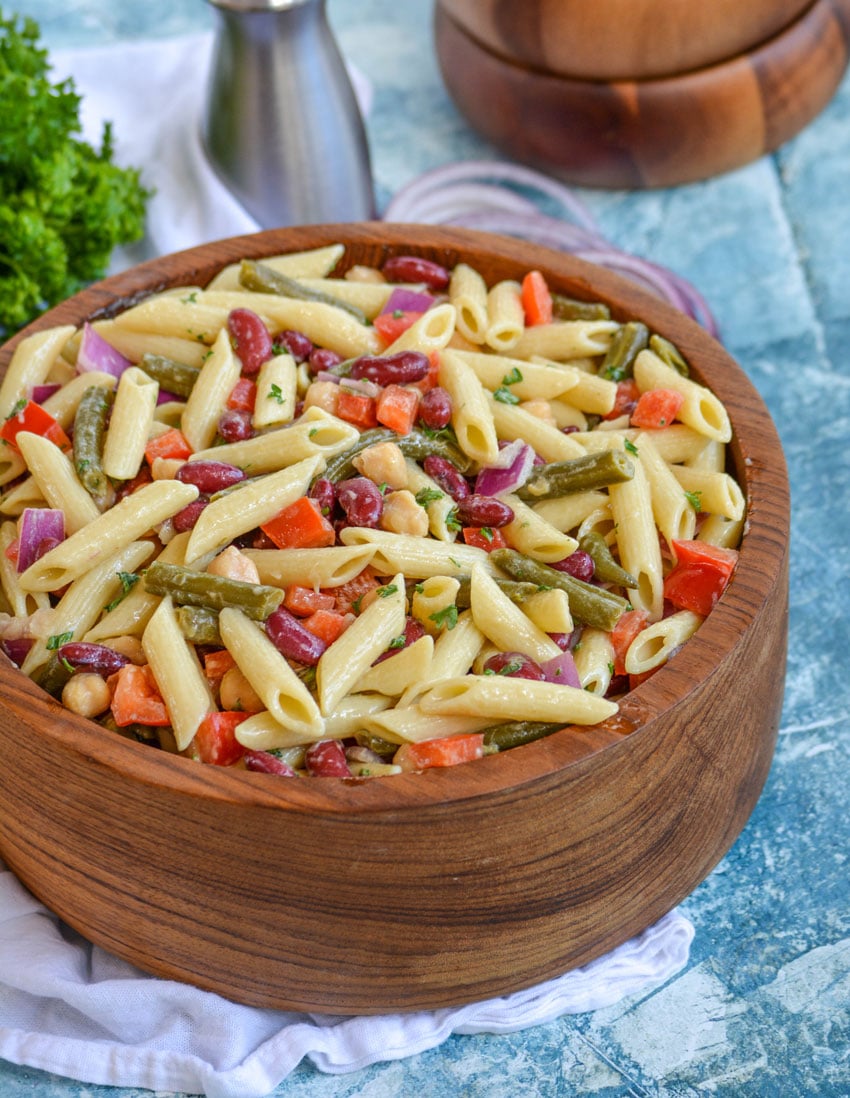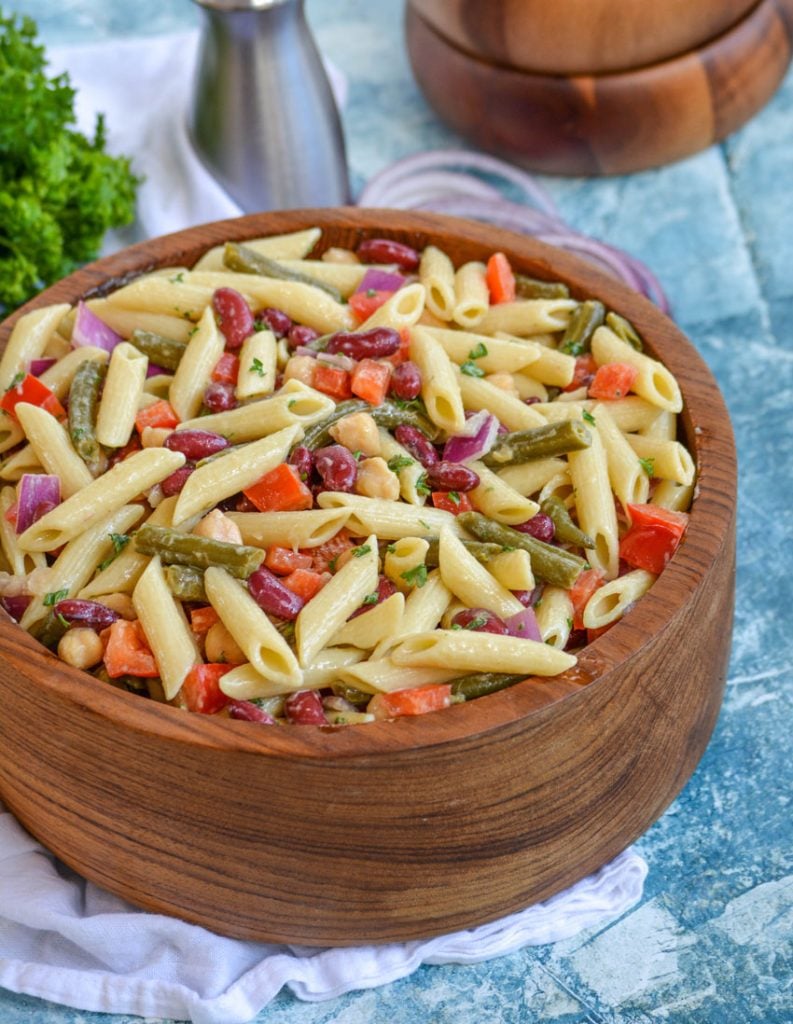 A simple side dish, our recipe for three bean pasta salad is hearty, chock full of healthy proteins with penne pasta and some veggies thrown in. It's all tossed in a simple vinaigrette for a delicious, easy option. This pasta salad recipe is perfect as a simple side dish, and also adequate for a vegetarian meal option- just served in bigger portions.
OTHER BEAN RECIPES YOU'LL LOVE:
If you've tried this THREE BEAN PASTA SALAD or any other recipe on my site, let me know in the comment section how it turned out, we love hearing from our readers! You can also follow along with me on PINTEREST, FACEBOOK, and INSTAGRAM to see more amazing recipes and whatever else we've got going on!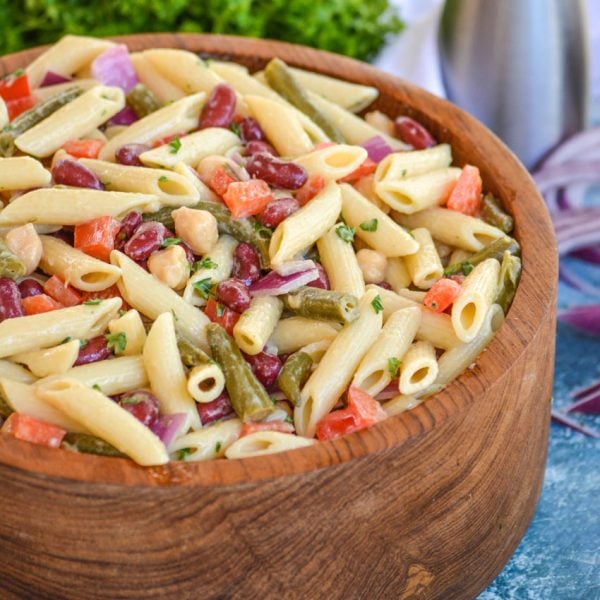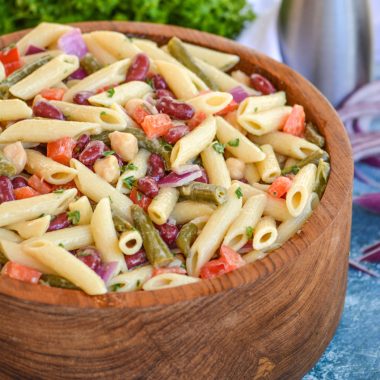 Three Bean Pasta Salad
This fresh Summer side dish takes the flavors of a traditional tangy 3 beans salad and turns them into a vinaigrette tossed pasta salad.
Print
Pin
Rate
Ingredients
1

lb

penne pasta

15 oz

can

dark red kidney beans

drained

15 oz

can

chickpeas

drained

15 oz

can

cut green beans

drained

1

small

red onion

diced

1

red pepper

seeded & diced

3

tbsp

Dijon mustard

2

tbsp

canola oil

3

tbsp

red wine vinegar

3

tbsp

fresh parsley

chopped
Instructions
Prepare the pasta according to the package directions. Strain the pasta, and immediately run it under cold water to stop the cooking process. Continue, stirring, until all the pasta's cool to the touch. Set aside.

Add the pasta, beans, onion, & pepper to a large mixing bowl. Toss them to combine.

In a smaller mixing bowl, whisk together the remaining ingredients until smooth.

Pour this dressing out over the pasta/bean mixture. Toss gently until everything's evenly combined and coated with dressing.
Nutrition
Calories:
332
kcal
|
Carbohydrates:
64
g
|
Protein:
14
g
|
Fat:
5
g
|
Saturated Fat:
1
g
|
Sodium:
79
mg
|
Potassium:
994
mg
|
Fiber:
13
g
|
Sugar:
15
g
|
Vitamin A:
3180
IU
|
Vitamin C:
65.5
mg
|
Calcium:
162
mg
|
Iron:
5
mg