Learn how to throw the best Star Wars party in the galaxy! Perfect to treat any Star Wars fan to a fun themed birthday with tasty themed treats and activities that kids of all ages will enjoy.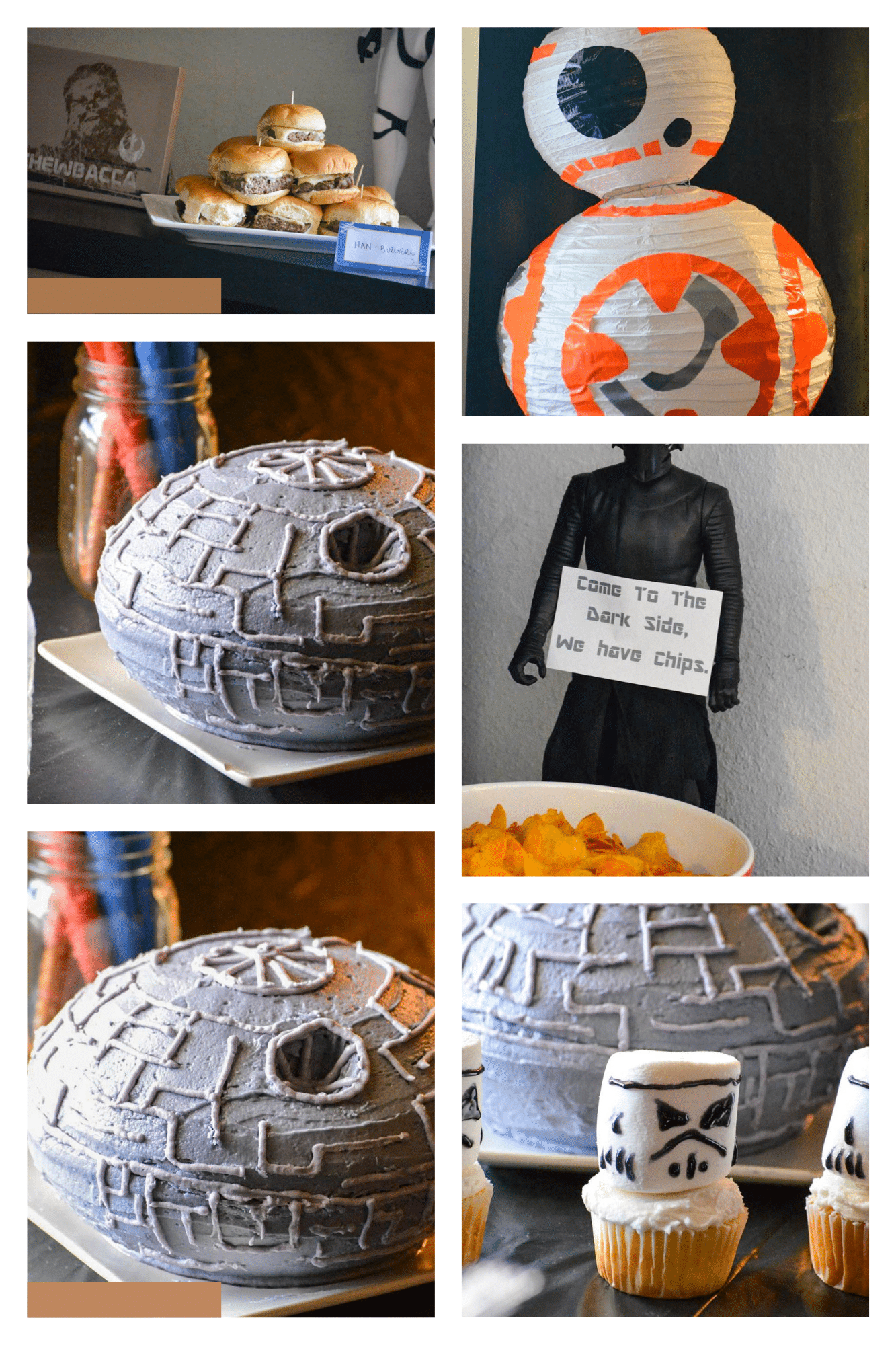 This post may contain affiliate links. As an amazon associate, I earn from qualifying purchases. See my full Disclosure Policy for details.
I lean really hard into throwing epic birthday parties for the sons.
And let me just tell you that throwing this Star Wars party for my youngest really awakened the force.
By that I mean, it made us both so happy!
We had fun with food and decorations to fit the theme and made this the best party in any galaxy near or far!
Star Wars Birthday Decorations
There are tons of quick and easy DIY Star Wars decorations for birthday parties you can do!
Here are a few we did: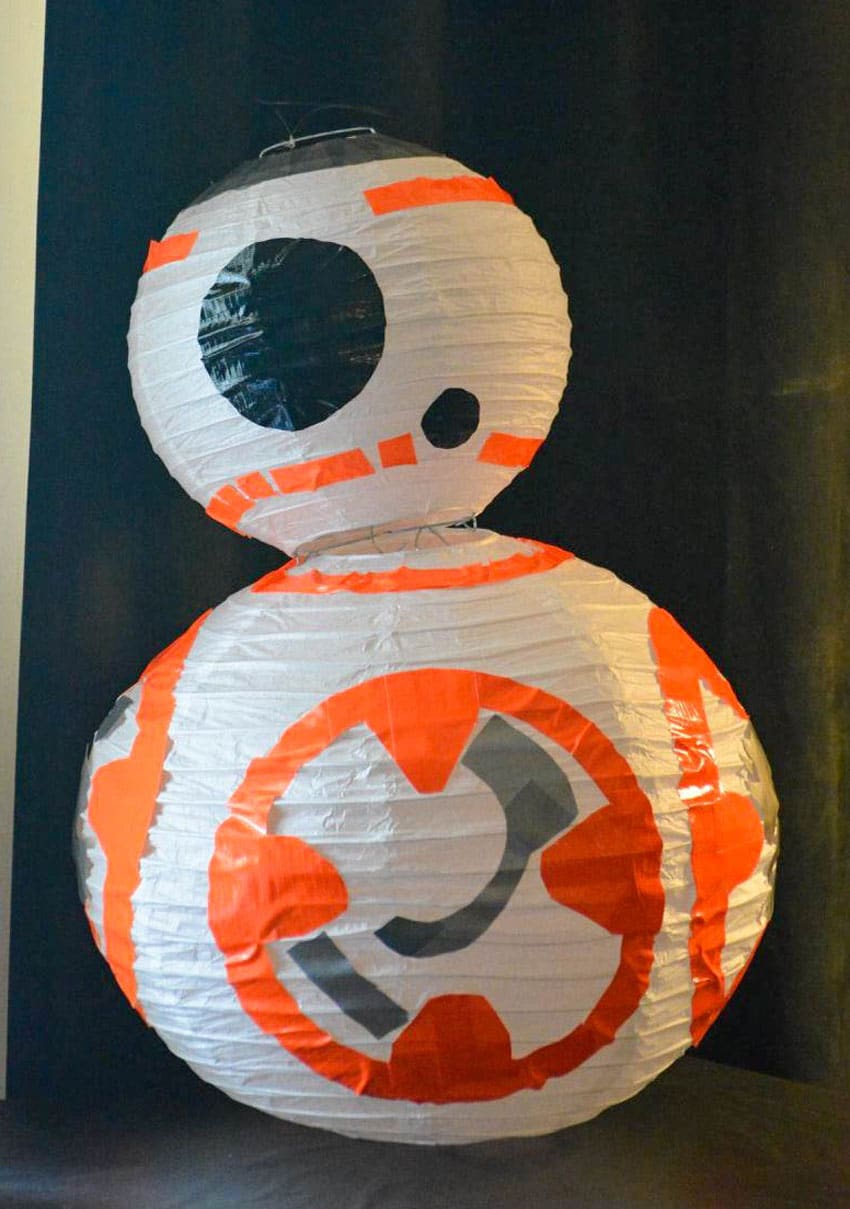 BB-8 Paper Lanterns
To make paper lantern BB-8, you need two white paper lanterns – one smaller, one larger.
You'll also need fishing wire and orange and black duct tape.
Just attach the smaller paper lantern to the top of the bigger lantern using fishing twine or string.
Then make BB-8's markings using the duct tape.
Star Wars Figurines as Sign Holders
You can never go wrong with repurposing things you already own into party decor!
Point and case: this Kylo Ren figurine holding the sign that says "Come to Dark Side. We have chips."
You could use any Star Wars figurines you have to hold up signs and customize the signs to the figures.
For example, you could use a Han Solo figurine to hold a sign that says "Han-burgers" if you are serving burgers like I did.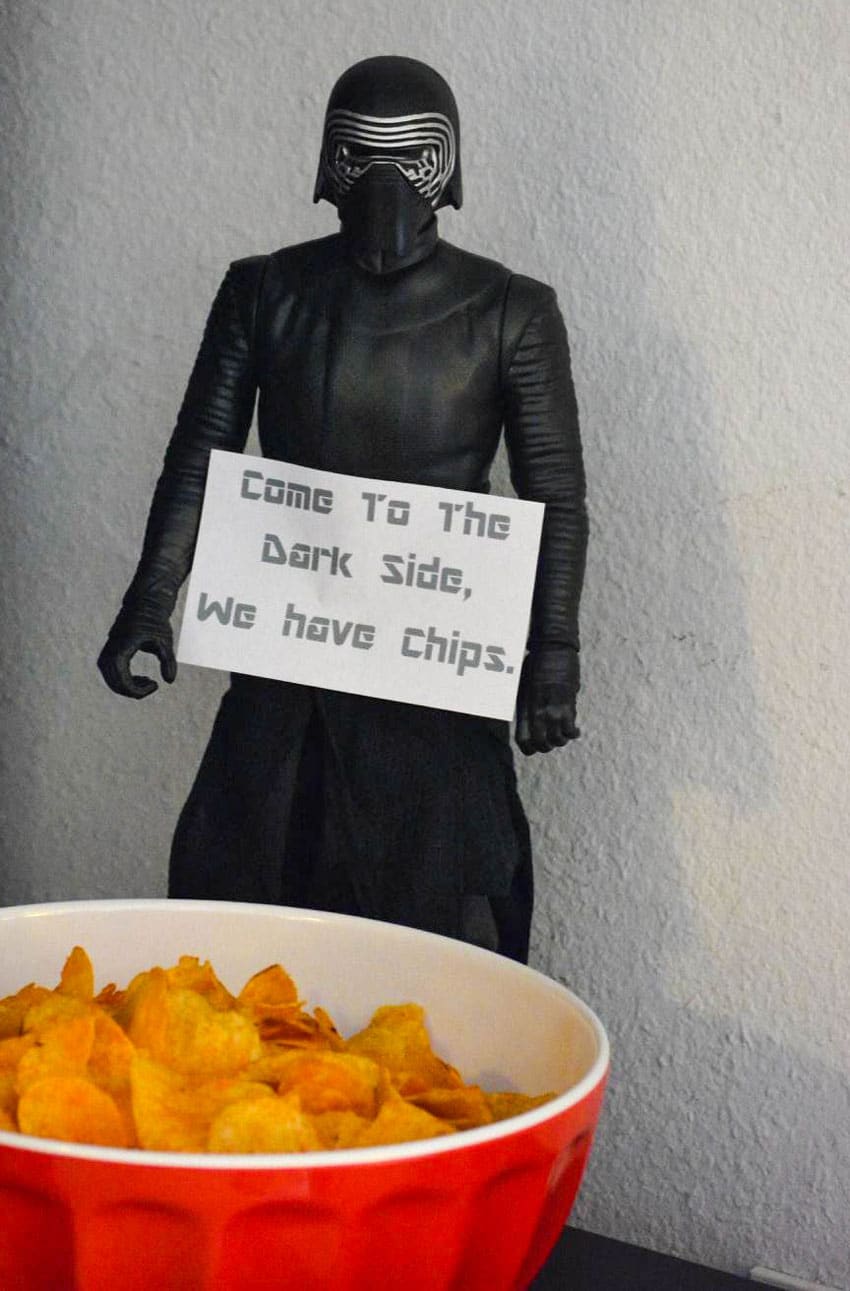 Repurpose Any Other Decor
Star Wars posters, artwork, and any other fan memorabilia you have around your house will work as decorations!
Place figurines around your food table.
Hang the posters around your party space.
Get creative with what you have!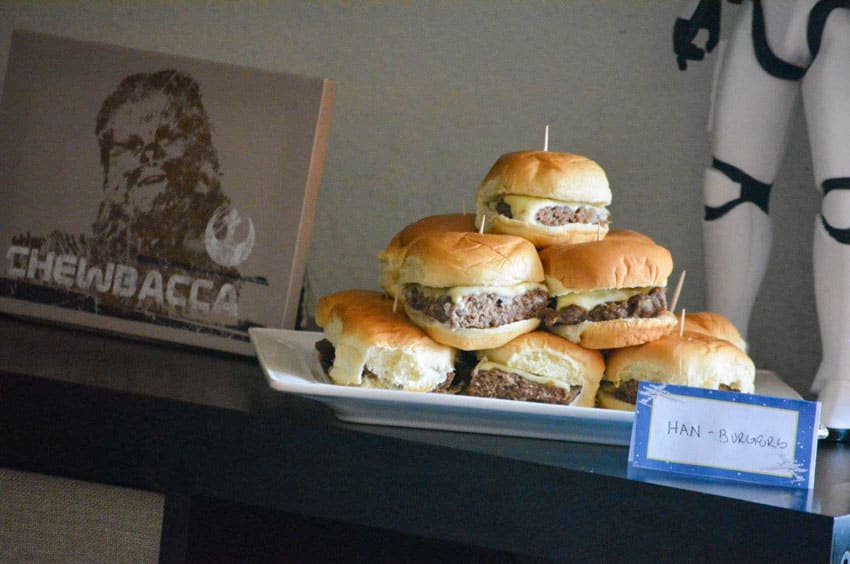 Star Wars Party Food Ideas
Han-burgers
For the main event, we made cheeseburger sliders with white American cheese.
And to stay on theme, we labeled them Han-burgers.
Lightsaber Pretzel Rods
We turned thick pretzel rods into lightsabers by dipping them in colored candy melts.
Red to represent the dark side of the force, and blue for the good guys.
You could do a mixture of blue and green for the Jedi, but I stuck with one color for simplicity's sake.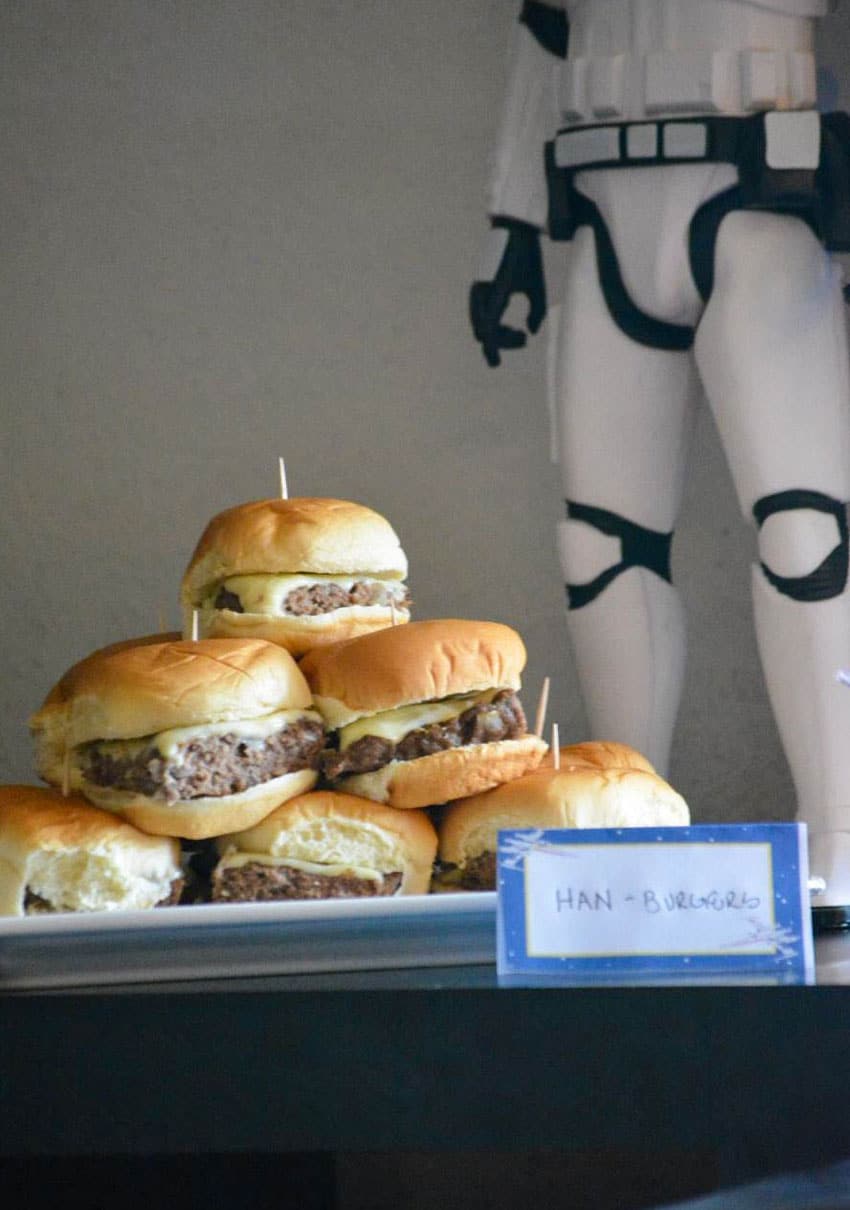 Yoda Punch
We used our green Grinch punch recipe and called it Yoda punch.
Not into the Yoda punch idea?
You could make bantha milk for a fun, festive beverage to serve.
Snacks
Every good party has lots of snacks!
We served big bowls of chips and popcorn.
For full effect, we labeled it '3CP-Opcorn'.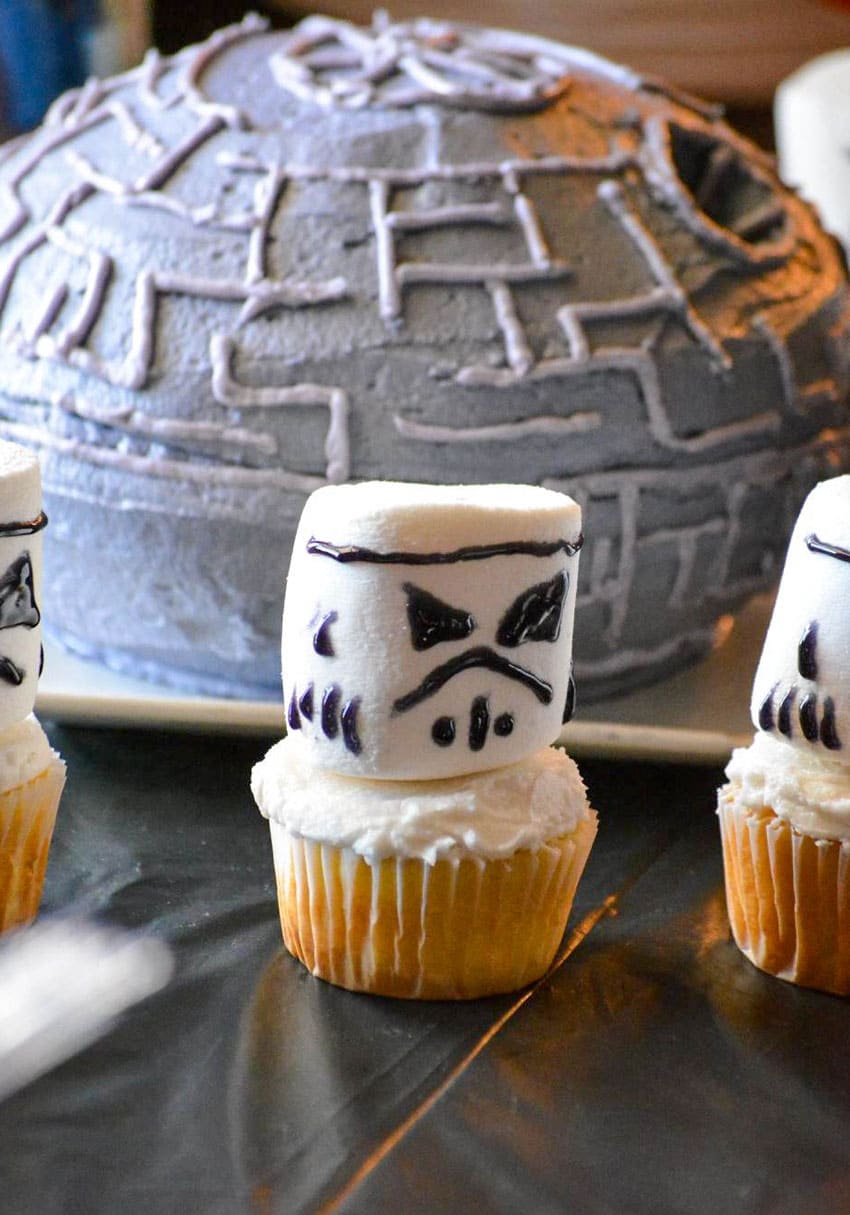 Storm Trooper Cupcakes
To make storm trooper cupcakes, mix up your favorite brand of white cake mix and bake them in white cupcake liners.
Let the cupcakes cool and frost them with white icing while you prepare marshmallow toppers.
After you've frosted the cupcakes, draw the Storm Trooper faces on large marshmallows.
To draw their faces, use a food grade black marker and draw a line with 2 triangles connected to the bottom of it for the visor.
Then draw an angry mouth and three lines on each side of the marshmallow.
Put the decorated marshmallows on top of each cupcake.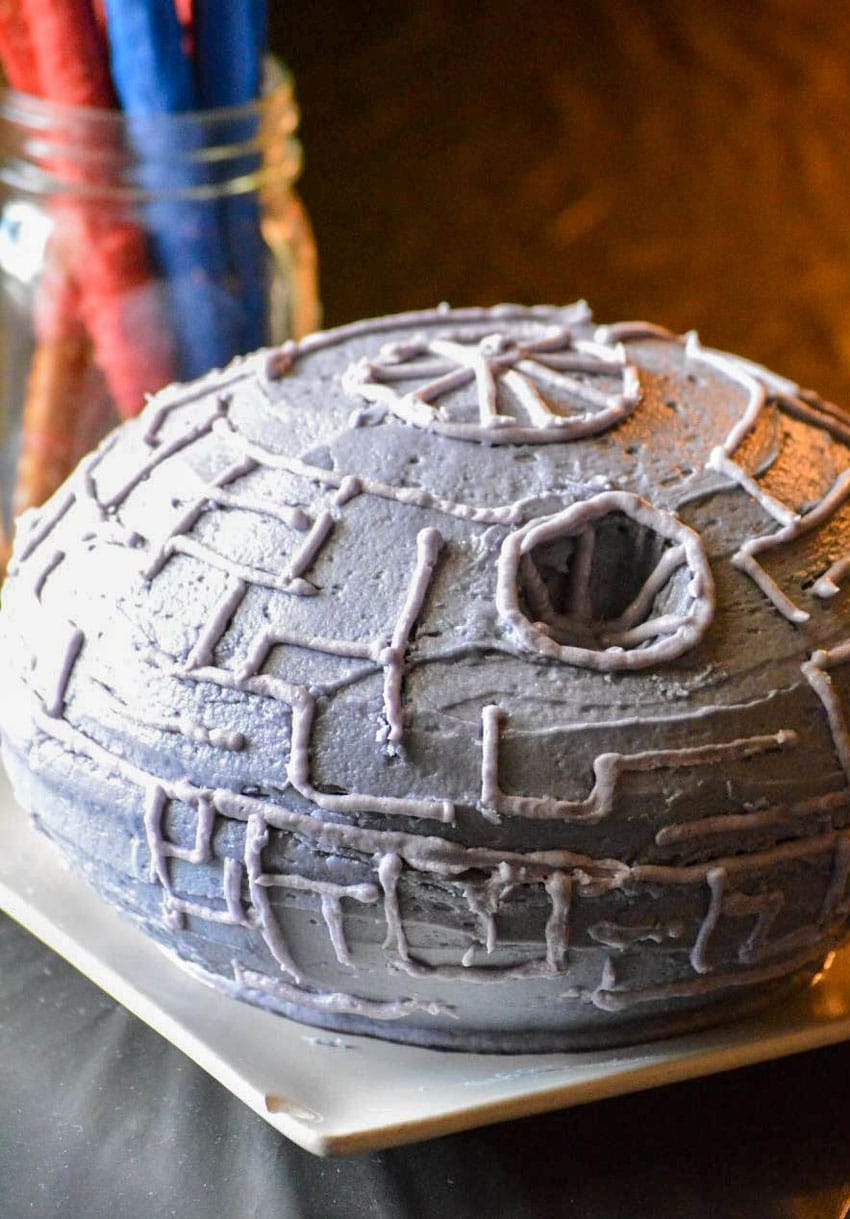 Death Star Cake
If you want a full cake to go with the cupcakes, make this Death Star cake!
To make a circular cake to decorate bake two vanilla cakes in the same sized pyrex glass bowls. Be sure to verify they're REAL Pyrex bowls.
Make sure to grease and flour the bowls WELL so they slide out easily.
Add a thick layer of frosting on the flat side and put the two cakes together to make a semi-sphere shape.
Frost the cakes with white buttercream that you've added black gel food coloring to so you get gray frosting.
Then use a toothpick to cut lines into the cake like the ridges in the Death Star and pipe over those with a thin line of gray frosting.
Cut small hole out using a paring knife for eye of the Death Star.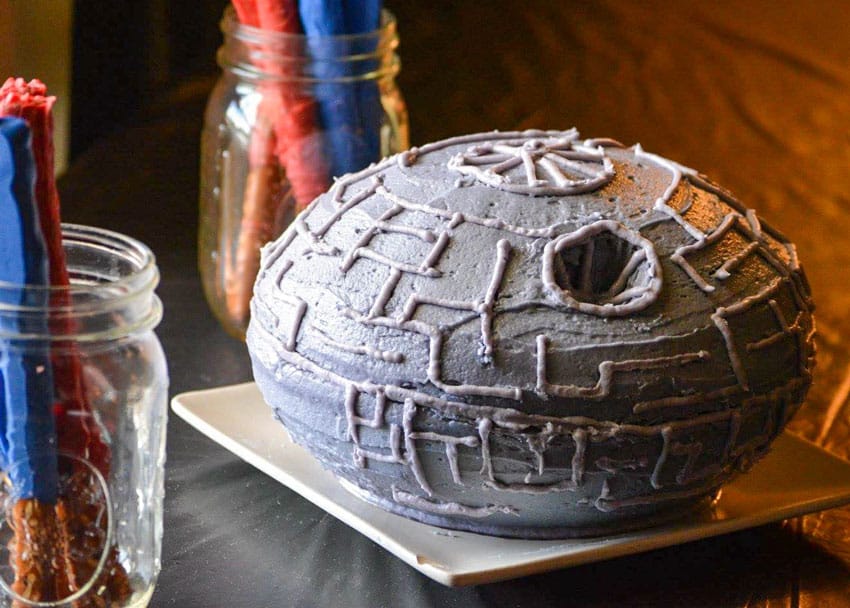 Star Wars Games and Activities
Jedi Dress Up
We made homemade *easy & cheap* Jedi costumes out of fabric scraps for the kids using this idea.
For the girls we did the cream colored fabric with belts cut from brown cloth, and for the boys we used brown clothes for the tunics with belts made from the cream.
It was so simple, looked really cute, and the kids loved them!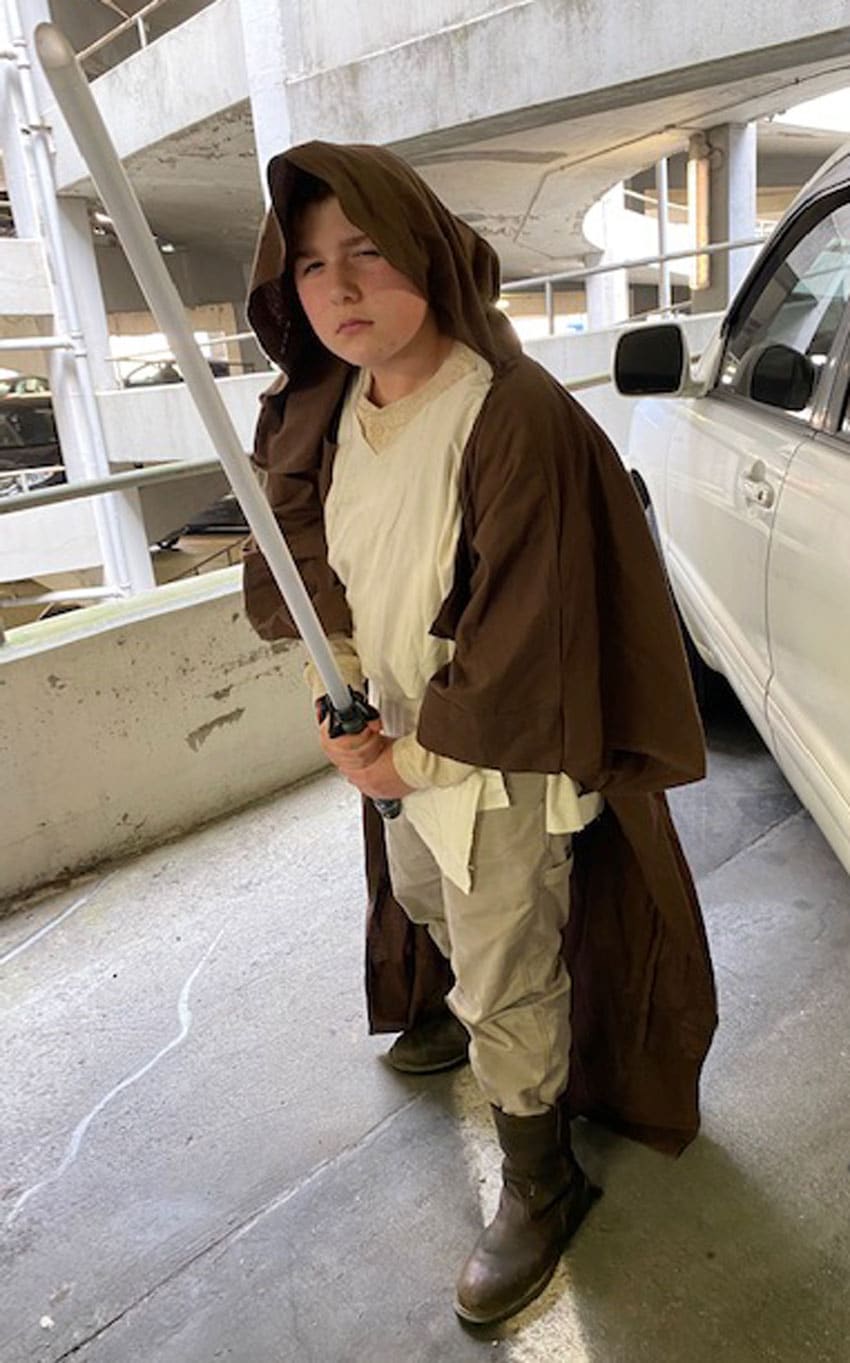 Pin the Frog on Baby Yoda
A big hit with everyone- even people who aren't fans of Star Wars- is Pin the Frog on Baby Yoda!
You can order this on theme game HERE.
Jedi Obstacle Course
Put those Jedi skills to the test by setting up an obstacle course with obstacles that have the kids going over, around, under, jumping, etc.
Get creative and make obstacles using things around your house like boxes, chairs, strings, or whatever else you can find.
You could have the kids go through just for fun or time the kids and give out prizes.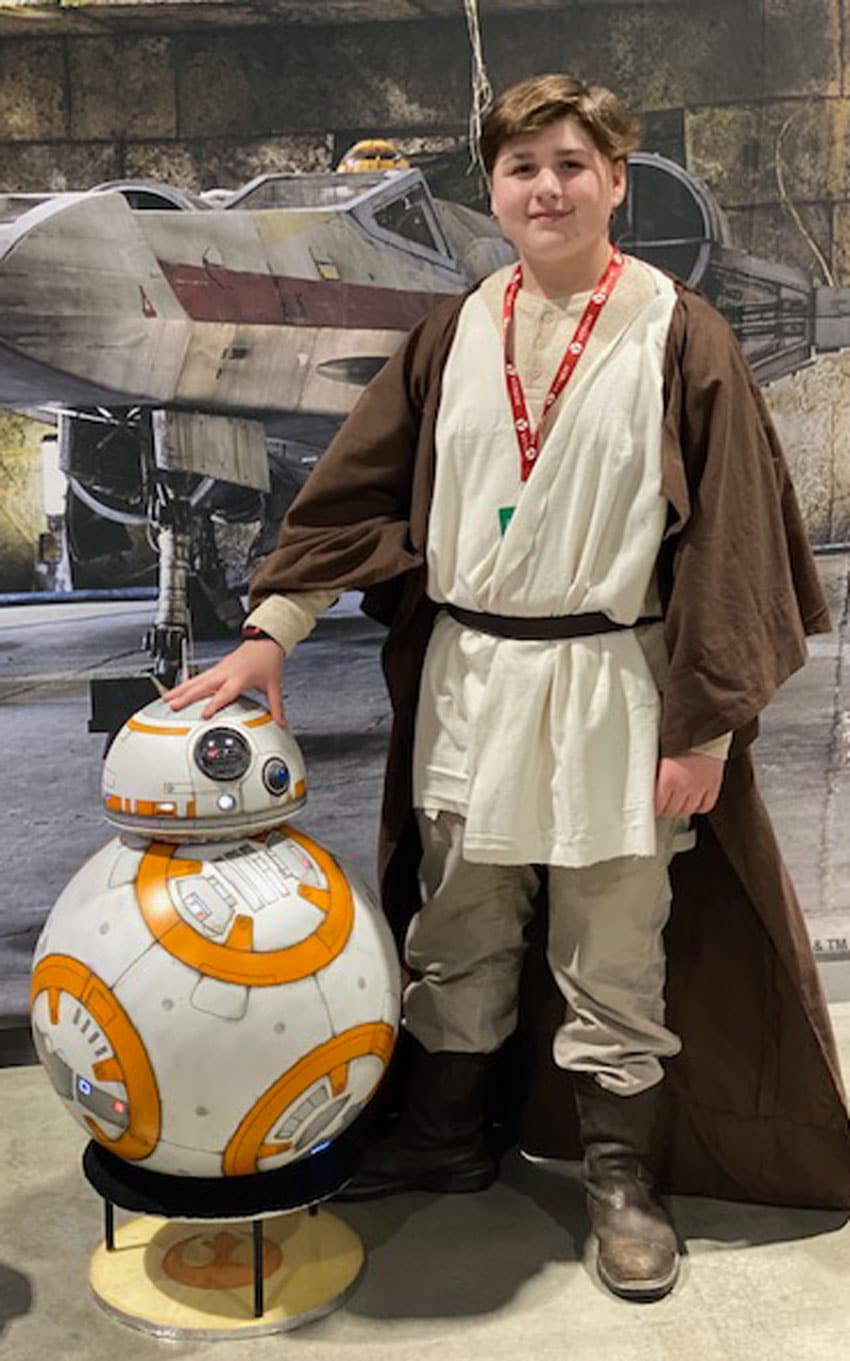 Other Ideas
Star Wars Shirt
Make sure to make or buy your birthday kiddo a special Star Wars shirt.
Here are some fun ones we like: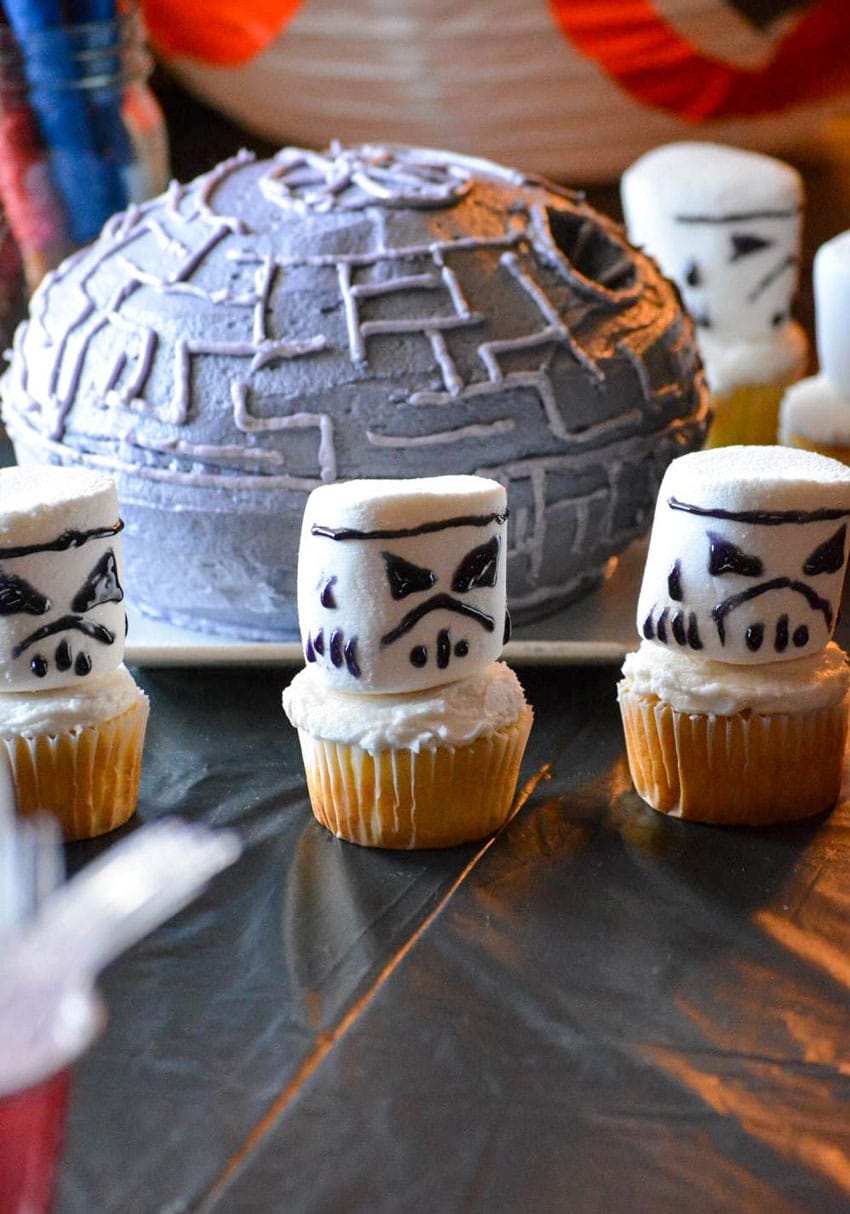 We love to hear from you!
Do you have other Star Wars themed birthday party ideas? I'd love to hear them!
Leave me a comment and let me know!
You can also follow along with me on PINTEREST, FACEBOOK, and INSTAGRAM to see more amazing recipes and whatever else we've got going on!
This post may contain affiliate links. As an amazon associate, I earn from qualifying purchases. See my full Disclosure Policy for details.