When ingredients are short, flavor your meals the old fashioned way. This Italian garlic butter spread is a great way to infuse meat with flavor, it works as a great spread for bread, and it is also a great way to season vegetables- fresh or frozen.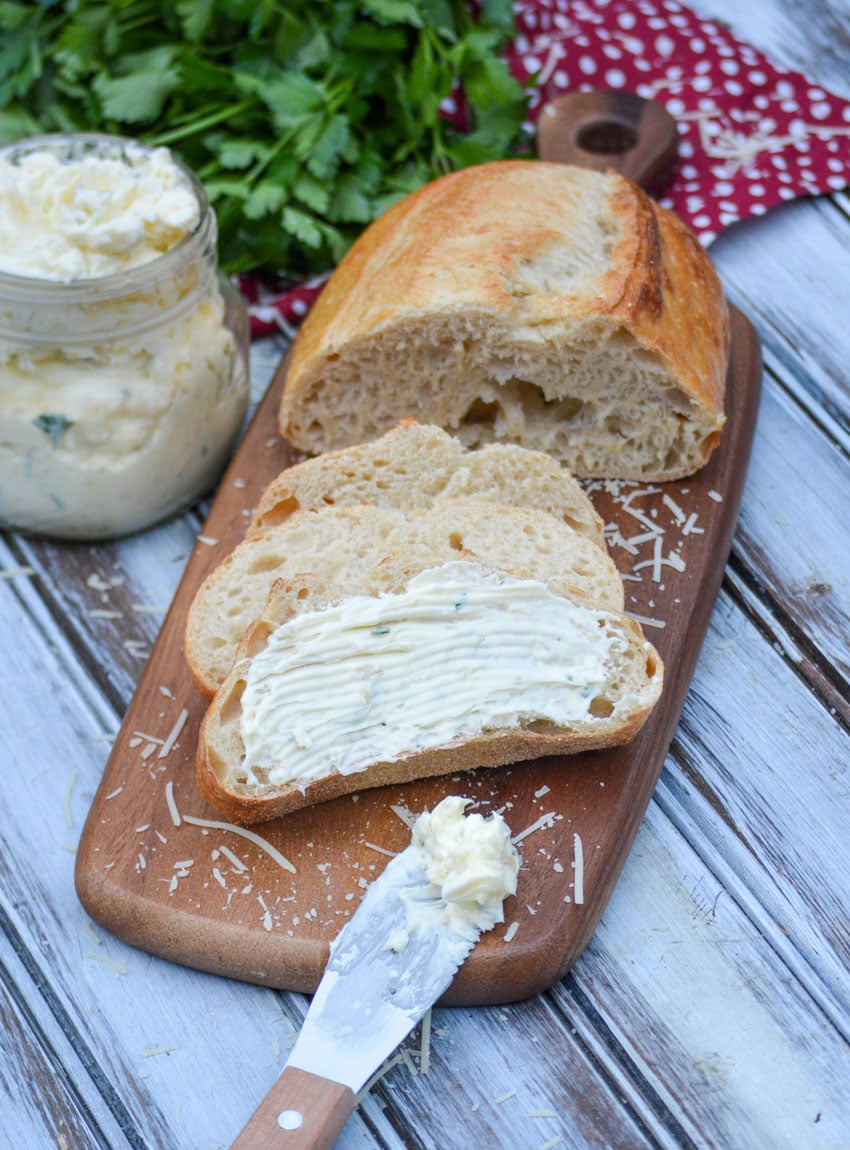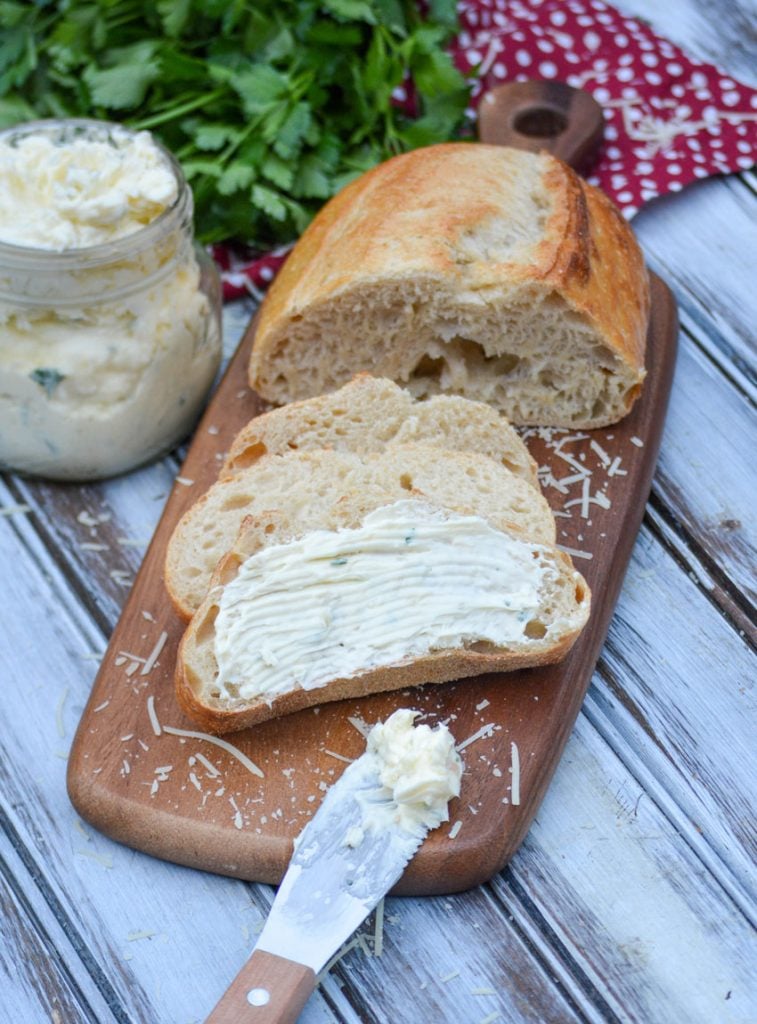 Butter is an esseintial part or both baking and cooking. I need to keep my butter stores stocked.
Not just because it adds fat & flavor to recipes, but also because all of the alternative I've tried just don't hold up under heat.
They talk a big game, but they leave a lot to be desired flavor-wise.
The trend these days seems to be to cut fat, and as part of that to cut real butter out of your kitchen.
You do you, but I will recommend something different.
We've kept right on using real butter, just less of it.
There's plenty of recipes that will pass with flying success or face plant- just based on this particular ingredient.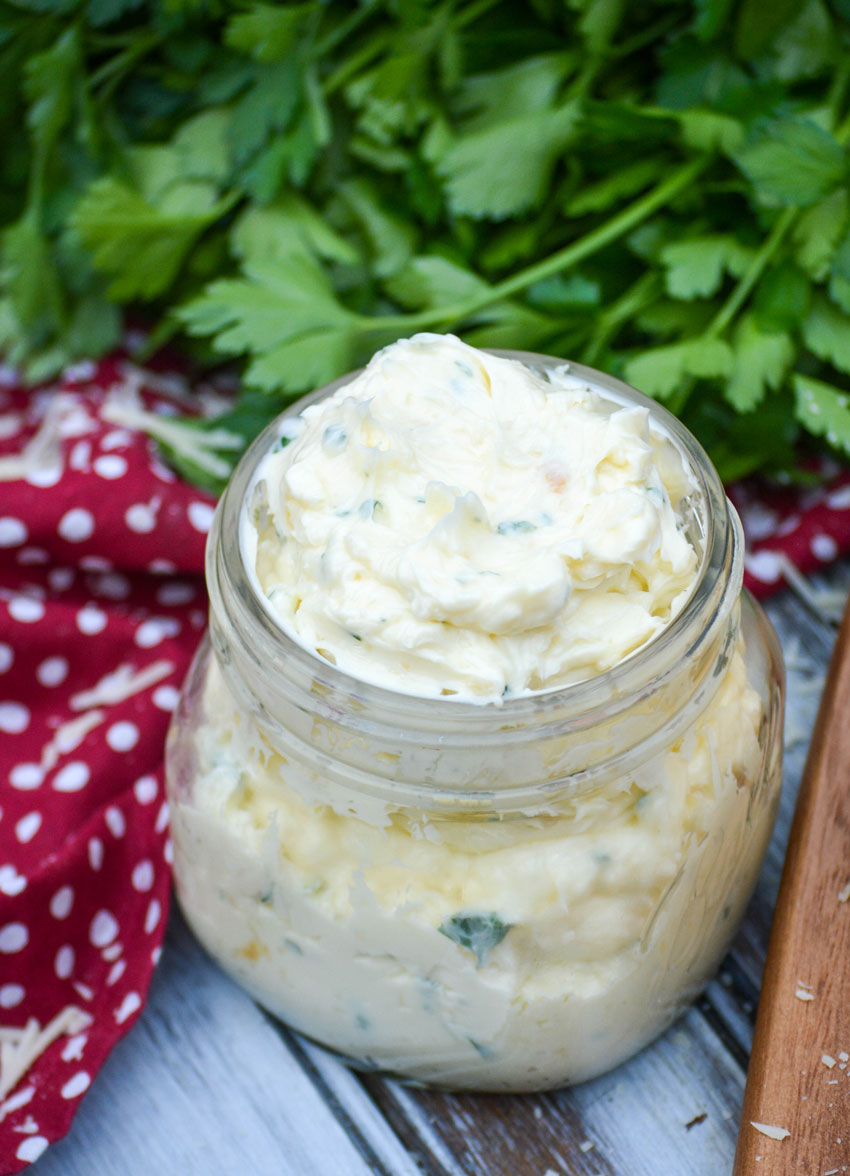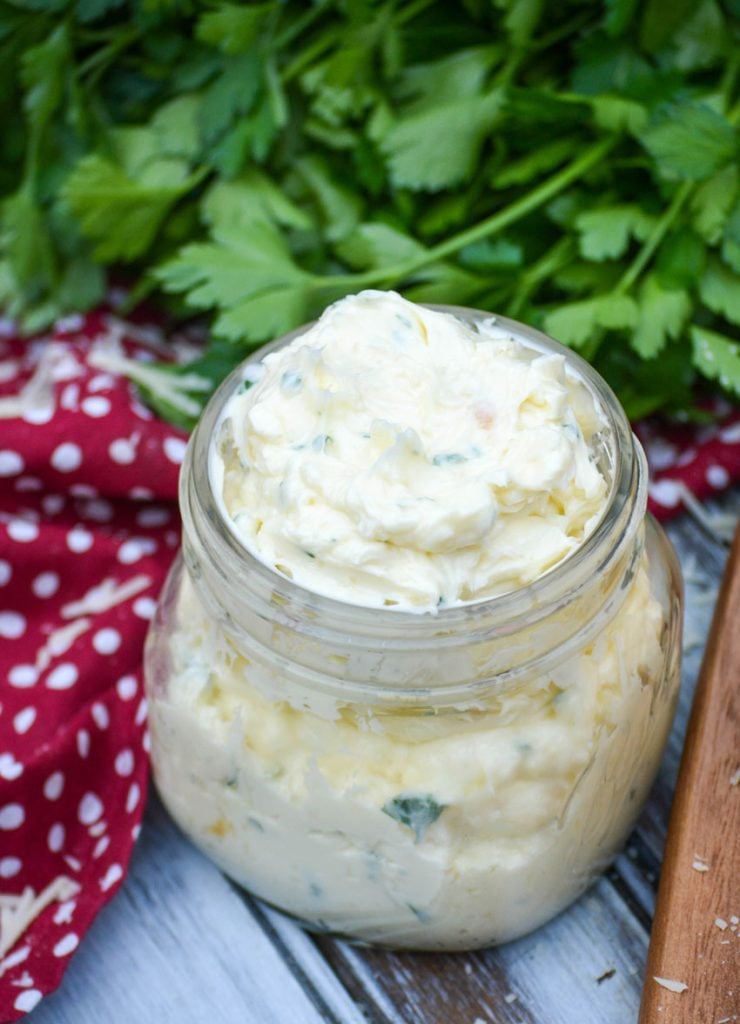 Butter is butter, and while there are great alternatives if medically needed or the like, they don't always work the same.
With all that being said (don't let the masses come after me now), I'm not saying use all the butter or for everything.
One way is to stretch your butter use.
You still feel good about it. You get the flavor, but you're not using as much butter. That's what we've strived for in our kitchen.
If that's your goal to then I 100 % recommend making & using compound butters.
This Italian Garlic Butter Spread is essentially an easy to whip up compound butter.
Making A Compound Butter- Italian Garlic Butter Is Easy!
A compound butter is basically a mixture of butter & flavoring ingredients. A butter that's been infused with other things to transform it from simple butter to a real flavor enhancer.
Our garlic butter spread uses simple ingredients, and is a powerful option to have on hand!
It combines butter as the base with tangy garlic, Parmesan cheese, and freshly chopped parsley. Whipped together, it's an ultimate flavorful condiment to keep on hand.
The main purpose, almost always, is to use it to enhance other dishes. Which is exactly what we suggest.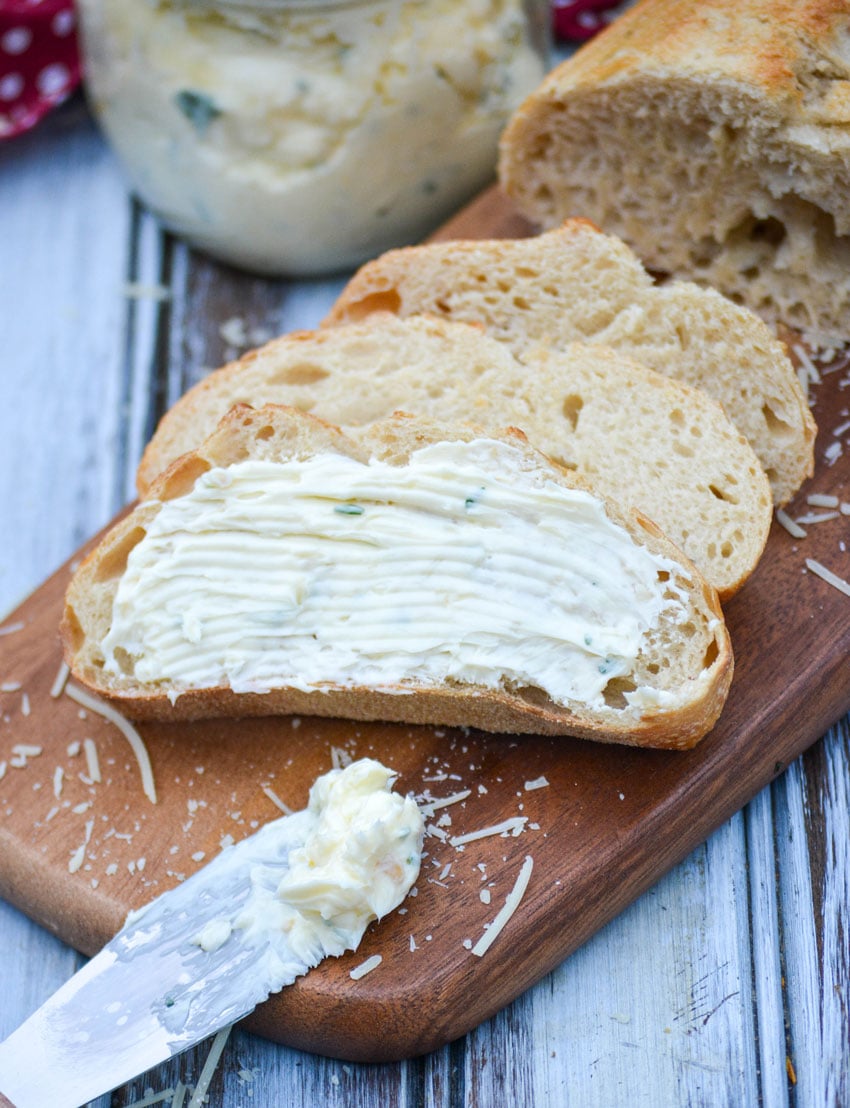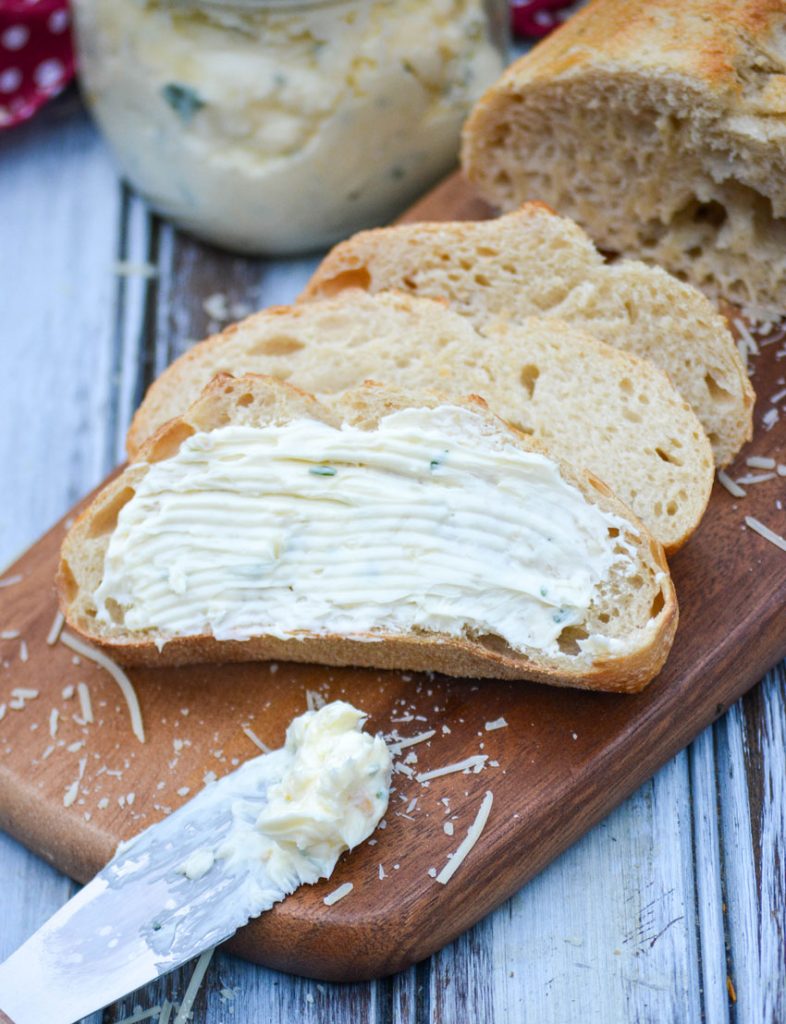 There is no doubt that garlic butter is magnificent on warm bread.
Any biscuit, bun, piece of bread (you name it) we serve this stuff on is usually snapped up in no time as soon as it comes to the table.
But this savory, and heavenly smelling, compound Italian garlic butter can be used for a lot more.
I'm not kidding, don't hold back. Just go with it
It's all the flavor, but with half of the harmful effects- because a little bit goes a long way.
Plus It can be used for so many different things.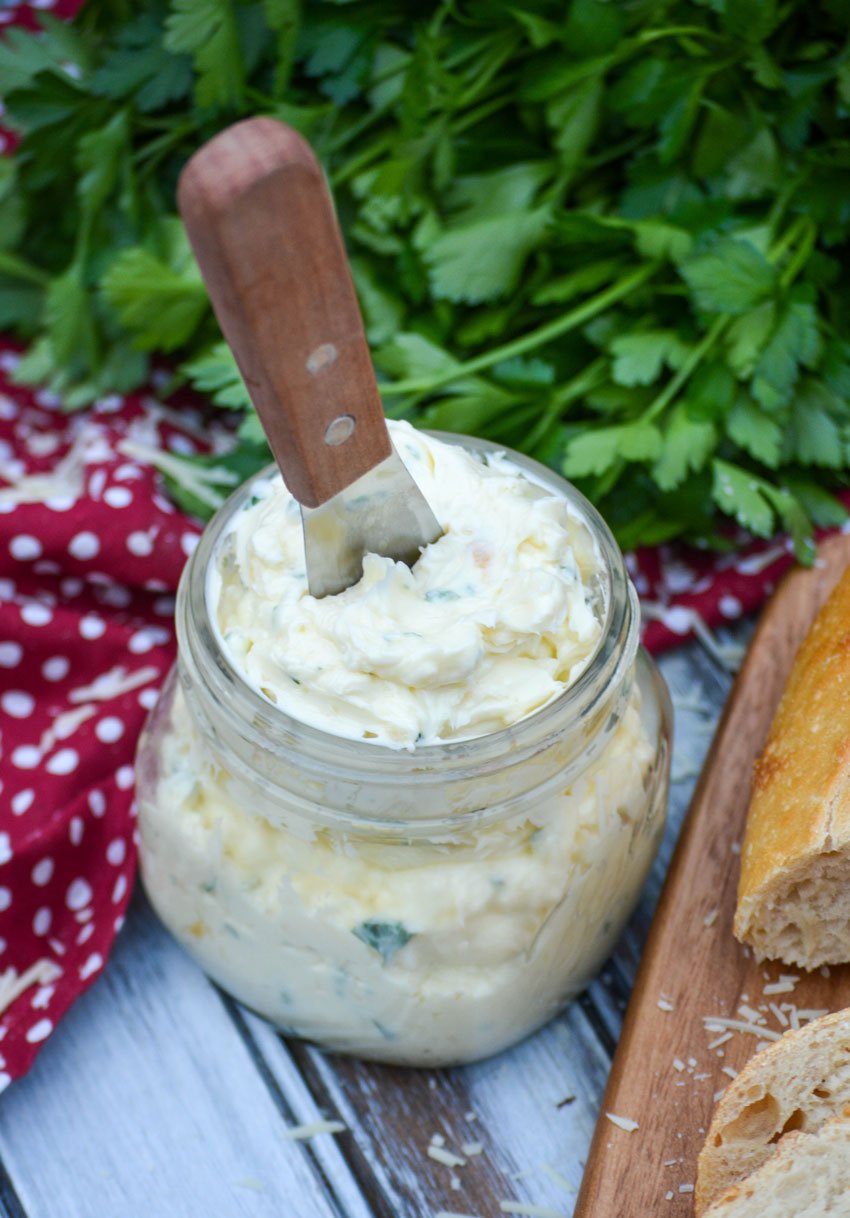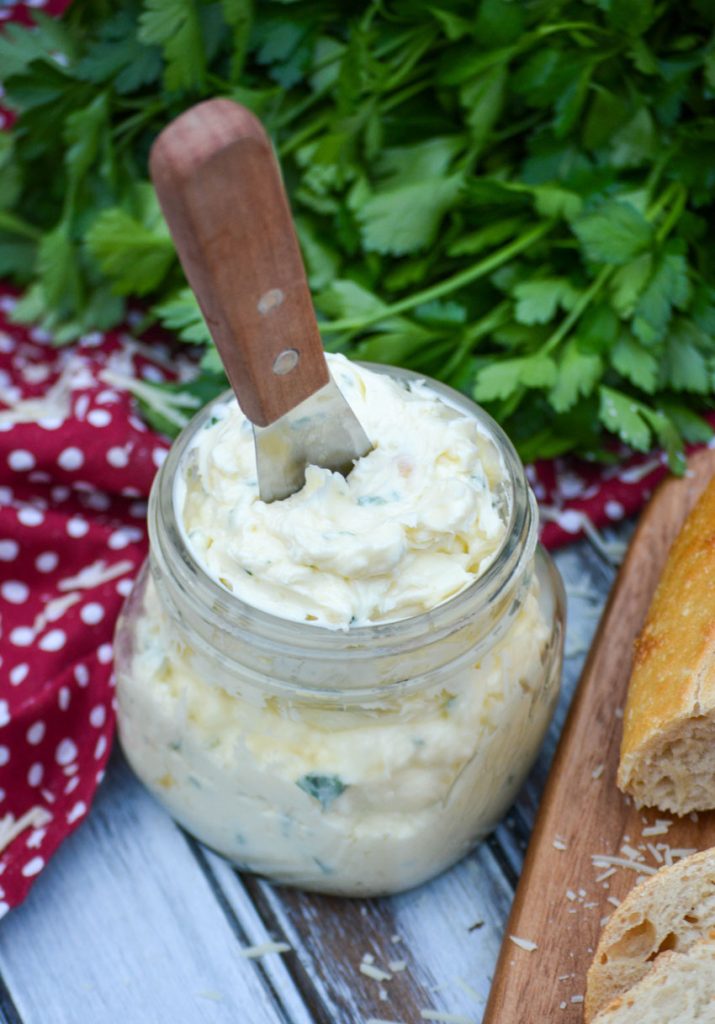 Spread it on top of hot steak and watch as it melts to make an incredibly flavorful sauce.
Seafood, yes it's great on that too!
Or toss it with fresh pasta, or even use it for stir-frying vegetables.
You're gonna 'melt' over this easy Italian garlic butter recipe for such a savory spread.
Use it and give your meal a little razzle-dazzle!
Get creative with it and experiment, find out how you love it best & on what. Let us know in the comments below!
Other Compound Butter Ideas To Make & Enjoy
If you've tried this ITALIAN GARLIC BUTTER SPREAD, or any other recipe on my site, let me know in the comment section how it turned out, we love hearing from our readers! You can also follow along with me on PINTEREST, FACEBOOK, and INSTAGRAM to see more amazing recipes and whatever else we've got going on!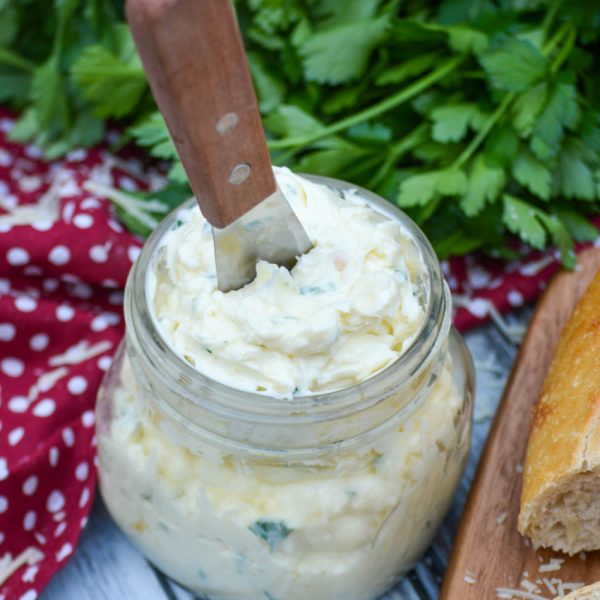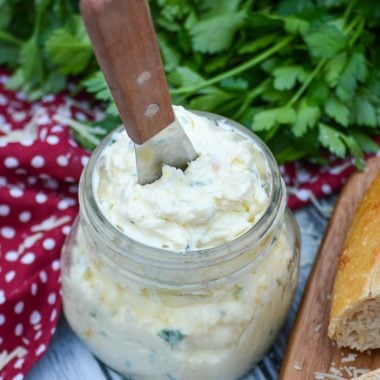 Italian Garlic Butter Spread
A creamy garlic butter spread, this Italian version is easily whipped up in mere minutes and the perfect condiment to keep on hand for buttered bread, meats, and even veggies.
Print
Pin
Rate
Ingredients
2

cups

salted butter

4 sticks, softened

2

tbsp

minced garlic

1/4

cup

parmesan cheese

1

tbsp

dried or fresh parsley
Instructions
Add all the ingredients to a bowl and mix together until completely incorporated.

Use the spread immediately or transfer it to an airtight container and store refrigerated, as you would your regular butter. Allow it to soften slightly before spreading.
Nutrition
Calories:
282
kcal
|
Carbohydrates:
1
g
|
Protein:
1
g
|
Fat:
31
g
|
Saturated Fat:
20
g
|
Cholesterol:
83
mg
|
Sodium:
304
mg
|
Potassium:
14
mg
|
Fiber:
1
g
|
Sugar:
1
g
|
Vitamin A:
990
IU
|
Vitamin C:
1
mg
|
Calcium:
36
mg
|
Iron:
1
mg