This Irish Cream bundt cake with Baileys glaze and chocolate ganache drizzle takes bundt cake and steps it up a notch. Added flavor of Baileys liqueur infuses each part of this bundt cake making this cake recipe extra special and sure to please.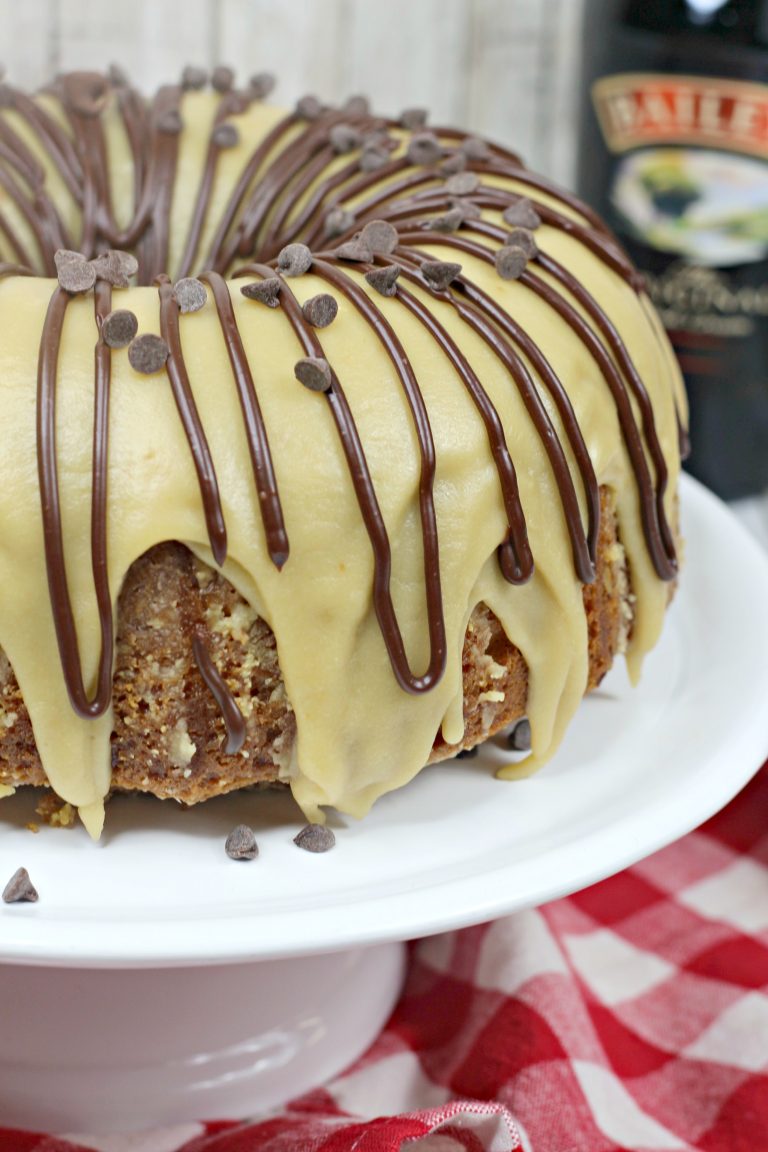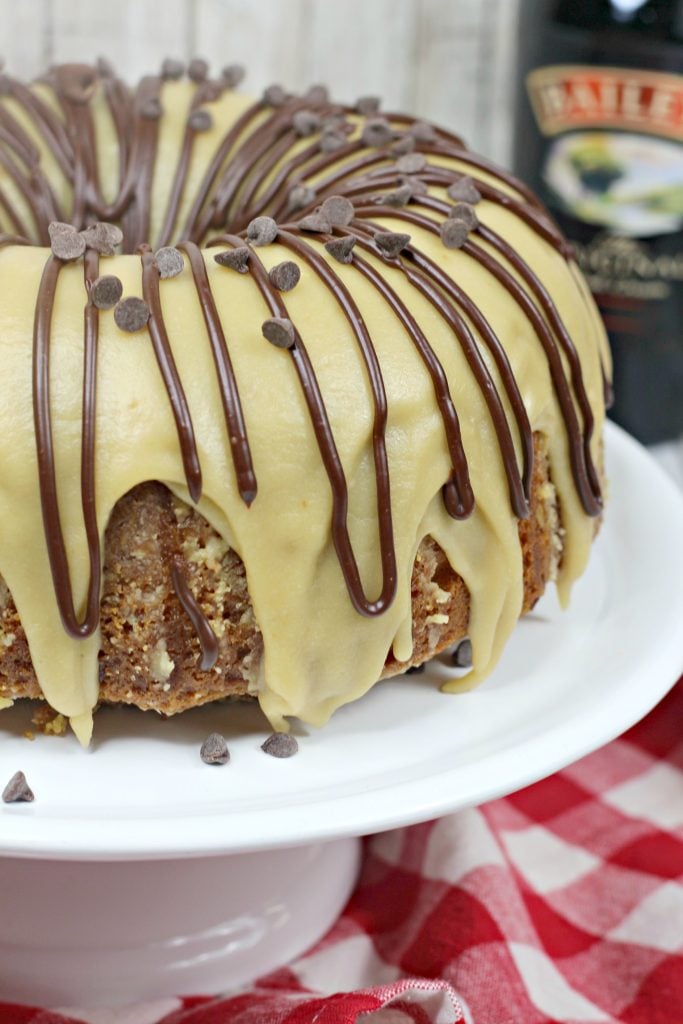 This is one of those recipes that is seasonally inspired for St. Patrick's Day, but is so good that it has staying power throughout the year.
How can it not be fantastic? A rich bundt cake speckled with pecans and flavored with Baileys Irish Cream and then drenched in Baileys glaze? Already a winner. Then adding silky ribbons of chocolate ganache. Just stop. Do not pass go.
Run to the store now and get everything you need for this cake ASAP. Trust me you'll thank me. It's that good.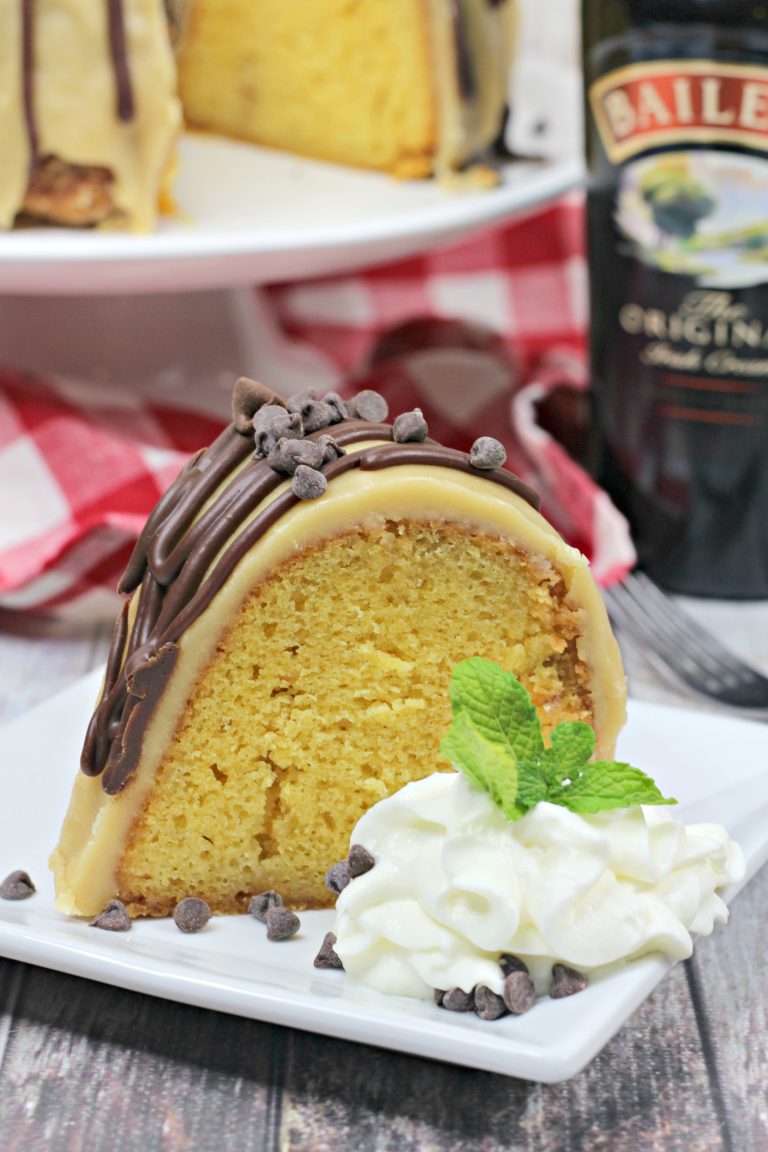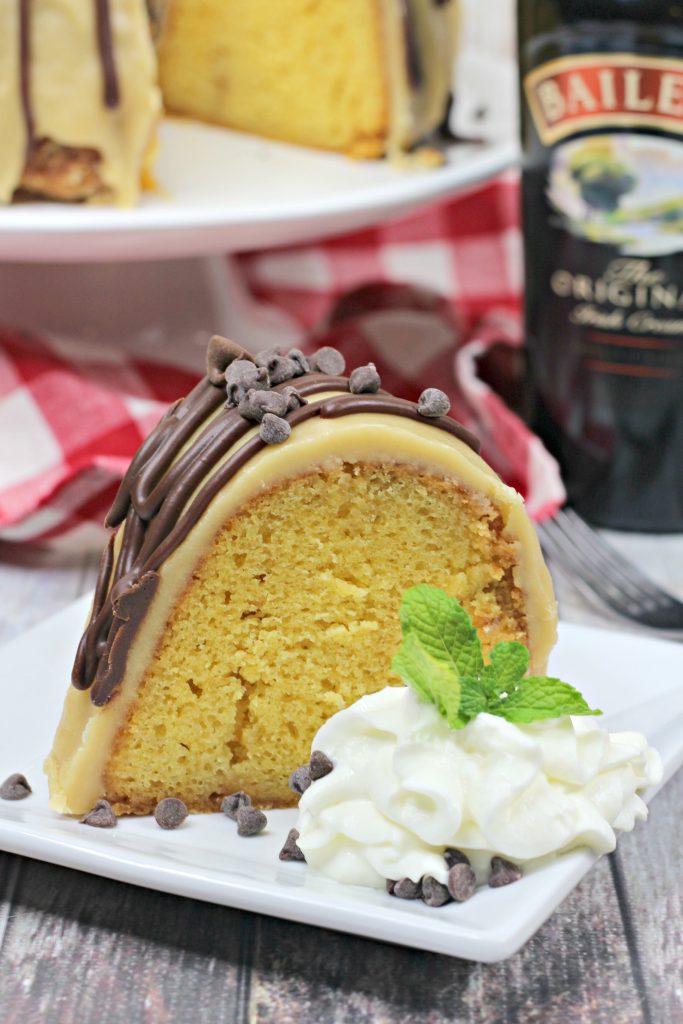 You might think you need lots of fancy ingredients from the store to make this cake happen, but I promise you that you don't.. This cake has all the usual suspects: butter, flour, eggs, sugar, vanilla, a pinch of salt, and baking soda.
What makes it special? Well, pecans add a nice little chewy crunch to the fluffy, moist cake but they aren't the stars of the show. That's the rich decadent flavor of Baileys Irish cream. A full cup of it goes directly into the cake batter.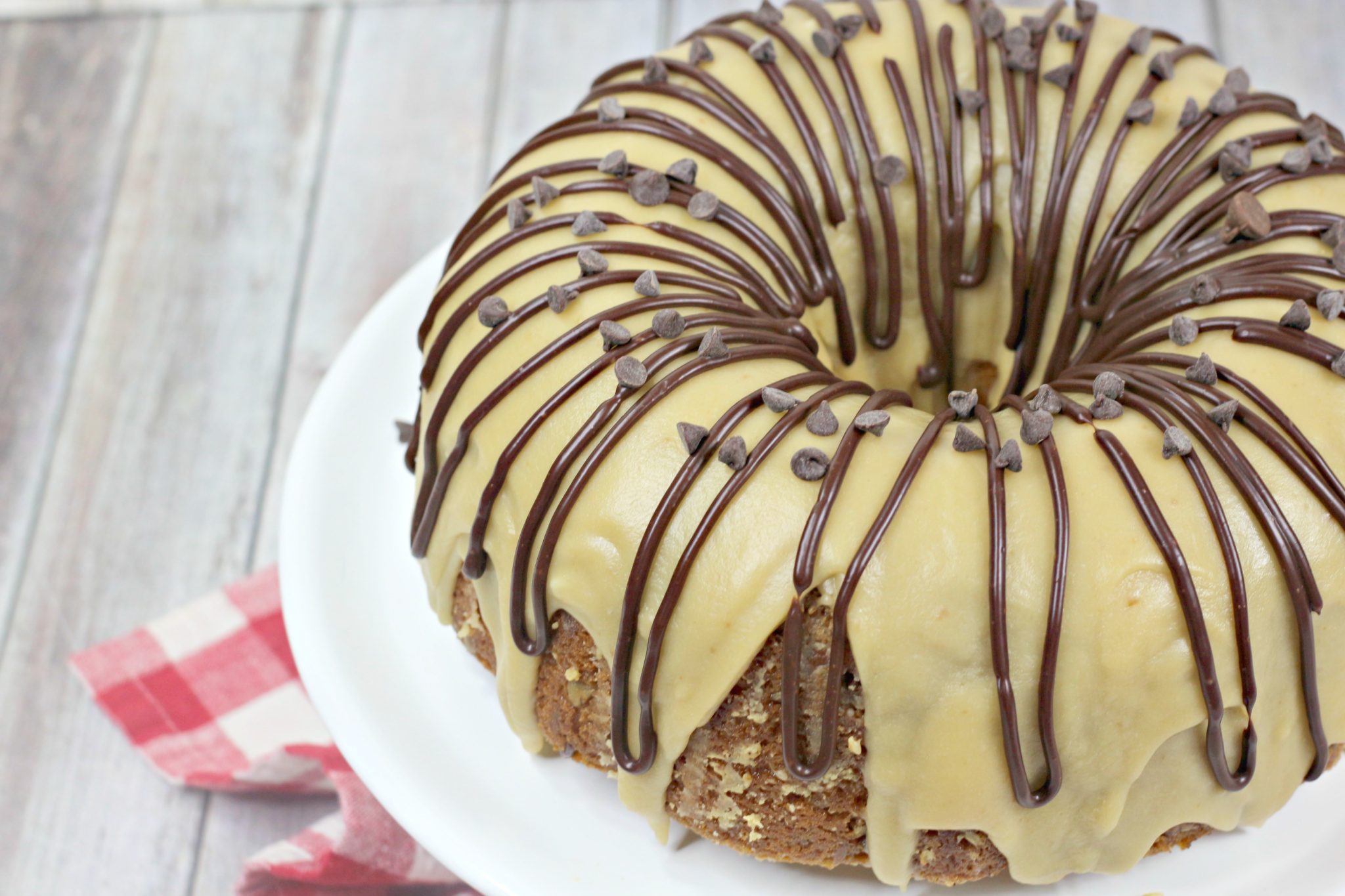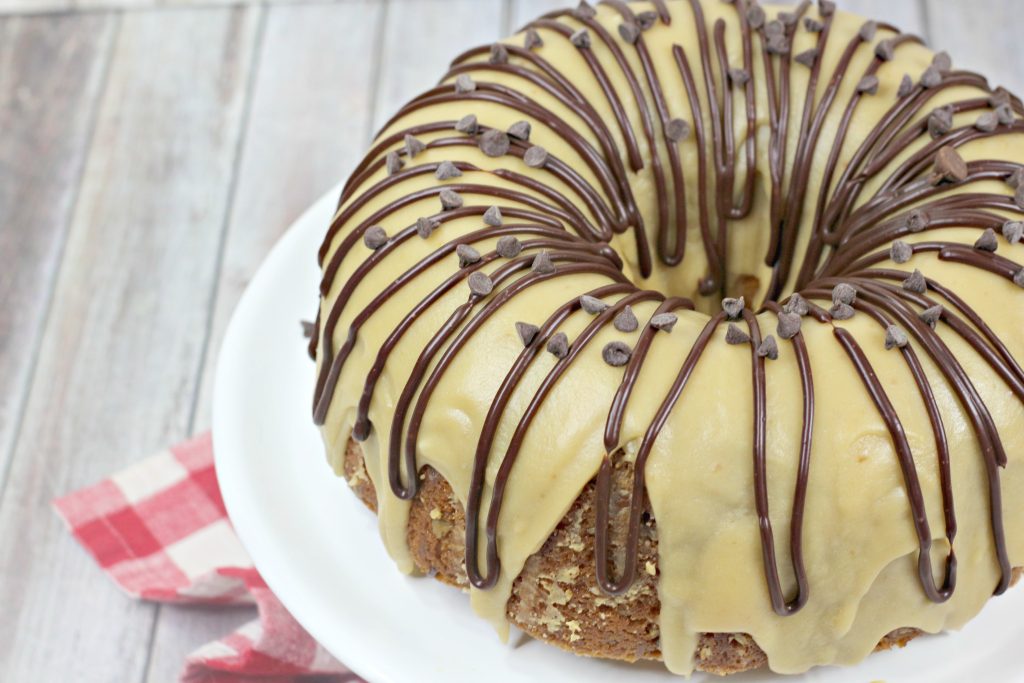 So you've got a luscious cake infused with the first layer of Baileys flavor. That's already a cake full of extra flavor. But then, you take that creamy whiskey flavor to the next level by basing the glaze on Baileys too. The otherwise simple butter and sugar glaze has an extra 3 tablespoons of Baileys added into the mix to really frost this bundt cake with flavor.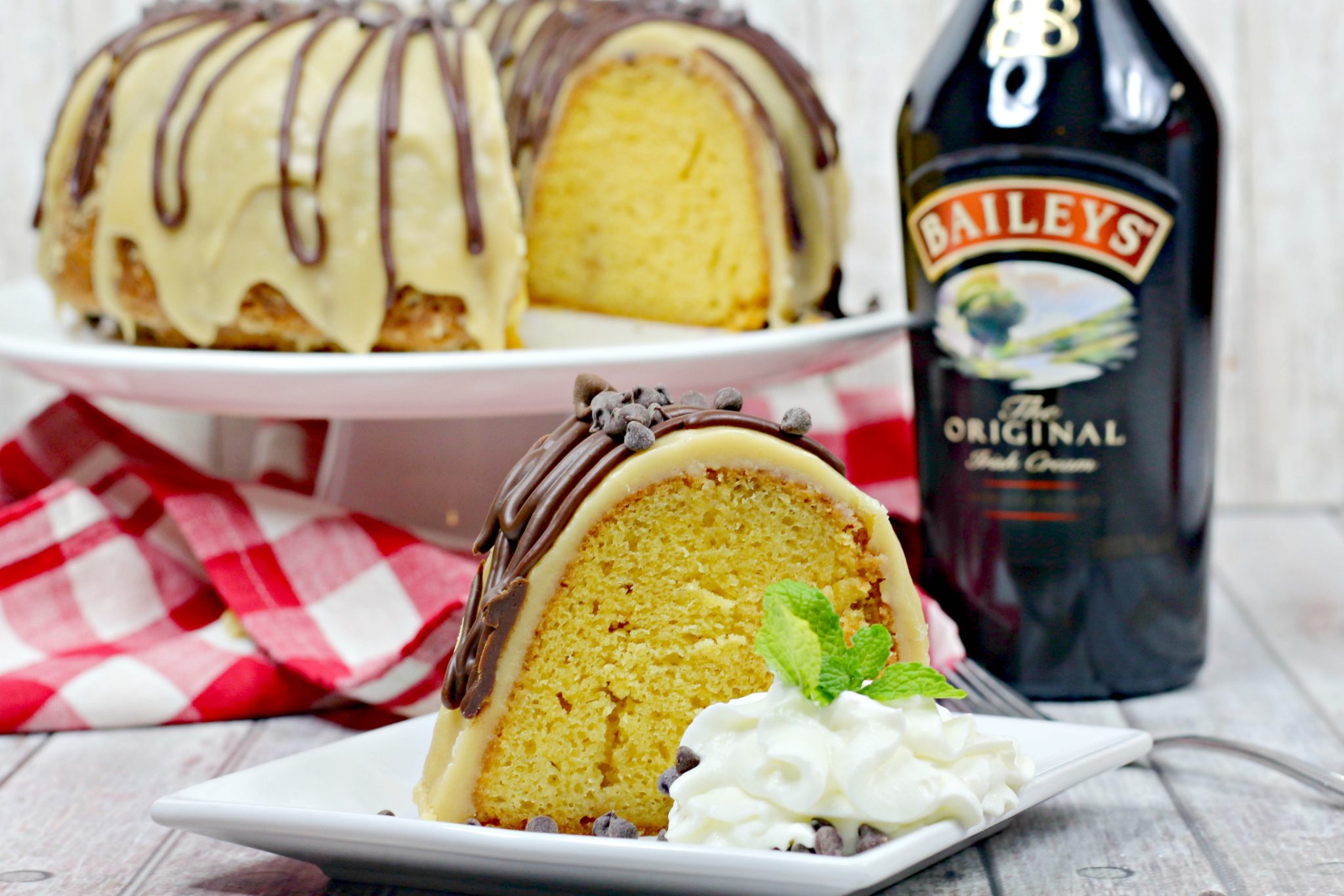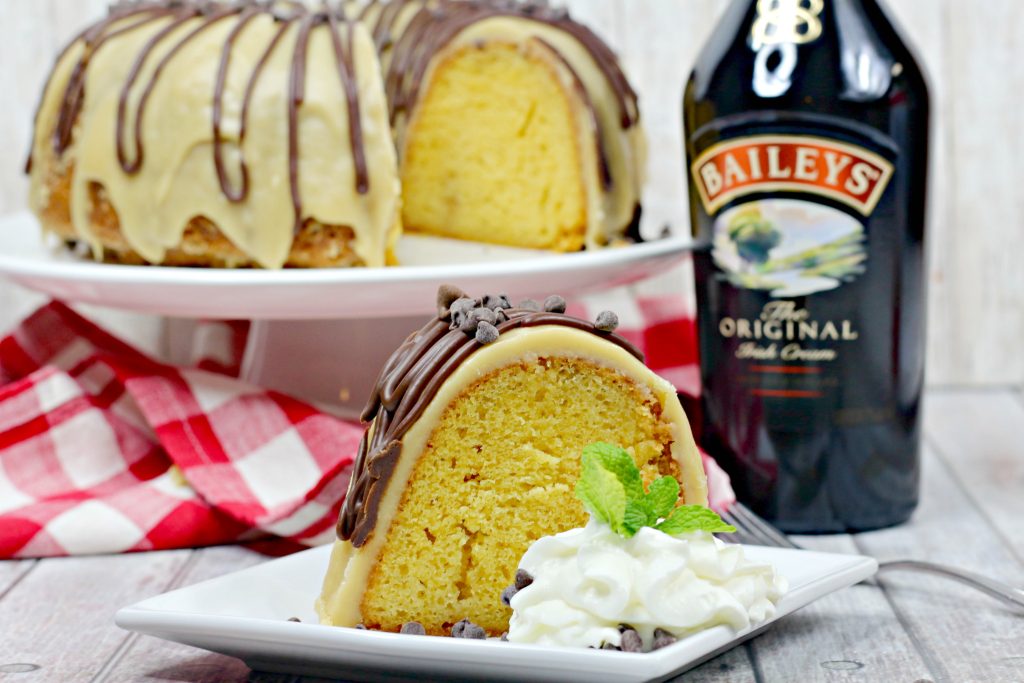 And not only is the glaze layered on top of the bundt cake but the glaze is infused into the cake itself. Before you pour the glaze over the cake, take a skewer and poke holes throughout the bundt cake. Then pour the Bailey's glaze over the cake. The glaze will get into each hole, filling the cake with extra frosting and moisture.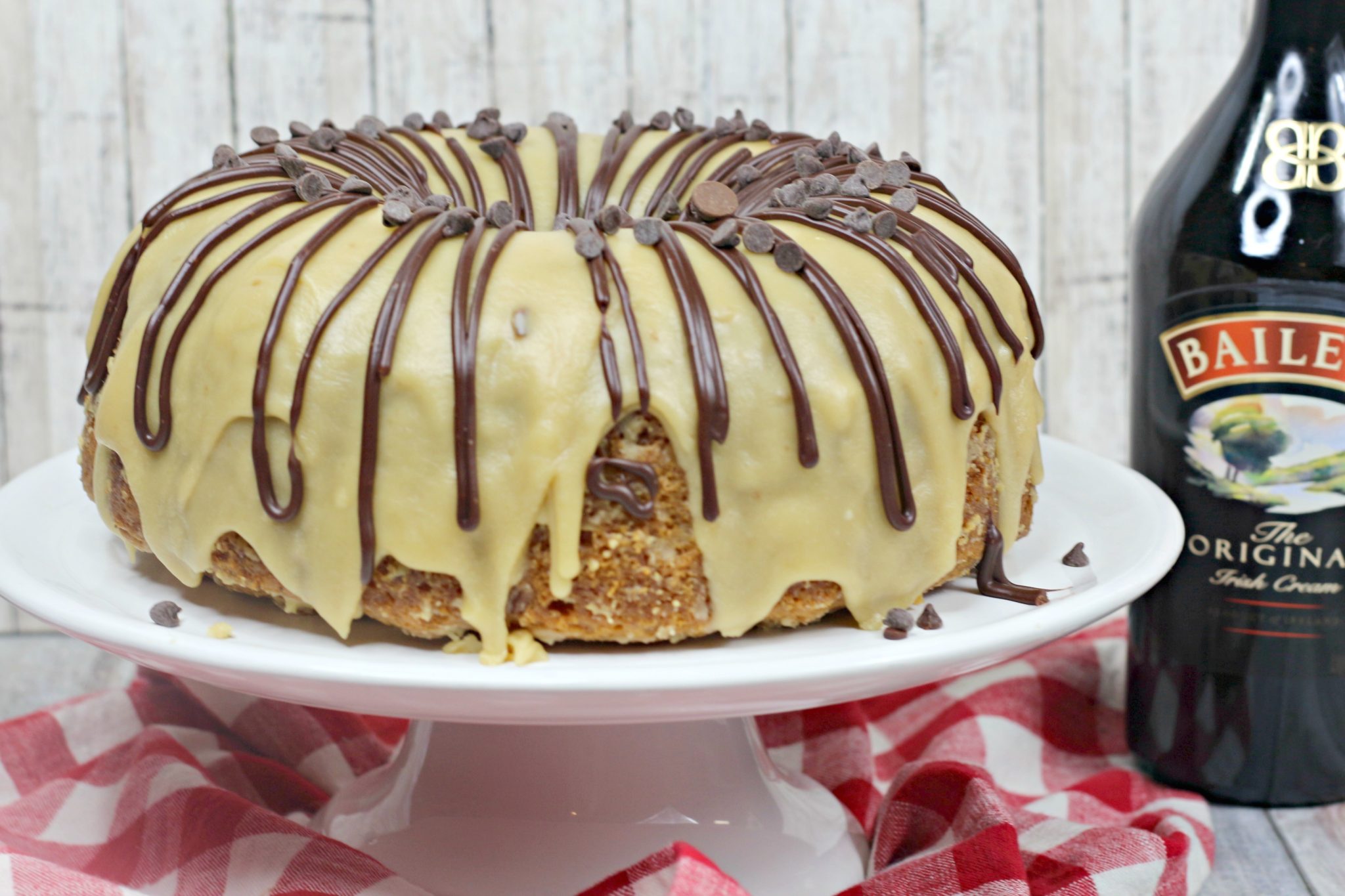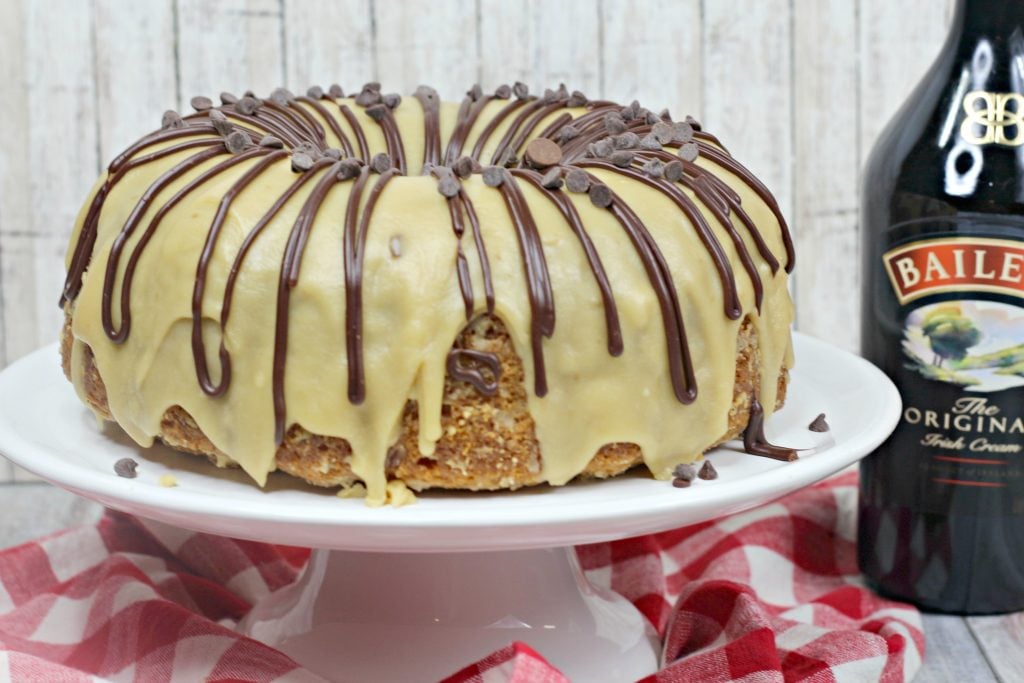 And last but not least? The chocolate ganache. Baileys and chocolate go together so well. Think mudslides. I knew I wanted to bring this flavor combination to this cake, but I didn't want to overwhelm the cake by slathering it in tons of chocolate frosting. That could muddle all the delicious Irish cream flavor I was trying to bring out in the cake.
Rather than top this cake with mass amounts of chocolate, I wanted just a little rich chocolate ganache to compliment the Irish Cream without overpowering it. Think of it as the bow on an already beautifully wrapped present.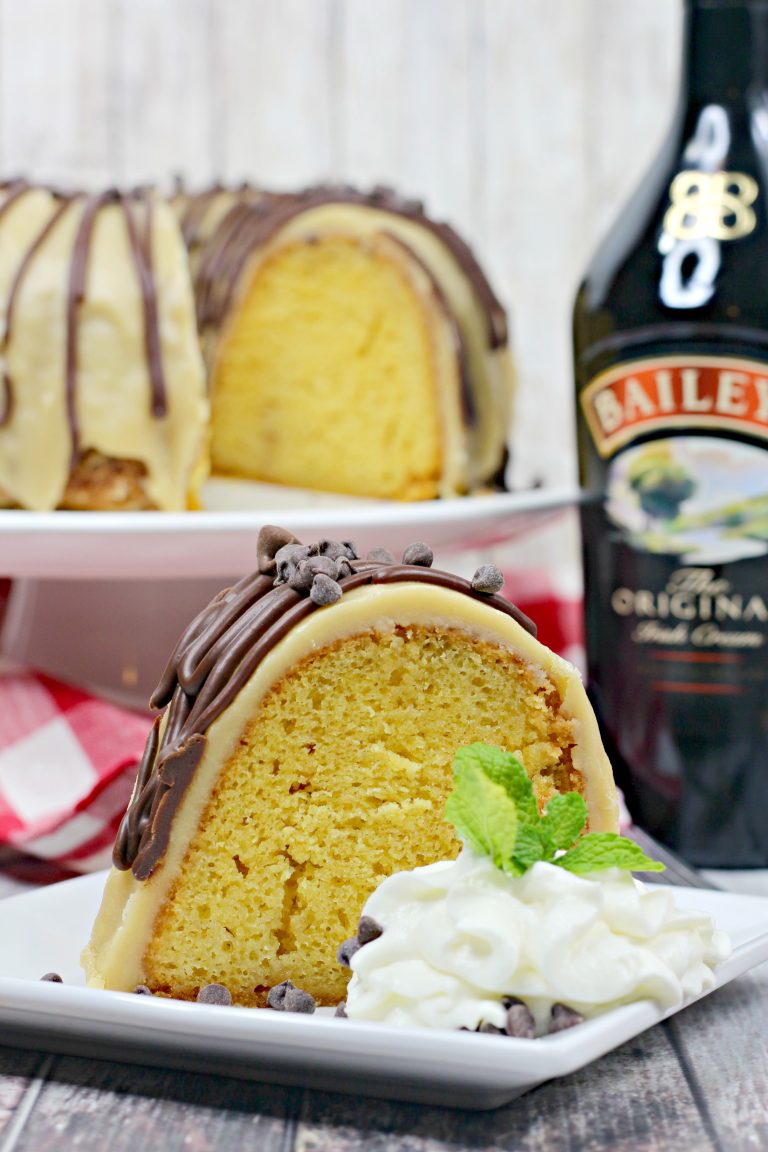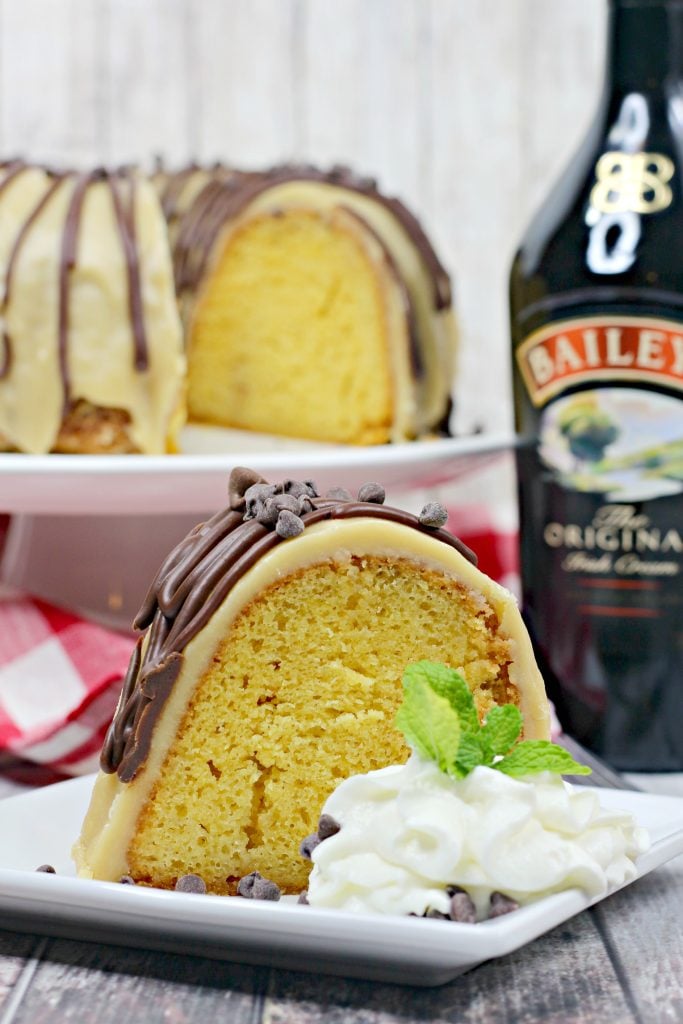 Or the icing on the cake. Which in this case is the most decadent Irish Cream bundt cake with Baileys glaze and chocolate ganache that you could ever imagine.
Other Sweet Cakes To Enjoy: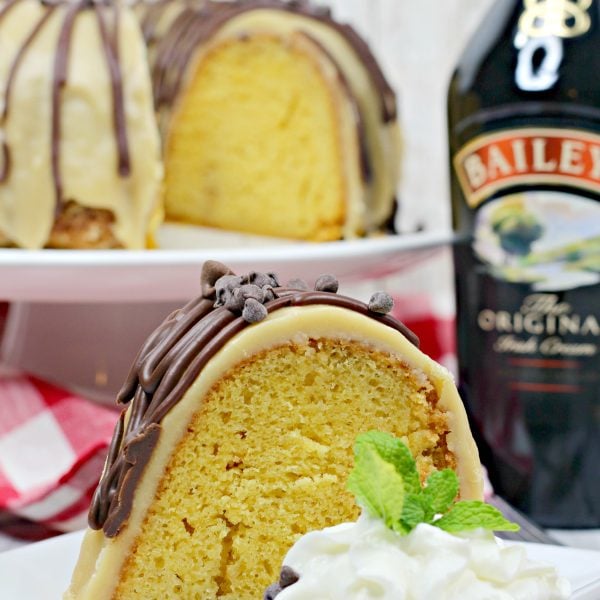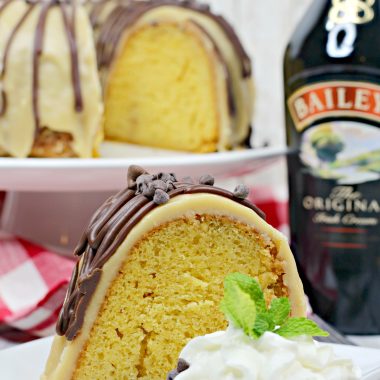 Ingredients
For The Irish Cream Bundt Cake
1

C

unsalted sweet cream butter

softened

2

C

sugar

4

large eggs

1

tbsp

pure vanilla extract

3

C

flour

1

tsp

salt

1

tsp

baking soda

1

C

Bailey's Irish Cream

1

C

pecan pieces
For The Glaze
1/2

cup

unsalted sweet cream butter

1 3/4

cups

powdered sugar

3

tbsp

Bailey's Irish Cream

1

tsp

pure vanilla extract

Bamboo stick
For The Chocolate Ganache
1

C

semi sweet chocolate chips

1/2

C

heavy whipping cream

1

squeeze bottle

1/2

C

mini chocolate chips
Instructions
To Make The Bundt Cake
Preheat oven to 325 and spray bundt cake pan with baking spray, set aside

Using a standing mixer, beat together all the cake ingredients until combined

Pour the pecan chips into the bundt pan

Pour into the bundt cake batter over the pecans in the bundt pan and bake in the oven for 65-75 minutes or until a toothpick comes out clean in the center

Place the cake onto a cookie sheet and allow to cool while you make the glaze
To Make The Glaze
Using a medium saucepan, combine all glaze ingredients and mix until melted and combined

Using a bamboo stick, poke holes all over the still warm cake

Pour glaze onto the cake, making sure the glaze gets into each hole

Allow cake to cool for about 20 minutes before removing and placing onto a serving plate
To Make The Chocolate Ganache
Using a small sauce pan, heat up the heavy whipping cream

Pour the chocolate chips into a heat safe bowl

Once the heavy whipping cream starts to simmer, pour over the chocolate chips

Allow to sit for two minutes

Using a whisk, whisk until combined

Pour into a squeeze bottle

Drizzle the ganache over the cake

Sprinkle with mini chocolate chips