We've combined the best of both Creole & Cajun styles in this recipe. With rich, robust flavor this Dutch Oven Jambalaya is a hearty one pot meat & rice dinner anyone will enjoy, and it's perfect for the cold weather months.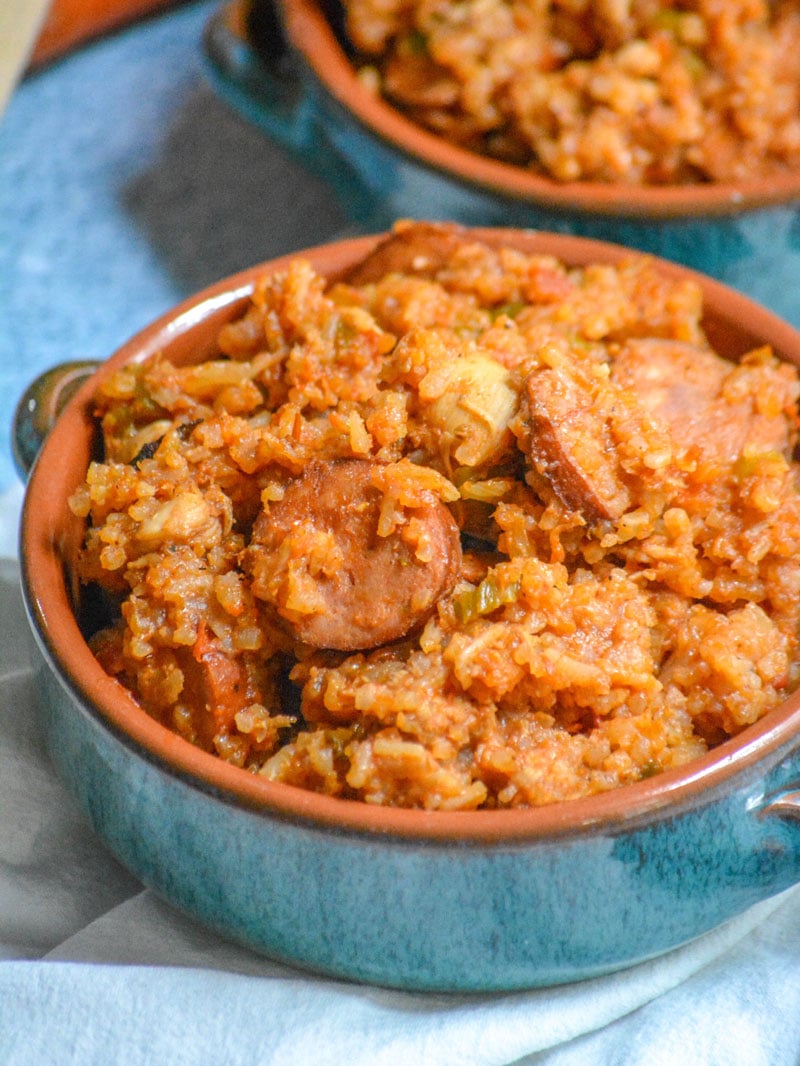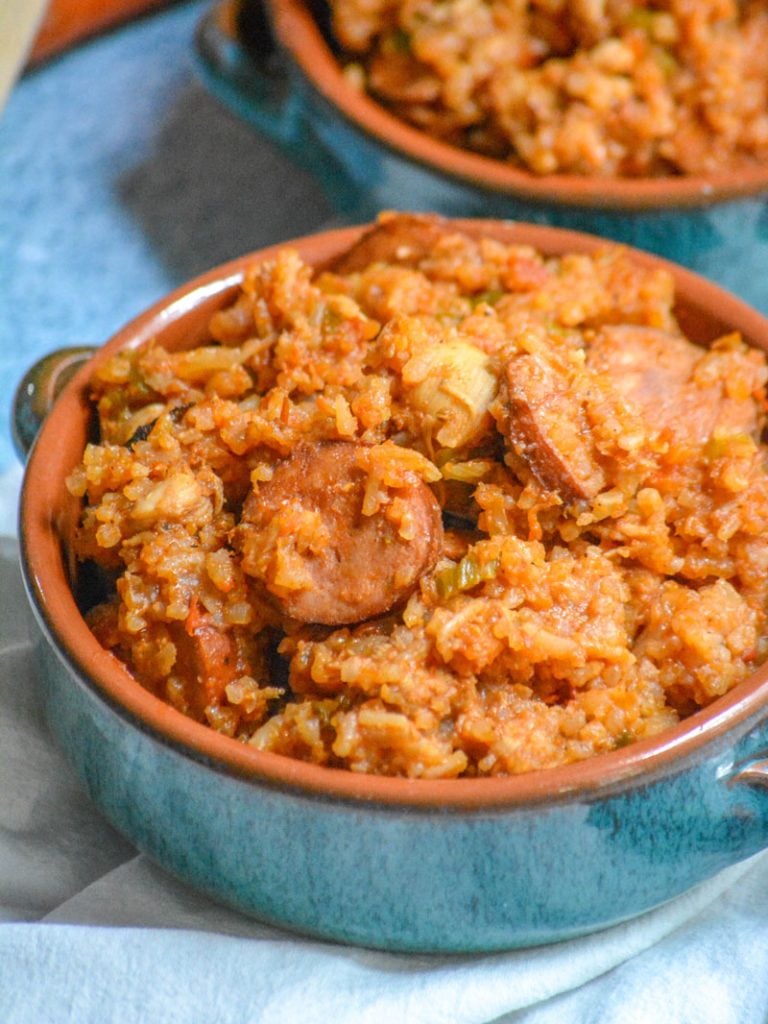 It's no secret around here that we absolutely adore jambalaya. In all it's glorious, well-seasoned forms.
I mean we've already got a seafood jambalaya on here, and a regular smoked sausage jambalaya.
This version though, is our all out favorite. It was long past time we shared with the masses! Also long time past that we actually learned where our much love dish came from.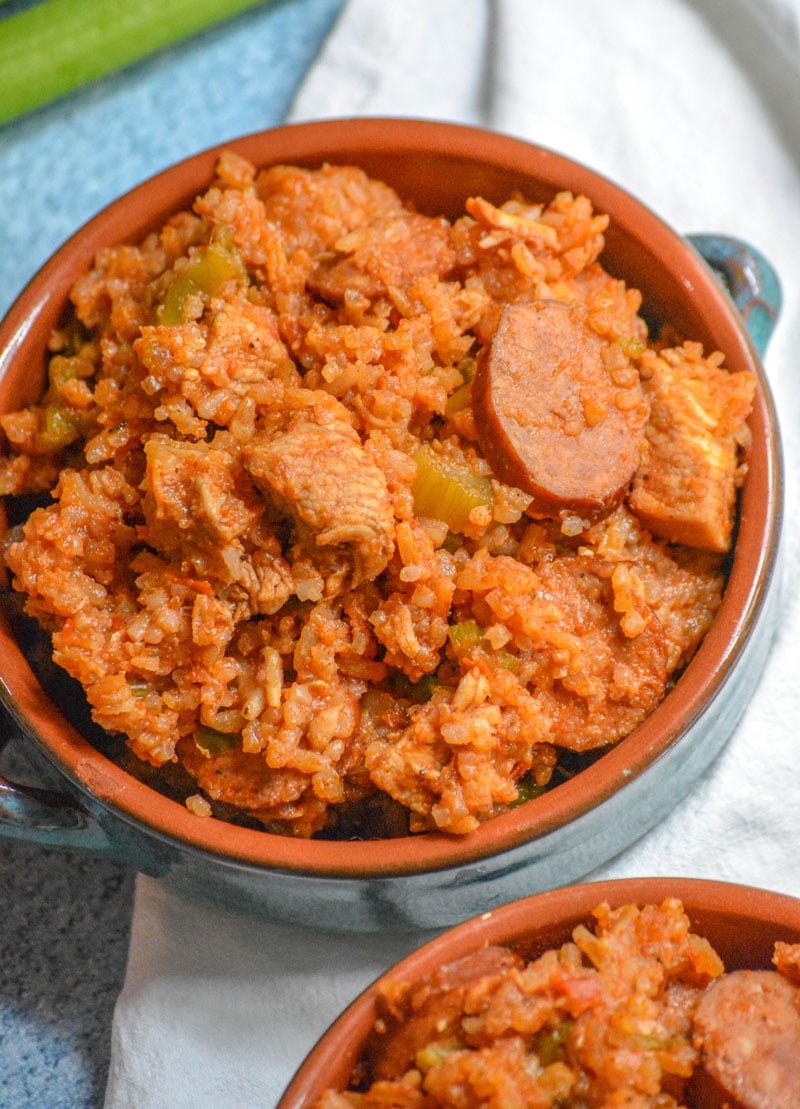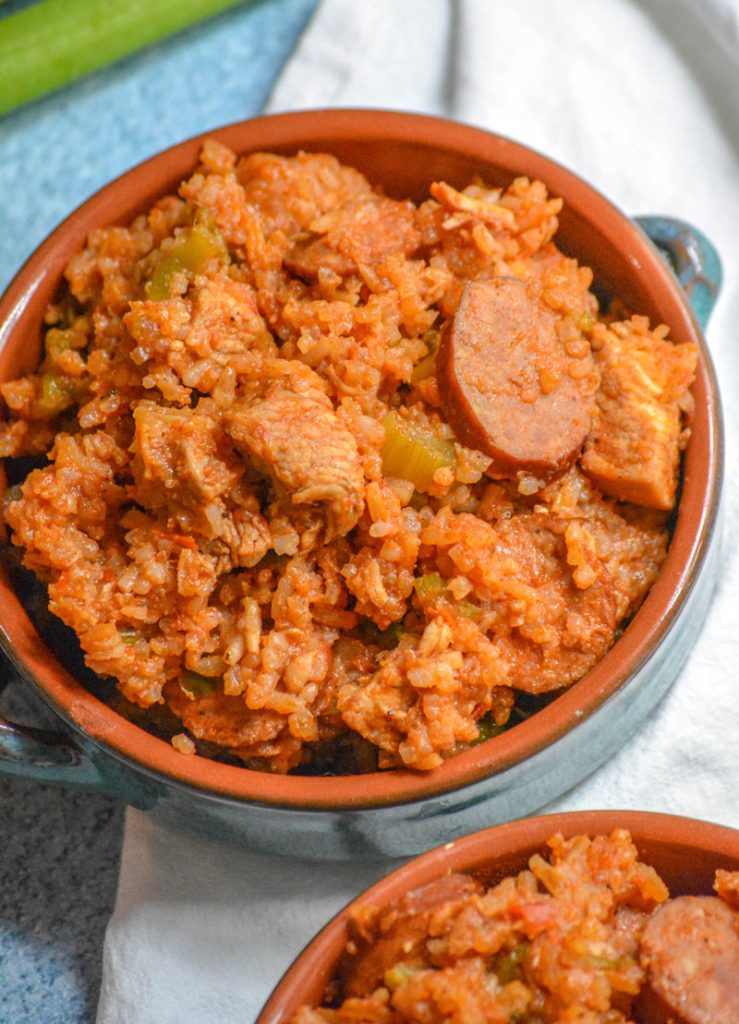 Jambalaya is a surprisingly simple inexpensive dish to prepare, but rich in flavor.
Nobody's 100 % sure about it's exact origins, but the general consensus is that it spread out from New Orleans, Louisiana.
You might also be surprised to hear it's a dish with influence from multiple cultures- including Spanish, French, African, Native American and Caribbean.
No wonder it's so dang delicious!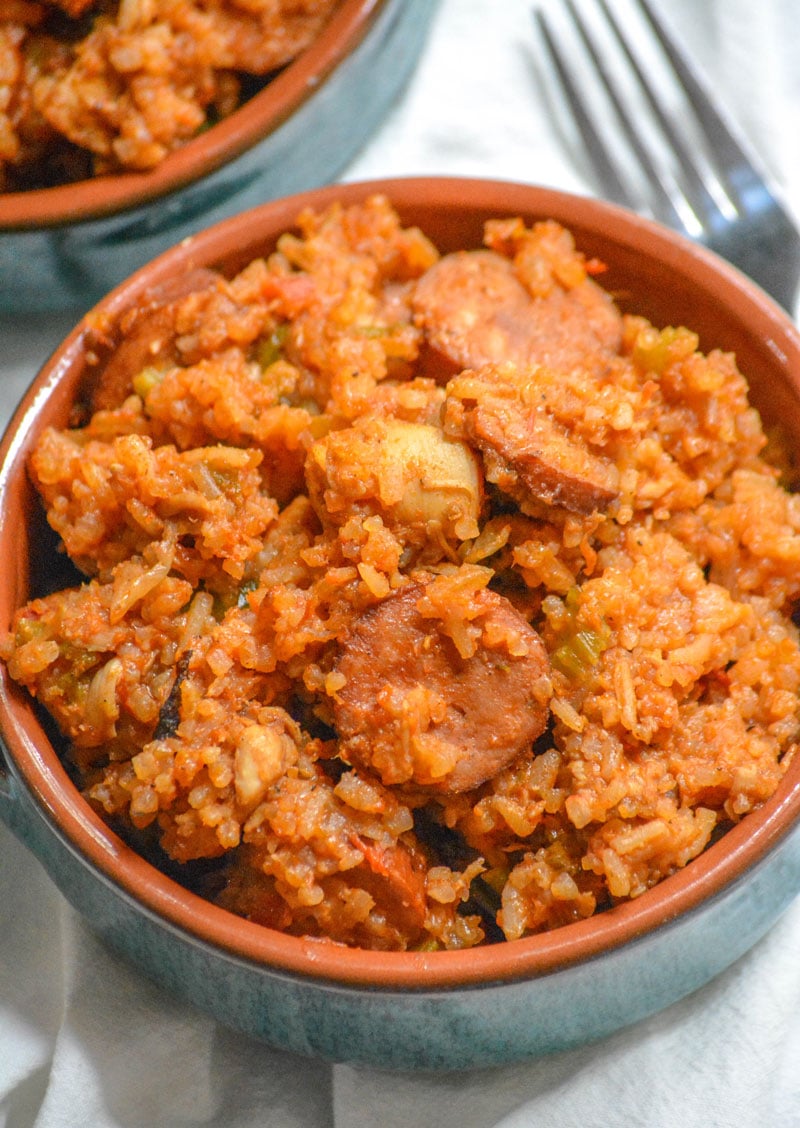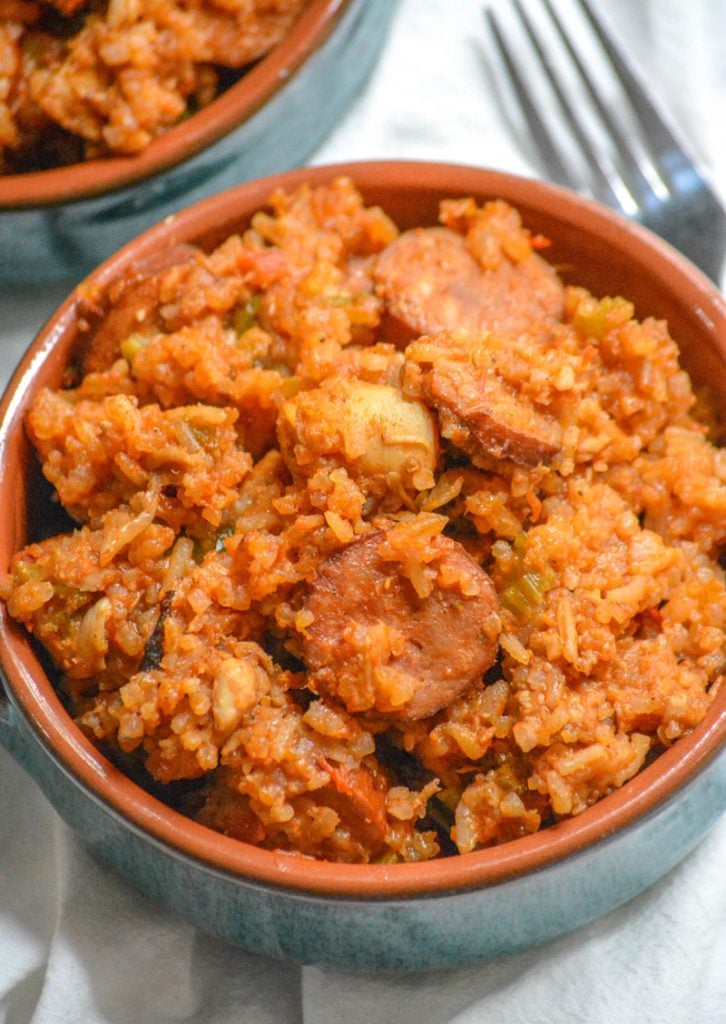 So every authentic jambalaya has what's called the 'holy trinity' in it- onions, celery, and green pepper. Stock & rice are mainstays too.
However, then there comes the great debate- is it Cajun or Creole? What the heck is the difference?
For a long time I thought they were the same. Not true. There's one major difference, tomatoes or no tomatoes. Oh, and the seafood.
The Creole version starts with a meat of choice, usually smoked sausage or chicken, the 'trinity', and eventually includes seasoning, tomatoes, and a variety of seafood.
It's easy to spot with it's unique red coloring. Cajun jambalaya on the other hand, starts with smoked meat being browned in the pot. The resulting juices give it an earthy brown hue. Both versions are incredibly tasty.
Despite their differences, the different variations both began in the same place. The Port of New Orleans, a mixing pot of people and cultures.
This meal was born out of necessity, as it was cheap & economical. While it was an everyday dinner in rural Louisiana, there is evidence of it first being published in cookbooks dating back to 1885.
It soon spread, and really surged in popularity with the dawn of The Great Depression.
People could barely afford to feed themselves and a simple meal, using whatever meat and seasonings were available, and fillers such as rice and veggies was a blessing.
Almost 100 years later, in a time of plenty for so many- I'm always amazed at how well we've passed down family recipes.
Just like the Dutch oven that was once my Grandma's that I now use to make this Dutch Oven Jambalaya in.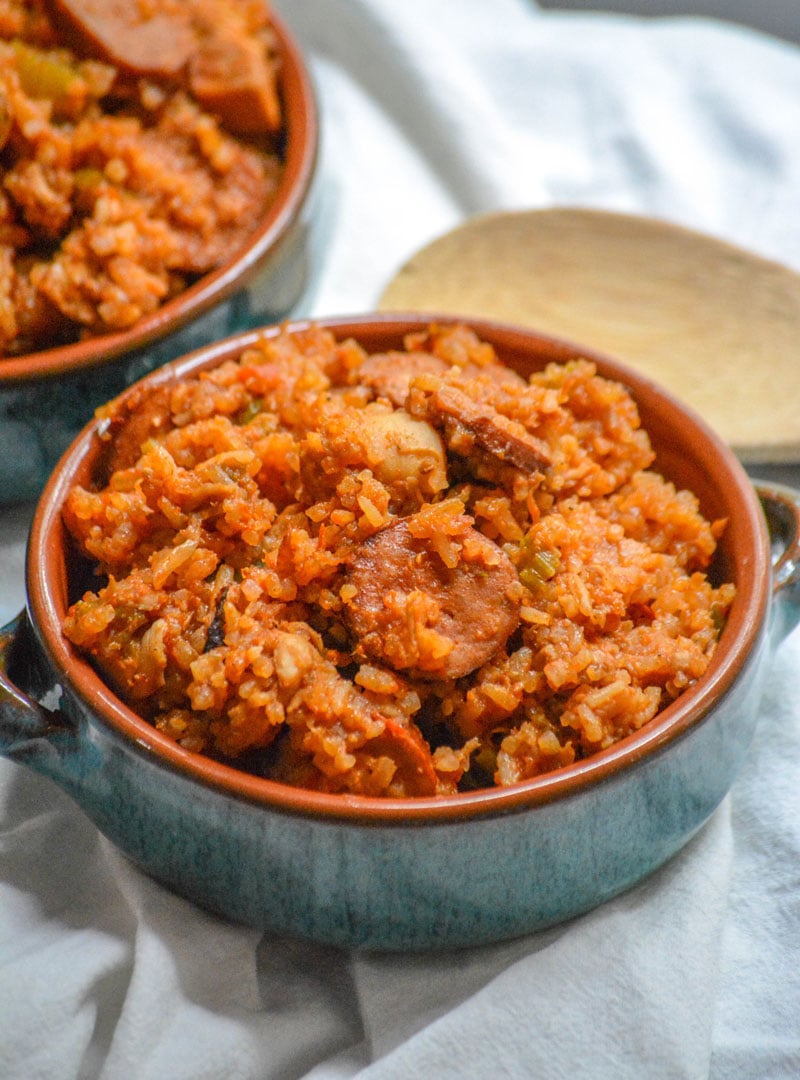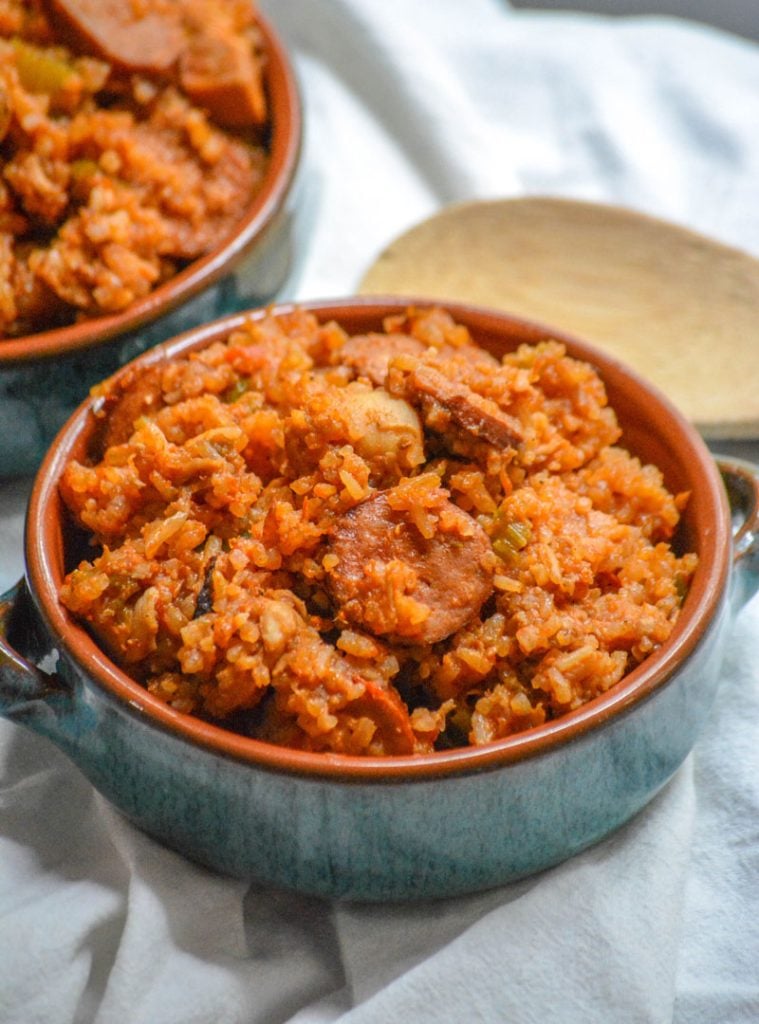 Now that we know where it came from, let's dig into this vintage dish that we've given some modern tweaks. Our jambalaya isn't specifically Cajun or Creole.
It's more of an in between. A mix that incorporates our favorite parts of both and combines them into an amazing hodge podge, kinda like the mixing pot of a port and city where it originated.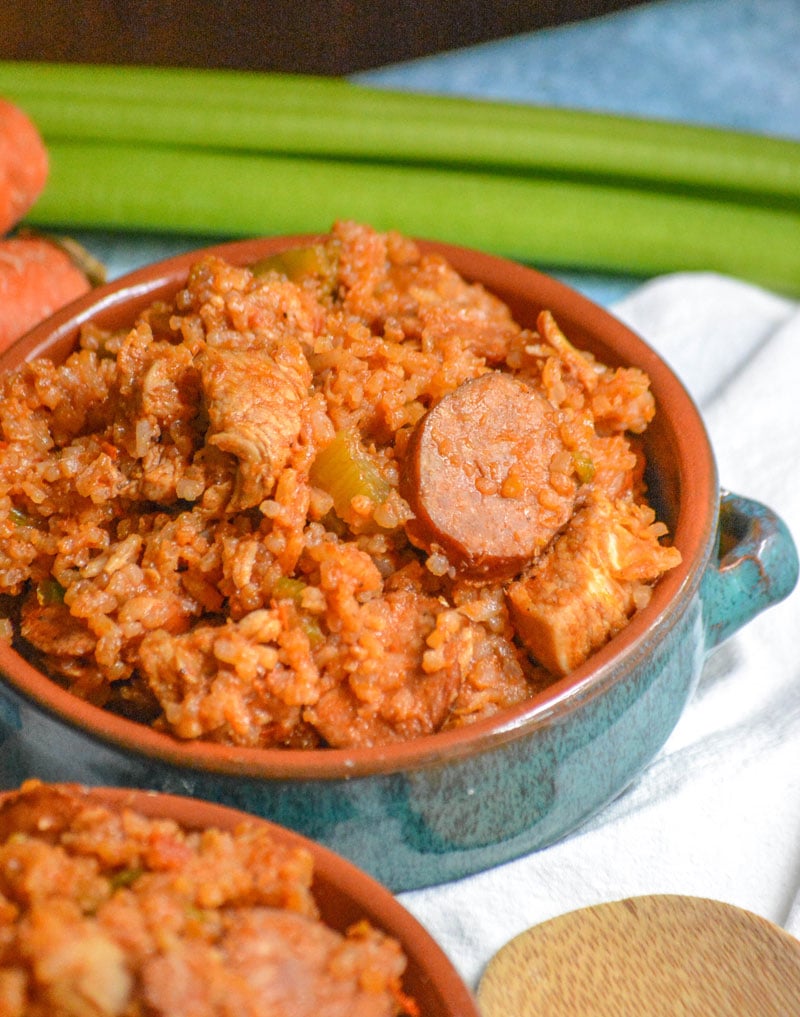 This jambalaya uses both chicken and sausage, but you do have some wiggle room with the sausage. You can use kielbasa or the more traditional andoullie sausage.
I prefer the later, but my kids like it better when I use the less spicy kielbasa. Either way, slice them into thin coins & chop your chicken breasts into roughly 1″ pieces.
Toss them with 2 tablespoons of either Cajun or Creole seasoning, until evenly combined. Again, which spice blend you use is totally up to personal preference.
Oil's heated in a dutch oven, and when hot the meats are added in turn, cooked until done, and removed to a waiting plate using a slotted spoon.
Stir the onion, celery, green pepper, & garlic into the dutch oven and saute until tender. At this point add in the red pepper flakes, tomatoes, Worcestershire, hot sauce, and file powder.
Stir everything to combine. Season with salt & pepper, to taste. Scrape the meats back into the pot, bring the mixture to a simmer, and cook for 10 minutes.
Make sure to stir it occasionally to avoid sticking, and also to help blend the flavors.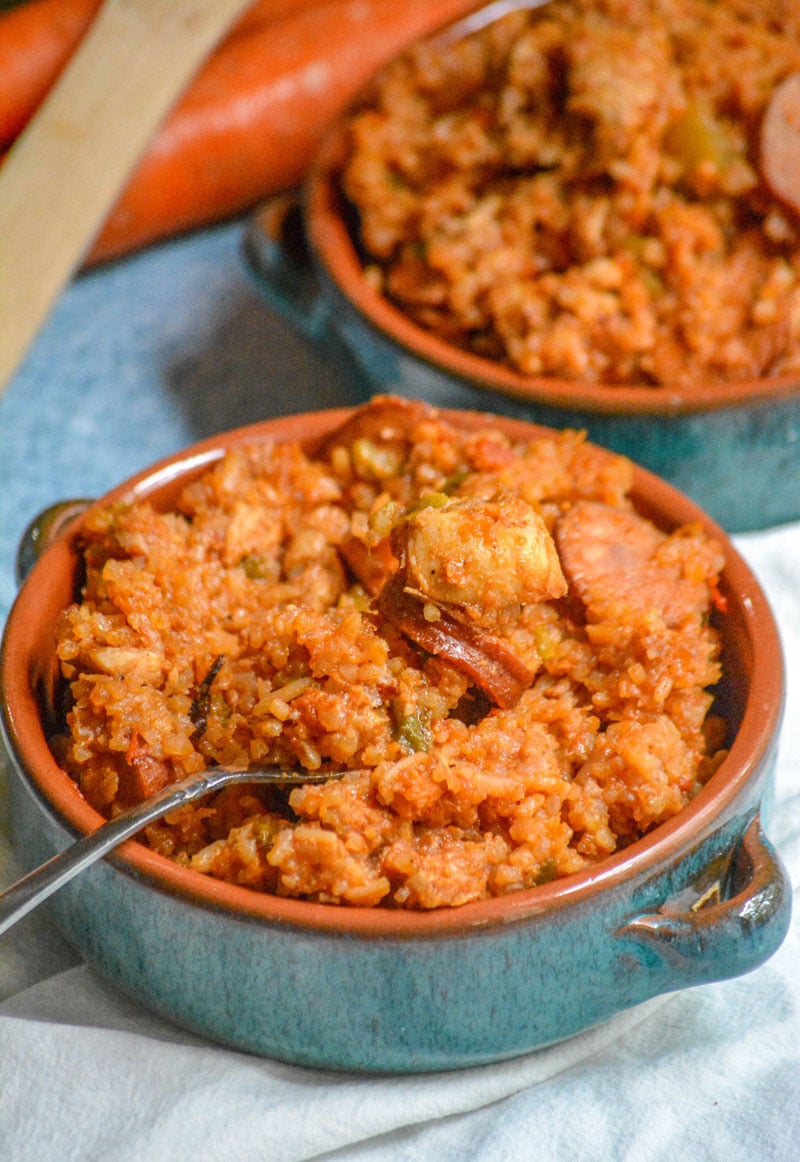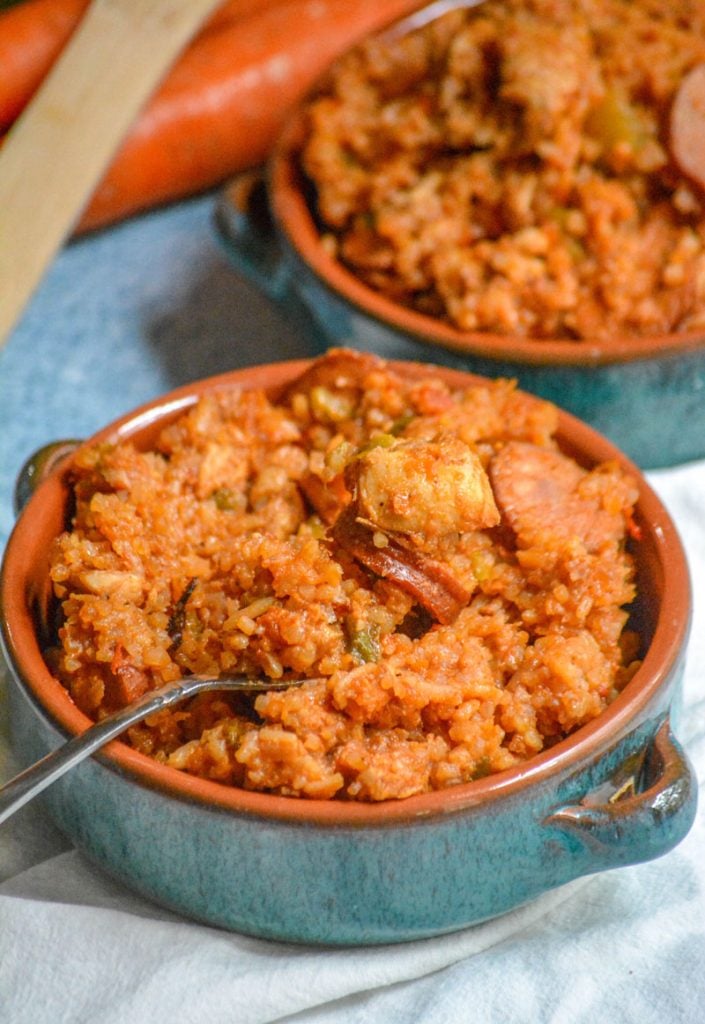 We're in the home stretch, so stir in the rice and broth. Bring the mixture to a rolling boil. Reduce the heat to medium low, and let the jambalaya simmer for 20-25 minutes- until the rice is cooked and most of the liquid's been absorbed.
Remove the dutch oven from heat, give everything a good stir, and let the pot sit covered for a minute or two before scooping and serving.
A good jambalaya recipe is a must-have in every home cooks recipe box. Add this Dutch Oven Jambalaya to yours and never wonder what's for dinner again when you're on a budget and need to use pantry staples.
Other Cajun Favorites To Enjoy:
If you've tried this DUTCH OVEN JAMBALAYA, or any other recipe on the site, let me know in the comment section how it turned out, we love hearing from our readers! You can also follow along with me on PINTEREST, FACEBOOK, and INSTAGRAM to see more amazing recipes and whatever else we've got going on!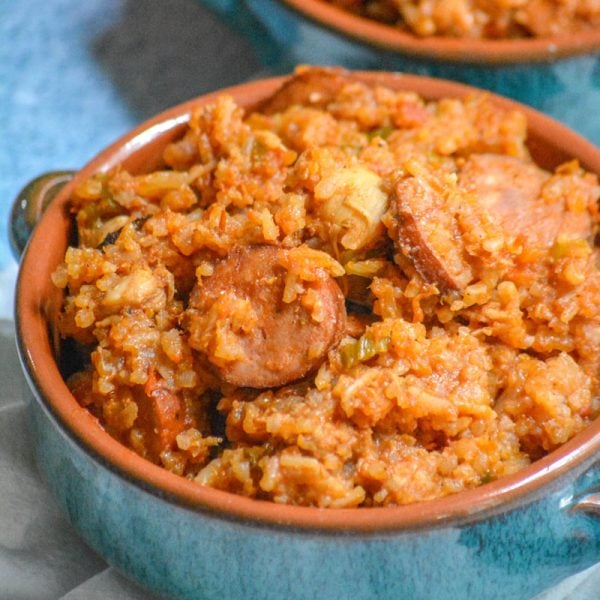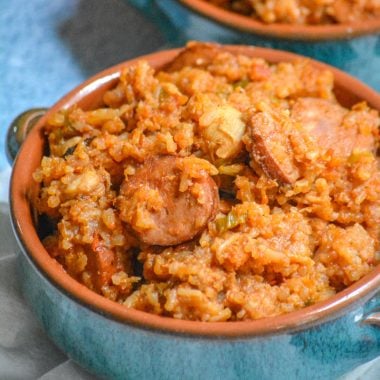 Dutch Oven Jambalaya
An authentic tasting jambalaya featuring chopped chicken & smoked kielbasa sausage, seasoned with Creole and gumbo filet- all cooked in your trusted Dutch oven pot.
Print
Pin
Rate
Ingredients
1

lb

chicken breasts, chopped into 1" pieces

1 1/2

lb

smoked kielbasa, or andoullie sausage

2

tbsp

Cajun or Creole seasoning

3

tbsp

canola oil

1

large

white onion, diced

1

green

bell pepper, seeded and diced

2

stalks

celery, thinly sliced

4

tsp

minced garlic

1

16 oz

can crushed Italian tomatoes

1/2

tsp

crushed red pepper flakes

salt & black pepper, to taste

2-3

dashes

hot sauce

2

tsp

Worcestershire sauce

1

tsp

gumbo filet powder

1 1/3

cups

uncooked basmati rice

2 1/2

cups

chicken broth
Instructions
Add the chicken & sausage to two separate bowls, respectively. Divide the Cajun seasoning evenly between each bowl. Toss the meats until evenly seasoned.

Add 1 tablespoon of the oil to the dutch oven and heat over medium heat. When the oil's hot, add the chicken, stirring & cooking, until cooked through. Use a slotted soon and remove the meat to a waiting plate. Repeat with the sausage, again using a slotted spoon to transfer the cooked meat to the same plate. Set aside.

Add the onion, green pepper, celery, and garlic to the Dutch oven. Saute, stirring occasionally, until the veggies are tender.

Stir in the crushed tomatoes, red pepper flakes, hot sauce, Worcestershire, and file powder until evenly combined. Season the mixture with salt & pepper, to taste.

Return the cooked meats to the pot, stirring to combine. Let the mixture come to a simmer, and cook for 10 minutes- again stirring, occasionally.

Add in the rice & broth, stirring to incorporate. Bring the mixture to a boil, reduce the heat to medium low, and simmer for 20-25 minutes- until the rice is cooked and the liquid's been absorbed.

Remove the Dutch oven from heat, and serve immediately.