Nothing's quite as comforting as a big bowl of mac and cheese, and something so simple can solve so many of life's problems- especially for my boys. Make things even easier by ditching the box and whipping up this Instant Pot shells & cheese recipe whenever the mood strikes with only a couple of pantry staples.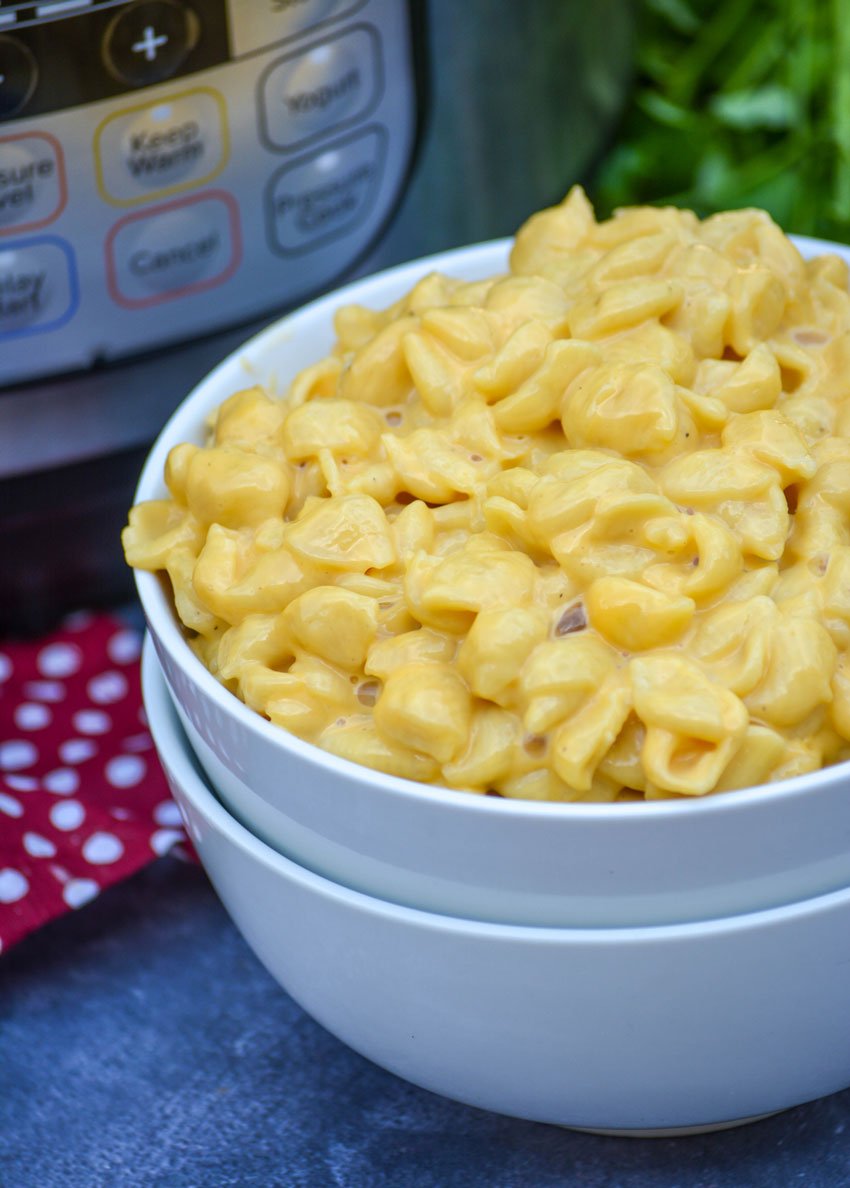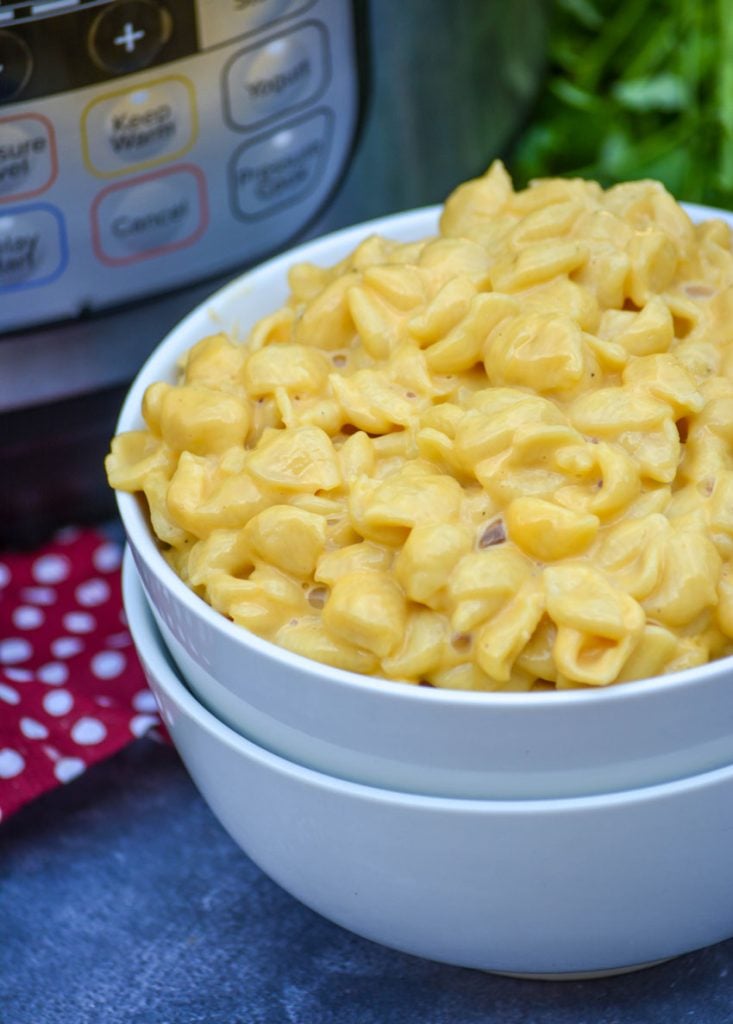 As much as I love seasonal recipes, and seasonal cooking- when the colder weather digs it's heels in for the first time of the year I'm immediately in the mood for simple comfort food.
Nothing is simpler or more comforting in my humble opinion, than a big ol' bowl full of cheesy pasta goodness. Macaroni & cheese to be exact.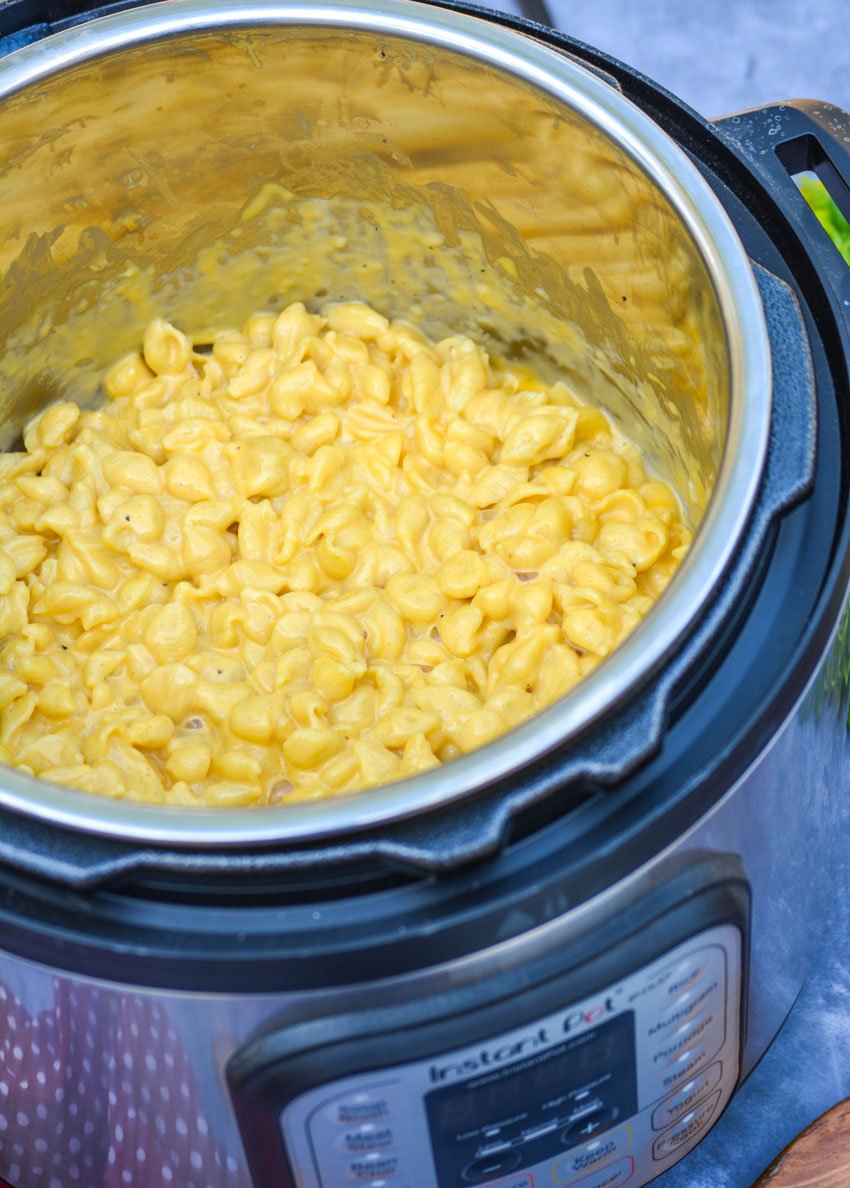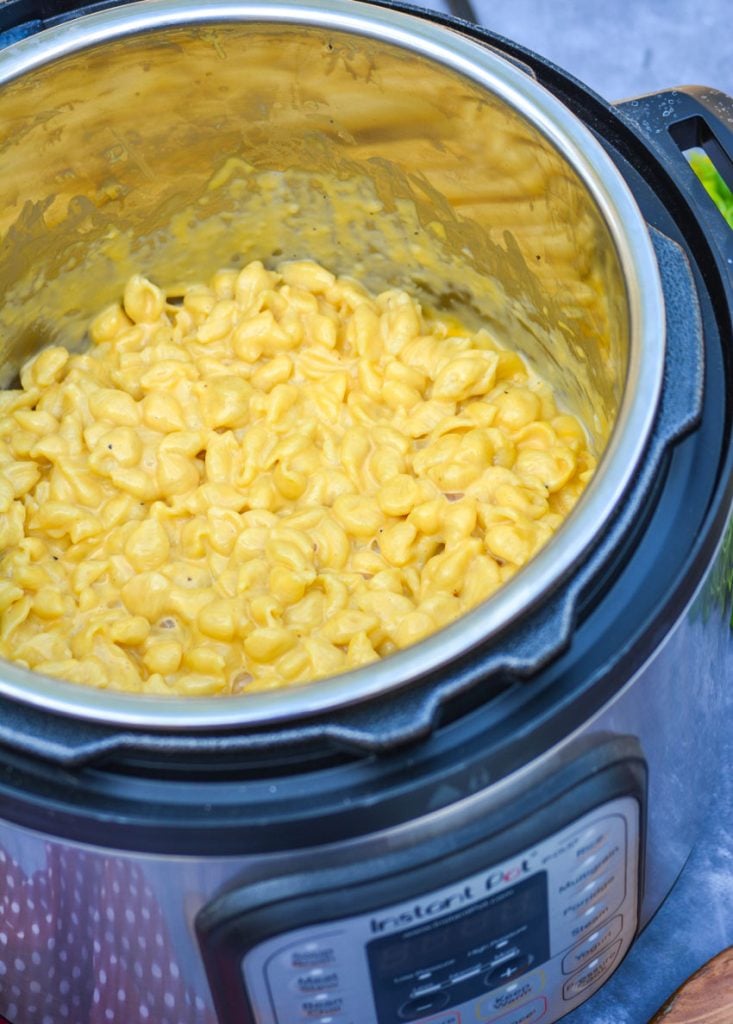 I'm not stranger to the dish, in fact as homey as it is & all the different memories I have associated with the classic side- it's also one of my favorite things to experiment with.
Breakfast mac & cheese anyone? It's delicious. And any time I can make creamy, cheesy pasta an acceptable AM entree- I'm 100 % all in.
We've turned it into a delicious soup. I've even made it into donuts. The sons even sandwiched it between buttered slices of crisply toasted bread for the ultimate fun grilled cheese sandwich.
We're serious about enjoying our mac & cheese around here, y'all.
Despite all of the various ways we've loved it, and all the experimenting- we can all pretty much agree that our favorite kind is the kind in the gold box. Creamy shells and cheese.
Simple. Delicious. Not at all remotely good for you, but soothing to the soul none the less. Thanks to my pressure cooker, making it at home from scratch is now incredibly easy with this Instant Pot shells & cheese recipe.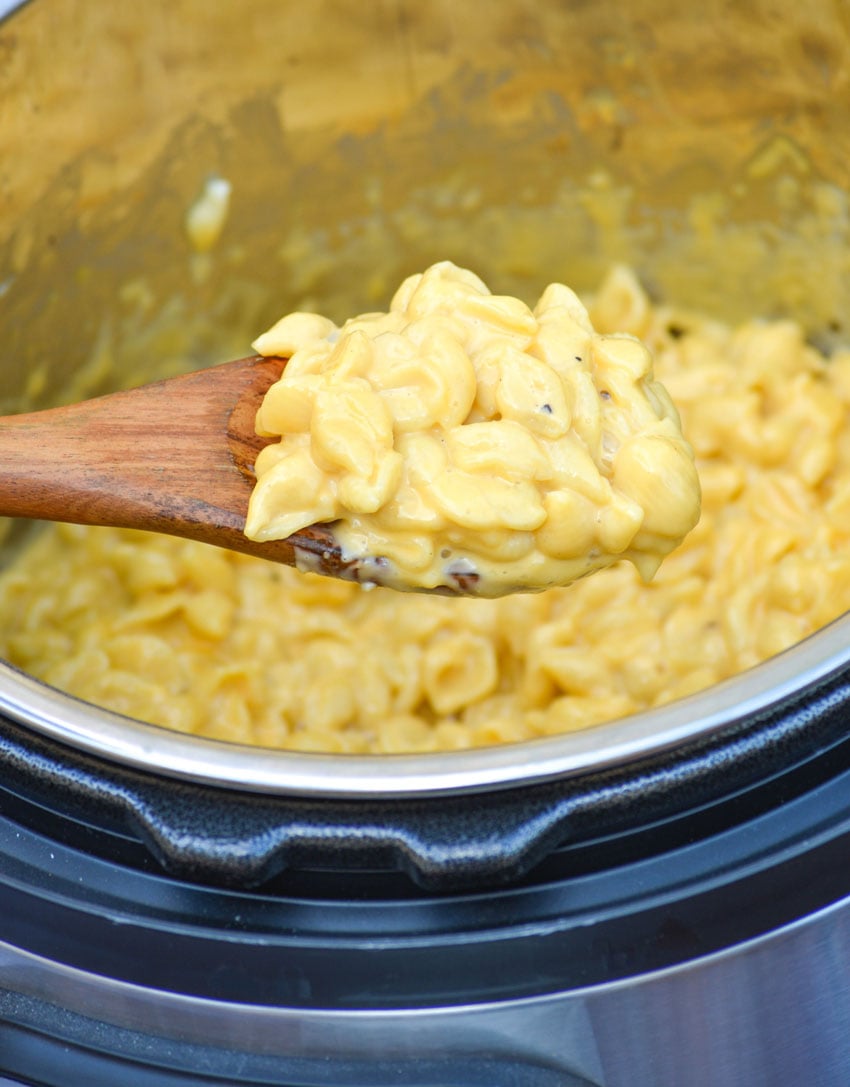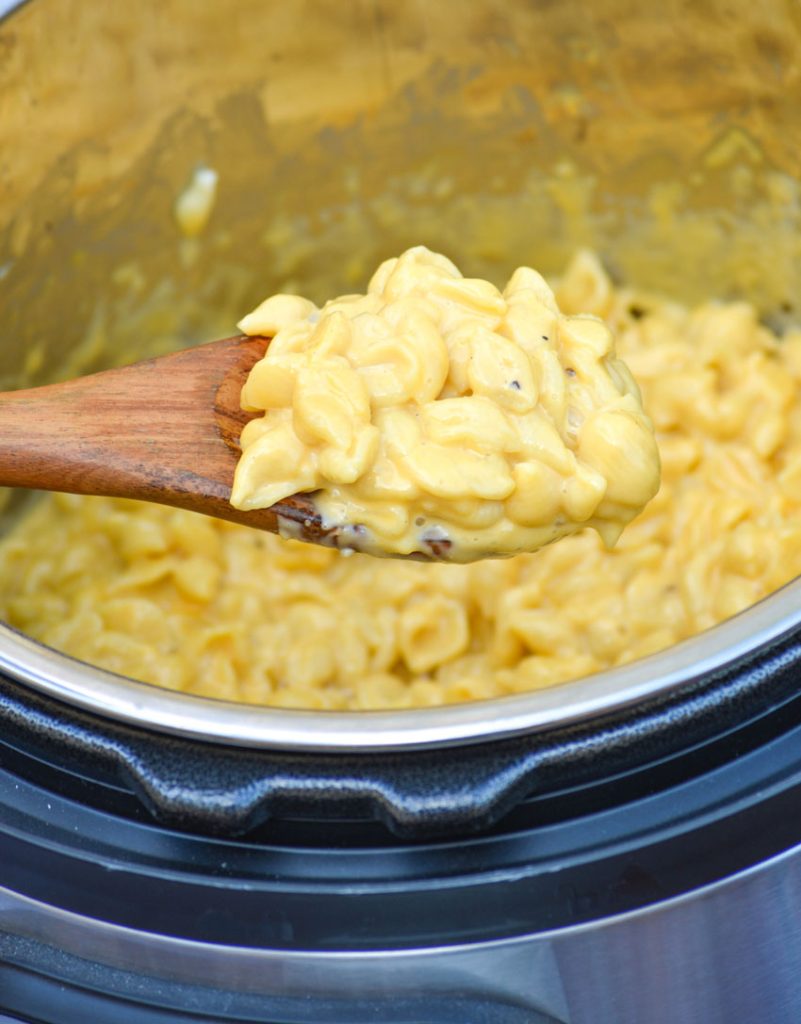 Stove Top Vs. Pressure Cooker- What's the Big Deal?
Ok, I'll head this question off straight out of the gate. No, making mac and cheese (from the box or from scratch) on the stove top isn't hard. I get that. But making it in the Instant Pot is still even easier for several reasons.
When you make this on the stove top, you have to baby sit it tying yourself to the kitchen and the stove. It may only be 15-20 minutes, but that's still time I can't get back on busy nights. As much as I love cooking, I'd rather be reading with my kid or fussing over homework than the stove.
Making this shells & cheese recipe in the Instant Pot means no baby sitting. You dump everything into the pot, secure the lid, and you can walk away.
Everything cooks in the pot. The cheese & milk get stirred right into the same pot. That means the stainless steel insert is the only dish you have to scrub when it's done.
No draining, straining, or dirtying excess dishes. No waiting for the water to come to a boil, and watching the pot to prevent boiling over. To me? Whether I'm serving this for lunch or dinner, that ease & convenience is priceless to me.
Making Shells & Cheese From Scratch- One Pot's All You Need!
As much as we love the boxed stuff, the old adage remains true- everything's better when homemade. Shells & cheese aren't any exception.
This Instant Pot shells & cheese recipe is almost as effortless as grabbing a box off the store shelf. It uses simple ingredients, most of which are probably already stocked in your pantry. Most of which probably almost always are.
You'll need:
pasta
water
Velveeta cheese
milk
That's it! Salt & pepper are recommended, to your own tastes of course- but they're optional. Everything gets dumped in the pot, in two simple steps and that's that. One pot? That's my favorite kind of recipe!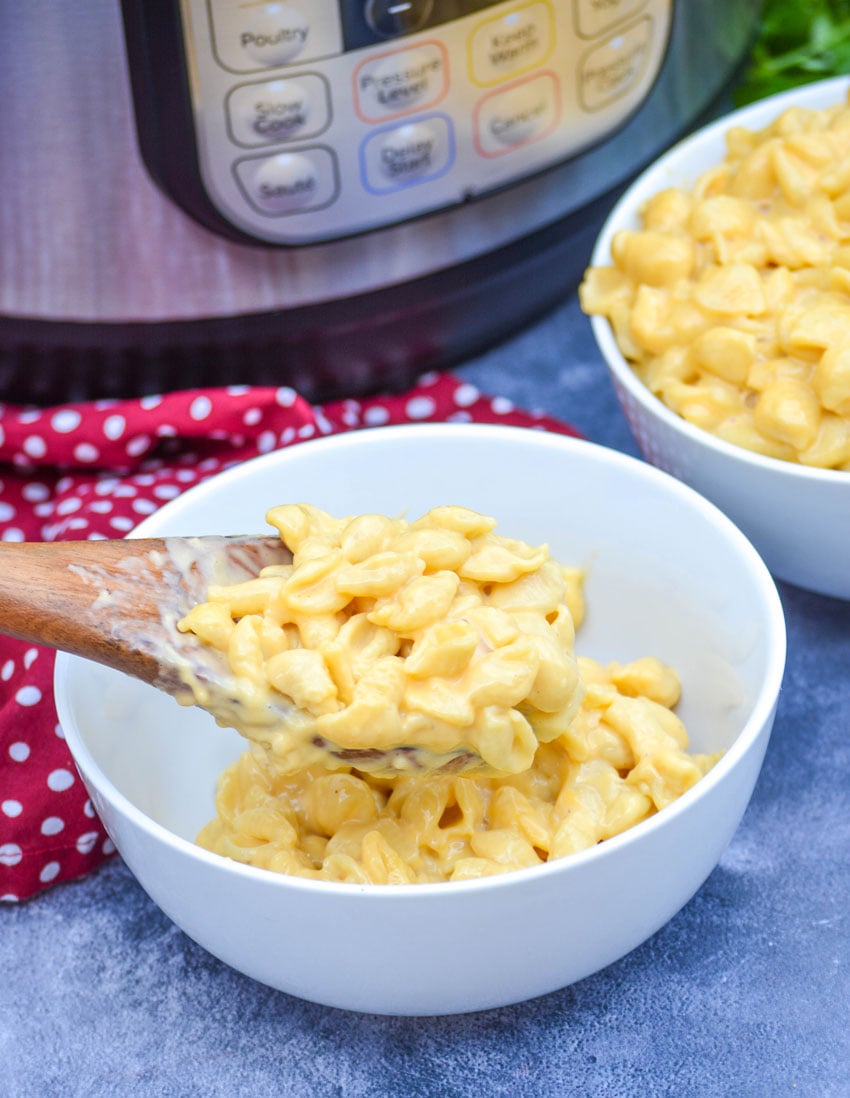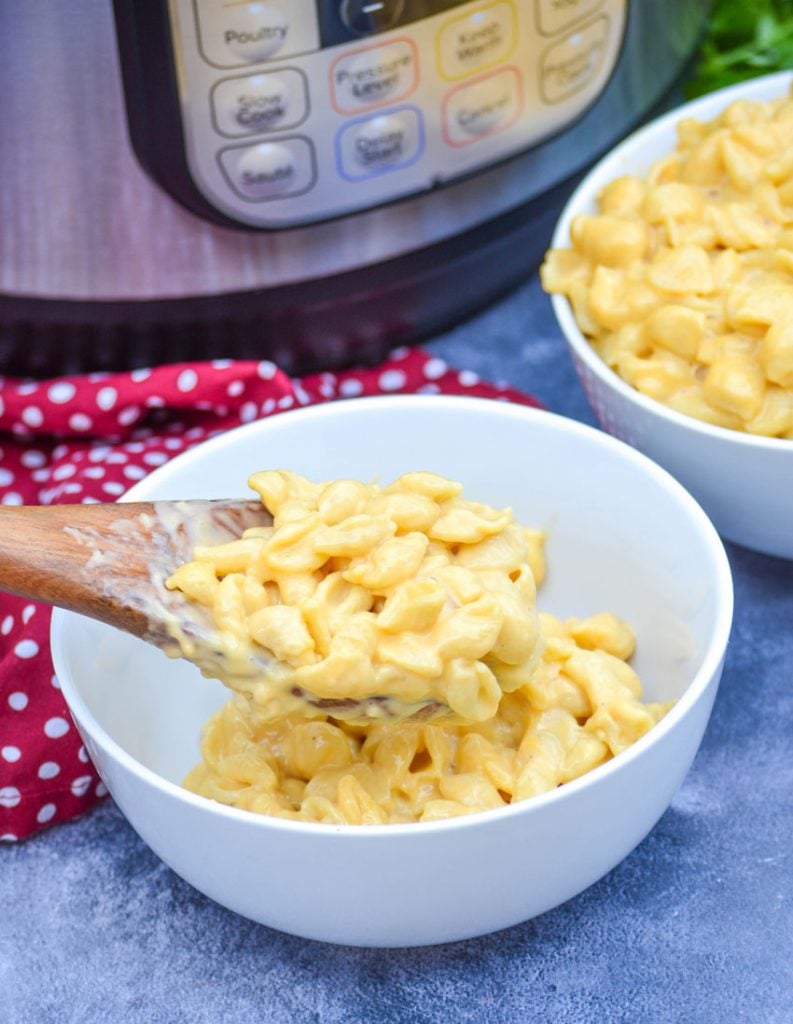 How To Make Instant Pot Shells & Cheese:
I wan't kidding when I said this recipe was easy to whip up. It's like the equivalent of a dump & bake recipe, except it's not going in the oven.
Dump a pound of pasta into the bowl of the Instant Pot. I wrote the recipe using small shells, medium would also work and be true to the nature of classic shells & cheese.
We've also made it with elbow noodles and mini farfalle and it tastes just as great. Sometimes you've gotta deviate and just use what you've got on hand.
Pour four cups of water into the pot, and use a spatula to gently press the pasta under the surface of the water. It's ok if some of the pieces are sticklers and insist on sticking out. The built up steam will cook them too.
At this point, you can season the mixture with salt & freshly ground back pepper to your liking. Or you can hold off and season it at the end. I do both, but use minimal salt the first go around. I'd rather have under-salted pasta I can re-season at the end than too much salt which I can't as easily fix.
Secure the lid on your pressure cooker, make sure the vent is in the sealed position, and set it to pressure cook on high for four minutes.
When the timer beeps to let you know it's done, perform a quick release and immediately turn the valve from sealed to venting. Be careful when you do this to avoid the rapidly escaping pressurized steam, as well as any super heated water that may sputter and spew a bit.
I tend to layer two paper towels together and lay them over the vent so that the steam can still easily escape, but it catches any starchy water that wants to come along for the ride.
When all the steam's release, carefully remove the lid. Add the cubed cheese and stir to mix it in. Once the cheese's mostly melted, begin adding the milk a bit at a time. Continue stirring and adding milk until the mixture's a delectable creamy, cheesy consistency. Recheck to see if it needs any additional seasoning.
Let the Instant Pot shells & cheese rest for five full minutes. This will allow the sauce to thicken. Scoop it into bowls, and serve it immediately.
Tips & Tricks for Making Instant Pot Shells & Cheese:
You don't have to use shell shaped pasta, but do use a smaller shaped pasta to ensure even cooking and that the sauce adheres to every bite.
I recommend 2 % milk for this recipe, but you can also use skim or whole. Skim will lead to a slightly thinner sauce, while whole milk will make a thicker one. I would not however sub half & half or cream. They're just too thick.
Want a richer pasta with more depth of flavor? You can skip the water and instead sub in broth. Chicken & vegetable broth both work really well here.
It's All About The Toppings- What To Sprinkle On Your Pasta To Take It To The Next Level:
Whether it's a bowl of ice cream or a creamy bowl of cheesy pasta- everything's better with toppings. Toppings are where it's at! We've got some great suggestions for you to consider serving with this dish:
Crisp, crumbled bacon- because what doesn't bacon make better?
Crushed flamin' hot cheetos- don't know it 'til you've tried it.
A sprinkle of smoked paprika- it can add just the right finishing touch
Freshly shredded cheese- buttery Monterrey jack, sharp cheddar, and even mozzarella all make delicious additions. Let the rest just long enough to melt slightly for a dreamy cheese pull with each bite.
Consider a drizzle of sauce- I swear by a couple drops of good hot sauce, ranch dressing, and my kids put ketchup on everything (mac and cheese included)
Turn This Instant Pot Shells & Cheese Into A Meal- Add Meats & Veggies!
Toppings are wonderful, but sometimes I need to amp this recipe up a notch. I need it to go from cozy comfort food that's great for lunch or a cheat dinner I can savor after the kids have gone to bed into a real one stop dinner I won't feel too guilty for dishing out.
That's where adding some more wholesome ingredients like hand picked meats and vegetables comes into play. I love that it's easily customizable.
I've never considered myself a short order cook, but this recipe is easily adaptable into a meal for anyone seated at my supper table.
Grilled chicken and steamed broccoli are one of my go-to mix-ins. Don't feel like grilling a couple strips of chicken? I love using leftover chicken from a rotisserie chicken I keep on hand each week from Costco. Still low key, minimal effort, but good protein.
Chopped ham is another great pairing with this. We've also added browned kielbasa, it was a hit! Got leftover meatloaf? My kids go nuts for that when I add some to their bowls.
Last but not least, if you totally want to dive into unapologetic comfort food territory you can add in chopped hot dogs OR pulled pork with a drizzle of barbecue sauce. Yum, y'all.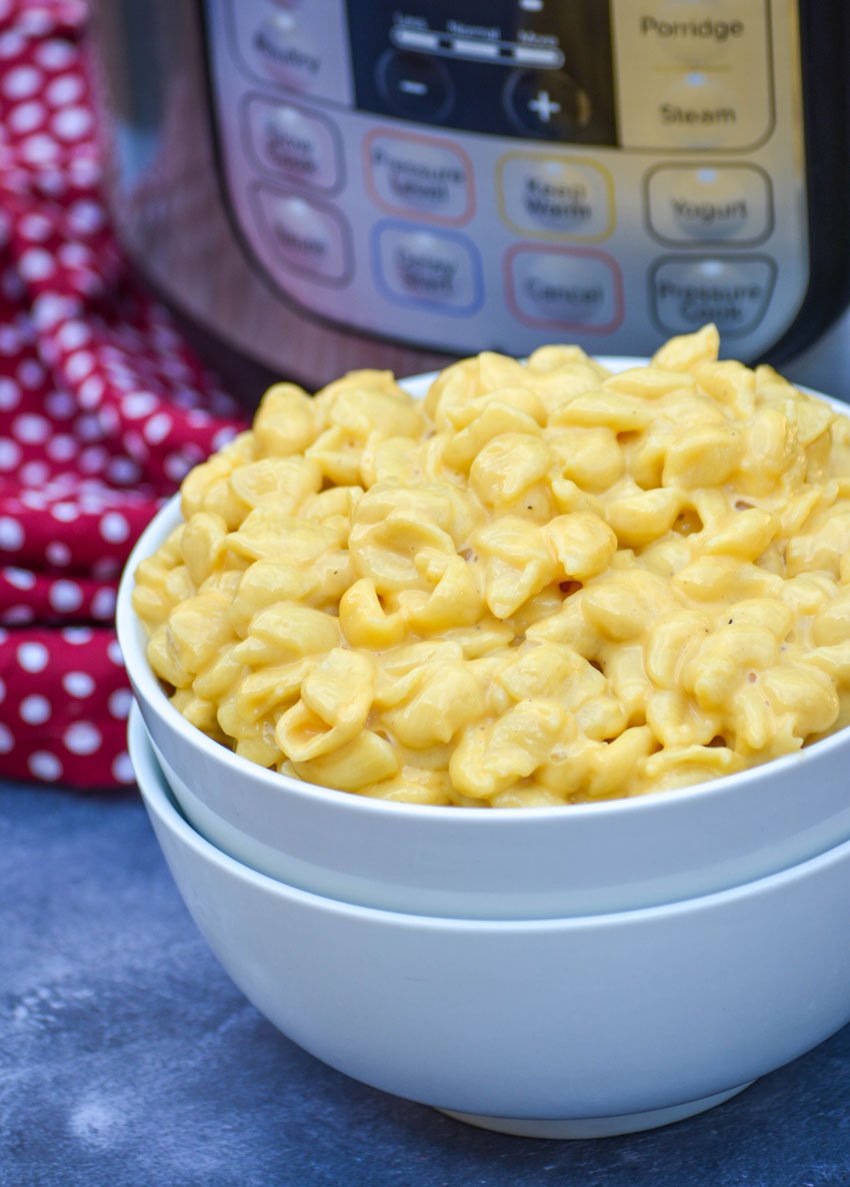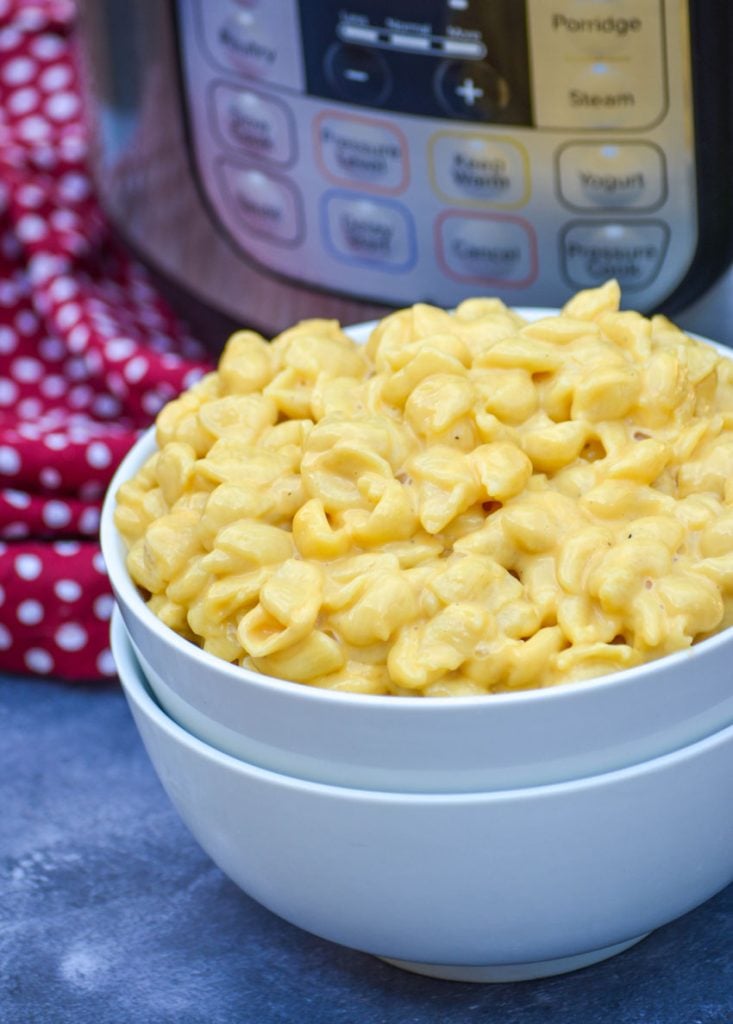 Can Velveeta Shells & Cheese Be Frozen?
Unfortunately, no they cannot be. Freezing Velveeta and this cheese sauce mixture does funky things to the texture, and I don't recommend it. However, the any leftovers can safely be store in an airtight tupper ware in the refrigerator for up to 5 days.
The sauce will completely thicken when cold. To reheat, add the pasta to a skillet and stir in some extra milk as it heats to recreate the creamy sauce.
Whether you prefer it plain, or if you dive off the deep end and dress this mac and cheese to the hilt with mix-ins & toppings- Instant Pot shells & pasta is a winner of a recipe you'll want to keep on hand!
If you've tried this INSTANT POT SHELLS & CHEESE, or any other recipe on my site, let me know in the comment section how it turned out, we love hearing from our readers! You can also follow along with me on PINTEREST, FACEBOOK, and INSTAGRAM to see more amazing recipes and whatever else we've got going on!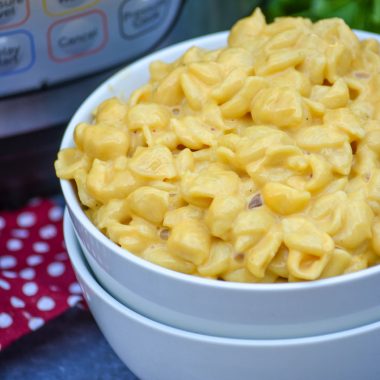 Instant Pot Shells & Cheese
That classic creamy cheesy pasta your whole family loves from a box is made even easier when cooked from scratch in the Instant Pot.
Print
Pin
Rate
Ingredients
1

lb small shell

pasta

salt & pepper

to taste

4

cups

water

16

oz

Velveeta cheese

original flavor, cubed

1/2

cup

milk
Instructions
Add the pasta & water to the bowl of your pressure cooker. Lightly salt & pepper the mixture, to taste.

Use a spoon to gently press the pasta under the surface of the water.

Secure the lid, and set the mixture to pressure cook at high pressure for 4 minutes. Make sure the vent is closed.

When done, open the vent valve do a quick release- be careful to avoid the super heated escaping steam.

Stir the cubed cheese into the pasta, adding a little bit of milk at a time- until all the cheese is melted and the mixture's deliciously creamy- but not soupy.

Let the shells and cheese rest for 5-10 minutes while the sauce thickens. Scoop into bowls, serve and enjoy!
Nutrition
Calories:
276
kcal
|
Carbohydrates:
40
g
|
Protein:
15
g
|
Fat:
6
g
|
Saturated Fat:
4
g
|
Cholesterol:
20
mg
|
Sodium:
732
mg
|
Potassium:
274
mg
|
Fiber:
1
g
|
Sugar:
6
g
|
Vitamin A:
465
IU
|
Calcium:
287
mg
|
Iron:
1
mg