While most donuts are sweet, these baked donuts hide the yummiest savory surprise inside. Crisp on the outside, with a creamy, cheesy center– Macaroni And Cheese Donuts are a bucket list experience.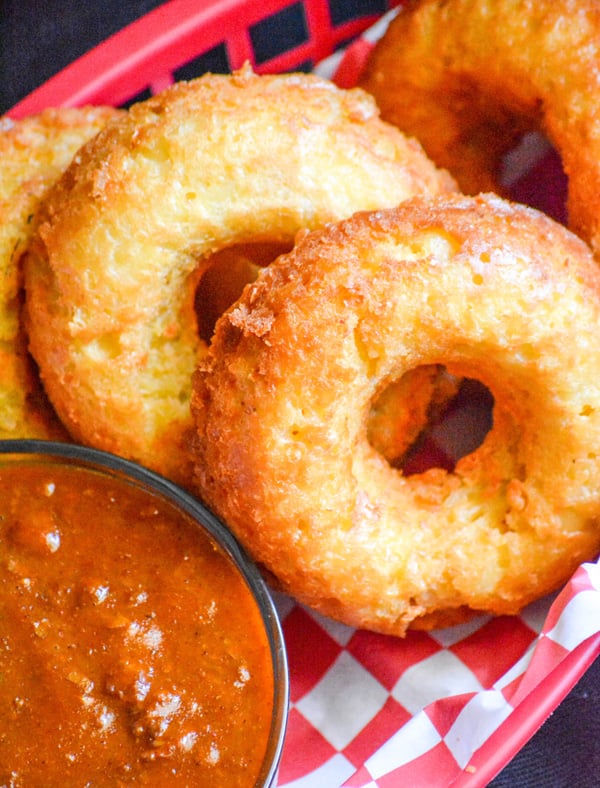 Once you start down the road of home made mac and cheese, there's no going back.
It's creamy, it's cheesy- it's pretty much unforgettable. And, in some circles, unforgivable if you don't go for it.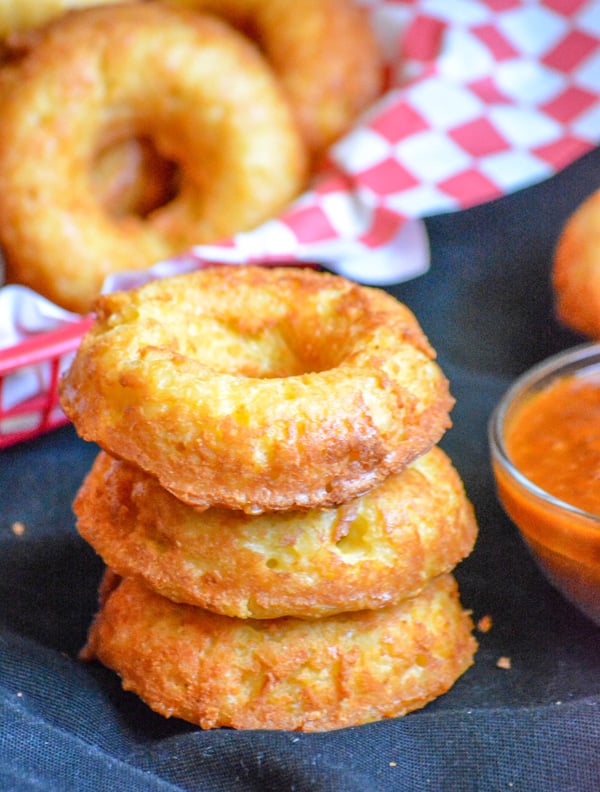 Seriously. I promise you a creamy, home-made mac and cheese is so much closer than you think.
This version is so great, it's good all by itself. Scratch that, it's ah-mazing allllllll by its durn self. Like you will struggle not to eat it out of the pot by the spoonful.
Doesn't matter that you're shaking your head and saying 'Nope, not me,' right now. That iron will and portion control will crumble in the face of a bowl of this pasta hugged snug in awesome-sauce.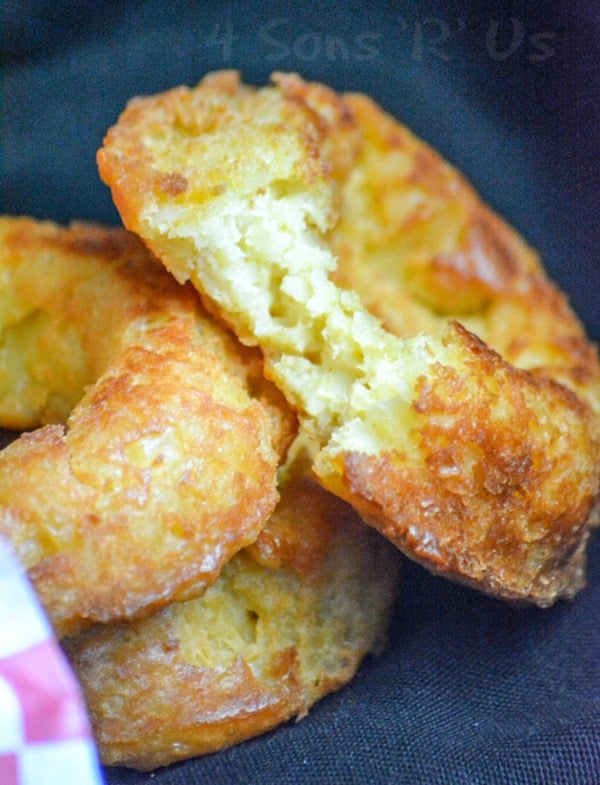 But, BUT, but– it gets even better my friends.
Have you heard of fried mac and cheese? It's a real thing. Google it. It too is amazing– all by it's durn self.
I guess I should have prefaced this post with a disclaimer to the effect of, 'When is Mac And Cheese NOT amazing??'
The answer is never, mac and cheese is always amazing.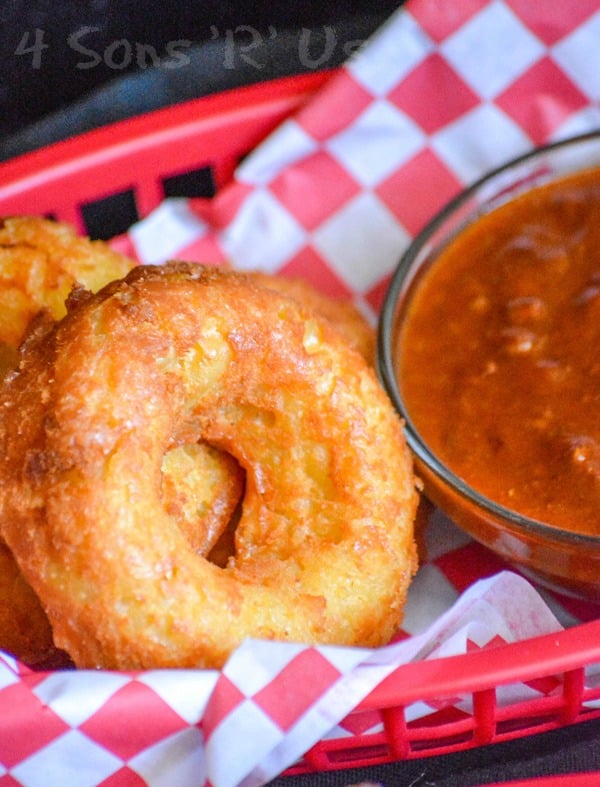 In any form.
Am I right, or am I right?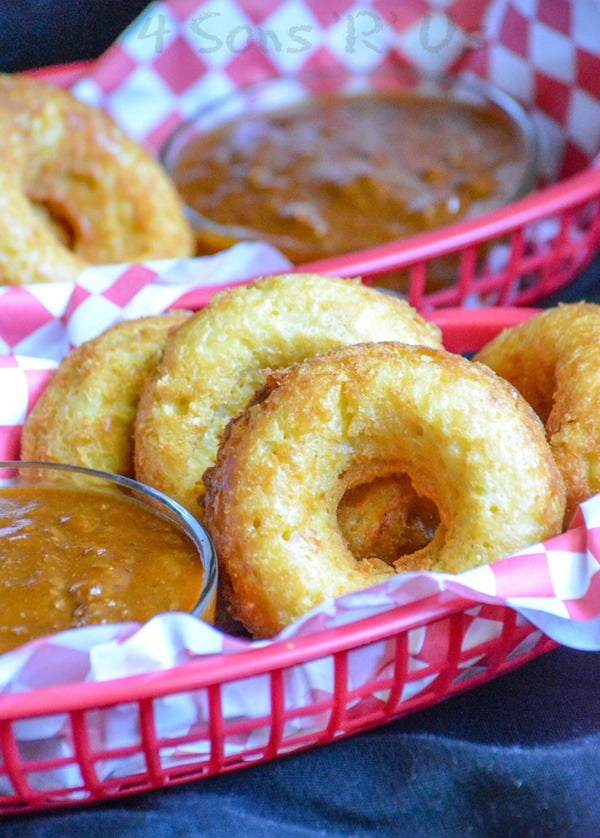 Y'all know me though, I couldn't leave well enough alone. I couldn't let it be.
I had to push the cheesy pasta boundaries and see what more there was to be eaten out there.
Boy did I find it though, in the form of Macaroni And Cheese Donuts.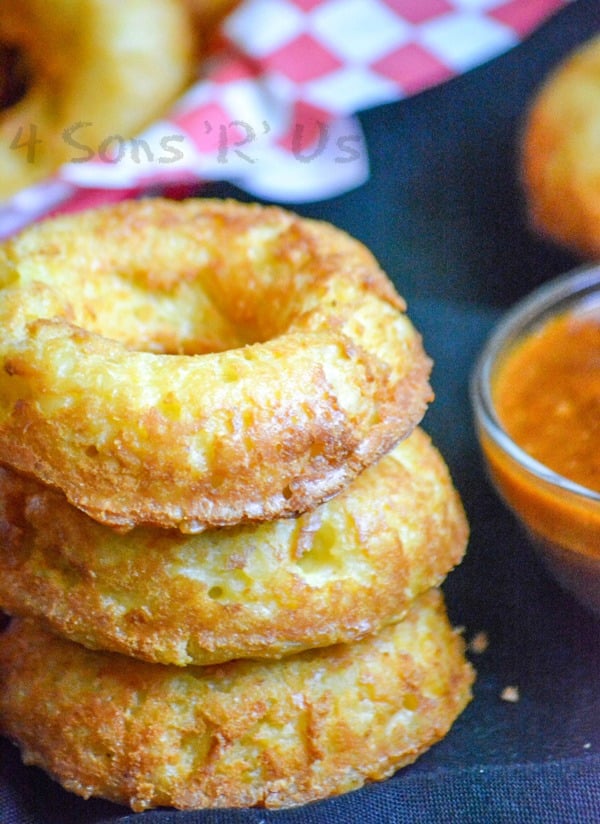 The best, most creamy macaroni and cheese features a special blend of cheeses, including smoked gouda and sharp cheddar with a dash of secret ingredient- dried mustard.
Chilled, then just a tad blended, macaroni and cheese is poured into a donut tin and baked up into puffy donuts with the world's best surprise inside.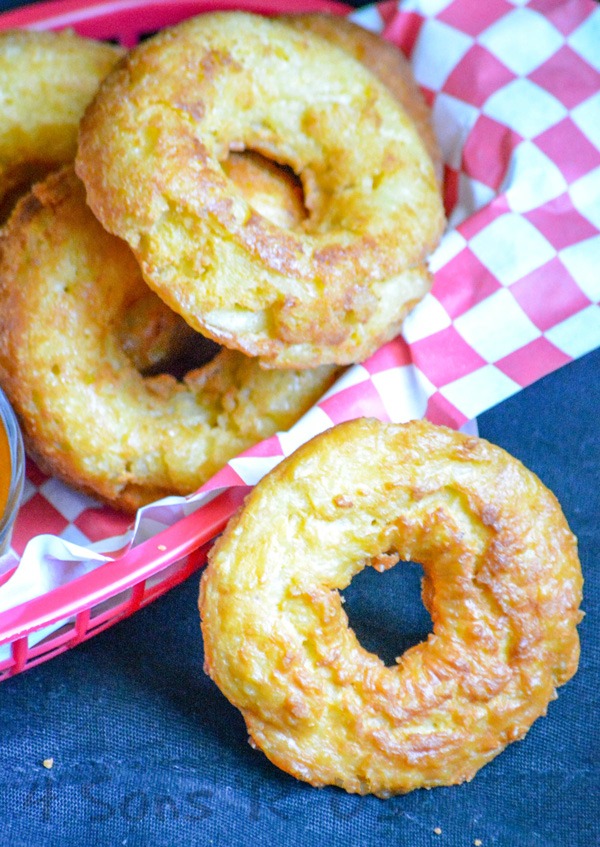 Served with a side of warm chili for dipping, these Macaroni And Cheese Donuts are a savory, dip-able finger food that begs to be eaten and enjoyed.
If you've tried these MACARONI AND CHEESE DONUTS, or any other recipe on my site, let me know in the comment section how it turned out, we love hearing from our readers! You can also follow along with me on PINTEREST, FACEBOOK, and INSTAGRAM to see more amazing recipes and whatever else we've got going on!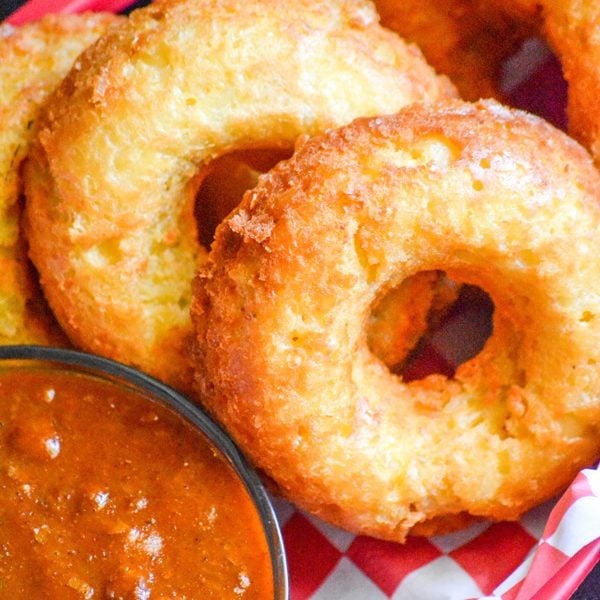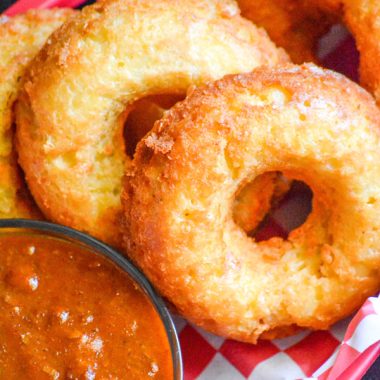 Macaroni And Cheese Donuts
A savory donut that has a yummy surprise inside-- one of your favorite comfort foods, creamy mac and cheese.
Print
Pin
Rate
Ingredients
For The Mac And Cheese
4

cups

elbow noodles, cooked according to package directions, rinsed immediately in cold water to stop cooking

1

egg,

beaten

4

tbsp

butter

1/4

cup

flour

2 1/2

cups

half and half

2

tsp

dried mustard

1/3

lb

smoked gouda, shredded

3/4

lb

sharp cheddar, shredded

salt & pepper, to taste
For The Donuts
3

cups

cooked macaroni and cheese

3

large

eggs

canola oil, for frying
Instructions
To Make The Macaroni And Cheese
In a large skillet, over medium heat, melt the butter. Whisk in the flour and dry mustard, and whisk constantly while the flour bubbles for a minute-- to let the flour taste cook out.

Slowly stir in the half and half, about a quarter cup at a time, letting the mixture come together and thicken completely in between each addition. Let the cream sauce cook, stirring occasionally, until very thick. Reduce the heat to low.

Stir in the egg until the sauce is smooth and it's completely incorporated. Stir in the cheese, until completely melted and incorporated into the sauce. Season with salt & pepper, to taste.

Pour the pasta into the sauce and carefully toss until evenly combined.
To Make The Macaroni And Cheese Donuts
Put the cooked mac and cheese in a sealed tupperware dish and refrigerate until completely chilled, about 2-4 hours. Seriously, you want it COLD.

Fit your food processor with the cutting blade, add the 3 cups of mac to the bowl. Crack and add the eggs, one at a time. Blend the macaroni, at medium speed, for about two minutes.

Prepare a donut pan by spraying each cavity lightly with non-stick cooking spray. Fill each cavity with mac and cheese, keeping in mind to keep the hole clear. Use the back of a spoon to slightly pat it down and away from the center- until the pan is full.

Bake at 350 degrees for 20 minutes, just until the donuts are crisp and firm enough to hold their shape.

Remove the donuts from the oven, let them cool for 2-3 minutes, before removing them from the pan and let them finish completely cooling on a wire rack.

In a dutch oven, preheat the oven to 350 degrees. Fry the donuts for 7-8 minutes, flipping in between, until they're golden brown and crisp on the outside.

Use a pair of tongs to remove the cooked donuts from the oil to a plate lined with paper towels to soak up any excess grease.

Serve the donuts warm, with a side of warm chili for dipping. Ketchup and cheese sauce also pair great for dipping sauces.