Homemade pretzel rolls take chewy soft pretzels and turn them into the most delicious rolls. These rolls are scrumptious on their own and make amazing sandwich rolls.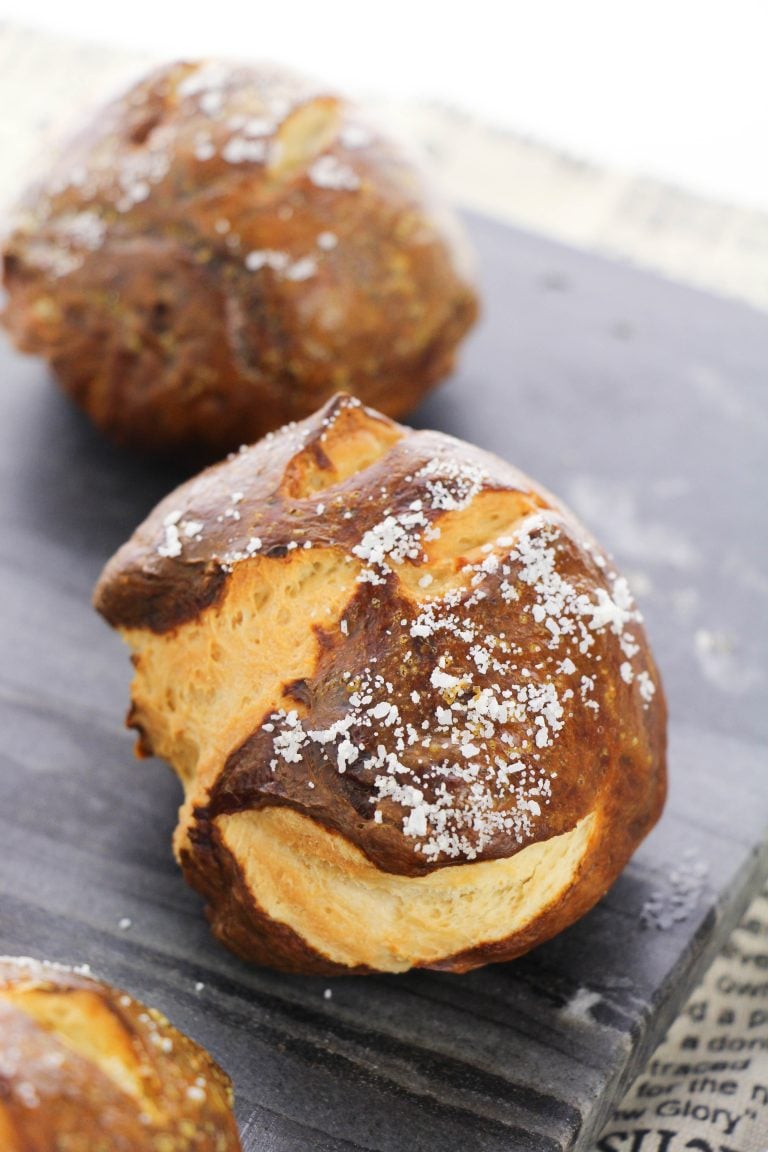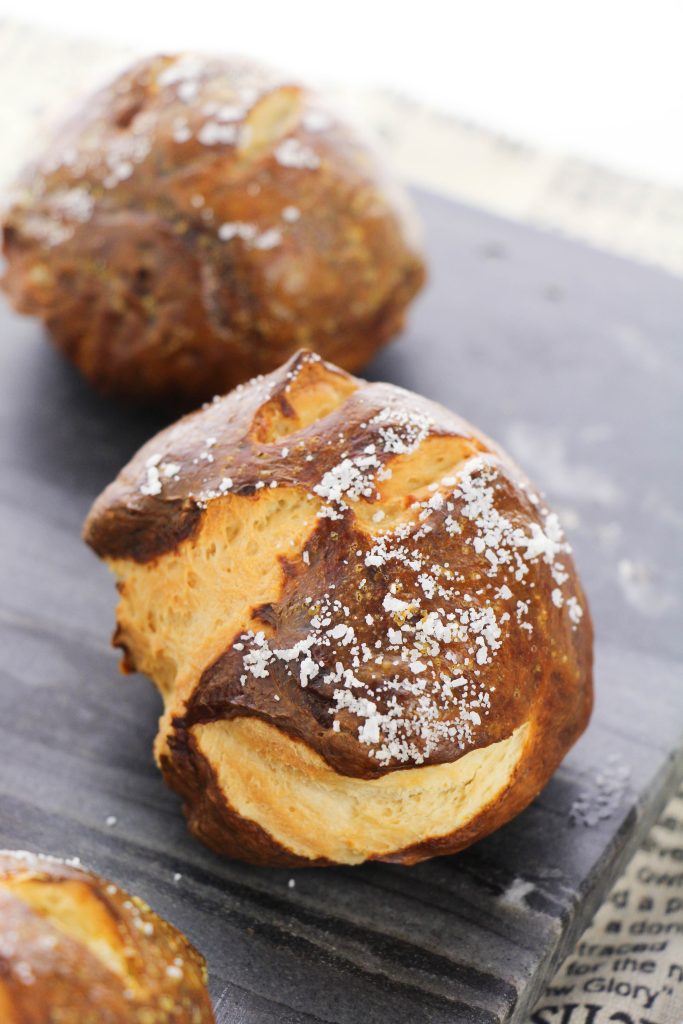 Soft pretzels are one of my family's favorite snacks. And soft pretzel rolls? A few years ago Wendy's had their pretzel roll burgers and wow! They were so yummy!
Not because of the burgers themselves but because of the rolls. Pretzel rolls turn ordinary rolls into extraordinary vehicles for sandwiches like those burgers.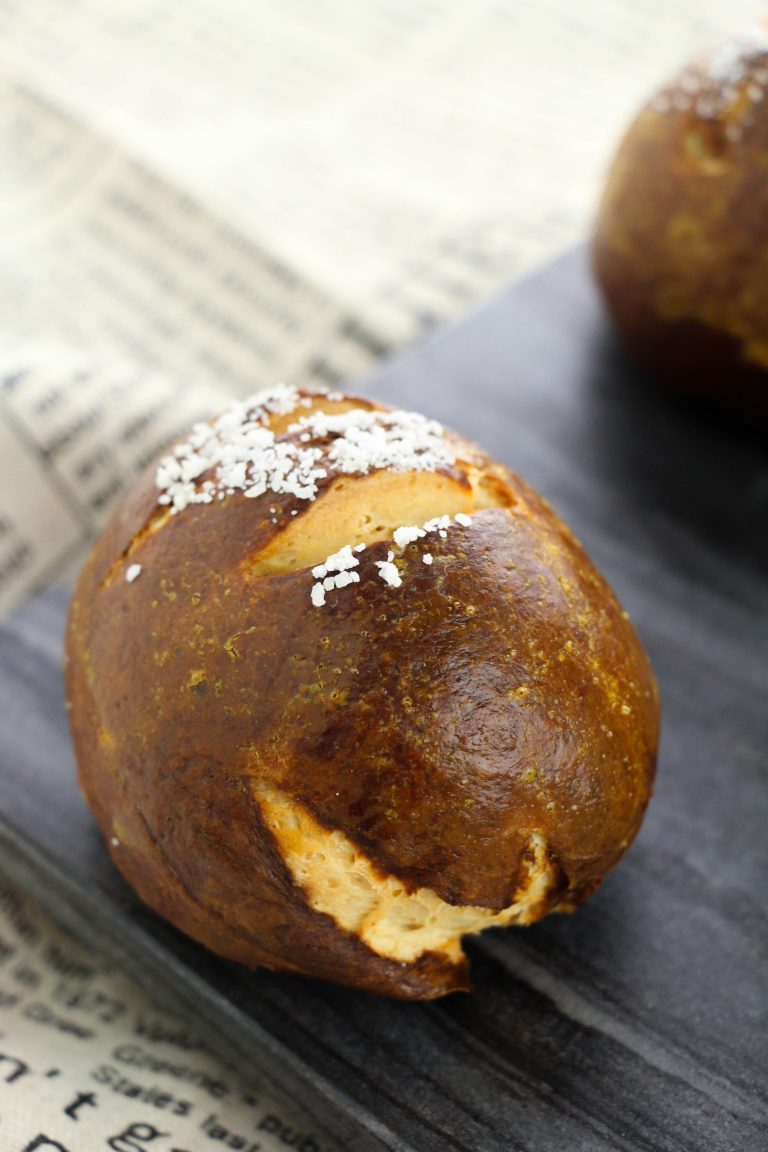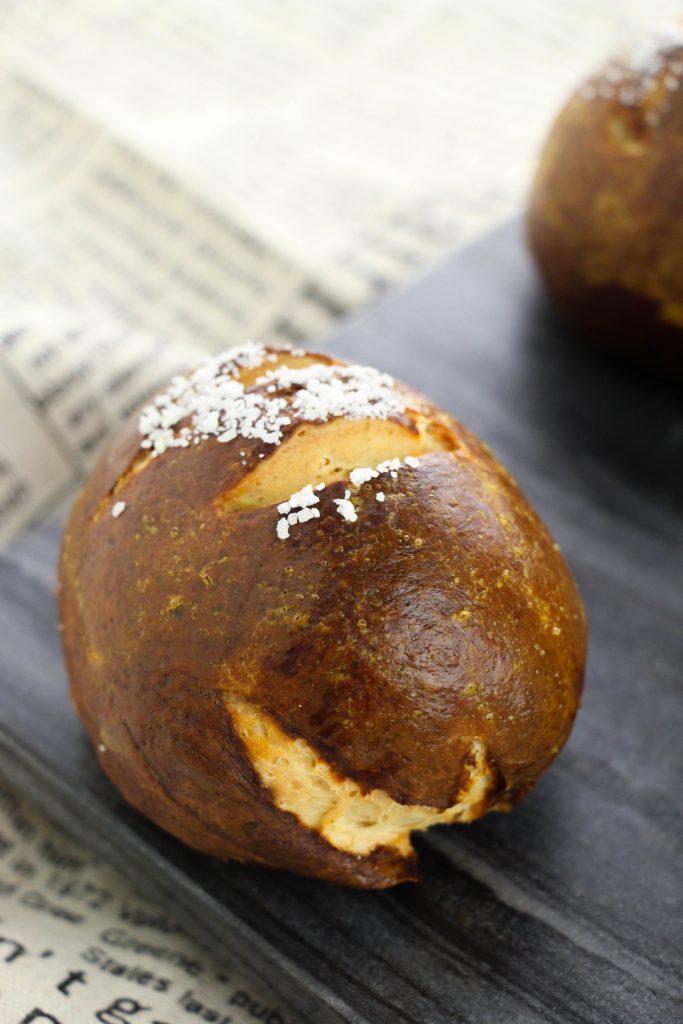 What ingredients do I need to make homemade pretzel rolls?
Believe it or not, the ingredients for this homemade pretzel roll recipe are pretty basic and ordinary. In fact, you likely have most of the ingredients in your kitchen right now.
To make these pretzel rolls you need milk, butter, yeast, brown sugar, flour, water, baking soda, an egg, and salt. Nothing hard to find at all.
The only ingredient you need to be a bit fussy with is the yeast. There are several varieties of yeast available.
You want to use instant yeast. This type of yeast is very common and readily available in most stores.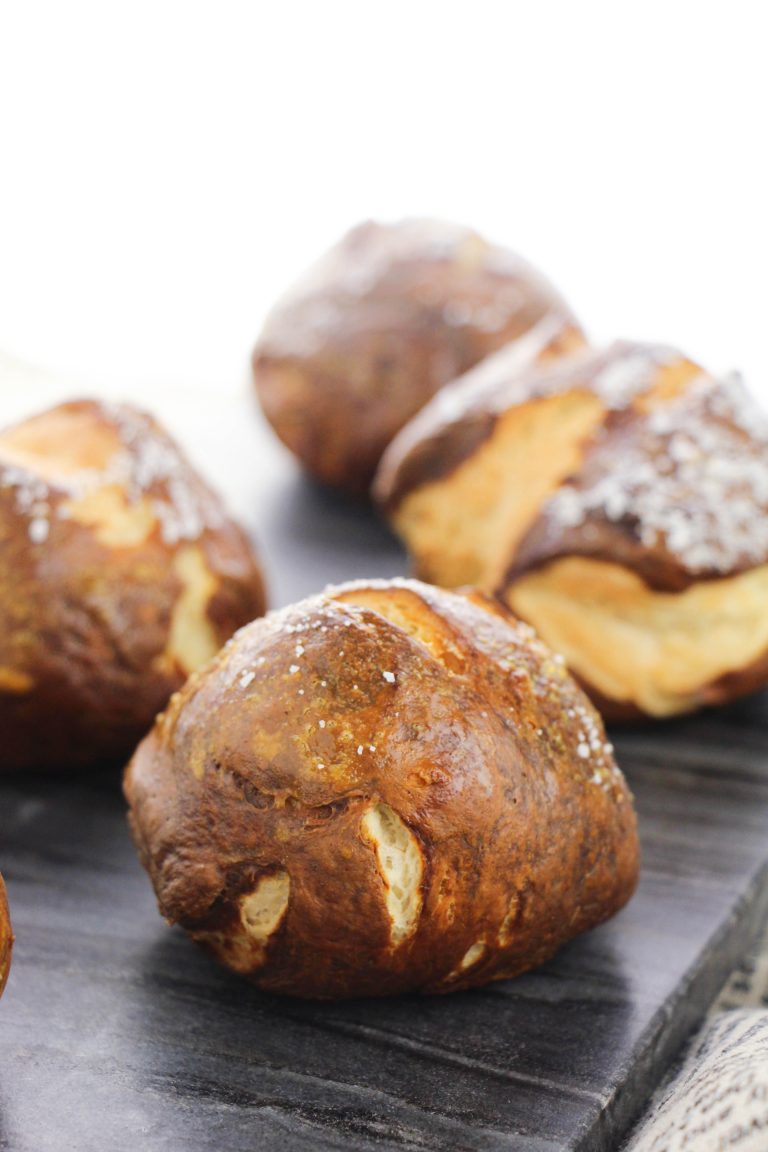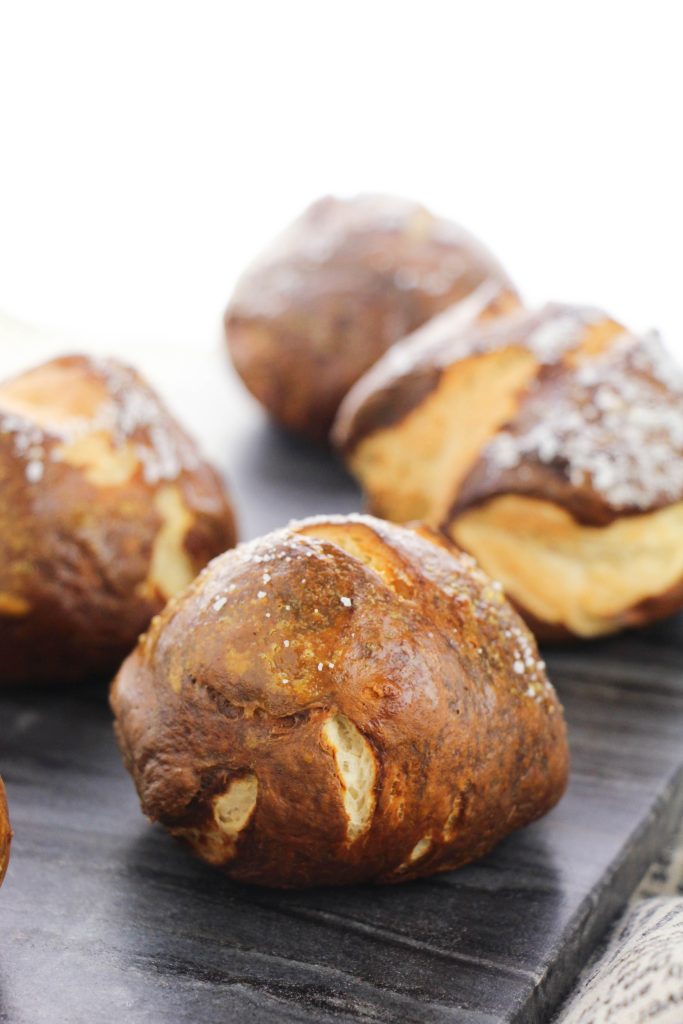 Making the Pretzel Roll Dough
Pretzel roll dough isn't hard to make. In fact, it's like making many other dough types that need yeast for them to rise. Let's break into parts:
Dissolving and proofing the yeast
Prepping the dough
Baking soda bath
Baking the parboiled rolls
We can break down each part to make it as easy as possible.


Dissolving and Proofing the Yeast
Start by heating your milk and half of the butter in a medium saucepan over medium heat. You want to heat it until 125 degrees Farenheit.
The liquid will be hot but not boiling. Don't let the mixture come to a boil or the temperature raise over 125. If it gets too hot, the heat will damage the yeast when you add it to the liquid.
When the mixture reaches this temperature, take the pot off the heat and stir in your brown sugar and yeast.
You can let the mixture sit and proof for up to 5 minutes.
Proofing yeast is when you let the yeast rest in the warm liquid before making the dough. This step both lets the yeast dissolve into the liquid and makes sure the yeast is still living.
If the yeast is still active, then when you proof the yeast, you'll get a layer of bubbles on the top of the milk. If no bubbles form, you need to discard the mixture and start again with new yeast.
Prep the Pretzel Dough
Once you've proofed the yeast in the milk mixture, pour the mixture into a large bowl and stir in your flour to form your dough. Knead the dough for 5 minutes.
Once you've worked the dough, return the dough to the bowl and cover it with plastic wrap.
Set the covered bowl in a warm spot in your kitchen and let it rise for an hour or until it's doubled in size. This may vary slightly based on how warm your kitchen is.
When the dough has doubled in size, punch it down and divide it into 8 even balls and place them on a greased cookie sheet.


The Baking Soda Bath
Now that you've got your rolls on your cookie sheet, set them aside and bring 8 cups of water to a boil with a half a cup of baking soda.
When the water comes to a boil, drop the dough balls in, 2 at a time. Let them boil for 2 minutes, turning them once midway through.
Then use a slotted spoon and remove the rolls and lay them back on the cookie sheet. Repeat this process with all the rolls. W
hen all the rolls have been boiled, make 2 to 3 small cuts in the top of the rolls to release the steam from the rolls.
You don't need to make deep cuts, just score them slightly. Now you can brush the egg on to the rolls.
Bake the Homemade Pretzel Rolls
Once you've brushed the egg wash onto the pretzel rolls, you're ready to put the rolls in the oven.
You're going to bake them at 400 for 15 minutes to help the outside get nice and crispy.
Then turn the heat down to 350 and bake an additional 10-12 minutes. This will keep the inside perfectly soft and chewy.
Take them out of the oven and let them cool down. Then brush water on them and sprinkle with salt before finishing them.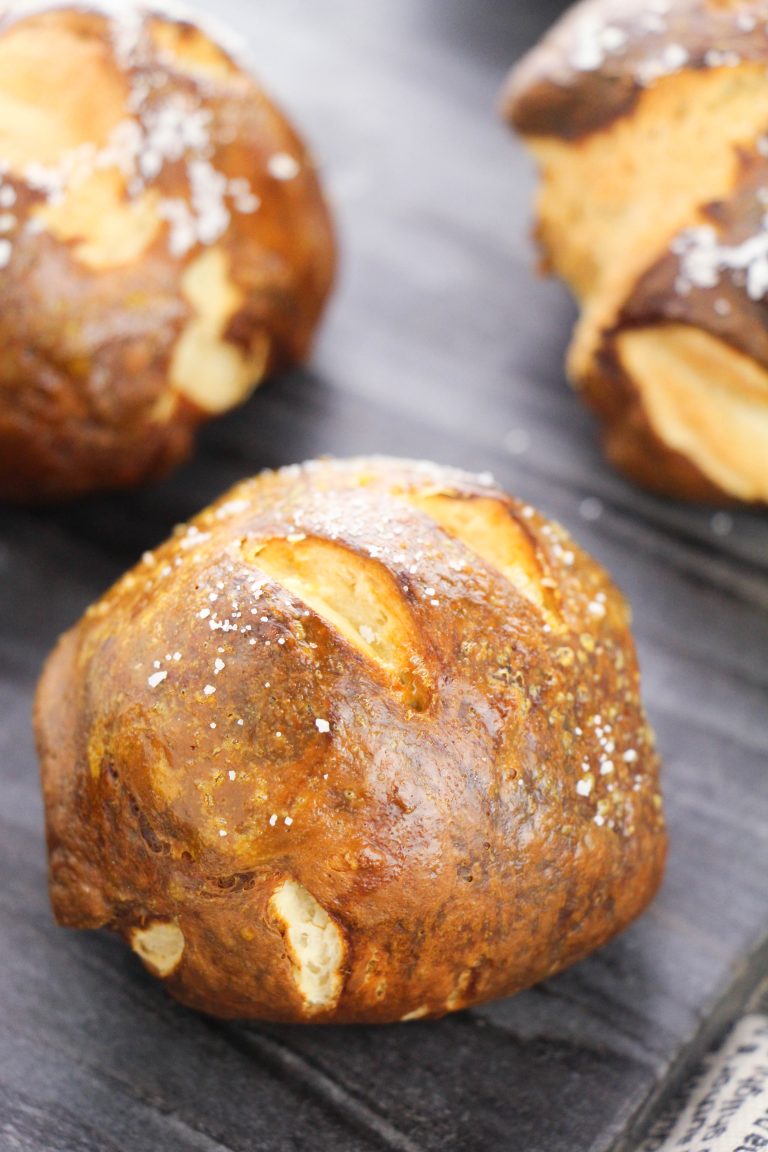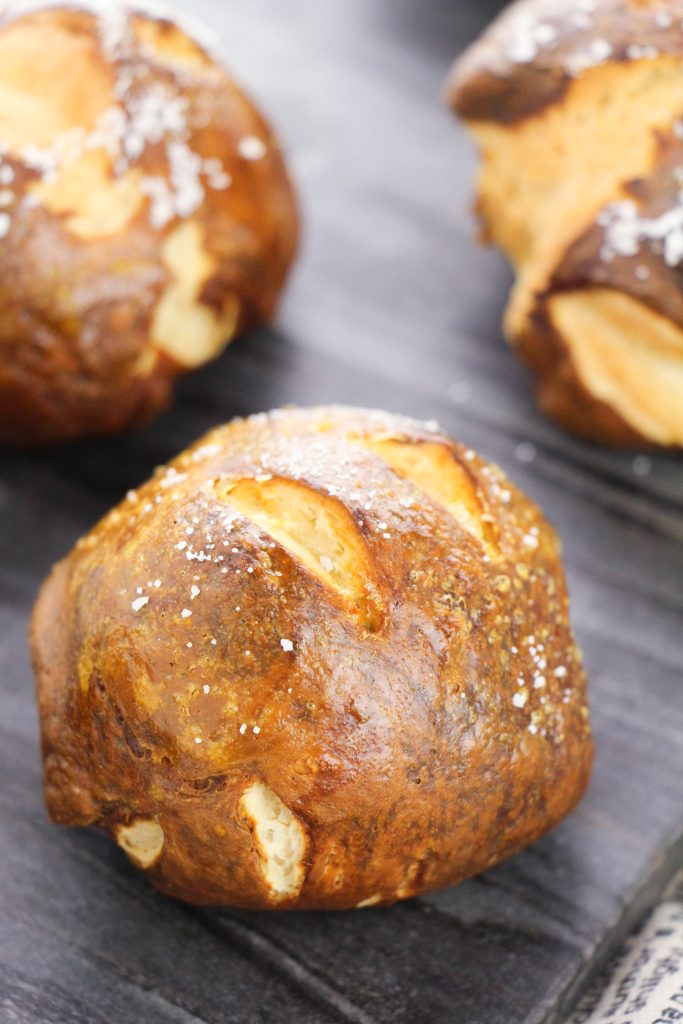 What to Serve with Pretzel Rolls
I love using pretzel rolls as sandwich rolls. I like to use them in place of rolls or bread for these sandwiches:
They would also be delicious filled with pulled pork or shredded bbq chicken. And I absolutely love the idea of using pretzel rolls for these bratwurst sandwiches.
However you serve these homemade pretzel rolls, you'll want to make them time and time again to kick up your sandwiches.
If you've tried this HOMEMADE PRETZEL ROLLS, or any other recipe on my site, let me know in the comment section how it turned out, we love hearing from our readers! You can also follow along with me on PINTEREST, FACEBOOK, and INSTAGRAM to see more amazing recipes and whatever else we've got going on!
Ingredients
1

cup

milk

4

Tablespoons

butter

divided

2 1/4

teaspoons

yeast

2

Tablespoons

brown sugar

3

cups

flour

8

cups

plus 1 teaspoon water

1/2

cup

baking soda

1

egg

Sea salt
Instructions
In a medium saucepan over medium heat, combine the milk and 2 Tablespoons of butter.

Heat to 125F (hot but not boiling) and remove from heat.

Stir the yeast and brown sugar into the milk mixture and let proof for up to 5 minutes.

Pour the milk mixture into a large bowl and stir in flour (with a spoon or with your hands).

Knead for 5 minutes, and then cover with plastic wrap and place in a warm spot of your kitchen.

After an hour, the dough should be doubled. Punch down and divide into 8 even balls.

Preheat oven to 400F

Grease a cookie sheet and set aside.

Place 8 cups of water and the baking soda in a large stockpot and bring to a boil over high heat.

Drop the rolls into the boiling water, two at a time, for two minutes, turning once.

Use a slotted spoon to remove the rolls from the boiling water and place on greased cookie sheet.

After boiling all of the rolls, make two or three small cuts to the top of the roll to allow steam to come out.

Combine the egg and 1 teaspoon water and brush over the rolls.

Bake at 400F for 15 minutes, then reduce heat to 350F for remaining 10-12 minutes.

Remove from oven.

When the rolls are cool enough to handle, brush a bit of water on the top and then sprinkle on sea salt.