Need to get supper on the table in under 30 minutes? Forgot to thaw out the meat for the evening meal? Don't worry, with just a couple pantry staples you can have this Instant Pot cheesy ground beef & rice recipe ready in a jiff. If the smell doesn't have them running to the supper table, the sight sure will!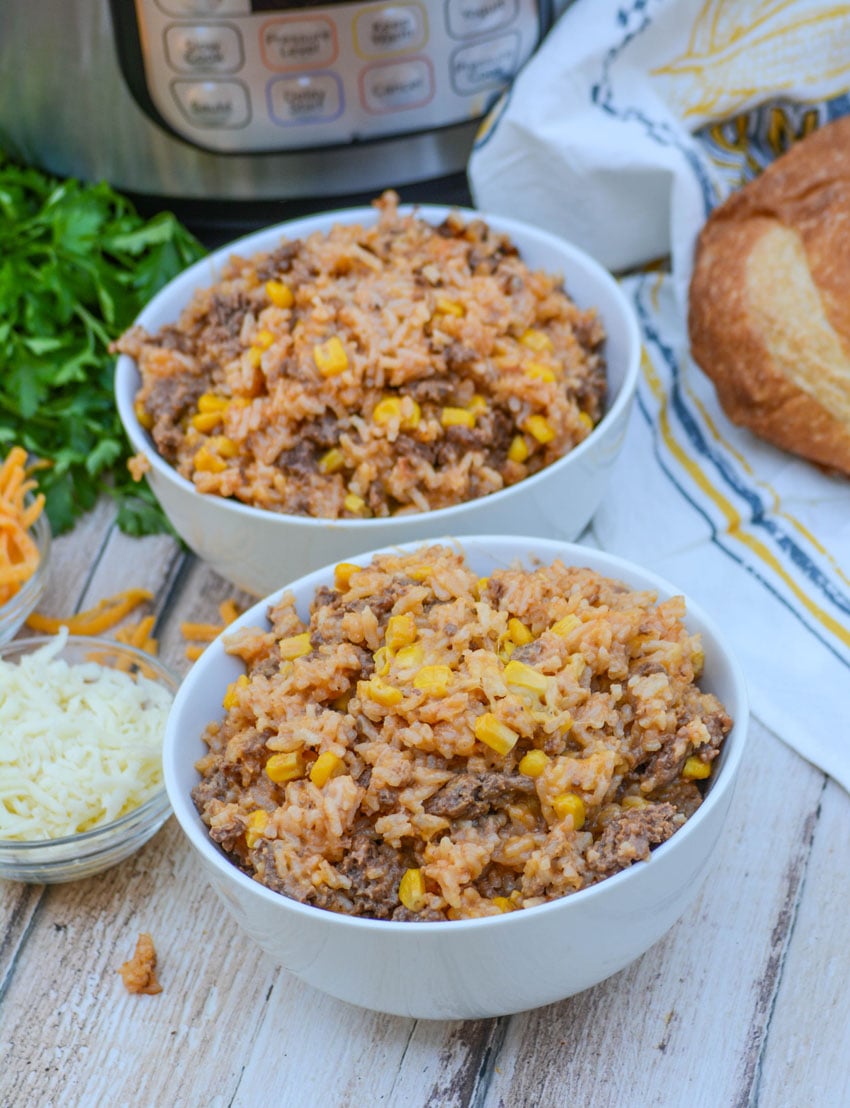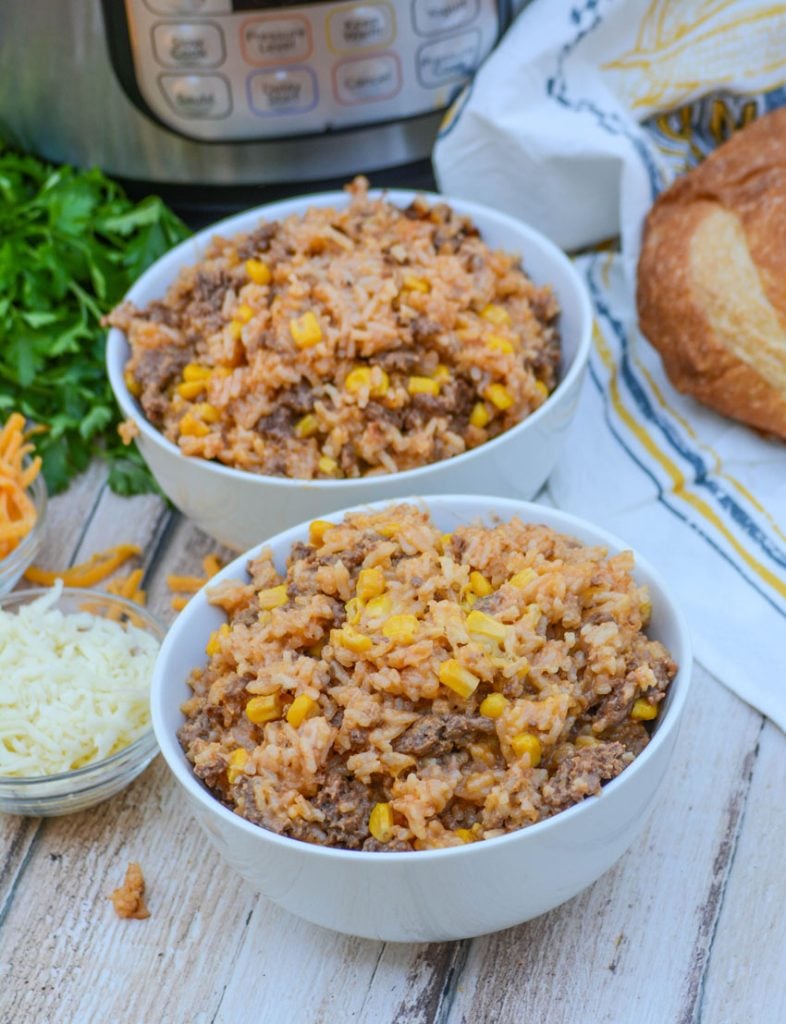 While Summer's fully underway here in central VA, the fun doesn't mean my kitchen ever really closes. I mean meals still need to happen. My kids never stop eating after all.
This Summer in particular, I've really put my Instant Pot to use. It may take up a bit of my precious counter space, but it's already proved worth its weight in gold.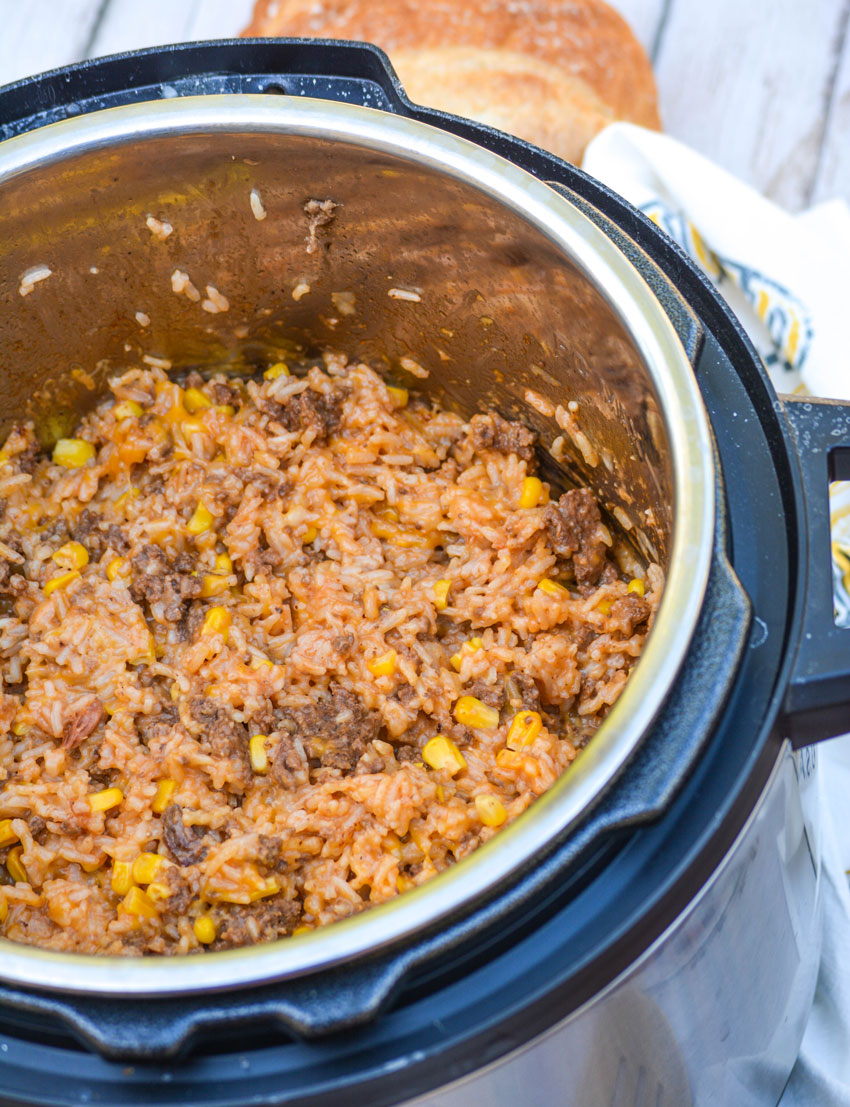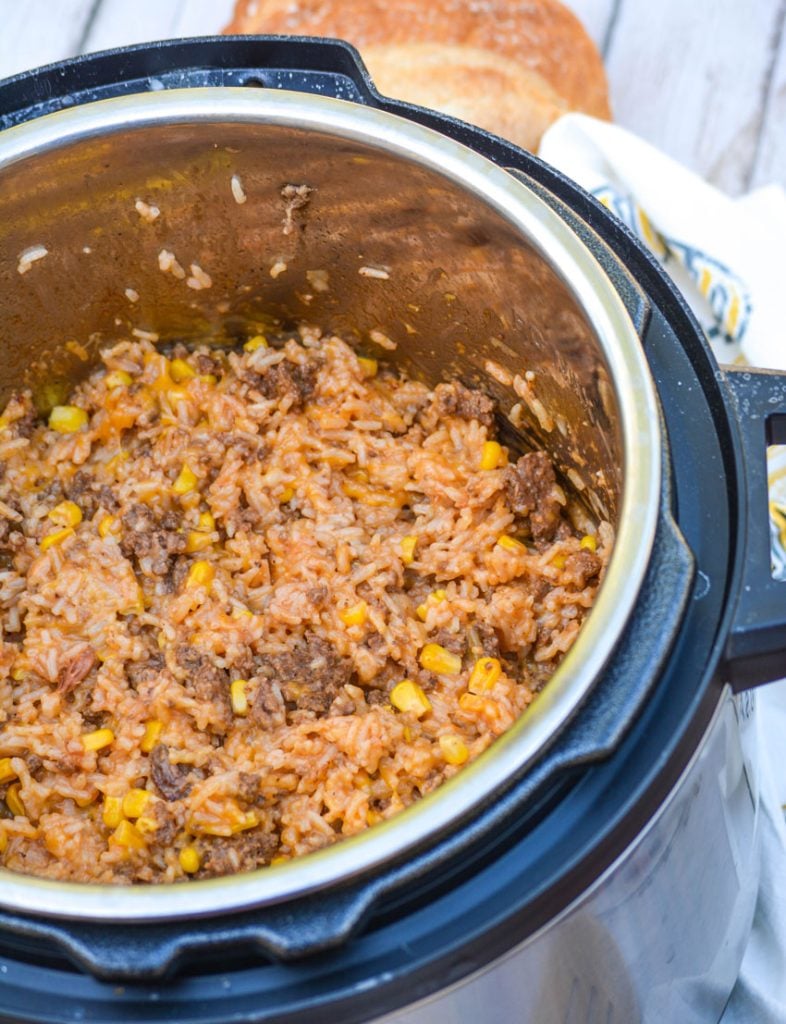 I'm kind of, ok I'll be honest- pretty embarrassed to admit that the Hubs bought me my 8 quart instant pot Christmas of 2017. I had to have it. I'd read so many wonderful things, pinned so many yummy recipes. It was the only thing I asked him for.
And as the Hubs does, he had my wonderful MIL ride around with him and track one down. They were a hot commodity that Christmas, especially for the larger size which our larger family needed. Anyway, after a roughly 8 hours trip with stops at every store in our area- he found one. The one.
It was there, bright & shiny and ready for me to open on Christmas morning. I loved it, and him for the effort. Then it sat. And sat. And sat some more on top of a cupboard din my kitchen. I'd stare at it, it'd stare at me, and so we continued in a really awkward standoff because I was weirdly afraid of testing out this new-fangled machines.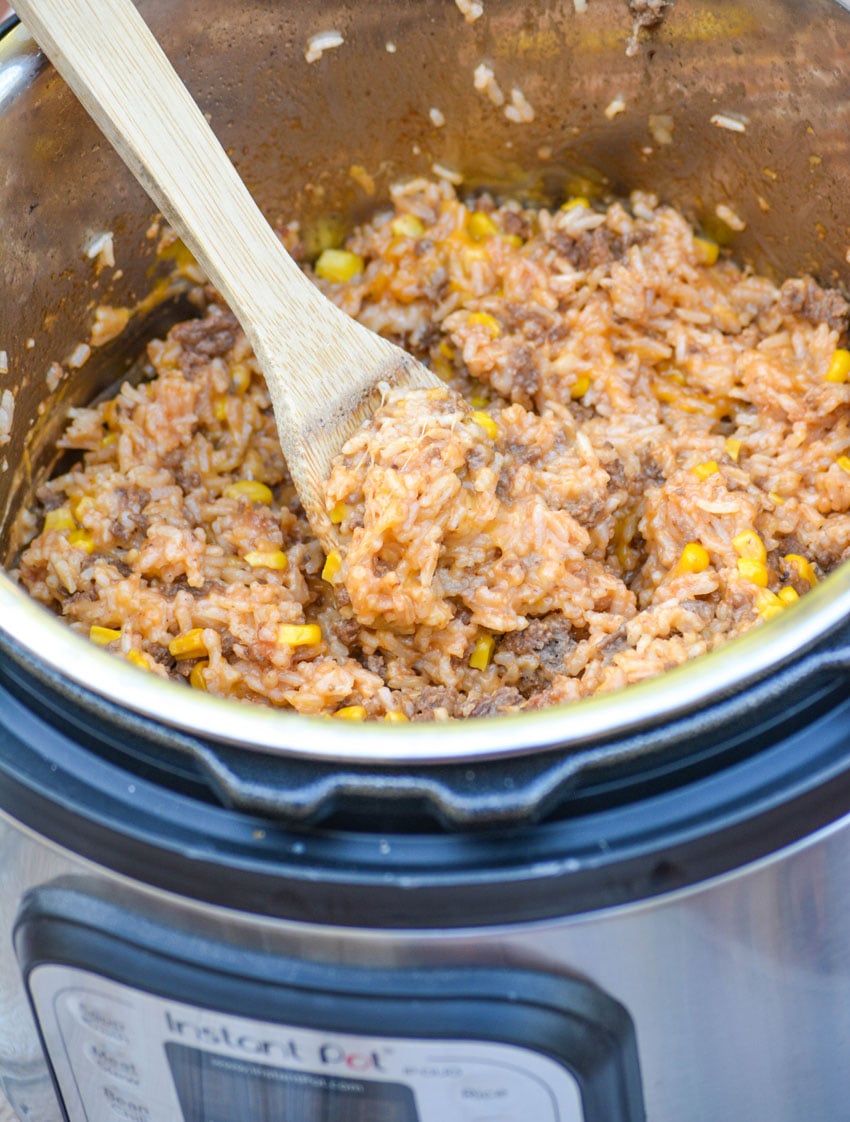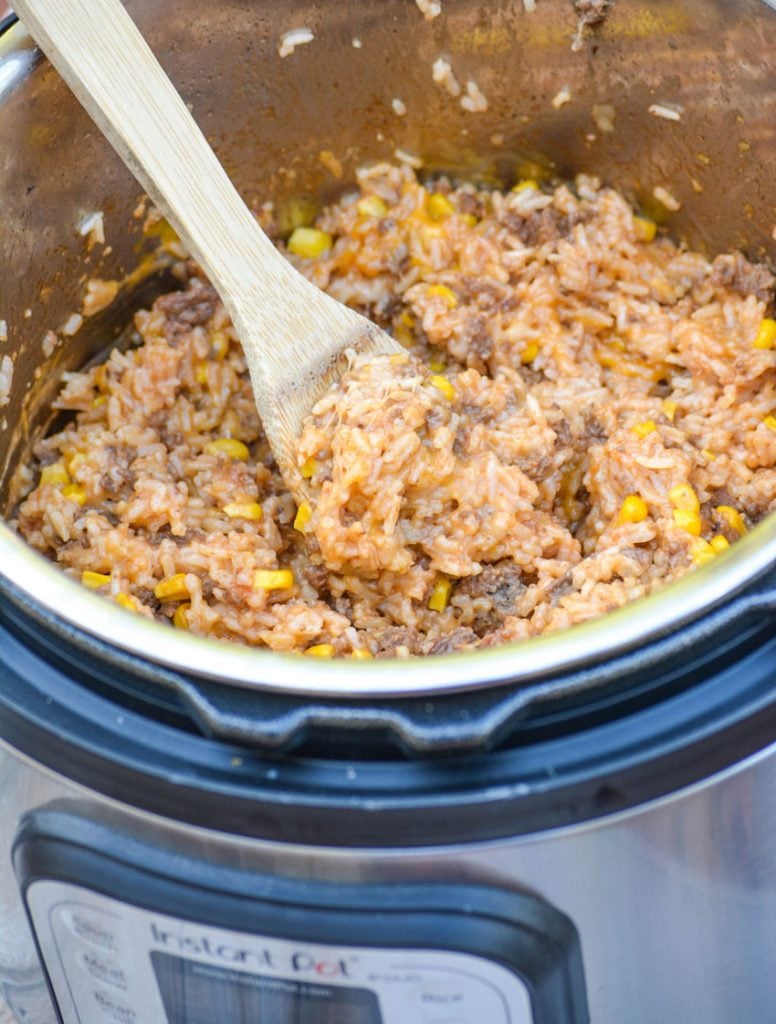 It's beyond ridiculous to me now, and I could kick myself for waiting so long giving this thing a whirl. It finally took the Hubs threatening to throw it out if I didn't at least try it for me to work up the nerve.
I kid you not, I've used my Instant Pot at least (at least!) once a week since then. Seriously, I missed out on so much saved time. So many no fuss suppers. So many simpler meals because I was scared of an unknown kitchen object. I astound even myself sometimes.
Good thing my man gave me the kick in the pants I needed to finally jump on board this magical meal time train! So now that I'm elbow deep into this thing, I can't help but want to share the recipes with you. This Instant Pot Cheesy Ground Beef & Rice especially, it's a real winner.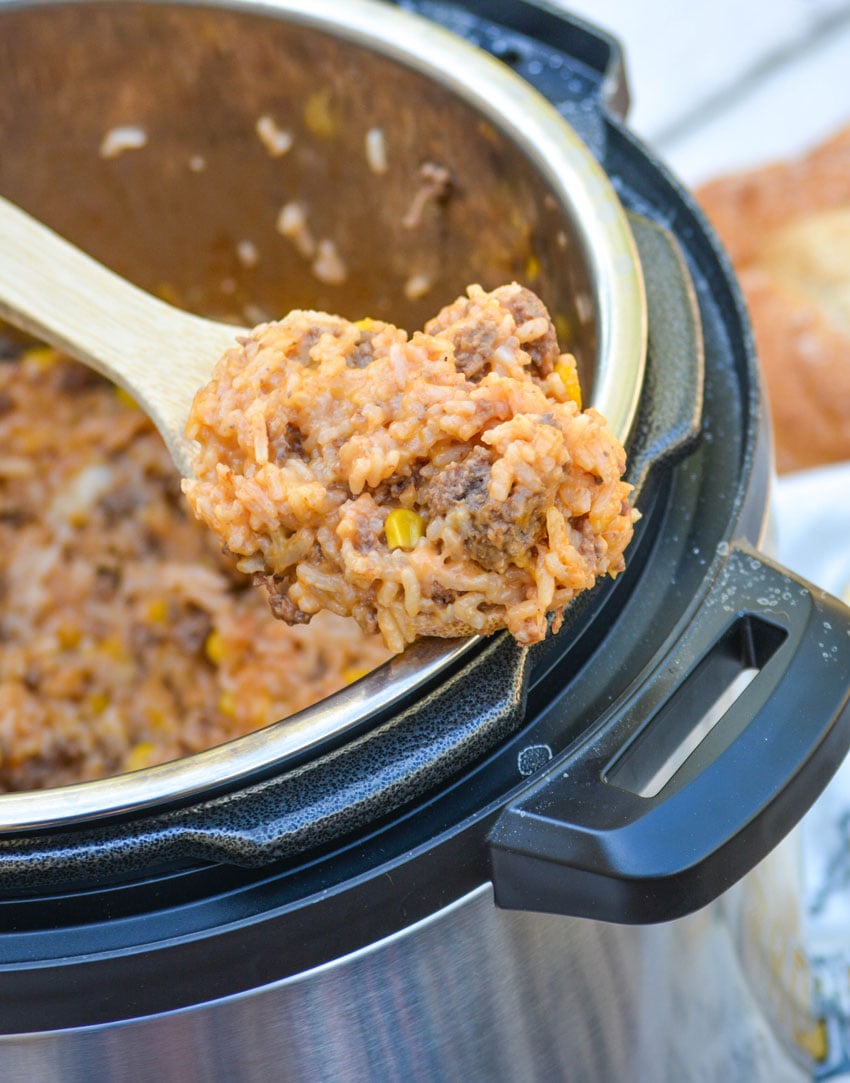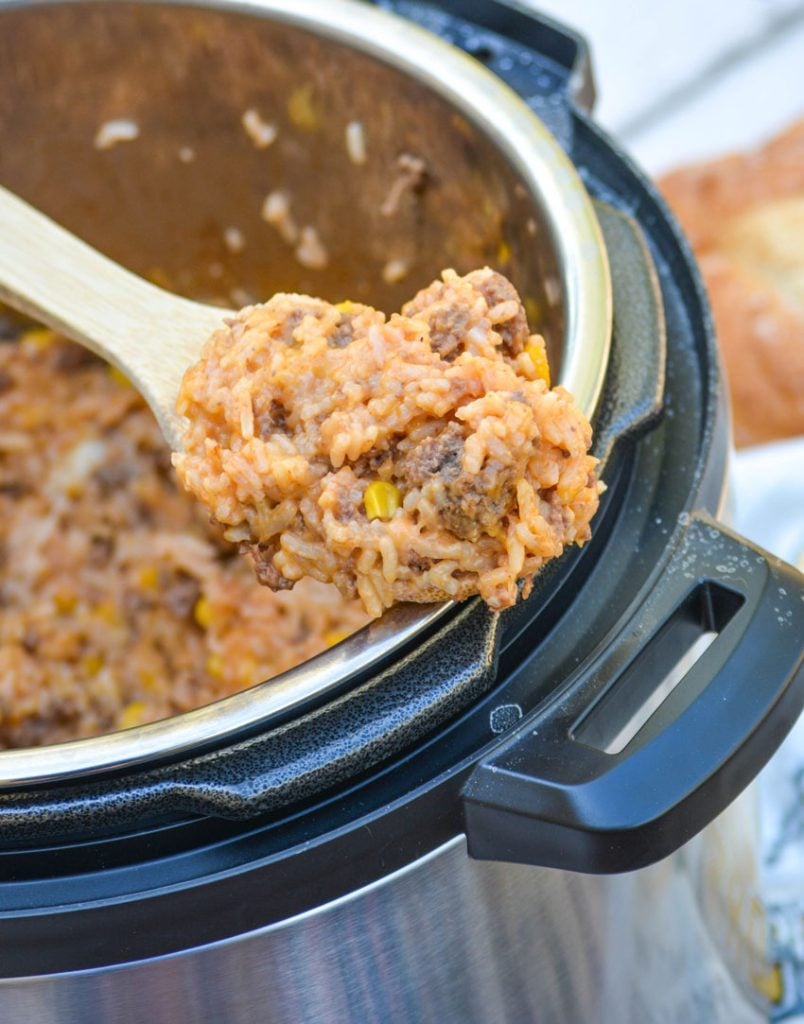 There's several reasons I now absolutely adore using my instant pot, especially on busy weeknights when my familys' calendar is full.
It's a one stop shop. Instead of dirtying multiple pots or pans- it's a single pot to clean at the end with a yummy dinner to serve too.
CAN YOU BROWN MEAT IN AN INSTANT POT?
Yes! It's one of the reasons I love this thing so much.
The stainless steel inner pot does a great job of being non stick, making sauteing ground beef in it a breeze. I do like to add a pat of butter, or a drizzle of olive oil, to help things along.
The pot does get hot though, so don't leave things just sitting on saute. You will get sticking then, and burning. Otherwise, saute your meat and break it up while stirring as it cooks.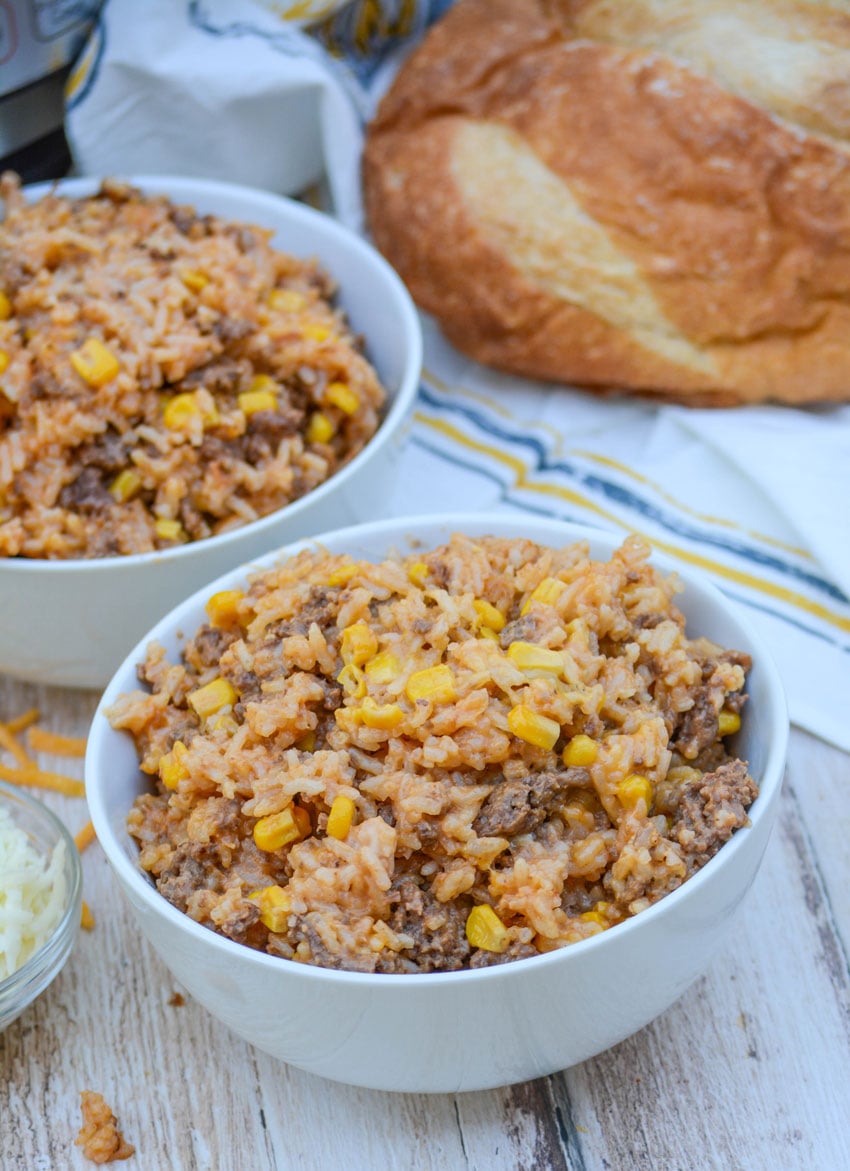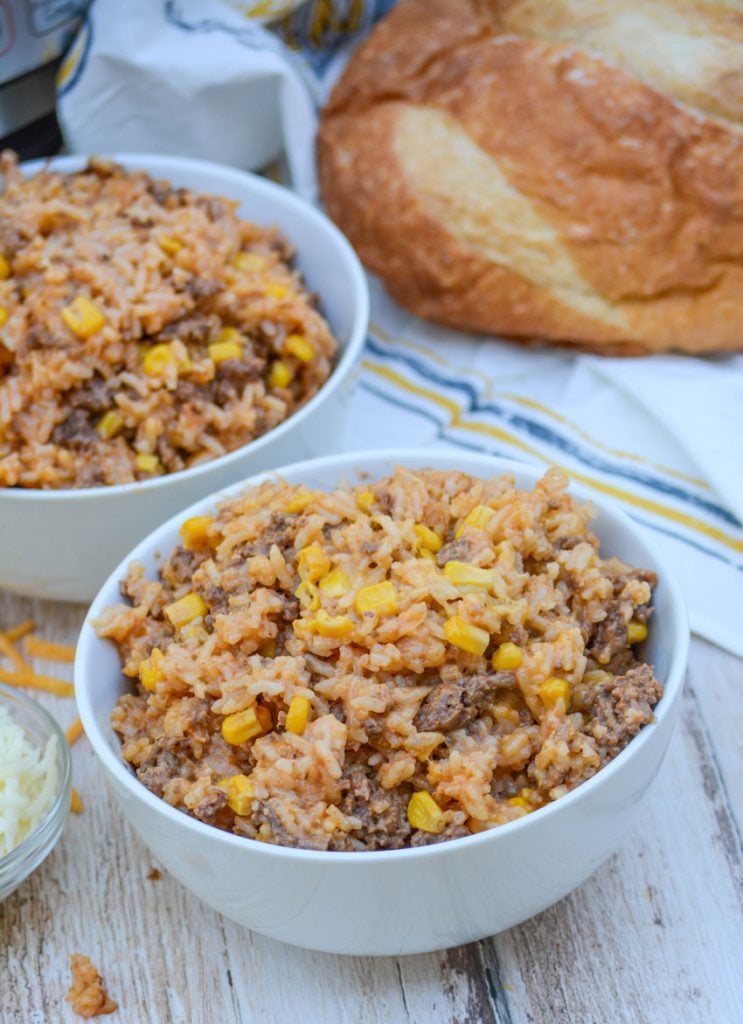 CAN YOU PUT FROZEN MEAT IN THE INSTANT POT?
That's another resounding yes. I am notorious for having a great meal planned out & logged on the meal plan menu, but I forget to pull the meat out in the morning to actually make it happen.
Before I would've panicked, and probably said one to many cuss-words. Then just generally panicked trying to figure out the evening meal. Not so much anymore.
Now as long as it's softened enough to get the packaging off, we're in business! However, frozen meat does take longer to cook than its thawed counter part, which is something to keep in mind when planning your dinner.
When considering how easily this Instant Pot cheesy ground beef & rice comes together all in a single pot- it's pretty amazing. I come to a whole new level of appreciation for it though when I'm writing out my grocery list for the week.
INGREDIENTS NEEDED TO MAKE THIS CHEESY GROUND BEEF & RICE:
ground beef
butter
broth
milk
garlic
onion powder
rice
tomato soup
corn
cheese
A pretty basic laundry list of common ingredients if I do say so myself. When pressure cooked all together in a single pot though, they meld together into a cheesy ground beef & rice recipe any table could/would be proud to be graced with. Now that's what I find impressive. That's a meal I want to make & share!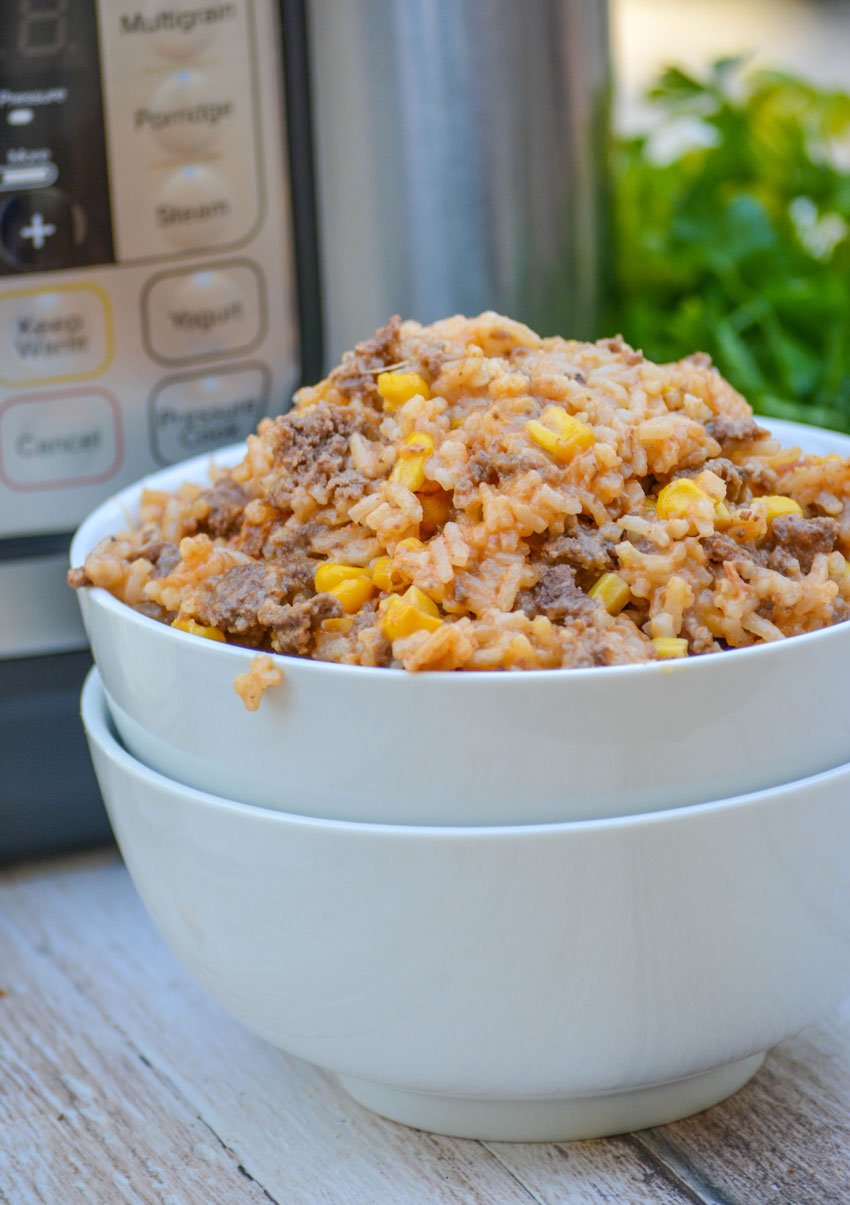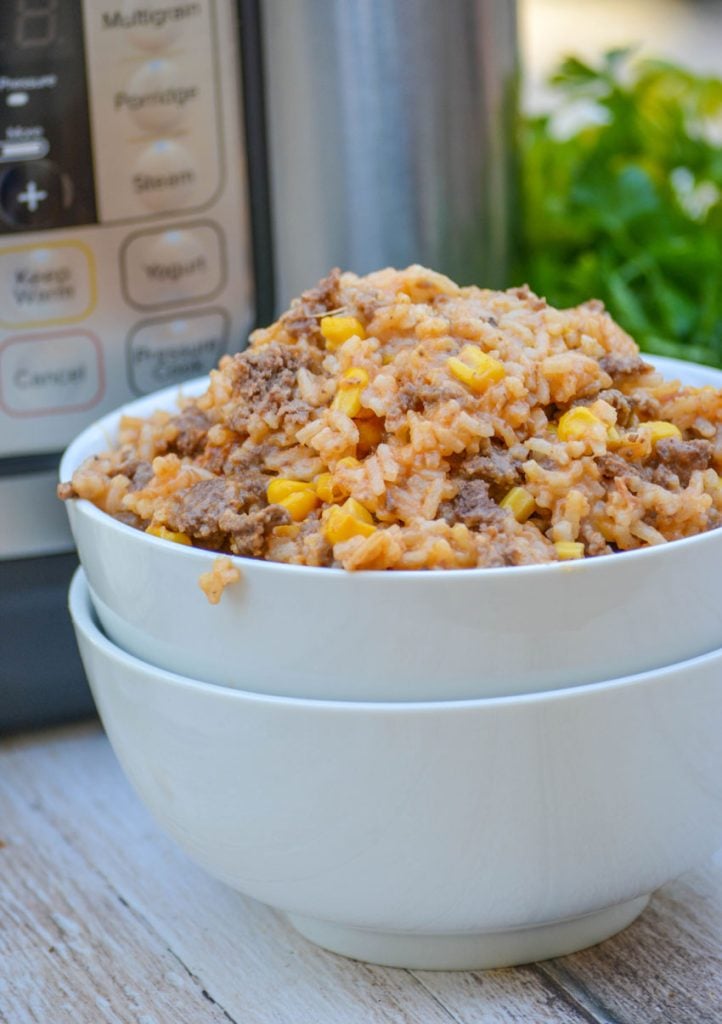 HOW TO MAKE THIS CHEESY GROUND BEEF & RICE RECIPE:
Using the saute function, break up & brown the ground beef thoroughly.
Stir in the broth, milk, & seasonings until smooth and evenly combined.
Add in the rice, but use the back of a spoon to push it all below the surface of the liquid.
Add in the tomatoes & corn, but don't stir the mixture at all.
Close the instant pot, seal, and cook for 7 minutes.
Vent and release all the pressure immediately.
Stir the rice thoroughly, to fluff & incorporate all the flavors.
Add the cheeses to the pot, stirring gently until completely melted.
Season with salt & pepper, to taste.
Pretty much any ground beef & rice recipe is bound to be a hit with our bunch, but then you add in cheese and the ease of the instant pot? That makes for a sure-fire hit! Seriously, it's a combination you won't want to skip or miss.
TIPS & TRICKS FOR THIS CHEESY GROUND BEEF & RICE RECIPE:
Do not use whatever rice you happen to have in the pantry. Long grain rice is key to this recipe turning out correctly. I recommend either basmati or jasmine.
As written the recipe calls for chicken broth. Beef broth makes a great substitute, and can even give it a deeper, richer flavor. Try it both ways and discover the one you love best.
Trying to stay away from beef? Ground turkey makes an excellent addition instead.
While the rice can be served, and is written that way, immediately- I suggest letting it sit for 2-3 minutes after removing the pot lid and stirring heartily. Not only does this allow the rice to fluff well, but it gives it time to absorb extra flavor.
Don't have corn on hand? No worries, we've made this with canned peas & green beans too. Just want to get extra veggies in? Keep the corn & still included the extra vegetables!
This is one of those meals that's really pure comfort food, but so good nobody's gonna complain about extra veggies being added in the mix.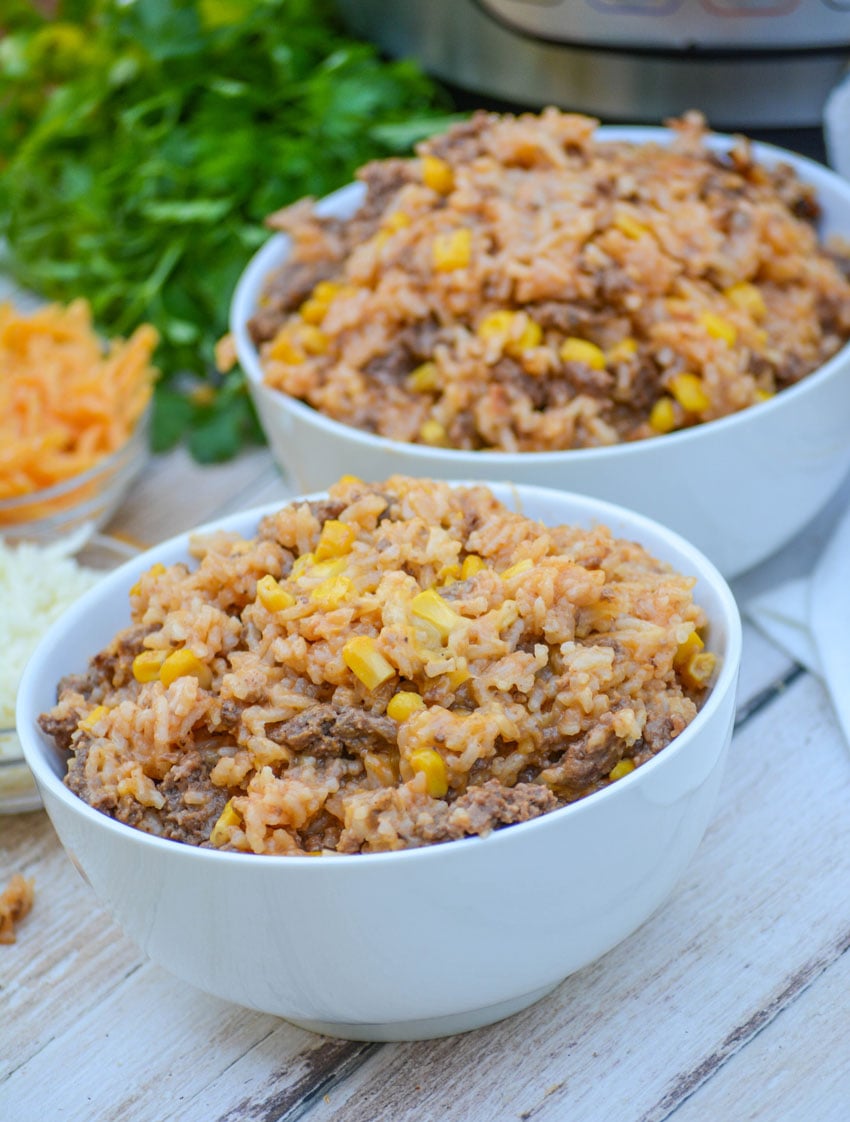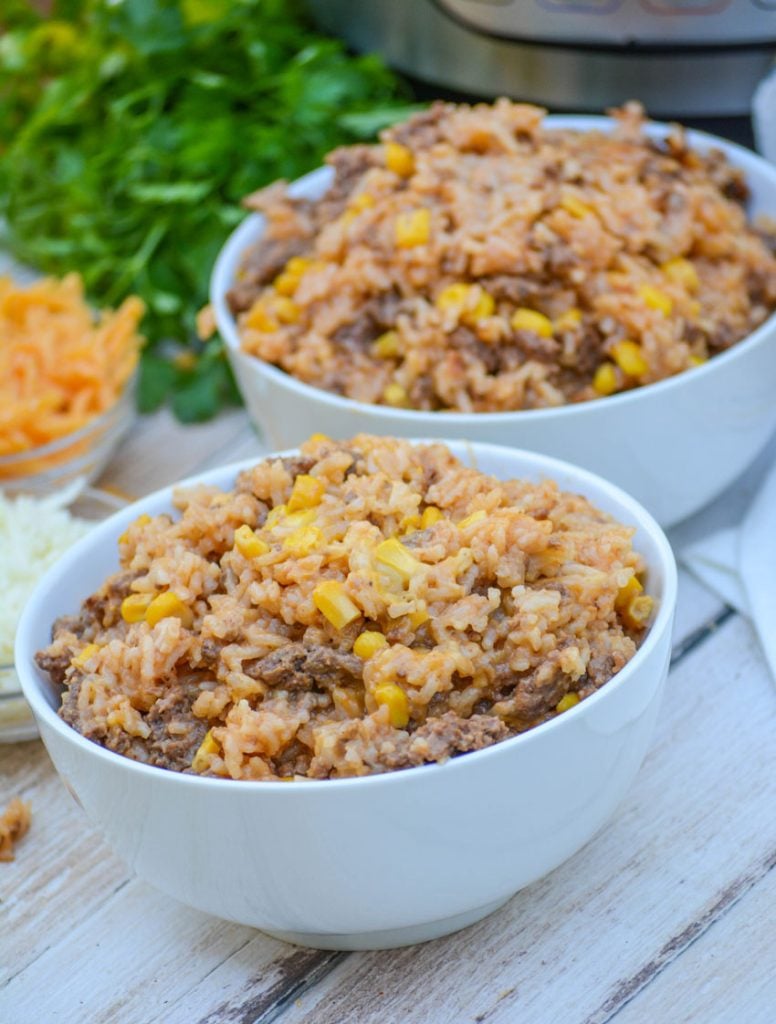 If you haven't already, this is the perfect easy dinner recipe to christen your instant pot or pressure cooker with. This cheesy ground beef and rice recipe has a little something for everyone. It's always a meal our whole family loves.
Other Easy Ground Beef Recipes To Try:
If you've tried this INSTANT POT CHEESY GROUND BEEF & RICE, or any other recipe on my site, let me know in the comment section how it turned out, we love hearing from our readers! You can also follow along with me on PINTEREST, FACEBOOK, and INSTAGRAM to see more amazing recipes and whatever else we've got going on!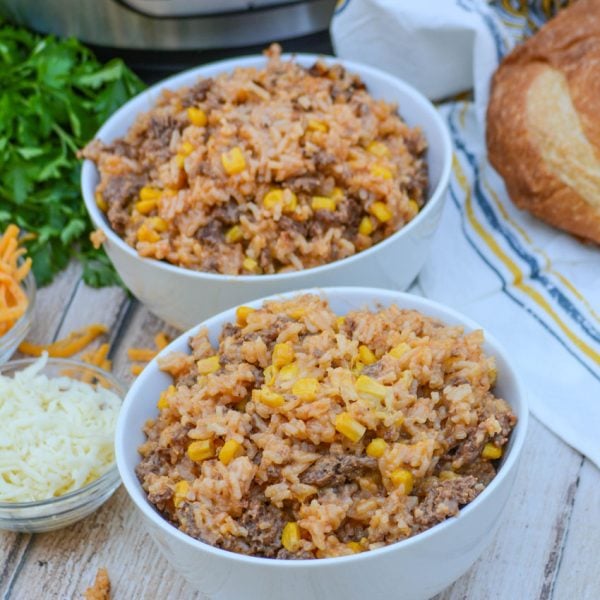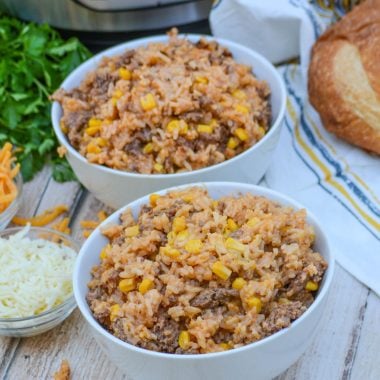 Instant Pot Cheesy Ground Beef & Rice
A quick & easy meal for busy evenings- this Instant pot dinner is chock full of savory beef, tender flavor infused rice, sweet corn, and melted cheesy goodness from a blend of cheddar and mozzarella cheeses.
Print
Pin
Rate
Ingredients
1

lb

lean ground beef

1

tbsp

butter

1 1/3

cups

chicken broth

2 1/2

cups

milk

2

tsp

garlic powder

3

tsp

onion powder

2

cups

long grain white rice

1

small can

condensed tomato soup

1

cup

frozen corn kernels

thawed

1

cup

shredded cheddar cheese

1

cup

shredded mozzarella cheese

salt & pepper

to taste
Instructions
Add the butter to the bowl of the instant pot, and press the saute button. When the butter is melted, add in the ground beef.

Cook the beef, breaking up as it cooks, until cooked through with no visible pink remaining.

Add the broth, milk, onion powder, and garlic powder to the pot. Whisk together until smooth & evenly combined.

Pour the rice into the pot, and using the back of a spoon gently push it so that it's all just below the liquid.

Without stirring, gently add the tomatoes & corn.

Close the Instant pot, turning the lid to secure and make sure the vent's set to the sealed position. Press the pressure cook button, and set the pot to cook on high pressure for 7 minutes.

As soon as the seven minutes are up, turn the vent to do a quick pressure release. Make sure to do it so the rapidly escaping steam doesn't hit your hand or arm.

Remove the lid from the instant pot, set aside. Using a sturdy spoon, give the beef & rice a hearty stir- fluffing the rice as you do.

Stir in the cheeses until completely melted & evenly combined.

Salt & pepper the mixture, to taste. Ladle it into bowls, and serve immediately.
I love hearing from all of you so please leave a comment! I do my absolute best to answer all the comments. For immediate help, please message me on 4 SONS R US Facebook Page.