There's not much better when the heat of Summer rolls around than a cold, creamy dessert to take the edge off the extreme heat. This fruity pebble ice cream cake does just that by combining two beloved meals, breakfast & dessert, into a single tasty treat. White chocolate coated fruity pebbles cereal clusters top a fruity pebble cereal infused vanilla ice cream cake. If seeing is believing, well tasting is proof- it doesn't get any better than cooling off with a slice of this easy ice cream cake.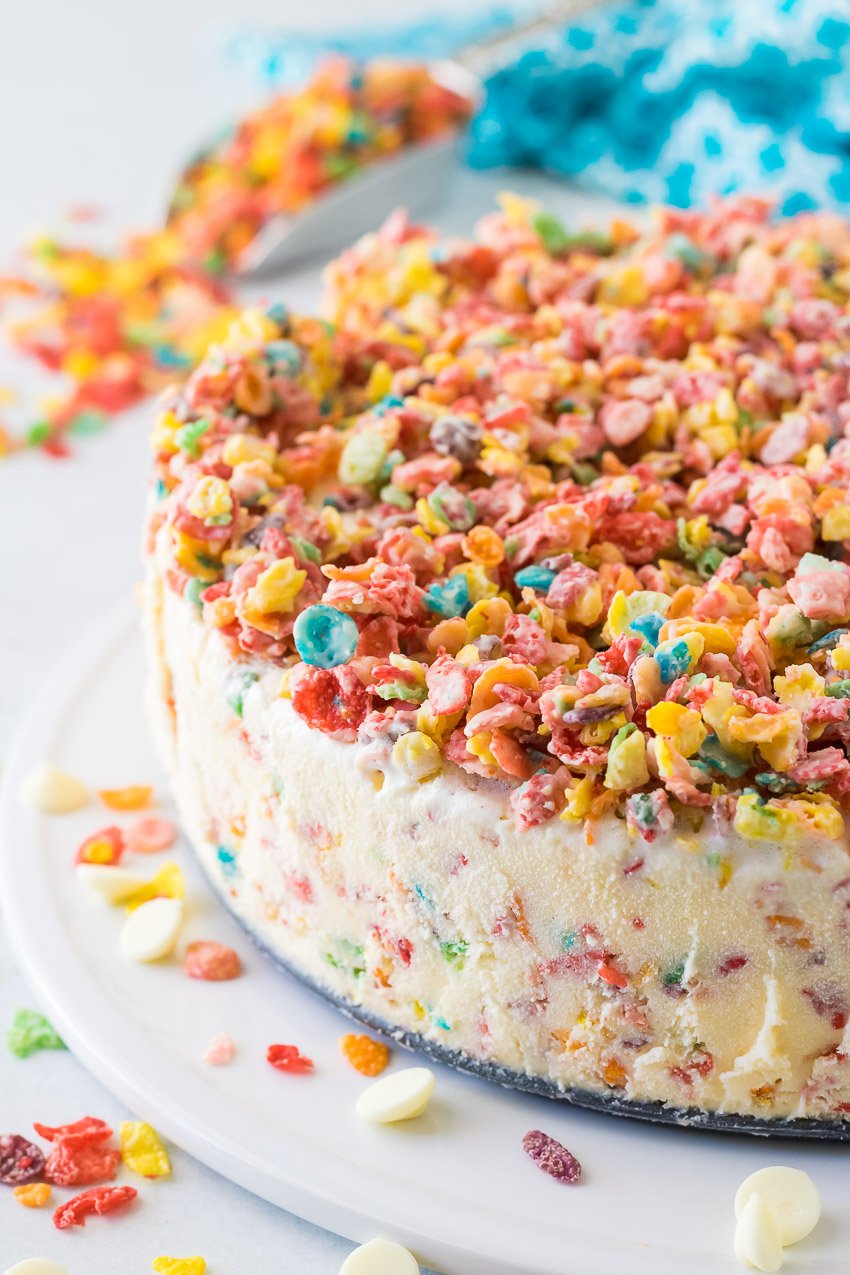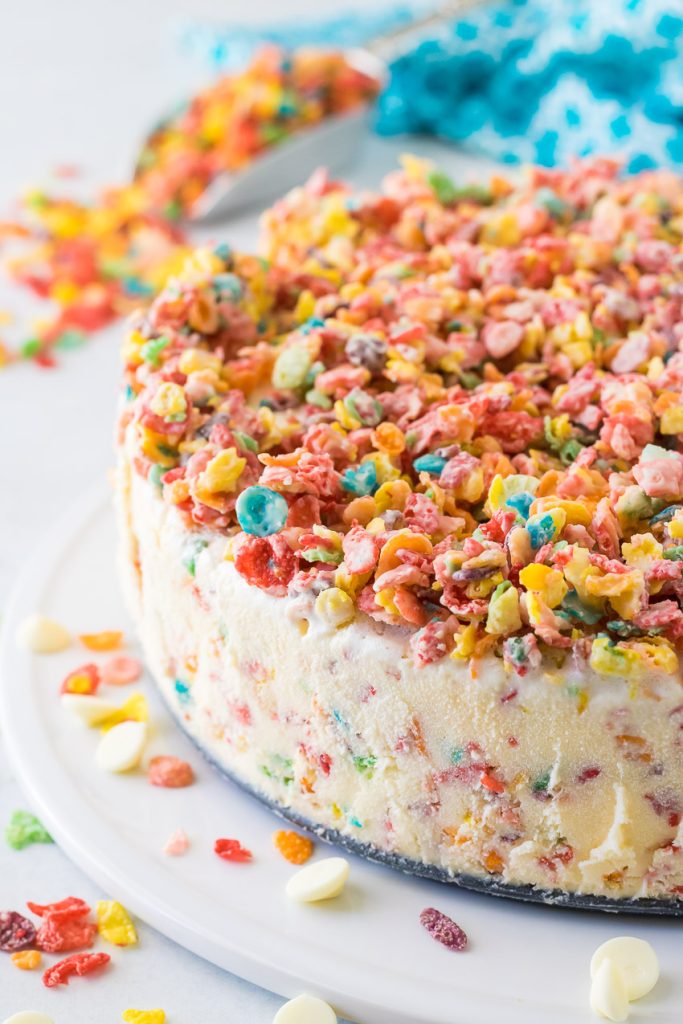 Did you have a favorite cereal as a kid? The sons were subjected to the most heinous form of cruel and unusual punishment throughout their elementary school years, and only offered relatively sugar free cereal options, like cherrios, Rice Krispies, or raisin bran.
They were horrified when I put the kibosh on them sprinkling spoonfuls of sugar over said plain fair (a trick Nanni had taught them).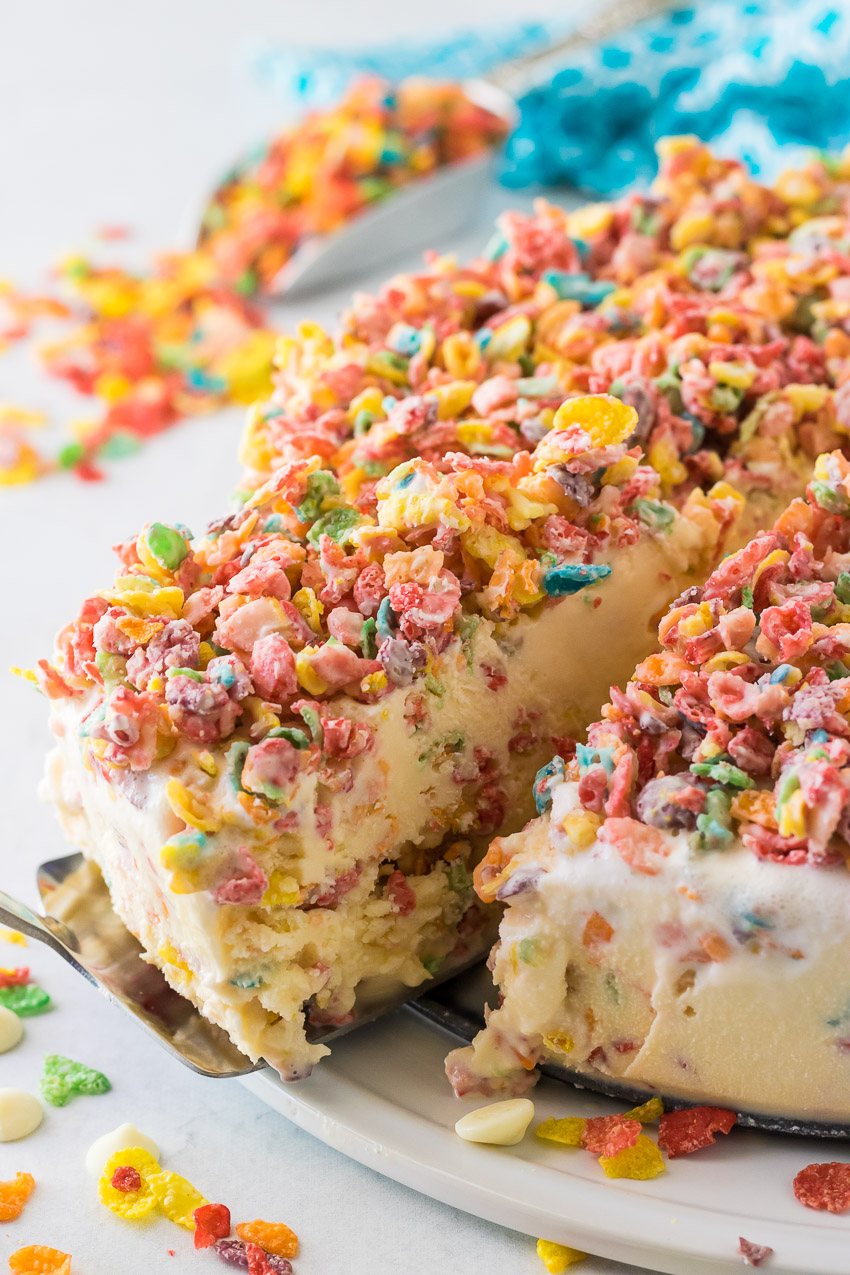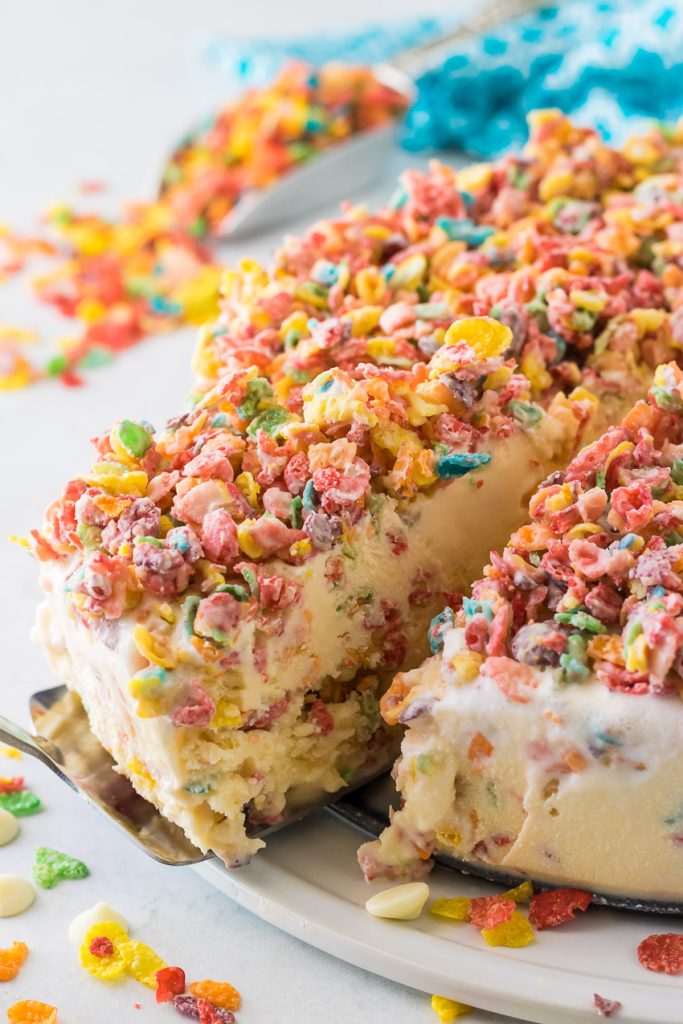 Still, I'm not totally against sugar, or even yummy sugary breakfast cereals. I'm just against them on most school mornings when they're already wound tight enough with excitement. That and a sugar crash later will have them struggling through the end of the school day.
But- on weekends, we've been known to get a little wild.
Like break out the fruity pebbles, and add some chocolate to make crunchy fruity pebble clusters, and adding those to some ice cream. You know, just for good measure and all. Talk about an easy ice cream cake recipe!
But wait, you might be wondering now what exactly is an ice cream cake. Let's talk about that for a minute.
WHAT IS AN ICE CREAM CAKE?
Ice cream cake's a popular American dessert, especially in the Summer. It's often served at special occasions like birthdays, anniversaries, and of course back yard barbecues or even just for fun.
An ice cream cake is, most obviously, a cake that includes ice cream. Traditionally, sandwiched in a thick layer between two layers of traditional baked cakes. But not always!
DOES ICE CREAM CAKE HAVE CAKE IN IT?
The answer to that question all depends on who you ask. Some people insist it must have at least one traditional baked cake layer to be considered an ice cream 'cake'. We disagree, and have found many others do too over the years.
For us, an ice cream cake will always be any cake shaped confection that consists of, well ice cream! No cake in this recipe for us! Not this time anyway.
As much as we love ice cream though, we knew our easy ice cream cake recipe needed a little something extra. A little pizazz, a little family friendly fun.
INGREDIENTS NEEDED TO MAKE FRUITY PEBBLE ICE CREAM CAKE:
vanilla ice cream
fruity pebbles cereal
white chocolate chips
shortening
I know it's a really short list, but it's true- only four ingredients are needed to whip up this easy ice cream cake recipe.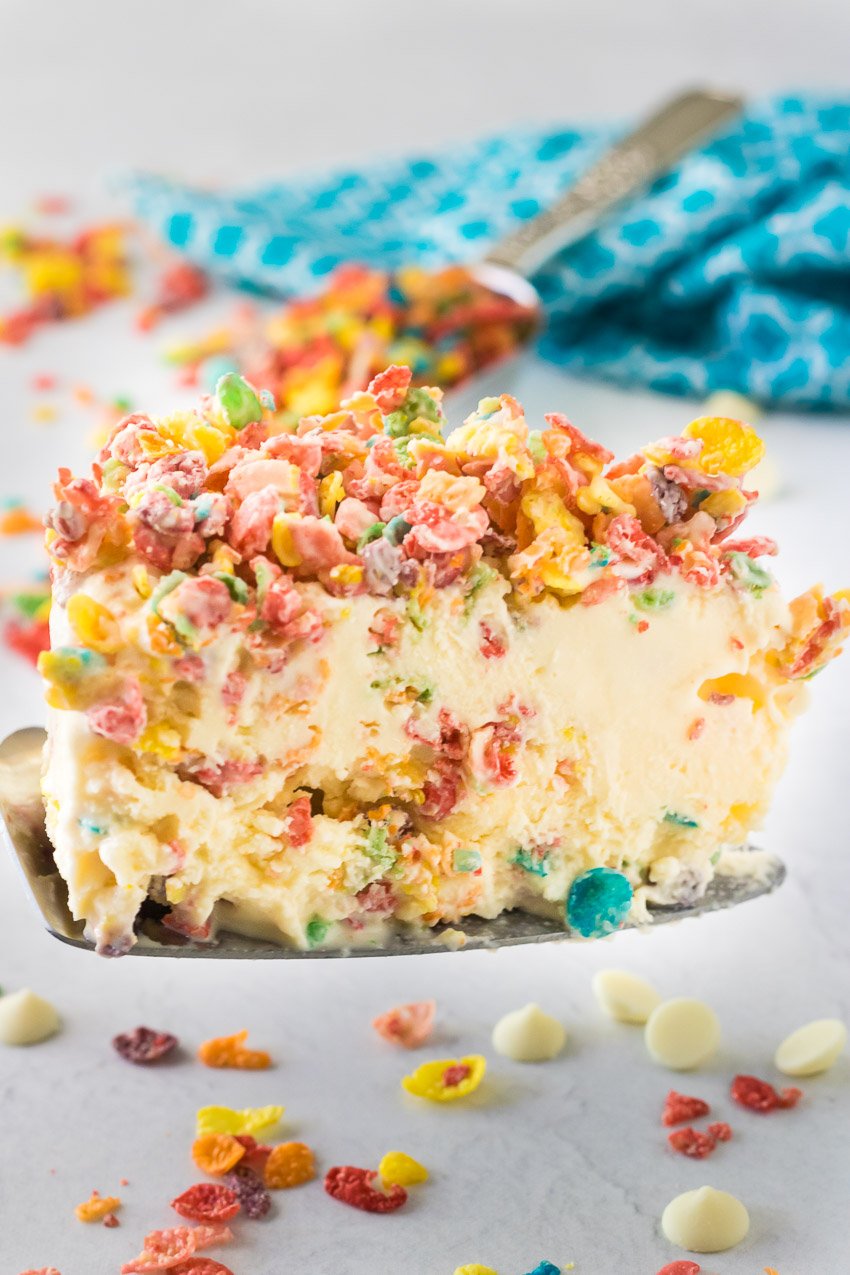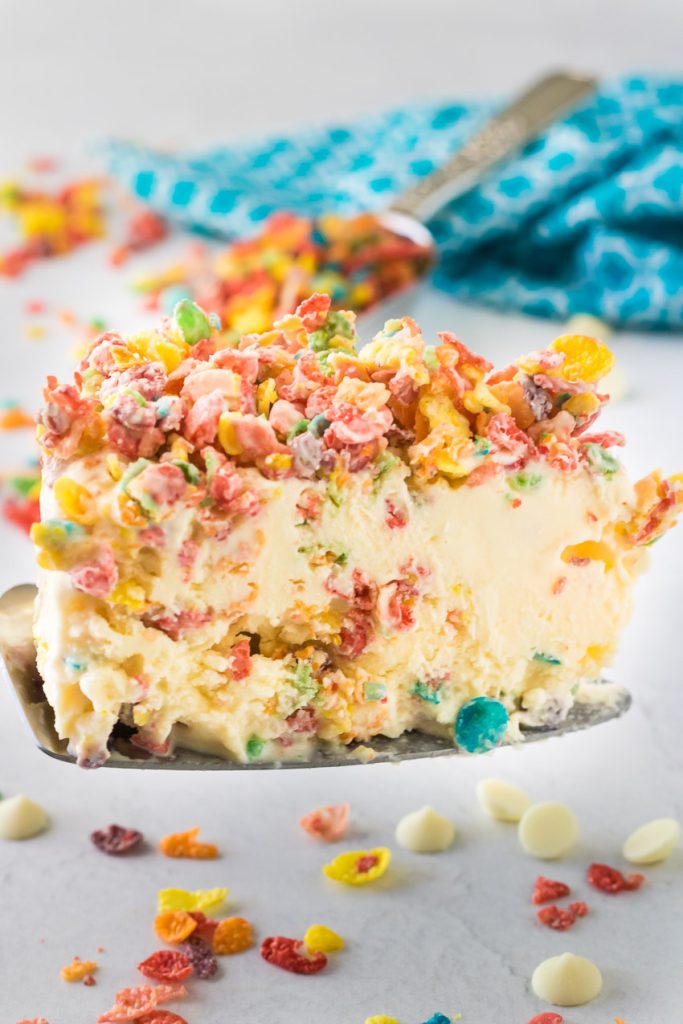 It's equally as easy to assemble. You can pretty much use any pan you want to make it and freeze it in, but I always spring for a non stick springform pan. It makes serving easier, and leads to pretty uniform slices you'll be proud to serve your guests.
HOW TO MAKE AN ICE CREAM CAKE IN A SPRINGFORM PAN:
Thaw your ice cream. Stick it in the refrigerator to soften. You want it soft, and spreadable but not melted. This is why I suggest thawing in the fridge and not on the counter top. The counter top method is often too quick and unpredictable for using in a springform pan when there's no crust involved.
Freeze the pan. Put your springform pan in the freezer, and let it chill for at least 15 minutes & up to thirty. A cold frozen pan will prevent the ice cream from leaking out of the cracks in the seal. This is also why it's so important the ice cream's thawed, but not melted.
Add your mix-ins. Working quickly, add your mix-ins to the ice cream. Fold them in to evenly distribute.
Assemble the ice cream cake. Remove the springform pan from the freezer. Scoop the ice cream into the bottom of the frosty pan. Using an inverted spatula, or even the back of a serving spoon, smooth the ice cream out to the edges as evenly as possible.
Cover & freeze the cake. Top the fruity pebbles cake with your fruity pebble cluster toppings, pressing in a bit to secure. Cover the pan tightly with cling wrap to seal. Return the pan to the freezer, and chill for 4-6 hours before serving.
As far as fancy desserts go, this one has all the trimmings but with surprisingly little actual effort being required. That's my kinda recipe, whatever course of the day it's for.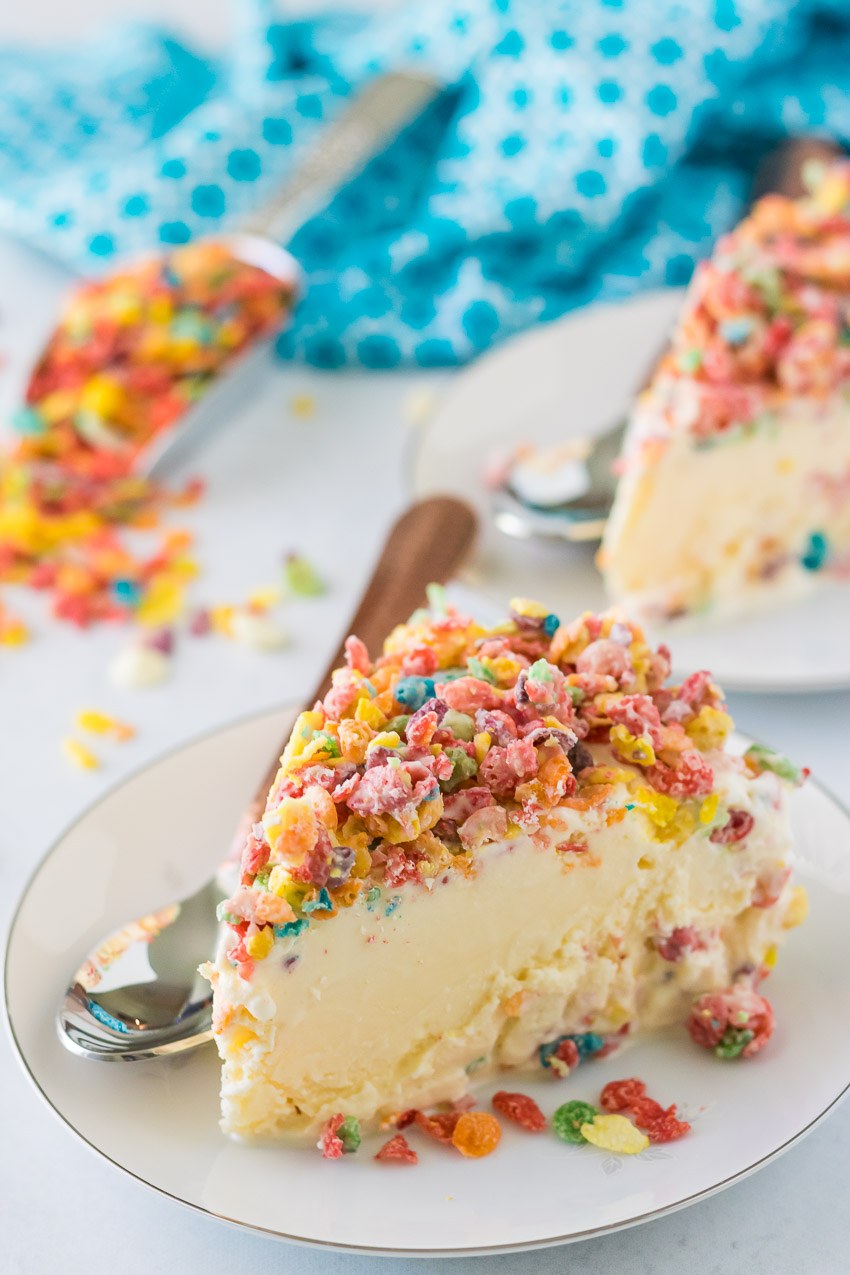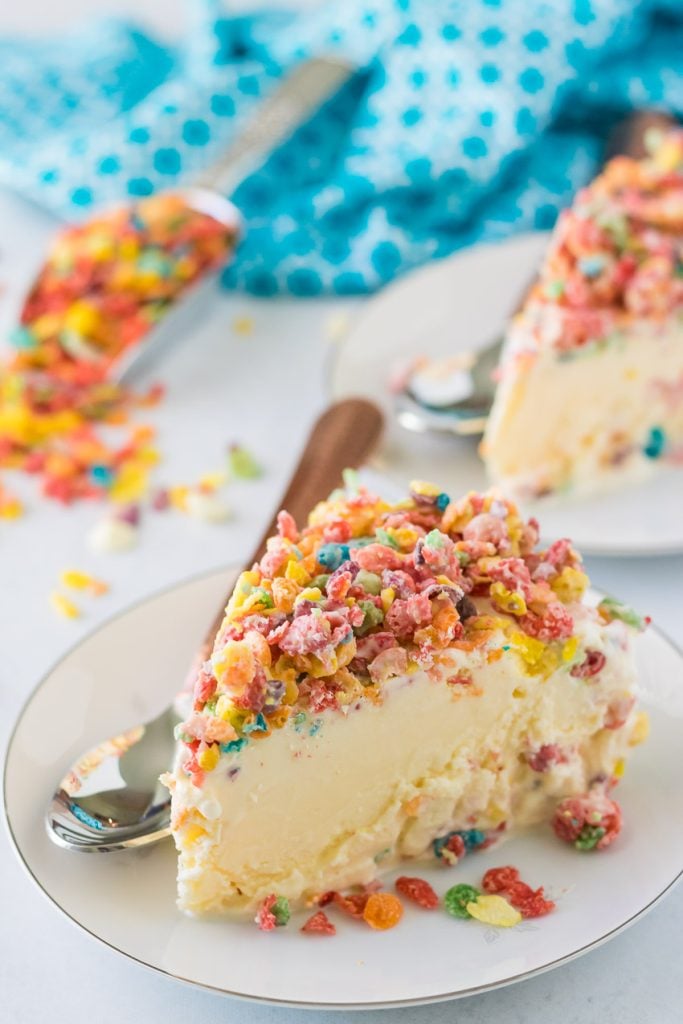 Just like any other recipe, this cereal cake recipe comes with it's own set of things that are easy & things that are negotiable. Luckily, I've made it a time or two and have a couple of things to share with you to ensure a fool proof result.
TIPS & TRICKS FOR MAKING FRUITY PEBBLE ICE CREAM CAKE:
Don't skimp on quality when it comes to buying the ice cream to use. To ensure a thick, creamy result- you need a thick, creamy ice cream you can count on. We love Edy's/Dreyer's, Blue Bell, & Turkey Hill vanilla for this recipe.
If you're still worried about leaks, you can do one of two things. Line the bottom of the pan with parchment paper extending beyond the circle. This will officially seal it closed when the springform pan is attached. Or, follow the directions as is but set the pan over a larger rimmed baking sheet to catch any potential leaks.
If white chocolate chips aren't readily available, white candy melts or melting chocolate also work in place of the chips.
Don't care for white chocolate? Make the clusters using melted marshmallows instead. They won't be as firm or as hard, but will be just as tasty in every bite of fruity pebble ice cream.
The mix-ins for this ice cream cake are easily customizable. You can swap your favorite cereal for the fruity pebbles. We've had great success using cocoa krispies, captain crunch, and even Reese's peanut butter puff cereal.
When ready to serve, release the ice cream cake from the spring form pan using a warm butter knife. Run it all along the outer edge of the cake, against the pan. Then slowly, and carefully, release the spring and lift the outer pan away.
Use a large, cold, sharp knife to ensure the best clean cuts when ready to serve.
Breakfast is already acceptable for lunch and dinner, so why not bring a lil bit to the dessert table while we're at it?! This Fruity Pebble Crunch Ice Cream Cake is bright, it's fun. It literally screams 'summer vacation'. Kids of all ages will fall for it.
OTHER ICE CREAM CAKE TREATS TO TRY:
If you've tried this FRUITY PEBBLES ICE CREAM CAKE, or any other recipe on my site, let me know in the comment section how it turned out, we love hearing from our readers! You can also follow along with me on PINTEREST, FACEBOOK, and INSTAGRAM to see more amazing recipes and whatever else we've got going on!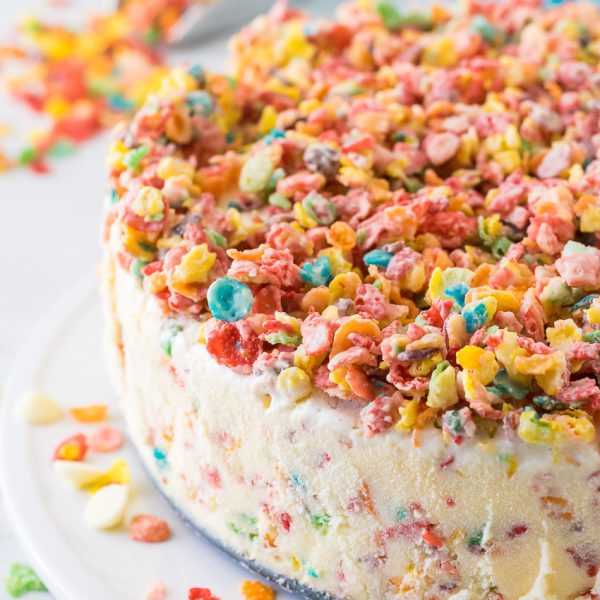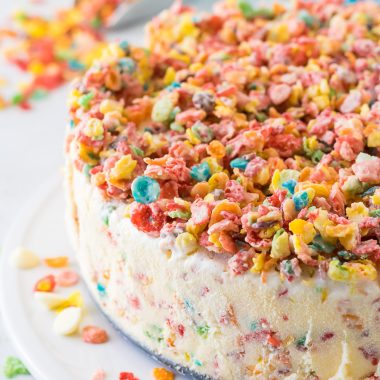 Fruity Pebbles Ice Cream Cake
A dreamy dessert, this easy homemade fruity pebbles ice cream cake features creamy vanilla ice cream and white chocolate coated fruity pebble cereal clusters.
Print
Pin
Rate
Ingredients
4

cups

Fruity Pebbles

1½

cups

white chocolate chips

1½

tablespoons

shortening

½

gallon

vanilla ice cream
Instructions
To make the Fruity Pebble Crunch Ice Cream Cake, start by placing half a gallon of vanilla ice cream in the fridge to soften. We want it soft, so it's stirrable but NOT melted.

Put the cereal into a large bowl. Melt the white chocolate chips and shortening in the microwave, or you can use a double boiler for the same results. Pour the melted chocolate over the cereal and stir together until the cereal's evenly coated.

Pour the coated cereal out onto a piece of parchment paper, gently spreading it out so its not a giant pile, but not necessarily an even layer either. Let the coated cereal sit, about 20-30 minutes, to allow the chocolate to harden and then break the cereal up into bite-sized chunks.

In the same large bowl, add the half a gallon of softened vanilla ice cream and quickly fold in the 2 cups of the crunchy cereal pieces. Again, quickly spread the ice cream mixture out into a 9-inch spring form pan to avoid melting. If it melts it's like pouring a liquid into the pan, which a spring form pan cannot hold, and it will all run right out.

Top with the remaining crunchy cereal bits and gently press it down a bit into the ice cream.

Cover the spring form pan and place the ice cream cake in the freezer for 4-6 hours or overnight to harden. When ready to serve, remove from the freezer and slide a knife around the edges of the spring form pan to release the cake and then remove slowly release the spring and loft the outer pan away.

Dip a butter knife in very hot water, quickly dry it off and use the hot knife to cut slices of the ice cream cake. Re-dip and dry the knife for each cut you make. The cake will begin to melt so work quickly and immediately return any uneaten portion to the freezer.
Nutrition
Calories:
618
kcal
|
Carbohydrates:
74
g
|
Protein:
9
g
|
Fat:
32
g
|
Saturated Fat:
19
g
|
Cholesterol:
89
mg
|
Sodium:
277
mg
|
Potassium:
465
mg
|
Fiber:
2
g
|
Sugar:
62
g
|
Vitamin A:
1205
IU
|
Vitamin C:
4
mg
|
Calcium:
299
mg
|
Iron:
1
mg
I love hearing from all of you so please leave a comment! I do my absolute best to answer all the comments. For immediate help, please message me on 4 SONS R US Facebook Page.