This homemade pierogi recipe creates pillowy pockets of dough filled with a fluffy mashed potato center. The tender homemade dough will melt in your mouth. These cheese and potato pierogies are delicious served on their own, made into a casserole, or as a side to dishes like kielbasa and sauerkraut.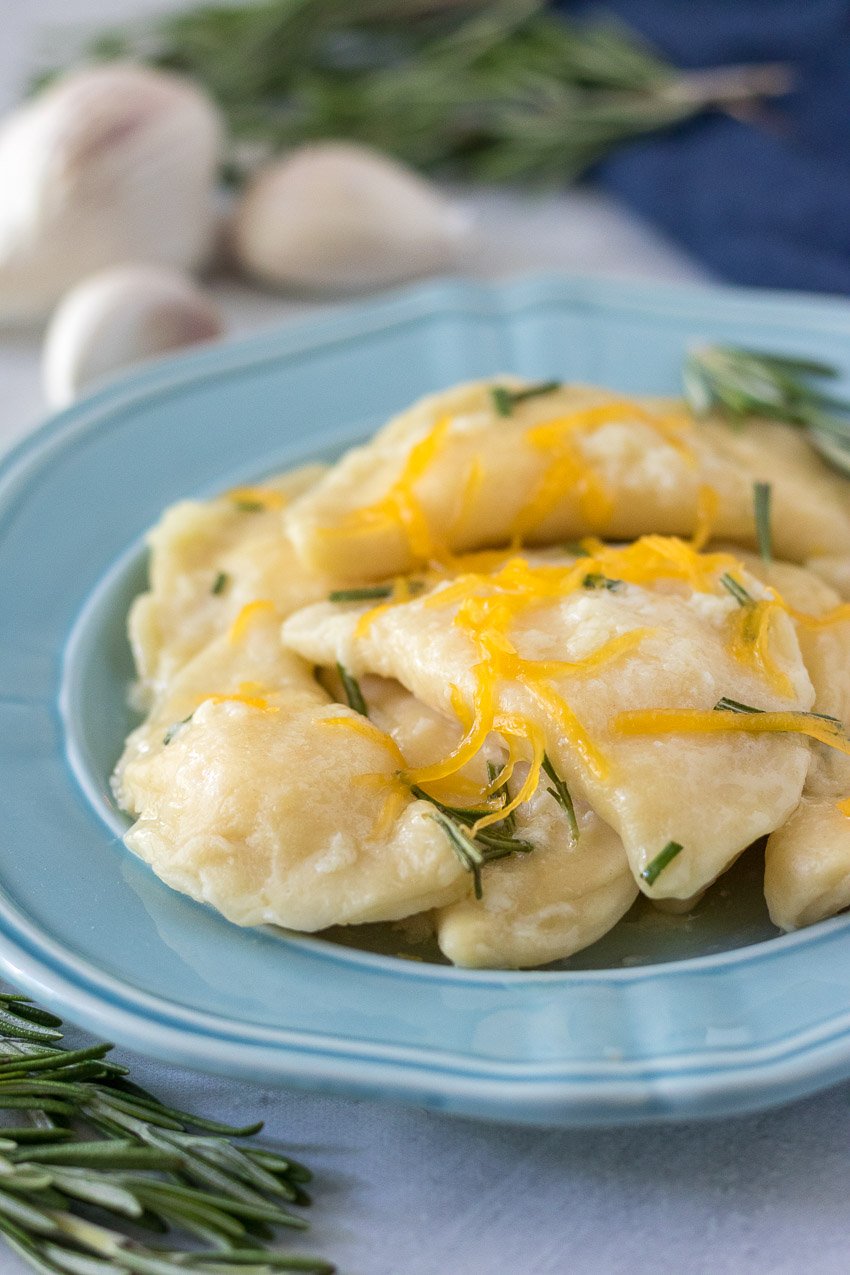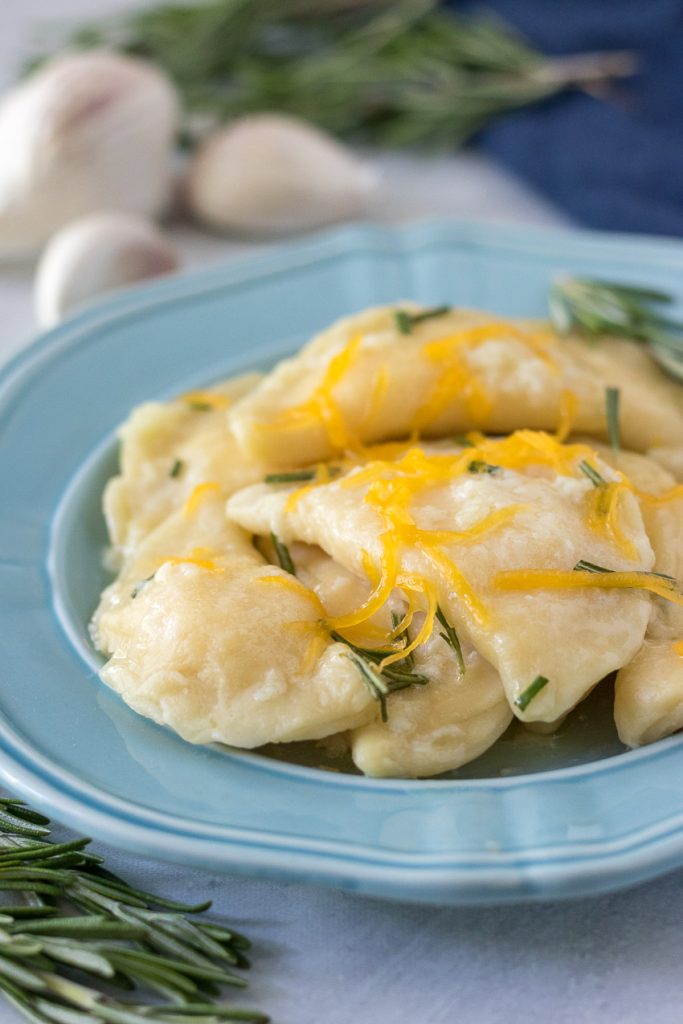 Pierogies are a favorite in my family. But really, what's not to love about a potato and cheese dumpling? Nothing in my opinion. When you stuff a carb inside another carb you get perfection. It's a mathematical, scientific fact that of course you will end up with little bites of heaven. While yes, you can buy frozen premade pierogies they are nothing compared to the real homemade deal.
What is a pierogi anyway?
If you're not familiar with pierogies, they are sort of like the eastern European take on ravioli. By that I mean that pierogies are two sheets of filled noodle dough, pressed together around a filling.
Ravioli is generally filled with ricotta cheese or a meat mixture, but a fluffy mashed potato generally is inside a pierogie. You can also find homemade pierogi recipes stuffed with combinations of potato and cheese like this homemade pierogie recipe, sometimes sauerkraut, and even fruit for a sweeter spin.
Making this homemade pierogie recipe is a bit time consuming but it isn't difficult. Plus, the results are well worth your efforts because you'll be rewarded with the best homemade pierogi recipe ever.
And even better, you can fill them with whatever your little heart desires! And for me that's a cheesy mashed potato.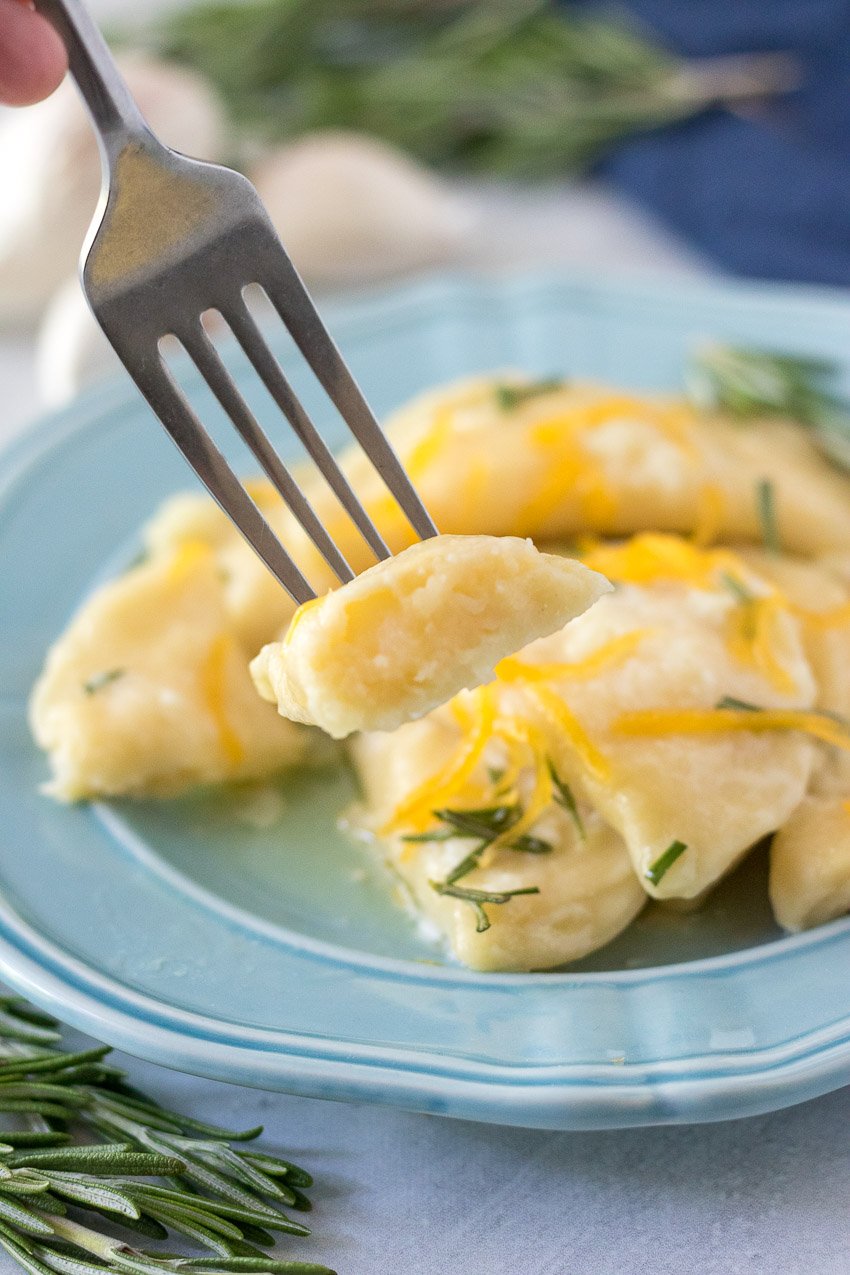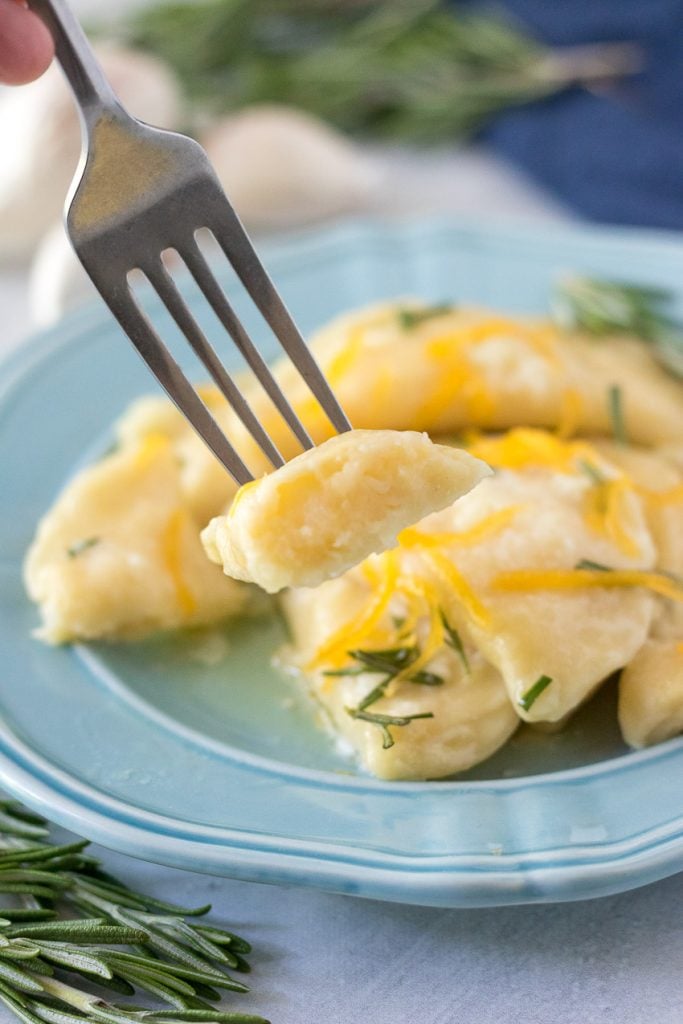 Make the Homemade Pierogie Dough
To start making homemade pierogies, the first thing you need to do is make the dough. Just like my homemade pizza dough, this pierogie dough needs only a few simple ingredients. However, unlike my pizza dough, this dough doesn't have any yeast so you don't need to devote and time to letting it rise.
For the dough you need only a handful of basic ingredients:
flour
melted butter
salt
sour cream
an egg
If you don't care for sour cream, you can substitute an equal amount of Greek yogurt. If you go this route though, make sure that you are using plain, full fat Greek yogurt and not flavored yogurt.
It's easy to accidentally grab vanilla Greek yogurt instead of the plain stuff. Trust me. I learned that lesson the hard way!
That's it! Nothing complicated! No yeast, so need to be intimidated by making this easy pierogie dough. Just add the dough ingredients to a bowl and mix them together with a spoon until they come together and form a dough.
Then knead the dough in the bowl with your hands for just a couple minutes. You want the flour to be fully incorporated with the rest of the ingredients, but you don't want the dough to sit out for too long or it will dry out.
Once you're done kneading the dough, cover it with a damp paper towel and let it rest for half an hour. While the dough is resting, this is the perfect time for you to start making the potato filling.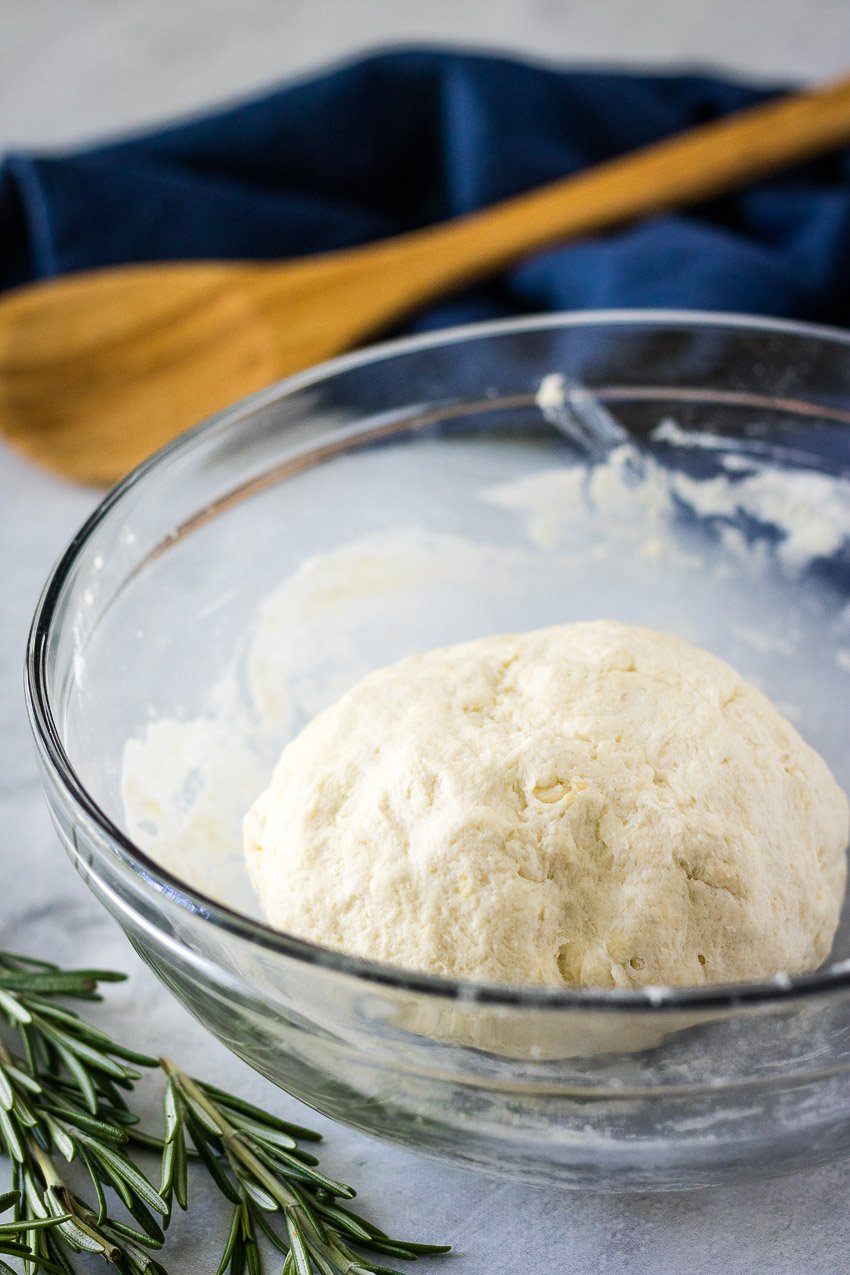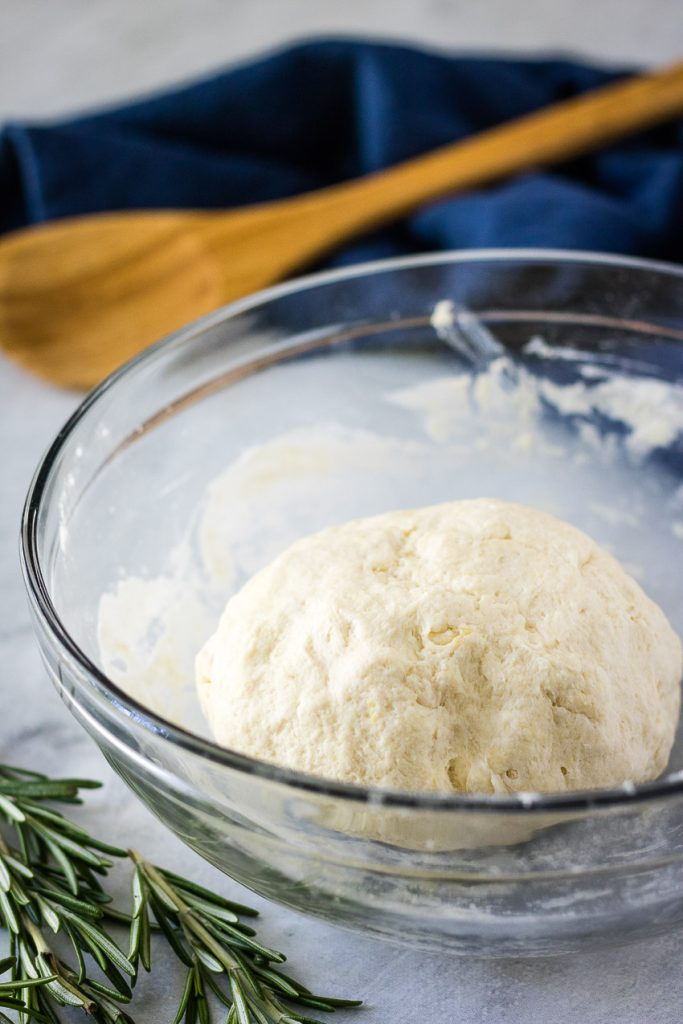 The Yummiest Cheesy Pierogie Filling!
Now that you've got your dough hanging out and resting, you can make the potato filling, which is essentially a cheddar mashed potato. I'm using a similar but thicker mashed potato to the ones I use in my copycat KFC Famous Bowls.
You can really use any mashed potato variation you like, and if you have leftover mashed potatoes in your fridge then you can use those for this pierogi filling instead. I adore any recipe that gives me a yummy way to reuse leftovers.
If you don't happen to have leftover mashed potatoes, this basic cheddar mashed potato filling is easy and delicious. To make it, peel and cube your Russet potatoes. Then boil them until they are fork tender.
Once the potatoes are tender, drain the water and add the hot potato cubes into the bowl of a stand mixer with the paddle attachment. Add the butter, cheese, and spices to the potatoes and let the mixer work its magic until the potatoes are perfectly smooth.
If you want a creamier filling, feel free to mix in some a few tablespoons of softened cream cheese to your potatoes. If you for some reason don't want cheese in your pierogi, then you can totally omit the cheese. Whatever you like.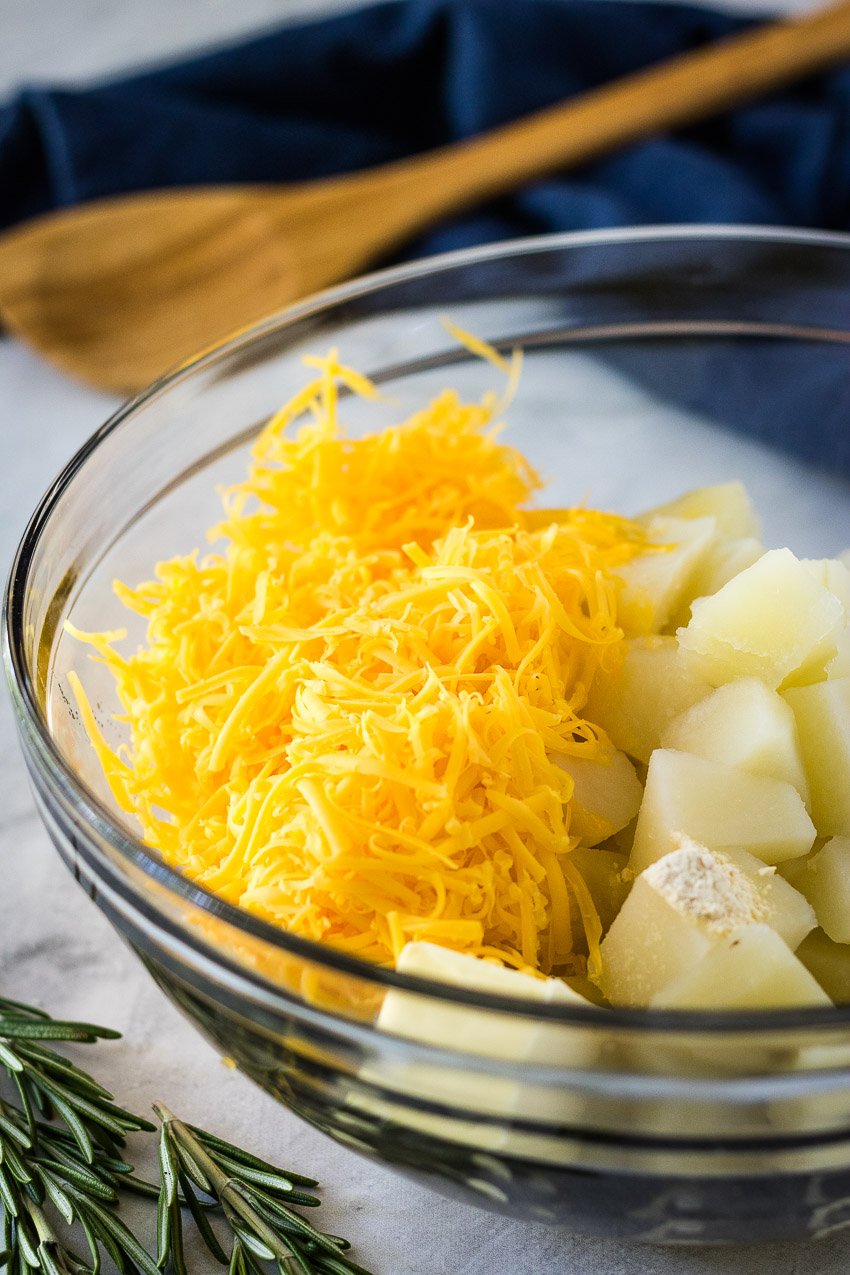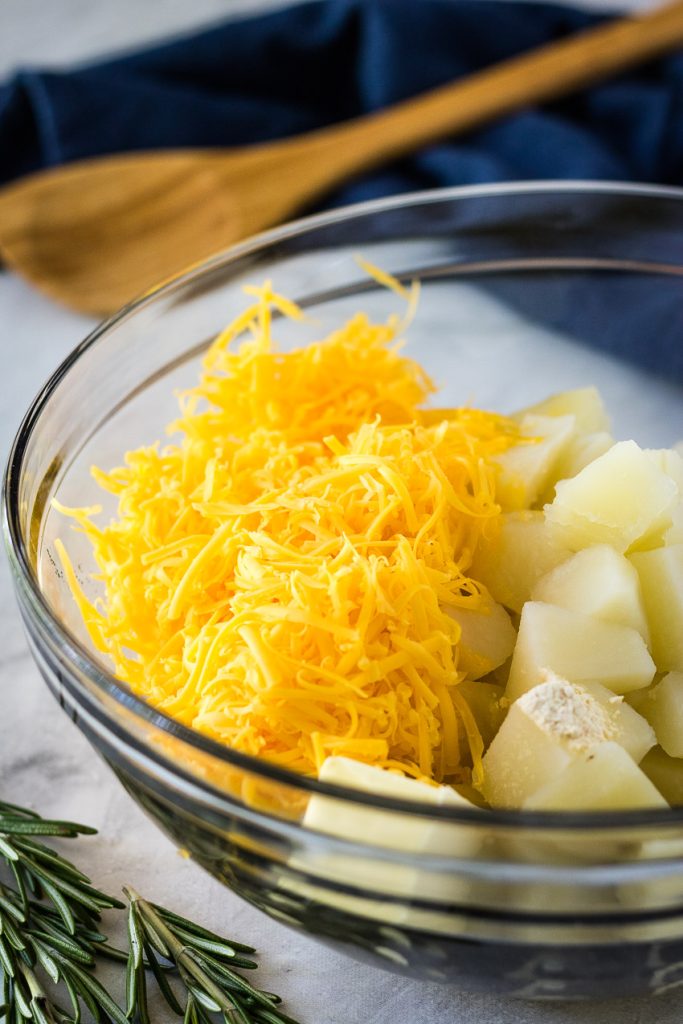 Assembling the Pierogi
Now that you have the filling made and the dough ready to put the pierogies together. To do this, start by rolling out the dough on a very floured surface. You want the dough to be an 1/8″ of an inch thick.
Once you have the dough rolled out to the right thickness, use a 3″ biscuit cutter to cut the dough into circles. If you don't have a biscuit cutter, you can use the top of a mason jar in a pinch.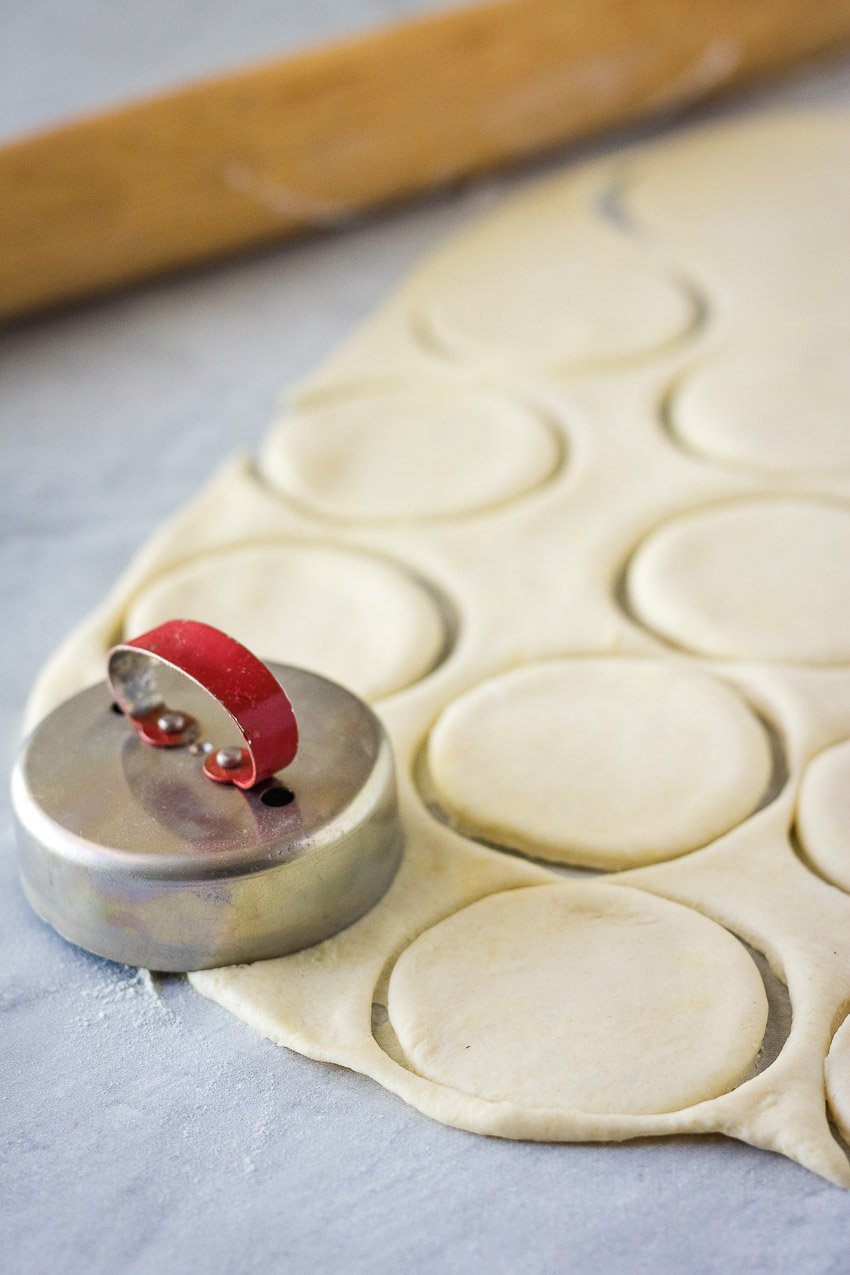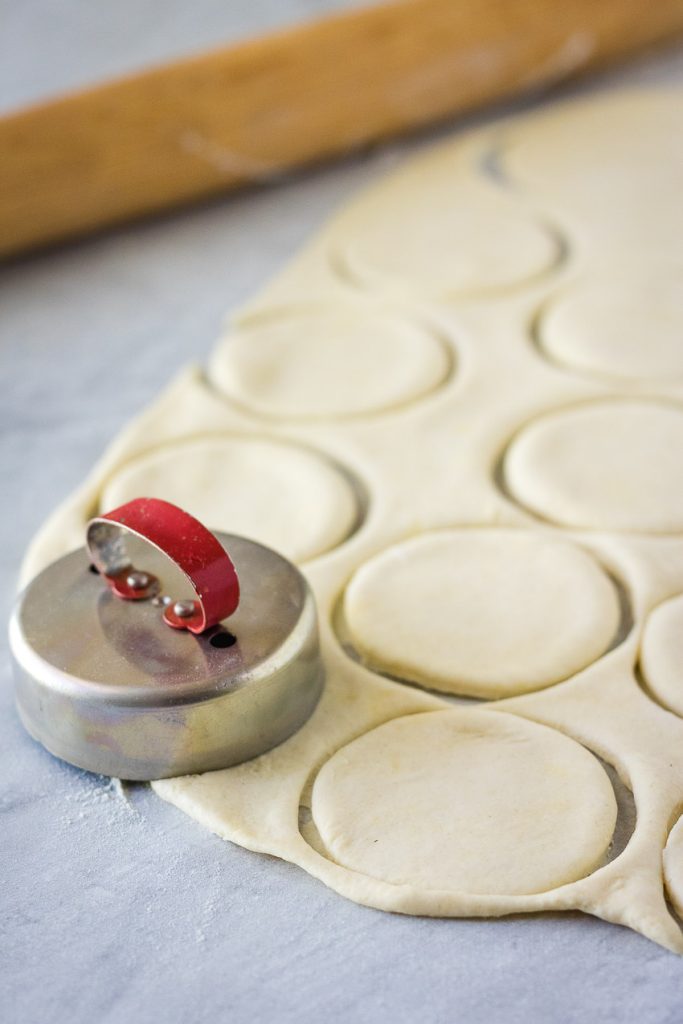 Once you have the dough cut out, you can spoon 2 teaspoons of filling into the center of each dough circle. Then brush water around the edges of the circle and fold the dough in half, surrounding the potato filling with the dough. The folded pierogi will be in a half moon shape.
Press the edges of your pierogi to seal it or press a fork around the edges for that crimped look. However you choose to seal the pierogi, just make sure to press out all the air as you do so.
Once all the pierogies are sealed, you can boil them in small batches. They cook really quick. It only takes 1-2 minutes before the pierogies will float to the top, letting you know they are done. When you've got the pierogies cooked, you can toss them in the browned butter rosemary sauce or any other sauce you'd like.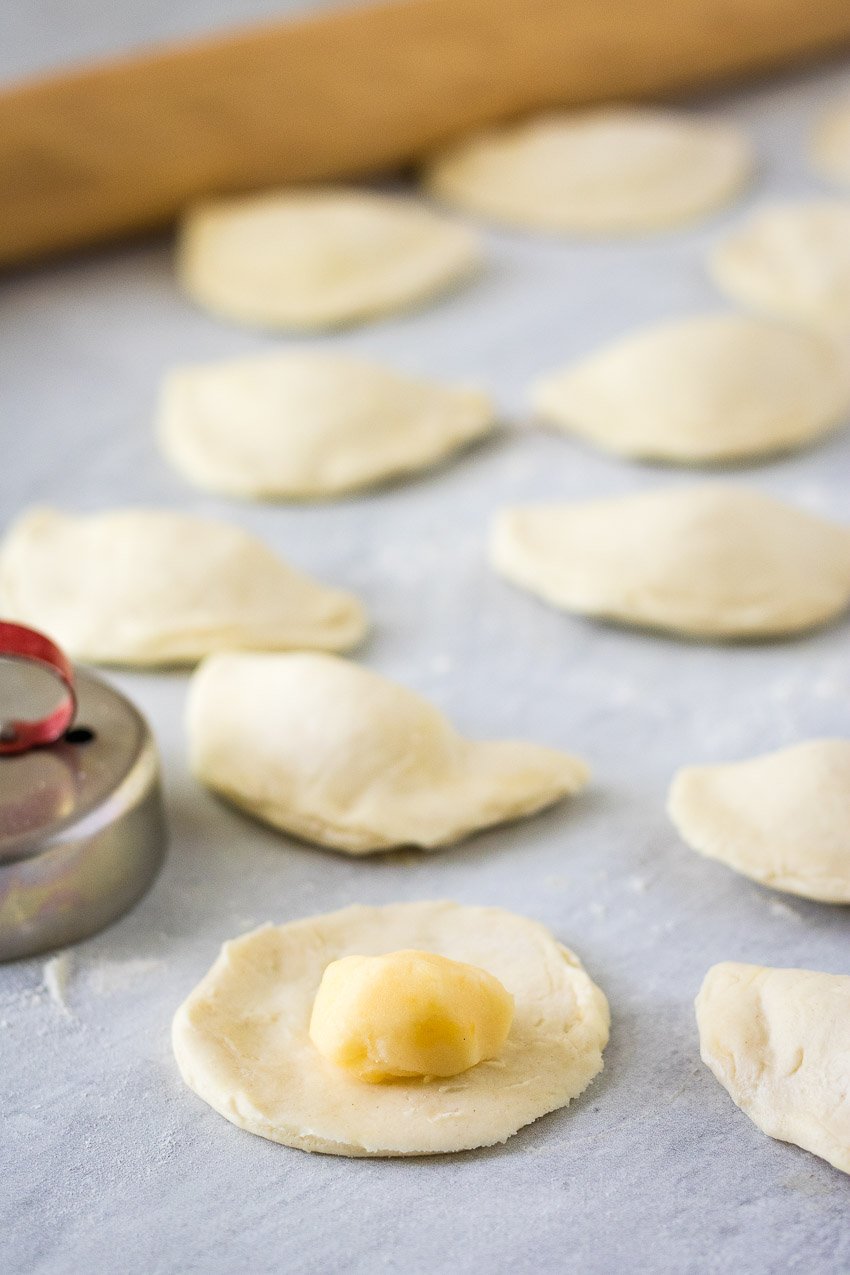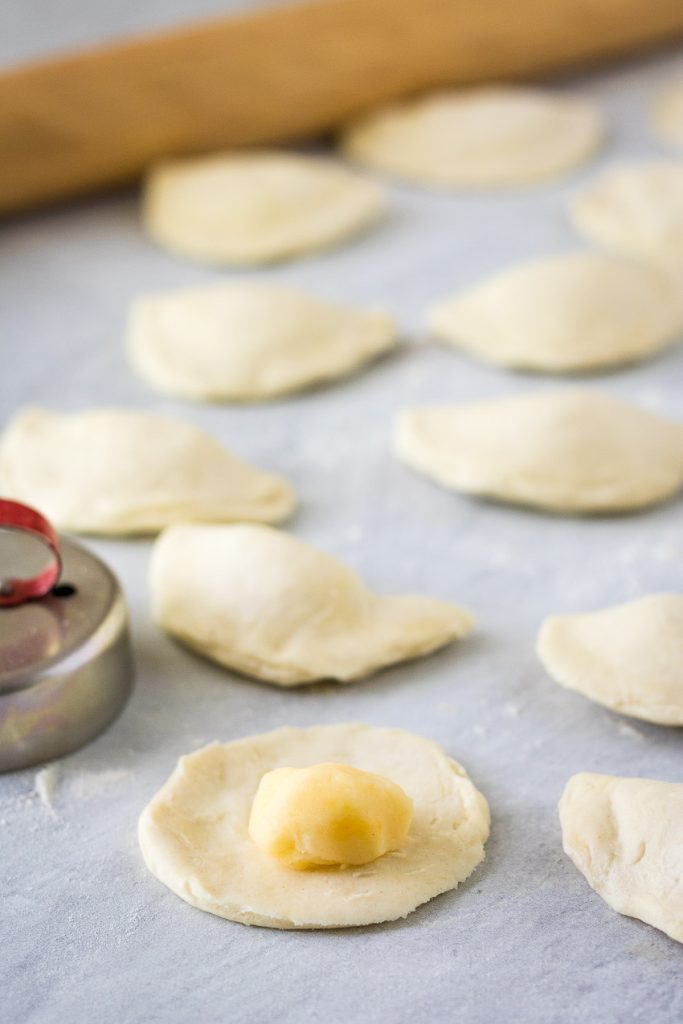 Serving Suggestions for the Best Homemade Pierogi Recipe
While I love this homemade pierogie recipe served as is, drenched in the rosemary brown butter, you can do so many things with these pierogies.
For starters, you can fry them in oil or bake them in the oven after you boil them for a crispier finish. If you choose to cook them like that, they will be more like the pierogies you can find at fairs and festivals.
You can also change up your toppings. They would be delicious topped with caramelized onions or served up with sauerkraut and kielbasa or with this delicious caramelized sauerkraut and beer bratwurst.
If you want a simpler topping, you could top them with sour cream. Or you could get crazy and dunk them into cheese sauce because cheddar makes everything better.
Freeze This Kid Friendly Favorite!
Lastly, I like to make big batches of these homemade pierogies and freeze them.
To freeze these pierogies and save for a later date, don't cook them after you have them filled and sealed. Instead, place the sealed uncooked pierogi on a wax paper lined baking sheet. Freeze them for 30 minutes. Then, remove them from the freezer and gently place them in a ziplocking freezer bag.
Securely sealed with any excess air removed, they can be stored in the freezer for up to three months. Just remove the desired amount and plug them into the recipe of your choosing or heat them up for an after school snack for your kids.
I love to keep them on hand to use in these recipes: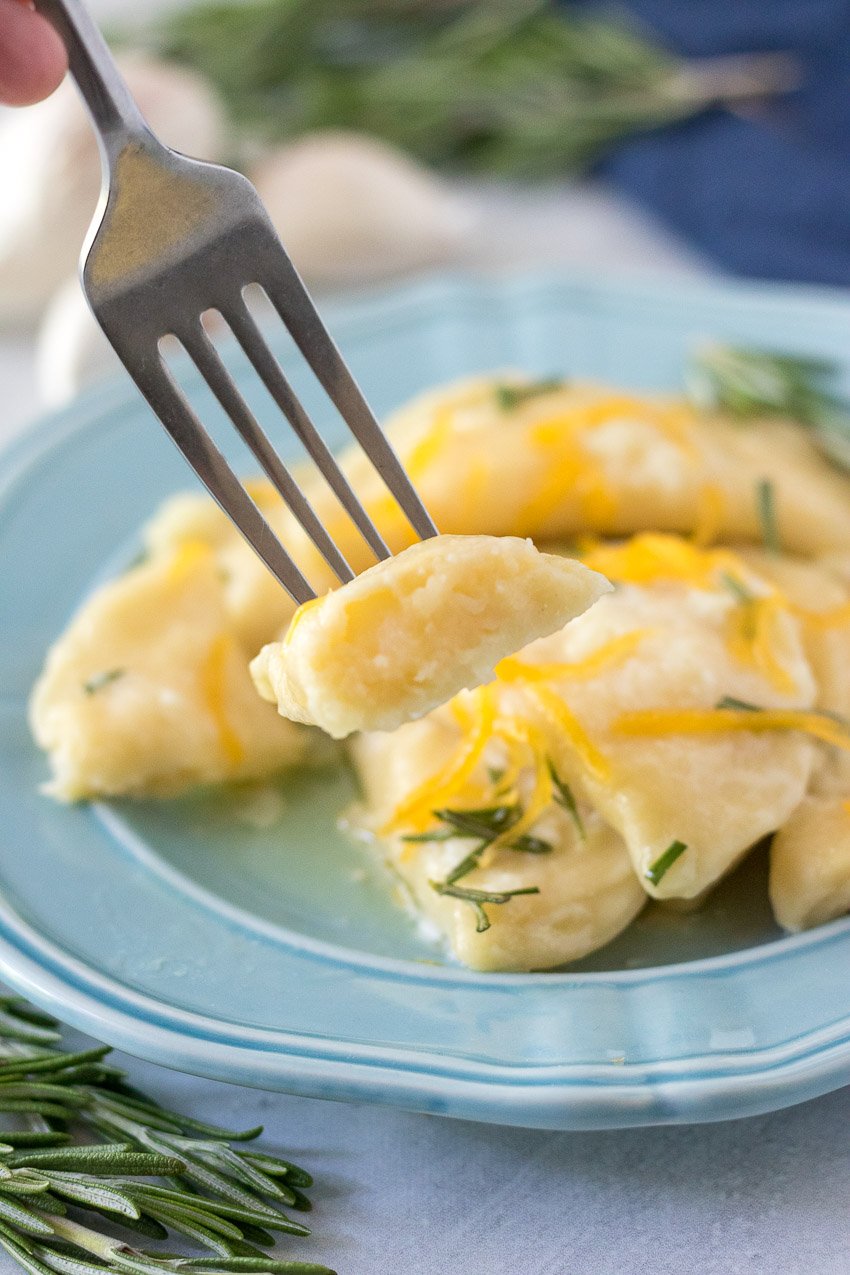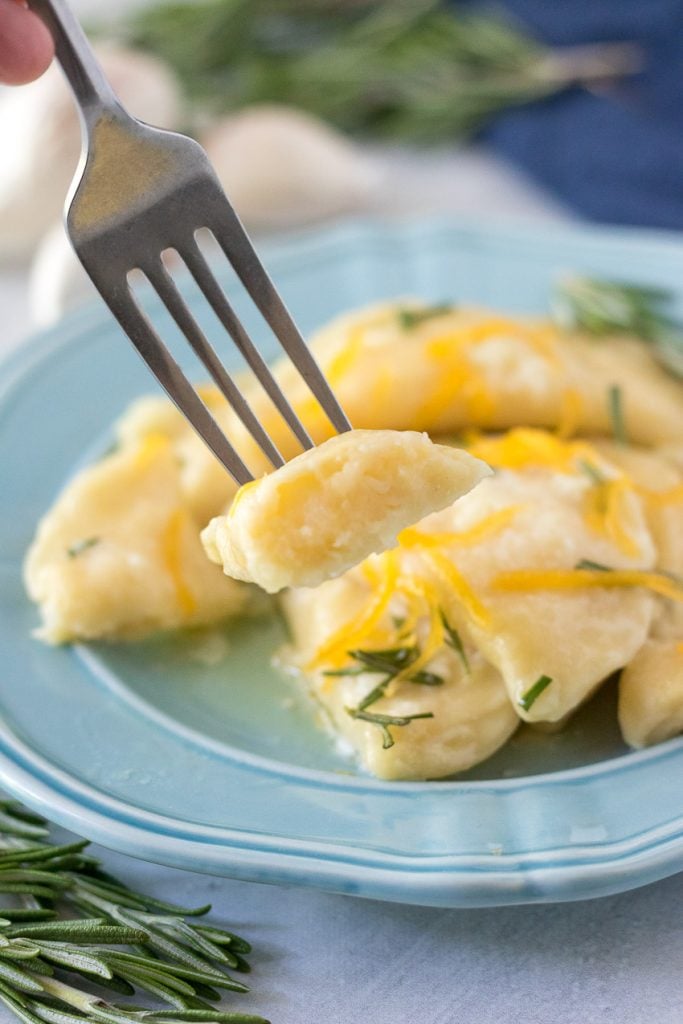 Anyway you make or serve this homemade pierogi recipe, you'll never buy a frozen pierogi again!
If you've tried these HOMEMADE PIEROGI RECIPE, or any other recipe on my site, let me know in the comment section how it turned out, we love hearing from our readers! You can also follow along with me on PINTEREST, FACEBOOK, and INSTAGRAM to see more amazing recipes and whatever else we've got going on!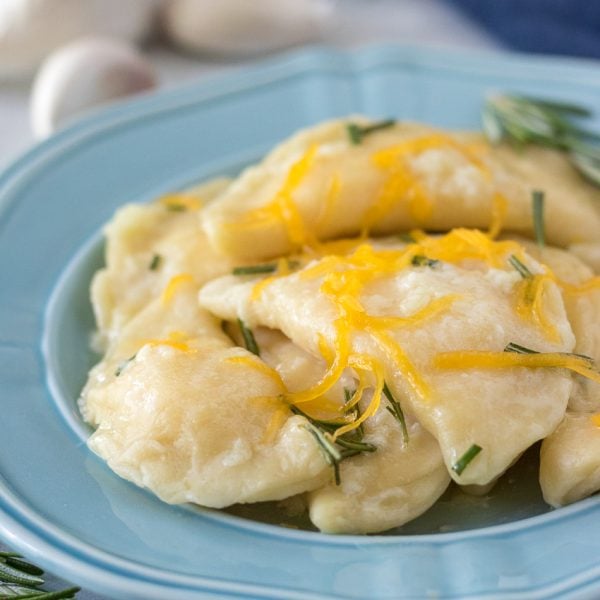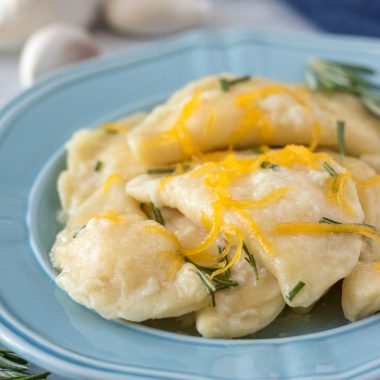 Homemade Pierogi Recipe
These simple potato dumplings are just like my husband's Polish great grandmother used to make. Pillowy, tender & stuffed with a creamy cheddar potato filling- they're the perfect pierogi recipe to have on hand at all times.
Print
Pin
Rate
Ingredients
For The Dough
2

cups

flour

1

tsp

salt

2

tsp

butter

melted

1

cup

sour cream

1

egg
For The Filling
4

russet

potatoes

peeled & quartered

2

cups

shredded sharp cheddar cheese

+ more for garnish

2

tbsp

butter

softened

1/2

tsp

onion powder

1/4

tsp

garlic powder

salt & pepper

to taste
For The Rosemary Butter
1

stick

butter

2

cloves

garlic

minced

1

tbsp

fresh rosemary

chopped
Instructions
To Make The Dough
Add the flour, salt, butter, sour cream, & egg to a large mixing bowl. Stir them together until the dough comes together. Knead the dough for 2-3 minutes in the bowl. Cover the bowl, and let the dough rest for 30 minutes.
To Make The Filling
Add the potatoes to a large pot. Fill the pot with cold water about two inches above the potatoes. Generously salt the water & bring the pot of potatoes to a rolling boil.

Boil the potatoes for 20-30 minutes, until tender. Transfer the potatoes to a colander to drain.

Transfer the hot potatoes, butter, & cheese to the bowl of a stand mixer, and using the paddle attachment whip them until smooth. Salt & pepper the potato mixture, to taste.

Transfer the dough to a liberally floured surface. Use a rolling pin to roll the dough out into a rough rectangle about 1/8" thick. Use a 3" biscuit cutter, cut the dough out into circles.

Spoon roughly two teaspoons of the potato filling into the center of each dough cut out. Brush the edges with water and fold half of the dough over the filling to enclose it. Use your fingers to press down the dough edges to seal the pocket, pressing out all the air as you do so.
To Cook The Pierogi
Bring a large pot of salted water to a rolling boil. Cook the pierogi in batches, for 1-2 minutes at a time- or until they float.

Use a slotted spoon to remove the cooked pierogies from the hot water. Repeat until all the pierogi are cooked.
To Make The Rosemary Butter Sauce
Heat a large skillet over medium high heat. Add the butter whisking until it's nicely browned. Add the rosemary and garlic, whisking another 20-30 seconds- just until they've become fragrant. Remove the butter from heat.

Divide the cooked pierogi onto plates, and spoon the butter evenly out over them.

Season with salt & pepper, to taste. Sprinkle the cheddar evenly out among all the plates. Add extra rosemary, or greenery for garnish, as desired. Serve immediately, and enjoy!