Give a 'kiss' to someone sweet this year for Valentine's Day. These giant Hershey's Kiss Rice Krispie Treats are the perfect way to show someone you care.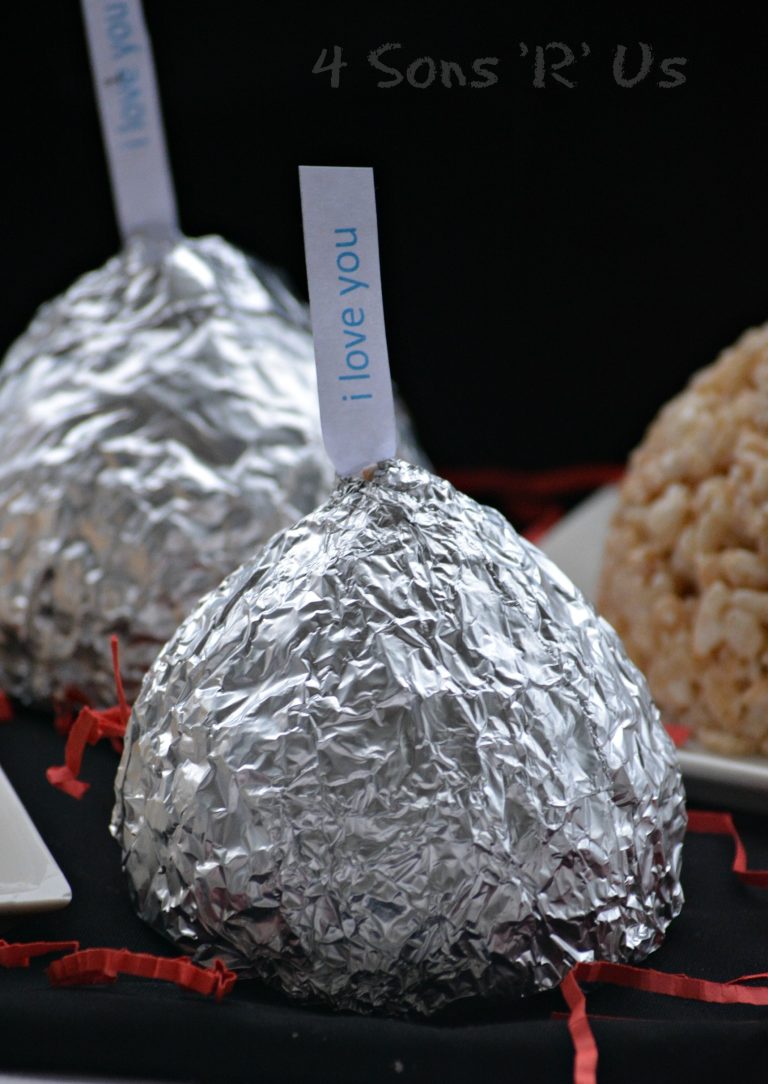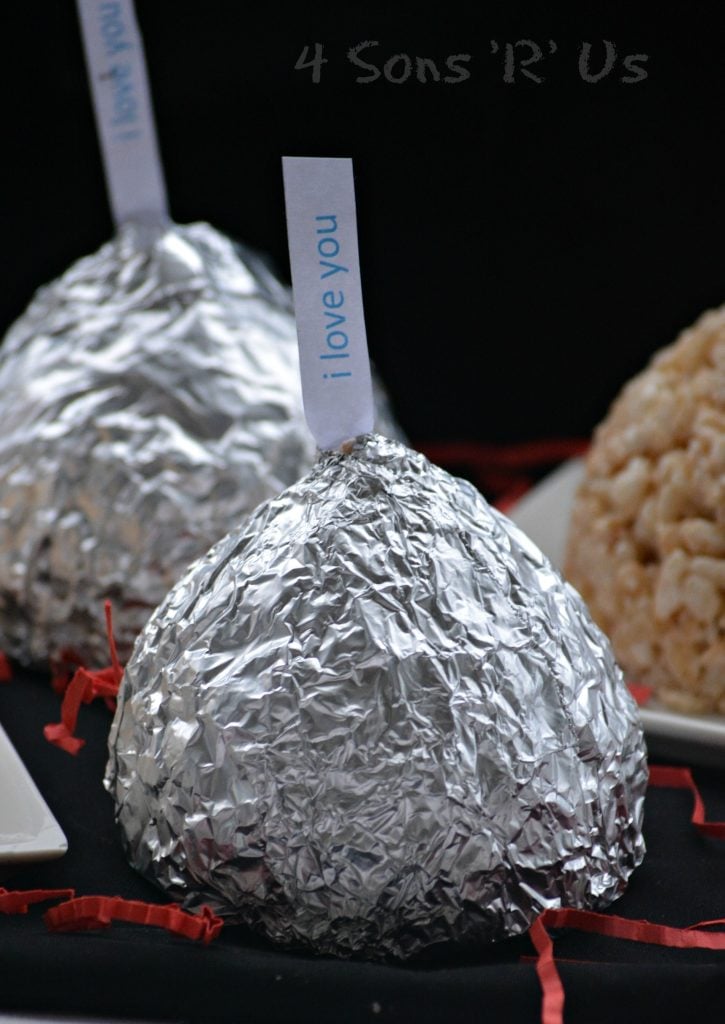 I don't know what it is about Rice Krispies cereal that makes it so darn yummy, but it has held a coveted spot in my cupboard since I was small.
And it's always been there for me, and along for the ride from childhood into adulthood.
Grandma always had a pan of sweet, sticky Rice Krispie treat bars waiting for us when we got off the bus on particularly trying school days.
How she knew I'll never know, but her conspiratorial smile and her Rice Krispies treats made any day better.
When I was pregnant, I left out the sticky, sweet marshmallows and instead enjoyed the cereal as it was meant to be, by the bowlful drowning and saturated with cold, creamy milk.
One could argue my pregnancy was sponsored by said cereal. It also may explain his inherent love for it too.
And now I find myself using them to make special treats for my own kids. We've covered them in sprinkles, used food coloring to dye the milk they're served in.
This year for Valentine's Day I decided to switch things up and make our tried and true treats, but with a twist.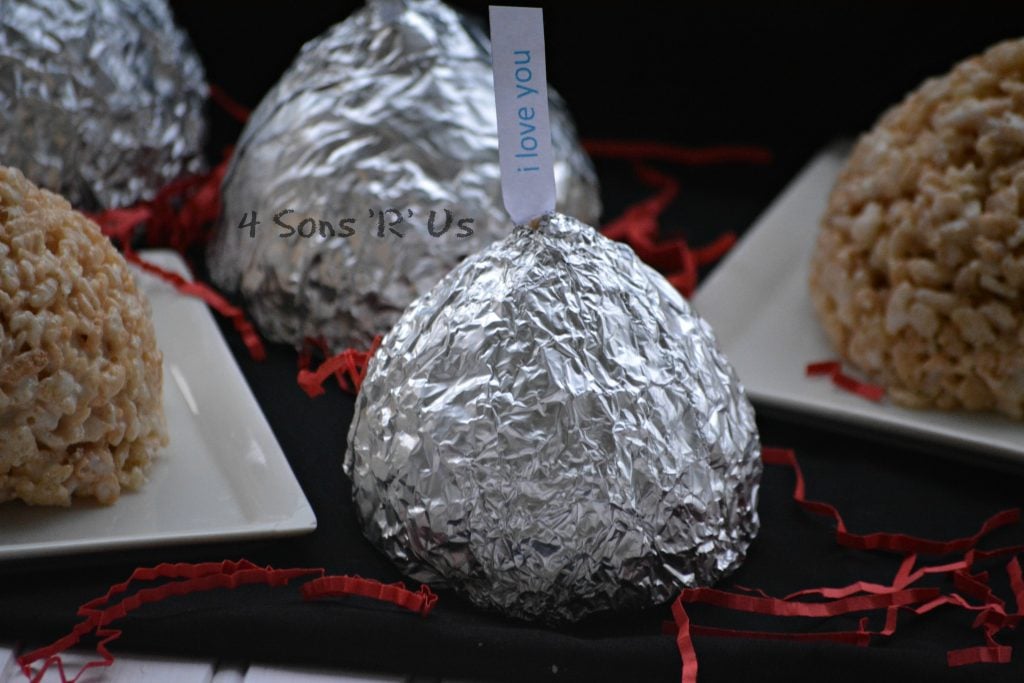 We used a plastic kitchen funnel to mold a classic Rice Krispie treat recipe into over-sized, adorable Hershey's Kiss shapes.
Then we added our own customized 'niggly wiggly' strip (google it, that's actually what those little strips of paper are called).
Finally we wrapped our Hershey's Kiss rice krispie treats all up in foil for a fun, festive, updated version– that's as cute as it is easy.
If you've tried these HERSHEY'S KISS RICE KRISPIES TREATS, or any other recipe on the site, let me know in the comment section how it turned out, we love hearing from our readers! You can also follow along with me on PINTEREST, FACEBOOK, and INSTAGRAM to see more amazing recipes and whatever else we've got going on!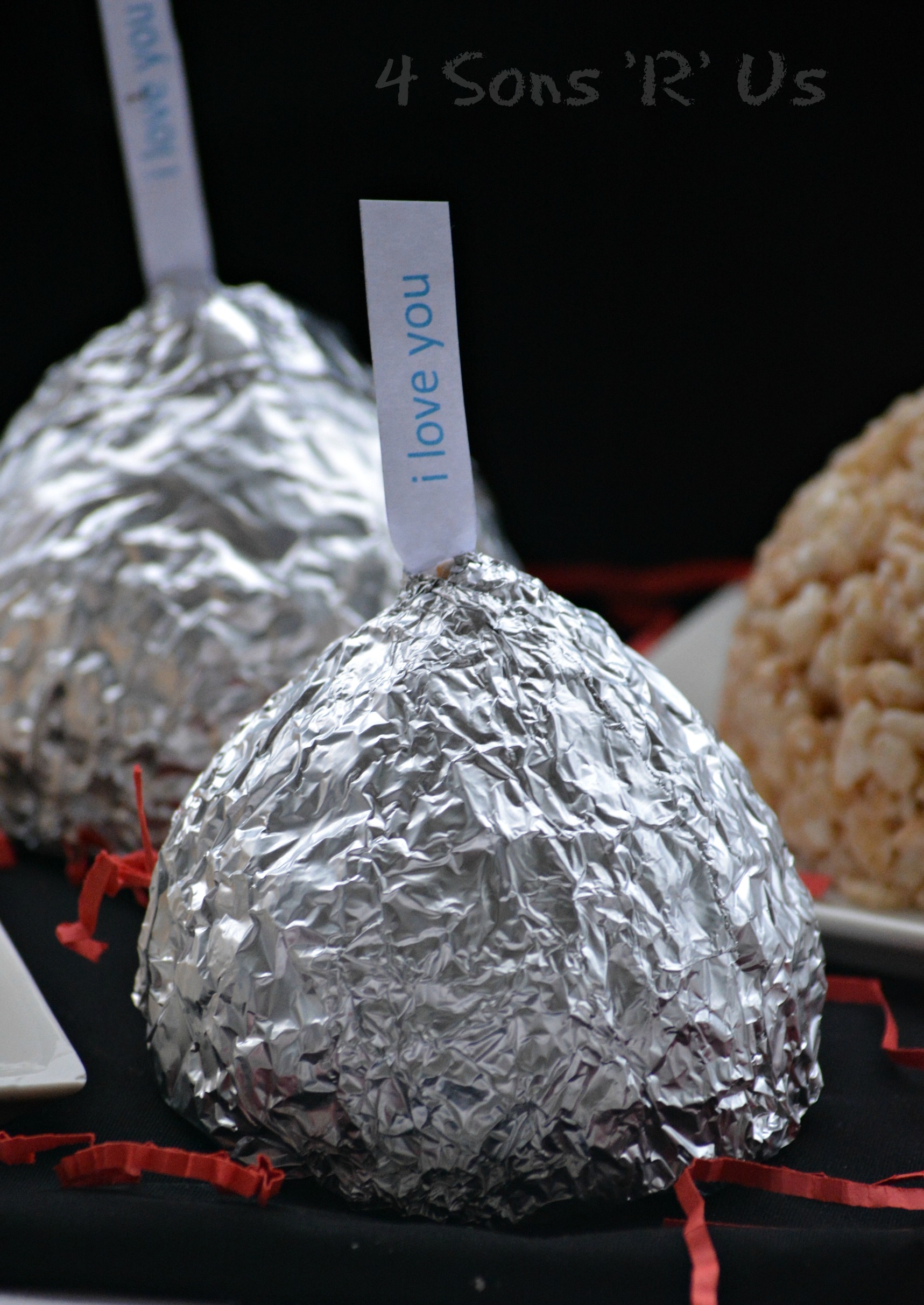 Hershey's Kiss Rice Krispies Treats
These adorable SUPER SIZED giant rice krispies Hershey "Kisses" are SO incredibly simple and fun, they make perfect Valentine's for kids and adults alike whether it's just because I love you, or as a thank you for teachers or even just as a classroom treat.
Print
Pin
Rate
Ingredients
1/4

cup

butter

1 10

oz

bag of marshmallows

about 4 cups

5

cups

of dry Rice Krispies cereal

non stick cooking spray

kitchen funnel

aluminum foil
Instructions
Microwave the butter and marshmallows on high for 1 minutes in a microwave-safe, very large mixing bowl. Stir the marshmallows and return them to the microwave and heat on high for another minute. Alternatively, you can use a double boiler on the stove top over medium heat.

Spray a spatula with non-stick cooking spray and stir them together until the mixture is smooth and evenly combined.

Add in the cereal, and use your coated spatula and stir until the cereal's all well coated.

Spray or grease a medium-large sized kitchen funnel with cooking spray, and also line a large baking sheet with wax paper.

Use your greased spatula to scoop the rice krispies mixture into the funnel, and then place a hand under the wax paper- using the top to press/pack the rice krispies mixture into the funnel for firmly take on the mold, then gently remove your hand from under the wax paper, letting the trest filled funnel rest on top. Gently lift up on the funnel and it should release immediately and easily come away from the rice krispie treat.

Repeat, as needed, until you have used all of your rice krispies treat mixture. Let the finished 'kisses' set on the baking sheet for about 10 minutes to allow them to 'set' some.

To get your strips, use whatever basic font you want and type in size 20 the 'Valentine's' phrase of your choosing. Set the font color to a darker light blue. Center the font so there's plenty of room on either side. Print, and cut the phrases out of the computer paper into thin 'niggly wiggly' strips.

Place a treat in the center of a medium to large sheet of aluminim foil, including on of the overly long sentiment strips. Wrap up the treat completely in the aluminum foil, pressing down all the edges so that's it's as smooth as possible and the sentiment is intended out of the top of the packaged treat.

Snip off any excess white on the niggly wiggly to make it the desired length and give one to someone special.
Notes
If you want it to be more *authentic, use chocolate rice krispies cereal.
These can also be made as is and dipped in melted chocolate that's then allowed to set, before the packaging step.
Nutrition
Calories:
483
kcal
|
Carbohydrates:
93
g
|
Protein:
4
g
|
Fat:
12
g
|
Saturated Fat:
7
g
|
Cholesterol:
31
mg
|
Sodium:
348
mg
|
Potassium:
44
mg
|
Fiber:
1
g
|
Sugar:
48
g
|
Vitamin A:
2683
IU
|
Vitamin C:
22
mg
|
Calcium:
3
mg
|
Iron:
11
mg