Cream cheese flavored fudge is studded with chunks of red velvet oreo cookies, and topped with them too. Cut into cute little hearts, this Three Ingredient Red Velvet Oreo Fudge is a perfect Valentine's Day treat.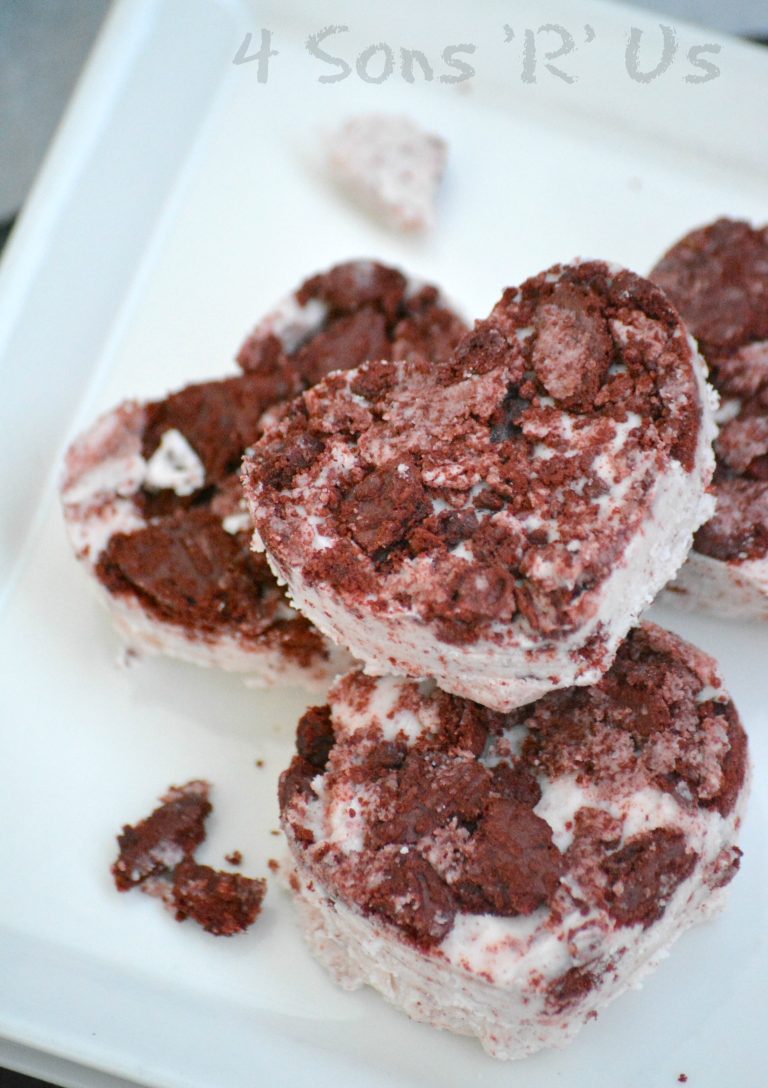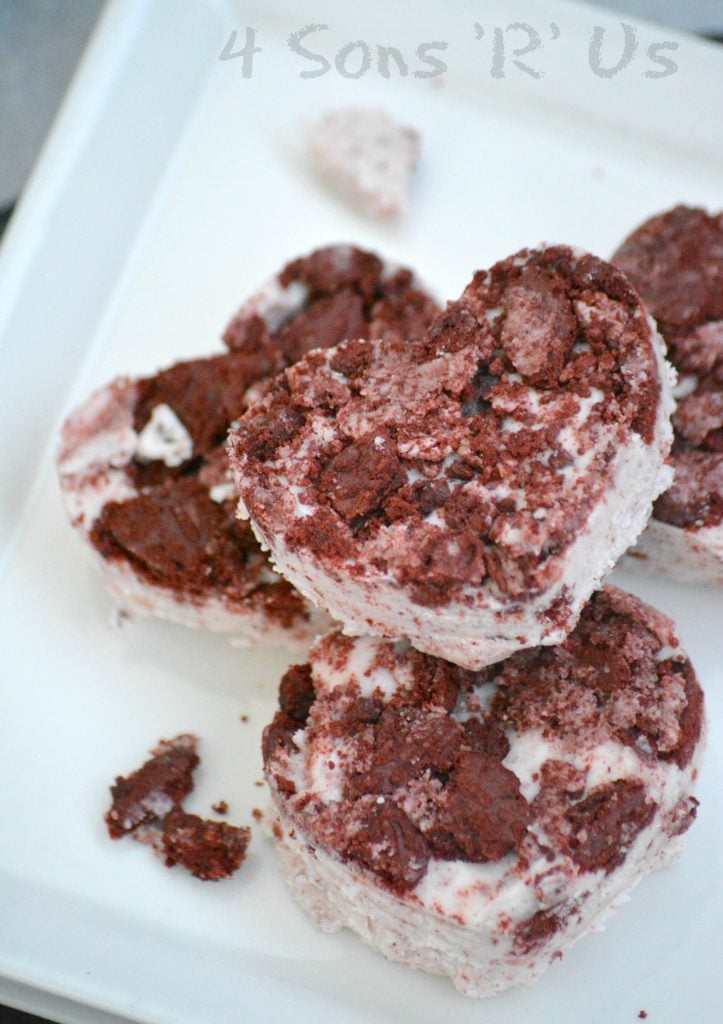 I remember when I was little and fudge seemed to be a part of every special occasion where any grandparent was involved. They were so excited whenever anybody sampled some, too. And it was a given if we were receiving a gift of any sort, fudge would be included too.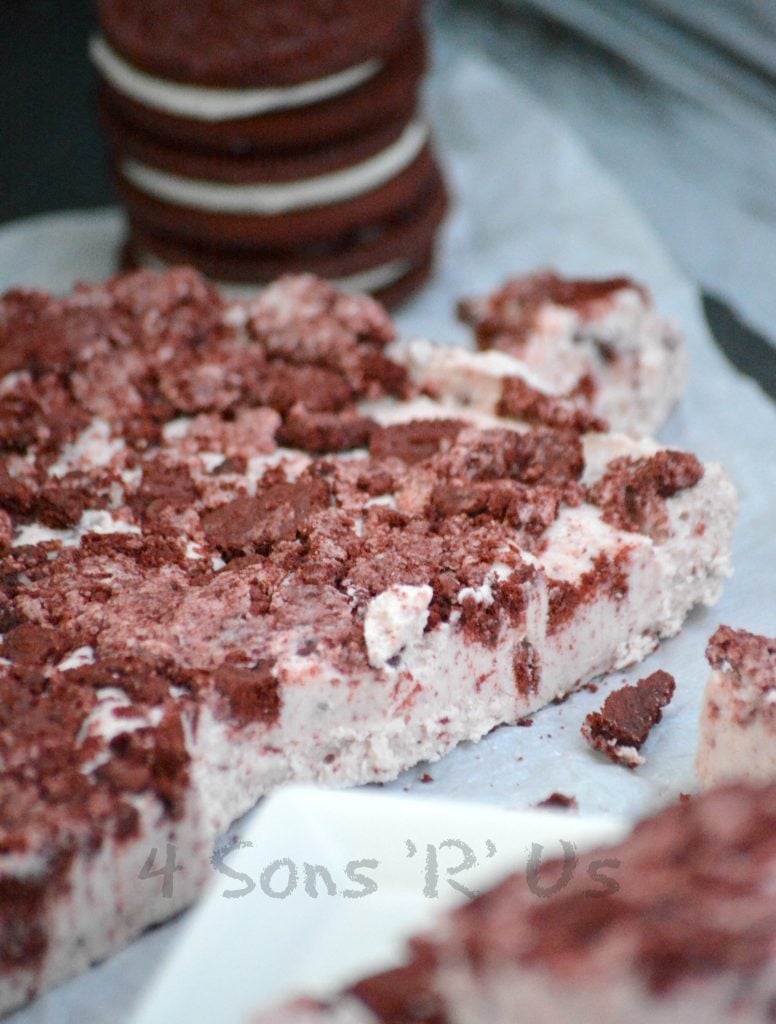 It didn't matter, and also really didn't help, that I didn't actually like said fudge. I mean it wasn't horrible, it was probably even great knowing my Grandma's cooking. It just wasn't my cup of tea. My Mom always love tea, not me– but I probably would have taken it over fudge.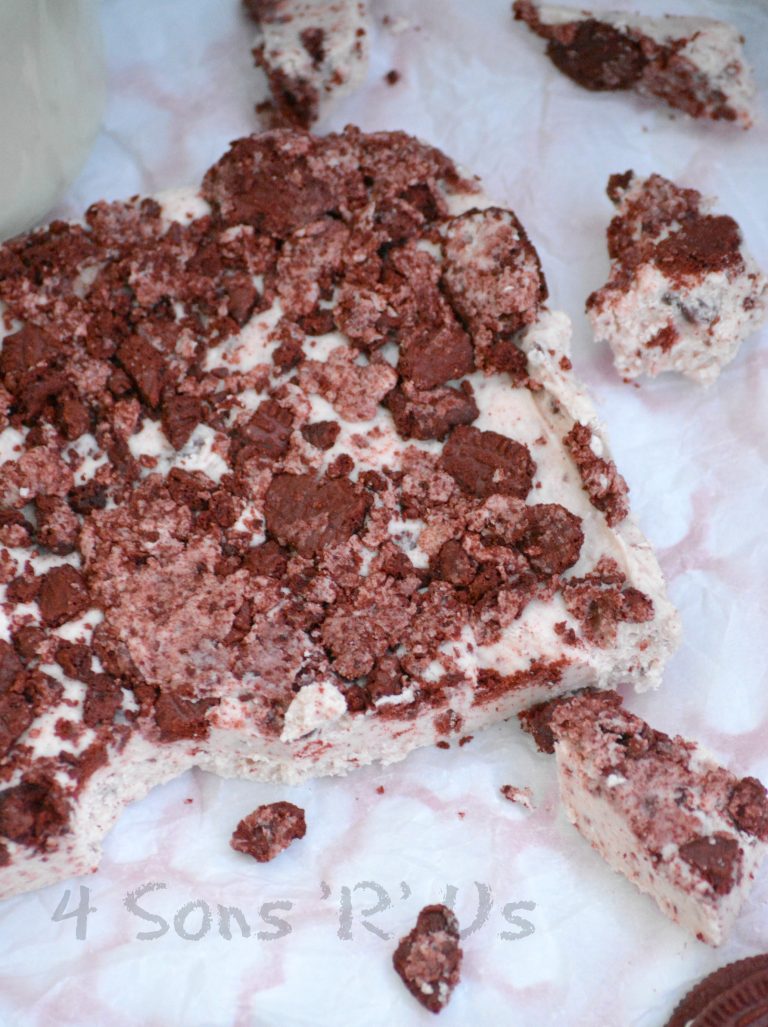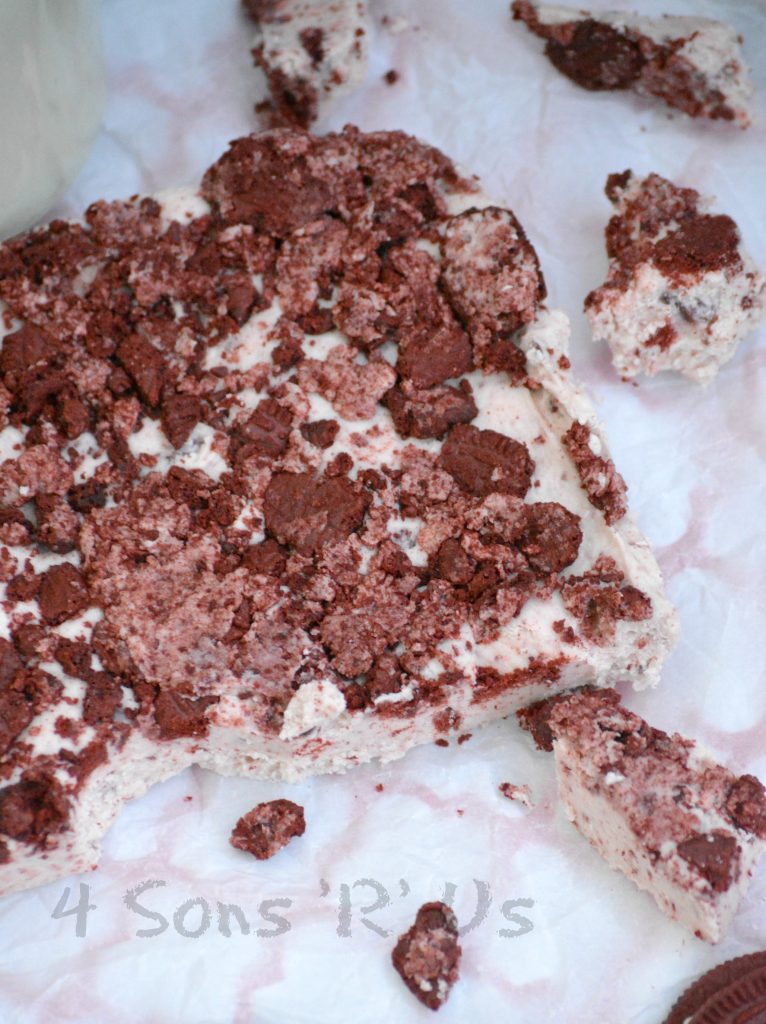 Did I mention that it was plain fudge? By plain, I mean that it was either chocolate or peanut butter. Nothing more, always separate, and never the twain shall meet. Naturally, I grew up thinking that was all the fudge world had too offer.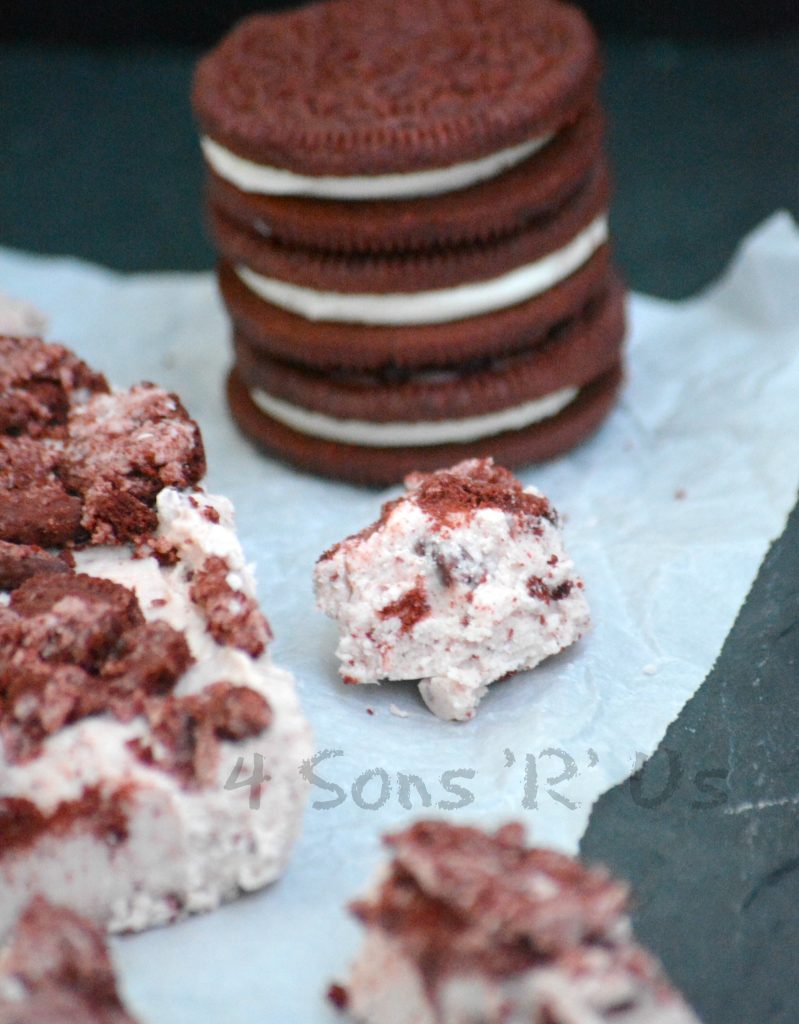 Imagine my shock when I first saw fudge that magically melded the flavors of key lime pie into creamy little bites of heaven?? Experimenting with different flavors really opened my eyes to the possibilities. Nothing plain or boring around the holidays with a batch of Gingerbread Cookie Dough Fudge. But I don't think there was anything in this world that could have prepared me for this Three Ingredient Red Velvet Oreo Fudge. Not. A. Thing. Like bug-eyed, jaw dropping, total moment of silence, stunned amazement.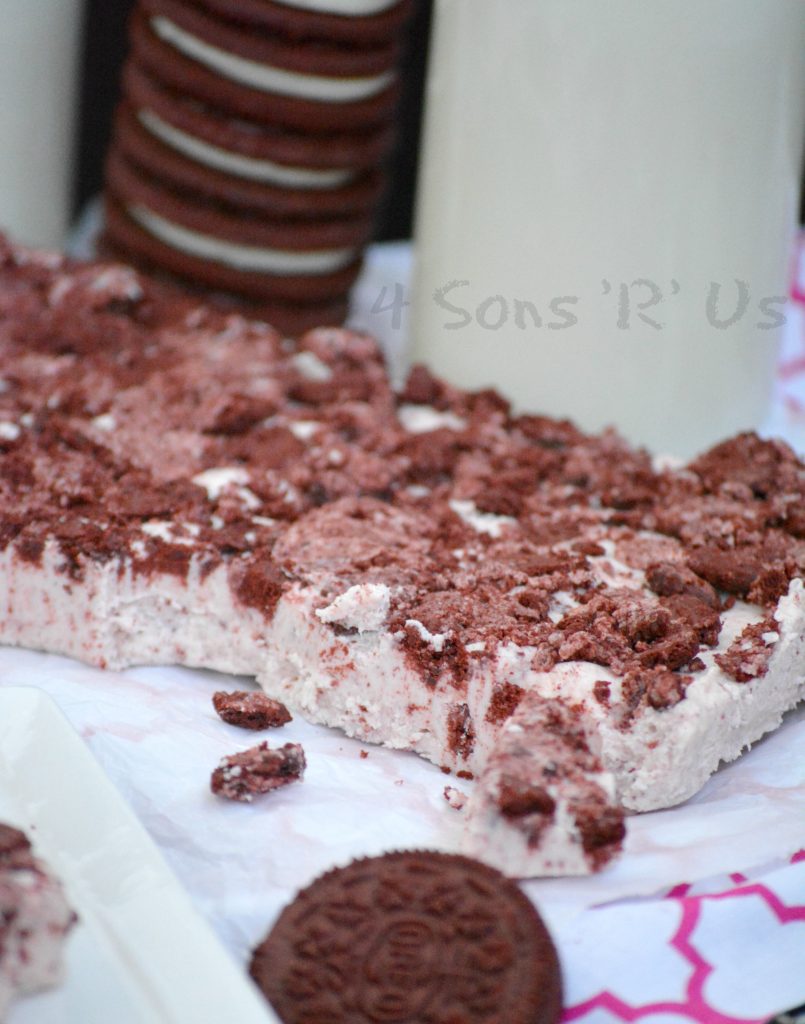 Chunks of crumbled red velvet oreo cookies are swirled into a yummy cream cheese flavored chocolate fudge. Never one to shy away from a 'garnish', a thin cookie topping is the perfect final touch for red velvet flavor to infuse every bite. Use a cookie cutter to cut out little hearts for an adorable sweet treat to share with someone special on Valentine's Day.
This Three Ingredient Red Velvet Oreo Fudge is good family fun, perfect to share with the class, coworkers, or to hoard all for yourself– because self love's important too.
Just don't tell Grandma that you didn't use her recipe.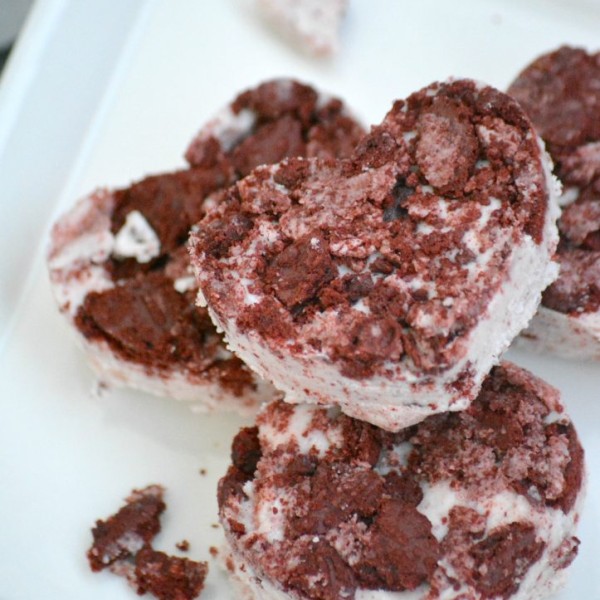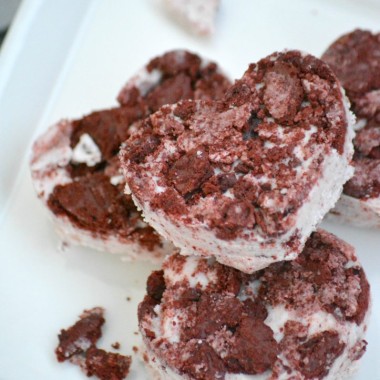 Three Ingredient Red Velvet Oreo Fudge
A creamy cream cheese flavored fudge studded with chunks of red velvet oreo cookies, topped with more cookie crumbles for good measure, and cut into hearts for a super cute, edible Valentine.
Print
Pin
Rate
Ingredients
2

cups

white chocolate chips

12

oz

container cream cheese frosting

½

cup

finely chopped Red Velvet Oreos

about 4 Oreos

1

cup

roughly chopped Red Velvet Oreos

about 8 Oreos
Instructions
In a double boiler over medium low heat. Not too high, so it doesn't scorch. When most of the chocolate's begun to shine, use a spatula to stir until completely smooth.

Remove the chocolate from heat, and stir in the frosting and the finely chopped cookie bits into the chocolate until evenly incorporated.

Prepare an 8x8 baking dish with non stick cooking spray. Use the spatula to spread the fudge out evenly over the bottom.

Sprinkle the remaining oreos evenly out over the top. Use your hand to gently press them into the fudge.

Transfer the dish to the refrigerator until the fudge has cooled completely and set.

Use a cookie cutter to cut the fudge into little hearts, or any other shape you'd like. Or go the more traditional route and use sharp knife to cut it into cubes.