Strawberry cupcakes are kicked up a notch with delightfully fluffy strawberry icing and a crunchy topping. These nostalgic strawberry crunch cupcakes capture all the flavors of a strawberry shortcake ice cream bar. Their pretty pink color makes them the perfect Valentine's Day cupcake or a great treat for a baby shower or any other fun pink occasion.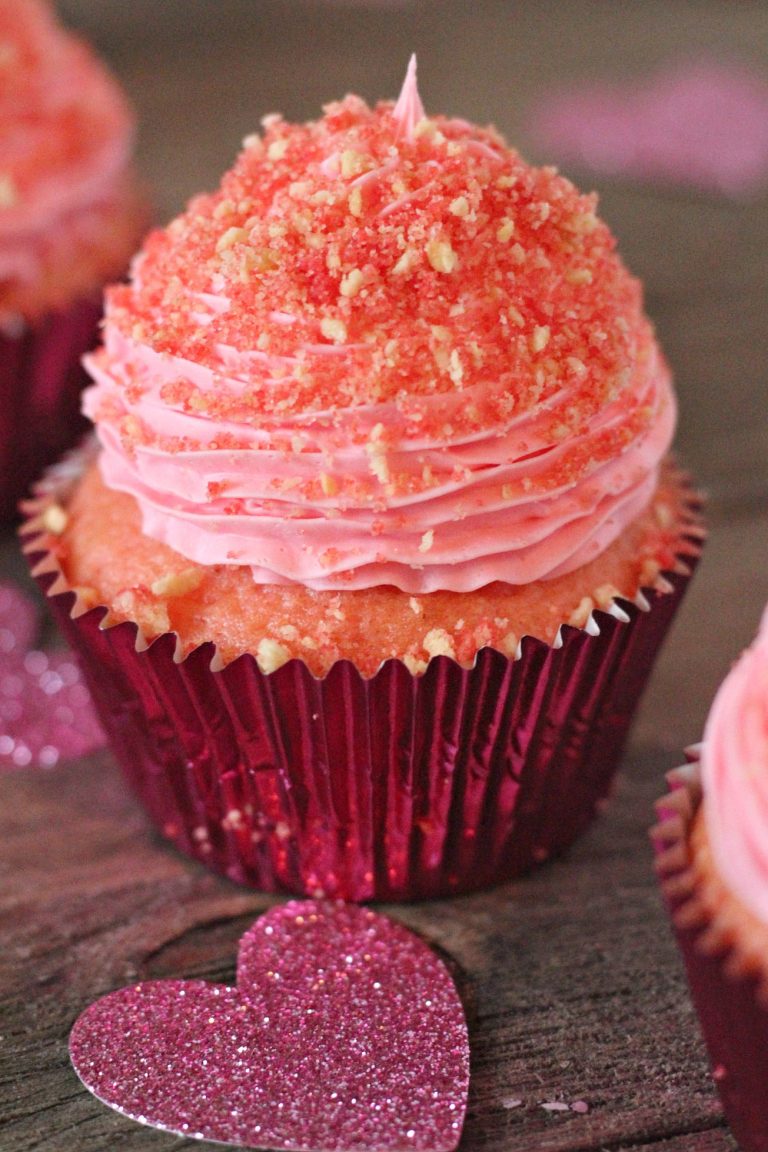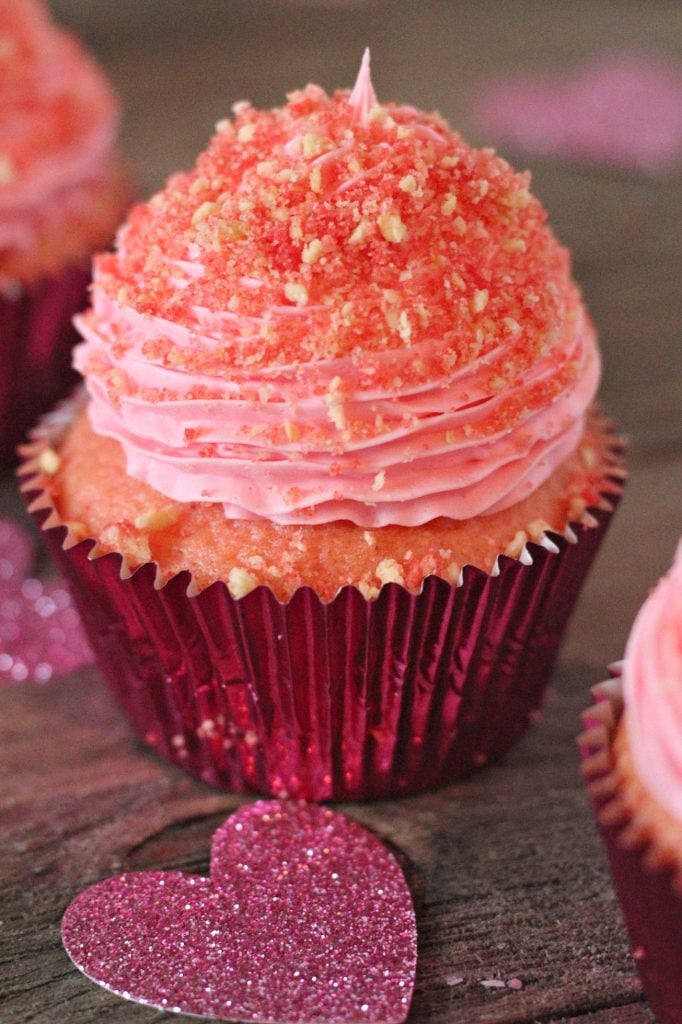 Did your elementary school cafeteria have ice cream bars for sale for dessert? Mine did, and one of my favorite treats to buy after lunch was one of those strawberry shortcake ice cream bars.
Do you remember them? They had the strawberry ice cream center surrounded by a layer of vanilla ice cream all covered in those delicious, addicting shortcake crunchies.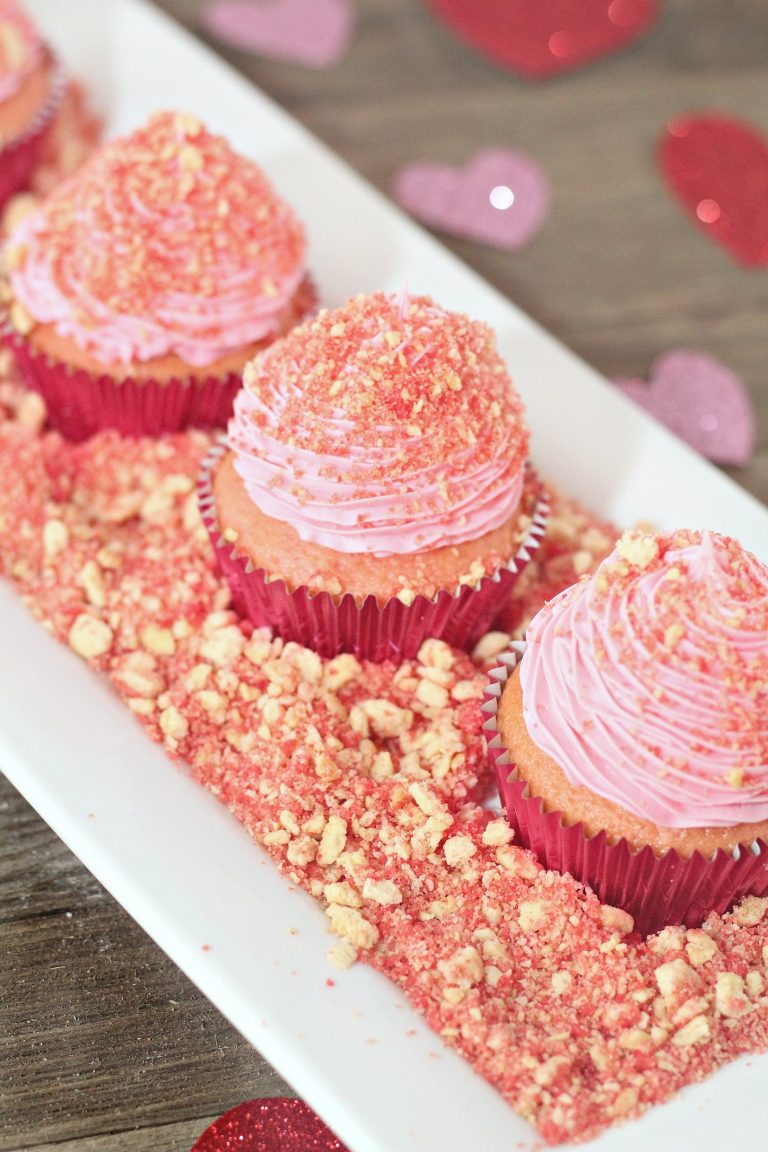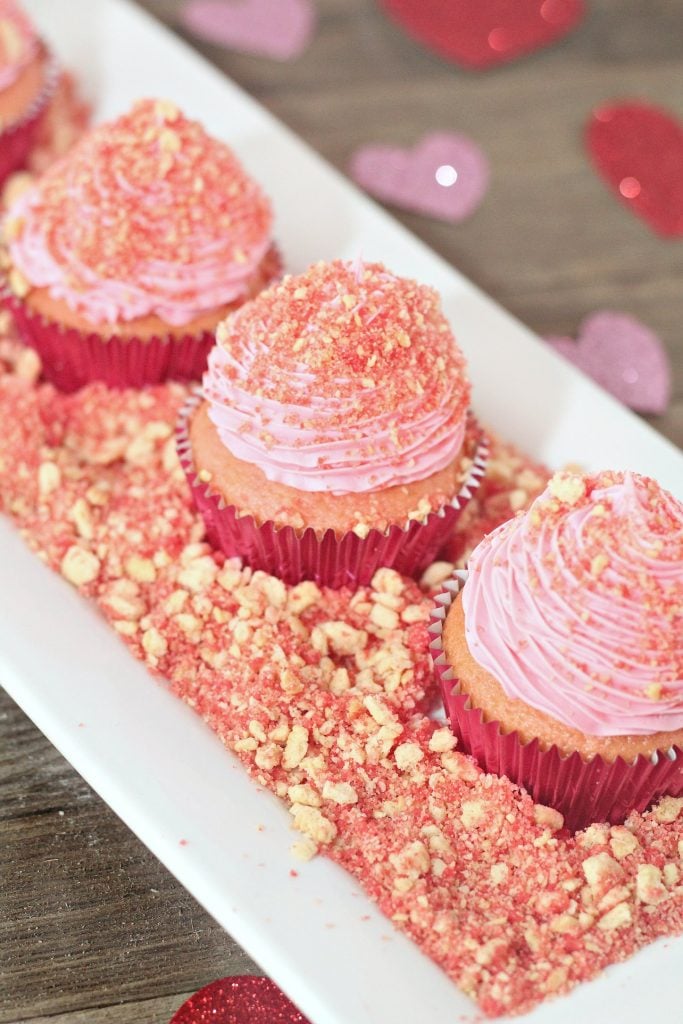 The best. I loved those crunchies. They were my whole reason for buying those ice cream bars. And for looking to dessert at school lunches period! Well, these strawberry crunch cupcakes are topped with my take on that crunchy strawberry shortcake coating.
And let me tell you, I can eat this homemade crunch coating by the spoonful. It is every bit as addictingly delicious as the coating on the ice cream bars.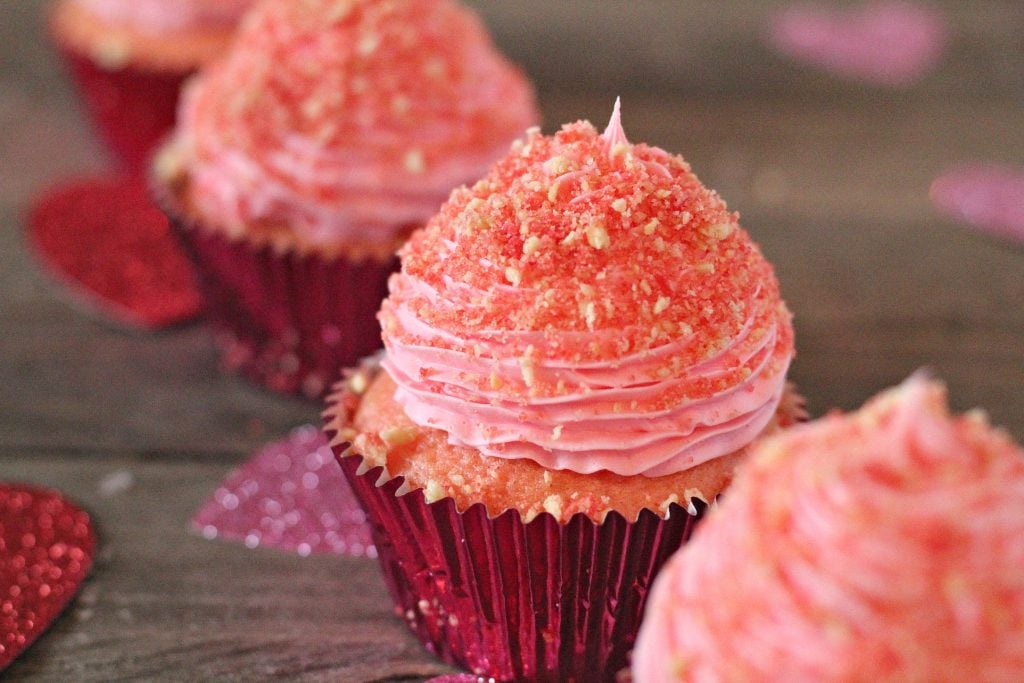 These cupcakes are a bit more involved than some of my other recipes, but I promise you, they are worth it. And we will take some shortcuts to get there so we aren't working unnecessarily hard.
To start, we are going to make the strawberry cupcakes from a box mix. Because the cupcakes, while important, take a backseat to the all important icing and topping. Those we aren't going to cut corners with.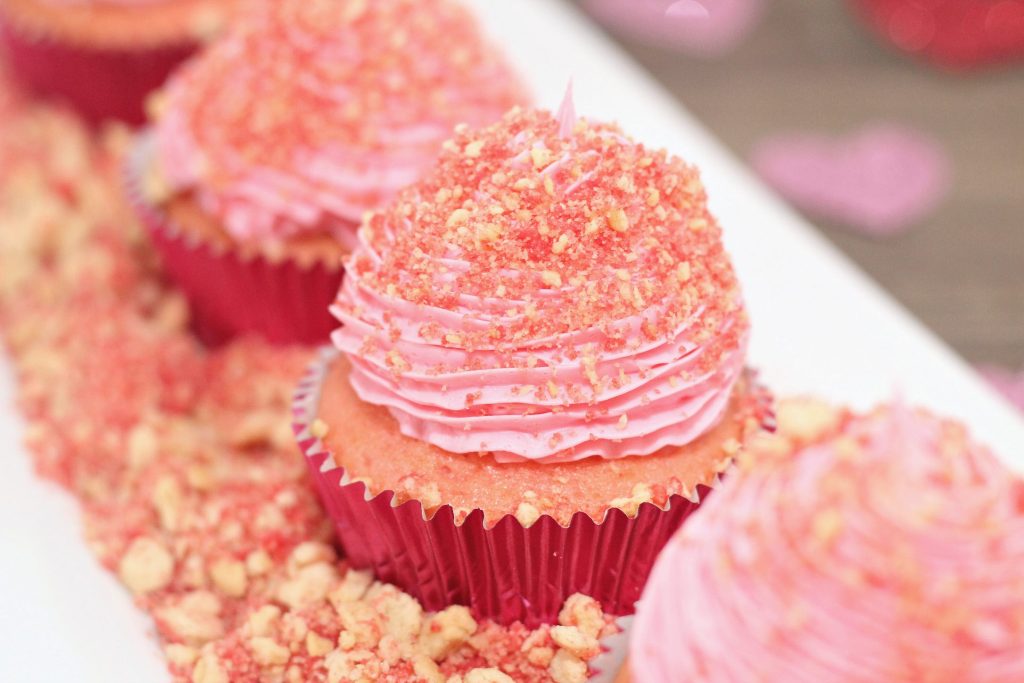 After you bake your cupcakes and let them cool, assemble the icing. In a large bowl, beat together the cream cheese, butter, and half of the package of jello mix. Once mixed, add in the heavy cream. Then add in the powdered sugar gradually until the icing reaches the desired consistency.
Lastly, add a few drops of food color to make the icing so perfectly pink. The icing should be able to hold its shape without being too dense to work with.
Other Strawberry Desserts You Might Also Enjoy: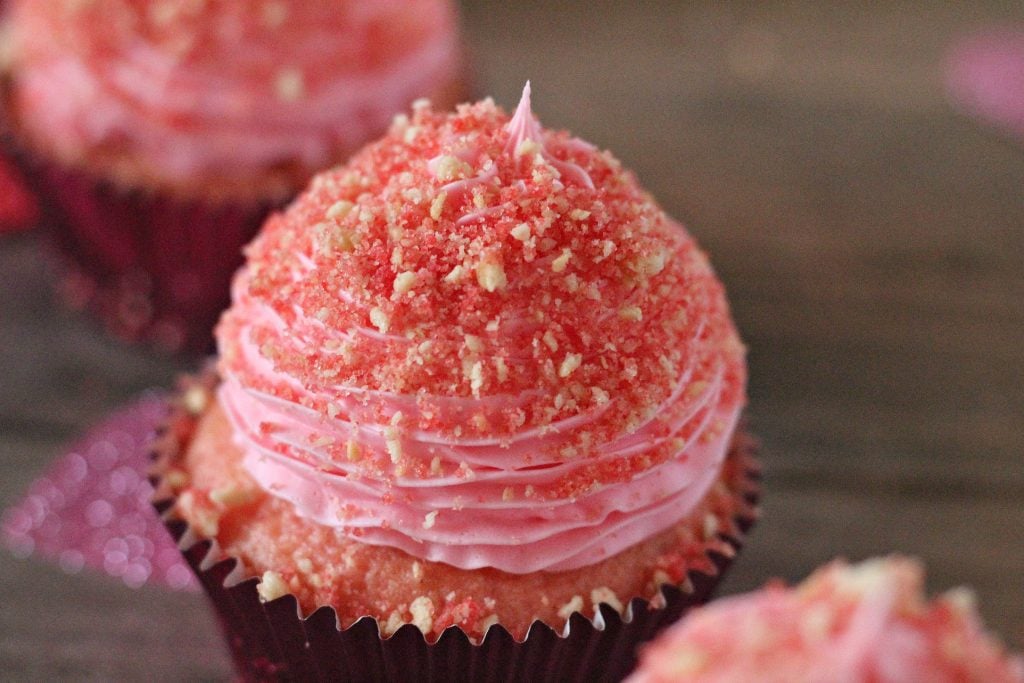 Once the icing is finished, spoon it into a piping bag fit with a 1M piping tip. Pipe the icing onto each cupcake.
A couple of tips to pipe your icing and make the pretty swirls. First make sure you twist the top of the bag closed. If you don't you will have a big mess. Next, use even pressure as you squeeze the piping bag. If you don't, the swirl will be kind of uneven and lumpy. And lastly, don't worry too much about icing imperfections. You are going to cover them up with the crunch.
To make the crunch, grind up the golden Oreos in a food processor. Then add in the remaining jello mix and pulse to combine. Lastly, add in the melted butter, a little at a time until you see the mixture become a little moist. Then resist the urge to eat all the crunchies with a spoon while you let it firm up a bit. Then break it into crumbles and spoon on top of your cupcakes.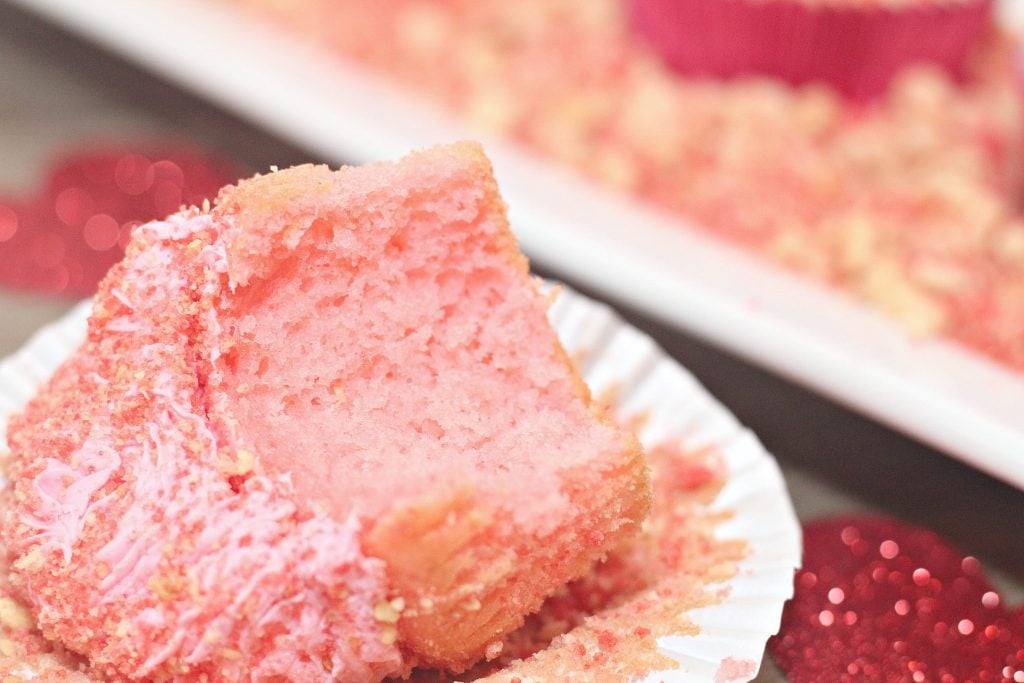 The result? A perfect pink strawberry crunch cupcake that is light and fluffy and topped with irresistible icing and crunchies. Truly the perfect way to sweeten up Valentine's Day.
Other Cupcake Ideas You Might Also Enjoy: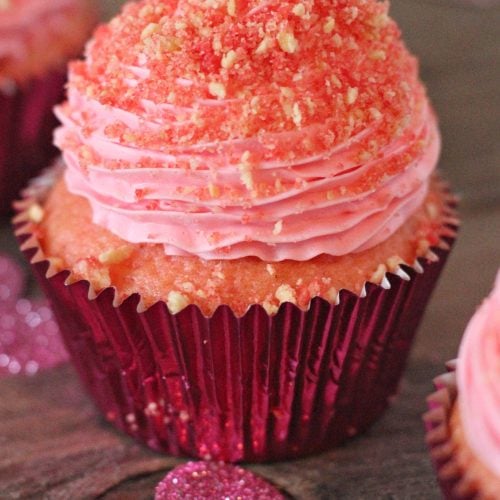 Ingredients
1

package of Strawberry Cake Mix

1

cup

of Water

1/2

a cup of Oil

3

Eggs

8

oz.

of Cream Cheese

1/2

a cup of Butter

2

tablespoons

of Heavy Cream

1

box of Powdered Sugar

1/2

of a

3 oz. package of Strawberry Jello Mix

Red Food Coloring

Piping Bag and 1M Piping Tip

1

and 1/2 Sleeves of Golden Oreos

Remove cream.

1/2

of a

3 oz. package of Strawberry Jello Mix

1.5 to 2.5

tablespoons

of Butter

Melted

Pink Cupcake Liners
Instructions
Start mixing together your cake mix, oil, eggs, and water.

Beat until smooth.

Line a cupcake pan with liners, and fill 1/2 way.

Bake according to box instructions

Let cool.

In a large mixing bowl, beat together cream cheese butter, and jello mix.

Add in heavy cream, and gradually add in powdered sugar until you reach desired thickness.

Add in food coloring and mix until pink.

Attach your pipping tip to your bag, and fill bag with pink icing.

Starting in the middle of your cupcake work your way out and up with icing.

In a food processor grind up your oreos.

Add in strawberry jello mix, and combine.

Add in melted butter and process until mixture becomes moist.

I let mine sit and stiffen a bit, about 1 hour.

Stir with a spoon to break up.

Sprinkle on cupcakes.

Serve and enjoy!