Bagels are great, but what if you could turn your favorite bagel & cream cheese combo into an over-sized breakfast sub that the whole family can share and enjoy together? This everything bagel bundt pan sub sandwich is just that- a fully loaded, over-sized sub sandwich made to feed even the hungriest crowd at breakfast or brunch.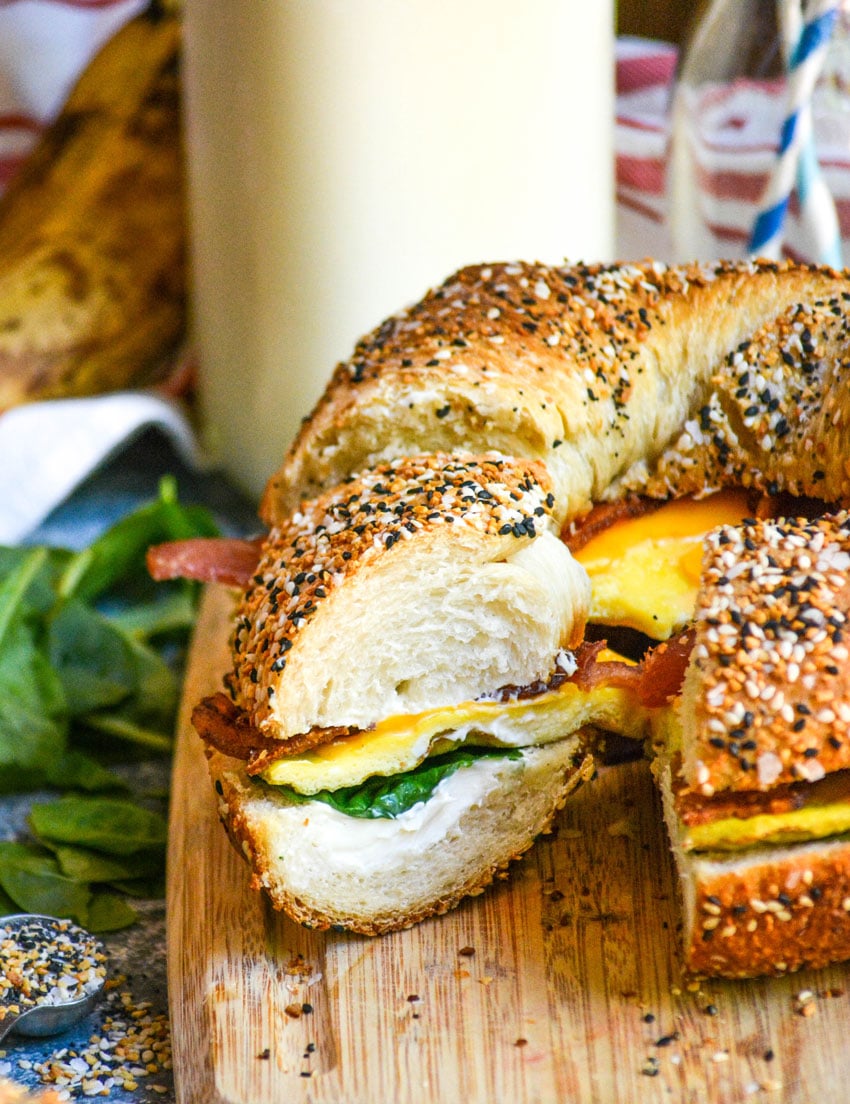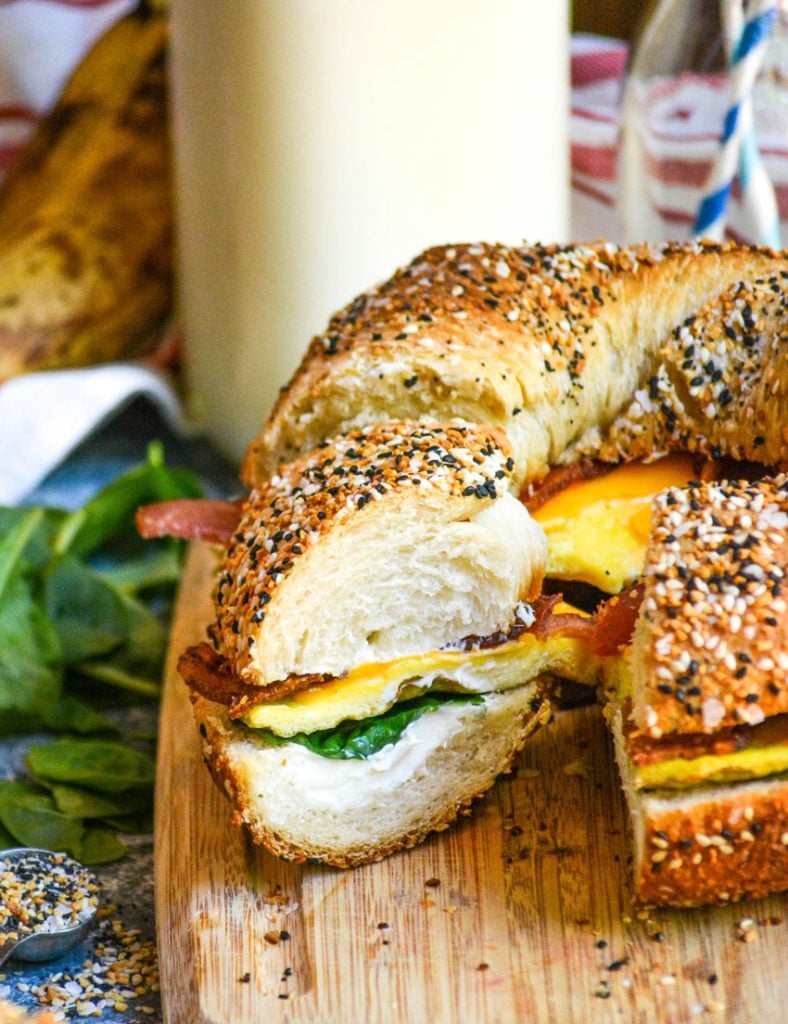 Breakfast is so hard for me. Like for real. I am just not a morning person. At all, and that's putting it mildly.
You know those coffee cups you see on Facebook memes? The ones with tick mark lines on them. Each line, in order, goes something like- 'Shh', 'Not Yet', 'Almost', and at the very bottom of the mug 'OK talk.'
That's literally me and the coffee cup gauge is 100 % accurate. My kids are hungry long before I'm ready to actually get going in the mornings, especially on the weekdays.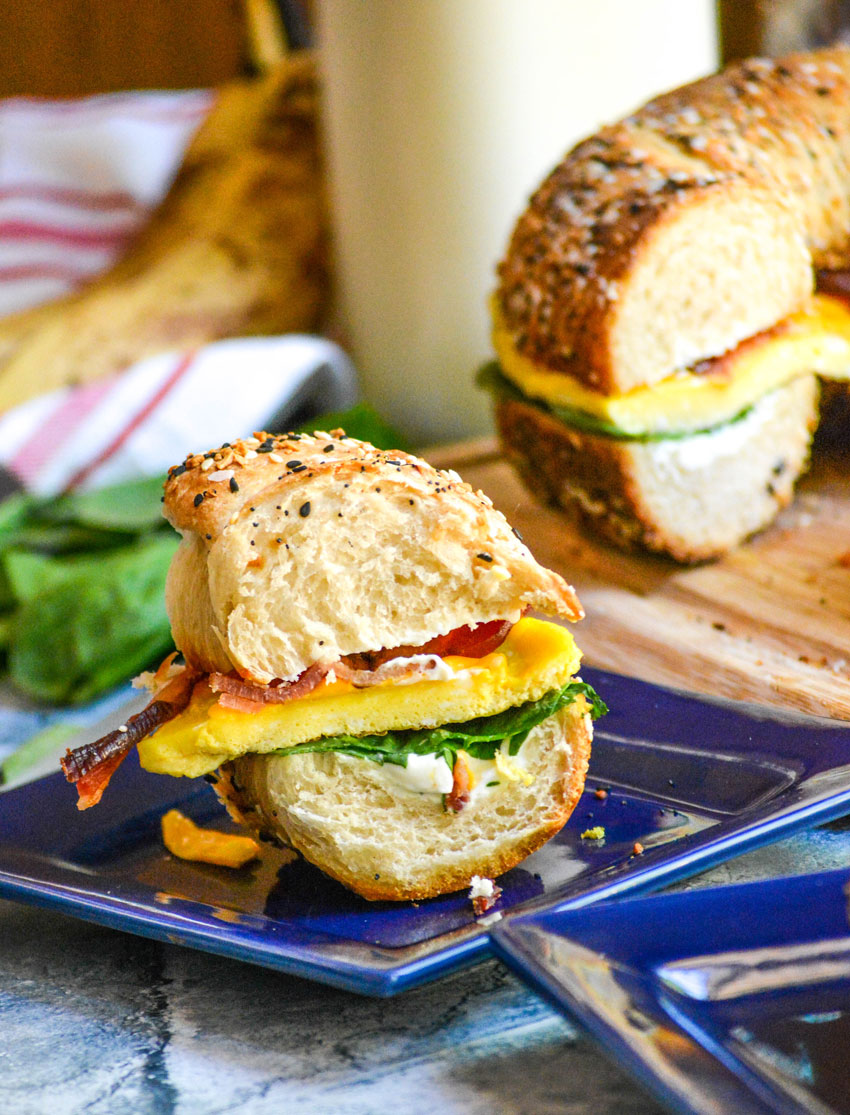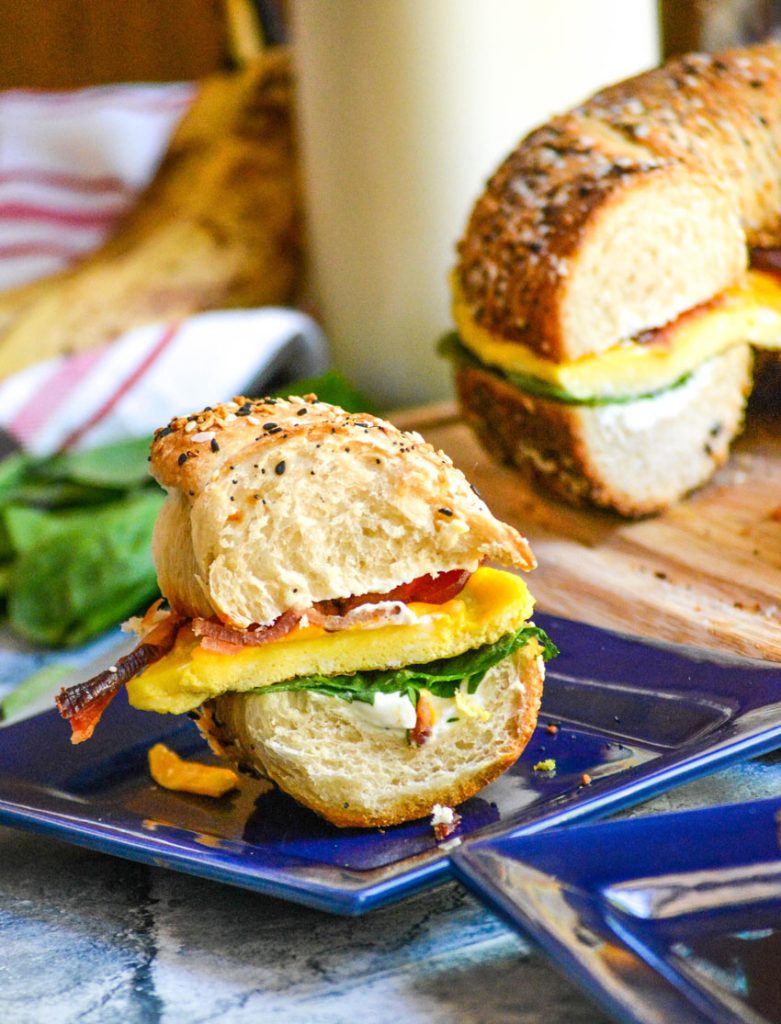 Mama needs every precious second of alone time and structure to keep the day's waiting chaos at bay.
Luckily, the weekends are more laid back. We totally embrace the whole lazy & lackadaisical vibe on Saturdays & Sundays.
Brunch is our thing then- and it's usually served anywhere between 12 & 2pm. The kids don't mind though because it's a fancy affair that includes a delicious spread.
It usually has several key components though- eggs, multiple meats, a bread, and potatoes always make up some part of the meal.
So honestly it could be anything including breakfast enchiladas, diner style home fries, & even our infamous breakfast mac and cheese on the menu.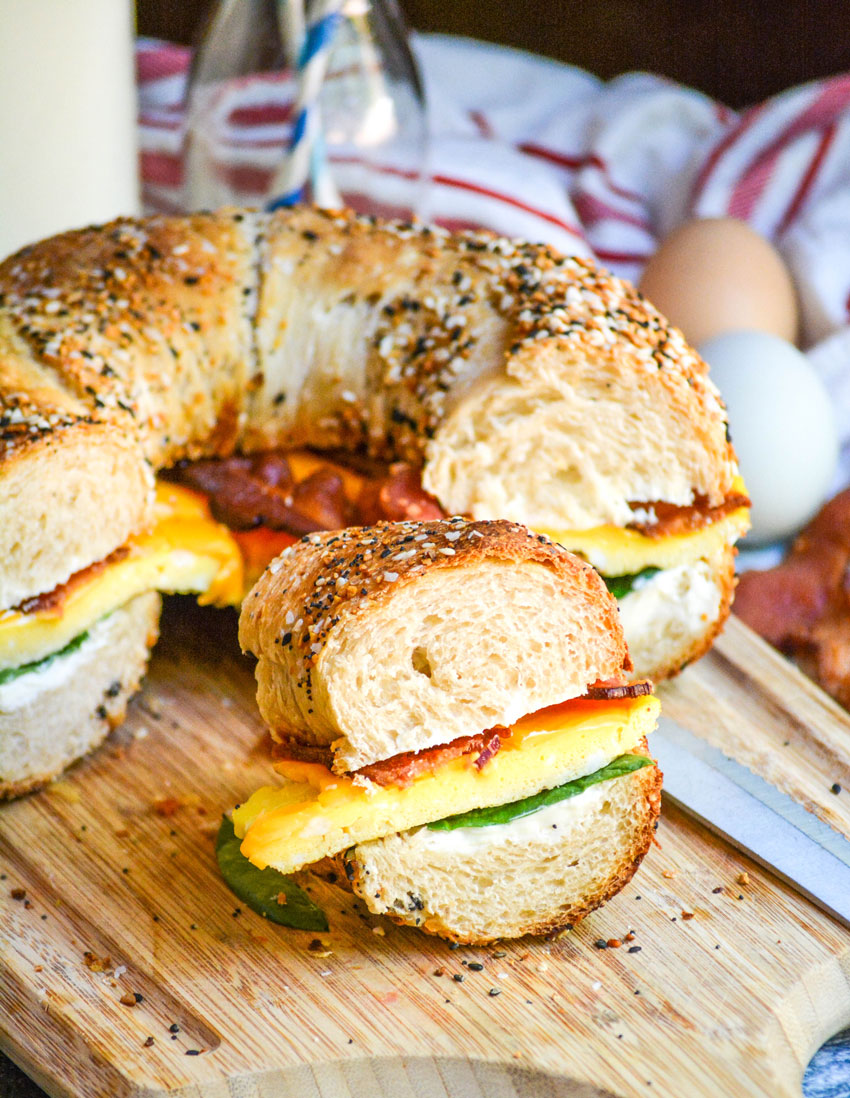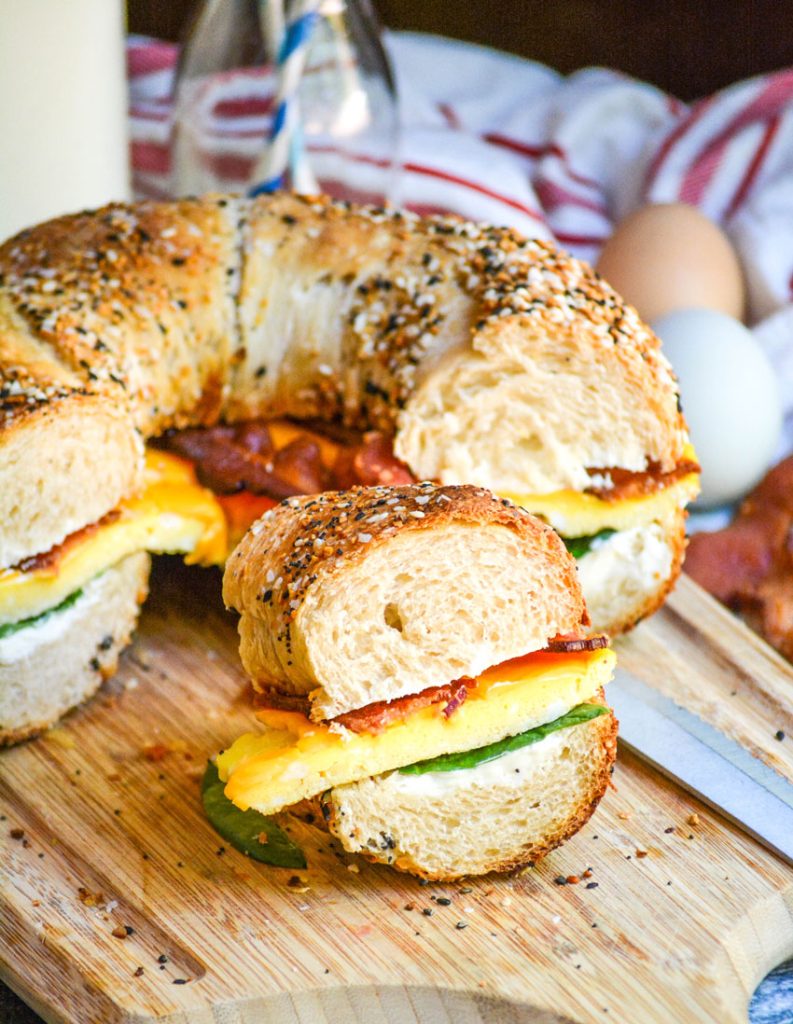 Those are all great, and I love each and every one. Plus so many more that I haven't mentioned. Recently though, it's been my turn to man the griddle on the weekends and to plan the menu.
Since nobody can complain if they aren't cooking, I decided to try my hand at something a little bit different. A breakfast sandwich, but one made to serve a hungry crowd.
And that's exactly what I did when I made & served this amazing Everything Bagel Bundt Pan Sub Sandwich. It is pretty much my wildest breakfast/brunch idea come true, and it doesn't disappoint!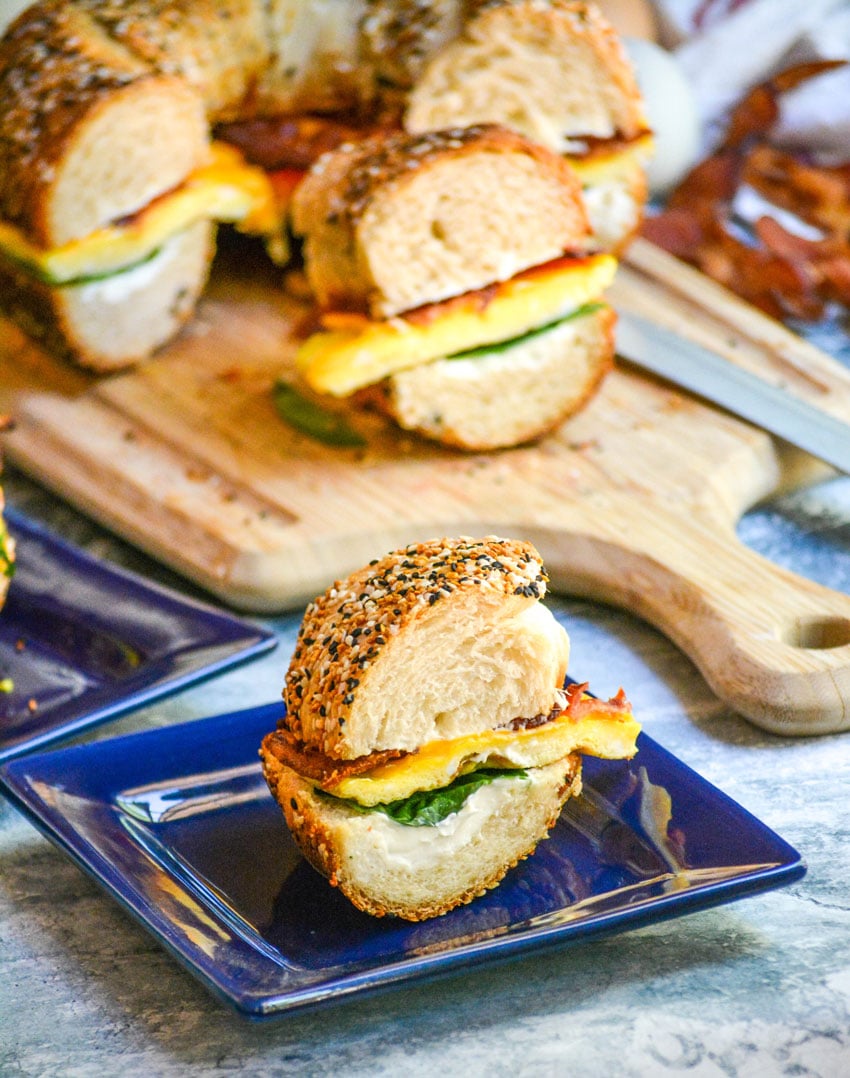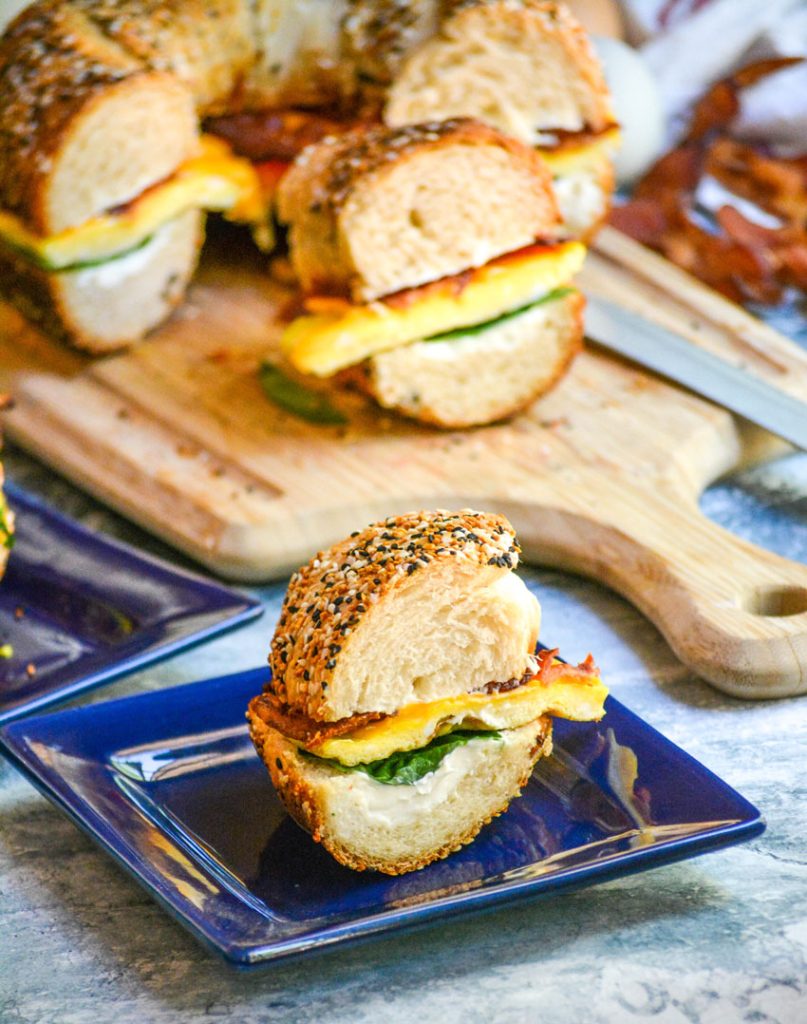 The best part of this breakfast sandwich, other than it's made for a crowd, is the everything bagel seasoning on the outside. It's like your favorite breakfast bagel, but transformed into delectable sandwich form.
Everything bagel seasoning is becoming more popular. And as with all trendy things, that means it's more often found in local grocery stores.
That's not always the case though, especially if you don't live in a city, traditional suburb, or a grocery hub. Luckily, the seasoning itself is easy enough to throw together in a snap and uses fairly common ingredients!
How To Make Everything Bagel Seasoning From Scratch:
Making your own bagel seasoning is easier than you'd think! Just a couple pantry staple seasonings are all you need.
4 tablespoons of dried chopped onions
4 tablespoons of dried minced garlic
4 tablespoons poppy seeds
4 tablespoons sesame seeds
2 tablespoons kosher salt
Mix everything together and store it in a clean jar, sealed until ready to use. Told ya it was super easy to make your own!
With that done, it's time to make the giant bagel portion of this delicious, over-sized, whole meal-in-one breakfast sandwich for a crowd.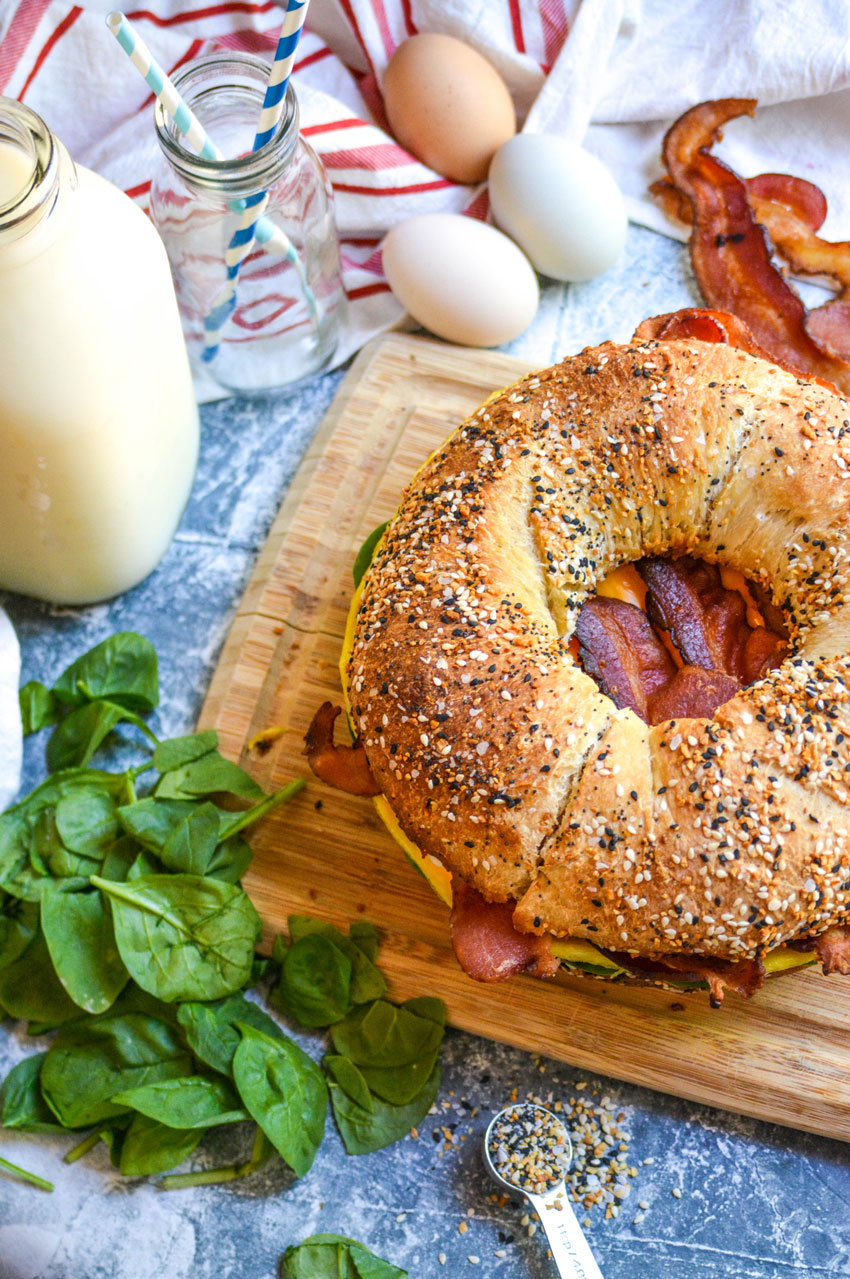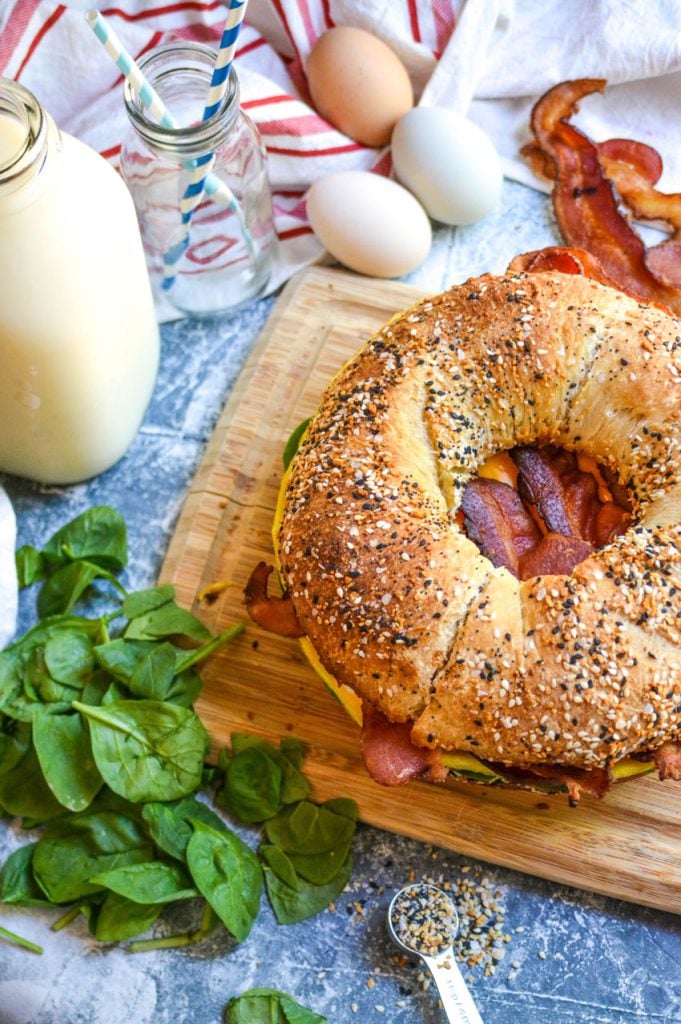 How To Bake An Over-Sized Bundtwich Loaf Of Bread
Pretty sure all us sandwich lovers can agree that bread is a great thing. Maybe our forte even. One of the biggest things that separates a good sandwich from a great sandwich is without a doubt the quality of bread.
Good bread, that bakery style bread is key. If you don't live in the city though, or some other Mom & Pop bakery dense area- it can be hard to find.
Luckily, with out short cut version- we get that same bakery level quality, with minimal work/effort. No yeast or kneading involved here y'all. In fact the secret is using two tubes of Pillsbury's refrigerated french bread dough.
It's not hard to find. Look in the refrigerated biscuit section of your local grocers. It is however one of my favorite secret kitchen hacks.
To make the bundtwich bread, liberally spray a large bundt pan with non stick cooking spray. Set it aside. If you'd prefer you can also prepare the pan by liberally coating it in butter. Both methods work well to prevent the dough from sticking.
Remove the two rolls of dough from their respective cans, but do not actually unroll them. Leave them in log form, and roll them in the everything bagel seasoning to evenly coat.
Place one log in one half of the bundt pan, and the second log in the other half squishing them gently if needed so that the ends meet together without over lapping.
Using your fingers seal the edges closed to ensure the dough bakes up as one single unbroken round loaf.
Bake the dough at 350 degrees for 35 minutes, or until cooked through and the crust has turned a beautiful shade of golden brown.
Remove the dough from the oven, and set it aside allowing it to cool for a full ten minutes undisturbed. Carefully run a butter knife around the edges of the bread to release it from the pan.
Turn the cooked loaf out onto a wire cooling rack, and let it finish cooling completely. Once cooled, it can be sliced in half using a sharp serrated bread knife.
If you omit the bagel seasoning, this bread makes great bundtwich sandwiches with cold cuts like this cold cut bundt pan sub sandwich. It's also great with ham & pimento cheese, as seen here. Both versions make perfect party subs for serving crowds at parties and on game days.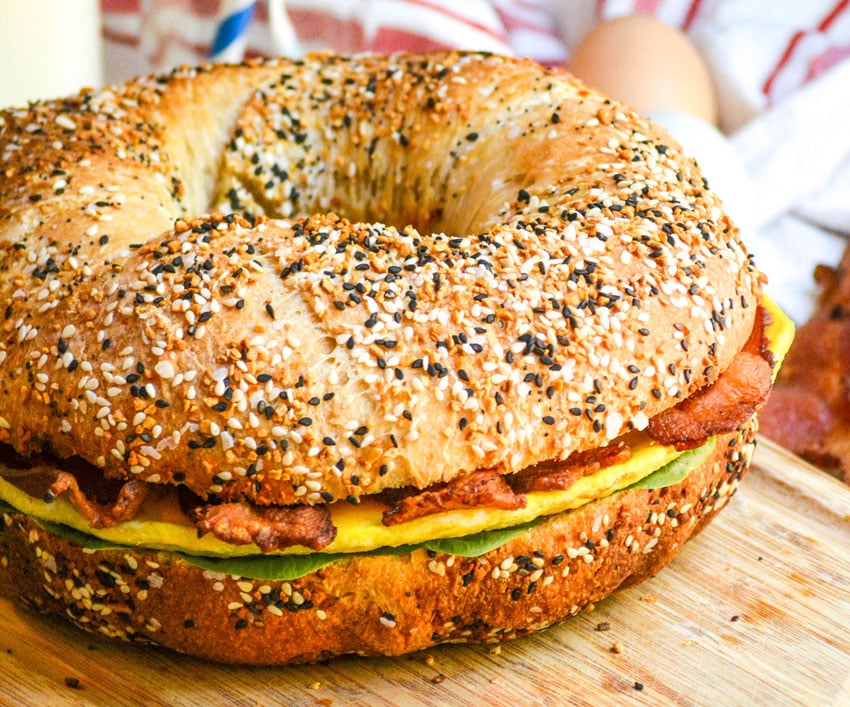 Now you're ready to prepare the rest of the ingredients and assemble them on the sandwich as instructed.
Don't be tempted to skip the cream cheese! I promise it doesn't taste funky in lou of something more traditional than say, mayonnaise.
This isn't any breakfast sandwich, but a bagel themed one & whipped cream cheese it the ultimate compliment when spread on a seasoned bagel.
While we love this breakfast bundt pan sub sandwich as written, the sandwich ingredients themselves have some wiggle room to allow for personal preference.
Another great way to enjoy it we've found is to keep the cream cheese & spinach, but skip the bacon eggs and cheese. Instead we added our favorite lox, also known as thinly sliced smoked salmon, for a really tasty combination.
Breakfast & brunch have gotten an upgrade with a fun new way to get your eggs & bacon in, as long as your bagel & cream cheese fix with this savory everything bagel bundt pan sub sandwich.
Other Tasty Ways To Use Your Bundt Pan That Aren't Cake
Bread isn't the only thing you may not have known you can make in your bundt pan. Here are some of our other favorite things to bake in the traditional cake pan:
Stuffing– yes, homemade holiday stuffing everyone raves about!
If you've tried this EVERYTHING BAGEL BUNDT PAN SUB SANDWICH, or any other recipe on the site, let me know in the comment section how it turned out, we love hearing from our readers! You can also follow along with me on PINTEREST, FACEBOOK, and INSTAGRAM to see more amazing recipes and whatever else we've got going on!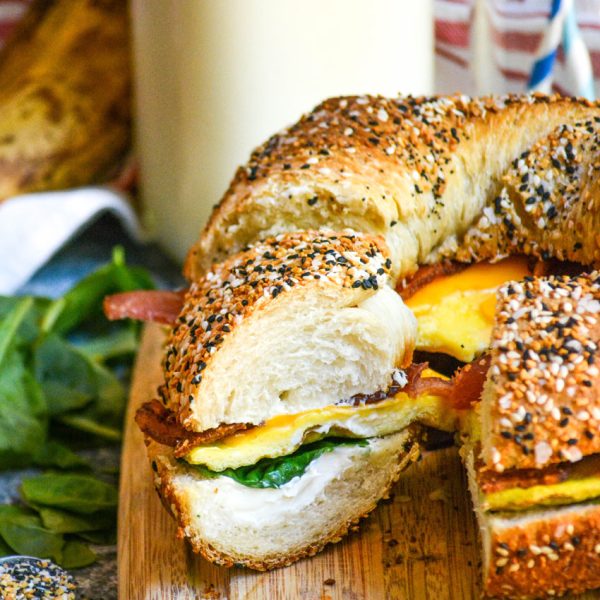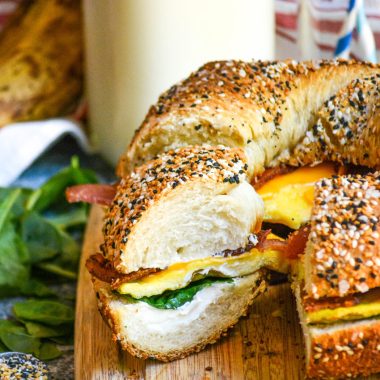 Ingredients
4

tbsp

everything bagel seasoning

2

cans

Pillsbury refrigerated french bread dough

1

tbsp

butter

8

eggs

beaten

1/2

cup

shredded cheddar cheese

6

oz

cream cheese

softened

6-8

slices

bacon

cooked crisp

1

packed cup

baby spinach leaves

washed & dried
Instructions
Add the bagel seasoning to a large rimmed dish, like a 9x13' casserole dish.

Unwrap both pieces of dough, but leave them in the log shape from the can. Do NOT unroll them.

Spray a large bundt pan liberally with non stick cooking spray. Add one of the dough logs to the bagel seasoning, and keeping the ends clear roll it in the seasoning to evenly coat it.

Transfer the dough to the prepared bundt pan to cover one half of the bottom. Repeat with the seasoning coating for the remaining log of dough, and place it in the other half of the bundt pan. Pinch the edges together tightly to seal the two pieces into one single ring of dough.

Bake the dough at 350 degrees for 35 minutes, or until the bread's cooked through and golden brown on top. Remove the bread from the oven, and let it rest cooling for 10 full minutes.

Carefully release the bread from the pan onto a cooling rack, and let it continue to cool completely- roughly another 30 minutes or so.

Using a serrated bread knife, carefully cut the loaf of bread in half horizontally. Place both halves, inside up, on a large cutting board.

Leaving a half inch crust around each half, tear bread from the centers to create a trough that goes all the way around each piece. Discard the torn bread, or save it for another use.

Melt the butter in a medium sized skillet (about 10 inches) over medium heat. Once the butter's melted and coated the skillet, pour the beaten eggs into the pan.

Reduce the heat if needed, and let the eggs cook until firm but soft- stirring as needed to bring uncooked egg to the center like a frittata.

Remove the skillet from heat, top the eggs with the shredded cheddar, and cover the skillet allowing it to melt.

Spread the softened cream cheese evenly out into the troughs of the bread. Press the spinach leaves gently into/over top of the bottom loaf.

Carefully release the egg frittata from the skillet and slide it out on top of the spinach covered bottom loaf.

Top the bundt-wich with the top loaf of bread, and use the serrated bread knife to cut it into sandwich sized wedges for serving.
Nutrition
Calories:
506
kcal
|
Carbohydrates:
53
g
|
Protein:
19
g
|
Fat:
25
g
|
Saturated Fat:
11
g
|
Cholesterol:
209
mg
|
Sodium:
1005
mg
|
Potassium:
223
mg
|
Fiber:
5
g
|
Sugar:
7
g
|
Vitamin A:
775
IU
|
Vitamin C:
1
mg
|
Calcium:
214
mg
|
Iron:
6
mg