Every culture has their own idea of what constitutes real comfort food. This haluski recipe is one of ours. It features savory caramelized cabbage & onion bathed in a rich butter sauce and tossed with rich egg noodles to soak up every ounce of flavor.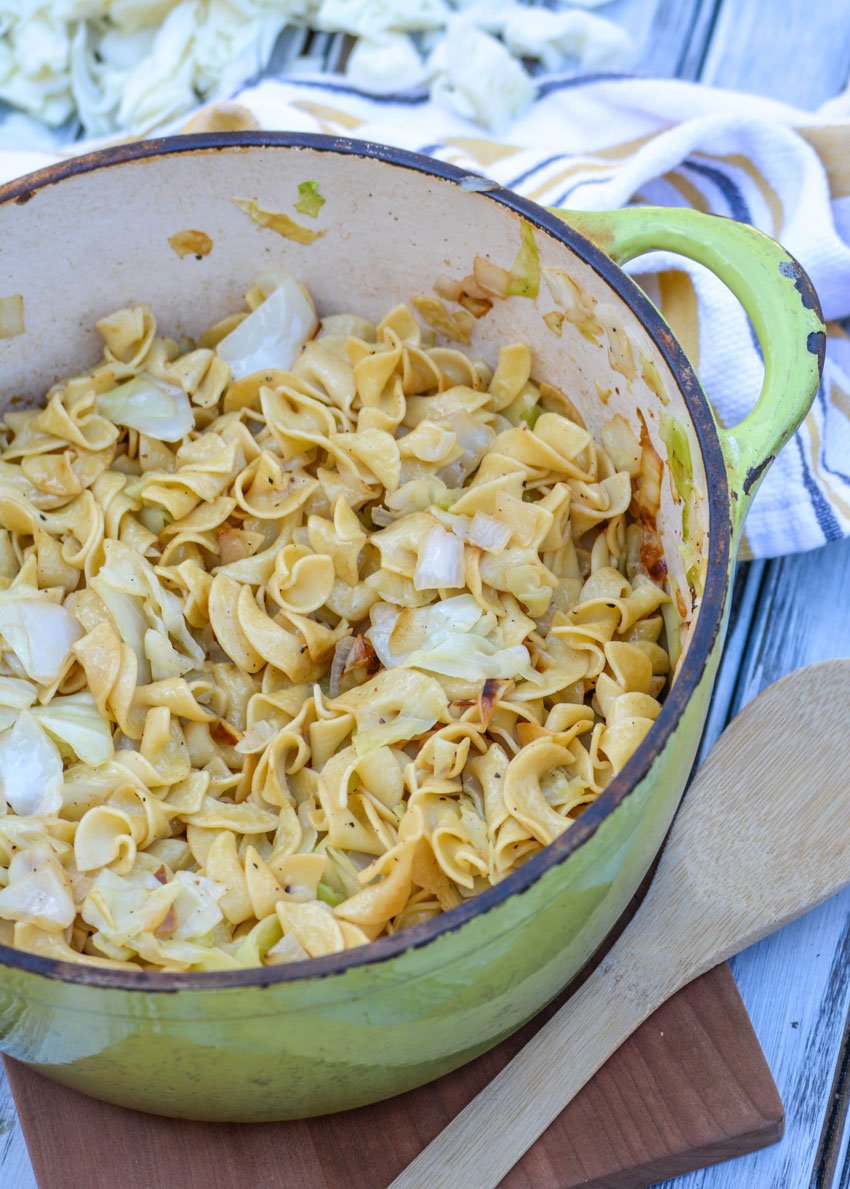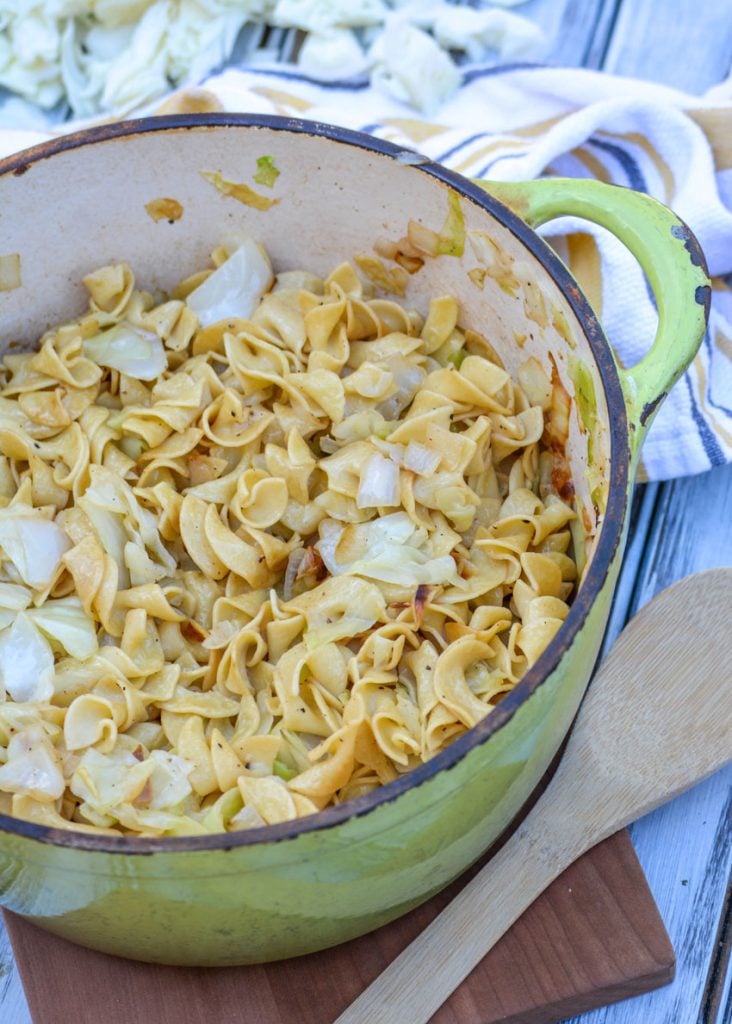 I've been with husband for years, but it was only about 5 years ago or so that I discovered he'd been living a lie. Well, that makes it sound extreme- it wasn't that bad.
So my FIL is 100 % full-blooded Italian on both sides. My MIL on the other hand was always a bit off hand about her heritage. She alluded to the fact that she was Italian, with some Slovak and Polish roots in the mix.
Still a cool mix culturally. But we have since found out that she isn't any parts Italian, but instead was raised in an Italian area and being married young adapted to the culture. Makes sense to me!
Her natural heritage is half and half, a mix of Slovak and Polish. Her father died young meaning that a lot of his culture and traditions went with him, but she remembers a lot of the traditional recipes her mother made that she she grew up eating.
These included stuffed cabbage leaves called halupki, delicious potato filled dumplings called pierogi, and one of the ultimate simple comfort foods- Haluski.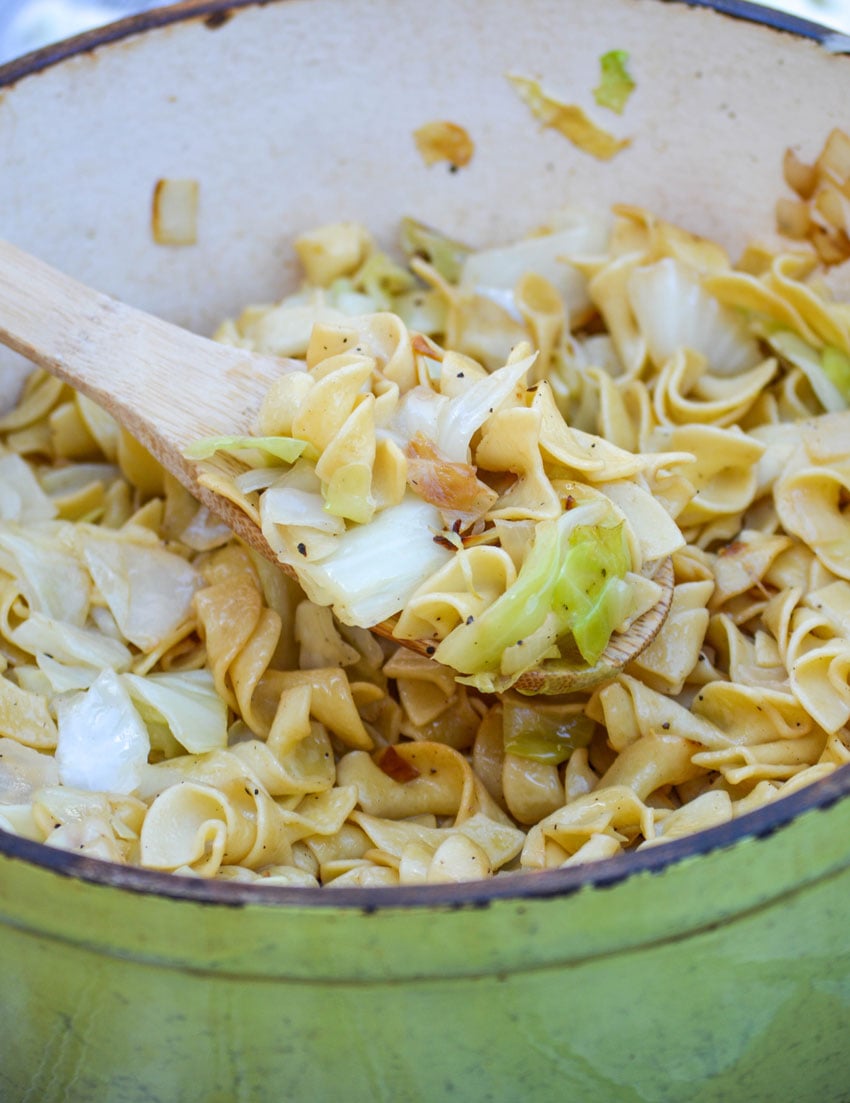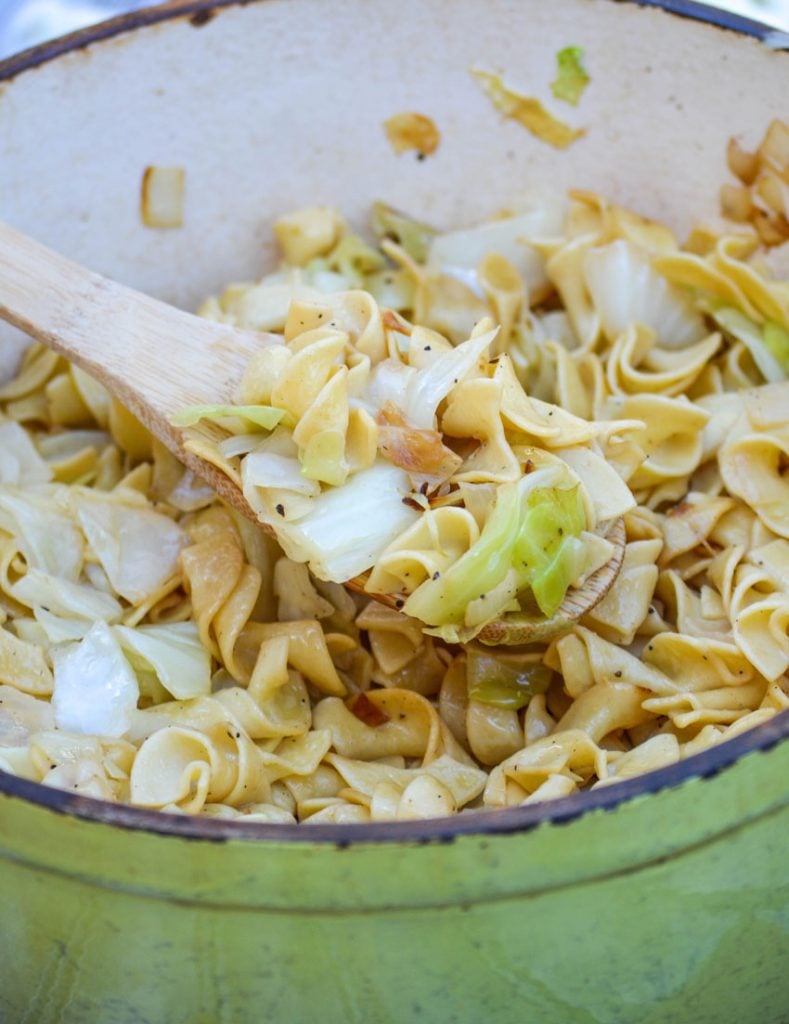 What is Haluski and how do you pronounce it?
Haluski is the ultimate in simple, affordable Old World comfort food. For real!
According to my MIL it's pronounced ha-loosh-key, but also commonly referred to as ha-loosh-ken.
Neither of us is sure of what the small difference indicates.
What we both ultimately agree on? It's incredibly delicious.
My kids grew up with buttered noodles being one of their favorite food groups. I mean plain noodles bathed in butter.
Haluski takes that idea, but does it so much better. But with so much butter.
What's a clogged artery or two when authentic comfort food's on the line though?!
Haluski is basically pan fried noodles and cabbage, lovingly sauteed in a butter bath.
Bacon or kielbasa are optional ingredients to add some meat to the dish, and extra savory flavor.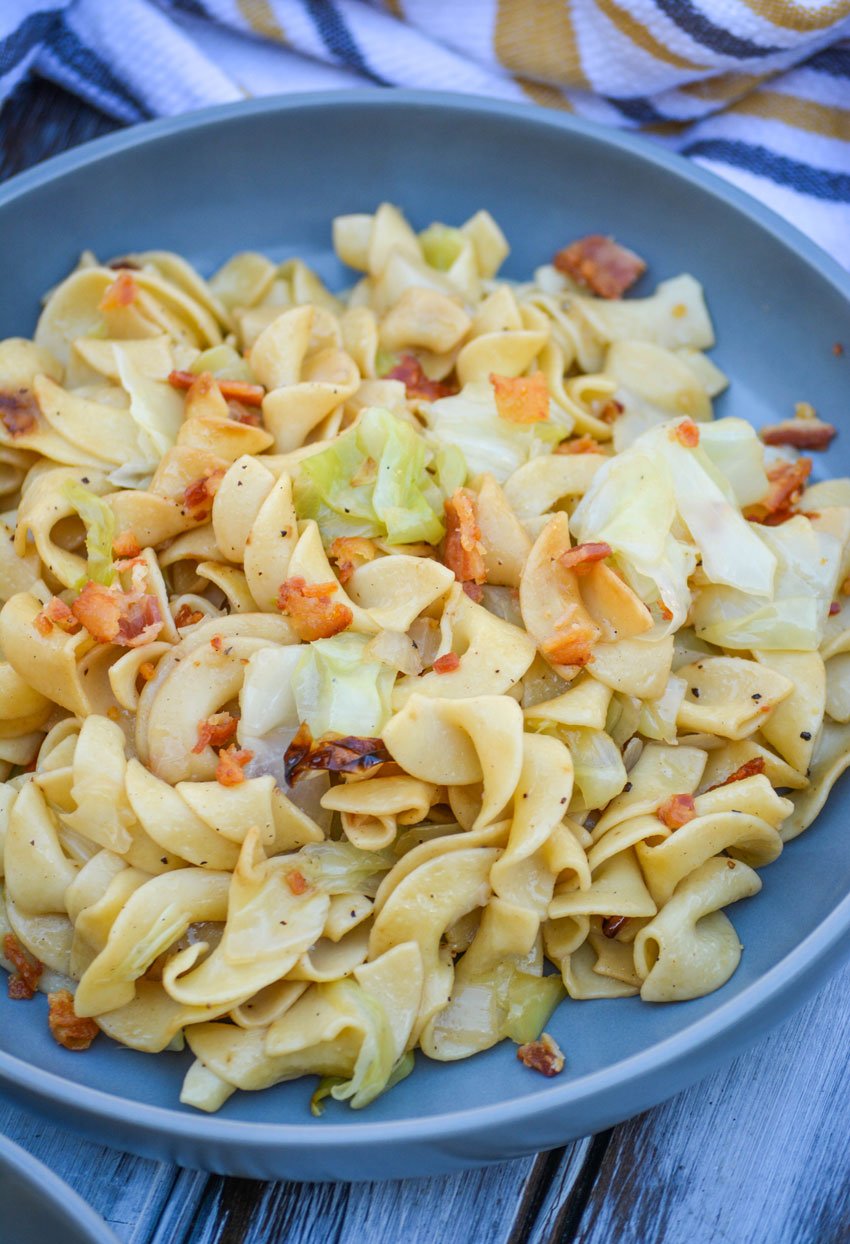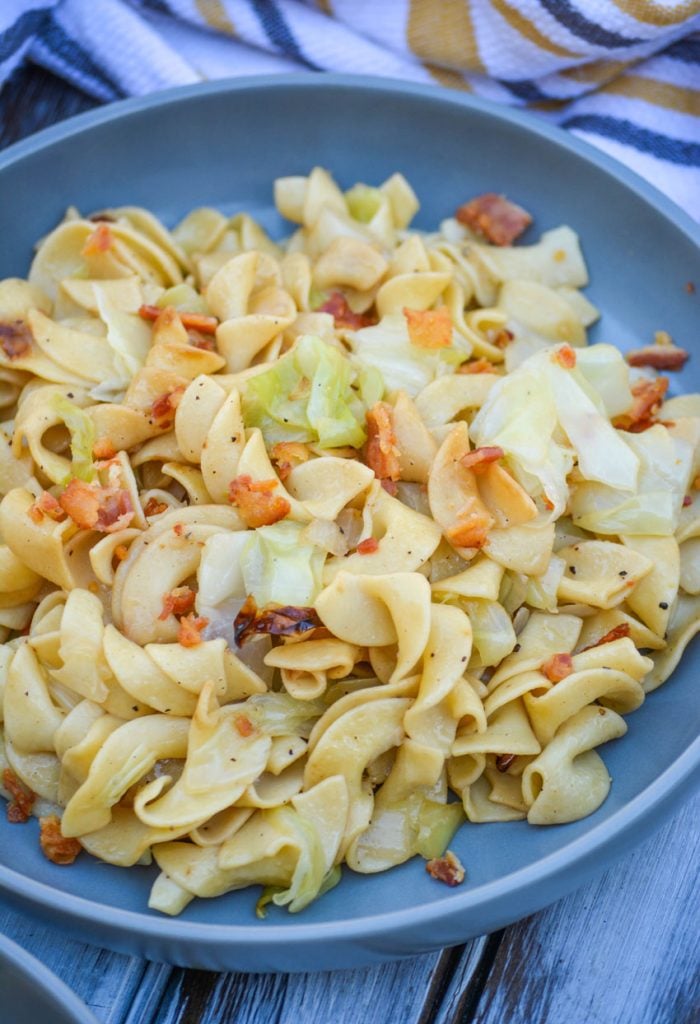 How do you make a traditional Haluski?
Haluski may be a national comfort food in Poland and Czechia, but they're also a traditional regional food in the States.
Specifically in the Pittsburgh region of Pennsylvania, and it's a beloved 'Burgh staple enjoyed by all- whatever their heritage.
This explains a lot too, as this is where my In Laws and the entire extended family now hails from.
A traditional haluski recipe requires very basic ingredients, but they're key: butter, cabbage, onions, and egg noodles.
The traditional version requires delicious pasta noodles made from scratch with homemade dough.
Usually I love recipes from scratch, but I don't always have time for them.
I adore haluski for many reasons, one of which is it's simplicity.
So for this recipe, I totally recommend saving yourself some time and opt for store bought egg noodles instead.
Six tablespoons of butter (told ya copious amounts of butter were involved) are melted in a large Dutch oven.
You could use a regular soup pot, but I've found the sturdy cast iron enameled style Dutch ovens lead to more even cooking and caramelization.
To the melted butter, add about a pound of chopped cabbage. Just the green leaves.
Make sure to carefully cut your cabbage and discard the bitter core.
Add a roughly chopped white onion and toss everything to coat.
Cook the mixture over medium high heat, stirring occasionally, until the leaves are tender and have begun to caramelize.
Melt another two tablespoons of butter in the pot, and stir in the now cooked and drained pasta noodles.
Salt & pepper the mixture, to taste and serve immediately.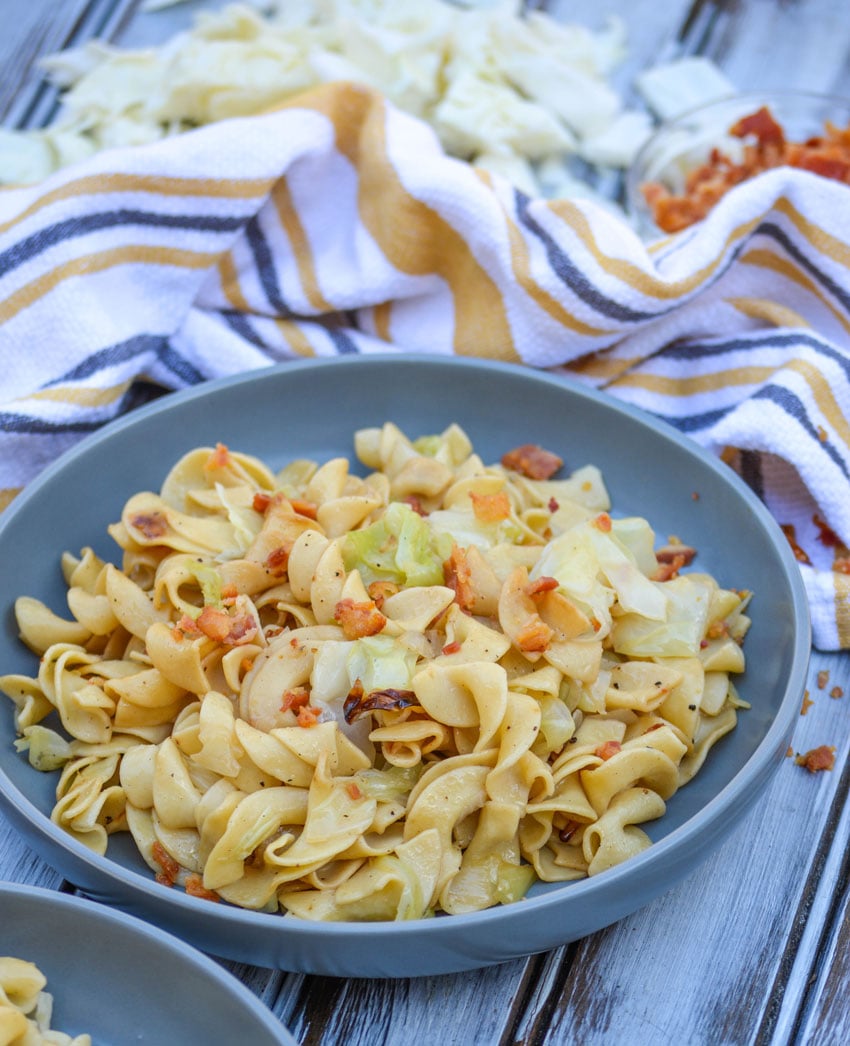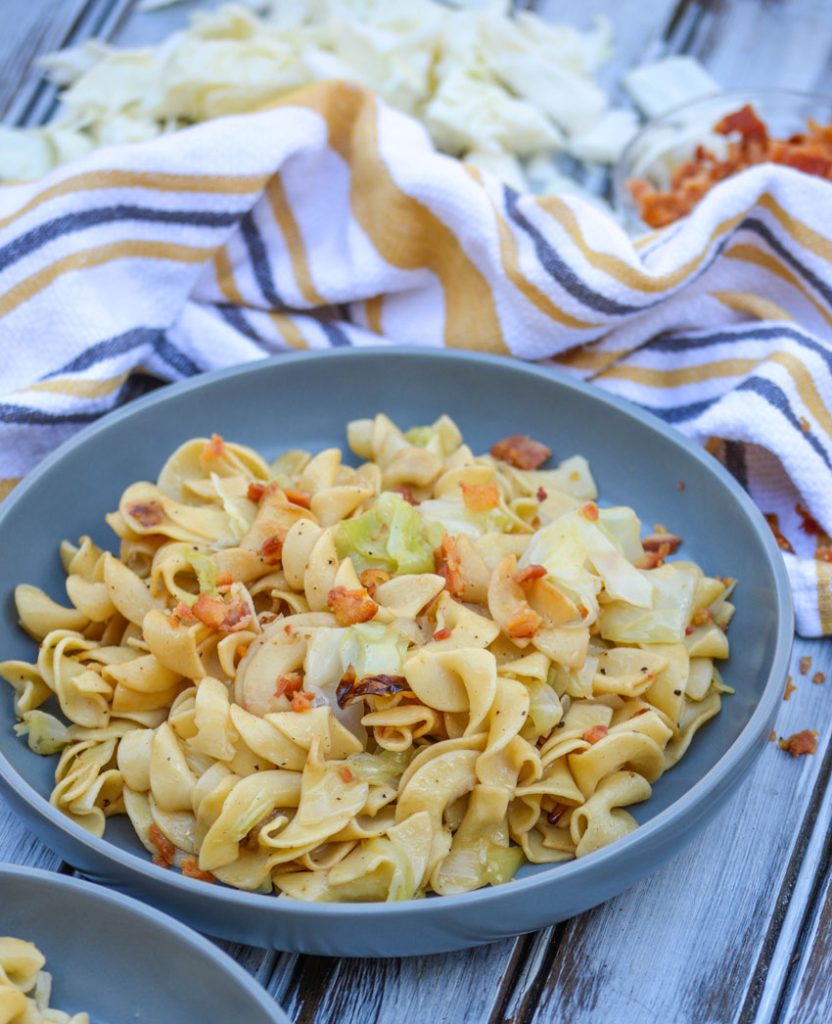 Making a heartier meal- What meats can I add to Haluski?
While I can totally appreciate a meatless meal for a variety of reasons (hello, the Lenten season!), I tend to make and serve things that include some form of protein.
Not always meat, but typically.
I wouldn't advise adding fish to this, but it would pair well as a delicious side to a salmon supper.
If you're wanting to add an infusion of flavorful protein to the pot, I'm going to suggest you stick with pork.
Some kind of pork.
We like ours with a bit of freshly cooked crisp & crumbled bacon.
I've even been known to swap add a teaspoon or so of the drippings for some real extra flavor in every bite.
With bacon grease a little goes a long way, so a ton isn't needed.
Another option is kielbasa.
Sliced into coins and sauteed until nicely browned, they're a great addition to this dish. Plus they're from the same region, making them a natural pairing.
You can also use ground sausage.
Saute it in a separate skillet, breaking and crumbling as it cooks.
When it's cooked through, drain it well to remove excess fat- then add it in when you're ready to stir in the pasta noodles.
Other traditional ways to serve authentic Haluski:
I'm not the only one who likes to change things up occasionally. The original culture does too!
While they're some debate over where the actual origin is (looking at you Hungary), and many Pittsburghers swear it's a local delicacy- everyone agrees, the dish is good as is but can be made even better with some add ins.
Not just meat either!
There's two different trains of thought on which ingredient to use, but a large number of family's that traditionally eat this dish swear by making it creamy.
They fall into two clear categories: sour cream & cottage cheese.
Both are equally delicious add ins, and since both ingredients are cold when they're added is important.
We tend to like cottage cheese if we're going meatless because it's a great way to not only achieve the creamy element, but to also get some extra protein in there.
The cheese (or sour cream) needs to be added and quickly stirred in as soon as the hot haluski is taken off the heat. This will prevent any curdling, and also allow the mixture to still be served warm.
I recommend adding 1 1/2 cups of cottage cheese or sour cream, stirring, and then accessing before deciding if more is needed.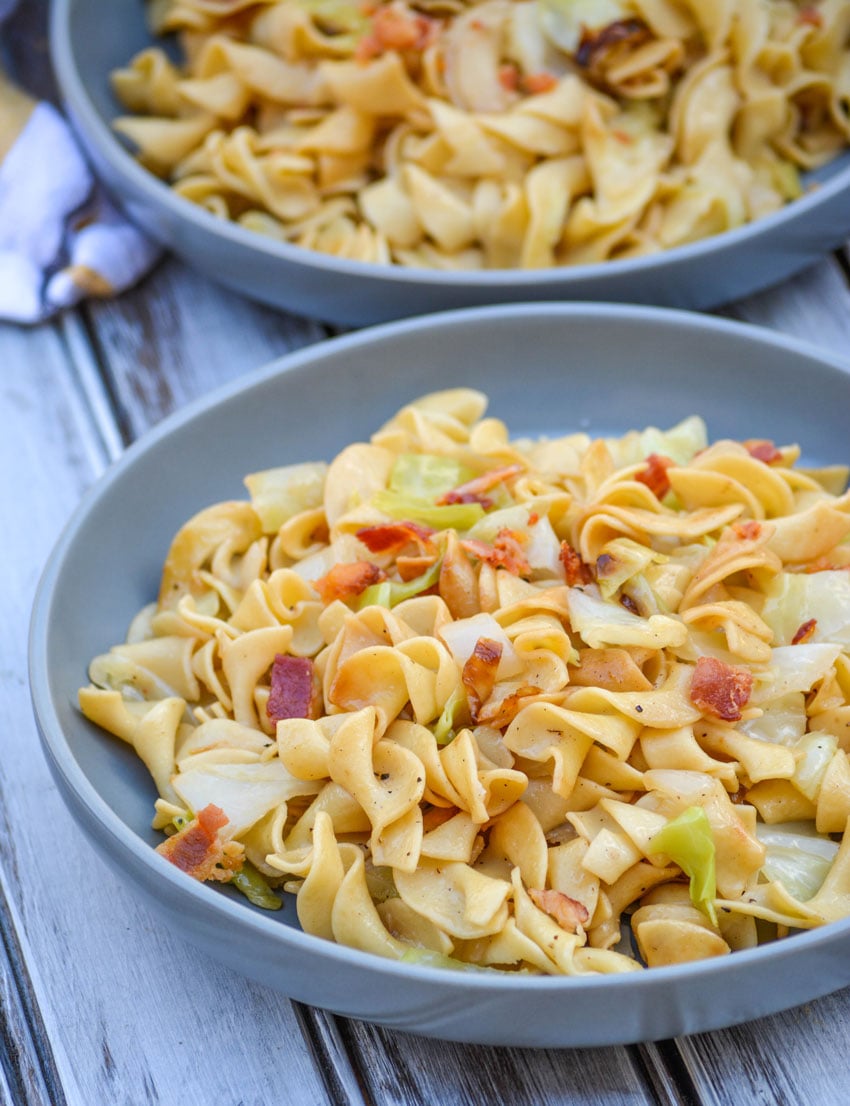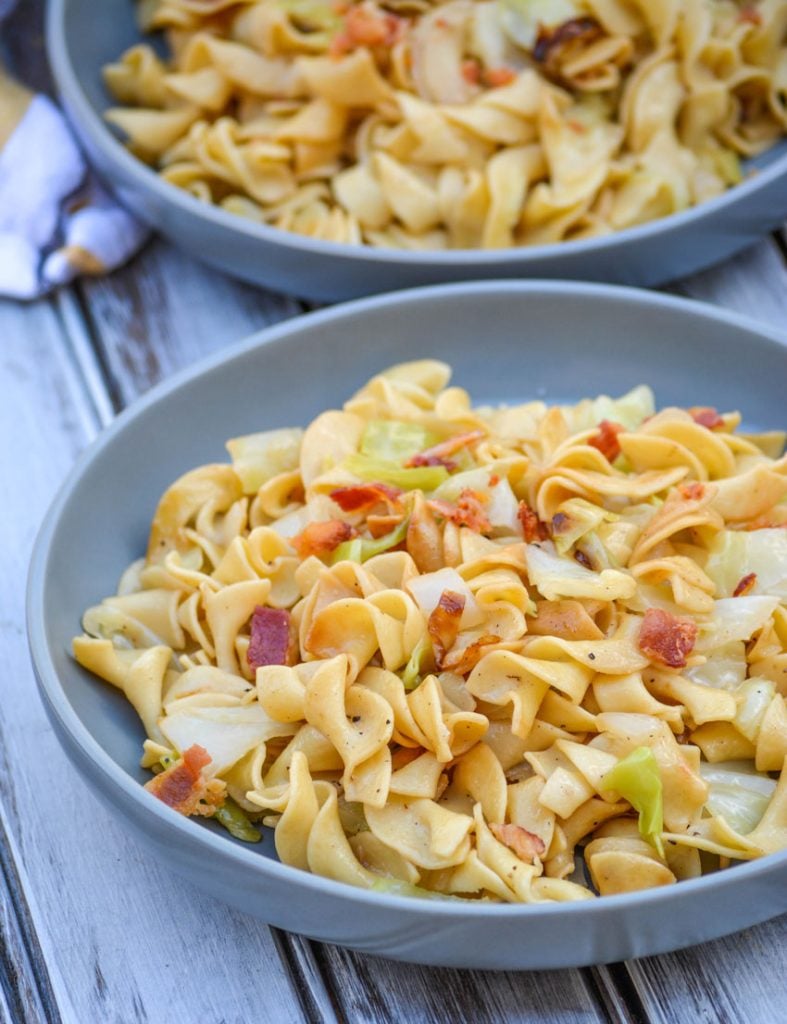 This haluski recipe is as authentic as it gets, and even better- it's a great way to embrace a new meal from a different culture.
Braised in butter and caramelized to just the right degree, it is my favorite way to get the whole family excited about cabbage.
It was a great way to bring a little bit of her childhood back for my Mother In Law, and a great conversation starter about the subject with the sons.
Other Tasty Ways To Enjoy Eating More Cabbage:
If you've tried this HALUSKI RECIPE, or any other recipe on my site, let me know in the comment section how it turned out, we love hearing from our readers! You can also follow along with me on PINTEREST, FACEBOOK, and INSTAGRAM to see more amazing recipes and whatever else we've got going on!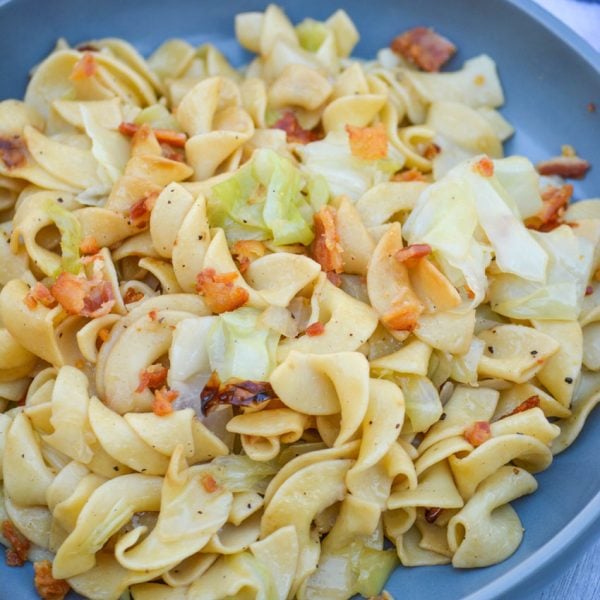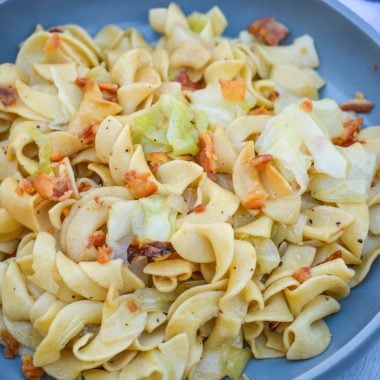 Haluski (Polish fried cabbage & noodles)
This authentic Haluski recipe features the traditional combination of pan fried cabbage leaves, pasta noodles, and white onion all deliciously caramelized in plenty of butter
Print
Pin
Rate
Ingredients
8

oz

wide egg noodles

uncooked

8

tbsp

butter

1

small

white onion

roughly chopped

1/2

large head of

cabbage

salt & pepper

to taste

crisp, crumbled bacon

optional
Instructions
Fill a large pot half way full with water. Lightly salt it, and over high heat bring the water to a boil.

Once boiling, pour in the egg noodles, stir, and cook according to the package directions. Transfer the noodles to a colander when done, and drain away all excess water.

While the noodles are cooking, get started on the cabbage by adding 6 tablespoons of butter to a large Dutch oven set over medium heat.

Once the butter's melted, stir in the cabbage and onion. Cook the mixture, stirring occasionally, for 15-20 minutes or until the cabbage has browned/caramelized and is tender. Salt, to taste.

Melt the last two tablespoons of butter in the pot, and add the cooked pasta to the pot, stirring everything to coat. Cook just long enough for the noodles to heat through.

If using, stir in the bacon and season the haluski with freshly grated black pepper, to taste.

Serve immediately, and enjoy!
Nutrition
Calories:
428
kcal
|
Carbohydrates:
42
g
|
Protein:
8
g
|
Fat:
26
g
|
Saturated Fat:
15
g
|
Cholesterol:
109
mg
|
Sodium:
215
mg
|
Potassium:
164
mg
|
Fiber:
2
g
|
Sugar:
2
g
|
Vitamin A:
745
IU
|
Vitamin C:
1
mg
|
Calcium:
31
mg
|
Iron:
1
mg