Beer, Bacon, and Cheese are standard fare at almost any viewing party, but get your game faces on and get in the zone with this epic dip that combines them all into one fantastic appetizer. It's sure to be the MVP of your spread. Thick and creamy, topped with freshly shredded melted cheese and extra crispy bacon crumbles, you won't want to miss out on this Bacon Beer Cheese Dip.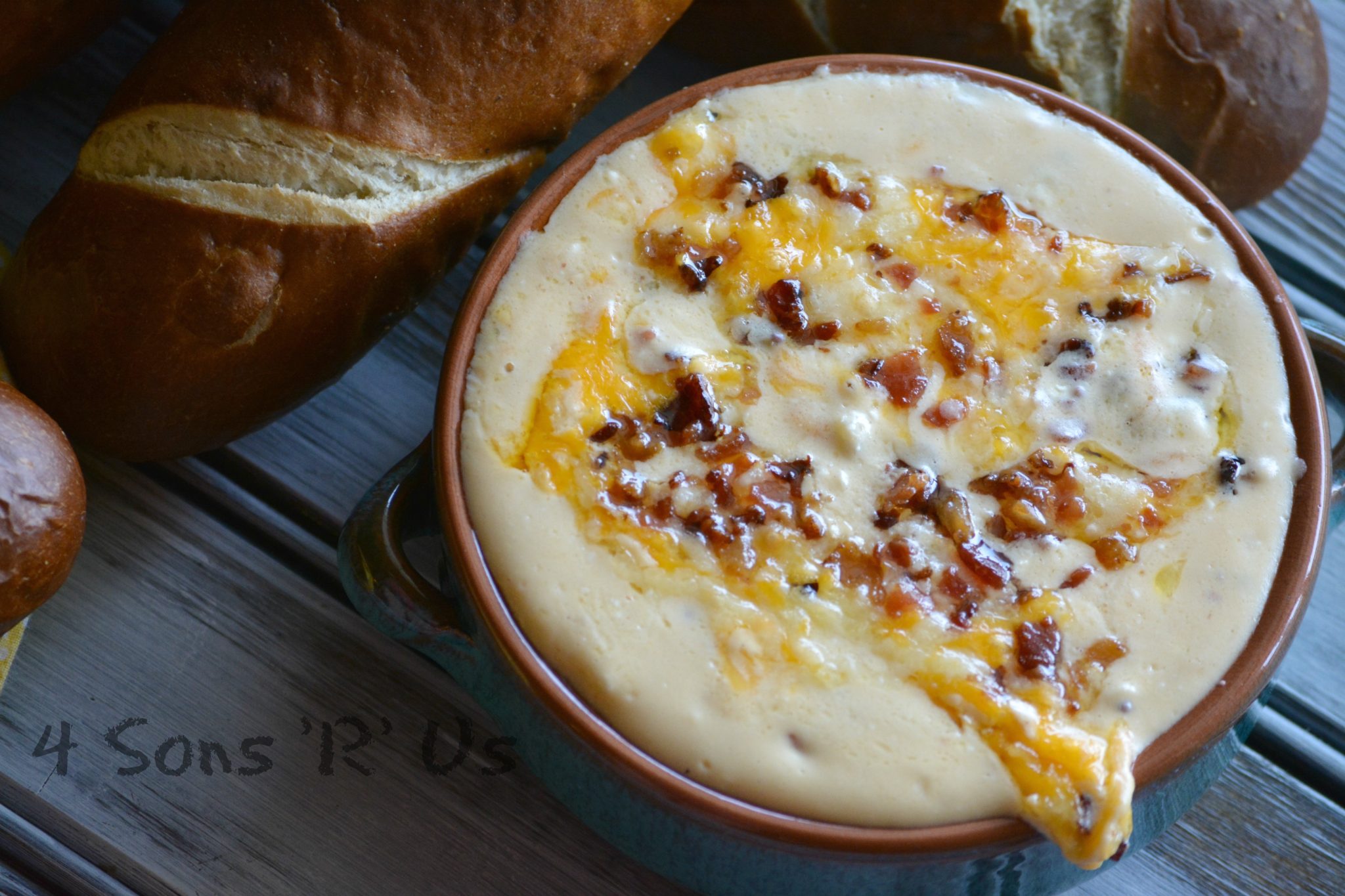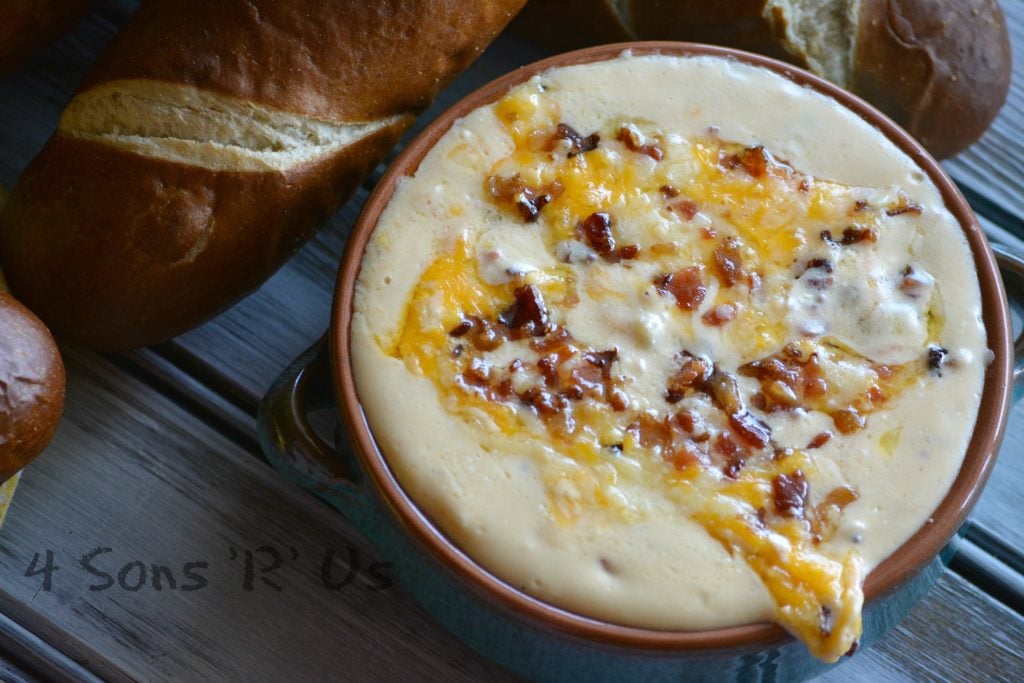 It's that time of year so many of my friends and family look forward to for over half the year. Football is back in season.
All week long fans rehash the previous weekends game and make predictions about the coming week's. While I love a good game as much as the next fan, for the kids and I, the before and after party is just as exciting.
Whether we're hosting or attending, we're all about some good Game Day grub. There's no shame in our game!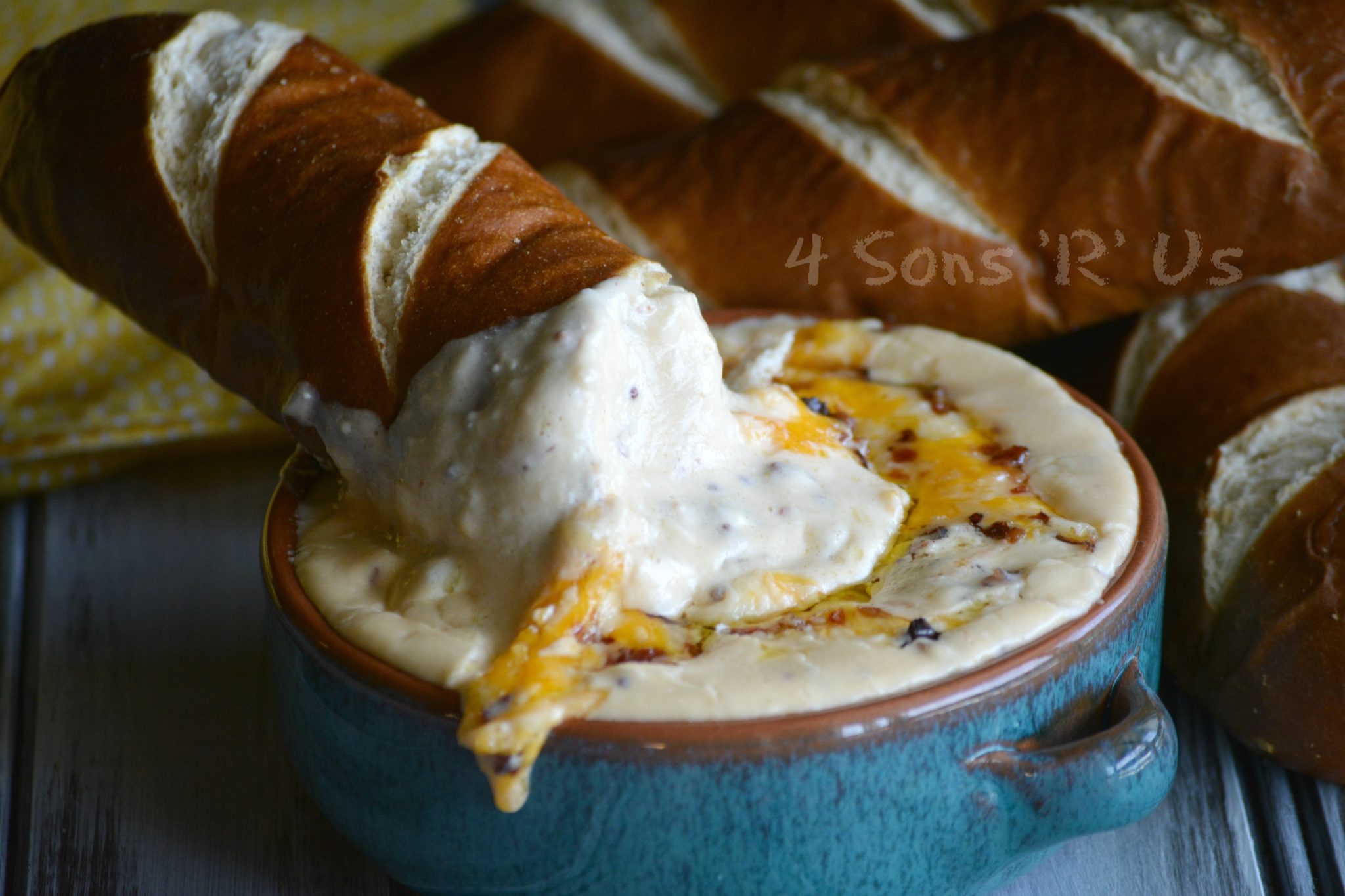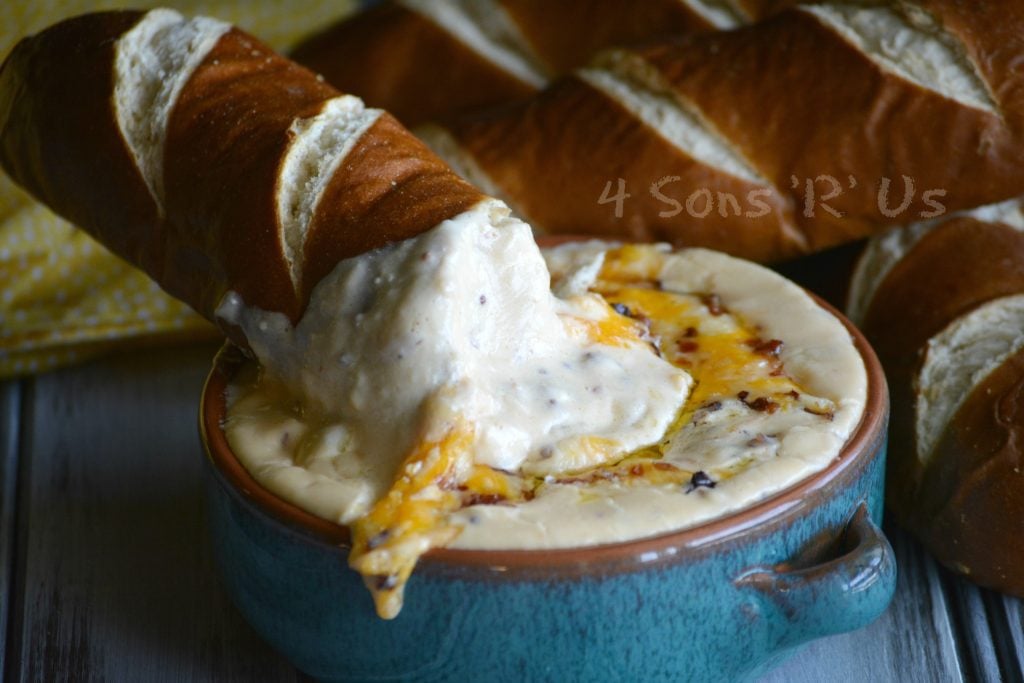 You know you can relate!
There's always that one friend's party you look forward to going to just because you know how awesome the spread's going to be.
Then there's the other's you wonder if it'd be rude to bring your own party platter too because a few carrot sticks and cherry tomatoes just don't set the same mood.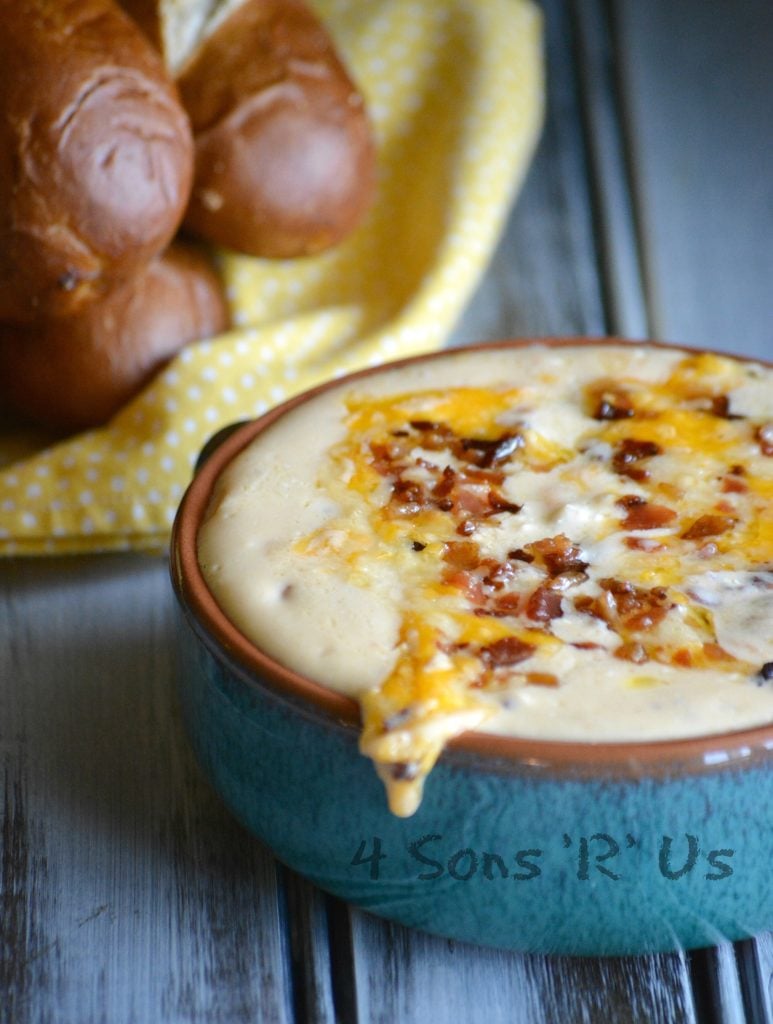 Wherever we're going, or even if it's my turn to host guests– I have a handful of recipes I reserve just for game days because of just how yummy they are. That and healthy goes out the window in my book at any party.
Bring on the cheese. Bring on the bacon. Bring on the dip!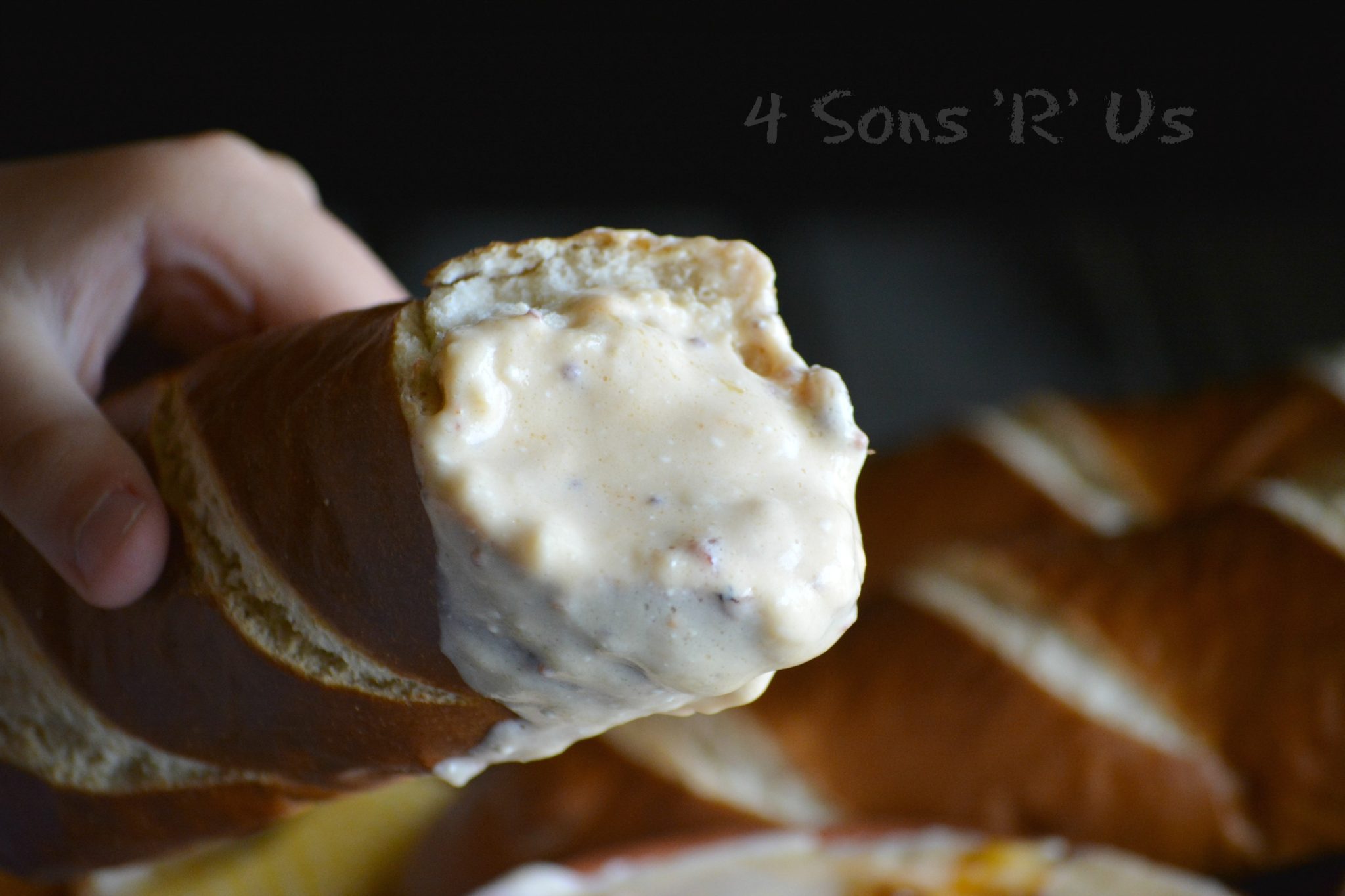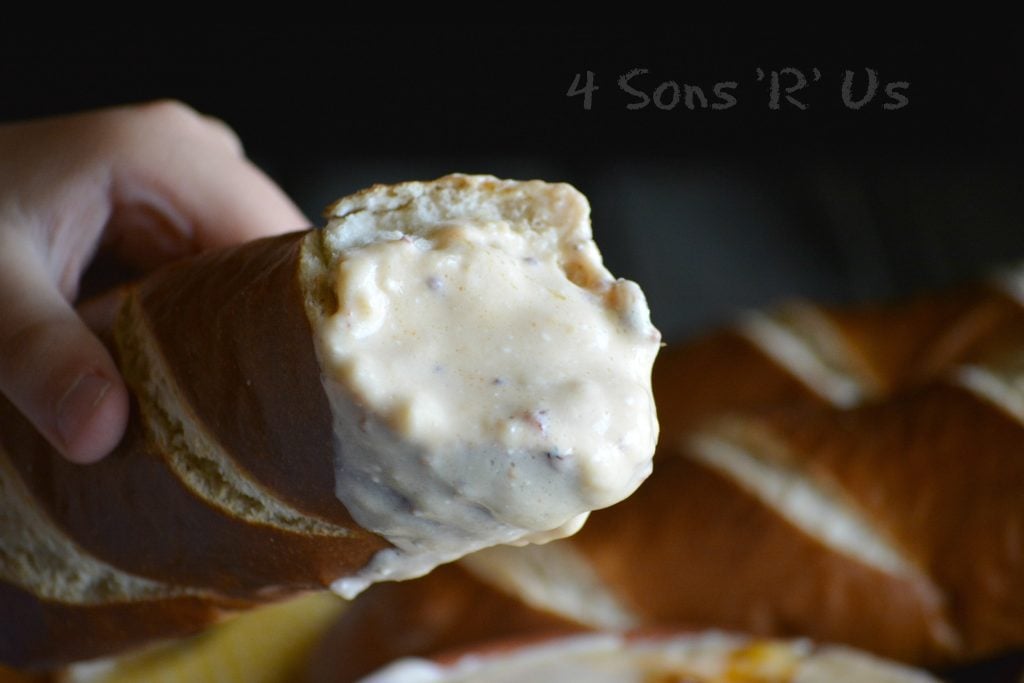 We opted to skip the pint sized glass, as well as the platter and threw the beer and the cheese together into one bowl.
Then there's the bacon– because of course you can't forget about the bacon, especially not in a cheesy dip. It's a non-written, but most known fact in my kitchen. A hint of mustard, and a little bit of kick from some Tabasco sauce, and you're in the business of having the best game day dip around on hand for your party.
This Bacon Beer Cheese Dip is a must. Serve it with chips, with pretzels, even with crackers of a sliced baguette. You can't go wrong. Cheer loudly, dip often, and SCORE big with this fan favorite recipe.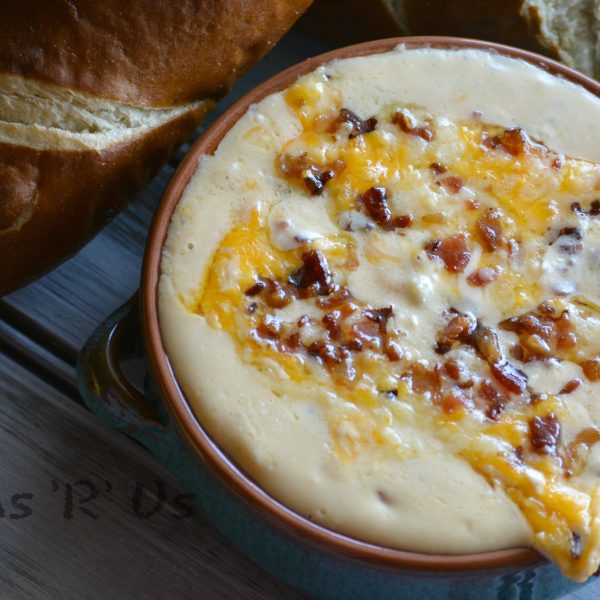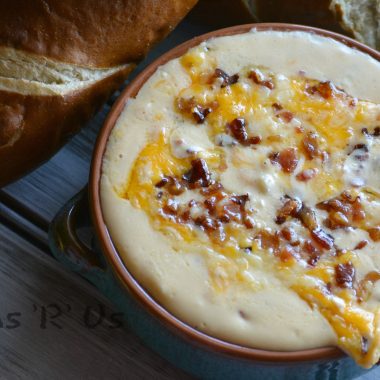 Bacon Beer Cheese Dip
An epic dip that combines bacon, beer, and cheese into a creamy, hearty appetizer that's perfect for Game Day.
Print
Pin
Rate
Ingredients
1/2

lb

of bacon strips

chopped

1

tbsp

butter

1/2

white onion

diced

1

tbsp

Dijon mustard

1

tbsp

stone ground mustard

8

oz

cream cheese

softened

1 12

ounce

lager style beer

3-4

cups

shredded sharp cheddar cheese

1-2

dashes of Tabasco sauce

or more to taste if you like things on the hotter side
Instructions
Heat a large skillet over medium heat, add in the chopped bacon and cook, stirring frequently, just until the bacon's crisped. Transfer the cooked bacon to a paper towel lined plate to drain the excess grease and cool completely.

Heat a second large skillet over medium heat, adding the butter and melting it. As soon as the butter's melted, add in the onions and cook just until they're soft and becoming transparent. Stir in both mustards and slowly pour in the beer, scraping the bottom of the pan as you stir. Bring the mixture to a boil and let it boil vigorously for about 5 minutes, stirring occasionally.

Lower the heat to medium, and stir in the cream cheese until the mixture's smooth and creamy. Turn off the heat, but leave the skillet on the burner.

Stir in the cheddar cheese, except for 1/4 cup to be reserved, about a cup at a time, until the mixture's again smooth, creamy, and thick. Stir in 3/4 of the bacon, saving the rest for the top of the dip.

Scoop the dip into an oven safe serving dish and sprinkle the remaining cheese and bacon out evenly over top.

Bake the dip at 350 degrees for 20-25 minutes, or until the dip is heated through and the cheese is bubbly.

Remove the dish from the oven and allow it to cool slightly. Serve the dip warm with chips, pretzels, crackers, or crusty bread.